Texas Longhorns:

James Sims
November, 12, 2012
11/12/12
8:00
AM CT
AUSTIN, Texas --
Alex Okafor
remains unconvinced.
Well, sort of unconvinced. A few weeks ago, when the rushing yards were piling up faster than people could pile on the Texas defense, the senior defensive end came out and said he had "zero confidence" in the run defense.
[+] Enlarge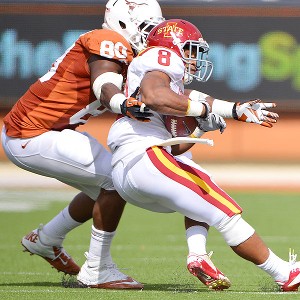 Cal Sport Media via AP ImagesDefensive end Alex Okafor and the Longhorns have played better in recent weeks, but TCU and Kansas State present a challenge.
Then Texas went out and gave up 176 yards to
James Sims
of Kansas. It was the fifth straight week Texas had allowed an opposing player to have a career-high rushing day. Welcome to the land of less than zero. That is not some sort of nod to Bret Easton Ellis. It's a shake of the head at the Texas defense -- by its own players nonetheless.
But there was more football to be played and more opponents to be stopped. And lo and behold, Texas has been able to do just that. In the past two weeks, against teams that are not exactly juggernauts when it comes to running the ball, mind you, Texas has only allowed a total of 256 yards.
Given that there were single games where Texas allowed a higher total and that a backup running back once eclipsed the 200-yard mark on his own, this can be seen as progress. Even in Okafor's eyes.
"I'm slowly gaining confidence," he said. "We are getting better game by game. We still have a long way to go. But slowly but surely, we are getting better at the run defense."
October, 29, 2012
10/29/12
3:00
PM CT
The following is a modest proposal for a Texas run game that still hasn't figured out how to take over games.
Learn from your recent foe, Kansas, and try doing as the Jayhawks do. It's time to see what the Diamond formation can achieve for this Longhorn offense.
Call it what you want -- the Fox Sports crew referred to it as the "triangle" or inverted wishbone formation -- but you must concede it's effective. The versatile three-back pistol set helped KU moved the ball and open up holes against Texas.
To continue reading this article you must be an Insider
October, 28, 2012
10/28/12
8:00
AM CT
Texas, using its backup quarterback, escaped Kansas with a win. And while the final quarter showed that Texas had the skill and talent to put up touchdowns when it needs to, the first three quarters should be slightly more disconcerting.
THREE UP:


Case McCoy:
The junior quarterback proved that he was ready and able to lead Texas to a come-from-behind win. Inserted in the fourth quarter with Texas trailing 14-7, McCoy directed two scoring. McCoy also led a come-from-behind win against Texas A&M last year. But he said it was the Kansas State game in which he was put in but did not rally his team that has driven him to be more prepared in these situations.
To continue reading this article you must be an Insider
October, 25, 2012
10/25/12
8:00
AM CT
Five storylines for Texas as it goes on the road at Kansas:
1. Wrapping up
Texas gave up 50 points and 607 yards to Baylor and was better on defense. No, really. The Longhorns only missed 6 tackles against Baylor. That's an improvement after missing 16 against Oklahoma and averaging 11.7 missed tackles per game thought the first six games.
To continue reading this article you must be an Insider
October, 24, 2012
10/24/12
3:30
PM CT
Numbers, it's said, rarely lie. With that thought in mind, HornsNation -- with a healthy assist from the ESPN Stats and Info crew -- will dig into the numbers each week and pull three stats that could play a significant role in the outcome of Texas' game. This week, Kansas, a team winless in the Big 12, is in the spotlight.
1. 12-of-15
Texas has allowed it opponents to convert on 12-of-15 fourth downs. That's 80 percent. And it's even worse in Big 12 play. Opponents have gone for it on fourth down nine times against Texas and made it all nine times. Perhaps the most damaging were the five fourth downs converted by West Virginia.
To continue reading this article you must be an Insider
October, 22, 2012
10/22/12
3:00
PM CT
AUSTIN, Texas -- Don't look now but there appears to be some optimism around No. 23 Texas.
Oh wait, that's just Kansas.
Yep, the Big 12's panacea is up next. And the game couldn't come soon enough for Texas. The Longhorns, fresh with perhaps a false sense of confidence after not-so-thoroughly dispatching Baylor, 56-50, need a game in which the defense can rule the day as well as perhaps playing some young guys.
[+] Enlarge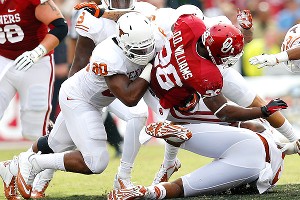 Cal Sport Media via AP ImagesThe Longhorns have struggled as a unit on defense this season, but Kansas' pro-style offense has struggled with inconsistency.
Kansas sets up perfectly for just that. The Jayhawks, coached by Charlie Weis, who Mack Brown said is a great, not good coach, are actually not all that great. Statistically, at least. Or in the record books. Kansas is 0-4 in the Big 12. The Jayhawks are 89th in total offense and 85th in total defense. The thing they do the best is run the ball. They are 49th nationally in rushing yards per game with 180 yards per game. In addition,
James Sims
is back after a suspension and rushed for 102 yards against Oklahoma.
Now that does not dovetail too great with what Texas does not do well, defend the run. The Longhorns have given up 1,065 rushing yards in just the last four games. But again, there is some optimism.
While Texas did give up 255 yards on the ground to Baylor, 69 of that was to the quarterback. Kansas does not have a quarterback who can run the ball. Or a quarterback at all.
Dayne Crist
was benched after throwing for 13 yards against Oklahoma. Redshirt freshman
Michael Cummings
threw for 111 yards and two interceptions in relief.
August, 14, 2012
8/14/12
9:00
AM CT
We're moving on with our rankings of the top 10 players at each position in the Big 12. Today, we tackle the running backs, a position with a lot of potential but not very much returning talent. My only rule for this list: No freshmen or newcomers. You don't know until you know.
Let's get started.
1. Joseph Randle, Oklahoma State:
Randle is the Big 12's only returning 1,000-yard running back, and even the league's best back has something to prove in 2012. Quarterback Brandon Weeden and receiver Justin Blackmon took a ton of pressure off him and opened up a lot of space. Can he help carry the offense early this season with a true freshman at quarterback and unproven receivers in the passing game?
[+] Enlarge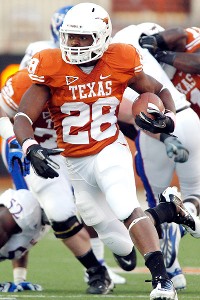 Ray Carlin/Icon SMIMalcolm Brown has the talent to emerge as the top rusher in a crowded Texas backfield.
2. Malcolm Brown, Texas:
Brown's nose for tiny creases in the line is unparalleled in this league, even though he doesn't have breakaway speed. He's tough to bring down and loves to fall forward. In short, he's a perfect fit for Texas' offense, and the likeliest member of Texas' talented backfield trio to top 1,000 yards in 2012.
3. John Hubert, Kansas State:
Life is good for Hubert when defenses focus heavily on quarterback
Collin Klein
, but you can't argue with his production. He averaged nearly five yards a carry and racked up 970 rushing yards last season.
4. Waymon James, TCU:
James averaged a silly 7.23 yards per carry last season, leading TCU's trio of backs in rushing, though all three had between 120 and 123 carries (seriously). Ed Wesley is gone, and James' yards per carry average will drop as he faces tougher defenses this season, but he's still a big talent.
5. Jeremy Smith, Oklahoma State:
Smith is the forgotten man in Oklahoma State's backfield until he keeps his legs churning and converts third downs, and chips a blitzing nickel back in the backfield to give
Wes Lunt
a couple more seconds to get rid of the ball. He's faster than he gets credit for, and averaged better than seven yards a carry in the Big 12 last season, the league's second-highest average.
6. Eric Stephens, Texas Tech:
Stephens' season was cut way short last year by an awful knee injury. There's no telling how he'll look when the season starts back up, but not many guys were better than him over the first half of last season.
7. Dominique Whaley, Oklahoma:
Whaley's season was cut short, too. He suffered a broken ankle, but the former walk-on is back and will try and make a run at a 1,000-yard season for the Sooners' pass-heavy offense. If he plays like he did last season before the injury, expect it to happen, and expect him to hog the carries in a crowded backfield.
8. Matthew Tucker, TCU:
Tucker joins James in TCU's backfield. He scored 12 touchdowns last season, which ranks second among returning Big 12 running backs. Without Wesley, Tucker is due for more touches. The trio combined for more than 2,300 yards on the ground last season. Watching Tucker and James race for 1,000-yard seasons will be fun.
9. Roy Finch, Oklahoma:
Finch loves to put defenders in the spin cycle, but could hardly get on the field last season until Whaley was injured. Once he did, though, he made a big impact. He topped 83 yards four times in five weeks late last season, but he has to be more consistent. He also had four yards on six carries against Iowa. We'll see if he showcases his explosiveness as a junior in 2012.
10. James White, Iowa State:
Iowa State badly needed White to step up when
Shontrelle Johnson
went down with a neck injury, and White did. He topped 135 yards twice after Johnson's injury and scored eight times, including two in a triple-overtime win against Iowa early in the season.
Honorable mention:
Dustin Garrison
, West Virginia;
Joe Bergeron
, Texas;
James Sims
, Kansas; Shontrelle Johnson, Iowa State;
Tony Pierson
, Kansas
January, 26, 2012
1/26/12
11:04
AM CT
We're continuing our look at the postseason rankings for each position in the Big 12. Here's a look back at
where the running backs ranked in the preseason
.
In this position, unlike quarterback, depth is a major, major factor in these rankings.
1. Texas A&M
The Aggies had the two most talented backs, and despite injuries to both, proved it through an otherwise frustrating 2011.
Christine Michael
suffered a torn ACL, but still managed 899 yards on just 149 carries.
Cyrus Gray
injured his shoulder late in the season, but secured his second consecutive 1,000-yard season and ranked third in the Big 12, despite carrying the ball just 198 times. This duo should have easily surpassed 1,000 yards, but even when they were injured,
Ben Malena
played well in the final two games.
[+] Enlarge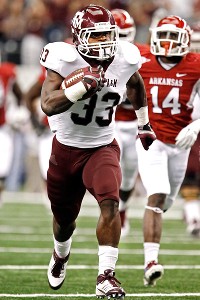 AP Photo/Brandon WadeChristine Michael averaged 6 yards per carry before a torn ACL ended his season.
2. Missouri
Mizzou dealt with injuries, too, first to
Kendial Lawrence
and
De'Vion Moore
. Cue
Henry Josey
. Josey became the best back in the Big 12 this year before suffering a major knee injury that included torn ligaments. He may not be back in 2012. His 1,168 yards were third most in the Big 12, despite carrying the ball just 145 times. Lawrence finished 12th with 566 yards.
3. Oklahoma State
Joseph Randle
stole the show this year, rushing for 24 scores and ranking second in the Big 12 with 1,216 yards. Only
Collin Klein
ran for more touchdowns and
Terrance Ganaway
was the only player with more yardage. Still,
Jeremy Smith
had averaged more than 7 yards a carry, and he'd be able to start for anyone else in the league.
Herschel Sims
showed promise, too, with 242 yards on 31 carries.
4. Baylor
Ganaway led the Big 12 in rushing with huge performances late in the season, including a 200-yard, five-touchdown game in his final outing as a college athlete in the Alamo Bowl. He averaged more than 6 yards on his 250 carries and had 330 more yards than any other back in the league.
Jarred Salubi
added 331 yards, too.
5. Texas
Texas'
Malcolm Brown
and
Joe Bergeron
were banged-up late in the season, but Fozzy Whittaker played well until suffering a torn ACL against Missouri, too. Scatback
D.J. Monroe
was effective in the passing game as well. Four running backs topped 300 yards and Brown led the team with 742 yards, despite missing three games and having his carries limited early in the season.
6. Oklahoma
Oklahoma got great contributions from walk-on
Dominique Whaley
early on, and he proved to be the team's most effective runner and best runner between the tackles. He fractured his ankle in midseason, and finished with just 627 yards to lead the team.
Roy Finch
emerged late in the seasons after a quiet first half and added 605 yards.
7. Kansas
KU's
James Sims
led the team in rushing again with 727 yards.
Darrian Miller
was excellent, too, with 559 yards, though he was dismissed after the season. Freshmen
Tony Pierson
and
Brandon Bourbon
have plenty of promise, both averaging more than 5.5 yards a carry in 2011. The bad news: All their carries were limited by an awful defense that limited KU's chances to run the ball.
8. Kansas State
K-State's rushing attack centered around Klein, but
John Hubert
, a slippery back from Waco, Texas, had a good year. Hubert was seventh in the Big 12 with 970 yards. Bryce Brown offered basically nothing to K-State, and beyond Klein and Hubert, the Wildcats were pretty thin. Additionally, without Klein, would Hubert have duplicated his success?
9. Texas Tech
An awful knee injury derailed
Eric Stephens
' likely 1,000-yard season, and the rest of Texas Tech's backfield got banged-up, too. Stephens will probably return in 2012 from his dislocated knee, and finished with 565 yards, 17th in the Big 12.
Aaron Crawford
and
DeAndre Washington
both topped 300 yards.
10. Iowa State
ISU lost
Shontrelle Johnson
for the season early on, but
James White
filled in well. He finished with 743 yards, which ranked ninth in the Big 12.
Jeff Woody
had 380 yards and provided quality carries late, including the game-winning touchdown against Oklahoma State.