Texas Longhorns:

Jameis Winston
December, 29, 2013
12/29/13
10:30
AM ET
ORLANDO, Fla. -- There are many topics of conversation among prospects playing in the 2014 Under Armour All-America Game. One of them centers around the past two Heisman Trophy winners.
On Saturday, upon checking in for the prestigious game, a number of prospects weighed in on a hot topic involving Texas A&M's
Johnny Manziel
and Florida State's
Jameis Winston
.
If they had to choose between the two, who would the players take as their college quarterback? Here are their responses:
[+] Enlarge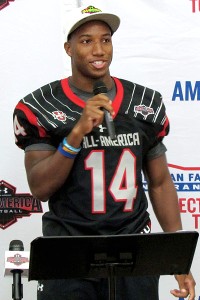 Courtesy of IntersportNo. 9 overall prospect Marlon Humphrey likes how Johnny Manziel makes others around him better.
Five-star cornerback Marlon Humphrey (Hoover, Al./Hoover High)
: Ah man, I think I'm going to have to go with Johnny Manziel. I just feel like he kind of made a team out of nothing. Jameis Winston is a great quarterback too, but he doesn't have the scrambling skills that Manziel has. This year, you could tell that his teams defense wasn't that good, the players around him weren't as good, but he kept making his team better. He's has the fight in him I would want on my team.
Florida commit and No. 20-ranked Dalvin Cook (Miami/Central High)
: I would say Jameis Winston. He's really a pure quarterback, and I think he sets up things more for a running back than Johnny Manziel does.
Auburn running back commit Racean Thomas (Oxford, Al./Oxford High)
: I would probably pick Jameis Winston. The reason behind that is because he is more of a leader for a young quarterback, and I think he can make his team a more mature team. I really think he would be a great quarterback to play with.
Florida wide receiver commit and No. 28 Ermon Lane (Homestead, Fla./Homestead Senior High)
: Whew, I don't know. I think Jameis Winston. I look at how both of them played as a freshman, and I like how Jameis Winston leads his team. He is also more pro-ready than Manziel.
Texas defensive end commit and No. 78-overall Derick Roberson (San Antonio, Texas/William J. Brennan High)
: I guess I would say Johnny Manziel. I like how he plays with his swagger and confidence the most, so I would probably say him.
Notre Dame commit and No. 76-ranked Tyler Luatua (la Mirada, Calif./La Mirada High)
: I would take Manziel just because of the way he plays. If he doesn't have a wide receiver open, he can make plays himself. He can get the ball to his players if and when he wants to, but can also do it on his own when he needs to.
No. 38 overall John Smith (Long Beach, Calif./Long Beach Polytechnic High School)
: That's a hard one. As of right now, I would go with Jameis Winston. Overall, he's a great player. I think Winston has an awesome football IQ. Johnny had his year too, but I think Winston is just a great player. Outstanding.
Dylan Sumner-Gardner
: Jameis Winston, man. I feel comfortable with Jameis Winston as my quarterback because he's smart and accurate. Johnny is accurate too, but Johnny is Johnny. How he runs around, people may get nervous. I would just feel more comfortable with Jameis as my quarterback.
No. 22 overall Laurence Jones (Monroe, La./Neville High)
: That's a hard one right there. Let me think ... maybe Johnny Manziel because I don't think I've ever seen a white boy get down like that. It would have to be Johnny Manziel.
Penn State wide receiver commit Chris Godwin (Middletown, De./Middletown High)
: I think Jameis Winston. I think overall he's a better passer. I want a quarterback back there that can get me the ball on a consistent basis, but Johnny Manziel is a great player, too. I'm actually a big fan of both of them.
Five-star and Virginia defensive tackle commit Andrew Brown (Chesapeake, VA
Oscar Frommel Smith High)
: Dang, that's a good question, man. I would go with Jameis Winston. His leadership qualities, coming in as a freshman and doing the things he is doing is definitely uncommon. It just foreshadows what he is going to do in the future, too. He's already established a great foundation for himself, and I would definitely take him in the future.
Maryland commit Will Ulmer (Washington, D.C./Saint John's High)
: I'm going with Johnny Manziel. I think he's more dynamic, and more of a game-changer. Jameis Winston is a great quarterback too, but you have to think about all the dudes he has around him at FSU -- all the great receivers and good running backs. I would go with Manziel because if you put him on the Florida State team, or a stacked team like that, it would be a scary sight.
December, 16, 2013
12/16/13
5:30
AM ET
1. Mack Brown conducted his retirement press conference at the University of Texas on Sunday with the same charm and straightforwardness that he conducted so many of his big-stage moments. Brown said he began this season convinced that the Longhorns would return to national prominence. So did a lot of writers. It doesn't surprise me that the writers had no inkling that the Longhorns wouldn't be able to stop anyone. But Brown sounded just as surprised as the rest of us that his team stumbled. That's a head-scratcher.
2. Florida State head coach Jimbo Fisher, trying to explain what sets apart his Heisman trophy winner, quarterback
Jameis Winston
, from other redshirt freshmen. "He throws a touchdown, he has to understand why he did it so he can repeat it. … He always wanted to know why he had success, or why he had failure, so he could repeat it or fix it. And that's very rare in a young player."
3. Will Texas thrive under a new head coach? The cautionary tale is Tennessee, which forced out Phillip Fulmer, a future Hall of Famer, five years ago. Since then, the Volunteers have floundered under three head coaches (cumulative record: 28-34. Then there's Army, which fired Rich Ellerson on Sunday after a 12th consecutive loss to archrival Navy. Ellerson is the third Black Knights head coach to be relieved of his duty without beating the Midshipmen. Army never should have run off Bob Sutton, now the Kansas City Chiefs defensive coordinator.
December, 12, 2013
12/12/13
5:30
AM ET
1. The Heisman Trust dictated that when we voted this year, we pledge not to reveal it to the media or our spouses or our bartenders. To which I say, control freak who? All right, have it your way. I read the police report regarding Florida State quarterback
Jameis Winston
, and I didn't like what I read about him. But I sighed, held my nose and cast my vote, and the guy I voted for is going to win. Whoever that might be.
2. The secrecy pledge is a study in chutzpah, asking media members that do nothing but beat the drum for the Heisman 12 months a year not to talk about their individual vote. The Heisman people also just shoved the pledge under the voter's nose as he/she cast the electronic ballot: sign this or else, pal. That's what bullies do. Oh yeah, my second-place vote went to a tattooed quarterback who didn't win a third national championship this year. And if you led the FBS in rushing, I might have voted you third.
3. I have tried very hard not to get sucked into the Nick-Saban-to-Texas vortex, because I think it's a case of Texas people saying what they want to hear, combined with Saban's agent, Jimmy Sexton, roiling the waters on behalf of his client. And did Texas really say that they want to hire a head coach who has won a Super Bowl or a BCS title? If nothing else, that shows a lack of imagination. How many coaches who have won either had done so before that team/school hired them? One: Saban.
September, 4, 2013
9/04/13
4:23
PM ET
Texas head coach Mack Brown joined the ESPNU College Football podcast Wednesday, and explained why the Longhorns didn't recruit Florida State QB
Jameis Winston
:
"There was a season where the Longhorns were 5-7 and had a lot of staff turnover and it was hard to recruit out of state guys and that's what happened with Winston … a guy he trusted didn't think they had a chance so they moved on. You can't get every player you want and you learned to deal with it."
Brown discussed other topics with Matt Barrie and Ivan Maisel on the podcast. Click
here
to listen to the rest of the interview.
ESPNU's national signing day coverage kicks off at 9 a.m. ET. Here's the list of the announcements and time for some of the top prospects.

NOTE: Bold names are announcements, all others are interviews.


January, 30, 2012
1/30/12
11:11
AM ET
ESPNU's national signing day coverage kicks off at 9 a.m. ET. Here's the list of the announcements and time for some of the top prospects.

NOTE: Bold names are announcements, all others are interviews.


January, 29, 2012
1/29/12
4:28
PM ET
January, 19, 2012
1/19/12
1:51
PM ET
By
RecruitingNation
| ESPN.com
Tune in to ESPNU at 5:30 p.m. ET today for RecruitingNation. Tom Luginbill, Craig Haubert and national and local writers from RecruitingNation break down the latest recruiting news from across the country.
Thursday's show will look at the impact on
Gunner Kiel
's decision to attend Notre Dame, what the pledge does for the Irish and where does LSU go now at quarterback? There will also be analysis on
Mario Edwards
' decision to eliminate Texas from consideration on Thursday, what
Jameis Winston
is going to do and how Oklahoma is going do to recover from losing one of its best recruiters.
Luginbill and Haubert will also review the new ESPNU 150 rankings that were released on Thursday and highlight some of the big risers and fallers.
The broadcast can also be seen on
WatchESPN
.
Celebrating Black History Month With Texas HC Charlie Strong
BIG 12 SCOREBOARD
Thursday, 9/3
Friday, 9/4
Saturday, 9/5