Texas Longhorns:

Jamaal Charles
July, 10, 2013
7/10/13
11:00
AM ET
AUSTIN, Texas -- Now that the picks in the inaugural
all-time Texas draft
are in, it is time to pick a few nits. And maybe a few superlatives as well. Here is the good and the bad of the draft.
[+] Enlarge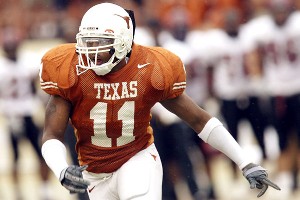 Stephen Dunn/Getty ImagesLinebacker Derrick Johnson was drafted with the first pick of the second round in our #HornsNationDraft.
Best pick:
Steve Worster, fullback, 1968-70: Sure there were a lot of players picked before Worster. In fact, he went in the last round. And it is that fact, plus his obvious skill and accomplishments while at Texas, that makes him the best pick of this draft. Worster was an integral piece of the wishbone offense under Darrell Royal. He rushed for 2,353 yards at Texas and was part of back-to-back national title teams. For Worster to last as long as he did was a shock and a nod to the fact that fullback is a position many overlook these days. Galindo, whose team was built on defense and line play, picked up a valuable asset who fits the dynamic of his team when he snagged Worster in round 24.
Most underrated pick:
Doug English. The defensive tackle had 260 career tackles (111 solo), was a two-time all-conference player, a first-team All-American in 1974 and is a member of the College Football Hall of fame. Somehow he slipped to the 18th round of a 24-round draft.
Biggest reach:
Kwame Cavil
. Texas has not been a school blessed with wide receivers, but for Cavil to be the third receiver picked, after
Jordan Shipley
and
Roy Williams
, is a stretch. Mike Adams,
Quan Cosby
and B.J. Johnson had more career receiving yards. And current Longhorn
Mike Davis
may very well, too, by the end of his career. Plus, Cavil is not in the top 10 in career touchdowns for a receiver.
Toughest position to pick:
Wide receiver. Texas simply has not produced much talent at this position. Behind Williams and Shipley it can be a crapshoot when selecting this group. Mike Davis, a current receiver who has had his ups and downs, is actually sixth on the all-time yardage list for receivers. That is how shallow the pool is for receivers at Texas.
Best offensive team:
Strickland.
Colt McCoy
to Jordan Shipley might be enough. It was the most prolific quarterback to receiver combination in the history of Texas and one of the most prolific in college football history. Add in
Jermichael Finley
who had 76 receptions over a two-year period, more than any Texas tight end, and
Alfred Jackson
, who averaged 19 yards per catch during the Earl Campbell years, and it makes for the most explosive offense of the four.
Best defensive team:
Galindo. It was clear from the start Galindo was going to pick the best Texas players from the weakest positions, which is why, saddled with the last pick of the first round and the first pick of the second, Galindo went with linebackers Tommy Nobis and
Derrick Johnson
. Add in
Brian Orakpo
as his third pick and
Tony Brackens
as the fourth, and this was a team built around defense first.
Team that would win four-team playoff:
Adams. Any of the teams can be picked apart, but Adams has a solid balance of offensive firepower and the strongest secondary of the four.
Vince Young
and Earl Campbell can do a lot of damage to any defense. Shon Mitchell was a flash-in-the-pan back but was productive in the 1995-96 seasons. Add in
Johnathan Gray
and Adams' team has the ground game covered. His team is slightly weak in the passing game -- make that very weak -- but in a four-team playoff, controlling the ball and stopping the other team from making explosive plays will win out.
Best lines:
Dunn. There were a lot of linemen to go around, especially on the defensive side of the ball. Dunn was bale to pick up maybe the best two Texas linemen early with Bob McKay and Jerry Sisemore. He followed that up with Bill Atessis at defensive tackle, completing a run in which three of his first five picks were used to build the lines. Dunn grabbed Doug English in the 18th round. The only real reach on either line was
Roger Roesler
, a third team All-American in 1999, but that didn't come until the 22nd round.
Best backfield:
Dunn. Earl Campbell and
Jamaal Charles
were two of the most prolific backs to play at Texas. Add in Bobby Layne at the quarterback position and it makes for the most complete and sturdy backfield in this year's draft.
August, 24, 2012
8/24/12
3:00
PM ET
I saw colleague Heather Dinich's look at
the longest 1,000-yard rusher droughts in the ACC
earlier this week, and got curious: What about the Big 12 droughts?
No big surprise, Texas Tech leads the way by a long, long time.
Florida State has the nation's longest 1,000-yard rusher drought (Warrick Dunn, 1996), but Tech is only two years behind.
The Big 12 had just three 1,000-yard rushers last year among teams that return for 2012, but every other team in the Big 12 has had at least one 1,000-yard rusher since 2007.
The last team to have two 1,000-yard rushers? Oklahoma's record-setting offense in 2008, which scored more points than anyone in college football history. DeMarco Murray and Chris Brown both topped quadruple digits.
The Big 12 is known for its passing acumen, and perhaps no one is synonymous with that than Texas Tech. Last year, Eric Stephens was well on his way to a 1,000-yard season before dislocating his knee, among other damage.
Here's how long each team's drought has been:
No drought
Baylor: Terrance Ganaway, 2011: 1,547 yards
Oklahoma State: Joseph Randle, 2011: 1,216 yards
Kansas State: Collin Klein, 2011: 1,141 yards
One year
Oklahoma: DeMarco Murray, 2010: 1,224 yards
TCU: Ed Wesley, 2010: 1,078 yards
Two years
West Virginia: Noel Devine, 2009: 1,465 yards
Iowa State: Alexander Robinson, 2009: 1,193 yards
Four years
Texas: Jamaal Charles, 2007: 1,619 yards
Kansas: Brandon McAnderson, 2007: 1,135 yards
13 years
Texas Tech: Ricky Williams, 1998: 1,582 yards
May, 31, 2012
5/31/12
11:30
AM ET
We took a look at the All-Big 12 crossover team earlier this week, but colleague Ted Miller took a look at the All-Pac-12/NFL team
over at the Pac-12 blog on Tuesday
.
So, what about the Big 12? I'm glad you asked.
I love the NFL, and it's time to take a look at the Big 12's top players at the next level. This isn't about what you did in college. This is about what you've done at the next level. Sorry,
Vince Young
.
You must be active, and I'm judging this team based on how good players are
right now
. However, I included players from teams in the Big 12 during the 2011 season.
Let's start with the offense:
QB: Sam Bradford, St. Louis Rams (Oklahoma)
Bradford edges out Kansas State's
Josh Freeman
for this award. Bradford won Rookie of the Year honors after winning the Heisman at OU, but had a rough sophomore season. Either way, it's Bradford's spot here.
RB: Adrian Peterson, Minnesota Vikings (Oklahoma)
Peterson's recovering from a serious knee injury, but he's got a case as the game's best running back.
RB: Jamaal Charles, Kansas City Chiefs (Texas)
Charles is coming back from a torn ACL, but he rushed for 1,467 yards in 2010, his second consecutive 1,000-yard season.
WR: Wes Welker, New England Patriots (Texas Tech)
I hated to leave
Michael Crabtree
off this list, but there's no doubt Welker belongs. His 1,569 receiving yards in 2011 were a career high, and his fourth 1,000-yard season.
WR: Jeremy Maclin, Philadelphia Eagles (Missouri)
Maclin is a deep threat for
Michael Vick
and dangerous as a runner, too. Anybody who saw him at Mizzou isn't surprised. He dealt with a cancer scare in 2011, but should get back to his form in 2012 like he was in 2010, catching 70 passes for 964 yards and 10 scores.
WR: Dez Bryant, Dallas Cowboys (Oklahoma State)
Bryant's a rising star, but health issues have slowed him a bit. He nearly doubled his production in 2011, his second season, with 928 yards and nine touchdowns.
TE: Jermichael Finley, Green Bay Packers (Texas)
Finley's been a big target for MVP
Aaron Rodgers
, and caught eight touchdown passes on 55 catches for 767 yards.
OL: Jammal Brown, Washington Redskins (Oklahoma)
Brown is a two-time Pro Bowler and a one-time All-Pro who left OU as an Outland Trophy winner in 2004. Most impressive? He's started 84 of a career 85 games.
OL: Davin Joseph, Tampa Bay Buccaneers (Oklahoma)
Joseph made two Pro Bowls (2008, 2011) and helped pave the way for
LeGarrette Blount
and a powerful Bucs rushing offense. He only took a season as a part-time starter before earning full-time honors in his second year in Tampa.
OL: Jeromey Clary, San Diego Chargers (Kansas State)
Clary started 60 games since being drafted in the sixth round in 2006.
OL: Phil Loadholt, Minnesota Vikings (Oklahoma)
Loadholt was a juco transfer who made a big impact on one of the best O-lines in Big 12 history for the 2008 Sooners. He's started every game of the first three years of his career for the Vikings helping pave the way for Adrian Peterson.
OL: Louis Vasquez, San Diego Chargers (Texas Tech)
Vasquez was the only rookie starter for the Chargers in 2009, and he's started all 34 games of his career. He already established himself as one of his division's top linemen.
Come back later this week when we tackle the defense.
Who would you have on the team?
March, 28, 2012
3/28/12
8:49
AM ET
AUSTIN, Texas -- These days, there's lots of hype setting up in Texas' backfield.
Malcolm Brown arrived in Austin a year ago as the nation's No. 2 running back. At 215 pounds, he brought hope the days of power running were back in burnt orange.
There's no parade scheduled (yet?) for Johnathan Gray's arrival this summer, but the nation's No. 1 running back signed on with the Longhorns in February.
[+] Enlarge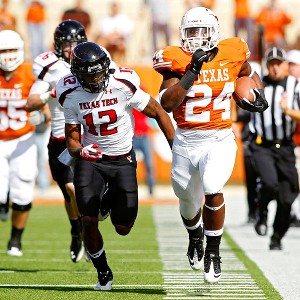 Erich Schlegel/Getty ImagesLonghorns back Joe Bergeron has trimmed the fat this offseason.
With Brown, the two form the most highly recruited duo of backs in the country. Come fall, neither may be the starter.
That job could go to
Joe Bergeron
.
"He's really good. He's big. He's strong. He can catch," said Longhorns coach Mack Brown.
Don't see Bergeron's name among the nation's elite that flock to Texas every February? No worries. You may see it very often very soon.
The 241-pound power runner was the nation's No. 1 fullback in the same class as Malcolm Brown, but didn't rank in the top 75 prospects in his own state.
He stepped into Texas' crowded backfield as a true freshman and finished second on the team in carries and yardage behind Brown, and competition between the two for the starting job is heating up in the spring.
"His weight has fluctuated between 238 and 241, and he hasn't lost one ounce of speed. And some of his high school teammates came to one of the junior days and saw him and said, 'My gosh, he looks like he's really lost weight.'" Mack Brown said. "I walked over and asked him. And he said, 'I'm 241. I've actually gained weight.' But he's lost body fat. He's in great shape."
Getting in shape and staying there was Brown's chief concern for both of his young backs this spring, and not just in trimming body fat.
Both struggled with injuries throughout their first seasons on the field, and those strains continued in offseason conditioning workout, reigniting concerns.
But during the spring, both have proved they can take the punishment required as running backs in Texas' offense and stay on the field.
"To play and be a great player, you've got to stay healthy. It's a harsh thing to say, but if you're a guy who stays hurt and can't be on the field consistently, then you'll never be a great player," Brown said. "One of the things that Malcolm and Joe needed to accomplish this spring, and they've done it so far, is make sure that they took care of their bodies and they stretch properly and they eat properly and they get well and can stay well, because it's such a bruising position that we're going to have enough guys next year we can rotate guys and we can keep them out there just a limited amount of time and keep them fresh."
Brown noted that past stars like Cedric Benson, Jamaal Charles and Heisman winner Ricky Williams were constantly healthy.
Bergeron, Malcolm Brown and Gray will get their touches come fall, but Bergeron carried the ball 100 fewer times than Brown did last season.
Those numbers could even out if Bergeron keeps at his current pace and if, like Benson, Charles and Williams, he stays healthy.
"Cedric Benson against Michigan, the first play of the game, hyperextended his knee and the doctor said I'm not sure I would play if I was you because you're a first-round draft choice. He said: Tape it up, I'm going to play. He went back in and played every play," Mack Brown said. "That's the attitude we want to get on this football team. We've had too many guys in my estimation hurt. Not talking about those two. But in general. We've had too many guys that will miss a game or miss a practice. So we're putting a tremendous amount of emphasis on who is out there every day, who is consistent every day, who gets ready to practice every day and who is excited about playing every day."
January, 24, 2012
1/24/12
8:00
AM ET
Ryan Perrilloux's name still draws hard looks and ire from the Texas faithful.
He was supposed to be the next quarterback. The one after Vince Young. The one who would continue to build on the foundation that Mack Brown had laid at Texas.
Throughout the fall of 2004, Perrilloux was considered the prize of the 2005 recruiting class. The quarterback was setting records left and right at East St. John's High School in Reserve, La. And despite receiving heavy pressure from LSU and many others, Perrilloux remained steady to his commitment to Texas. Until, suddenly, he wasn't.
[+] Enlarge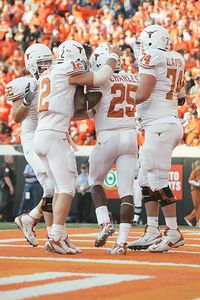 Alicia Jerome/US PresswireJamaal Charles (25) rushed for over 3,000 yards in his career at Texas.
At the last minute, Perrilloux switched to LSU and was considered a huge get for Les Miles in his first recruiting class with the Tigers. As it turned out Perrilloux was a huge bust. But the just-in-case quarterback Texas had snagged, Colt McCoy, was not.
Five years later, with hindsight as a guide, it turned out McCoy should have been the headliner in this rather small class of 15. Although, really as this class matured it became littered with headline players like Jamaal Charles, Quan Cosby and Jermichael Finely
Most underrated: Colt McCoy
McCoy was a reach. He was a 6-foot quarterback from a small school, Jim Ned, who didn't have a big arm and wasn't highly sought after by most of the big boys. Texas A&M offered but beyond that Texas just had to beat out the also-rans in the Big 12.
That's how Texas was able to offer so late, get an official visit from McCoy in January and get his commitment just two days later on Jan. 23, 2005.
After a redshirt season, McCoy grew to be one of the winningest and most-decorated quarterbacks in Texas history. He is the only quarterback in NCAA history to win 10 or more games in four straight seasons.
In 2008-09, McCoy led Texas to a 25-2 record. He was knocked out of the BCS title loss against Alabama in 2009 early in the first quarter.
Biggest get: Jamaal Charles
Again this wasn't a class filled with flat-out stars. Texas, which had a hugely successful class in 2002, was just trying to full a few holes here and there. It turned out Charles knew how to find holes on the field and get through them.
Celebrating Black History Month With Texas HC Charlie Strong
BIG 12 SCOREBOARD
Thursday, 9/3
Friday, 9/4
Saturday, 9/5