Texas Longhorns:

JaCorey Shepherd
May, 15, 2014
5/15/14
10:30
AM ET
Earlier Thursday, we concluded our 22-round draft of current Big 12 players. Below are the three lineup outcomes of that draft, and as you can see, each of us went in different directions.

Like the St. Louis Rams, Max and Brandon built up their defensive lines before worrying about the rest of their rosters. While I grabbed the best quarterback in the league and surrounded him with protection and weapons.
After each lineup, read our final takes on our teams. Then, decide who drafted best in the weekly Big 12 poll.
BRANDON CHATMON'S TEAM
OFFENSE
DEFENSE
What Brandon says about his team:
"Offensively, as soon as Petty was gone with the first pick I knew I wouldn't take a quarterback until my final pick. Knight could be the steal of the draft. Versatility is the name of the game with the rest of the offense. We can put Pierson and Smallwood in the backfield and go read option or really ruin your Saturday and throw Daje back there in the Diamond. When you bring more guys in the box, you leave Seales and Lockett one-on-one. Or we can just go five wide and you can try to cover running backs who run routes like receivers with your linebackers. And an experienced offensive line will be the foundation of it all. Defensively, it would be wise for opposing quarterbacks to tell their families to stay home when facing this group. We're going to man up and have our mail forwarded to the opposing backfield and make you want to take your ball and go home. And with a secondary full of coverage guys, I'm not concerned about the back end of the defense holding up. We'll win more battles than we lose. By the final whistle, my team will have earned the moniker 'Chatmon's chaos creators' with Tapper, Reed, Brown, Hunter, Alexander and Robertson living in your backfield."
MAX OLSON'S TEAM
OFFENSE
DEFENSE
What Max says about his team:
"You do not want to play against my team. That was my goal going in, and I constructed exactly the team I wanted. I have a great QB in Webb who gets to throw to Goodley, one of the nation's best receivers, and he'd help Jaxon Shipley put up Jordan Shipley numbers. I have the two-back punch of Linwood and Gray. I have Hill, who can do everything, and a good line. We're going to spread the ball around like crazy. Good luck stopping that. On defense, you have Fields, Oakman and Grissom all rushing the passer. That's deadly. We can go three-man fronts or even put Oakman in the middle, letting the 6-foot-8 stud swat your passes down. And while you're worrying about him and Grissom, you have the Big 12's best defensive player [Fields] coming after you. Hager and Shannon will hold it down at the second level, and the secondary is full of playmakers. This is a fun team, plain and simple, and one that can frustrate the heck out of anybody."
JAKE TROTTER'S TEAM
OFFENSE
DEFENSE
What Jake says about his team:
"Max and Brandon are good at talking smack. I'll give them that. But my players do their talking on the field. Once I was fortunate to land reigning Big 12 Offensive Player of the Year Bryce Petty as my quarterback, my goal was two-fold: to keep him upright from pressure off the edge; and, to surround him with firepower. I accomplished both ends, and then some. I wasn't able to get either of the two elite receivers in the league in Goodley or Lockett. But I put together the best overall receiving corps in Grant, Shepard and Bundrage, who could all deliver 1,000-yard receiving seasons in 2014. On top of that, I snagged the best pass-catching tight end on the board in Bibbs, as well as Brown, so that we can pound the ball between the tackles when we need. Speaking of tackles, aware that Brandon and Max were focused almost solely on their pass rush in the early rounds, I also added two of the most reliable pass-protecting bookends in the league in Drango and Williams. Defensively, I can bring pressure, too, with Mueller and Striker, who last season respectively placed second and fourth in the Big 12 in sacks. Castleman and Britz are roadblocks, Heeney and Dawson are tackle machines and my entire secondary has All-Big 12 potential. We don't talk. We just dominate."
May, 15, 2014
5/15/14
9:00
AM ET
Following up on NFL draft weekend,
we've been conducting our own draft
, picking from current Big 12 players to fill out three 22-man lineups.
Below is a recap of the first 15 rounds of the draft from the past two days, followed by rounds 16-22.
As another reminder, this is NOT a Top 25 player ranking. It's only an exercise in determining where the value of the league lies, and the different strategies to putting a team together from the league's present talent pool.
Jake Trotter:
Brandon Chatmon:
Max Olson:
Round 16
Olson: WR/RB Tyreek Hill, Oklahoma State
Chatmon: OLB Pete Robertson, Texas Tech
Trotter: OLB Brandon Golson, West Virginia
Analysis: "To combat the offensive attacks I would face in the Big 12, I'm going with a 3-4 on defense. Golson, who led the Big 12 in forced fumbles last season, is another playmaking outside linebacker who would fit in nicely in this scheme opposite Striker." -- Trotter
[+] Enlarge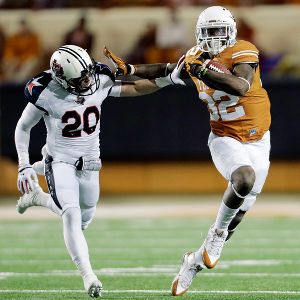 AP Photo/Eric GayGetting potential Big 12 rushing leader Johnathan Gray in the 17th round could be a big steal for Max Olson.
Round 17
Trotter: LB Paul Dawson, TCU
Chatmon: C Dominic Espinosa, Texas
Olson: RB Johnathan Gray, Texas
Analysis: "I ended up getting a potential All-Big 12 running back in the 17th round. So I feel pretty good about that. Gray should be healthy for the opener, and he leads all returning Big 12 rushers with 86 rushing yards per game last season." -- Olson
Round 18
Olson: OT Troy Baker, Baylor
Chatmon: SS Quentin Hayes, Oklahoma
Trotter: OG Mark Glowinski, West Virginia
Analysis: "I wanted a safety who is comfortable in holding his own in coverage, while also having the ability to make plays all over the field. Hayes is the guy. With Worley, Shepherd, White, Barnett and Hayes in the secondary, I can unleash the rest of my defense on the quarterback and feel comfortable about my secondary holding its own against anyone." -- Chatmon
Round 19
Trotter: OG Nila Kasitati, Oklahoma
Chatmon: WR Tony Pierson, Kansas
Olson: SS Terrell Burt, Baylor
Analysis: "With Max and Brandon hoarding centers, I needed to attack the interior of my offensive line. Kasitati can excel manning either guard or center, and Glowinski is one of the league's top returning guards." -- Trotter
Round 20
Olson: OT Halapoulivaati Vaitai, TCU
Chatmon: WR Jhajuan Seales, Oklahoma State
Trotter: WR Quenton Bundrage, Iowa State
Analysis: "The guys I wanted for my second guard spot weren't available at this round, so I'm going with the mammoth "Big V" Vaitai (6-foot-6, 308 pounds) and moving one of my other tackle selections inside. I ended up with a fairly good offensive line, which was pretty much my plan going in." -- Olson
Round 21
Trotter: CB Nigel Tribune, Iowa State
Chatmon: WR Wendell Smallwood, West Virginia
Olson: LB Nick Kwiatkoski, West Virginia
Analysis: "I picked up Bundrage in the previous round to seal up what I feel is the best all-around receiving corps, even if I didn't get Goodley or Lockett. Tribune, the only true freshman to play for Iowa State in the past two seasons, is a corner with a ton of upside and, paired with Kevin Peterson, should provide me plenty of tenaciousness against the pass." -- Trotter
Round 22
Olson: WR Jaxon Shipley, Texas
Chatmon: QB Trevor Knight, Oklahoma
Trotter: C Jared Kaster, Texas Tech
Analysis: "I just got the steal of the draft, and I knew I would wait until the final round to do so. As soon as Jake snapped up Petty, I knew I would be content with Davis Webb or Trevor Knight and wouldn't draft a quarterback until the final round. The fact that Max opted for Webb made things even better for me as Knight has the versatility to run a run-heavy offense or spread things out and use his arm. He fits perfectly with the versatility I was striving for with each pick." -- Chatmon
May, 14, 2014
5/14/14
9:00
AM ET
By
ESPN.com staff
| ESPN.com
Following up off of NFL draft weekend,
we've been conducting our own draft
, picking current Big 12 players with the premise of filling out three 22-man lineups.

So far, this draft has been revealing, accentuating the prospective strength of the conference (defensive line) in 2014, as well as some of the potential shortcomings.
As a reminder, this is NOT a top-25 player ranking. It's only an exercise in determining where the value of the league lies, and the different strategies to cobbling a team together from the league's present talent pool.
Below is a recap of the first seven rounds of the draft from Monday, followed by rounds 8-15. We'll conclude the draft Thursday by picking the final seven rounds.
Jake Trotter:
Brandon Chatmon:
Max Olson:
Round 8
[+] Enlarge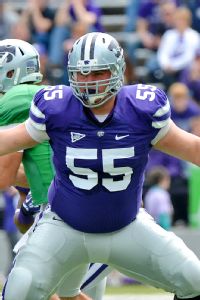 Peter G. Aiken/Getty ImagesKansas State's Cody Whitehair provides versatility on the offensive line.
Round 9
Round 10
Round 11
Round 12
Round 13
Round 14
Round 15
February, 27, 2014
2/27/14
3:00
PM ET
As we await the start of spring ball, we've been examining and ranking the
positional situations of every team in the Big 12
. Thursday, we close this series out with special teams.
1. TCU:
Honorable mention All-Big 12 place-kicker
Jaden Oberkrom
was 13 of 14 on field goals inside the 50 last season and drilled a 56-yarder late in the fourth quarter at Kansas State.
B.J. Catalon
was second in the league in kickoff returns and took one to the house in the opener against LSU. Freshman
Cameron Echols-Luper
took his first punt return 51 yards and had a 41-yarder in the season finale against Baylor.
Brandon Carter
has had moments in the return game in the past as well.
Ethan Perry
will be a three-year starter at punter, rounding out a formidable special teams unit.
2. Baylor:
Corey Coleman
led the league in kick returns, and
Levi Norwood
scored twice off punt returns. The Bears are loaded with potential game-breakers in the return game and welcome back All-Big 12 punter
Spencer Roth
. If
Kyle Peterson
proves to be a reliable replacement for departing kicker
Aaron Jones
, this special teams unit will have no weakness.
[+] Enlarge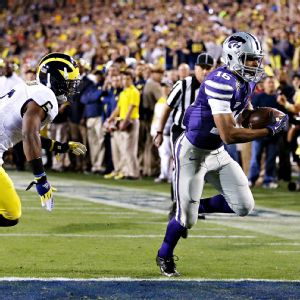 Christian Petersen/Getty ImagesAlong with being a top-flight wide receiver, Kansas State's Tyler Lockett can also provide big plays in the return game.
3. Kansas State:
The Wildcats feature one of the best kickoff return men in the game in
Tyler Lockett
, who doubles as an All-American WR candidate.
Jack Cantele
, the younger brother of All-Big 12 K-State kicker Anthony Cantele, only missed two field goal attempts as a sophomore and nailed a 41-yarder as time expired to beat TCU. Defensive tackle
Travis Britz
also returns after leading the nation with four blocked kicks.
4. Texas Tech:
The Red Raiders will feature a lethal one-two punch in the return game in
Jakeem Grant
and
Reginald Davis
, who took a kick back for a touchdown in the bowl game. Receiver
Jordan Davis
also has return experience. Kicker
Ryan Bustin
returns after garnering honorable mention All-Big 12 honors last year.
5. Oklahoma:
The Sooners lose the most explosive return duo in the league in
Jalen Saunders
and
Roy Finch
.
Sterling Shepard
and
Alex Ross
could be among the players who replace them. Oklahoma boasts the league's most efficient returning place-kicker in
Michael Hunnicutt
, who nailed 24 of 27 field goal tries last season. The Sooners have a secret weapon in
Nick Hodgson
, who led the league in touchback kickoffs last season.
Jed Barnett
, fifth in the Big 12 in punting average last season, returns as well.
6. Iowa State:
The Cyclones had four players make first- or second-team All-Big 12 last season, and departing punter
Kirby Van Der Kamp
was one of them. Replacing his production won't be easy, though incoming three-star freshman
Colin Downing
will try.
DeVondrick Nealy
,
Jarvis West
and
Aaron Wimberly
all had several dynamite moments returning kicks.
Cole Netten
was 13-of-18 on field goals as a freshman,
7. West Virginia:
Nick O'Toole
leads the Mountaineers on special teams. The "Boomstache" was 15
th
nationally in punting last season. The Mountaineers have all their returners back in
Wendell Smallwood
,
Mario Alford
and
Jordan Thompson
, though more big plays are needed from this group -- the Mountaineers ranked last in the league in both punt and kick returns in 2013.
Josh Lambert
comes back after making 17 of 23 field goals as a freshman. The Mountaineers also enjoy a luxury in
Michael Molinari
, who can do a little bit of everything.
8. Texas:
The Longhorns lose their punter and their kicker in consensus All-American
Anthony Fera
. That hurts.
Nick Jordan
, who made nine of 15 field goals in 2012, could reclaim his job.
Daje Johnson
-- who returned a punt for a TD against Oklahoma --
Duke Thomas
,
Quandre Diggs
,
Marcus Johnson
,
Kendall Sanders
and
Jaxon Shipley
all have experience returning.
9. Kansas:
Return men
Connor Embree
(punts) and
JaCorey Shepherd
(kicks) both come back. The Jayhawks also return kicker
Matthew Wyman
, who connected on a game-winning 52-yard field goal to beat Louisiana Tech. The freshman, however, only made two field goals after that and eventually lost that job to departing senior
Ron Doherty
.
Trevor Pardula
was third in the Big 12 in punting as a junior and received votes for Big 12 Special Teams Player of the Year.
10. Oklahoma State:
After enjoying All-Americans Dan Bailey and Quinn Sharp the last few years, the Cowboys were finally mediocre in the kicking game last season.
Ben Grogan
struggled as a freshman, making just 11 of 18 field goals while missing two critical attempts in the early-season loss at West Virginia. The Cowboys were also last in the league in punting. Oklahoma State signed three-star kicker
Zach Sinor
with hopes of curing some of those ills. The Cowboys were still dynamic in the return game, but with
Justin Gilbert
and
Josh Stewart
both gone, Oklahoma State could lean on juco transfer and track star
Tyreek Hill
for a jolt on returns.
February, 26, 2014
2/26/14
3:00
PM ET
As we await the start of spring ball, we're examining and ranking the
positional situations of every team in the Big 12
, continuing Wednesday with defensive backs. Some of these outlooks will look different after the spring. But here's how we see the defensive back groups going into the spring:

1. TCU:
TCU has been tenacious defending the pass since joining the league, and even without potential first-round pick
Jason Verrett
, that shouldn't change in 2014.
Sam Carter
was the only non-senior to earn first-team or second-team All-Big 12 honors in the secondary last season, and
Chris Hackett
was one of the best underclassman defensive backs in the league last year.
Derrick Kindred
is primed to step into TCU's third safety spot after playing a key role in the rotation. The Horned Frogs also add the nation's No. 3 juco safety in
Kenny Iloka
. Throw in senior
Geoff Hooker
, and the Horned Frogs have an impressive five-man rotation at safety. At corner,
Kevin White
was honorable mention All-Big 12 last year, and will take over for Verrett as the primary corner. The Horned Frogs have several options at the other corner, including incoming three-star recruit
Nick Foster
.

2. Texas:
After playing the nickel role last year,
Quandre Diggs
will settle back at cornerback in place of
Carrington Byndom
. Opposite Diggs will be the ultra-athletic
Duke Thomas
, who was so good in spring ball last year, he forced the coaches to move Diggs to nickelback. Together, Diggs and Thomas could give the Longhorns the best cornerback tandem in the league.
Antwuan Davis
, who redshirted in his first year, was an ESPN 300 signee and figures to play a big role somewhere in the secondary.
Josh Turner
(37 appearances) and
Mykkele Thompson
(12 starts in 2013) each bring a lot of experience at safety.

3. Oklahoma:
Oklahoma graduates the heart and soul of the secondary in cornerback
Aaron Colvin
, who gutted his way through an array of injuries last year. But if the Sooners can find an adequate replacement for him, the Big 12's best pass defense statistically in 2013 should be stout again.
Julian Wilson
(nickelback),
Zack Sanchez
(cornerback) and
Quentin Hayes
(strong safety) all return as starters, though Hayes could be pushed by
Ahmad Thomas
and incoming freshman
Steven Parker
for time.
Hatari Byrd
, an ESPN 300 signee last year, should step into the vacant spot at free safety.
Cortez Johnson
will try to fend off
Stanvon Taylor
, who played as a true freshman, for Colvin's spot in the only real uncertain area of this secondary.

4. Kansas State:
The Wildcats will miss All-Big 12 performer
Ty Zimmerman
, but his cohort,
Dante Barnett
, was one of the best young safeties in the league last year. Barnett was third on the team with 75 tackles and first with four interceptions.
Randall Evans
also returns after leading the team in pass breakups and gives the Wildcats a versatile defensive back. As usual, Bill Snyder will also be looking for some juco impact. He should get it in
Danzel McDaniel
, who was the No. 4 juco CB recruit in the country. Cornerback
Jesse Mack
also could prove to be a key juco signee. If both players pan out, this could become one of the better defensive backfields in the league.

5. West Virginia:
The bad news is the Mountaineers had the Big 12's worst pass defense last year. The good news is they bring back three starters.
Karl Joseph
has started the last two seasons at free safety, though he could slide to the strong side with
Darwin Cook
gone. Joseph has All-Big 12 potential, and he needs to elevate his game for the West Virginia defense to take another step forward. Veteran
K.J. Dillon
could be the front-runner for the job alongside Joseph, though
Jeremy Tyler
and
Jarrod Harper
will also be in the mix. West Virginia also brings back both starting cornerbacks in senior
Ishmael Banks
and
Daryl Worley
, who started as a freshman. The Mountaineers also signed
Keishawn Richardson
, the No. 8 juco CB, and
Jaylon Myers
, the No. 9 juco safety, for depth. Cornerback
Dravon Henry
, an ESPN 300 signee who had offers from Alabama, Florida State and Ohio State, could play immediately if one of West Virginia's veterans struggle.

6. Kansas:
The Jayhawks return all five starters from their secondary, including last year's Big 12 Defensive Newcomer of the Year, strong safety
Isaiah Johnson
. Returning cornerbacks
Dexter McDonald
and
JaCorey Shepherd
, a converted wide receiver, were both honorable mention All-Big 12 selections and give the Jayhawks one of the better corner duos in the league. Free safety
Cassius Sendish
started every game and had 12 tackles in Kansas' only Big 12 victory in 2013, over West Virginia. Nickelback
Courtney Arnick
started in six games as a redshirt freshman. If this group collectively improves, Kansas could field a solid defense in 2014.

7. Oklahoma State:
The Cowboys lose All-Big 12 cornerback
Justin Gilbert
, who might be selected high in the first round of the NFL draft after a stellar combine performance. The Cowboys welcome back one of the best young corners in the league in
Kevin Peterson
, who was terrific as a sophomore in coverage opposite Gilbert.
Ashton Lampkin
has experience, and he will likely fill the other corner spot unless someone else emerges.
Lyndell Johnson
, who made a transition from linebacker to safety last season, will take over full time at strong safety. The Cowboys will need someone else to emerge at the other safety in place of departed veteran starter
Daytawion Lowe
.
Deric Robertson
,
Tre Flowers
,
Jordan Sterns
,
Taylor Lewis
and
Darius Curry
, all from the 2013 recruiting class, are possibilities.

8. Texas Tech:
How the Red Raiders retool here will be on one of the bigger spring storylines in Lubbock.
Keenon Ward
and
Justis Nelson
were thrown in the fire as freshmen last year, and they will be counted on to fill bigger roles. The gem of the incoming recruiting class, four-star cornerback
Nigel Bethel II
, could be asked – and has the capability – to play right away. The Red Raiders have to replace both starting safeties, including freshman
Tanner Jacobson
, who is going on a Mormon mission. To compensate, Tech signed six safeties, including
Josh Keys
, the No. 5 juco safety in the country, who had offers from Auburn, Georgia and Oklahoma State. Getting strong safety
J.J. Gaines
back from a season-ending injury will be a boost, too.

9. Baylor:
The Bears are one of several teams in the league that were decimated in the secondary by graduation. Baylor loses four of its five starters, including All-American safety
Ahmad Dixon
. Safety
Terrell Burt
is the only returning starter, leaving the other four spots up for grabs. The Bears signed juco corners
Tion Wright
and
Chris Sanders
to help fill the void. Both are already on campus and will be battling
Xavien Howard
,
Ryan Reid
and
Tyler Stephenson
for a starting job.
Orion Stewart
, who backed up Dixon as a redshirt freshman, will likely step in his role, and fellow sophomore
Kiante' Griffin
will be the favorite to take over at the nickel.

10. Iowa State:
Cornerback
Nigel Tribune
was the only true freshman to play for the Cyclones last year, and he received votes as Big 12 Defensive Freshman of the Year. Tribune, however, is the only returning starter. Veteran safety mainstays
Jacques Washington
and
Deon Broomfield
are gone. In response, the Cyclones will look for
Devron Moore
and
Qujuan Floyd
, the Nos. 6 and 7 juco safety recruits, respectively, to step in immediately.
October, 14, 2013
10/14/13
3:00
PM ET
Here are this week's unsung heroes:
Linebacker Eddie Lackey, Baylor:
Overshadowed by
Bryce Hager
's 18-tackle performance, Lackey had a solid game in the Bears' 35-25 win over Kansas State. He finished with 10 tackles, including eight solo stops, and a forced fumble. His active play is one of the reasons the Bears' defense is playing better in 2013.
[+] Enlarge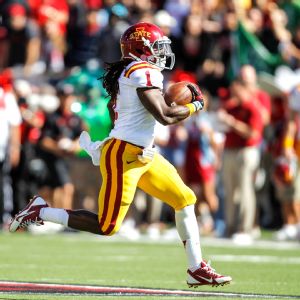 Jerod Foster/Icon SMIJarvis West's efforts on special teams provided a major boost for Iowa State.
Receiver Jarvis West, Iowa State:
The Cyclones' wideout helped keep his squad in the game with his special teams' prowess. He had a 95-yard kickoff return for a score and added 46 punt return yards including a 38-yarder. West finished with 177 all-purpose yards, more than 100 yards more than the next best Cyclone.
Cornerback JaCorey Shepherd, Kansas:
Shepherd did it all in the Jayhawks' 27-17 loss to TCU. He had seven tackles, one sack, one forced fumble and a 32-yard interception return for a touchdown. It was a terrific performance in his return home for the former Mesquite (Texas) Horn standout.
Running back John Hubert, Kansas State:
An overlooked aspect of
Daniel Sams
' explosive day was Hubert's increased production. The senior had 15 carries for 90 yards to provide a solid 1-2 running punch alongside Sams. Hubert clearly becomes a more productive player with a running threat at quarterback.
Linebacker Frank Shannon, Oklahoma:
The sophomore had the quietest 16-tackle performance in recent memory. Shannon continued to be a consistent playmaker on OU's defense, recording those 16 tackles and forcing a fumble in the Sooners' 36-20 loss to Texas. He's proving to be a player the Sooners can count on, week in and week out.
Linebacker Dalton Santos, Texas:
The Longhorns were stout against the run in their 36-20 win over OU, and Santos played a key role. The sophomore made plays from sideline to sideline and was consistently around the football. He finished with six tackles including 1.5 tackles for loss. Santos has helped offset the loss of
Jordan Hicks
for the Longhorns' defense.
Running back B.J. Catalon, TCU:
Catalon continues to be a playmaker for the Horned Frogs, accounting for a team-high 122 yards. The sophomore averaged 9.38 yards per touch in TCU's 27-17 win over Kansas. On an offense searching for playmakers, it seems like the Horned Frogs can't get the ball in Catalon's hands enough, particularly if he can take better care of the football.
Running back Sadale Foster, Texas Tech:
One of three Red Raiders to rush for more than 80 yards, Foster averaged 9.7 yards per carry in Tech's 42-35 win over Iowa State. He had nine carries for 87 yards and one touchdown. He averaged 14.8 yards per carry on first down (five carries, 74 yards), including a 38-yard touchdown scamper in the fourth quarter to put the game away.
Note: Oklahoma State and West Virginia did not play in Week 7.
Texas Longhorns Show Out On Pro Day
BIG 12 SCOREBOARD
Thursday, 9/3
Friday, 9/4
Saturday, 9/5