Texas Longhorns:

Glasco Martin
May, 12, 2014
5/12/14
4:30
PM ET
Seventeen Big 12 players heard their names called during the 2014
NFL draft
. Many other Big 12 alums will have a chance at the next level as undrafted free agents.
Below is a list of undrafted players who reportedly have agreed to free agent deals. This is not a final list, as teams are still working to sign undrafted free agents. But these are the players we know of so far.

Baylor

Iowa State

Kansas

Kansas State

Oklahoma

Oklahoma State

TCU

Texas

Texas Tech

West Virginia
November, 16, 2013
11/16/13
7:00
AM ET
Oklahoma State and Texas will duke it out with Big 12 title implications on the line; Oklahoma, Texas Tech and West Virginia will try to bounce back from disappointing losses; Kansas and Iowa State will attempt to get off the Big 12 snide; TCU will hope to remain bowl eligible, and Baylor and Kansas State will look to keep rolling.
Those, among others, will be the storylines to watch in Week 12 of the Big 12:


Iowa State at No. 18 Oklahoma, 11 a.m. CT (FS1):
Coach Bob Stoops said he would be sticking with
Blake Bell
as his starting QB, but also indicated backup
Trevor Knight
could get more playing time. The Sooners are beat up after last week's loss at Baylor, with receiver
Sterling Shepard
, linebacker
Jordan Evans
and defensive backs
Julian Wilson
and
Aaron Colvin
all dealing with an assortment of injuries. Iowa State is still looking for its first Big 12 victory and guaranteed to have its worst record since Paul Rhoads became coach in 2009.


West Virginia at Kansas, 11 a.m. CT (FSN):
Despite a deflating overtime loss to Texas last weekend, the Mountaineers are still on track for a bowl berth. But they have to win here. Behind freshman QB
Montell Cozart
, who is expected to get more playing time if not the start over
Jake Heaps
, Kansas will attempt to snap its 27-game losing streak in Big 12 games. If the Mountaineers don't take better care of the ball -- they turned it over five times against Texas -- the Jayhawks just might have a shot.


No. 12 Oklahoma State at No. 24 Texas, 2:30 p.m. CT (FOX):
Both teams enter this showdown on a roll. Texas has won six straight while Oklahoma State has reeled off five in a row. The Longhorns, however, will be without running back
Johnathan Gray
and defensive tackle
Chris Whaley
, who both suffered season-ending injuries last weekend. This game carries major Big 12 title repercussions, though Texas could still win the league with a loss. This is the fifth time Oklahoma State and Texas have met as BCS-ranked teams. The Longhorns won the previous four meetings.


TCU at Kansas State, 2:30 p.m. CT (FSN):
K-State is one of the hottest teams in the Big 12, coming off three straight wins and a 49-26 victory at Texas Tech. QBs
Daniel Sams
and
Jake Waters
have been incredibly efficient during the win streak, completing 73 percent of their passes without an interception. Senior running back
John Hubert
has had the hot hand, too, rushing for more than 100 yards the last two games. TCU has to win this game to keep its slim bowl hopes alive. The good news is that
Brandon Carter
is beginning to perform like the No. 1 wideout the Horned Frogs thought he would be at the beginning of the season. Carter had six receptions for 93 yards in last week's win at Iowa State.


Texas Tech at No. 5 Baylor, 6 p.m. (FOX):
Baylor is in the thick of the national championship conversation, but remains on the outside looking in on the title game and could use some more style points. The Bears, however, will be without star wideout
Tevin Reese
, who suffered a dislocated wrist last week. Running backs
Lache Seastrunk
(groin) and
Glasco Martin
(knee) are banged up, too, and questionable for this game. Texas Tech is 1-10 in the month of November, and desperately needs a victory to stave off another late-season collapse. That won't be easily achieved here. The Bears are four-touchdown favorites.
November, 11, 2013
11/11/13
11:00
AM ET
Taking stock of Week 11 in the Big 12:
Teams of the week:
For the first time this season, we're recognizing two teams here, as both Baylor and Kansas State snagged the biggest wins of their seasons in impressive fashion.
The Wildcats jumped to a 35-10 lead at then-No. 25 Texas Tech, then coasted to a 49-26 rout. QBs
Daniel Sams
and
Jake Waters
produced the two-highest Big 12 Adjusted QBRs of the week (98.4 and 94.9), while
John Hubert
, who had a 63-yard touchdown run on the opening drive, finished with a season-high 157 rushing yards.
Baylor was equally dominant in a 41-12 win Thursday night over Oklahoma. QB
Bryce Petty
kept his Heisman campaign alive with three touchdowns passes and two touchdown runs. Baylor's defense put the clamps on the Sooners, holding them to just 237 yards, the lowest output from an OU offense since 2007.
Disappointment of the week:
Oklahoma traveled to Waco with a chance to gain an upper hand over the Big 12's favorite. Instead, the Sooners were exposed as a second-tier team in the conference. OU was especially dreadful offensively.
Blake Bell
completed just 15 of 35 passes with two interceptions for a raw QBR score of 5.9 (scale 0-to-100). The Sooners averaged only 2.6 yards per carry on the ground, as well, with just one run going for more than 10 yards. With games at Kansas State and Oklahoma State still looming, the Sooners could be on the verge of their worst season since 2009.
[+] Enlarge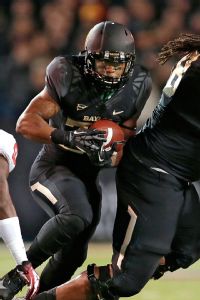 AP Photo/Tony GutierrezThird-team running back Shock Linwood had his third 100-yard game for Baylor on Thursday.
Big (offensive) men on campus:
Baylor running back
Shock Linwood
, TCU receiver/quarterback
Trevone Boykin
and the Kansas State offensive line.
With
Lache Seastrunk
banged up and
Glasco Martin
injured, Linwood kept the Baylor ground game rolling without a hitch, piling up 182 yards while averaging 7.9 yards per carry. Despite being Baylor's third-team tailback, Linwood astonishingly is second in the Big 12 with an average of 89.3 rushing yards per game.
Back in the role he was always meant for, Boykin was excellent at Iowa State as a receiver and change-of-pace quarterback. He scored three touchdowns on five carries, including a one-yard keeper in the final minute to lift TCU to a 21-17 win. Boykin also had four receptions.
Finally, K-State's offensive line obliterated Texas Tech up front, setting the tone for the Wildcats in Lubbock. Behind
Cornelius Lucas
,
Cody Whitehair
,
BJ Finney
,
Keenan Taylor
and
Tavon Rooks
, the Wildcats rolled up 291 yards on the ground with an average of almost seven yards per carry.
Big (defensive) men on campus:
Texas defensive ends
Jackson Jeffcoat
and
Cedric Reed
, Oklahoma State defensive tackle
Calvin Barnett
and Baylor safety
Ahmad Dixon
.
The Longhorns gave up 40 points in Morgantown, but Jeffcoat and Reed were swarming West Virginia's backfield all night. The two combined for three sacks, two forced fumbles and two fumble recoveries, as the defense gave the Texas offense excellent field position for most of the game.
Barnett spearheaded another strong defensive effort from the Cowboys in a 42-6 win over Kansas. Barnett had five tackles, two tackles for loss and a sack.
Dixon led Baylor's shutdown effort of the Sooners. He had a team-high 8½ tackles, a tackle for loss and a pass breakup, as Oklahoma failed to score a touchdown until late in the third quarter.
Special-teams players of the week:
Oklahoma State returner
Justin Gilbert
, Iowa State returner
DeVondrick Nealy
and Texas kicker
Anthony Fera
.
With former Oklahoma State great Barry Sanders in attendance, Gilbert pulled off his best Sanders impression, taking the opening kickoff 100 yards for a touchdown.
Nealy opened the third quarter against TCU with a 98-yard TD return that tied the game.
As he has been all year, Fera was clutch in Texas' overtime win at West Virginia. He converted all five of his extra points and all four of his field goals, including the 24-yarder in the final seconds to send the game to overtime. Fera has missed only one field goal attempt all season, and the four makes at West Virginia were a career-best.
Play of the week:
With 59 seconds to play, Texas faced fourth-and-7 trailing West Virginia 40-37. Out of a timeout, QB
Case McCoy
stepped into the blitz and delivered a first-down strike to
Jaxon Shipley
a yard ahead of the marker. Fera ended the drive with a game-tying field goal, then the Longhorns prevailed in overtime to win their sixth straight game.
Stat of the week:
After surrendering an average of 7.0 yards per carry in losses to BYU and Ole Miss, the Texas defense has held its past six opponents to a combined average of 3.2, with nobody topping more than 4.0 in a game.
Quote of the week:
"We're not a tradition. But we're going to be here awhile, the way this thing is going." -- Baylor defensive coordinator Phil Bennett, after the Bears' 41-12 win over Oklahoma
November, 6, 2013
11/06/13
6:15
PM ET
Thanks for your questions during my chat. You can find the
full transcript here.
Daryl (Texas)
Why has no one talked about the fact that two former Big 12 middleweights are making such a big splash in the "big bad SEC". Seems to me that two programs that couldn't manage to win the Big 12 being in the hunt for SEC division titles should garner more respect for the teams in this conference. Thoughts?
Brandon Chatmon
You're not the first to point it out but it does need to keep being mentioned Daryl. Facts are facts and Mizzou and A&M are definitely holding their own in the SEC.
Drew (Katy)
Hey Brandon, keep up the great work. I don't like seeing Baylor as a 14 to 15.5 [point] favorite for tomorrow. … 1) I think it will be extra motivation for OU and 2) Baylor is used to an underdog role and we don't know how they'll respond as being the top dogs. They will have a target on their back against the team that has run this conference since its inception. Do you think the spread matters for the players? Will OU come out being angry thinking they have something to prove to earn respect? Will BU come out lackadaisical thinking they've already won before the opening kickoff? Please let me know your thoughts on this, it is appreciated.
Brandon Chatmon
1) No, I don't think the point spread matters to players. 2) I do think the Sooners take it personally when people say they won't win a game or, worse yet, say they're going to get hammered. 3) I don't see any way that happens. That atmosphere will be electric tomorrow night and BU wants to show they are for real.
Robbie (Waco)
Who rushes for more yards
Glasco Martin
or
Blake Bell
?
Brandon Chatmon
Glasco … and not just because I like typing Glasco.
Joy (Arkansas)
Please give me your predictions for the Baylor/OU game on Thursday night. Will BU's defense step up? Will OU's defense be able to stop the Bears offense?
Brandon Chatmon
My prediction is 35-24, Baylor. I think OU's defense will play better than people expect but its offense will let it down as the Bears defense is better than people give it credit for.
rtXC1 (Denison, Texas)
I noticed the 2014 Big 12 schedule isn't backloaded like 2013. With all the tough nonconference games next season being early, will it hurt having the top Big 12 teams play each other earlier, too? Or is it better because they'll have enough time to work their way back up the polls?
Brandon Chatmon
You bring up a interesting point. I tend to think it is better to have important games on the back end, when people are really, really paying attention. But that's just me.
buck (IOWA
) How bad would Mizzou and TAMU be whopping up on the Big 12 if they were still in the conference?
Brandon Chatmon
As bad as they did when they were in the conference. Or did they?
RJ (OK)
Isn't Texas' rebound just more condemnation of Mack's coaching? I mean … those losses to BYU and Ole Miss look pretty bad when you look at what Texas has done in the conference.
Brandon Chatmon
I would agree. And I would hope Mack would agree.
Jordan (Tyler)
What are your major conference rankings right now. Out of the SEC, Pac-12, Big 12, BIG, ACC?
Brandon Chatmon
I'd give the Pac 12 the nod followed by the SEC, Big 12, ACC and Big Ten.
October, 14, 2013
10/14/13
9:00
AM ET
After a Red River upset, the power rankings have a new top two:

1. Baylor (5-0, 2-0 Big 12, last week 2):
Kansas State coach Bill Snyder had the right game plan to slow Baylor. Run the ball, chew up clock, bottle up
Lache Seastrunk
, take away the quick passing attack and hope you can somehow survive Baylor's vertical speed downfield. But that's what makes the Bears so prolific. Take away the short stuff, and
Bryce Petty
will beat you deep with
Tevin Reese
& Co. Back off, and Baylor will tear you apart with quick passes and a heavy dose of Seastrunk with a side of
Glasco Martin
. K-State proved the Bears could be slowed. But can they be stopped?
2. Texas Tech (6-0, 3-0 Big 12, last week 3):
In 2012, West Virginia was 5-0 when it traveled the 1,500 miles to Lubbock, Texas, where its season began to go the wrong direction. Can the Red Raiders avoid a similar fate against a likewise backloaded schedule? There's reason to believe Tech is better equipped to do so than last year's Mountaineers. At the moment, the Red Raiders' balanced offense claims four of the top eight receivers in the Big 12, while the defense has been tremendous at getting off the field on third down. The next two games, on the road at West Virginia and Oklahoma, will determine whether Tech is a contender or pretender. If the Tech quarterbacks keep spreading the ball around and the defense continues to buck up in key situations, it very well might be the former.
3. Texas (4-2, 3-0 Big 12, last week 5):
The 1989 Longhorns and 1996 Sooners also pulled off big upsets in the Red River Rivalry. Both teams, however, went just 2-4 the rest of the season. The biggest question for Texas coming off its most impressive victory in four years is whether it can keep it going. At 3-0 in the Big 12 standings, the Longhorns have plenty to play for. If Texas keeps running its offense through running backs
Johnathan Gray
and
Malcolm Brown
and its veteran offensive line, and defensive ends
Jackson Jeffcoat
and
Cedric Reed
keep wreaking havoc, it's not unthinkable that Texas could be playing for the Big 12 title in Waco, Texas, on Dec. 7.
4. Oklahoma (5-1, 2-1 Big 12, last week 1):
Quarterback
Blake Bell
was completely off in his first Red River start, but he didn't get a lot of help from Josh Heupel, either. The offensive coordinator kept Oklahoma's designed quarterback running plays that had been so effective on the shelf even though Texas had been vulnerable all year to stopping the quarterback run game. While Texas finally elected to ride Gray in the running game, the Sooners are the ones that now seem confused about who to ride. Is it
Brennan Clay
?
Damien Williams
? True freshman
Keith Ford
? The good news is that Bob Stoops is 14-0 the game after Texas, with an average winning margin of 27 points; OU visits Kansas on Saturday, too. But if the Sooners don't figure out who they are offensively soon, they could be staring down yet another second-half swoon.
5. Oklahoma State (4-1, 1-1 Big 12, last week 4):
An interesting question to think about: Had he not transferred to Illinois, would
Wes Lunt
be Oklahoma State's starting quarterback this weekend against TCU? My hunch is he would. Spotty downfield passing is restricting the potential of this Cowboys offense, which still has the playmakers at receiver to form the the basis of a prolific attack. Problem is,
J.W. Walsh
can't consistently get them the ball. And now the best pass defense in the conference comes to town. If the Cowboys sputter again, they'll have to give serious thought to giving
Clint Chelf
another shot to open up an offense that has looked shockingly mediocre against Big 12 competition.
6. TCU (3-3, 1-2 Big 12, last week 6):
Announced attendance of Saturday's home game against Kansas was almost 42,000. But based on photos taken of the stands, it looked like there was less than half that. As one of the preseason favorites, the Horned Frogs carried plenty of hype into the season. But after three early-season losses, apparently the excitement surrounding the program for this season has completely evaporated. It might be too soon, however, to give up on TCU. Nobody has played a tougher schedule thus far. And few teams have been bit harder by the injury bug. If the Frogs can pull off the upset in Stillwater, Okla., they could fight their way back into the Big 12 race, especially if quarterback
Casey Pachall
can return to the field from a broken forearm before month's end.
7. West Virginia (3-3, 1-2 Big 12, last week 7):
The West Virginia defense has had a week to recover from the TKO it suffered in Waco. No matter who Dana Holgorsen goes with at quarterback this week, the Mountaineers' best chance of getting bowl eligible is with solid defense. But is this a solid defense? It's hard to tell. The Mountaineers have had two good defensive performances (Oklahoma, Oklahoma State) and two bad ones (Maryland, Baylor). What West Virginia does against Texas Tech this weekend will be revealing about where this defense really is.
8. Kansas State (2-4, 0-3 Big 12, last week 8):
The Wildcats have been in every game, and yet don't have much to show from it. This still could be a bowl team, however. Getting starting receivers
Tyler Lockett
and
Tramaine Thompson
back from injury after the open week would be a boost. But the real key will be limiting turnovers. The Wildcats are last in the Big 12 in turnover margin, a year after they led the conference in the category. If quarterback
Daniel Sams
can take better care of the ball, K-State is good enough and well coached enough to get to six wins despite the tough start.
9. Iowa State (1-4, 0-2 Big 12, last week 9):
With a bounce here or there, the Cyclones could easily be 2-0 in the conference. This young team is making plays, but it still has to figure out how to win games in the fourth quarter. Now, the Cyclones find themselves in a tough spot this week. They face a Baylor offense looking to prove it's better than it showed over the weekend. The Bears also haven't forgotten about losing in Ames, Iowa, last year. If Iowa State is still in the game at halftime, that will be a victory in and of itself.
10. Kansas (2-3, 0-2 Big 12, last week 10):
You have to give it up to the Jayhawks for showing some fight at TCU. The early start, the paltry crowd, the loss of running back
Tony Pierson
-- there were many reasons for Kansas to mail it in. Instead, the Jayhawks took TCU to the brink and had the ball three different times in the fourth quarter with a chance to tie the game. The Jayhawks might not win a Big 12 game this season, but if they keep scrapping and clawing like they did Saturday, they'll have more chances.
October, 13, 2013
10/13/13
10:00
AM ET
What we learned about the Big 12 from Week 7:
1. Texas is alive:
The Longhorns were dead on arrival at the Cotton Bowl. Well, that's what the Sooners thought. Instead, Texas outplayed, outmaneuvered and, that's right, outcoached Oklahoma to pull off the biggest Red River upset in 17 years.
[+] Enlarge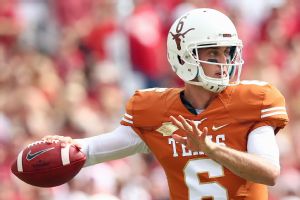 Tom Pennington/Getty ImagesCase McCoy and Texas moved to 3-0 in the Big 12 after a surprising win over Oklahoma on Saturday.
Case McCoy
threw a pair of touchdowns that his brother Colt couldn't have placed any better. The offensive line kicked OU's tail in the trenches. And the defense forced
Blake Bell
to deliver one of the worst QB performances in Red River history. After his biggest win in at least four seasons, Mack Brown said the Horns were out of the grave. Texas is more than just out of the grave. The Longhorns are suddenly 3-0 in the Big 12 standings, and right in the thick of the conference race.
2. OU has problems:
The blueprint on how to shut down the Sooners is on tape. Load the box. Dare Bell to beat you deep in man coverage. If only that was OU's lone issue. Mike Stoops' 3-3-5 scheme predicated on speed worked wonders through September. But Saturday in Dallas, it was exposed in the trenches. The Longhorns got 5 yards between the tackles any time they wanted, as
Johnathan Gray
and
Malcolm Brown
became the first Texas duo ever to rush for 100 yards apiece in the same Red River game. Not having linebacker and senior captain
Corey Nelson
(torn pectoral) was a killer. But he's not coming back, either. The defense, however, is the least of OU's worries. After playing well against Tulsa and Notre Dame, Bell has looked completely discombobulated the past two weeks. He's been unable to consistently locate receivers down the field, which has emboldened defenses to crowd the line of scrimmage and cover up OU's running game. After the game, coordinator Josh Heupel said he never considered making a QB switch. But if Bell keeps playing like he did in Dallas, the Sooners will be forced to.
3. Baylor can in fact be slowed:
After Baylor became the first team in 83 years to score 70 points in three straight games, the question began to be asked: Can these Bears be slowed down? Kansas State showed in Manhattan the answer is yes. In its first road test of the season, Baylor did not display the same crispness offensively it had at home. The Bears were still impressive, as QB
Bryce Petty
connected on touchdown passes of 93, 72 and 54 yards. But outside those three quick-strike scores, Baylor was largely handcuffed. After punting seven times through their first four games, the Bears had to punt six times at K-State. The running game, too, was held in check as
Lache Seastrunk
and
Glasco Martin
were limited to less than 100 yards rushing combined until Baylor's final game-clinching touchdown drive. The fact the Bears still scored 35 points on a day in which they struggled offensively says all you need to know about how prolific this offense is. But K-State proved, with the right game plan, it's an offense that can be slowed, too.
4. Daniel Sams has star potential:
This season, the Big 12 is loaded with QBs who can cause damage with their wheels -- notably Bell, Oklahoma State's
J.W. Walsh
and TCU's
Trevone Boykin
. But nobody in the league comes close to what Sams is able to do on the ground. The K-State QB shredded Baylor's defense for 199 rushing yards and three touchdowns, nearly leading the Wildcats to the upset as 17-point underdogs. When Sams was in the game, the Bears knew what was coming. And they still couldn't stop it. Sams' big limitation right now is with his decision-making in the passing game. For the second straight week, he was picked off on a potential game-winning drive in the fourth quarter. But Sams quietly has the second-best adjusted QBR (86.5) in the Big 12, behind only Petty (95.1). With an 0-3 start in the league, this has clearly become a rebuilding season for the Wildcats. But they have something to rebuild around in their sophomore quarterback.
5. Tech can win with at least two QBs:
Texas Tech became bowl eligible for the 20
th
time in the past 21 seasons with a 42-35 win over Iowa State. And the Red Raiders did it using their second true freshman starting quarterback of the season. With
Baker Mayfield
out with an injured knee,
Davis Webb
got the nod and was solid. Webb completed almost 63 percent of his passes for 415 yards and three touchdowns with only one interception. Webb's adjusted QBR was only 53.5 (scale of 0-100) in the game. And as coach Kliff Kingsbury pointed out afterward, there were some throws Webb would like to do over again. But his performance was more than good enough for Tech to move to 6-0. "We've got three guys [who] can win ball games," Kingsbury said. Mayfield and Webb have proved that the Red Raiders have at least two. And in preseason projected starter
Michael Brewer
, who has returned from a disc injury, Kingsbury believes they have a third. In 2012, Oklahoma State's offense kept humming despite rotating quarterbacks in and out due to injuries. Thanks to comparable skill talent surrounding its quarterbacks, Tech is having success doing the same thus far.
October, 22, 2012
10/22/12
12:00
PM ET
AUSTIN, Texas -- Longhorns coach Mack Brown has made it perfectly clear that Texas' defense is now operating under simplified standards.

"The only thing we're evaluating now is wins," Brown said after Saturday's game.

Stats are out the window, he says. Texas beat Baylor 56-50 on Saturday night. That is all. The rest is what it is. Let's judge this win, then, by the new standard.
April, 3, 2012
4/03/12
4:00
PM ET
Across our little blog village here at ESPN, we're taking a look at the top newcomers in college football this year. You (probably) don't know their names yet, but here's who you need to watch this fall in the Big 12.
Will Smith, LB, Texas Tech:
The Red Raiders only found Smith while recruiting another possible impact transfer, running back SaDale Foster. The California juco transfer stepped on campus this winter and by the end of spring, coach Tommy Tuberville called him the team's best linebacker. He started playing outside, but Tuberville moved the 6-foot-2, 220-pounder to starting middle linebacker in the middle of camp so he'd be on the field even during passing downs. He'll be important to Tech's new 4-3 scheme. Think K-State's
Arthur Brown
, a Miami transfer who's almost the exact same size.
[+] Enlarge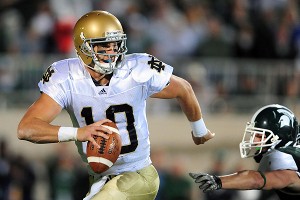 Andrew Weber/US PresswireFormer Notre Dame QB Dayne Crist brings experience as a starter to Kansas.
Dayne Crist, QB, Kansas:
You probably know this name, but Crist started nine games in 2010 for Notre Dame and appeared in 17 career games. He began 2011 as the starter, but was benched and transferred to KU to play his final season of college football for Charlie Weis, the coach who recruited him to South Bend as the nation's No. 2 quarterback and No. 22 overall prospect in the 2008 class. He threw 15 touchdowns and seven interceptions in 2010.
Brandon Moore, DT, Texas:
Moore is part of a changing world in Austin, thanks to a revamped coaching staff with some SEC sensibilites. He and OT Donald Hawkins were the first juco transfers to sign with Texas since 2002 and Moore may be the lynchpin of the Big 12's best defense this year. Teammates have described the "full-grown man" as "unstoppable." Such is life at 6-6 and 330 pounds. Moore has to work on his conditioning, but he's going to wreak havoc on Big 12 offensive lines when he's on the field this year. Look for him to collapse a pocket or two early and often this season.
Trey Metoyer, WR, Oklahoma:
Metoyer spent a year in military school after not qualifying academically, but he's already made an impact this spring after finally arriving at Oklahoma. He was the nation's No. 8 receiver in the 2011 class and offers the Sooners some much-needed sure hands. The unit came down with the dropsies late last season, and the FBS career leader for receptions,
Ryan Broyles
, is NFL-bound. Metoyer is exactly what the Sooners need to keep their offense on pace with the league's best, and he'll be catching passes from a Heisman candidate in
Landry Jones
.
Lache Seastrunk, RB, Baylor:
Seastrunk's short-lived career at Oregon was marred by a recruiting scandal, but he's back home, 30 miles north of his hometown in Temple, Texas, and ready for a fresh start. Baylor needs a replacement for Big 12 rushing champ
Terrance Ganaway
, and Seastrunk, the nation's No. 6 running back and No. 40 overall prospect in the 2010 class, is battling
Glasco Martin
and
Jarred Salubi
for the chance to be the man.
West Virginia and TCU:
Have y'all heard about this? It's gonna be kind of crazy. After losing four teams since June 2010, the Big 12 poached the Big East and added the former Southwest Conference-dwelling Frogs and the Mountaineers, badly in need of a home away from the weakened Big East.
Here's how we welcomed the Frogs
and
did the same for WVU earlier
this year.
Texas Longhorns Show Out On Pro Day
BIG 12 SCOREBOARD
Thursday, 9/3
Friday, 9/4
Saturday, 9/5