Texas Longhorns:

Gabe Ikard
September, 25, 2013
Sep 25
12:00
PM ET
September, 8, 2013
Sep 8
2:17
AM ET
NORMAN, Okla. -- About the time Oklahoma benched quarterback
Trevor Knight
, 1,800 miles away BYU running back
Paul Lasike
stiff-armed his way through the Texas defense for yet another rushing touchdown.
What a strange Saturday it was in this brave new Big 12 where one traditional power can't complete a pass and the other can't stop the run.
[+] Enlarge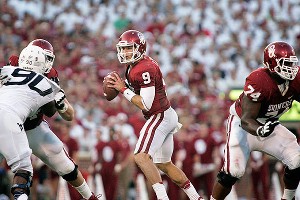 Brett Deering/Getty ImagesOklahoma quarterback Trevor Knight was pulled against West Virginia as the Sooners sputtered on offense. OU coach Bob Stoops indicated that Blake Bell might start next week vs. Tulsa.
And as Oklahoma and Texas showed why they're still miles away from contending on the national stage again, the conference race looks even more wide open than it did in the preseason.
In Norman, the
Sooners struggled to a 16-7 win over West Virginia
, which struggled to escape William & Mary just last week.
The Mountaineers had the third-worst pass defense in college football last season. But they managed to completely shut down the Sooners' once vaunted air attack.
After a lackluster first half, Knight's confidence seemed to fade with every pass. In the second half, the freshman completed just one throw for six yards. And after he tossed back-to-back interceptions deep in West Virginia territory, the coaches' confidence seemed to fade, too. Offensive coordinator Josh Heupel called only one more pass play on the next two series before replacing Knight with
Blake Bell
.
"It wasn't as good as we needed to be in the throwing game," coach Bob Stoops said. "So we gave (Bell) a chance."
But Oklahoma simply resorted to running a glorified "Belldozer" offense the rest of the way, as Bell attempted just one pass. By that point, the Sooners just wanted the game to be done.
"You don't mess with the football gods," Stoops said. "You do what you're supposed to do and burn the clock."
Last season in a 50-49 win at West Virginia,
Landry Jones
set an Oklahoma passing game record. Saturday, the Sooners scored their fewest points against a conference opponent since 2009 in a 10-3 loss at Nebraska – only
Ndamukong Suh
wasn't on the other side of the line this game.
The Sooners did play terrific defense for the second straight week, and rushed the ball with tremendous efficiency.
"Tonight showed we can win a grind-it-out type of game," said center
Gabe Ikard
.
But Stoops confessed that for the Sooners to meet their preseason goals of contending in the league and beyond, they'll have to pass better than they have.
"Sure, we do -- we got to be able to," said Stoops, who indicated he might make a quarterback change next week against Tulsa.
"We want to throw the ball and throw it well. We have to keep working on that."
Yet if Oklahoma's passing game was a dumpster fire, Texas' run defense was a full-blown forest inferno.
All preseason, Texas coach Mack Brown indicated this would be his best team since the 2009 Big 12 title team. In a humbling
40-21 defeat in Provo
, the Longhorns looked like the same uninspiring program of the last three years.
The Cougars rushed for 550 yards -- the most ever against any Texas defense -- and averaged 7.6 yards per attempt.
"We missed assignments," Brown said. "We missed tackles. They kept the ball and ran the ball up and down the field."
Brown said afterward he would wait to "watch the video" before deciding what to do with embattled defensive coordinator Manny Diaz.
But Texas' troubles go way deeper than one assistant coach. And after losing offensive playmaker
Daje Johnson
(ankle) and quarterback
David Ash
(head) to injuries, the Longhorns appear to be on the verge of shambles with little time for recovery before surging Ole Miss arrives in Austin next weekend.
"We've got 11 more games," said Texas receiver
Mike Davis
, "and we're trying to win them all."
The weekend showed that won't easily be done. As the Red River powers scuffled, the league's other contenders shined.
Amid questions about his throwing acumen, Oklahoma State dual-threat quarterback
J.W. Walsh
completed 24 of 27 passes and finished with more touchdown passes than incompletions in a
rout of UTSA
.
Quarterback
Baker Mayfield
was surgical again in Texas Tech's blowout of Stephen F. Austin. Through two games, Mayfield has completed 71 percent of his passes with seven touchdowns and no interceptions.
No offense, meanwhile, has looked more prolific than Baylor's. The Bears piled up 70 points and a school-record 781 yards against Buffalo, prompting Bulls coach Jeff Quinn to suggests the Bears were more difficult to deal with than Buffalo's last opponent, Ohio State.
"They've got a great team," he said. "They're really good."
Saturday, the Sooners and Longhorns weren't. And with those two struggling to regain their national perch, the rest of the Big 12 is looking better than ever.
July, 23, 2013
Jul 23
5:19
PM ET
DALLAS -- During this era of realignment, a sense of unfamiliarity has become common. Yet that doesn't make the getting-to-know-you phase any easier.
In 2012, every Big 12 team faced the challenge of preparing for a conference game against an unfamiliar opponent. As teams prepped for TCU and West Virginia during their first season in the league, there was plenty of uncertainty about the different challenges the newcomers would bring to the table.
"We didn't know what to expect," Texas Tech defensive tackle
Kerry Hyder
said.
[+] Enlarge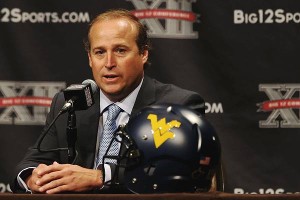 Kevin Jairaj/USA TODAY SportsDana Holgorsen and the Mountaineers have had a full season to acclimate to the rigors of Big 12 football.
Texas defensive end
Jackson Jeffcoat
added, "It's kind of like those first three games against teams not in your conference. When I first saw West Virginia on film I was like 'Wow, we're really playing them.' Everybody talked about playing them but to actually play them was cool, it made it real."
TCU brought solid defense, West Virginia brought explosive offense and nobody in the Big 12 had a great feel for their new conference rivals.
"You had to do more studying than usual," Oklahoma center
Gabe Ikard
said. "You may have seen that scheme but you haven't seen their personnel. If I've played a guy at Texas three times, you kind of know a little about them, but I hadn't played against any of them."
It wasn't a major issue that decided games, but it was a noticeable change from the weekly routine of preparing for a well-known conference opponent.
"Every year is different," Iowa State coach Paul Rhoads said. "We knew less about TCU and West Virginia a year ago, but this year's teams [at TCU and WVU] are going to be different than those teams. I don't know if we have a leg up this year but it's good to have a library of thoughts and film."
For the first time since 2010, the Big 12 will enter this football season with the same members as it had the previous season, giving teams a better idea of what it is going to take to win a conference title in 2013.
"This year we'll have a better game plan for them, we'll be more prepared for them," Hyder said of the newest conference members. "Experience helps in every aspect of life."
On the flip side, TCU and West Virginia will have a much better understanding of what it takes to have success in the Big 12. TCU coach Gary Patterson and WVU coach Dana Holgorsen did their best to prepare their teams with their words, but actually experiencing a Big 12 schedule was a better teacher than anything Patterson or Holgorsen could have said.
After one season in the Big 12, TCU safety
Sam Carter
came away with a much better idea of what success in the new conference requires.
"One mistake can cost you a game," Carter said. "Not just on defense, our offense understands that mistakes can kill you in this conference. Our first Big 12 loss [to Iowa State], we gave up a few big plays, and coaches had been telling us the whole summer that one mistake can cost you in the Big 12. And it came up and really cost us in a few games."
The Mountaineers had a slight advantage with Holgorsen at the helm. He had an extensive Big 12 background with coaching experience at Oklahoma State and Texas Tech before taking over at WVU in 2011. However, Holgorsen believes it will take at least two seasons before the Mountaineers really feel at home in the conference.
"I did my best of explaining what it's going to be like at the different places," Holgorsen said. "After a couple years, you start getting some familiarity with it, the fan base understands it, the administration understands it and your players understand it, and they can talk about it with the other guys."
While the Mountaineers have more experience after one season in the conference, Holgorsen said he'll still have some teaching do to. For example, since the Mountaineers hosted the Sooners in 2012, the players still don't know what it's like to play OU in Norman, Okla. Once they have played in stadiums across the Big 12, then he'll be more confident that his team has a complete understanding of what Big 12 football is all about.
"It's going to take time for half of our team to understand what it's like in Lubbock, Texas," he said. "And be able to relay that to the other kids in the locker room."
All these variables add to what could be one of the most entertaining Big 12 seasons in recent memory.
"It's the first year with everybody knowing what everybody is going to do," said OSU receiver
Josh Stewart
, a junior who has never experienced playing a conference schedule that featured the exact same teams he played the previous year. "It's going to be some exciting football in the Big 12."
July, 18, 2013
Jul 18
8:00
AM ET
What if you combined the 2013 rosters of Oklahoma and Texas? Who would start? Who would ride the pine? SoonerNation and HornsNation have teamed up to answer that question:
OFFENSE
QB: Blake Bell, Oklahoma
To continue reading this article you must be an Insider
June, 10, 2013
Jun 10
10:00
AM ET
HornsNation is breaking down Texas' 2013 football schedule every Monday this summer. This week: The Longhorns' sixth game of the season vs. the Oklahoma Sooners on Oct. 12 in Dallas.
Oklahoma 2012 record:
10-3 overall, 8-1 in the Big 12
Last time against Texas:
Oklahoma won 63-21 in the Red River Rivalry at the Cotton Bowl in Dallas in 2012.

Record against Texas:
Texas leads the series 59-43-5.
Starters returning:
RB
Damien Williams
, OL
Gabe Ikard
, FB
Trey Millard
, WR
Jalen Saunders
, WR
Trey Metoyer
, OL
Adam Shead
, CB
Aaron Colvin
, LB
Corey Nelson
, DE
Chuka Ndulue
, DB
Gabe Lynn
Starters lost:
QB
Landry Jones
, WR
Kenny Stills
, OL
Lane Johnson
, WR
Justin Brown
, CB
Demontre Hurst
, FS
Tony Jefferson
, LB Tom Wort, DL
Jamarkus McFarland
, SS
Javon Harris
, DE
David King
, DL
Casey Walker
To continue reading this article you must be an Insider
July, 17, 2012
7/17/12
1:01
PM ET
The Lombardi Award, which has my personal favorite description for its award, released its 145-man preseason watch list (you'll see why in a bit) and the Big 12 landed 17 players on it.
Here's who's eligible:
That's quite a hefty list. Here's the description I love to hear every year for who can win the award:
To be considered for the Rotary Lombardi Award players must be a Division I college football team member and meet the following qualifications:

Be a down lineman, end-to-end, either on offense or defense, setting up no farther than 10 yards to the left or right of the ball at the time of snap.
Be a linebacker on defense, setting up no farther than 5 yards deep from the line of scrimmage.
May not come out of the offensive backfield and set up on the line of scrimmage as a blocker or receiver, or be listed as a back or receiver.
Shows leadership, courage, desire, respect for authority and discipline.


The voting electorate is made up of the head coaches from all Division I schools, sports media personnel from across the country and former winners and finalists of the Rotary Lombardi Award. Currently the total number of voters is approximately 500.
Complicated, no? It's fun anyway. It also has
my favorite trophy of any of the college football awards
. I'm an unashamed Lombardi Award lover, folks.
Boston College's Luke Kuechly won the award last season. Nebraska's Ndamukong Suh (2009) was the last player from the Big 12 to win the award. Texas' Brian Orakpo (2008) was the last player from the current Big 12 configuration to win it.
Oklahoma and Texas both have three winners all-time, tied for the fourth-most nationally. Nebraska's five winners is second all-time behind only Ohio State (six).
July, 13, 2012
7/13/12
7:57
AM ET
The Outland Trophy, given annually to college football's best interior lineman (offense or defense) has released its 71-man watch list.
Seven players from the Big 12 made the cut. Here they are:
That's a pretty good list, but I probably would have liked to see Kansas State center
B.J. Finney
crack the list, too. The Outland Trophy is only for interior linemen, meaning no offensive tackles or defensive ends. These are truly the big uglies in the middle. Their names don't get mentioned enough.
Ndamukong Suh (2009) was the last Big 12 talent to win the award. Before him, it was Jammal Brown at Oklahoma in 2004.
Nebraska's nine and Oklahoma's five Outland Trophies are the most in college football.
The Big 12's seven candidates are fourth-most of the major conferences, led by the SEC's 19.
May, 23, 2012
5/23/12
12:00
PM ET
College football guru Phil Steele is
previewing his must-read offseason magazine
, and with it, he's releasing his all-conference and All-America teams.
Here's who he slated as his first-team All-Big 12 squad:
OFFENSE
QB:
Landry Jones
, Oklahoma
RB:
Joseph Randle
, Oklahoma State
RB:
Malcolm Brown
, Texas
WR:
Tavon Austin
, West Virginia
WR:
Kenny Stills
, Oklahoma
WR:
Stedman Bailey
, West Virginia
TE:
Jordan Najvar, Baylor
C:
Ben Habern
, Oklahoma
OL:
Lane Taylor
, Oklahoma State
OL:
Gabe Ikard
, Oklahoma
OL:
LaAdrian Waddle
, Texas Tech
OL:
Cyril Richardson
, Baylor
I'd probably go with Geno Smith ahead of Jones, but it's close. You could definitely make a compelling case for both.
I'd also lean more toward Terrance Williams at Baylor for that third receiver spot ahead of Stills. Stills' upside is still really high, but again, it's close between those two.
Good grief, the tight end spot in the Big 12 is a rough. Navjar is a good selection. Travis Tannahill at Kansas State could grab that spot, too. You're almost better off picking a sixth offensive lineman or a fullback like Trey Millard at Oklahoma, who's more valuable than any of the league's tight ends.
DEFENSE
DL:
Alex Okafor
, Texas
DL:
Stansly Maponga
, TCU
DL:
Jackson Jeffcoat
, Texas
DL:
Jamarkus McFarland
, Oklahoma
LB:
Jake Knott
, Iowa State
LB:
Tom Wort
, Oklahoma
LB:
A.J. Klein
, Iowa State
LB:
Arthur Brown
, Kansas State
CB:
Nigel Malone
, Kansas State
CB:
Brodrick Brown
, Oklahoma State
S:
Kenny Vaccaro
, Texas
S:
Tony Jefferson
, Oklahoma
SPECIALISTS
P:
Quinn Sharp
, Oklahoma State
K:
Quinn Sharp, Oklahoma State
PR
: Tavon Austin, West Virginia
KR:
Tyler Lockett
, Kansas State
No complaints among the specialists, but I'd definitely have kept a more traditional three linebackers. You could afford to leave Tom Wort off that list. Not so with the other three.
After a sad group of cornerbacks in 2011, the position looks pretty loaded this year. There's no fewer than five guys in my book who deserve strong consideration and probably a spot on the first team. It's too bad there are only two spots. Clearly, Malone and Brown are deserving, but so are Justin Gilbert, Carrington Byndom and Quandre Diggs.
Safeties are both loaded. Maybe two of the best defenders in the league.
Here's who Steele tabbed as All-Americans, too.
FIRST TEAM
SECOND TEAM
Landry Jones, QB, Oklahoma
Tavon Austin, WR, West Virginia
Arthur Brown, LB, Kansas State
Quinn Sharp, K, Oklahoma State
THIRD TEAM
Kenny Stills, WR, Oklahoma
Stedman Bailey, WR, West Virginia
Lane Taylor, OL, Oklahoma State
Quinn Sharp, P, Oklahoma State
Tyler Lockett, KR, Kansas State
FOURTH TEAM
Geno Smith, QB, West Virginia
Joseph Randle, RB, Oklahoma State
Terrance Williams, WR, Baylor
Gabe Ikard, OL, Oklahoma
Jackson Jeffcoat, DE, Texas
A.J. Klein, LB, Iowa State
Tony Jefferson, S, Oklahoma
Tavon Austin, KR, West Virginia
March, 13, 2012
3/13/12
2:00
PM ET
Our top 25 has come and gone, but we're taking a deeper look at the list throughout the day on the blog.
As we do with every list, here are the guys who were probably good enough to be on the top 25, but didn't make the cut. After all, there's only so much room.
These are listed in no particular order.
Carrington Byndom, CB, Texas:
Broke up 15 passes and picked off two passes, returning one for a touchdown. Also forced a fumble and of his 54 tackles, seven were for losses.
James Franklin, QB, Missouri:
Threw for 2,865 yards, 21 touchdowns and 11 interceptions. Also rushed for 981 yards and 15 touchdowns on 217 carries.
January, 25, 2012
1/25/12
2:00
PM ET
I unveiled
my All-Interview team this week,
but I heard about as much feedback from that post as any we've had on the blog.
Folks wanted more.
So, here it is. I asked the local reporters for help: Tell us the story of players this season who provided one memorable interview for one reason or another, or consistently offered a look inside teams that few other players could duplicate.
Here they are:
David Snow, OL, Texas
: Imagine what you'd expect a guy who grew up lifting hay bales and shooting deer in the small East Texas town of Giilmer to sound like. That's exactly the voice that comes from Snow, who spent every Longhorns media session spewing blunt honesty through his thick, slow drawl. If Texas stunk, Snow owned up to it, sometimes in PG-13 terms. If he didn't like an opponent (and he usually didn't) he had no problem describing his distaste. He was one of the few guys who seemed to genuinely enjoy talking to the media, and his listeners enjoyed it too. --
Mike Finger, San Antonio Express-News
Javon Harris, S, Oklahoma:
Came into the interview room for 30 minutes the Monday after that Baylor game, and answered every question honestly. --
Jake Trotter, SoonerNation
Shaun Lewis, LB, Oklahoma State
It's not about quantity. It's about quality. You don't get a lot of words from Lewis, but he always helps make the story better.
-- Bill Haisten, Tulsa World
Grant Garner, C, Oklahoma State:
Excellent, both on topics specific to the offensive line and the big-picture condition of Oklahoma State football. --
Bill Haisten, Tulsa World
Richetti Jones, DE, Oklahoma State:
Other than Weeden, Richetti was my favorite guy to chat with because he told you exactly how he felt about absolutely anything. He called out critics of the OSU defense when the Cowboys climbed to No. 2 in the nation. He ripped the BCS for the title game rematch that featured a team that didn't win its conference. But his jabs--or any answers he gave--were always entertaining. One of my interview highlights of the season was him describing how he thought the first earthquake that hit Oklahoma in November was paranormal activity in his bedroom. The dude is hilarious, and I'll miss talking with him. --
Gina Mizell, The Oklahoman
Gabe Ikard, OL, Oklahoma:
I noticed you had
Ben Habern
, and that's a very fine selection from the Sooners. But Gabe Ikard is more than suitable as an addition. In fact, once, we interviewed Habern and Ikard together, sitting next to one another. It was their choice. They cut up and had a good time with it, but they also gave a lot of answers I could use. (I remember that being the day I was writing about walk-on
Dominique Whaley
's impact on the team and previously working at Subway to pay for school.)
Both of those guys, and Ikard in particular, are extremely engaging. Not only do they not mind interviews ... they seem to like them. That's rare, at least over the course of the long season. Ikard, who has a 4.0 I think, is very thoughtful and honest with his answers. Those two guys often fill your notebook, regardless of what you're working on. I appreciate their positive attitudes about media when we sometimes run into malcontents by, oh, sometime in October. --
Travis Haney, The Oklahoman
Brandon Weeden, QB, Oklahoma State:
Not only did you feel like you were dealing with a grown up -- no age jokes allowed -- Weeden always gave every question sincere thought and provided a thoughtful answer. He showed up every week, after every game, ready and willing to talk. He should be hired by every team in the league to teach a Media 101 session. --
John Helsley, The Oklahoman
Jeff Woody, RB, Iowa State:
Great knack for giving you insight to the game, and the emotion that goes into it - without throwing teammates under the bus. He described running back
Shontrelle Johnson
as a rabbit darting across the back yard, while being chased by a dog. --
Andrew Logue, Des Moines Register
Steven Johnson, LB, Kansas:
No matter what the situation was, Steven Johnson was a guy we could count on for the truth. Whether it was after tough loss, a big win or the opening practice of the season, Johnson always told it like it was and rarely held back his emotions or expectations. Sometimes that meant him breaking down to the point of tears, other times it meant him holding out hope for winning the Big 12 or making a bowl game even though the Jayhawks were five or six games into a disappointing season. Johnson will go down as one of the classiest players to ever wear a KU uniform and he easily was this team's go-to guy for good quotes. --
Matt Tait, Lawrence Journal-World
Terrance Ganaway, RB, Baylor:
Thoughtful with his answers, willing to answer difficult questions and very well-reasoned and well-worded responses. --
Jimmy Burch, Fort Worth Star-Telegram
R.J. Washington, DE, Oklahoma:
Epic interviews in high school made us all eager to get some time with him. But after a redshirt year, he clearly had been taught to dial it back a bit. Still, he's very good. Almost always offers up something interesting, and it's frequently subject matter that you may not have asked about. He gets it. He knows not to be overly defensive or closed-down in interviews because he refuses to buy the company line that the media is out to get him. --
John Hoover, Tulsa World
Terrance Frederick, CB, Texas A&M:
He seemed real -- appropriately serious but at times still light hearted -- as the season turned sour. --
Suzanne Halliburton, Austin American-Statesman
Steven Johnson, LB, Kansas
: Looked like you already got him, but I'll put in another vote for KU's Steven Johnson. He was the guy you could count on to say what everyone was thinking. --
Austin Meek, Topeka Capital-Journal
Ter'ran Benton, CB, Iowa State:
Benton is smart, funny and you never know where an interview with him will go. He might tell you why Louisiana Hot Sauce is the best hot sauce in the world. He might joking tell you that cornerback
Leonard Johnson
should be playing well because he has a light class load. He's great at explaining why things are, or aren't, working for the defense. He's an all-around great quote. --
Bobby La Gesse, Ames Tribune
B.J. Finney, C, Kansas State:
The freshman center was the face of K-State football this season, at least at press conferences. He showed up at every single media availability and gave thoughtful answers to every question he was asked. Quite impressive when you consider he was the only football player to show up for a few of the midweek pressers and reporters desperate for a quote asked him about the opposing team's offense and what strategy the K-State secondary had for that week. He gets the perfect attendance award.
-- Kellis Robinett, Wichita Eagle/Kansas City Star
Chris Harper, WR, Kansas State:
Never afraid to speak his mind on a topic. Will respond to dull questions with incredible insight. A former quarterback, he can analyze every offensive position. By far the best and most entertaining talker on the team. But he lost points for criticizing the Pinstripe Bowl. Bill Snyder didn't care for that, and made him off limits to media for several weeks. --
Kellis Robinett, Wichita Eagle/Kansas City Star
December, 14, 2011
12/14/11
7:40
AM ET
The season has come and gone, and
brought with it an All-Big 12 team
. But where do these guys come from? How easy is it for a no-name recruit to earn all-conference first-team honors?
Let's take a look at the All-Big 12 offense and see who surprises us.
You'll need ESPN Insider

to see each player's recruiting page from back in the day, but I excerpted a bit of what the scouts had to say about each player coming out of high school.
OFFENSE
QB:
Robert Griffin III
, Baylor
Griffin was infamously recruited as an "athlete" by top programs like Texas that may have moved him to safety or receiver. Scouts graded him as a 77 and the No. 40 quarterback. He committed to Houston before following coach Art Briles to Houston. One interesting note: He only threw for 1,734 yards as a high school senior. Development much? Scouts take: Griffin is a wonderful athlete with great size, solid arm strength and the ability to move to wide receiver if he doesn't remain at quarterback in college. He is long-legged, well built and is a smooth athlete. He's at his best when he is out of the pocket and can improvise. He will create when things break down and he shows very good presence to avoid the rush, use his feet to get on the perimeter and throw on the move.
All-purpose:
Collin Klein
, QB, Kansas State
Klein was graded as a 75 by ESPNRecruiting and the nation's No. 60 quarterback. He picked K-State over Colorado State, Utah and Air Force. Scouts take: Klein has prototypical size and a powerful arm. What you don't expect is how athletic he is and while he is a pocket passer, if he gets on the move, he can build momentum and create a few plays here and there with his legs. He can be unorhtodox in his delivery and mechanics can be inconsistent, but he is very productive and has a lot of physical tools to mold at the next level.
RB:
Terrance Ganaway
, Baylor
Ganaway played at Houston before transferring from junior college to Baylor. He was graded at the minimum grade of 45 and wasn't ranked by ESPN coming out of high school or junior college.
RB:
Henry Josey
, Missouri
Josey was a two-star recruit and the nation's No. 258-ranked athlete. He was also recruited by Baylor, TCU and UTEP. Scouts take: Josey flashes playmaker skills on both sides of the ball at the high school level and may get recruited on either side of the ball in college. We feel he is a bit of an overachiever and his weaknesses may get exposed at the major college level, but we like his foot-speed, quickness and overall savvy as a potential hybrid safety/Bandit type or change-of-pace back on offense.
FB:
Trey Millard
, Oklahoma
Millard was a three-star prospect and the nation's No. 59 athlete in the 2010 class. He graded out at 78, and was also recruited by Syracuse, Iowa, South Carolina and Tennessee. Scouts take: Millard is a thick inside linebacker prospect with good mobility and downhill burst between the tackles. We like his athleticism as a future tight end or H-back as well. Has a large upper-body and overall frame. Carries his weight well and has above average lateral agility for a defender with his thickness.
WR:
Kendall Wright
, Baylor
Wright was No. 118 in the 2008 ESPNU 150 and was the nation's No. 12 athlete. He was also recruited by Arkansas, Nebraska, Oklahoma and Texas A&M. Scouts take: Wright is an athlete playing quarterback who belongs at either wide receiver or at cornerback at the next level. He is an athlete with great speed and acceleration. He is at quarterback because he is a playmaker and is very difficult to handle in the open field. With the ball in his hands, he has running back-type skills. (My take: Hey, remember this?)
WR:
Justin Blackmon
, Oklahoma State
Blackmon was the nation's No. 139 receiver and was also recruited by Colorado and Missouri, grading out at a 74. Scouts take: Blackmon is a smooth-looking, natural receiver prospect with well-rounded tools at the position. A potential sleeper at this time. He is tall, rangy and layered with good muscle tone. Shows great downfield, big-catch ability with his good size, hands and large catch radius. Displays very good concentration tracking the ball in tight coverage and plucks the ball smoothly in stride.
WR:
Ryan Broyles
, Oklahoma
Broyles was the No. 58 receiver and graded out at a 77. He committed to Oklahoma State before switching to OU just before signing his letter of intent. He was also recruited by Arkansas, South Carolina and Tennessee. Scouts take: This versatile athlete excels as both a cornerback and wide receiver but appears to be more of a playmaker on the offensive side of the ball at this stage. Broyles is a lean, sleek athlete who is very shifty and fluid in his movements. He has excellent straight-line speed and acceleration. He is a threat to turn a short gain into a big play but is also a vertical threat who plays bigger than his size. Has very good hands.
TE:
Michael Egnew
, Missouri
Egnew was a two-star recruit who graded out at 40 and wasn't ranked. He was also recruited by Purdue and TCU.
C:
Grant Garner, Oklahoma State
Garner was the No. 20 center in the 2007 class and graded out at 72. He was also recruited by Iowa State and Vanderbilt. Scouts take: Garner is a good center prospect but will need to add bulk to his frame. He is going to need some time to properly get up into that 280-290 lbs. range. He looks to have a strong quick snap and can also adequately handle shotgun responsibilities. Once he snaps the ball, he does a good job of bringing his off hand and making good contact.
OL:
Kelechi Osemele, Iowa State
Osemele graded out at 68 and was the nation's No. 149 offensive tackle in the 2007 class. He was also recruited by Arkansas, Houston and TCU. Scouts take: Osemele is a good sized prospect that can deliver a good initial blow. He gets good hand placement and displays the ability to get into a defender and push him off the line of scrimmage in the run game. He needs to work on his initial footwork coming out of his stance.
OL:
Levy Adcock, Oklahoma State
Adcock was a junior college recruit and not scouted by ESPN.
OL:
Gabe Ikard, Oklahoma
Ikard was the nation's No. 19 tight end and graded out at 78. He was also recruited by Notre Dame, Stanford and Oklahoma State. Scouts take: Ikard is a good football player and it is tough not to like him. He comes across as a smart, hard working, and productive player. He plays both defensive end and tight end in high school and is a legitimate recruit on both sides of the ball. He is a sound defensive end prospect.
OL:
Luke Joeckel, Texas A&M
Joeckel was No. 83 in the 2010 ESPNU 150 and was a four-star recruit. He was ranked as the nation's No. 6 offensive tackle prospect. He was also recruited by Nebraska, LSU, Oklahoma and Oklahoma State. Scouts take: Joeckel is a dominant offensive lineman. He has great size and is an intimidating force on the field. Exceptional run blocker that completely engulfs smaller defensive lineman. Has a real nasty streak and finishes his run blocks on a consistent basis. Does a great job of getting his hands into the frame of the defensive lineman and locks on like vice grips. Drives feet after initial contact and often puts defender into the turf due to his aggressiveness in finishing the block.
Fascinating stuff here. I enjoyed looking these guys up. The two most highly recruited players on the All-Big 12 team? Kendall Wright and Luke Joeckel. Shocking stuff.
December, 9, 2011
12/09/11
10:01
AM ET
Editor's Note: Tune into the "AT&T ESPN All America Team Show" on Saturday (ABC, 1:30 p.m. ET) to see who ESPN's writers and experts selected.
It's been a fun season across the Big 12, with a few big names who didn't play as well as we thought, and lots of unknowns who became household names by the end of the season.
I'll offer my comments below, but here's our All-Big 12 team for 2011.
OFFENSE
[+] Enlarge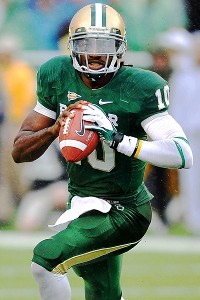 Jerome Miron/US PresswireThe heroics of Robert Griffin III got Baylor to 9-3 and made him a Heisman Trophy finalist.
QB:
Robert Griffin III
, Baylor
All-purpose:
Collin Klein
, QB, Kansas State
RB:
Terrance Ganaway
, Baylor
RB:
Henry Josey
, Missouri
FB:
Trey Millard
, Oklahoma
WR:
Kendall Wright
, Baylor
WR:
Justin Blackmon
, Oklahoma State
WR:
Ryan Broyles
, Oklahoma
TE:
Michael Egnew
, Missouri
C:
Grant Garner, Oklahoma State
OL:
Kelechi Osemele, Iowa State
OL:
Levy Adcock, Oklahoma State
OL:
Gabe Ikard, Oklahoma
OL:
Luke Joeckel, Texas A&M
DEFENSE
DE:
Frank Alexander, Oklahoma
DT:
Dominique Hamilton, Missouri
DE:
Alex Okafor, Texas
DE:
Jamie Blatnick, Oklahoma State
LB:
Sean Porter, Texas A&M
LB:
Jake Knott, Iowa State
LB:
Emmanuel Acho, Texas
NB:
Tony Jefferson, Oklahoma
CB:
Nigel Malone, Kansas State
CB:
Carrington Byndom, Texas
S:
Kenny Vaccaro, Texas
S:
Markelle Martin, Oklahoma State
SPECIALISTS
P:
Quinn Sharp, Oklahoma State
PK:
Randy Bullock, Texas A&M
PR:
Dustin Harris, Texas A&M
KR:
Tyler Lockett, Kansas State
Finally, a few notes and explanations:
I loved the media's idea to craft an all-purpose spot to accomodate Collin Klein. The Big Ten did the same for Michigan's Denard Robinson last season. I followed suit, and did so on the defensive side of the ball with a nickel-back spot for Oklahoma's Tony Jefferson. Two players that missed first-team designation by the coaches, but clearly deserve to be recognized.

Additionally, I prefer the teams to reflect the Big 12 style of play, so the nickel back fits. Each team doesn't have 11 players, but there were deserving linebackers. The same with Egnew and Millard. Does every team use a fullback or a tight end? No, but both are standout performers. They'd rotate in anyway, just as Jefferson would in a theoretical package.

Tough call to leave Philip Blake from Baylor off my team, but Garner's been better. Blake is very, very close, though.

Hated to leave off Brodrick Brown and E.J. Gaines, but I went with a more traditional two corners and two safeties, rather than four corners like the media's team.

Steven Johnson and Arthur Brown would have been right behind my three linebackers. That race was probably closer than at any other position, except maybe cornerback. Difficult to leave either of those guys off my first team, but the three on the team were better. I gave Brown my Newcomer of the Year nod, though.

I don't like going with three defensive ends and one defensive tackle, but there wasn't a defensive tackle who deserved the honor more than Okafor, my third defensive end. Okafor was a defensive tackle last year anyway, so that's close enough, right? He moved from tackle to end before spring practice earlier this year. In the Big 12, an additional pass rusher is necessary, too, right?

I made a similar move with my offensive line. Went tackle-heavy, but the guards didn't have quite as many standouts.
Sources: Mack Brown Set To Resign