Texas Longhorns:

Frank Shannon
May, 15, 2014
5/15/14
1:30
PM ET
Though the 2014 NFL draft ended just last weekend, ESPN Insider Todd McShay posted his
way-too-early 2015 mock draft

on Wednesday.
McShay had three Big 12 players going in his mock first round: Baylor QB
Bryce Petty
15
th
overall to the Houston Texans, TCU DE
Devonte Fields
25
th
overall to the San Francisco 49ers and Oklahoma LB
Eric Striker
29
th
overall to the Green Bay Packers.
Though we have almost a full year to go, here are some of other top Big 12 prospects for the 2015 draft (in alphabetical order):
[+] Enlarge

John Albright/Icon SMIMalcom Brown might be the best DT in the Big 12 this season and could make NFL scouts take notice.
Others to watch:
RB
Malcolm Brown
, Texas; DT
James Castleman
, Oklahoma State; C
Dominic Espinosa
, Texas; C
Tom Farniok
, Iowa State; ILB
Bryce Hager
, Baylor; FS
Chris Hackett
, TCU; LB
Ben Heeney
, Kansas; DT
Chucky Hunter
, TCU; FS
Karl Joseph
, West Virginia; DE
Ryan Mueller
, Kansas State; DT
Jordan Phillips
, Oklahoma; DT
Davion Pierson
, TCU; OG
Quinton Spain
, West Virginia; OT
Tyrus Thompson
, Oklahoma; CB
Kevin White
, TCU; OG
Cody Whitehair
, Kansas State
May, 15, 2014
5/15/14
10:30
AM ET
Earlier Thursday, we concluded our 22-round draft of current Big 12 players. Below are the three lineup outcomes of that draft, and as you can see, each of us went in different directions.

Like the St. Louis Rams, Max and Brandon built up their defensive lines before worrying about the rest of their rosters. While I grabbed the best quarterback in the league and surrounded him with protection and weapons.
After each lineup, read our final takes on our teams. Then, decide who drafted best in the weekly Big 12 poll.
BRANDON CHATMON'S TEAM
OFFENSE
DEFENSE
What Brandon says about his team:
"Offensively, as soon as Petty was gone with the first pick I knew I wouldn't take a quarterback until my final pick. Knight could be the steal of the draft. Versatility is the name of the game with the rest of the offense. We can put Pierson and Smallwood in the backfield and go read option or really ruin your Saturday and throw Daje back there in the Diamond. When you bring more guys in the box, you leave Seales and Lockett one-on-one. Or we can just go five wide and you can try to cover running backs who run routes like receivers with your linebackers. And an experienced offensive line will be the foundation of it all. Defensively, it would be wise for opposing quarterbacks to tell their families to stay home when facing this group. We're going to man up and have our mail forwarded to the opposing backfield and make you want to take your ball and go home. And with a secondary full of coverage guys, I'm not concerned about the back end of the defense holding up. We'll win more battles than we lose. By the final whistle, my team will have earned the moniker 'Chatmon's chaos creators' with Tapper, Reed, Brown, Hunter, Alexander and Robertson living in your backfield."
MAX OLSON'S TEAM
OFFENSE
DEFENSE
What Max says about his team:
"You do not want to play against my team. That was my goal going in, and I constructed exactly the team I wanted. I have a great QB in Webb who gets to throw to Goodley, one of the nation's best receivers, and he'd help Jaxon Shipley put up Jordan Shipley numbers. I have the two-back punch of Linwood and Gray. I have Hill, who can do everything, and a good line. We're going to spread the ball around like crazy. Good luck stopping that. On defense, you have Fields, Oakman and Grissom all rushing the passer. That's deadly. We can go three-man fronts or even put Oakman in the middle, letting the 6-foot-8 stud swat your passes down. And while you're worrying about him and Grissom, you have the Big 12's best defensive player [Fields] coming after you. Hager and Shannon will hold it down at the second level, and the secondary is full of playmakers. This is a fun team, plain and simple, and one that can frustrate the heck out of anybody."
JAKE TROTTER'S TEAM
OFFENSE
DEFENSE
What Jake says about his team:
"Max and Brandon are good at talking smack. I'll give them that. But my players do their talking on the field. Once I was fortunate to land reigning Big 12 Offensive Player of the Year Bryce Petty as my quarterback, my goal was two-fold: to keep him upright from pressure off the edge; and, to surround him with firepower. I accomplished both ends, and then some. I wasn't able to get either of the two elite receivers in the league in Goodley or Lockett. But I put together the best overall receiving corps in Grant, Shepard and Bundrage, who could all deliver 1,000-yard receiving seasons in 2014. On top of that, I snagged the best pass-catching tight end on the board in Bibbs, as well as Brown, so that we can pound the ball between the tackles when we need. Speaking of tackles, aware that Brandon and Max were focused almost solely on their pass rush in the early rounds, I also added two of the most reliable pass-protecting bookends in the league in Drango and Williams. Defensively, I can bring pressure, too, with Mueller and Striker, who last season respectively placed second and fourth in the Big 12 in sacks. Castleman and Britz are roadblocks, Heeney and Dawson are tackle machines and my entire secondary has All-Big 12 potential. We don't talk. We just dominate."
May, 15, 2014
5/15/14
9:00
AM ET
Following up on NFL draft weekend,
we've been conducting our own draft
, picking from current Big 12 players to fill out three 22-man lineups.
Below is a recap of the first 15 rounds of the draft from the past two days, followed by rounds 16-22.
As another reminder, this is NOT a Top 25 player ranking. It's only an exercise in determining where the value of the league lies, and the different strategies to putting a team together from the league's present talent pool.
Jake Trotter:
Brandon Chatmon:
Max Olson:
Round 16
Olson: WR/RB Tyreek Hill, Oklahoma State
Chatmon: OLB Pete Robertson, Texas Tech
Trotter: OLB Brandon Golson, West Virginia
Analysis: "To combat the offensive attacks I would face in the Big 12, I'm going with a 3-4 on defense. Golson, who led the Big 12 in forced fumbles last season, is another playmaking outside linebacker who would fit in nicely in this scheme opposite Striker." -- Trotter
[+] Enlarge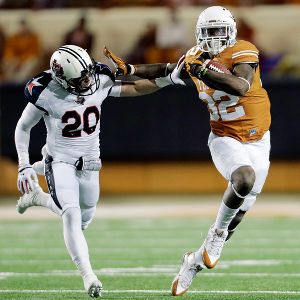 AP Photo/Eric GayGetting potential Big 12 rushing leader Johnathan Gray in the 17th round could be a big steal for Max Olson.
Round 17
Trotter: LB Paul Dawson, TCU
Chatmon: C Dominic Espinosa, Texas
Olson: RB Johnathan Gray, Texas
Analysis: "I ended up getting a potential All-Big 12 running back in the 17th round. So I feel pretty good about that. Gray should be healthy for the opener, and he leads all returning Big 12 rushers with 86 rushing yards per game last season." -- Olson
Round 18
Olson: OT Troy Baker, Baylor
Chatmon: SS Quentin Hayes, Oklahoma
Trotter: OG Mark Glowinski, West Virginia
Analysis: "I wanted a safety who is comfortable in holding his own in coverage, while also having the ability to make plays all over the field. Hayes is the guy. With Worley, Shepherd, White, Barnett and Hayes in the secondary, I can unleash the rest of my defense on the quarterback and feel comfortable about my secondary holding its own against anyone." -- Chatmon
Round 19
Trotter: OG Nila Kasitati, Oklahoma
Chatmon: WR Tony Pierson, Kansas
Olson: SS Terrell Burt, Baylor
Analysis: "With Max and Brandon hoarding centers, I needed to attack the interior of my offensive line. Kasitati can excel manning either guard or center, and Glowinski is one of the league's top returning guards." -- Trotter
Round 20
Olson: OT Halapoulivaati Vaitai, TCU
Chatmon: WR Jhajuan Seales, Oklahoma State
Trotter: WR Quenton Bundrage, Iowa State
Analysis: "The guys I wanted for my second guard spot weren't available at this round, so I'm going with the mammoth "Big V" Vaitai (6-foot-6, 308 pounds) and moving one of my other tackle selections inside. I ended up with a fairly good offensive line, which was pretty much my plan going in." -- Olson
Round 21
Trotter: CB Nigel Tribune, Iowa State
Chatmon: WR Wendell Smallwood, West Virginia
Olson: LB Nick Kwiatkoski, West Virginia
Analysis: "I picked up Bundrage in the previous round to seal up what I feel is the best all-around receiving corps, even if I didn't get Goodley or Lockett. Tribune, the only true freshman to play for Iowa State in the past two seasons, is a corner with a ton of upside and, paired with Kevin Peterson, should provide me plenty of tenaciousness against the pass." -- Trotter
Round 22
Olson: WR Jaxon Shipley, Texas
Chatmon: QB Trevor Knight, Oklahoma
Trotter: C Jared Kaster, Texas Tech
Analysis: "I just got the steal of the draft, and I knew I would wait until the final round to do so. As soon as Jake snapped up Petty, I knew I would be content with Davis Webb or Trevor Knight and wouldn't draft a quarterback until the final round. The fact that Max opted for Webb made things even better for me as Knight has the versatility to run a run-heavy offense or spread things out and use his arm. He fits perfectly with the versatility I was striving for with each pick." -- Chatmon
May, 13, 2014
5/13/14
9:15
AM ET
By
ESPN.com staff
| ESPN.com
The NFL draft came and went it, but we thought it would be fun -- and possibly revealing -- to conduct a draft of our own of returning Big 12 players. We stole a version of this idea from our colleagues at the ACC blog, who apparently had stolen it before that from the guys over at the Big Ten site.
Anyway, the rules are fairly simple. All players currently on a Big 12 roster are eligible. No departing seniors or early entrees to the draft. No incoming freshmen or jucos scheduled to arrive in the summer. The premise is to fill out a 22-man lineup.
[+] Enlarge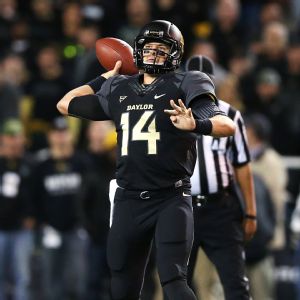 Matthew Emmons/USA TODAY SportsBryce Petty accounted for 46 touchdowns last season.
As you'll be able to see, the strengths of the league quickly begin to manifest (last year it was cornerback; guess where it is this year) as a run on a certain position ignites early. You'll also be able to see the positions that got put off for later, seemingly due to a lack of high impact relative to other positions, or to an indiscernible difference between players of the same position (just like with the NFL draft, where are the running backs?).
Keep in mind, this is NOT a top-25 player ranking. It's only an exercise in determining where the value of the league is, and the different ways of putting together teams from the current pool of players.
Rounds 1-7 are below. We'll pick up with Round 8 on Wednesday.
Round 1
Jake Trotter:
QB
Bryce Petty
, Baylor
Brandon Chatmon:
WR
Tyler Lockett
, Kansas State
Max Olson:
DE
Devonte Fields
, TCU
Analysis:
"There's really no wrong answer when it comes to choosing one of the Big 12's elite defensive ends. Went with Fields because reports of his comeback this spring were consistently encouraging and we know he has All-America potential." -- Olson
Round 2
Olson:
WR
Antwan Goodley
, Baylor
Chatmon:
DE
Charles Tapper
, Oklahoma
Trotter:
LT
Spencer Drango
, Baylor
Analysis:
"In the first round, I got the league's top returning QB. With plenty of WRs still on the board, and Brandon and Max going all in on their pass rush, I went ahead and snagged the league's top pass-blocking tackle to protect Petty's blindside. Let's just hope that back is 100 percent by August." -- Trotter
Round 3
Trotter:
OLB
Eric Striker
, Oklahoma
Chatmon:
DE
Cedric Reed
, Texas
Olson:
DE
Shawn Oakman
, Baylor
Analysis:
"After securing a big play receiver and returner, I'm looking to create pressure on the quarterback. Tapper and Reed should help get it done. Both guys have the ability to win their individual battles consistently, yet haven't maxed out their potential either. A solid 1-2 punch to build my defense around." -- Chatmon
Round 4
Olson:
QB
Davis Webb
, Texas Tech
Chatmon:
LT
Le'Raven Clark
, Texas Tech
Trotter:
DE
Ryan Mueller
, Kansas State
Analysis:
"Did I reach for my quarterback here? You could make the argument, especially if you're a
Trevor Knight
lover. But Webb is precisely the kind of quarterback I wanted to run my offense. He has a ton of poise and confidence for a sophomore." -- Olson
Round 5
[+] Enlarge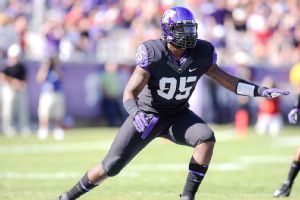 Jerome Miron/USA TODAY SportsDevonte Fields' comeback this spring has been impressive.
Trotter:
RT
Daryl Williams
, Oklahoma
Chatmon:
DT
Malcom Brown
, Texas
Olson:
LB
Frank Shannon
, Oklahoma
Analysis:
"Really wanted Brown here to complete a monster defensive line. Good job, BC. Instead I went with Shannon, who's probably the best of the available linebackers (though this is a risk pick with his status currently in limbo). This defense is going to be loaded at every level. You'll see." -- Olson
Round 6
Olson:
CB
Quandre Diggs
, Texas
Chatmon:
DT
Chucky Hunter
, TCU
Trotter:
WR
Jakeem Grant
, Texas Tech
Analysis:
"I'm loading up on defensive lineman. I want to create havoc for any quarterback who steps on the field against Brown, Hunter, Tapper and Reed. I like creating nightmares." -- Chatmon
Round 7
Trotter:
WR
Sterling Shepard
, Oklahoma
Chatmon:
CB
Daryl Worley
, West Virginia
Olson:
SS
Sam Carter
, TCU
Analysis:
"In Grant and Shepard, I snatched up two of the league's budding stars at receiver for Petty. I'll have to come back and get some bigger receivers later. But good luck blitzing Petty against this offensive line with those two dynamos operating out of either slot." -- Trotter
February, 25, 2014
2/25/14
3:00
PM ET
As we await the start of spring ball, we're examining and ranking the
positional situations of every team in the Big 12
, continuing Tuesday with linebackers. Some of these outlooks will look different after the spring. But here's how we see the linebacking corps going into the spring:
[+] Enlarge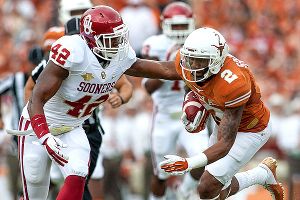 William Purnell/Icon SMIDominique Alexander was a star as a true freshman and leads a loaded Oklahoma linebacking corps.
1. Oklahoma:
After a couple of lean years, the Sooners are loaded at linebacker again.
Dominique Alexander
was the Big 12 Defensive Freshman of the Year,
Frank Shannon
led the defense in tackles as a sophomore, and
Eric Striker
is budding into the most ferocious blitzing linebacker in the country (just ask Alabama).
Jordan Evans
played extensively as a true freshman, too. This is an athletic group that can cover, stop the run and get to the quarterback.
2. Texas:
This is the deepest linebacking corps in the league, with starters
Peter Jinkens
,
Dalton Santos
and
Steve Edmond
all returning off a unit that improved dramatically after the rocky nonconference start. After allowing a school-record 550 yards rushing to BYU, Texas had the Big 12's fourth-best rush defense in conference games. Whether this group can take another step up will depend on what happens with
Jordan Hicks
, who enters his fifth year in the program after suffering season-ending injuries in back-to-back years. Hicks was the No. 1 linebacker in the country coming out of high school and has played well when healthy.
3. West Virginia:
This will be the strength of the defense, as
Brandon Golson
,
Isaiah Bruce
,
Jared Barber
and
Nick Kwiatkoski
all return with significant starting experience. Kwiatkoski was West Virginia's leading tackler last season, and Bruce was a freshman All-American the season before.
Wes Tonkery
and
Jewone Snow
also have starting experience, and
Shaq Petteway
, who missed last season with a knee injury, was a key rotation player the previous year. This level of experience and production with give the new defensive regime of Tony Gibson and Tom Bradley a foundation to build around.
4. Baylor:
Bryce Hager
is one of the best returning linebackers in the league. He was a second-team all-conference pick two years ago and would have earned similar honors last season had he not missed the final three games of the regular season with a groin injury.
Grant Campbell
, a three-star juco signee, is already on campus and will vie for the vacancy of departing All-Big 12 linebacker
Eddie Lackey
.
Kendall Ehrlich
and
Aiavion Edwards
are the only other players at the position with any meaningful experience, but
Raaquan Davis
, a former four-star recruit who redshirted last season, could be a factor.
5. Kansas:
Middle linebacker
Ben Heeney
was a second-team All-Big 12 selection after finishing fourth in the league in tackles per game. His wingman,
Jake Love
, got beat out by juco transfer
Samson Faifili
during the preseason but took over when Faifili suffered an injury and was solid. As long as Heeney remains healthy, the Jayhawks will be solid here.
6. TCU:
Projected to be the Achilles' heel of the TCU defense last season,
Paul Dawson
,
Marcus Mallet
and
Jonathan Anderson
actually gave the position stability. Dawson led the Horned Frogs with 91 tackles, Mallet was third with 70 and Anderson was fourth with 66. All three will be seniors in 2014 and should give the Horned Frogs a solid, reliable linebacking unit again.
7. Texas Tech:
The Red Raiders and their 3-4 scheme graduate two very productive players in
Will Smith
and
Terrance Bullitt
. Smith was second in the Big 12 in tackles, and Bullitt led all Big 12 linebackers in pass breakups.
Austin Stewart
and
Micah Awe
go into the spring as the favorites to replace Bullitt and Smith, respectively. Two starters do return in
Sam Eguavoen
and
Pete Robertson
, who was honorable mention All-Big 12 thanks to his impact off the edge. Tech also has several intriguing young players, including
Jacarthy Mack
,
Malik Jenkins
and
Kahlee Woods
, who will all be second-year players.
8. Kansas State:
The Wildcats lose two stalwarts to graduation in captains
Blake Slaughter
and
Tre Walker
. The only returner is former walk-on
Jonathan Truman
, who was second on the team in tackles from the weak side. The Wildcats will be hoping for big things from
D'Vonta Derricott
, an ESPN JC 50 signee who had offers from Miami and Wisconsin, among many others.
Will Davis
, who was Slaughter's backup as a freshman last season, could thrive if he secures the starting role in the middle.
9. Oklahoma State:
The Cowboys are somewhat decimated here with the graduations of all-conference veterans
Shaun Lewis
and
Caleb Lavey
. The only returning starter,
Ryan Simmons
, could move inside, which would open the door for hard-hitting jucos
D'Nerius Antoine
and
Devante Averette
to start on either side of him.
Seth Jacobs
, who was a four-star recruit two years ago, should jump into the rotation, and the Cowboys could get an instant boost from freshman
Gyasi Akem
, who was an ESPN 300 signee. The potential ascension of this group, though, hinges on what Antonie and Averette accomplish.
10. Iowa State:
The Cyclones graduate their defensive cornerstone in
Jeremiah George
, who was a first-team all-conference performer after leading the Big 12 with 133 tackles. Replacing George won't come easy. There's reason to hope that
Luke Knott
can become Iowa State's next cornerstone at the position. The younger brother of Cyclone LB great Jake Knott, Luke Knott started five games as a freshman and quickly racked up 45 tackles before suffering a season-ending hip injury, which required surgery. If he makes a full recovery, Knott has the talent to become the next in a growing line of All-Big 12 Iowa State linebackers. Seniors
Jevohn Miller
and
Jared Brackens
, who combined for 19 starts last season, flank Knott with experience.
January, 8, 2014
1/08/14
4:30
PM ET
With the 2013 season officially in the books, we've begun looking ahead to identify potential breakout performers for 2014.
This morning, we took a look at
10 Big 12 offensive players to watch in 2014
. Now it's time to spotlight 10 possible breakout defenders.
As a reminder, these lists include players who can take that step into greatness next season, much as Baylor's
Ahmad Dixon
and Oklahoma State's
Justin Gilbert
did in 2013. Players who have earned first-team or second-team All-Big 12 honors from either the
coaches
or the
media
were not eligible for this list, as the focus is limited to guys who have yet to make that leap. In other words, players such as TCU's
Chris Hackett
or Oklahoma's
Eric Striker
weren't eligible, as they were both second-team selections this year.
Below are 10 players to watch on the defensive side of the ball in 2014 (in alphabetical order):
[+] Enlarge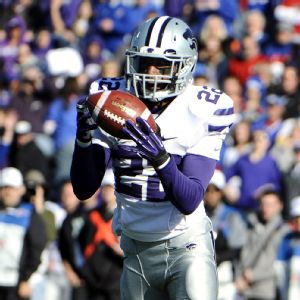 John Rieger/USA TODAY SportsDante Barnett had four interceptions as a sophomore.
Kansas State S Dante Barnett:
The last couple of years,
Ty Zimmerman
was the anchor of the K-State secondary. With Zimmerman out of eligibility, Barnett appears ready to take over. Barnett had a banner sophomore season, leading the Wildcats with four interceptions and finishing third with 75 tackles. He was especially impressive in the Buffalo Wild Wings Bowl, delivering a team-high eight tackles and a 51-yard interception return that proved to be the exclamation point. Barnett is one reason why the Wildcats should be better defensively in 2014.
Texas DT Malcolm Brown:
Often confused with the Texas running back with the same name, Brown was a force in the middle as a sophomore. With more improvement, the former blue-chipper who was the No. 2 DT in the nation coming out of high school has a chance to be Texas' first All-Big 12 defensive tackle since Roy Miller in 2008.
Oklahoma State DT James Castleman:
The last two seasons, Castleman has operated in the shadows of All-Big 12 DT
Calvin Barnett
. With Barnett – and virtually the rest of the Oklahoma State defense – gone, Castleman will be the Cowboys' top returning defensive player next season. Castleman has the talent to be an all-conference tackle, and will need to be for the Cowboys to avoid a significant defensive drop-off.
Oklahoma DE Geneo Grissom:
Last year, Grissom was so dubious on his prospects of making the rotation at end that he asked to play tight end. That experiment failed, and the Sooners have to be glad that it did. The switch finally flipped for Grissom in the Allstate Sugar Bowl. In that game, he played like a man possessed and finished with two sacks and two fumble recoveries. He returned the second eight yards for a game-clinching touchdown. Grissom has only year left, but it could be a special one if he plays the way he did against Alabama.
West Virginia S Karl Joseph:
After starting every game at safety as a true freshman in 2012 and leading the team in tackles, Joseph didn't make the kind of leap the Mountaineers hoped he would as a sophomore. Still, there's no denying the talent here. Joseph has the skill to be an all-conference safety, something that might need to happen for West Virginia to avoid another disappointing season in the Big 12.
Iowa State LB Luke Knott:
Knott started five games as a redshirt freshman this year before suffering a season-ending hip injury that should keep him out of spring ball as well. But if he can make a healthy return, look out. Knott came to Iowa State as a quarterback but has made a seamless transition to linebacker, showing plenty of instinct with 11 tackles in Iowa State's 31-30 loss to Texas. His older brother Jake was an All-Big 12 linebacker for the Cyclones. As long as that hip doesn't get in the way, Knott could become one an all-conference selection as well.
Baylor DE Shawn Oakman:
The Penn State transfer has the tools to become a dominant player in the league. Oakman had his moments as a rotation player in 2013, finishing sixth in the Big 12 in tackles for loss. But the potential is there for so much more from the 6-foot-9, 275-pound Oakman. If he can put it all together in 2014, he could become one of the league's most disruptive defenders.
[+] Enlarge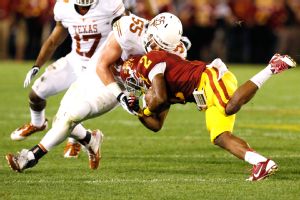 David Purdy/Getty ImagesThe new Texas coaching staff will have to find the best position for Dalton Santos.
Oklahoma State CB Kevin Peterson:
While All-American Justin Gilbert deservedly received the accolades this season, Peterson quietly had a very stout sophomore season on the other side of the field. Peterson, who flipped his commitment from Oklahoma to Oklahoma State in recruiting, had two interceptions and was solid in coverage all season in Glenn Spencer's aggressive, man-to-man defense. With Gilbert gone to the NFL, Peterson will be Oklahoma State's No. 1 cornerback in 2014. So far, he looks up to the challenge.
Texas LB Dalton Santos:
After
Jordan Hicks
went down with yet another season-ending injury, Santos elevated his game at linebacker. The sophomore finished fourth on the team with 74 tackles, including 10 for loss. It will be interesting to see what happens with the Longhorns at linebacker. The entire group of linebackers will return, including Hicks. But the way Santos played late in the year, the new Texas regime will have to find a way to get him on the field.
Oklahoma LB Frank Shannon:
Even though injuries plagued Shannon the second half of the season, he still led the Sooners with 92 tackles as a sophomore. In Shannon, blitzer extraordinaire Eric Striker and Big 12 defensive freshman of the year
Dominique Alexander
all back, Oklahoma might have the best linebacker corps in the country next season.
October, 14, 2013
10/14/13
3:00
PM ET
Here are this week's unsung heroes:
Linebacker Eddie Lackey, Baylor:
Overshadowed by
Bryce Hager
's 18-tackle performance, Lackey had a solid game in the Bears' 35-25 win over Kansas State. He finished with 10 tackles, including eight solo stops, and a forced fumble. His active play is one of the reasons the Bears' defense is playing better in 2013.
[+] Enlarge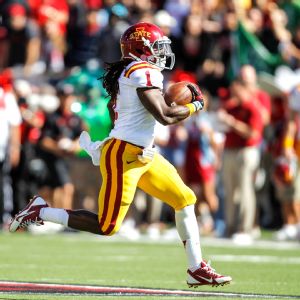 Jerod Foster/Icon SMIJarvis West's efforts on special teams provided a major boost for Iowa State.
Receiver Jarvis West, Iowa State:
The Cyclones' wideout helped keep his squad in the game with his special teams' prowess. He had a 95-yard kickoff return for a score and added 46 punt return yards including a 38-yarder. West finished with 177 all-purpose yards, more than 100 yards more than the next best Cyclone.
Cornerback JaCorey Shepherd, Kansas:
Shepherd did it all in the Jayhawks' 27-17 loss to TCU. He had seven tackles, one sack, one forced fumble and a 32-yard interception return for a touchdown. It was a terrific performance in his return home for the former Mesquite (Texas) Horn standout.
Running back John Hubert, Kansas State:
An overlooked aspect of
Daniel Sams
' explosive day was Hubert's increased production. The senior had 15 carries for 90 yards to provide a solid 1-2 running punch alongside Sams. Hubert clearly becomes a more productive player with a running threat at quarterback.
Linebacker Frank Shannon, Oklahoma:
The sophomore had the quietest 16-tackle performance in recent memory. Shannon continued to be a consistent playmaker on OU's defense, recording those 16 tackles and forcing a fumble in the Sooners' 36-20 loss to Texas. He's proving to be a player the Sooners can count on, week in and week out.
Linebacker Dalton Santos, Texas:
The Longhorns were stout against the run in their 36-20 win over OU, and Santos played a key role. The sophomore made plays from sideline to sideline and was consistently around the football. He finished with six tackles including 1.5 tackles for loss. Santos has helped offset the loss of
Jordan Hicks
for the Longhorns' defense.
Running back B.J. Catalon, TCU:
Catalon continues to be a playmaker for the Horned Frogs, accounting for a team-high 122 yards. The sophomore averaged 9.38 yards per touch in TCU's 27-17 win over Kansas. On an offense searching for playmakers, it seems like the Horned Frogs can't get the ball in Catalon's hands enough, particularly if he can take better care of the football.
Running back Sadale Foster, Texas Tech:
One of three Red Raiders to rush for more than 80 yards, Foster averaged 9.7 yards per carry in Tech's 42-35 win over Iowa State. He had nine carries for 87 yards and one touchdown. He averaged 14.8 yards per carry on first down (five carries, 74 yards), including a 38-yard touchdown scamper in the fourth quarter to put the game away.
Note: Oklahoma State and West Virginia did not play in Week 7.
October, 11, 2013
10/11/13
10:00
AM ET
Oklahoma is expected to roll when the Sooners face Texas in the Red River Rivalry on Saturday. Yet, stranger things have happened, so it's unwise to put this game in the win column for OU before the football is kicked off in the Cotton Bowl.


Here are some storylines, players to watch and a prediction.
Storylines
Will OU continue its dominance?
The Sooners are coming off back-to-back blowout victories over the Longhorns, winning 63-21 in 2012 and 55-17 in 2011. OU's offense has averaged 7.02 yards per play during the two games while holding UT to 3.89 yards per play. Expect OU to lean on its defense again as the Sooners hope to continue its win streak.
Can Texas get it together?
The Longhorns have the talent to cause problems for OU. A big play here from
Johnathan Gray
, a big play there from
Daje Johnson
and things could get real interesting at the Cotton Bowl. Add in a turnover or two and the Longhorns could pull a shocker on Saturday. Lack of talent is not the issue in Austin.
Which quarterback will spark a win?
OU quarterback
Blake Bell
and UT quarterback
Case McCoy
each have experience in the Red River Rivalry, so they shouldn't be completely bug-eyed on Saturday. Bell is looking to rebound after throwing just 152 yards against TCU; McCoy wants to prove the Longhorns still have a chance with him under center.
Players to watch
OU quarterback Blake Bell:
The Sooners quarterback has played well while leading his squad to a 3-0 record during his time as a starter. Bell's third-down efficiency has been outstanding as a starter; he's 17 of 28 for 324 yards and three touchdowns on third down. If the Sooners expect to win their fourth Red River Rivalry in a row, Bell will need to play well.
Texas running back Johnathan Gray:
The Longhorns running back can be a game-changing playmaker if he gets the ball. Gray has carried the ball at least 20 times twice during his career and the Longhorns won both games (at Texas Tech in 2012, vs Kansas State in 2013). Feeding Gray the ball should be the game plan, as he makes things happen for a UT offense void of playmakers.
OU linebacker Frank Shannon:
A lot of eyes will be on
Dominique Alexander
as the Sooners look to replace
Corey Nelson
. Yet Shannon will shoulder a good portion of the burden. The sophomore will need to take on a more vocal role with Nelson out while continuing to make plays all over the field.
Prediction:
Oklahoma 34, Texas 24. The Sooners take a early lead and play with a double-digit advantage for the majority of the game. UT starts to find a rhythm on offense late in the second half to score some late points, but this one is never really in doubt after three quarters.
September, 30, 2013
9/30/13
11:00
AM ET
Taking stock of Week 5 in the Big 12:

Team of the week:
Oklahoma. With their victory over Oklahoma State, the Mountaineers deserved strong consideration here. But by winning in South Bend, the Sooners delivered the Big 12 its best win of the year while vanquishing past demons. OU, which fell to 1-9 all-time against Notre Dame last season, controlled this game wire-to-wire in a 35-21 win. QB
Blake Bell
operated the Sooners' offense like a veteran in just his second career start. And the OU defense took it to QB
Tommy Rees
to force three first-half interceptions that allowed the Sooners to pad their lead. OU might have been one of the most overlooked teams during the preseason. After Saturday, the Sooners won't be overlooked anymore.
Disappointment of the week:
Oklahoma State. The Cowboys fell in Morgantown 31-21, despite being 18-point favorites. OSU sputtered all day offensively across the board.
J.W. Walsh
had a QBR of just 38.1 (scale of 0 to 100) and the Cowboys averaged just 2.8 yards per carry. The defense didn't fare much better, allowing a West Virginia offense that had been completely inept to rack up 21 first downs. Dating to last year, the Cowboys have now lost three consecutive Big 12 games.
Big (offensive) men on campus:
Sterling Shepard
and
Aaron Wimberly
. Both the Oklahoma receiver and Iowa State running back sparked their offenses to big wins on the road. Shepard had five catches for 83 yards, and delivered the nail in the coffin to Notre Dame with a 54-yard touchdown reception to put OU back up by two scores in the fourth quarter.
In a 38-21 win at Tulsa, Wimberly produced Iowa State's first 100-yard rushing game in more than a year with 137 yards on 19 carries. He added a 31-yard reception as the Cyclones came alive in their first win of the season.
Big (defensive) men on campus:
The Oklahoma linebackers, and
Sam Carter
.
Corey Nelson
,
Frank Shannon
and
Eric Striker
came up with huge plays in the first quarter to set the tone for the OU defense the rest of the way against the Irish. On Notre Dame's first series, Striker blindsided Rees from behind, popping the ball loose into the arms of Nelson, who returned it 24 yards for a TD. On Notre Dame's next play from scrimmage, Shannon caught a tipped pass and returned the interception 17 yards to the Notre Dame 32. The Sooners scored again four plays later on an 11-yard run by
Damien Williams
. OU rode the defensive flurry all the way to the win.
Carter, TCU's junior safety, had a huge day against SMU. Carter had two interceptions, forced a fumble and recorded a sack in the Horned Frogs' 48-17 victory over the Mustangs. For his efforts, Carter was named the Walter Camp national defensive player of the week. With cornerback
Jason Verrett
ailing with a shoulder injury, Carter might have to take an even bigger leadership role in the TCU secondary moving forward.
Special-teams player of the week:
Jaden Oberkrom
. In a complete downpour, TCU's place-kicker nailed two field goals to help the Horned Frogs pull away from SMU in the second half. As the rain began to fall in droves early in the third quarter, TCU had the ball on the SMU 5-yard line trailing 10-7. Because of the rain, a botched shotgun snap resulted in a loss of 20. But Oberkrom made sure the Frogs came away with points with the 35-yard field goal conversion. Had Oberkrom missed, who knows how the game would have gone for TCU? Instead, buoyed in part by getting points off the drive, the Frogs dominated the rest of the way.
[+] Enlarge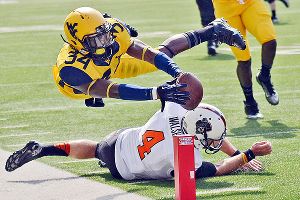 AP Photo/Tyler EvertWVU's Ishmael Banks' interception return for a TD was one of many big plays that cost OSU in a game that changed everything for the Cowboys.
Play of the week:
After
Josh Stewart
took a screen pass 73 yards for the touchdown and
Justin Gilbert
intercepted
Clint Trickett
three plays later at midfield, the Cowboys seemed to be on the verge of blowing the game away in the first quarter. Instead, West Virginia cornerback
Ishmael Banks
read Walsh's eyes off a rollout, stepped in front of the pass for the pick, then returned it 58 yards for a touchdown. The Cowboys never found their footing again offensively, as West Virginia held them to just two scores the rest of the game.
Stat of the week:
Oklahoma State running back
Jeremy Smith
rushed for just 1 yard on 15 carries at West Virginia. According to ESPN Stats & Info, Smith's rushing total was the second worst by an FBS running back with that many carries in any game in the past 10 years.
Quote of the week:
"No doubt in my mind that we're a national championship-type of team." – OU running back
Brennan Clay
, after the Notre Dame win
July, 18, 2013
7/18/13
8:00
AM ET
What if you combined the 2013 rosters of Oklahoma and Texas? Who would start? Who would ride the pine? SoonerNation and HornsNation have teamed up to answer that question:
OFFENSE
QB: Blake Bell, Oklahoma
October, 11, 2012
10/11/12
11:30
AM ET
With the Red River Rivalry game between No. 15 Texas and No. 13 Oklahoma coming up on Saturday, HornsNation's Carter Strickland and SoonerNation's Jake Trotter answer a few questions.
1. Does OU still have an edge at QB?
Carter Strickland:
No. Over the past six games
David Ash
has actually had the better stats and a better winning percentage, 5-1 to 4-2 for
Landry Jones
. But the reason OU's advantage is not as great as is not just because of Ash. Texas has more weapons on offense and is more comfortable getting the ball to the players and letting them create in space.
To continue reading this article you must be an Insider
Texas Longhorns Show Out On Pro Day
BIG 12 SCOREBOARD
Thursday, 9/3
Friday, 9/4
Saturday, 9/5