Texas Longhorns:

Eers-Horns-100612
October, 7, 2012
10/07/12
1:52
AM ET
AUSTIN, Texas --
Geno Smith
is used to having the game in his hands. It's been the story of West Virginia's season. Near the end of a chilly night in central Texas, that changed.
Smith's offensive line had a simple message for their Heisman candidate: "We got this. It's over. We're going to win this game," they said.
"
Andrew Buie
said, 'Put it on my back,' Smith said. "He put it on his back and led us to a victory."
Not just any victory. He led them to a
48-45 victory
in West Virginia's first road trip in the Big 12, where they found a record crowd of 101,851 waiting at Darrell K. Royal-Texas Memorial Stadium -- a crowd Texas coach Mack Brown called the loudest in 15 years.
Said West Virginia coach Dana Holgorsen, who was an assistant in the Big 12 for nine years: "I've never seen this place like that."
It even got after Smith at one point, serenading him with a "Geno Sucks" chant as he gestured to the crowd, egging them on.
"Where does that come from?" Smith said. "Obviously, I don't suck. I'll let them believe that."
[+] Enlarge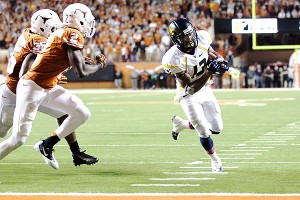 Tim Heitman/US PresswireThe second of Andrew Buie's rushing TDs gave West Virginia a 48-38 lead.
Buie led them to a victory that helped West Virginia clear the highest hurdle of its Big 12 (or national?) title "marathon," as Smith called it.
The Big 12 title runs through Morgantown, with Kansas State and Oklahoma waiting later in the season.
Saturday in Austin, though, it was Buie's time.
"He carried us," said Smith, the man used to carrying the Mountaineers. "We knew we were going to need to run the ball, because those guys like to get after the quarterback."
Texas did exactly that, sacking Smith four times and twice forcing fumbles inside the West Virginia 20-yard line. Before tonight, Smith had been sacked three times in four games.
Buie's 207 yards? Holgorsen said he wasn't surprised by those. But the 31 carries? That was a head-turner.
"We did commit to the run," he said. "That was something we talked about early in the week, and there weren't any tricks, either. We lined up and we just ran it right at 'em. We felt like that was gonna be the difference. If we could do that, it was going to alleviate some of the pressure on Geno."
On West Virginia's final drive, needing points to ice the game, the Mountaineers handed the ball to Buie on seven of eight plays. He turned them into 63 yards, capping his big night with a five-yard touchdown run, his second score of the night. While his teammates ran wild and kicked off the party on the West Virginia sideline, he trotted back through a parade of backslaps before being bearhugged by his position coach, Robert Gillespie.
"If we would have just drop back pass after drop back pass, they would have had 12 sacks. Maybe 20," Holgorsen said. "We just felt like it would be in the best interest of our football team to commit to the run."
Texas stuck in its nickel package for most of the night with just two linebackers on the field, even when West Virginia used its jumbo packages with bigger bodies. Buie saw it as a sign of "disrespect," and proved he'd make the most of his opportunities.
"With coach Holgorsen, you never know what the game plan is going to be fully," Buie said. "You just always want to be prepared to run from whatever he's put inside the menu for that week. When he calls your number, obviously he has confidence in you to make plays."
Holgorsen (and Smith, who often checked to various running plays at the line of scrimmage) had confidence in Buie 31 times on Saturday night. Buie was likely West Virginia's No. 3 back entering the season behind
Shawne Alston
and a recuperating
Dustin Garrison
. He looked like a man well deserving of the No. 1 spot against one of the Big 12's top defense. Before last week's 25 carries, Buie had never had more 15 carries in a game, and hadn't topped even 100 yards in a game. He had 52 carries in his entire freshman season in 2011.
Since 2009, Texas was 18-0 when winning the turnover battle. The Horns won it 2-1 on Saturday, but Buie's effort helped the Mountaineers overcome both of Smith's fumbles and move into the driver's seat for the Big 12 title.
"We're not going to force the ball. We're not going to force the issue. We'll take what you give us. I'm a smart quarterback, I understand defenses. I understand how to exploit them." Smith said. "The offensive line did a great job of getting all those guys, finishing blocks, getting to the second level. Buie was reading it and cutting back. Yards after contact was big. He ran hard tonight."
Think West Virginia's offense is just Geno Smith,
Tavon Austin
and
Stedman Bailey
? West Virginia proved otherwise.
October, 6, 2012
10/06/12
10:18
PM ET
AUSTIN, Texas – If there was any doubt as to whether West Virginia is the best team in the Big 12, the Mountaineers gave their answer on Saturday night.


In front of a Darrell K. Royal-Texas Memorial Stadium-record crowd of 101,851, West Virginia didn't flinch even despite two
Geno Smith
turnovers. Its much-maligned defense made stops on two crucial fourth-quarter Texas drives, and its offense -- thanks to a remarkably potent rushing attack - was as good as advertised in the
48-45 victory
.
Here's how it all played out:
It was over when:
Anthony Fera
missed a 41-yard field goal with 5:25 left in the fourth quarter. A Smith fumble put Texas at WVU's 12-yard line, but the Longhorns took a 16-yard loss on a bad snap on third down. Fera, a Penn State transfer making his Texas debut after a groin injury had sidelined him all season, pulled the kick wide right.
Game ball:
Stedman Bailey
and
Tavon Austin
. Their Heisman-favorite quarterback gets most of the press, but Bailey and Austin were what broke this Texas defense. Bailey caught three touchdown passes, and Austin added another score, 102 receiving yards and 111 yards on kick returns.
Game ball, part II:
Andrew Buie
. The West Virginia running back burned Texas time and time again on Saturday night, hitting the soft middle spot of the Longhorns defense for a season-high 207 yards and two scores on 31 carries. He entered the night averaging 56 rushing yards per game.
Stat of the game:
5-for-5. West Virginia was perfect on the night on fourth-down conversions despite going 3-for-12 on third downs. The biggest pickup came in the first quarter, when Smith hit Austin on fourth-and-4 and he broke upfield for a 40-yard touchdown.
What it means:
West Virginia is firmly in the driver's seat for the Big 12. Its much-hyped Air Raid attack had no problem scoring on an athletic Texas defense that was supposed to be among the conference's best. Texas, meanwhile, must go back to the drawing board and figure out how to fix its still-porous D. The loser of Texas-Oklahoma next Saturday may need lots of help to get back into the conference title discussion.
October, 6, 2012
10/06/12
8:01
PM ET
In front of the largest ever crowd at Darrell K. Royal Memorial Stadium -- 101,851 fans -- Texas and West Virginia have gone back and forth on offense. The largest lead of the first half was 14 for WVU. The longest scoring drive of the first half consumed 3:27 off the clock.


Stat of the half:
The two quarterbacks have combined for 303 yards. While West Virginia quarterback
Geno Smith
has the edge with 169 yards on 15 of 24, Texas quarterback
David Ash
has hung in the game and thrown for 124 yards on 8 of 12 passing.
Player of the half:
Texas defensive end
Alex Okafor
blocked a field goal attempt and knocked loose a ball from Geno Smith that was recovered by
Jackson Jeffcoat
for a touchdown. Okafor has been part of a defense that has sacked the West Virginia quarterback three times.
What's working for Texas:
The Texas defensive line has been able to put pressure on Smith. The quarterback, who had been sacked only four times coming into the game, was sacked three times in the first half. Those sacks played into two consecutive series in which the WVU offense had minus-27 yards and fumbled the ball away for the Texas touchdown.
What's working for West Virginia:
The Mountaineers have had their way on fourth down. Two of West Virginia's touchdowns came after a fourth-down conversions. The first of those came on a play Texas initially had stopped. West Virginia had elected to go for it at the Texas 40, and Geno Smith was sacked on that play. But Texas had called a timeout just before the snap, nullifying the play and the sack. With another chance, West Virginia hooked up for a 40-yard touchdown pass. The Mountaineers converted a fourth-and-nine later in the second on their way to another score.
What Texas needs to do to keep winning:
The Longhorns have to continue to pick up points on defense and excel in special teams. While the Longhorns have been poor in kick coverage, they have blocked a field goal as well as a punt. The defense also scored a touchdown for Texas.
October, 6, 2012
10/06/12
4:12
PM ET
AUSTIN, Texas -- It'll be a chilly, gray night in Austin, but there's plenty of energy in the air for West Virginia's trip to Austin, its first Big 12 road trip.
They'll kick off tonight at the Big 12 stadium with 18,000 more seats than any in the Big 12, Darrell K. Royal-Texas Memorial Stadium.
The best game of the Big 12 schedule kicks off in about two hours, and you can expect a big atmosphere from the Austin crowd. A good start would help West Virginia negate that advantage, but the big stage is nothing new to this program.
I'll be here providing coverage all night with the boys from HornsNation, as well as our own Mark Schlabach.
Can Texas get enough pressure on
Geno Smith
? For me, that's what decides the game. Maryland did, but didn't have enough offense to really threaten the Mountaineers, though they held Smith & Co. to just 31 points.
If Texas holds West Virginia to 31 tonight, I think the Longhorns win. That's a big if. We'll see if they're up to the task.
Follow along
that game and more on Twitter
. See you here for more.
Loyal Texas Fans To Get Ticket Priority
BIG 12 SCOREBOARD
Thursday, 9/3
Friday, 9/4
Saturday, 9/5