Texas Longhorns:

Dustin Garrison
October, 7, 2012
10/07/12
1:52
AM ET
AUSTIN, Texas --
Geno Smith
is used to having the game in his hands. It's been the story of West Virginia's season. Near the end of a chilly night in central Texas, that changed.
Smith's offensive line had a simple message for their Heisman candidate: "We got this. It's over. We're going to win this game," they said.
"
Andrew Buie
said, 'Put it on my back,' Smith said. "He put it on his back and led us to a victory."
Not just any victory. He led them to a
48-45 victory
in West Virginia's first road trip in the Big 12, where they found a record crowd of 101,851 waiting at Darrell K. Royal-Texas Memorial Stadium -- a crowd Texas coach Mack Brown called the loudest in 15 years.
Said West Virginia coach Dana Holgorsen, who was an assistant in the Big 12 for nine years: "I've never seen this place like that."
It even got after Smith at one point, serenading him with a "Geno Sucks" chant as he gestured to the crowd, egging them on.
"Where does that come from?" Smith said. "Obviously, I don't suck. I'll let them believe that."
[+] Enlarge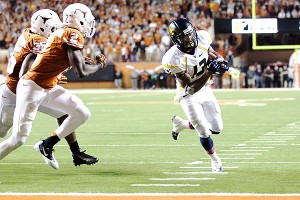 Tim Heitman/US PresswireThe second of Andrew Buie's rushing TDs gave West Virginia a 48-38 lead.
Buie led them to a victory that helped West Virginia clear the highest hurdle of its Big 12 (or national?) title "marathon," as Smith called it.
The Big 12 title runs through Morgantown, with Kansas State and Oklahoma waiting later in the season.
Saturday in Austin, though, it was Buie's time.
"He carried us," said Smith, the man used to carrying the Mountaineers. "We knew we were going to need to run the ball, because those guys like to get after the quarterback."
Texas did exactly that, sacking Smith four times and twice forcing fumbles inside the West Virginia 20-yard line. Before tonight, Smith had been sacked three times in four games.
Buie's 207 yards? Holgorsen said he wasn't surprised by those. But the 31 carries? That was a head-turner.
"We did commit to the run," he said. "That was something we talked about early in the week, and there weren't any tricks, either. We lined up and we just ran it right at 'em. We felt like that was gonna be the difference. If we could do that, it was going to alleviate some of the pressure on Geno."
On West Virginia's final drive, needing points to ice the game, the Mountaineers handed the ball to Buie on seven of eight plays. He turned them into 63 yards, capping his big night with a five-yard touchdown run, his second score of the night. While his teammates ran wild and kicked off the party on the West Virginia sideline, he trotted back through a parade of backslaps before being bearhugged by his position coach, Robert Gillespie.
"If we would have just drop back pass after drop back pass, they would have had 12 sacks. Maybe 20," Holgorsen said. "We just felt like it would be in the best interest of our football team to commit to the run."
Texas stuck in its nickel package for most of the night with just two linebackers on the field, even when West Virginia used its jumbo packages with bigger bodies. Buie saw it as a sign of "disrespect," and proved he'd make the most of his opportunities.
"With coach Holgorsen, you never know what the game plan is going to be fully," Buie said. "You just always want to be prepared to run from whatever he's put inside the menu for that week. When he calls your number, obviously he has confidence in you to make plays."
Holgorsen (and Smith, who often checked to various running plays at the line of scrimmage) had confidence in Buie 31 times on Saturday night. Buie was likely West Virginia's No. 3 back entering the season behind
Shawne Alston
and a recuperating
Dustin Garrison
. He looked like a man well deserving of the No. 1 spot against one of the Big 12's top defense. Before last week's 25 carries, Buie had never had more 15 carries in a game, and hadn't topped even 100 yards in a game. He had 52 carries in his entire freshman season in 2011.
Since 2009, Texas was 18-0 when winning the turnover battle. The Horns won it 2-1 on Saturday, but Buie's effort helped the Mountaineers overcome both of Smith's fumbles and move into the driver's seat for the Big 12 title.
"We're not going to force the ball. We're not going to force the issue. We'll take what you give us. I'm a smart quarterback, I understand defenses. I understand how to exploit them." Smith said. "The offensive line did a great job of getting all those guys, finishing blocks, getting to the second level. Buie was reading it and cutting back. Yards after contact was big. He ran hard tonight."
Think West Virginia's offense is just Geno Smith,
Tavon Austin
and
Stedman Bailey
? West Virginia proved otherwise.
October, 5, 2012
10/05/12
10:00
AM ET
When
Dustin Garrison
guided the little guy from his home state around campus in December, he could sense some apprehension. It's only natural.
The West Virginia running back knew asking
Jordan Thompson
to consider moving more than 1,300 miles from Katy, Texas, to Morgantown, W.Va., wasn't an easy sell. Garrison had his doubts, too.
Once he got past the initial homesickness, he knew he'd made the right choice. He knew Thompson would, too, if he chose the Mountaineers.
[+] Enlarge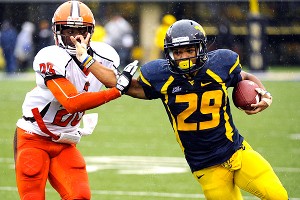 AP Photo/Tyler EvertRunning back Dustin Garrison is one of 11 Texas natives on West Virginia's roster.
"I told him, you'll get through it, and once you get used to it, you'll love it," Garrison said. "The fan support is very similar to what it's like back in Texas."
Now Garrison and Thompson, two key Texas-bred cogs in West Virginia's prolific offense, are coming home. They might not receive much fan support from the 100,000-plus in attendance when the Mountaineers take on Texas on Saturday night, but Garrison did manage to round up around 20 tickets for friends and family.
"I've been looking forward to this day ever since we found out we were going to the Big 12," he said.
This game means more to Garrison than most, and he doesn't hesitate to admit that. The sophomore from Pearland, Texas, hasn't forgotten his recruiting process. He slipped through the cracks.
The in-state schools weren't interested. At 5-foot-8 and 160 pounds, he was just too small. By the time he blew up in his senior year, with 2,842 rushing yards and 46 touchdowns, the Longhorns already had pledges from
Malcolm Brown
and
Joe Bergeron
. Everybody else passed on the two-star prospect with 62 career touchdowns.
But not Dana Holgorsen. He already has made inroads in Texas since taking over as West Virginia's head coach. He and five of his assistants have coached in the state and haven't been afraid to pluck those who go under-recruited.
"They have raised some eyebrows around here," Katy coach Gary Joseph said. "Dana's smart enough to get kids who are good football players, and he understands that to play at the level they have to around here they've got to get pretty good football players."
Before Holgorsen took over the program, Joseph can't remember ever seeing a West Virginia coach stop by his high school. Now that the Mountaineers have joined the Big 12, he already has had a few assistants stop by to evaluate players and watch tape.
Most of Joseph's top recruits already have made pledges. West Virginia doesn't stop by to see the kids going to Oklahoma, LSU or Baylor. They're looking for the sleepers.
Last fall, the West Virginia staff found another one. Holgorsen personally visited Katy to get a good look at Jordan Thompson.
He caught 65 passes for 1,200 yards and 16 touchdowns as a senior. But he's 5-7 and 164 pounds. He held no scholarship offers.
"He don't fit the mold," Joseph said. "He's not a 6-foot-4, 210-pound receiver. He's always been a really good competitor. I'm thankful they recruited him because he's a good football player, not because he's a prototype."
When West Virginia offered, Thompson committed despite having never seen the campus. He took a leap of faith because Holgorsen had taken a chance on him.
Two weeks later, he made his first visit. Garrison was his player host, just as he is for most visitors from Texas. He convinced Thompson this place would feel like home eventually.
"I don't think he was near as apprehensive about it as his momma was," Joseph said. "But once momma figured out it was going to be a good thing for him, she was all for it too."
Thompson enrolled early and was the star of West Virginia's spring practices. Now he's a starting inside receiver. Garrison, WVU's leading rusher last year as a freshman, has recovered from a knee injury and is back to splitting carries.
"I'm a firm believer that everything happens for a reason," Garrison said, "and right now we're both making plays here at West Virginia where we're supposed to be."
To continue reading this article you must be an Insider
August, 28, 2012
8/28/12
1:45
PM ET
The 2011 season was unkind to Big 12 running backs from Ames to Austin, but nobody suffered a worse injury than Texas Tech's Eric Stephens.
"He tore pretty much everything," coach Tommy Tuberville said of his back, who also dislocated his knee. Doctors gave the swelling in Stephens' knee more than a month to calm down before operating.
[+] Enlarge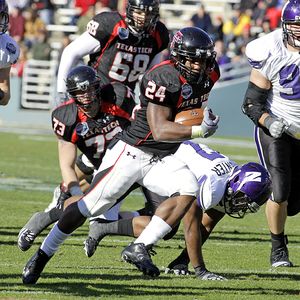 AP Photo/Sharon EllmanTexas Tech RB Eric Stephens tore both the ACL and MCL in his left knee late last season.
Saturday, he'll finally make his return to the field. Tuberville says he'll likely start, with a target of 10-15 touches.
"We discussed that. It could be less or could be more. It just depends on the situation, how he's doing, how he reacts," he said.
Stephens performed well in fall camp after suffering the injury early last season, derailing a likely 1,000-yard season that would have been Tech's first since 1998. The only noticeable difference now is Stephens is a little overweight and looks about 90-95 percent of his usual self.
"That's not the knee problem, he just hasn't played football in a long time," Tuberville said. "I don't think physically there's a problem at all. I'm sure he's more than 100 percent ready to go with the knee. ... I've never had a serious injury like that, but I can just imagine being a major college running back and getting hit all around high and low for the first time in 10-11 months, it'd be awful tough mentally."
The offseason was rough on Iowa State's
Shontrelle Johnson
mentally, too. Doctors doubted whether he'd return to the game after suffering a neck injury last year against Texas. He missed the spring, but doctors cleared him just before fall camp and his long-awaited return is set for Saturday afternoon against Tulsa.
"Shontrelle's done an excellent job and had zero ill effects coming back from neck surgery this offseason," Iowa State coach Paul Rhoads said. "He'll be on the field early. If camp is any indication, we think he's ready to go."
Oklahoma senior running back
Dominique Whaley
suffered an ugly broken ankle when a player landed on the back of his legs in a win over Kansas State. He'll be on the field early for the Sooners after earning the starting job once again.
"In my mind he looks to be back to what Dom always was, that's explosive, strong, fast," Oklahoma coach Bob Stoops said. Whether he's 100 percent or not, maybe only he and the good Lord really know. But he sure looks it to me. I'm hopeful that will be the case."
Oklahoma rival running backs
Joe Bergeron
and
Malcolm Brown
of Texas were banged up with various minor injuries last season, but a renewed focus on health, diet and fitness has hopes high that the duo will be able to stay on the field in 2012.
The running back whose status is most in doubt? West Virginia's
Dustin Garrison
. The sophomore led the Mountaineers in rushing as a freshman, but suffered an injury later than any other Big 12 back. He tore his ACL in preparation for the Mountaineers' 70-33 win over Clemson in the Orange Bowl.
Soreness led coaches to give him a few days off last week, but if he doesn't respond well to practice this week, he could redshirt in 2012, ceding the starting spot to bigger back
Shawne Alston
, a senior.
"The plan all along has been get him to game week and then get him out there and see what happens," Mountaineers coach Dana Holgorsen said.
August, 14, 2012
8/14/12
9:00
AM ET
We're moving on with our rankings of the top 10 players at each position in the Big 12. Today, we tackle the running backs, a position with a lot of potential but not very much returning talent. My only rule for this list: No freshmen or newcomers. You don't know until you know.
Let's get started.
1. Joseph Randle, Oklahoma State:
Randle is the Big 12's only returning 1,000-yard running back, and even the league's best back has something to prove in 2012. Quarterback Brandon Weeden and receiver Justin Blackmon took a ton of pressure off him and opened up a lot of space. Can he help carry the offense early this season with a true freshman at quarterback and unproven receivers in the passing game?
[+] Enlarge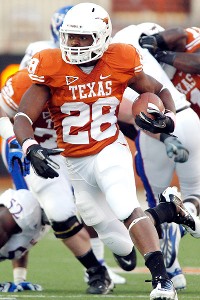 Ray Carlin/Icon SMIMalcolm Brown has the talent to emerge as the top rusher in a crowded Texas backfield.
2. Malcolm Brown, Texas:
Brown's nose for tiny creases in the line is unparalleled in this league, even though he doesn't have breakaway speed. He's tough to bring down and loves to fall forward. In short, he's a perfect fit for Texas' offense, and the likeliest member of Texas' talented backfield trio to top 1,000 yards in 2012.
3. John Hubert, Kansas State:
Life is good for Hubert when defenses focus heavily on quarterback
Collin Klein
, but you can't argue with his production. He averaged nearly five yards a carry and racked up 970 rushing yards last season.
4. Waymon James, TCU:
James averaged a silly 7.23 yards per carry last season, leading TCU's trio of backs in rushing, though all three had between 120 and 123 carries (seriously). Ed Wesley is gone, and James' yards per carry average will drop as he faces tougher defenses this season, but he's still a big talent.
5. Jeremy Smith, Oklahoma State:
Smith is the forgotten man in Oklahoma State's backfield until he keeps his legs churning and converts third downs, and chips a blitzing nickel back in the backfield to give
Wes Lunt
a couple more seconds to get rid of the ball. He's faster than he gets credit for, and averaged better than seven yards a carry in the Big 12 last season, the league's second-highest average.
6. Eric Stephens, Texas Tech:
Stephens' season was cut way short last year by an awful knee injury. There's no telling how he'll look when the season starts back up, but not many guys were better than him over the first half of last season.
7. Dominique Whaley, Oklahoma:
Whaley's season was cut short, too. He suffered a broken ankle, but the former walk-on is back and will try and make a run at a 1,000-yard season for the Sooners' pass-heavy offense. If he plays like he did last season before the injury, expect it to happen, and expect him to hog the carries in a crowded backfield.
8. Matthew Tucker, TCU:
Tucker joins James in TCU's backfield. He scored 12 touchdowns last season, which ranks second among returning Big 12 running backs. Without Wesley, Tucker is due for more touches. The trio combined for more than 2,300 yards on the ground last season. Watching Tucker and James race for 1,000-yard seasons will be fun.
9. Roy Finch, Oklahoma:
Finch loves to put defenders in the spin cycle, but could hardly get on the field last season until Whaley was injured. Once he did, though, he made a big impact. He topped 83 yards four times in five weeks late last season, but he has to be more consistent. He also had four yards on six carries against Iowa. We'll see if he showcases his explosiveness as a junior in 2012.
10. James White, Iowa State:
Iowa State badly needed White to step up when
Shontrelle Johnson
went down with a neck injury, and White did. He topped 135 yards twice after Johnson's injury and scored eight times, including two in a triple-overtime win against Iowa early in the season.
Honorable mention:
Dustin Garrison
, West Virginia;
Joe Bergeron
, Texas;
James Sims
, Kansas; Shontrelle Johnson, Iowa State;
Tony Pierson
, Kansas
August, 1, 2012
8/01/12
9:00
AM ET
Dustin Garrison
was overlooked.
OK, so it wasn't hard to do. He is 5-foot-9.
But the fact that he played and produced for the top team in Texas -- Pearland -- and still remained below the radar was a recruiting head-scratcher. The fact that he ran for 292 yards in his first college game was indication that West Virginia, which offered after the bowl season, has an early lead on how to successfully recruit Texas.
"When I first got the job 18 months ago, we had already started recruiting a little bit, recruiting Texas a little bit," WVU coach Dana Holgorsen said. "Got a great boss in Oliver Luck. Understands college football, understands geography. He had already expressed some interest in wanting to recruit some in Texas, because everybody else recruits in Texas."
But Holgorsen didn't need the West Virginia athletic director's advice to know the importance of the Lone Star State. He spent nine years as an assistant coach at Houston and Texas Tech, plus another year at Oklahoma State recruiting Texas kids.
So he knows there is talent. And he knows he has to get some of it to be successful.
"We will recruit Houston, we will Dallas,'' said Holgorsen, who already has one Texas commit, guard
Tyler Tezeno
(Spring, Texas/Klein). "I think we've got to be careful a little bit about how much manpower we put here. Because it's so competitive. Like I said, everybody's recruiting this."
That includes the Big 12's other newcomer, TCU. Sure, the Horned Frogs maintained their run with home-state talent. And while their location hasn't changed, their status certainly has.
June, 4, 2012
6/04/12
2:00
PM ET
We've already discussed the
conference's 3,000-yard passers in 2012
, followed
by the 1,000-yard receivers.
But what about the guys toting the ball?
Last season, 47 running backs topped 1,000 yards, including five from the Big 12.
Here's who will hit quadruple-digit rushing yards in 2012 across the Big 12.
1. Joseph Randle, RB, Oklahoma State:
Randle is one of two returning 1,000-yard rushers in the Big 12, and the league's leading returner. He'll do it again as a junior in 2012. He's the best and most experienced weapon in OSU's offensive arsenal, and he'll get plenty of touches with true freshman quarterback Wes Lunt learning the ropes in 2012.
2. Collin Klein, QB, Kansas State:
Nobody could stop him in 2011, so why would anyone be able to do it in 2012? Manhattan, Kansas' resident Panzer tank could have stood up and alerted the entire defense to the play for some of his snaps in 2011, and it still wouldn't have mattered. He led the Big 12 in carries last season and he may do it again this year. He'll top 1,000 yards easily. He may throw it better and a little more, but coach Bill Snyder won't get away from the bread and butter of his offense.
3. Malcolm Brown, RB, Texas:
Brown will break through a crowded backfield this season and surge ahead of
Joe Bergeron
and Johnathan Gray to earn his first 1,000-yard season as a sophomore. He'll barely do it, but he'll do it. The carries will be spread out between that trio, but Brown should be the most consistent of the group. The only variable is his health. Brown and Bergeron both had trouble staying healthy in 2011.
4. Waymon James, RB, TCU:
Ed Wesley
's offseason exit frees up 120 or so carries in the offense, and James will be the man to take a few more and top 1,000 yards. James had 875 yards last year, and TCU will have to throw it more than it did in 2011, but James will hit quadruple digits late in the season.
Just missed:
Dustin Garrison
, RB, West Virginia;
Matthew Tucker
, TCU;
Tony Pierson
, Kansas; Joe Bergeron, Texas;
John Hubert
, Kansas State;
Jeremy Smith
; Oklahoma State;
James White
, Iowa State
The Best Non-BCS Games To Watch