Texas Longhorns:

DJ Monroe
February, 19, 2013
2/19/13
8:00
AM ET
AUSTIN, Texas -- Texas heavily invested itself in special teams in 2012.
The Longhorns, however, saw few returns.
It was 81st in kickoff return defense. It was 37th in kickoff return yards, despite having an Olympian and another player,
D.J. Monroe
, with top-end speed.
January, 17, 2013
1/17/13
1:00
PM ET
AUSTIN, Texas -- Dana Holgorsen's run game was going nowhere.
And since Texas was only on West Virginia's schedule once, the Mountaineers coach was searching for answers.
[+] Enlarge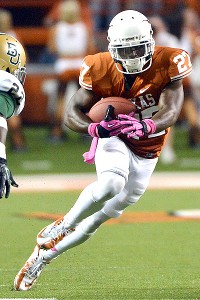 Cal Sport Media via AP ImagesDaje Johnson showed promise in his limited touches as a freshman.
"We had to do something," he said after the decision to move wide receiver
Tavon Austin
to running back.
That decision paid off, as Austin went for 344 rushing yards against Oklahoma.
"It probably should have been done four years ago," Holgorsen said in the postgame. "Moving him around and giving him some different matchups was probably a pretty good idea."
It's an idea -- an epiphany, if you will -- that Texas needs now, so that three years from now, when rising sophomore
Daje Johnson
is on the doorstep of exhausting his eligibility, as Austin was, the Longhorns coaches are not looking back, lamenting and mumbling, "You know, if we would've ... "
Now, while Johnson is not quite as mercurial or shifty as Austin, he does have similar abilities. And as he grows into the game, so too will his repertoire. But in the run game, those talents need to be fertilized.
As a freshman, Johnson only touched the ball on running plays an average of 2.2 times per game. (He was suspended the first game of the season.) He averaged 7.5 yards per run.
December, 31, 2012
12/31/12
8:00
AM ET
Take away the good and the bad, and you're left with what might've mattered more about Texas' Alamo Bowl win: The change.
We do not know what offensive philosophies are bouncing around inside Major Applewhite's head these days. In the months to come, his influences and experience will endure rigorous research by those hoping to nail down what Texas' new offensive play caller will have up his sleeve for 2013.
[+] Enlarge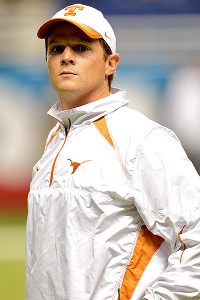 John Albright/Icon SMIMajor Applewhite spread the Texas offense out and got the ball to playmakers in his first game as play-caller.
He had time only for little tweaks leading up to the
31-27 bowl victory over Oregon State
. The full vision gets installed from now until the end of August.
But on Saturday night, Applewhite did drop some hints. Here's what we learned about his offense's future after his playcalling debut.
1. The spread
Applewhite says he wants a balanced offense, a scheme that can win games on the ground and in the air. Oregon State required more pass than run.
A review of the film shows that, out of 65 plays on offense, he called 30 shotgun pass plays and 14 shotgun run plays against the Beavers.
David Ash
was under center only eight times on the night, and four were pass plays.
What does that say? It could be the product of playing from behind or of Oregon State's strong run defense, but don't mistake the results.
Texas went to shotgun sets on 67 percent of its offensive snaps, and that paid off rather handsomely in the second half. This was the first time all season Texas won a ballgame by throwing (34 attempts) more than rushing (31).
"Tonight, the way we needed to win the game was to spread them out, throw it, clear some loose lanes for the quarterback to run the ball and be effective," Applewhite said after the game.
Is the spread Texas' best way to win in 2013? Applewhite has this spring and summer to find out.
2. Pushing the pace
The stats might not show it, but Texas thrived when it upped its offensive tempo in the second half.
The Longhorns ran 65 plays. Nothing new there -- Texas went for 65-plus in eight other games in 2012. No meaningful changes in time of possession, either.
But David Ash's fourth quarter performance spoke volumes. He hit on his final seven passes for 113 yards and two touchdowns. Six of his eight completions went for 10-plus yards.
He overcame a shaky first half and played with poise late. A faster-paced, shotgun-heavy attack clicked when the stakes were high late.
This wasn't a no-huddle, hurry-up attack, but Applewhite did cite Oregon's success against OSU as a motivation for spreading out and speeding up.
After spending 2012 trying to convince itself it could play SEC-style power ball, could Texas swing the other way on the offensive spectrum under Applewhite?
3. At last, speed
Remember
Marquise Goodwin
? He was in the London Olympics. Pretty fast dude. Had a good game against Ole Miss.
We hadn't heard much from Goodwin since. He touched the ball on offense a total of 12 times in Texas' final seven regular-season games.
Texas' new OC made sure Goodwin's final game as a Longhorn was a triumphant one. For all the clamoring to get
D.J. Monroe
and
Daje Johnson
the ball, it was Goodwin for whom Oregon State had no answer.
"This game is about speed," Applewhite said. "It's about speed and explosive players."
He loses Goodwin and Monroe, but Applewhite won't be hurting for speedsters next season: Johnson and receivers
Kendall Sanders
,
Marcus Johnson
and commit
Jacorey Warrick
are legit home-run threats. Next season could be very good to some or all of them.
To continue reading this article you must be an Insider
December, 29, 2012
12/29/12
10:00
AM ET
Oregon State (9-3, 6-3 Pac-12) versus Texas (8-4, 5-4 Big 12):


Who to watch:
It took weeks for both teams to name their respective starting quarterbacks. Now that they have --
David Ash
for Texas and
Cody Vaz
for Oregon State -- all eyes will be on the two to see whether they can live up to the expectations. Ash was benched for the final game of the regular season after committing three turnovers against TCU. In the past three weeks, he has had to not only climb back into the starter role but also get accustomed to a new quarterbacks coach in Major Applewhite. Applewhite took over the role following the departure of Bryan Harsin to Arkansas State.
As for Vaz, he has been stellar in four games as a starter and only lost that role after suffering an ankle injury in the Stanford game. Vaz has 11 touchdowns to one interception. But if he struggles at all, Oregon State has a very capable backup in
Sean Mannion
.
What to watch:
The running game production for both teams should be crucial. While Oregon State prefers to throw the ball, it cannot drop back 40 or 50 times because of the potential pressure of the Texas defensive line. So the Beavers' best move could be to attack up the middle, where Texas is at its weakest. The Longhorns have allowed 199 rush yards per game, and at one point during the season, in five consecutive weeks, Texas allowed five different rushers season highs. Oregon State running back
Storm Woods
is from just outside Austin -- Pflugerville -- and undoubtedly will have a chip on his shoulder, as he was not recruited by the Longhorns.
Why watch:
Explosive plays and players. Texas, with a new playcaller in Applewhite, should be more committed to getting the ball to three of the fastest players in college football --
Daje Johnson
,
Marquise Goodwin
and
D.J. Monroe
. Any time any of the three touches the ball, it could result in a touchdown. Oregon State has one of the top receivers in the country in
Markus Wheaton
. The Beavers' all-time leading receiver could give the Texas secondary fits.
Prediction:
Oregon State's pass defense might be too much for Texas and Ash to overcome. The sophomore quarterback has struggled against strong pass defenses, and the Beavers are No. 16 in pass efficiency defense. Of the teams Texas has played, only Oklahoma is better, and the Sooners beat Texas by 42. Oregon State 33, Texas 28.
December, 26, 2012
12/26/12
8:00
AM ET
AUSTIN, Texas -- Texas has changed its play-caller.
But it will not change the plays Major Applewhite calls.
"I don't see a lot changing before the bowl game because they were already into the game plan and so we will be pretty much who we have been all year in the bowl game," said Texas coach Mack Brown.
[+] Enlarge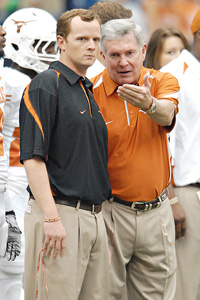 John Rivera/Icon SMIMajor Applewhite's vision on offense will likely take greater affect in 2013.
Yep, the offense it had under former co-offensive coordinator Bryan Harsin is good enough for Oregon State and the Valero Alamo Bowl. So take a seat
D.J. Monroe
. Grab a spot on the sideline
Daje Johnson
. And find a place to put that helmet down
Malcolm Brown
.
OK, it probably won't be that extreme despite the fact that, for weeks at a time, it was that extreme under Harsin. When Harsin ran what he liked to call a multiple attack it really translated into the myopic singling out of players for time and touches. One week Johnson wouldn't get a touch, questions would be asked, and suddenly there he was featured prominently the next. Ditto for
Jaxon Shipley
and others.
Eventually Harsin just gave up the fight and allowed that there was only one ball to go around. The fifth-grade talent show juggling act was over. Or at least the guise that Harsin was attempting to or even knew how to juggle was finally over.
Now Applewhite has been left to pick up the pieces. Texas doesn't want to mess with where Applewhite place those pieces too much given that practice time is limited as is this team's capacity for adroitly adapting to change. It will be spring before offensive changes will be implemented.
November, 25, 2012
11/25/12
2:04
PM ET
When rewatching David Ash's performance against TCU, you can't help but be reminded of a quote he dropped in his first preseason chat with reporters in August.
"People say leadership is a lot of different things, but when it comes down to it, it is a really abstract term that has a different meaning to everyone," he said then. "I think guys want to follow a guy who's going to put them in the end zone. So that's my goal."
Ash was pulled from Texas' 20-13 loss to TCU twice last Thursday, and with good reason. He couldn't get his team in the end zone.
For this week's film review, we offer a look at what can be learned from Ash's failures against the Horned Frogs.
[+] Enlarge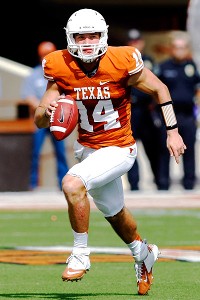 Brett Davis/US PresswireTexas QB David Ash had three turnovers before being benched in the loss to TCU.
1. Just a little off
When Ash is off, he's usually just a little off. That's been the case in each of his poor starts, and once again small mistakes plagued his first-half play.
His interception on Texas' opening drive could've be a touchdown if he'd led
Mike Davis
a bit. Instead, Ash put it up too high and
Jason Verrett
caught up.
On the next drive, a red-zone pass to
Ryan Roberson
on third down could've picked up a first had he put the ball right in the fullback's numbers. Instead, Roberson has to reach out and dropped it.
A few more passes were slightly underthrown. For the most part, though, that's not the product of TCU pressure. A little fine-tuning and Ash might've been off to a strong start.
2. The second interception
Ash was solid for the game's first 24 minutes. But it was his second interception that started getting him in trouble.
Ash had second down and 10 at the TCU 18. He faked a handoff to
Joe Bergeron
, turned and made a quick read.
The play is supposed to force TCU safety
Elisha Olabode
to make a decision.
Jaxon Shipley
runs a post route that breaks right in front of the safety. At the same time,
Marquise Goodwin
runs a flag route and breaks toward the sideline. Olabode can only help with one, right?
Wrong. Olabode turned to his left to indicate he's taking Goodwin. Ash made the throw to a should-be-open Shipley. Then Olabode broke right and jumped the route for the easy pick.
It's an understandable mistake by Ash. He got tricked by the safety and made a hasty decision. But that can't happen in the red zone.
3. Benchings weren't unfair
Texas coaches pulled Ash for the final drive of the first half after his third turnover of the day. The move made sense considering the circumstances.
TCU scooped up Ash's fumble and scored three plays later to go up 14-3. That drive took only 65 seconds of game time. Throwing Ash back on the field when it was clear he needed the halftime to calm down and make adjustments didn't make sense.
So the Longhorns went with
Case McCoy
for one drive, seeking a spark. Didn't work.
Ash came back in the second half and got three drives to make amends. He led Texas to a field goal, a punt and a turnover on downs. On the final two drives, Texas called only one run play.
It's not as if Ash didn't get a more than fair chance to win the game. But again, he didn't get his team in the end zone.
4. Rhythm
Ash led drives of 45, 49, 62 and 42 yards against TCU. Texas averaged 4.8 yards per play on those four drives. Getting into a rhythm was not the issue.
To continue reading this article you must be an Insider
Freshman Quarterbacks A Growing Trend?
BIG 12 SCOREBOARD
Thursday, 9/3
Friday, 9/4
Saturday, 9/5