Texas Longhorns:

Darrell Wyatt
June, 10, 2014
Jun 10
11:30
AM ET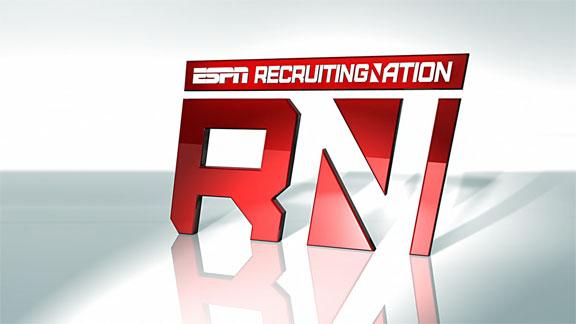 On Monday, we went in-depth on just how many coaches were impacted this offseason when Mack Brown resigned. The ripple effect of the Texas coaching shakeup touched 103 coaches and 47 college programs. If you missed that story, click
here
to check it out.
If 103 sounds like a big number, just imagine how many recruits each and every one of those coaches would've affected. And not just the 2014 prospects who were forced to scramble before signing day -- these coaching changes have long-term implications for the
Class of 2015
and beyond.
[+] Enlarge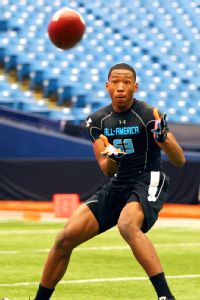 Miller Safrit/ESPNWide receiver DaMarkus Lodge has closed the door on Texas after the coaching change and will likely choose from Texas A&M, Baylor and Ole Miss.
DaMarkus Lodge
is just one example, and proof that it only takes one assistant coach to completely change a kid's plans.
The ESPN 300 standout from Cedar Hill, Texas, is the state's No. 1 wide receiver prospect. When he announces his decision on June 20, most expect he'll be choosing from Texas A&M, Baylor and Ole Miss.
What most don't know is just how close he came to committing to Texas last year.
Ever since attending Texas'
36-20 win over Oklahoma
in the Red River Rivalry in October, Lodge was sold. He and his parents visited Texas again in November, for at least their third time since the spring. Lodge had every intention of leaving that weekend visit as a Longhorn.
"It was actually about to happen," Lodge said last month. "I was going to commit."
Darrell Wyatt had everything to do with that. Texas' now-former co-offensive coordinator and receivers coach had a remarkably strong bond with Lodge and was one of the first to offer him a scholarship. Wyatt's advantage was unmistakable: He had coached Lodge's personal trainer, David Robinson, while an assistant at Oklahoma. Robinson, the co-owner of Quick Twitch Training in Dallas, swore by Wyatt's expertise.
"Everything D-Rob is telling me, that's what he said they were teaching at Texas," Lodge said. "I was already ahead of the guys who were there and the guys who were coming in. I knew I was going to come in there and play for sure."
Lodge says his parents were on board with him making that November commitment. But for some reason, which even Lodge can't explain today, right when he was on the cusp of making the pledge, his gut said no.
"I was about to do it, about to pull the trigger, and something was telling me in my head, 'Don't do it. Just wait,'" he said. "So I told them never mind."
A month later, Brown announced his resignation. Lodge was glad he'd held off, but he was especially troubled to learn Wyatt was not going to be retained by new coach Charlie Strong. That was the game-changer.
"He was like a dad to me," Lodge said. "I was kind of heartbroken. I used to talk to Wyatt three times a week. [Texas] would've had me."
Texas' new coaches visited Cedar Hill several times this spring in the hopes of re-sparking his interest. Is there any chance they can still sway him to follow through on his old plans of becoming a Longhorn?
"Not at all. Not at all," he said. "For me, that door is just not open. I think they know they really lost me with the whole staff change."
But there's one more door that has yet to open. Wyatt remains unemployed. Lodge has no idea why.
While he says he would hate to decommit from his June 20 choice later on, Lodge is not afraid to admit it: Wyatt is still the one person who can change his mind.
"I wonder where Coach Wyatt is going to go," Lodge said. "If he goes to one of the schools that I'm looking at, or if he picks up another job, then I'm probably already 90 percent with him.
"I can't wait to see where he goes. If he goes to one of these big programs, I'm probably with him. I really wanted to be coached by him for the next four years. Wherever he ends up ... it's going to be crazy."
January, 12, 2014
Jan 12
8:15
PM ET
Former Louisville offensive coordinator Shawn Watson will serve as quarterbacks coach at Texas, a source told ESPN.com.
Watson was introduced as Texas' new quarterbacks coach during a Sunday night team meeting, the program's first since Charlie Strong was named head coach on Jan. 5.
The source said no offensive coordinator or wide receivers coach was named or introduced during the team meeting. Those appear to be the two remaining vacancies on Strong's first coaching staff at Texas. Co-offensive coordinator and receivers coach Darrell Wyatt is not expected to be retained.
Watson served as offensive coordinator and quarterbacks coach in three of his four years at Louisville under Strong and is credited with developing
Teddy Bridgewater
, the Cardinals' potential No. 1 overall draft pick. Watson was previously offensive coordinator at Nebraska.
His name was one of several that has reportedly been considered for Texas' vacant offensive coordinator post. Though it's possible Watson could still be named offensive coordinator, the team was told he will coach quarterbacks.
January, 6, 2014
Jan 6
5:30
AM ET
The Early Offer is RecruitingNation's regular feature, giving you a daily dose of recruiting in the mornings. Today's offerings: Texas' hire of Charlie Strong could help the Longhorns open up new recruiting territories, but it will also be important for him to hire assistants who have ties to the Lone Star State. Louisville's top 25 class is very much in flux after Strong's departure.

June, 25, 2013
6/25/13
9:00
AM ET
AUSTIN, Texas -- Back in Texas' halcyon days, when everything was fast, furious and -- here is the big one -- successful, the Longhorns averaged 74.5 plays per game.
Back then (2007-09) the Longhorns had the talent to fit the scheme, the quarterback who understood the urgency and accuracy, and the experience of having been in an up-tempo system for several years.
What Texas has now is the hope that it can surpass what it once did when it was at its best. Coach Mack Brown's pie-in-the-sky goal is to average 84 plays a game. Now he and Texas have to make sure it doesn't end up as a pie-in-the-face goal.
To continue reading this article you must be an Insider
May, 7, 2013
5/07/13
2:00
PM ET
Plenty of Division I talent has walked through the doors at Houston Cypress Ridge since the school opened in the mid-2000s, and that continues to this year.
One of the Rams' younger prospects already getting looks from colleges is 2015 receiver
Kemah Siverand
.
To continue reading this article you must be an Insider
May, 2, 2013
5/02/13
10:00
AM ET
AUSTIN, Texas -- Seven games into the 2012 season, Texas thought it needed a shift in its coaching assignments.
The kickoff coverage team, heralded in the first two weeks of the season for its stellar play, had gone stagnant in the eyes of the coaches. So to shore up what was considered a weak link with five games remaining, Texas coach Mack Brown shifted defensive coordinator Manny Diaz and defensive backs coach Duane Akina to kick coverage duties.
[+] Enlarge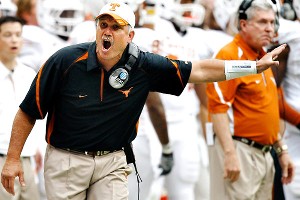 Bob Levey/Getty ImagesDefensive backs coach Duane Akina helped coach the Texas kickoff coverage team late last season.
Things got worse. Texas went from allowing 20.8 yards per return to 26.7 yards per return. Throw out the first two games against Wyoming and New Mexico in which Texas only allowed 12.6 yards per return against overmatched opponents and the numbers are only slightly better -- 23.9 yards per return allowed prior to the change as opposed to 26.7 after the switch.
But there will not be another switch made prior to the 2013 season. Brown said he expects Diaz and Akina to take care of kick coverage. Although he does expect the results to be better. That was part of the reason why Brown brought in his former player Everett Withers to take a look at Texas' special teams and point out a few things. Withers, who played for Brown at Appalachian State and coach defensive backs at Texas from 1998-2000, is now co-defensive coordinator at Ohio State.
April, 2, 2013
4/02/13
11:13
AM ET
Over the last few months, ESPN Watch List receiver
Armanti Foreman
has taken visits to schools, even while committed to Oklahoma.
To continue reading this article you must be an Insider
December, 12, 2012
12/12/12
3:47
PM ET
AUSTIN, Texas -- Texas has made it official:
The Longhorns are looking for a running backs coach
.
[+] Enlarge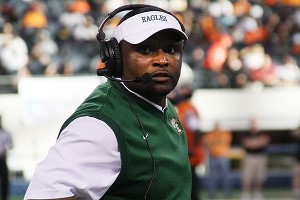 Travis L. Brown/ESPNDallas.comDeSoto head coach Claude Mathis is well respected among his peers and could be an option for the Longhorns.
Oh yeah and Bryan Harsin is gone, Major Applewhite is now calling plays as the co-offensive coordinator, Darrell Wyatt has been elevated to co-offensive coordinator, Stacy Searels is now the assistant head coach for offense, and Bruce Chambers is in the primary staffer in charge of coordinator recruiting.
But forget all the Scrabble-tile shifting of titles at Texas for a moment, the Longhorns are in the market for a new running backs coach. Now all they have to do is figure out what type of qualities that coach must possess.
Someone who can figure out the distribution of carries for the running backs should not be on top of the list. That's Applewhite's job now. And seeing as how running backs already know how to run, well a great technician is not exactly a huge necessity either. It helps but it is not crucial.
What Texas needs in a running back coach is someone who can help recruit Texas. The Longhorns, through their own failings on the field, and Texas A&M's momentum both on and off it, have become the less bright star in the state. More than anything high school players want to go to a place where they believe their talents can be showcased against the best. Right now the best place for that is Texas A&M.
The Aggies play in a superior conference and this year, at least, played superior ball to Texas. So it is not a huge shock that Texas A&M has 34 commitments and has steamrolled right into 2014.
That's not to say Texas is not resigned to being a wallflower within the state. The Longhorns have the power to get any recruit they need in the state. It's just that Texas needs some help flipping that switch. And that is where the running back coach comes into the picture.
Texas can go one of two routes here.
The first is with a Texas high school. DeSoto's Claude Mathis fits this bill perfectly. He is up for national coach of the year, churns out of ton of recruits, wins on a consistent basis, has the respect of other high school coaches in the state and has shown with his brief dabble at going to Houston earlier this year (and then subsequently heading back to DeSoto) he is willing to make the jump to college.
What Mathis would do for Texas is curry tremendous favor for Mack Brown among high school coaches. It will once again show that Brown feels there is coaching talent at that level and is willing to give a high school coach a shot. The benefits of that are immeasurable when it comes to being tapped into the Texas high school network.
A Mathis hire would also give Texas a bridge between the world the current Longhorns coaches are in and the high school world. Mathis is more in touch with high school kids and understands their wants and needs better because he has been around them every day. Figuring out the psyche of a 17-year-old player is not an easy thing and Mathis could help in that.
Now, Texas might opt to go a completely different route with a veteran coach like Tim Brewster. Like Mathis, Brewster makes sense on several fronts.
Brewster and Brown have a long relationship, have worked together in the past at Texas and North Carolina and understand what each expects out of the other. Brewster respects Brown's abilities so much he sent his son to play safety for the Longhorns. When Nolan was unable to play due to injury, Brown took care of him.
To continue reading this article you must be an Insider
September, 9, 2012
9/09/12
3:00
PM ET
AUSTIN, Texas -- ESPN 150 wide receiver
Torii Hunter Jr.
(Prosper, Texas/Prosper) walked around the south end zone of Darrel K Royal-Texas Memorial Stadium on Saturday with his head in a continuous tilt toward the sky.
He couldn't keep his eyes off 100,000-plus seats that would soon be filled during Texas' 45-0 victory over New Mexico.
"I mean that was pretty big right there," he said. "I got to experience the game day atmosphere with 100,000 fans."
To continue reading this article you must be an Insider
August, 13, 2012
8/13/12
8:00
AM ET
AUSTIN, Texas -- Bryan Harsin knows what he faces now -- a tougher schedule, bigger stadiums, louder crowds, better athletes, more expectations and plenty of pressure.
Maybe more importantly he knows with whom he faces it -- a coach that understands the pressures of being a quarterback at Texas (Major Applewhite), a coach that delegates and does not dictate (Mack Brown), a head coach who thinks wide receivers should block first, second and third, then think about pass patterns (Darrell Wyatt), and a throwback with more grunts than glad handing (Stacy Searels). And that is just on the offensive side of the ball.
In all, six members of Texas' staff are sophomores now. They have lived the life for a year. And, after being 8-5 together, they have lived to see another.
"Now we understand what we're doing," said Harsin, the co-offensive coordinator along with Applewhite. "We understand the details. We understand how each of us operates. And what the expectations of each positions are."
"Even at our coaches' retreat a couple of weeks ago, the guys were all on the same page and it went so much smoother," Brown said. "Last year they were talking about what are you doing in pregame warmups. They were talking about where we stay the night before the game.
"Now all of those things they know. We are so much further along than we were, and that leads to more excitement as we start the season as well."
That progress is not just owed to those position coaches. Included among those six is strength and conditioning coach Bennie Wylie. The backbone of the program, Wylie is the one who has pushed the players to stand tall, and at the same time, turned the head of Brown as to what expectations a cohesive staff can put on these players.
It's that work that has Brown talking about Texas being a tougher football team. And everybody knows a fist is much tougher to defend against than a slap. A fist is what Texas considers itself now that it has come together.
"Now we all know what is expected of everyone else," junior offensive guard
Mason Walters
said.
August, 3, 2012
8/03/12
7:37
AM ET
Mack Brown finally did it. He raised his finger and -- with equal parts enthusiasm and reluctance -- pressed the big red button.
He and his Texas staff dropped a recruiting bomb on the state on Thursday. More than 20 offers went out to 2014 recruits in a sudden and startling break from the Longhorns' recruiting tradition and philosophy.
Gone are the days of earmarking offers for February junior days, or making noncommittal promises of "approved offers."
To continue reading this article you must be an Insider
March, 23, 2012
3/23/12
3:30
PM ET
AUSTIN, Texas --
D.J. Monroe
has shown flashes, but to this point, they've been little more.
The most memorable? An 80-yard scamper in Red River in 2010 to jolt the Longhorns awake from an early 14-0 deficit.

Monroe's role in the offense has been minimal, but his gamebreaking potential is enormous. That's clear to everyone, including Texas' coaching staff.
Monroe, despite his speed, would likely be little more than Texas' fourth-string running back next fall after
Joe Bergeron
and
Malcolm Brown
established themselves as top runners in 2011 and the nation's No. 1 high school running back -- Johnathan Gray -- en route to Austin this summer.
Texas' response? Helping Monroe get on the field by working him at receiver, where the Longhorns are much thinner.
"The best play D.J. has for us is the speed sweep, and he is a wide receiver when he does that," Texas coach
Mack Brown
said. "He will work more with (receivers coach) Darrell Wyatt the latter part of practice so we can try to get him in the game without giving it away that he's in there only for a play that he runs."
That could mean
a bigger role for the bubble screen in Monroe's arsenal
, too.
For Texas, though, it's a great move and a necessary one.
Monroe's a running back at heart. Brown made that clear.
"He can do things in space. So we've been trying to force tailback on him when our tailbacks are now 205 to 240, and that's not his game," Brown said. "He's 165 pounds, 170 pounds, and he needs to be a space player. And I think we've got something that can help him if he can grow in that area."
Giving Monroe the ball on bubbles like Oklahoma did with
Ryan Broyles
could birth big results next season. Monroe's a gamebreaker waiting to happen, but with his limited package, his touches have been minimal.
If Monroe can prove the slant route or a quick out are legitimate options defenses must respect, the whole team should be better off. It sounds small, but keep an eye out for big results.
And though Texas wants balance, don't expect the Longhorns to lose sight of what this move is really about.
"He needs to be outside," Brown said. "That's who he is."
February, 25, 2012
2/25/12
11:15
PM ET
Did
Chevoski Collins
get a scholarship offer on Saturday?
Ask those involved in this conundrum and you'll get differing accounts.
At the end of Texas' junior day, the Livingston, Texas, athlete told multiple recruiting reporters he got an offer to play cornerback at Texas. Livingston coach Randy Rowe confirmed that claim on Saturday afternoon.
To continue reading this article you must be an Insider
February, 12, 2012
2/12/12
6:28
PM ET
Things are moving in a very positive direction between Texas and receiver
Ra'Shaad Samples
(Dallas/Skyline).
The 5-foot-11, 170-pound receiver was one of two receivers to attend Texas' first junior day. And like
Jake Oliver
(Dallas/Jesuit), he headed back to the Metroplex with a scholarship offer.
"I liked it a lot. Everything was nice," Samples said. "I like the way Coach [Darrell] Wyatt told me they were going to use me and plan on opening things up a little bit. It was probably one of my favorite [visits] so far."
To continue reading this article you must be an Insider
Texas RB Foreman Cleared To Play
BIG 12 SCOREBOARD
Saturday, 8/30
Sunday, 8/31