Texas Longhorns:

Darius White
February, 3, 2014
2/03/14
4:30
PM ET
As we close in on national signing day, it's an appropriate time to look back at how the top Big 12 recruits from four years ago performed.
2010 was a banner year for the Big 12 in recruiting, as the league
collectively landed 23 from the ESPN 150
.
A few, such as
Jackson Jeffcoat
,
Ahmad Dixon
and
Shaun Lewis
, became stars. Others washed out before their careers ever got off the ground.
[+] Enlarge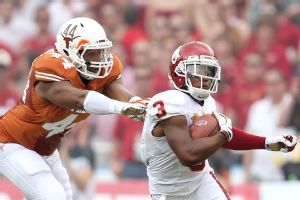 Matthew Emmons/USA TODAY SportsFormer five-star prospect Jackson Jeffcoat finished his career as the best defensive end in the Big 12.
Below is a closer look at what happened to
ESPN 150
players who signed with Big 12 schools:
No. 2: Jackson Jeffcoat, DE, Texas –
Though he never reached a high level of team success, Jeffcoat had a great individual end to his career, earning Big 12 co-Defensive Player of the Year honors and leading the league with 13 sacks.
No. 4: Jordan Hicks, LB, Texas –
Hicks has been good when he has played. Because of multiple injuries, that hasn't been often. Hicks missed most of last season with a torn Achilles, just a year after also being knocked out with a hip flexor injury. After getting a medical redshirt from his 2012 season, Hicks has one more year of eligibility remaining.
No. 13: Mike Davis, WR, Texas –
Davis finished in the Big 12's top 10 in receiving the last two seasons, compiling 200 career catches and 18 touchdown receptions.
No. 14: Taylor Bible, DT, Texas
– Bible never played a down at Texas, leaving after his redshirt freshman season because of issues with grades. Bible ended up at Carson-Newman.
No. 15: Ahmad Dixon, S, Baylor –
Dixon had a tremendous tenure with his hometown school, earning All-Big 12 and All-American honors as a senior as Baylor captured its first Big 12 title in 2013.
No. 18: Demarco Cobbs, ATH, Texas
– The Tulsa, Okla., native has appeared in 29 games on special teams and as a defensive reserve. He missed all of the 2013 season with a knee injury.
No. 20: Darius White, WR, Texas
– After making just six catches his first two seasons, White transferred to Missouri. He caught just seven passes this season for the Tigers, but has another year of eligibility left.
No. 21: Tony Jefferson, S, Oklahoma
– In his first season, Jefferson was the Big 12 co-Defensive Freshman of the year, and he was a three-year starter before leaving early to go pro.
No. 46: Ashton Dorsey, DT, Texas –
After serving as a reserve throughout his career, Dorsey was projected to start this season, but he transferred out days before Texas' season opener.
No. 48: Austin Haywood, TE, Oklahoma –
After getting playing time as a third tight end early in his career, Haywood unexpectedly quit in the middle of the season, tried to earn his way back on the team, failed and ended up transferring to Central Arkansas. After getting suspended there, Haywood gave up football.
No. 62: Corey Nelson, LB, Oklahoma –
Nelson shined early this season after finally getting a chance to be a full-time starter. That, however, was short-lived, as Nelson tore his pectoral muscle in an early October win over TCU and sat out the rest of his final season.
No. 65: Blake Bell, QB, Oklahoma –
The "Belldozer" starred his first two seasons as a situational, short-yardage QB. But in the preseason, Bell was beaten out by
Trevor Knight
for the starting job. Bell, however, still had his moments this season because of injuries to Knight. He led OU to a win at Notre Dame, then quarterbacked OU's game-winning touchdown drive at Oklahoma State.
No. 72: Reggie Wilson, DE, Texas –
He appeared in 51 games as a defensive reserve. Wilson had 19 tackles and a sack as a senior.
No. 73: Chris Jones, WR, Texas
– Jones transferred out after one year, and never played.
No. 75: Shaun Lewis, LB, Oklahoma State –
Lewis made an immediate impact, earning Big 12 co-Defensive Freshman of the Year honors along with Tony Jefferson. Lewis was a four-year starter and a big piece in Oklahoma State's defensive turnaround this season.
[+] Enlarge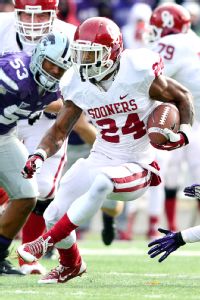 Jasen Vinlove/USA TODAY SportsFormer ESPN 150 recruit Brennan Clay was a solid, not spectacular, tailback for the Sooners.
No. 77: Quentin Hayes, S, Oklahoma –
After serving a year-long suspension, Hayes returned to win a starting job this past season. He has another year left.
No. 86: Tevin Jackson, LB, Texas
– Jackson has been a backup linebacker for the Longhorns and will be part of the team's great depth there in 2014.
No. 103: Adrian White, CB, Texas
– Played in 17 games, then joined the mass transfer exodus from this Texas class.
No. 109: Ivan McCartney, WR, West Virginia
– McCartney never became a No. 1 receiver, though he did contribute on West Virginia's explosive offenses in 2011-12. He only had 12 catches this past season as a senior, however.
No. 114: Aaron Benson, LB, Texas
– The cousin of former Texas running back great Cedric Benson has only been a contributor on special teams.
No. 122: Carrington Byndom, S, Texas
– One of the few players from this Texas class to pan out. Byndom made 39 career starts and was a second-team All-Big 12 selection this past season.
No. 129: Brennan Clay, RB, Oklahoma –
Clay proved to be a reliable and steady force in the OU backfield. He finished his career with 1,913 rushing yards, including 957 in 2013.
No. 134: Adrian Philips, ATH, Texas –
Phillips
settled in the Texas secondary, collecting 28 career starts there. He was second on the team this past season with 82 tackles.
No. 141: Trey Hopkins, OG, Texas –
Hopkins became a stalwart up front, making 42 career starts along the offensive line. He was a two-time, second-team All-Big 12 selection.
No. 142: Justin McCay, ATH, Oklahoma
– McCay transferred to Kansas after two years in Norman. He had nine receptions and a touchdown, which also was the first scoring catch by a Kansas wide receiver in almost two full seasons.
October, 17, 2013
10/17/13
2:00
PM ET
One ESPN 300 athlete is expected to choose a school the majority of the public has predicted for months. Any chance for a surprise change of plans? Another ESPN 300 athlete celebrates a birthday but continues to keep his followers guessing. Also, who's the next big get for Texas after landing its eighth ESPN Junior 300 commitment?
Here are some of the Big 12 recruiting storylines for the week:
Does TCU have a chance at Garrett?
ESPN 300 DE
Myles Garrett
(Arlington, Texas/Martin) is expected to announce where he'll play college football this weekend. The majority of his followers agree that when the weekend is over, he will be a Texas A&M commit.
Alabama, Florida State and Ohio State also are high on Garrett's list. The school closest to him, TCU, also is in the mix. What are the odds that the nation's No. 7 player shocks the world and chooses the Horned Frogs over the Aggies?
Low. But, fortunately for TCU fans, not nonexistent. While Texas A&M is the team to beat, TCU has two things working for it -- proximity and familiarity.
Garrett lives roughly 15 minutes from TCU, and having his parents at every home game -- and several close road games in the Big 12 -- wouldn't be difficult at all. Additionally, Garrett and TCU defensive end
Devonte Fields
have Martin ties. Fields, who will miss the remainder of TCU's season with a foot injury, graduated from Martin in 2012.
Garrett is expected to be in College Station, Texas, for A&M's game Saturday against Auburn, and all signs are pointing to him to wear Aggie maroon next year. But let's not count out TCU just yet. After all, the Horned Frogs managed to score a shocker commitment in high three-star offensive lineman
Ty Barrett
(Dallas/Skyline) -- who was thought to favor Ole Miss and Oklahoma, among others.
Who's next for Texas' 2015 class?
September, 11, 2013
9/11/13
2:00
PM ET
West Virginia's last commitment came on Aug. 6 when junior college inside linebacker
Devante Averette
(Iowa Falls, Iowa/Ellsworth Community College) gave Dana Holgorsen and his staff a verbal pledge. Since then, the Mountaineers have been on the outside looking in on the
RecruitingNation class rankings
.

With USC's struggles, however, the Mountaineers have managed to sneak into the top 40. ESPN 300 defensive tackle
Tashon Smallwood
(Fresno, Calif./Central) recently parted ways with USC, and West Virginia has taken the Trojans' spot in the rankings. Texas (No. 7), Baylor (No. 17), Oklahoma (No. 22), Oklahoma State (No. 29) and Texas Tech (No. 31) all held their spots in this week's update.
To continue reading this article you must be an Insider
April, 15, 2013
4/15/13
11:30
AM ET
AUSTIN, Texas -- Texas' long spring and summer of discontent has arrived.
Or should it be malcontent? After all, there has been quite a sampling of police blotter activity as of late. Oh wait, those transgressions occurred while the Longhorn players had a modicum of adult (read: coach) supervision. Soon they will have none. When the spring semester ends the Texas players will be set free to roam the world on their own. And, while they are at it, become better football players.
[+] Enlarge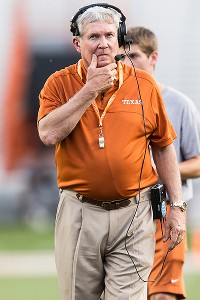 Cal Sport Media/AP ImagesTexas coach Mack Brown would like to see the NCAA allow coaches to work with players during the summer.
It's the last part of that two-part equation that is very nearly impossible because in order to become better, typically coaching has to be involved. And in the summer, per NCAA rules, no coaching, except that given by the strength staff, is allowed.
Being a coach, naturally, Mack Brown would like to change that.
"We're trying to work with the NCAA to see if there could be some type of contact, because we all feel like we need more," Brown said.
The NCAA recently changed the summer rules as they pertain to basketball, allowing for up to eight hours per week -- a limit of two per day -- of varying types of coaching. Brown is angling for that type of flexibility in the summer rules for football. He might get it, but not soon enough for this year. And Brown and Texas need it this year.
"You'd hate to have those three young quarterbacks know [co-offensive coordinator/quarterbacks coach] Major [Applewhite] is in the office, and they can't walk in and ask him to watch film with them," Brown said. "That's just not right. They're trying to get better and they want to come in."
So, in place of being able to coach the player over the summer, Texas is working furiously to evaluate each player, his short-term and long-term needs and disseminate that information to the players prior to the NCAA's summer rules slamming down the no-contact iron curtain.
February, 4, 2013
2/04/13
7:30
AM ET
AUSTIN, Texas -- The last time Mack Brown took the witness stand -- aka the podium -- to justify Texas' latest class of recruits, he spoke of an ongoing change in the evaluation process as well as accountability among his staff of recruiters, therefore allowing for a better quality product upon enrollment at Texas and eventually a better product on the field.
Given that this mantra of change is a well-trod path that Brown has blindly stomped down, those in the jury -- aka anyone who covers the program as well as those who care for Texas football -- were skeptical. Additionally, there was that Mount Bonnell-sized pile of evidence blocking the optimistic panorama Brown continued to paint without the aid of numbers:
[+] Enlarge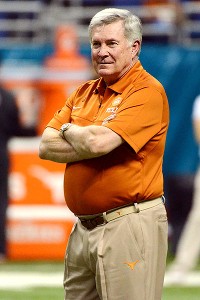 Brendan Maloney/USA TODAY SportsAfter a disastrous recruiting class in 2009, Texas and coach Mack Brown have rebounded with stellar classes in 2011 and 2012.
The 2009 class was a mess and has only further deteriorated. Just six players in a class that was supposed to be the backbone of 2011 and 2012 exhausted their eligibility at Texas. The 2010 class had hits --
Carrington Byndom
,
Jackson Jeffcoat
and others -- as well as several big misses:
Darius White
and Taylor Bible to name a few.
Those two classes, in which 45 players were signed, provided just 11 regular or 2013 projected starters. That's a 24 percent rate of return. The number most programs like to hit is about 60 percent. Not surprisingly, Texas' recruiting misses have led to sub-par performances on the field.
But there was Brown on Feb. 1, 2012, saying the proper changes in recruiting had been made for the right changes to happen on the field.
"Because we took more time and watched five videos of [each recruit], and not just the ones with the highlight films, we did a better job of going back and evaluating every step," he said. "I think we know these kids better than maybe we did the last couple of years."
May, 1, 2012
5/01/12
9:30
AM ET
AUSTIN, Texas -- Texas needed a wide receiver.
A threat for the quarterback. A toy for the offensive coordinator. A nightmare for the defense. Another No. 4.
Then it happened. That player was signed. And the hyperbole that had started with his commitment hit a crescendo with Mack Brown's comments.
[+] Enlarge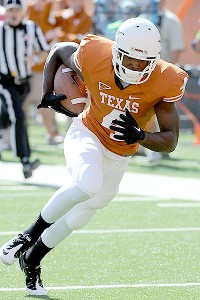 AP Photo/Robert BlackmanDarius White had six career receptions at Texas before electing to leave the program.
"He looks like some of the No. 4s [on film] that we have had around here," the coach said. "He is tall, can run, and can make a difference for you."
Now, he is gone.
Darius White
transferred. He is one of 17 Texas players who have either elected to transfer or left the program for various reasons in the last 11 months. Texas signed 28 players in February. So the Longhorns are still plus 11 on the ledger.
Still, at first glance, the attrition rate for Texas has been alarming. Eighteen members of the 2009 and 2010 classes were gone before their eligibility expired. But a look back, and more importantly, a look ahead provides clear evidence that the panic button need not be pressed and the outrage should be stifled.
Quite simply the majority of the 17 players who have left in the past 11 months were not as good as the 22 players Texas signed in February of 2011.
Jaxon Shipley
was a better wide receiver than White or
Chris Jones
.
David Ash
was a better quarterback than Garrett Gilbert.
M.J. McFarland
was a better tight end than Darius Terrell. And on it went.
Of the 17, only two,
Calvin Howell
, who was forced to leave Texas after an arrest for possession of a controlled substance, and Nolan Brewster, who had to quit for medical reasons, might have contributed in 2012.
What this spate of transfers does indicate is that Texas got lazy in its recruiting evaluations prior to the new assistants arriving in early 2011. Brown knows that. And he has at least talked about changing his ways.
"Everybody has a good recruiting class. It never changes," he said. "The truth is, what will it look like in four years? What will it look like in five years? If you go back and study, that's our job. That's the young man's job. This is a starting point. This isn't the finishing.
"We need to make sure that we do a great job of bringing these guys along, making them productive players and hoping that their experience is good at The University of Texas and that they can win a lot of football games."
The other clear signals sent by the transfers are that Texas now has a young core of players that it believes in and those players are buying into the system. The older players, those from the '09-'10 classes, look around and realize their chances of playing are slim.
Ultimately, players want to play. And if they can't play at Texas there are still places where they can play.
Adding to the pressures of the youth movement is the new zero tolerance attitude of the coaching staff. Because there are now younger players in the program who produce, the coaching staff is not so hesitant to hold everyone accountable to a higher standard.
The staff can push harder and if an older player who is used to coasting wants to leave, so be it, it will not adversely affect the product on the field. Essentially, the staff is telling the players they now have to prove their worth each and every day. In the past there was an attitude that if a player had received a scholarship, he was worthy enough to be a part of the team. Judging from the numbers, that attitude was pervasive.
Now what is sweeping through Texas is change. That means changing faces, attitudes and, above all, the expectations of those new players who are signed to scholarships for the express purpose of making those changes.
January, 18, 2012
1/18/12
4:00
PM ET
Texas has struggled for two seasons, winning just 13 combined games when it had won 10 in nine consecutive seasons before it.
The Longhorns put their hopes in the Garrett Gilbert basket on the recruiting trail, but when Gilbert struggled in 2010 and was benched in 2011, they were left without a big-time prospect.
But has too much blame gone to the quarterbacks? They have the ball in their hands the most, but Gilbert hasn't gotten much help from his receivers.
Texas has recruited some of the nation's best over the past few years, and here's a look at how they shook out:
2008 (three ESPNU 150 receivers)
:
D.J. Grant: Grant, an Austin native, was the nation's No. 5 receiver and the best signee in the 2008 class. He moved to tight end this year after missing the 2009 and 2010 seasons with a knee injury and redshirted in 2008. He caught 13 passes for 143 yards and a team-high three touchdowns this year.
Dan Buckner: Buckner was the nation's No. 6 receiver, and caught 45 passes for 442 yards in Colt McCoy's senior season back in 2009, but transferred to Arizona after the season. He caught 42 passes for 606 yards and two scores for the Wildcats this year.
DeSean Hales: Hales was No. 95 in the ESPNU 150 and the nation's No. 17 receiver, and caught 10 passes in 2010 before catching one pass in 2011.
2009
Only receiver signee was Greg Timmons, who never made a catch and left the program before 2011.
2010 (Three ESPNU 150 receivers)
Mike Davis: Davis was the team's leading receiver in 2011 (45 rec., 609 yards, TD) after being No. 2 in 2010 with 47 catches for 479 yards.
Darius White: White had six catches for 71 yards in two seasons at Texas. He left the team after 2011 and plans to transfer to Missouri.
Chris Jones: Redshirted in 2010 before transferring in November, during the 2011 season.
2011
No ESPNU 150 signees but four-star recruit Jaxon Shipley emerged as one of the team's best weapons before suffering a knee injury that slowed his progress and caused him to miss three games. He finished with 44 catches for 607 yards.
Miles Onyegbule also caught four passes for 51 yards.
So, there you have it.
Six top-flight recruits. Zero impact players among them. Shipley looks the part of future star, and Davis did as a true freshman, but he didn't show a ton of improvement in 2011.
The quarterback play has a lot to do with it, but Texas has swung and missed on so many receivers along the recruiting trail in recent years, perhaps the blame has fallen too heavily on the quarterbacks' shoulders.
Texas lost ESPNU 150 member Thomas Johnson, and has just one receiver committed for the 2012 class, which will sign letters of intent on Feb. 1. Johnson was the nation's No. 4 wide receiver, but he's not coming. Texas is still chasing the nation's No. 1 receiver, Dorial Green-Beckham, but it seems Arkansas, Oklahoma and Missouri have the inside track in that race.
In 2012, ESPNU 150 recruit Cayleb Jones is set to join the Longhorns. He's the nation's No. 3 receiver.
Marcus Johnson, the nation's No. 79 receiver, and Kendall Sanders are the only other players signed up to come to Austin and play receiver in 2012. Sanders is rated as the nation's No. 10 cornerback.
Can they change the trend?
Cast blame for the receiving troubles wherever you'd like: Coaches' development, poor recruiting evaluation, poor work ethic by the receivers. You could probably come up with a few more.
But it's clear that quarterbacks haven't been the only problem at Texas the past two years.
Texas Longhorns Show Out On Pro Day
BIG 12 SCOREBOARD
Thursday, 9/3
Friday, 9/4
Saturday, 9/5