Texas Longhorns:

Dan McCarney
August, 27, 2014
8/27/14
9:00
AM ET
Are you ready for some numbers? It's time once again for our weekly stat digs, in which we team with ESPN Stats and Info to find the numbers that matter most for the Longhorns and their next opponent. Here are the stats to remember going into Texas' season opener against North Texas (7 p.m. CT, Longhorn Network).
No. 1: 101.6
Charlie Strong admitted on the Big 12 coaches' teleconference Monday there's one number he cares about (after the final score) when he's handed the postgame stat sheet: Rushing yards allowed.
His defense at Louisville led FBS in run defense last season, allowing just 81.5 yards per game. Texas gave up an average of 183.1 rushing yards per game a year ago. You better believe Strong and defensive coordinator Vance Bedford intend to close that 101.6-yard gap as much as possible in 2014.
In the past four years, only one Big 12 defense has given up fewer than 100 rushing yards per game: The 2011 Longhorns, who held teams to 96.2 yards per game on the ground.
For what it's worth, and maybe not much, Georgia's defense did hold North Texas to 7 total rushing yards on 25 attempts last year.
No. 2: 123
We know very little about North Texas starting quarterback
Josh Greer
, a juco transfer who spent 2012 at UAB and 2013 at Navarro College. He's seen as a guy who has some similar traits to the successful guy he replaces, Derek Thompson, and he was a 63.5-percent passer at Navarro. He's a bit of an unknown otherwise.
But we do know he'll be protected by an offensive line that, on paper, looks impressive with 123 career starts among the five starters.
Cyril Lemon
, a first-team All-CUSA guard last year, moves from right tackle and has 37 career starts. He's one of four senior starters along with
Mason Y'Barbo
(37 starts),
Antonio Johnson
(34) and
Shawn McKinney
(2).
Texas players think they have the best defensive line in the Big 12, if not the nation. Those boasts will be put to the test Saturday as they try to rattle a QB making his first college start.
No. 3: 434
When you talk about
David Ash
's best games as Texas' starting quarterback, his 2013 season opener against New Mexico State doesn't usually get brought up. But in his only compete game of that injury-wrecked season, Ash accounted for 434 total yards (343 passing, 91 rushing) and offered an appealing glimpse of what he might've been able to do had he stayed healthy.
Texas struggled to get rolling until late in the second quarter, but Ash got the offense to open up from there. He threw for four touchdowns, busted off a 55-yard touchdown scramble and showed poise in the second half to guide an offense that put up a school-record 715 total yards.
North Texas should be a better foe than NMSU, which went on to finish 2-10 with the fourth-worst scoring defense in the country. But will we see a version of Ash that's as good or better than the one that showed up in last year's opener?
Three more to remember
Eight:
The number of kicks North Texas blocked last season, most in FBS. Four were blocked punts. Against Georgia last year, UNT blocked a punt for TD and also returned a kickoff for a TD.
Two:
North Texas coach Dan McCarney coached the defensive line on Strong's Florida defenses for two seasons, in 2008 and 2009.
35-21:
The score of North Texas' last game against a Big 12 program, a loss at Kansas State in 2012. UNT is 7-57 all-time against the Big 12 but 0-9 in the past decade.
August, 16, 2013
8/16/13
7:00
AM ET
In the eyes of some critics, Mack Brown is sitting on a seat far warmer than he realizes.
ESPN Insider's Phil Steele says Brown is the No. 1 coach on the hot seat entering 2013, and there is a faction of the Texas fan base that agrees and believes Brown's best days are behind him. But if history tells us anything about canning coaches, the grass isn't always greener.
Brown's contract runs through 2020, and he isn't looking to retire any time soon. He's 27 victories away from becoming the winningest coach in school history. Will he reach that milestone?
A look at the recent history of successful Big 12 coaches being shown the door reminds us that a new hire brings no guarantees of success. And there might not be a better example of that than the man considered the league's best coach today.
[+] Enlarge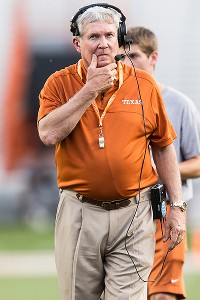 Cal Sport Media/AP ImagesWill Mack Brown get a chance to become the all-time winningest coach at Texas?
Coach on the bubble:
Mack Brown, Texas
Big 12 precedents:
Bill Snyder, Kansas State; Dan McCarney, Iowa State; Chuck Reedy, Baylor
Bill Snyder, 170-85-1 at Kansas State
Prior to his arrival:
The list of coaches who came before Snyder is a long one, but the last to win more games than he lost at Kansas State left in 1934 after one season. Snyder's predecessor, Stan Parrish, coached the Wildcats for 33 games and won two. The team was mockingly called "Futility U" before Snyder's debut, and had lost more games than any program in college football history.
Why he resigned:
The white-haired wizard was everything to Kansas State and achieved the most improbable rebuilding job college football has ever seen. But there reached a point in time, even after four Big 12 North titles, where KSU was ready to move on, in 2005. Leadership thought that after consecutive losing seasons, Snyder's heart just wasn't in it to go another season, even if he was hesitant to surrender the throne.
The aftermath:
In came Ron Prince, the 36-year-old Virginia offensive coordinator who had no ties to the KSU program. His best season was his first, and after consecutive 5-7 seasons, he was fired in November 2008 -- after agreeing four months earlier to a contract extension through 2012. Snyder heroically returned, and you know the rest.
Some believe Brown, 61, is getting old. Snyder was 66 when he was ousted. He was named 2012 Big 12 Coach of the Year at age 73 and got a new five-year deal this past offseason.
Dan McCarney, 56-85 at Iowa State
Prior to his arrival:
No, the track record of McCarney at Iowa State is not even close to what Brown has achieved at Texas. But no coach won more games at ISU than McCarney, who enjoyed five winning seasons in six years (2000-2005) and nearly won the Big 12 North outright twice. His predecessor, Jim Walden, retired after going 0-10-1 in 1994 and finished his ISU tenure with a record of 28-57-3. No Cyclones coach had won a conference title since 1912.
Why he resigned:
McCarney led the Cyclones to five bowl games, but the 2006 season went downhill and he stepped down. At the time he announced his decision, ISU was 0-6 in Big 12 play.
The aftermath:
Iowa State got as sexy a hire as it could have hoped in Texas defensive coordinator Gene Chizik. Then, after going 5-19 in two seasons, he bailed on the Cyclones for the Auburn job. Paul Rhoads has done a respectable job in Ames, with three bowl games in four seasons. McCarney is entering his third year as head coach at North Texas. His record there isn't great (9-15), but the Mean Green at least appreciate that they've got a good coach.
Chuck Reedy, 23-22 at Baylor
Prior to his arrival:
Yes, this is a bit of an obscure choice. Baylor had a solid, competitive program during the 21-year tenure of the great Grant Teaff and enjoyed winning records in eight seasons of his final decade in charge. When he retired, BU offensive coordinator Reedy was promoted to the head gig.
Why he was fired:
Replacing Teaff wasn't easy. The Baylor administration wasn't happy with some aspects of Reedy's coaching style, including recruiting high-risk players who were unlikely to qualify. But what sealed his fate was going 1-7 in conference play in the Big 12's inaugural year and losing four straight to end the 1996 season with a 4-7 record.
The aftermath:
Baylor didn't know it was signing up for a decade of futility when it canned Reedy. His replacement, Dave Roberts, went 4-18. The three coaches that came after Reedy went a combined 30-94 and finished last in the Big 12 South eight straight years. Art Briles has led an impressive rebuild, but he inherited enough of a mess that it took five years to get his career mark at Baylor above .500 (32-30).
I know what you're thinking. We've left out three coaching departures that are considered some of the biggest in recent Big 12 history: Barry Switzer, Mark Mangino and Mike Leach.
Considering Switzer resigned amid a flurry of scandal and NCAA probation, and Mangino and Leach departed after allegations of player abuse, they're not all that applicable to Brown or any current Big 12 coaches. But in the cases of Kansas and Texas Tech, who enjoyed unparalleled rises under Mangino and Leach, respectively, and haven't been the same since, it's another reminder that you never know what you'll get when you let a successful coach go.
June, 27, 2012
6/27/12
10:00
AM ET
Today is the next step in a new series on the Big 12 blog that we've never done before. I love predicting the standings from top to bottom, but we're going to do it week by week leading up to the season. The end goal is to offer my official prediction for each Big 12 team's record heading into the bowl games.
Remember, these are preseason predictions. We'll obviously still do week-to-week picks once the season arrives, and they may change between now and then. There are a lot of preseason practices and a whole lot of games between now and the end of the season.
There are always teams who disappoint and teams who surprise. But here's how I see the Big 12 shaking out in Week 3.
PREVIOUS PREDICTIONS
Baylor 47, Sam Houston State 17:
Baylor didn't get to finish this game last year; the fourth quarter was canceled because of weather. The Bears won't put on a show like RG3 did in the first three quarters, but they take care of business against a pretty good FCS team (which is like a "pretty good Big East team." I kid.)
Iowa State 31, Western Illinois 10:
Finally, ISU doesn't have a nailbiter. The Cyclones bounce back from a rivalry loss to Iowa to dispatch the FCS Leathernecks easily.
TCU 41, Kansas 17:
Kansas coach Charlie Weis had his team practice kicking a game-winning field goal and reaching 3-0 in this game during an open practice in the spring. Not happening. TCU goes to Lawrence and debuts its first Big 12 game the right way. KU will improve this year, but it's not happening just yet.
Kansas State 47, North Texas 20:
Former Iowa State coach Dan McCarney is back taking on an old Big 8 foe, which makes for an intriguing story line, but not much of a football game. Lance Dunbar can't save you now, Mean Green. (
K-State fans know what I'm talkin' about
.)
Oklahoma State 41, Louisiana-Lafayette 24:
Don't sleep on these Ragin' Cajuns. U-LaLa is a decent team who won nine games and beat a very good San Diego State team in the New Orleans Bowl last year. This defense picked off Brandon Weeden three times last year and led at halftime when these two teams met in the Bayou in 2010. This one won't be easy, but the Cowboys pull away late.
Texas 27, Ole Miss 10
: Unless Texas is distracted by hoards of its mascot being grilled in The Grove outside the stadium, the Longhorns should take care of business in the Big 12's only matchup against the SEC in the regular season. That sounds sexier than it is. Texas is on its way back to national prominence. Ole Miss is restarting under new coach Hugh Freeze after a two-win 2011.
Texas Tech 47, New Mexico 17:
We've been over this. New Mexico: Awful. FBS by name only, I'd say.
West Virginia 44, James Madison 17:
Madison shocked eventual ACC champ Virginia Tech back in 2010, but these Mountaineers are better and won't make the mistakes the Hokies did just a week after a heartbreaking loss to Boise State. FCS is still FCS. Can we start conference play now?
BIG 12 STANDINGS (after Week 3)
1. Kansas State:
3-0
1. Oklahoma State
: 3-0
1. Texas
: 3-0
1. Texas Tech
: 3-0
5. Oklahoma
: 2-0
5. West Virginia
: 2-0
5. Baylor
: 2-0
5. TCU
: 2-0
9. Kansas:
2-1
9. Iowa State
: 2-1
Texas Longhorns Show Out On Pro Day
BIG 12 SCOREBOARD
Thursday, 9/3
Friday, 9/4
Saturday, 9/5