Texas Longhorns:

Chuck Neinas
June, 1, 2012
6/01/12
11:30
AM ET
The Big 12's second day of spring meetings came and went on Thursday in Kansas City, Mo., with no real news after the conference reaffirmed its commitment to 10 members on Wednesday.
Until the new configuration of the BCS is settled (i.e., what form will a four-team playoff take?), the Big 12 won't be taking much action, if any. Outgoing commissioner Chuck Neinas confirmed at least that much. Neinas also said he might stay on through July to relieve new commissioner Bob Bowlsby, who has other obligations on the United States Olympics Committee's board of directors. Bowlsby would still come aboard June 15, but there would be a period of overlapping commissioners.
"It was great to see Bob and Chuck together today at the head table, talking about things," Oklahoma State president Burns Hargis
told reporters Thursday
. "I think the transition will be smooth."
The league's presidents were in attendance Thursday and reaffirmed the athletic directors' stance on expansion.
[+] Enlarge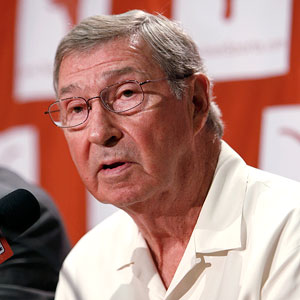 Erich Schlegel/Getty ImagesTexas athletic director DeLoss Dodds lit into the SEC and Big East during the Big 12 meetings.
"We're all very satisfied with 10 teams," Hargis said. "We're not shutting the door to any opportunity that might arrive. We're not in the market, we're not receiving applications. Our expansion committee is inactive."
To my knowledge, that's the first public confirmation that the expansion committee is indeed inactive. Interesting stuff. If Notre Dame becomes a possibility, it's clear the Big 12 would listen, and I'd assume that Florida State would engender a similar reaction, to a lesser extent. For now, though, the Big 12 maintains it's sitting at 10, even if no one (yours truly included) really believes it.
With Florida State officials expressing conflicting messages about the school's future conference affiliation, and the future of the Big East very much in flux, how could you?
A few other quick notes:
Texas AD DeLoss Dodds came out firing on Thursday, tossing barbs just about everyone's way. The SEC has Texas in its footprint? "They have a sliver of the east side," he told reporters. On the Big East? "I don't know if they qualify as a BCS [conference]. They've lost a lot of strength."
Neinas, on the league extending its six-year grant of media rights agreement, which is in progress, but not a done deal? "I don't believe the membership feels it's a gun-at-the-head arrangement. It's just a step forward moving together."
The league membership also didn't sound very fired up about re-instituting a championship game in the new iteration of the BCS. Reports John Hoover of the Tulsa World: "We have come to really appreciate the position we're in right now by not having a championship game," said Iowa State's Jamie Pollard, chairman of the Big 12 athletic directors. Said Dodds: "If this all happens the way we're visualizing today, I think there are some football coaches out there that will say, 'Well, what are we doing? We're 12-0, we've got to go into play a team that's 9-3, we've got a shot at getting beat.' Or, 'We win the game, it's a struggle, we get two kids hurt' -- I mean, those kinds of things are gonna be the reality of it."
Dodds might not have been making many friends Thursday, but he did make some among the league's coaches with that comment for sure.
Friday is the final day of meetings, but it's been a quiet week compared to the past two years at Big 12 spring meetings. For now, it's mostly just been the league's members drawing battle lines on where they stand in relation to the playoff and expansion.
May, 31, 2012
5/31/12
9:00
AM ET
The Big 12's spring meetings kicked off with the league's athletic directors meeting in Kansas City on Wednesday, and made it clear beforehand that expansion would be only informally discussed.
Still, the questions had to be asked, and they were answered. For now, the league is happy with 10 members, echoing its stance for the past few weeks.
Will anyone believe them? (Does it matter?)
"We could expand to some number. You name the number -- 12, 14, 16," Texas AD DeLoss Dodds
told CBSSports.com
. "We could expand, but the question is, do we need to expand?"
Big 12 commissioner Chuck Neinas, in fact, made it simple.
"The Big 12
,
athletic directors reaffirmed their commitment to 10 members," he said.
For now, anyway. Florida State is still only flirting, but if the Seminoles make up their mind, the safe bet is that stance will change very quickly.
Until then ... here we are.
Playoffs were a hot topic, but the league's athletic directors reiterated what we essentially already knew: The Big 12
is in favor of a four-team playoff
.
"We're in favor of taking the four highest-ranked teams," said Neinas, who has begun to transfer power to new Big 12 commissioner Bob Bowlsby. "We think it should be some type of selection committee operation, and how you rate a conference champion, strength of schedule must be included."
I love the selection committee idea personally, an idea reiterated by chairman of the league's athletic directors, Iowa State's Jamie Pollard.
The BCS has its flaws. That's obvious. The biggest flaw in piecing together a selection committee? How do you do it? How do you find panel members without bias? Is that possible? Do you copycat the NCAA's formula for the basketball tournament?
All difficult questions with answers to come.
"There needs to be a human element to kind of handle the unknowns. You can't always say computers get it right or opinion polls will get it perfect," Oklahoma athletic director Joe Castiglione said. "You still need someone with good, rational thinking to deal with unforeseen circumstances that may come up.
"Who knows what form that takes, but some form of human element that gets college football to the point of determining the best teams."
Chalk me up on board with that.
May, 29, 2012
5/29/12
11:00
AM ET
The rumors are swirling again, but the Big 12 isn't in danger. The Big 12 is putting other leagues in serious danger. Namely, the ACC.

Florida State and Clemson have had administrators openly question those schools' future ACC membership, with the Seminoles openly wondering if the Big 12 might be the best new home for the war chant.
Big 12 commissioner Chuck Neinas will only hold that title for a little more than two weeks before Stanford AD Bob Bowlsby takes over on June 15, but on the way out, Neinas is not exactly waving the flag for making a bigger Big 12.
"People have to understand that bigger is not necessarily better," Neinas
told the Dallas Morning News
. "What we are trying to do, in view of what has transpired in the past, is to build unity. We have two new members. Let the membership be comfortable with each other before they ever consider going forward."
Neinas served as commissioner of the old Big Eight, and saw how the merger with the Southwest Conference splintered the new Big 12. Those old wounds were a major factor in Nebraska's exit to the Big Ten from the Big 12 in 2010.
The new configuration that allows for round-robin play in football and double round-robin in basketball has only been played for one season, and two of those members -- Texas A&M and Missouri -- are gone.
Neinas doesn't sound fired up to raid the ACC after playing the new format just once with new members West Virginia and TCU.
"We've taken care of the contentious issues. We have a very workable solution. Let's build on that, then down the road maybe think of expansion. But to automatically run off and say, they're going to go to 12 or 14 or whatever -- that does not take into account where this conference was, where we've come from, and where we need to go," Neinas said.
Fascinating stuff, and probably the strongest anti-expansion comments we've heard from anyone in the Big 12 other than Texas' DeLoss Dodds, a strong proponent of keeping the Big 12 at 10 teams.
For now, I generally believe the Big 12 will expand at some point. Florida State is a slam dunk in every possible measurement save geography, and with the Big East crumbling, giving Notre Dame a home for everything but football would be lucrative, too.
When, and how many -- 11, 12 or 14? -- is a big question, but Neinas is certainly bringing the "Will the Big 12 expand?" question a lot of attention.
Will that change when Bowlsby takes the reins?
May, 24, 2012
5/24/12
2:00
PM ET
Earlier today, we looked at the pay for athletic directors around the league, but what about the men up top?
USA Today
researched and released the pay for each conference commissioner
, and former Big 12 commissioner Dan Beebe earned $1.7 million in 2010 after receiving a 70 percent raise.
He was relieved of his duties in fall 2011.
Here's how he ranked among his peers:
Larry Scott, Pac-12: $1.9 million
Jim Delany, Big Ten: $1.8 million
Beebe: $1.7 million
John Swofford, ACC: $1.5 million
Mike Slive, SEC: $1 million
John Marinatto, Big East: $600,000
The Big 12 has since moved on from Beebe, and no salary information was available for interim commissioner Chuck Neinas.
In USA Today's survey of athletic director salaries, new commissioner Bob Bowlsby's salary was unavailable, because Stanford is a private institution.
Either way, I'd expect the first-time commissioner to easily clear a seven-digit salary in his new gig.
For reference, Texas AD DeLoss Dodds made just under 1.1 million last year. Not exactly helping that whole "Texas runs the Big 12" perception if he makes more than the Big 12 commish, no?
May, 23, 2012
5/23/12
10:45
AM ET
By
HornsNation staff
| ESPN.com
Ivan Maisel and Beano Cook got together to discuss the Big 12-SEC bowl announcement and the on-going rumors of possible additions to the Big 12.
Give it a listen

.
May, 9, 2012
5/09/12
2:00
PM ET
Another spring has come and gone in the Big 12. In this league, it's a long one. Texas Tech kicked things off on February 17, just two weeks after signing day.

Kansas and Kansas State didn't wrap it up until spring games on April 28.
Through it all, we learned a lot. Here's a taste.
Texas is inching much closer to contention:
The offense? Well, it's still a work in progress, though
David Ash
showed some solid progression during the spring. But the defense? It's leading the way for the Longhorns' road back from the 5-7 implosion in 2010.
Quandre Diggs
and
Carrington Byndom
might just be the two best cornerbacks in the Big 12, and
Alex Okafor
and
Jackson Jeffcoat
are probably the two best defensive ends. Great coverage and a great pass-rush? Sounds like a good start to slowing down Big 12 offenses. Add in junior college man-child Brandon Moore, and solid linebacker play with
Jordan Hicks
,
Demarco Cobbs
and
Steve Edmond
, and the Longhorns have a unit that can help them get back into title contention.
Only one team doesn't know who its quarterback will be:
Baylor hardly had a competition to replace RG3. Kansas replaced
Jordan Webb
with transfer
Dayne Crist
. Oklahoma State pulled the trigger on a youngster. Texas hasn't officially named him, but Ash has all but sewn up the job in Austin. That leaves Iowa State, which has sophomore
Jared Barnett
and senior
Steele Jantz
competing for the job for a second consecutive fall. Anything could happen there.
Mike Gundy has guts:
Oklahoma State said goodbye to a mature, big-armed passer in Brandon Weeden, who won 23 games in two seasons. However, the reigning Big 12 champion again will have a big arm at quarterback. Gundy made the league's gutsiest move this spring, handing the reins to 18-year-old Wes Lunt from Illinois. He's one of just six players in the Big 12 from Illinois, and he's a decade younger than Weeden. Robert Griffin III was the league's last true freshman to start a majority of games, but Lunt might be the first to win the job in the spring.
There's a new sherriff in town:
The Big 12 knew Chuck Neinas was a quick fix at the commissioner spot, but the league made a quick move in pegging Stanford AD Bob Bowlsby as the new commissioner to replace Dan Beebe, who was fired in September. The Big 12 is likely to cash in on a nice TV deal shortly after Bowlsby takes over, but he'll have to help reconnect a league that must work through some possibly divisive issues like expansion in the near future. He'll also need to manage the relationship between Texas, who he referred to as an "800-pound gorilla," and the rest of its Big 12 brethren. The relationship sounds good now, but over time, issues could arise.
Charlie Weis is making sure KU looks nothing like its 2011 team:
Kansas has undergone the biggest change of any team in the Big 12 this offseason. New coach Weis saw a lot of problems at KU, and went about fixing them quickly. He welcomed six Division I transfers, including three from Notre Dame, which included his new quarterback, Crist. He also saw gaping holes along the defensive line and tried to fill them with junior college players and high schoolers who will be challenging for playing time in the fall. Kansas will look a lot different, but will it be better?
May, 3, 2012
5/03/12
6:47
AM ET
The Big 12 is closing in on its permanent replacement for former commissioner Dan Beebe.
The conference has offered its commissioner's job to Stanford athletic director Bob Bowlsby,
multiple conference and industry sources told ESPN.com
Wednesday night. Bowlsby is expected to accept the offer, sources said.
Bowlsby was in Phoenix the past few days as the Big 12 and Pac 12 meetings overlapped. Bowlsby has a strong relationship with Pac 12 commissioner Larry Scott. Bowlsby was on the search committee that discovered Scott, with the aid of search firm executive Jed Hughes who has handled both searches for the Big 12 and Pac 12 commissioner's jobs. Hughes was at a different firm for the Pac 12 search firm than he is for the Big 12 search.

Bowlsby has been highly respected by his Pac 12 colleagues, and sources said he had a strong endorsement from Scott.
The Big 12 fired Dan Beebe as its commissioner last fall and replaced him with temporary replacement Chuck Neinas. He helped guide the Big 12 through the loss of Missouri and Texas A&M, as well as inviting TCU and West Virginia to join and give the league 10 members.
Bowlsby was Iowa's athletic director from 1991-2006 before taking over at Stanford.
For more on the story from Andy Katz,
go here
.
April, 26, 2012
4/26/12
7:30
PM ET
By
Jeremy Willis
| ESPN Insider
Welcome to your daily Board Meeting. Each evening we'll update you on the day's hottest topics on the
HornsNation forum
.
1.
Nick Foles on not playing for Texas
: Arizona QB Nick Foles was on Jon Gruden's QB camp talking about not going to Texas. And Longhorns fans might not want to think too much about the QBs taken in this weekend's NFL draft. Andrew Luck, Robert Griffin III and Ryan Tannehill could all go in the first round. All are Texans and, of course, none wore the burnt orange.
Hindsight is 20/20 and nowhere is that more true than recruiting, but it does make the point that the Lone Star State is producing elite QB, just none of the recent players have been Longhorns.
April, 25, 2012
4/25/12
9:30
AM ET
Next Monday, start the countdown.
Big 12 commissioner Chuck Neinas will have two months left as the boss of a league that's seen plenty of tumultuous times over the past two years.
"We were kind of saved by the bell by Chuck Neinas. He kept it going in terms of getting us on the right track and getting everybody involved, all the teams in the conference," Texas Tech coach Tommy Tuberville said during the Big 12 coaches teleconference this week. "We had lost two teams each of the last two years, which has been devastating to this league, but with Chuck's leadership, it's come on pretty good."
[+] Enlarge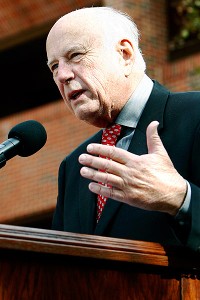 AP Photo/Alonzo J. AdamsChuck Neinas' stint as Big 12 interim commissioner is up June 30.
TCU and West Virginia replaced Texas A&M and Missouri to bring the Big 12 back to 10 members, but now it's Neinas who must be replaced.
He agreed to stay on in an interim role through June 30, but his replacement could be named before then. What do the league's coaches want to see?
"The answer is very obvious. You'd like to have a good person. You'd like to have a very honest, forthright person, with a balance in how he operates the conference itself, with the idea that everybody is treated equally and what he would do would be in the very, very best interest of the 10-12 teams that would make up the conference itself," Kansas State coach Bill Snyder said. "Somebody that's highly respected across the country and well-known across the country as well, has a reputation that would be very, very prominent as it relates to conference commissioners across the country."
For Tuberville, the new guy needs experience.
"Hopefully we get a strong-personality guy that can work with everybody, put their touch on it, somebody with experience, somebody that has maybe been a commissioner or a deputy commissioner for one of the other leagues," Tuberville said. "I think experience is going to be key for us, somebody that's been there, done that, seen all the problems. It's no different than coaching a football team in that experience usually pays off for you."
He added: "We've obviously had some setbacks the past few years, if we can get somebody who understands our league, maybe somebody from another conference looking from the outside in, understanding what's going on and bringing their philosophy in would really help us."
For Texas coach Mack Brown, it's simple: He wants someone who can maintain stability, and unity is the first way to help establish it.
"We've been through so much turmoil over the past two years in the Big 12. I think what I would like to see is stability. I'd like to see someone come with confidence and new ideas and making sure that it sounds like our league is really stable at 10. I know some are looking at the possibility of 12," he said. "I'd like to see somebody who can really lead the group and get everybody on the same page, because it's a wonderful conference. I love the additions that we've made, and I think it can be again, one of the top conferences in the country because the teams are all winning. But you gotta have a boss."
March, 19, 2012
3/19/12
2:14
PM ET
The Big 12 looks like it's stabilized, but there's plenty we still don't know about the turbulent past few months that resulted in Missouri and Texas A&M's exits from the Big 12 into the SEC.
David Briggs of the Columbia Tribune
shed some light on a lot we don't know from Missouri's exit.
Namely, the Tigers' exit was much more contentious behind the scenes than even the often-frank administrators admitted publicly.
The biggest revelation from the piece, which stemmed from emails obtained by the Tribune?
The Big 12 had its lawyers put together a lawsuit that Big 12 interim commissioner Chuck Neinas could "wave around," though the league did not plan to officially file it.
From the Tribune:
The lawsuit, slated to be filed in Boone County Circuit Court, never came to pass. But the 12-page draft of a petition for injunctive relief was obtained by the Tribune this month. It charged the SEC with illegally enticing Missouri to breach its contractual commitment to the Big 12 — an effort the suit states was "willful, deliberate and in bad faith" and the cause of "irreparable injury to the Big 12 for which money damages is not an adequate remedy."

The draft requested an injunction to bar the SEC from accepting Missouri before June 30, 2016, the final day of the current Big 12 member agreement.
The Big 12 was clearly desperate, and this reeks of a desperate move. TCU and West Virginia were good replacements on the field, but the tradition and rivalries of Missouri can't be duplicated.
Additionally, the Big 12's new $1.1 billion, 13-year television contract with Fox Sports could have been voided or renegotiated if Missouri had left and West Virginia had been unable to join the league in 2013. The same could have happened with the league's first-tier (over the air) media contract with ABC/ESPN.
It was public before this story, but Neinas made his opinion clear: Everyone would be better off if any future moves were held off until the 2013 season. That obviously didn't happen, but he expressed this desire in the revealed emails.
Big 12 administrator Burns Hargis also expressed displeasure at some of the anti-Missouri rhetoric that emerged as the Tigers mulled the possibility of a future in a new league.
On Oct. 24, an anonymous Big 12 administrator told the Austin American-Statesman the conference would be better off with West Virginia than Missouri. The official said, "West Virginia has better football than Missouri, better basketball than Missouri, a better budget than Missouri and more passion among its fans than Missouri. They're better, anyway you turn 'em."

In an email, Oklahoma Athletic Director Joe Castiglione wrote to Holder, "Sad and disgusting someone would say that even out of frustration."

"Wow," Alden wrote to Holder. "I didn't know folks harbored that kind of sentiment about us."

"Pretty obvious who feels this way," Holder replied. "Not a sentiment shared in Stillwater."
Not a sentiment shared on the Big 12 blog, either. The story also details Kansas Citians' efforts to keep the Tigers put, and a surprising effort from former system president Gary Forsee, who joined the fold to keep Mizzou in the Big 12.
Check out the full story. Fascinating stuff.
January, 12, 2012
1/12/12
2:00
PM ET
As quickly as it arrived, the Big 12 season is gone.

Alas, here's a look at the 10 moments we'll remember most from the 2011 season. These aren't necessarily the best or worst moments, but simply that: memorable. When we look back on 2011, this is what will stick out.


Texas Longhorns Show Out On Pro Day
BIG 12 SCOREBOARD
Thursday, 9/3
Friday, 9/4
Saturday, 9/5