Texas Longhorns:

charlie strong to texas
January, 7, 2014
1/07/14
1:25
PM ET
On his first day as coach at Texas, Charlie Strong made one final attempt to convince five-star prospect
Tony Brown
he should be a Longhorn.
The No. 11 recruit in the ESPN 300 committed to Alabama last week at the Under Armour All-America Game but considered the Longhorns throughout his recruitment. He received a phone call on Monday from Strong, who's not giving up yet.
But Brown says it's too late. He's already in Tuscaloosa and preparing to start classes on Wednesday.
January, 6, 2014
1/06/14
8:21
PM ET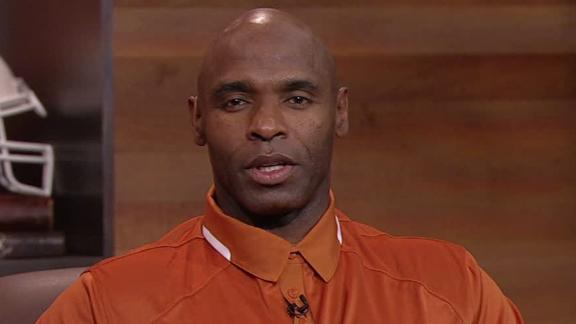 AUSTIN, Texas -- On the eve of his first full day as coach at Texas, Charlie Strong picked up the phone and did a smart thing. He called Mack Brown.
Strong made sure Brown knew the former Texas coach would always be part of the Longhorns program and is always welcome. Brown offered his praise and support. And he respectfully and firmly drew the line.
[+] Enlarge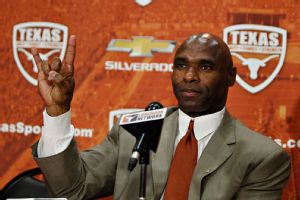 Erich Schlegel/Getty ImagesNew Texas coach Charlie Strong, who was introduced on Monday, went 37-15 in four seasons as coach at Louisville.
"You ran your program and now I have to run mine," Strong said Monday. "This has to be my program. [Brown] said it himself, he said, 'Don't try to be like me. You are who you are because of what you've done. Just continue to be who you are.'"
And with that, the baton was passed. The coach carrying it now showed us Monday he's ready to run with a relentless fervor. Texas players would be wise to follow -- and good luck keeping up.
At his introductory news conference Monday, Strong made it easy to understand why he was tabbed to take over a Longhorns program fresh off its fourth straight season of not-good-enough. He's here to bring back the edge.
Strong respects the tradition of Texas football. It's the culture that needs changing.
"The mentality is always going to be a physical and mental toughness," he said. "You have to build your program on toughness. That's what all the successful programs do. It's all about toughness."
Strong's move to Texas has been labeled a strange "fit" by national pundits, essentially because a man who values privacy and cares more about coaching football than being The Football Coach is signing up to live in one of the sport's most oversized fishbowls. How is he going to feel comfortable?
Comfortable is a word he used just once Monday in his 45-minute news conference, in reference to ensuring Texas players get accommodated to a life led by new coaches. Comfortable is a word those players won't hear much after their initial meeting with Strong.
The players are in for an offseason of uncomfortable, in the best way possible.
Tough and toughness are words Strong used 11 times. He admits he still knows very little about the players he's inheriting, and they won't return to campus for another week. But they better know what they're in for.
This is a man with a plan and a rigorous standard. This is the guy who's going to give Texas football the kick in the pants it needs if it wants to be great again.
"It's about the attitude," Strong said. "The attitude they develop will be the attitude that's going to change this program. They have to develop the right attitude."
That attitude won't be optional. The Longhorns who care about winning championships will separate themselves. The ones who aren't serious will be exposed.
It's that "fit" that matters if Texas will succeed in its first year under Strong: Getting players to buy in to Strong's brand of football and finding more who share his hunger.
As he proudly put it Monday: "We will work like it's fourth-and-inches."
Finding a passionate coach who's excited to rebuild a juggernaut wasn't a difficult job for athletic director Steve Patterson and president Bill Powers, and members of the search committee admitted Monday there were several coaches who checked most of the boxes of the criteria they sought.
Strong was the one, they say, who has it all.
"We wanted somebody who was bright and an ethical leader, somebody who was physically and mentally tough, somebody who could really recruit and evaluate talent," Patterson said. "Then once that talent is here, somebody who is a great coach and teacher who can really help our young football players grow both on the field and off."
Strong says he believes the right foundation is in place at Texas, though you know he'll take time to inspect it. What he'll find is potentially great talent that has, on the whole, underperformed and lacked consistency in Brown's final seasons.
In Dec. 2009, Strong held his first team meeting at Louisville after landing the head job. That meeting became infamous.
Strong reportedly tore into his new team. Their standard both on the field and in the classroom wasn't high enough. He demanded trust. He laid down the law.
The result? He got their attention and earned their respect. He built up a program in his likeness, full of toughness and grit. He's ready to build another at Texas.
"The bricks are there," Strong said. "I just need to put another brick on top of it."
And if he's really as good as they say, in time, these Longhorns will run through a brick wall for him.
January, 6, 2014
1/06/14
5:30
AM ET
The Early Offer is RecruitingNation's regular feature, giving you a daily dose of recruiting in the mornings. Today's offerings: Texas' hire of Charlie Strong could help the Longhorns open up new recruiting territories, but it will also be important for him to hire assistants who have ties to the Lone Star State. Louisville's top 25 class is very much in flux after Strong's departure.
To continue reading this article you must be an Insider
January, 5, 2014
1/05/14
7:32
PM ET
New Texas coach Charlie Strong will have to compete with Texas A&M, Texas Tech, Oklahoma, Baylor and other Big 12 schools for top recruits in the state of Texas, but if history is any indication, Strong will have no problem adapting to the new landscape.
Since Strong took over as coach at Louisville in 2010, he has done a tremendous job of recruiting. On paper, however, it might not appear that way. Only one of Louisville's recruiting classes under Strong finished in the top 25 of the team recruiting rankings. Louisville's current class is ranked No. 23, but with Strong departing that certainly could change.
[+] Enlarge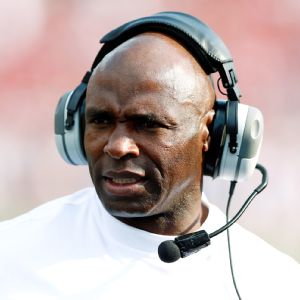 Joe Robbins/Getty ImagesCharlie Strong has kept strong recruiting ties int he state of Florida.
What Strong has had no problem with is going into talent-rich Florida and competing with the big three schools -- Florida, Florida State and Miami -- for top prospects. The defensive-minded coach has done an incredible job of identifying talent and then developing that talent. In Strong's tenure at Louisville, 44 percent (37 out of 84) of the players Louisville signed hailed from Florida. He was also instrumental in helping land quarterback
Teddy Bridgewater
, who will likely be a top 10 draft pick in April. Bridgewater was committed to the hometown Miami Hurricanes before eventually committing and signing with Louisville.
Strong has had four different coaching stints at the University of Florida. Most recently he was the defensive coordinator for the Gators from 2002-2009 and helped lead them to two national championships (2006, 2008). His reputation as one of the best defensive minds in the country along with his strong connections in Florida should allow him to continue to recruit the state with success.
At Texas, Strong will have to build new connections with high school players and coaches, but convincing a prospect to stay at home and attend Texas will be a much easier task than asking a prospect from Miami to attend Louisville.
Four-star Louisville wide receiver commit
DeSean Blair
(Jacksonville, Fla./Sandalwood) said Strong was the primary reason he committed to the Cardinals.
"Coach Strong is a great person. He's a great coach, an amazing coach, one of the best ones I've had the pleasure of meeting," Blair said. "He's a big part of me going to Louisville. My parents love him and love what he has done. A lot of people talk to me about how he helped Florida out when he was there. He's just a great guy and everything and I know he's just doing what's best for him and his family."
Unfortunately for Louisville, Strong's departure will likely affect Blair's decision. Blair, who continues to hear from Rutgers, Indiana and Purdue, said he's still unsure what he will do now that Strong has decided to leave.
It's hard to tell at this point what the fallout for Louisville will be. A lot will depend on who is hired to replace Strong. But one thing is for sure: Texas should have no problem bringing talent to Austin.
January, 5, 2014
1/05/14
2:30
PM ET
Charlie Strong has officially been named Mack Brown's successor at Texas. It's a move that appears to get thumbs up from many of his future athletes.
As 2014 Texas recruits waited to hear who would be their future head coach, many of them were hoping for the right fit. Strong's résumé -- 23-3 in his past two seasons at Louisville, 3-1 in four bowl game appearances and an outstanding recruiting reputation -- says he fits the bill.
In short, Strong gets it, and while Texas commits had the utmost respect for Brown, they now feel they're in good hands.
"I think he can do pretty good there," four-star offensive lineman
Terrell Cuney
(Jasper, Texas/Jasper) said. "I don't think anyone can live up to what Mack did, but he'll come in and do big things.
"Bring it on, man! 'Hook 'Em all day!'"
To continue reading this article you must be an Insider
January, 5, 2014
1/05/14
2:25
PM ET
AUSTIN, Texas -- Texas needed a head coach who wins and wins big. Athletic director Steve Patterson had admitted that from the start of his three-week search to replace Mack Brown.
Patterson
has found a coach in Charlie Strong
who has done just that.
The next head coach of the Longhorns comes to Austin armed with more than three decades of experience and perhaps just what this program has been missing. Agreeing to leave Louisville wasn't easy for Strong, hence this long and arduous weekend, but he couldn't turn down the opportunity that Texas offers.
[+] Enlarge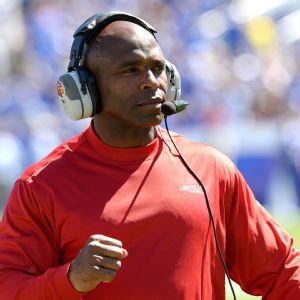 AP Photo/Timothy D. EasleyIn Charlie Strong, Texas will get a national championship winner, a tenacious recruiter and a coach who will bring toughness and discipline to the Longhorns.
How he'll fit at Texas, in a job that's both richly rewarding and unusually challenging, can't be answered today. But what we know most about Strong, the trait he's worn on his sleeve everywhere he has gone, is how hungry he is to succeed.
Strong came to Louisville as a defensive mastermind after helping lead Florida to two national championships in eight seasons. He coached 13 All-American defenders, six first-round draft picks and multiple top-five scoring defenses.
Yet for all those years of success, Strong was repeatedly passed over for head-coaching jobs. At age 49, he finally got his chance to be a head man after 27 years in the business.
"I just wanted somebody so hungry he would crawl here," Louisville athletic director Tom Jurich said when he hired Strong, "and there's no doubt he would crawl here."
Strong was just as hungry to reward Jurich's faith, and he certainly did that. Louisville won two conference titles and three bowls in his four seasons at the helm, went a combined 23-3 in his last two years and upset No. 3 Florida in last year's Allstate Sugar Bowl.
Strong, now 53, nearly moved on to Tennessee a year ago. Jurich persuaded him to stay. Now he's ready for the big stage and his biggest job yet.
A respected recruiter, Strong has wisely hitched his wagon to recruiting Florida, especially Miami, where he found
Teddy Bridgewater
and more than a dozen other current Cardinals. Two-thirds of his 2013 roster came from in-state and Florida talent.
His recruiting chops will be put to the test in Texas, a state where he has few ties. He spent one year coaching in this state -- as a Texas A&M grad assistant in 1985 -- and had no Texans on this season's Louisville roster.
Establishing a new pipeline in Florida would be a significant breakthrough for this program, but Texas also needs a coach who can keep up with Kevin Sumlin and Texas A&M and regain control of the Lone Star State.
That's just one of many tall challenges facing Strong and his staff, but in his four years at Louisville he proved adept in an area Texas has struggled with in recent years: player development.
Strong won 12 games this season with a starting lineup featuring 13 former three-star recruits and eight two-stars. Bridgewater, who has emerged as the potential No. 1 overall pick in the NFL draft, was one of just two four-star starters.
Marcus Smith
signed as a three-star wanting to play quarterback and became an All-American defensive end. Six more of the former three-stars and a trio of two-stars earned all-conference honors last month.
And by all accounts, the Cardinals players revered Strong. He's known as a tough, fiery disciplinarian with high standards, and that might be just what this program needs now.
Still, this hire is guaranteed to come with second-guessing. It's Texas. A big job comes with bigger scrutiny.
No matter how the Texas fan base feels about Strong, it wants to know why the Longhorns didn't wait for Florida State's Jimbo Fisher, or why Baylor coach Art Briles never interviewed. Those were a few of the perceived Plan A candidates, and some pundits will argue that Texas didn't make a splashy megahire. But Patterson won't care what gets said this week. He has served as athletic director for 40 days and knew he was staking his reputation at Texas to whomever he selected.
We don't know whom Strong will bring with him to Austin or who will comprise his first staff. We don't know what offense he'll run. But we do know he'll inherit plenty of talent, endless resources and far greater expectations.
For better or worse, Strong has more in common with Oklahoma coach Bob Stoops than Mack Brown. If Patterson was concerned about finding a coach with a reputation for being excessively media-savvy, as Brown was throughout his tenure, the AD would've gone in a different direction.
Instead, it seems safe to say that Patterson cared much more about the other side of a "fit": a proven, tested and respected success. A coach who's a winner and a program changer.
That's what Texas needed above all else, and winning is the best thing Strong can do to assure a divided fan base that he's the right choice.
Texas Longhorns Show Out On Pro Day
BIG 12 SCOREBOARD
Thursday, 9/3
Friday, 9/4
Saturday, 9/5