Texas Longhorns:

Bruce Chambers
June, 19, 2014
6/19/14
3:30
PM ET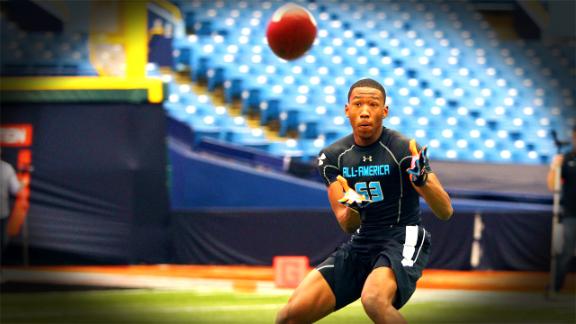 Charlie Strong has a Texas-sized problem on his hands.
When a new coach is hired, especially at a place like
The University of Texas
, it usually creates excitement with prospects and high school coaches on the recruiting trail. Unfortunately for the Longhorns, that buzz isn't there. With the
addition of ESPN 300 receiver
DaMarkus Lodge
on Thursday, Texas A&M further tightened its grip on the top talent in the Lone Star State.
[+] Enlarge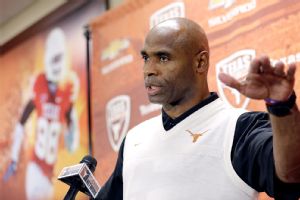 AP Photo/Eric GayCharlie Strong still has nearly eight months to bolster his 2015 recruiting class.
Lodge's pledge gives A&M three of the top eight players in Texas and positions the Aggies for a run that could include four of the top five and five of the top 10.
On the other hand, the Longhorns,
whose 2015 class is ranked No. 11
in ESPN's rankings, are struggling within their home state. Texas has yet to gain a commit from a top-10 in-state player. To make matters worse, Strong's staff is losing commits to conference rivals and SEC powers in Texas A&M, Texas Tech, Oklahoma State, LSU and Oklahoma.
"In the state of Texas, A&M has taken over," Cedar Hill (Texas) High School coach Joey McGuire said. "Through what coach [Kevin] Sumlin has done and then what
Johnny Manziel
did to help put that school in such a great position, it's helped them move to whole different level. They're the hot thing going right now. It's hard to beat, even for a program like Texas."
As any Texas fan will tell you, there's nothing worse than losing to the hated Aggies. The recruiting beatdown could continue as A&M is in good position with cornerback
Kendall Sheffield
, linebacker
Malik Jefferson
, defensive end
James Lockhart
and cornerback
Kris Boyd
-- all ESPN 300 prospects strongly considering playing in College Station.
A Big 12 assistant who recruits in the Lone Star State said he could see that Texas would have problems on the recruiting trail the minute Strong announced his staff. The assistant praised Strong for luring Joe Wickline away from Oklahoma State and believes his addition will help the Longhorns find some hidden gems along the offensive line. But after that, the assistant said it was hardly the all-star cast many thought Strong could assemble, given the school's resources.
"I thought [Strong] needed to bring in guys that can stand toe-to-toe against A&M, LSU, Alabama, Oklahoma and all the other top teams that recruit in Texas," the coach said. "He needed guys that had deep ties with the high school coaches in Texas. Instead, he got a lot of coaches that can win recruiting battles against Cincinnati, UCF and teams like that. This is the Big 12, not the AAC."
In defense of the Longhorns, Strong did retain Bruce Chambers, who is entering his 17th season in Austin and has connections with high school football in the state. He also hired Les Koenning, a 1981 Texas graduate who is entering his 34th year of coaching after previous stops at Mississippi State, South Alabama, Texas A&M, Alabama, TCU, Houston, Duke, Rice and Louisiana-Lafayette.
Replacing Mack Brown wasn't going to be easy. Replacing the relationships he so tirelessly built with Texas high school coaches will take some time.
All of this has made Strong's job of recruiting local talent more difficult than most assumed it would be when he was first hired six months ago. But all is not lost. There has been no shortage of effort from the Longhorns' staff, and Strong can sway some recruits with a simple formula this fall: winning.
"If Charlie Strong comes out and wins, there might be another flip," McGuire said. "If they can come out and surprise some people this year and win games, then they're going to be the hot team with recruits. Winning and losing is going to make a big part of those schools' recruiting classes."
March, 14, 2014
3/14/14
9:00
AM ET
This week, we're taking a closer look at the members of the new Texas coaching staff under Charlie Strong. The fifth and final part of our two-a-days series focuses on two critical coaches who should not go underappreciated, as well as how they complete the staff.
Bruce Chambers
Tight ends
There is real value in continuity amid a flurry of change. That idea can get easily lost as fans fantasize about their program assembling the best all-star staff money can buy.
[+] Enlarge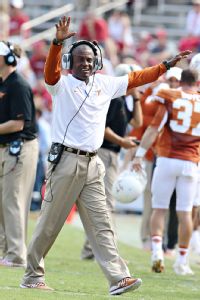 Matthew Emmons/USA TODAY SportsBruce Chambers is a holdover from Mack Brown's staff.
For Strong, bringing back the veteran Chambers for his 17th season with the program was his way of bridging the gap between coaching staffs and maintaining some consistency.
That move proved especially important in January, when Chambers escorted Strong on his first recruiting tour of the critical Dallas-Fort Worth area high schools.
"I love going with Bruce Chambers," Strong said, "because I meet so many people, I can't remember them all. He has me all over that city."
Chambers joined Mack Brown's first staff in 1998 and has been a Longhorn ever since, spending the past 12 years as the tight ends coach. The transition to the Strong regime hasn't been stressful, he said, because he already knew several of the new assistants from his time in the business.
"It's been smooth, it really has been," Chambers said. "It hasn't been hard at all. You just go back to work."
During Chambers' time on the road recruiting with Strong, the two quickly figured out they'd met before on the trail.
"One of the things I learned about him, and was reminded by him, is that when I was a high school coach he actually recruited three of my players," Chambers said. "He actually came into the high school and I met him then. But we hit it off really well, had a good time in Dallas."
As much as Chambers can help the next staff get familiar with last year's game tape and this year's roster, he's doing some learning this spring, too. He's offering his input on the creation of Texas' new offensive scheme and likes where the playbook is heading.
"It reminds me a lot of when I first got to Texas with Greg Davis," Chambers said. "It reminds me a lot of that feel. I think it's an offense that's big-play yet it can grind it out. I think it's a very, very balanced offense and a fun offense. I think the guys will enjoy playing in it and the fans will enjoy watching it."
The start of Brown's regime was exciting times for Chambers. These past few months have brought back similar feelings. He's doing the same job he's had for a long time, but the task of starting over is off to a good start.
Pat Moorer
Head strength and conditioning coach
The new leader of Texas' strength program comes from Louisville and was one of the first coaches Strong brought with him to the 40 Acres. He's revered for the transformative effect he had on the Cardinals' program, overseeing gains in strength, speed and a major overhaul in accountability.
"We have the best strength coach in the country in Pat Moorer," defensive coordinator Vance Bedford said. "You're going to see these guys, the bodies are going to change, they're going to look totally different. Their attitude is going to be totally different."
Moorer has run Texas' offseason program this winter and probably knows the Longhorn players far better than Strong and his assistants at this point. He'll be an omnipresent part of the program, and if you want to play you better exceed his standards.
He's also the bad cop of this operation, the no-nonsense disciplinarian. The last person a Texas player in trouble wants to see is Moorer.
"If you've made it to Coach Moorer," linebackers coach Brian Jean-Mary said, "that probably means you've had a bad experience. And it's probably going to be worse. After Pat's done with you, you're going to feel like that wasn't the best of decisions."
The former Florida linebacker earned SEC Freshman of the Year in 1986 and used to serve as Emmitt Smith's personal trainer. Moorer spent 11 years at South Carolina before joining Strong's staff at Louisville and achieved his master strength and conditioning coach certification, the highest honor of his profession, in 2006.
Jean-Mary knows from their time together at Louisville that Moorer is an invaluable extension of the staff, and the coach who spends more time with players than anyone else.
And what makes Moorer so effective, he says, is the fact he cares about a lot more than just how much the players are benching and squatting. This is truly a holistic process.
"I think Pat and Charlie are cut from the same cloth," Jean-Mary said. "They want to work on the total person, not just the bigger, faster, strong and looking the part on the field. He works so much more on the leadership aspect, the communication aspect with other students and faculty members outside of the football program. The community work.
"He really wants them to be the total person. He really tries to bring out the maturity level."
Getting the full buy-in from Longhorn players is critical this offseason, and those who can't keep up with Moorer's style might not last long. The ones who go all-in should look a lot different by August.
January, 16, 2014
1/16/14
10:00
AM ET
AUSTIN, Texas -- Charlie Strong says he had a fairly good idea of what he wanted from his Texas coaching staff before the hunt began.
[+] Enlarge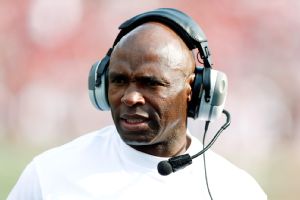 Joe Robbins/Getty ImagesNew Texas coach Charlie Strong has put together an experienced staff he's familiar with.
He wanted coaches he knew and coaches who know the state of Texas.
The staff Strong unveiled on Wednesday appears to have a good helping of both.
Ten days into the job, his staff is finally assembled, and he will hit the road on Thursday to begin selling a school the staff has barely had time to visit.
Strong had to stifle a laugh when asked if he was starting to settle in at Texas. It hasn't been easy. Not after all the work he had to put into interviewing coaches and piecing together a staff that met his standards.
He believes he's found a group that can get Texas back to its championship standard, and more importantly, he thinks these are the guys UT needs off the field.
"This is a staff that we know what it is all about," Strong said. "We are teachers, we're role models, we're going to motivate and lead. Just a staff that are family men, and you want that with the players.
"Because you want the players to look at a coach and say how, someday, if they don't end up being an engineer or a doctor but could go and be a coach, [they would] emulate the man standing right there in front of me. I am just so happy that we are aboard and finally completed it."
It's a group that touts a combined 232 years of coaching experience and, at least on paper, has a good deal of familiarity both with each other and with this state.
Strong hired four coaches he'd worked with in offensive coordinator Joe Wickline, defensive coordinator Vance Bedford, quarterbacks coach Shawn Watson and linebackers coach Brian Jean-Mary.
He hired four assistants who have coached college football in this state: Bedford, receivers coach Les Koenning, running backs coach Tommie Robinson and retained tight ends coach Bruce Chambers.
And he hired guys he'd recruited against in the past, coaches whose passion he respected in defensive line coach Chris Rumph and defensive backs coach Chris Vaughn.
And don't forget the 10th man, the one he considers just as valuable -- if not more so -- than the rest: Strength and conditioning coach Pat Moorer, who followed him from Louisville and is already putting his new players to the test with workouts this week.
All in all, it's a haul that has industry experts impressed. Is this the blank-check dream team that Texas fans envisioned when Strong took the job? No, maybe not. But he's found puzzle pieces that, thanks to all the familiarity, ought to fit together well and do so quickly.
Those fans fantasized about reeling in a big fish for an offensive coordinator, no doubt Strong's most important hire of the nine. They wanted Strong to swing for the fences with someone like Clemson's Chad Morris or Ohio State's Tom Herman.
They might not realize what they've got in Wickline, one of the nation's top offensive line coaches at Oklahoma State. He and Strong were grad assistants together at Florida in 1983 and met again in Gainesville from 2002 to 2004. He knew he was handing the keys to his offense to an underappreciated gem.
"Guys pay their dues, and guys have been around great systems, and if you look at the system he has been around at Oklahoma State for nine years, they have moved the ball very well on offense," Strong said. "When the guys have put in their time, it's like me: I have put in my time and want to be rewarded. So he has put in his time, and he is being rewarded."
What sold him on Wickline, and so many other members of the new staff, was a mandatory trait: Toughness. His offenses and players played. Strong is surrounding himself with hard-nosed leaders because that's what Texas needs right now.
Just as this group comes together, it's time to split up again. The new Longhorns coaches begin their recruiting quest on Thursday, and they've got plenty of catching up to do on that front.
Over the next few weeks, Strong will find out just what kind of recruiters he's hired. And then the real job -- putting the pieces back together at Texas -- will begin.
It's a familiar challenge for Strong. To pull this off, he's surrounded himself with familiar allies.
"I told them right from the start that this is going to be a coaching staff with no egos," Strong said. "We are here to work together, and it is all about success. We are here to win and whatever we have to do to go win a football game, that is what we have to do."
January, 15, 2014
1/15/14
5:30
PM ET
New Texas head coach Charlie Strong completed and announced his coaching staff on Wednesday. A closer look at who will join him in his first season of leading the Longhorns:

Offensive coordinator/offensive line: Joe Wickline
Age: 55 Alma mater: Florida
Previously: Oklahoma State offensive line coach
Past stops: Florida, Middle Tennessee State, Baylor, Southwest Mississippi C.C., Pearl River C.C., Ole Miss, Delta State, Tennessee
Coached up: Oklahoma State T Russell Okung, Oklahoma State OT Levy Adcock, Florida OT Max Starks
Stat: During Wickline's nine seasons at OSU, the Cowboys averaged 37.7 points per game, which ranked third-best in FBS behind Oregon and Boise State.
In short: The longtime Oklahoma State assistant is considered one of the nation's best line coaches and was a significant steal for Strong's first staff. He inherits plenty of young talent up front.

Assistant head coach/quarterbacks: Shawn Watson
Age: 54 Alma mater: Southern Illinois
Previously: Louisville offensive coordinator/quarterbacks coach
Past stops: Nebraska, Colorado, Northwestern, Southern Illinois, Miami (Ohio), Illinois
Coached up: Louisville QB Teddy Bridgewater, Nebraska QB Taylor Martinez, Colorado QB Joel Klatt
Stat: Bridgewater ranked No. 3 in FBS in raw QBR during the 2013 season at 84.5.
In short: Texas is getting an offensive mind that Strong trusts and who proved, with his coaching of Bridgewater, that he has what the Longhorns desperately need: The ability to develop a quarterback.

Running backs: Tommie Robinson
Age: 50 Alma mater: Troy State
Previously: USC pass game coordinator/running backs coach
Past stops: Arizona Cardinals, Miami, Memphis, Georgia Tech, Oklahoma State, Dallas Cowboys, TCU, Utah State, Arkansas
Coached up: Cowboys WR Michael Irvin, Cardinals RB Beanie Wells, Oklahoma State RB Tatum Bell
Stat: Four USC running backs combined for 2,225 rushing yards in 2013, with two surpassing 700 yards.
In short: Robinson comes to Austin after a year at Southern Cal, where he was a respected recruiter and position coach with a wide range of experience.

Receivers: Les Koenning
Age: 54 Alma mater: Texas
Previously: Mississippi State offensive coordinator/quarterbacks coach
Past stops: South Alabama, Texas A&M, Alabama, TCU, Houston, Duke, Miami Dolphins, Rice, Louisiana-Lafayette
Coached up: Texas A&M QB Stephen McGee, Texas A&M QB Reggie McNeal, Texas A&M WR Albert Connell
Stat: Mississippi State's offense set school records for passing yards, total yards and completion percentage in 2013.
In short: Koenning has coached all over Texas and is leaving an SEC coordinator job to return home. Strong needed assistants with ties to this state and Koenning is plenty of that.

Tight ends: Bruce Chambers
Alma mater: North Texas
Previously: Same role
Past stops: Dallas Carter High School
Coached up: Texas RB Ricky Williams, Texas TE Jermichael Finley, Texas RB Cedric Benson
Stat: Texas tight ends Geoff Swaim and Greg Daniels combined for six receptions last season.
In short: The only assistant retained from Mack Brown's staff, Chambers has been at Texas since 1998 and can help with this staff transition, especially in recruiting.

Defensive coordinator/secondary: Vance Bedford
Age: 55 Alma mater: Texas
Previously: Louisville defensive coordinator/secondary coach
Past stops: Florida, Oklahoma State, Chicago Bears, Michigan, Colorado State, Navarro J.C.
Coached up: Michigan CB Charles Woodson, Florida CB Joe Haden, Louisville DE Marcus Smith
Stat: Since the start of the 2012 season, the Cardinal defense ranks No. 4 in FBS in total defense and No. 5 in pass defense.
In short: Strong brought Bedford with him to Austin, and the former Longhorn defensive back brings a lot to the table. Known for being fiery and passionate in his time at Louisville.

Assistant head coach/defensive line: Chris Rumph
Age: 42 Alma mater: South Carolina
Previously: Alabama defensive line coach
Past stops: Clemson, Memphis, South Carolina State
Coached up: Clemson DE Da'Quan Bowers, Clemson DE Gaines Adams, Alabama DT Jesse Williams
Stat: In his stints at Clemson and Alabama, Rumph coached at least nine NFL Draft picks.
In short: Like Wickline, Rumph is considered one of the best of the best at what he does. Doesn't have much experience in Texas but does have a history of signing and developing elite linemen.

Linebackers/recruiting coordinator: Brian Jean-Mary
Age: 38 Alma mater: Appalachian State
Previously: Louisville linebackers coach
Past stops: Georgia Tech, North Alabama, South Carolina
Coached up: Georgia Tech LB Phillip Wheeler, Louisville LB Preston Brown, Georgia Tech LB Gerris Wilkinson
Stat: Under Jean-Mary's tutelage, Brown recorded 301 career tackles and twice earned all-conference honors.
In short: Jean-Mary was assistant head coach of the Louisville defense and followed Bedford and Strong. He'll be Texas' third linebackers coach in the past 12 months.

Defensive backs/special teams: Chris Vaughn
Age: 37 Alma mater: Murray State
Previously: Memphis cornerbacks coach
Past stops: Ole Miss, Arkansas
Coached up: Ole Miss CB Marshay Green, Ole Miss CB Cassius Vaughn, Arkansas LB Tony Bua
Stat: At Memphis, Vaughn inherited the second-worst pass defense in FBS in 2011. In his two seasons, the Tigers ranked 26th-best in the country in yards per completion allowed.
In short: The youngest member of the new staff, Vaughn already has eight years as an SEC recruiting coordinator on his resume.
May, 30, 2013
5/30/13
1:00
PM ET
RICHMOND, Texas — The ongoing transition for ESPN 150 athlete
Nick Harvey
(Richmond, Texas/Travis) has been mostly positive.
After moving to the Houston-area with his family after a memorable run to the Class 4A Divison II state championship game last fall with Lancaster (Texas) High School, the spring semester has been about adjustments -- to new surroundings, new teammates, new friends, a new life.
December, 12, 2012
12/12/12
3:47
PM ET
AUSTIN, Texas -- Texas has made it official:
The Longhorns are looking for a running backs coach
.
[+] Enlarge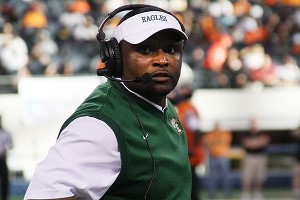 Travis L. Brown/ESPNDallas.comDeSoto head coach Claude Mathis is well respected among his peers and could be an option for the Longhorns.
Oh yeah and Bryan Harsin is gone, Major Applewhite is now calling plays as the co-offensive coordinator, Darrell Wyatt has been elevated to co-offensive coordinator, Stacy Searels is now the assistant head coach for offense, and Bruce Chambers is in the primary staffer in charge of coordinator recruiting.
But forget all the Scrabble-tile shifting of titles at Texas for a moment, the Longhorns are in the market for a new running backs coach. Now all they have to do is figure out what type of qualities that coach must possess.
Someone who can figure out the distribution of carries for the running backs should not be on top of the list. That's Applewhite's job now. And seeing as how running backs already know how to run, well a great technician is not exactly a huge necessity either. It helps but it is not crucial.
What Texas needs in a running back coach is someone who can help recruit Texas. The Longhorns, through their own failings on the field, and Texas A&M's momentum both on and off it, have become the less bright star in the state. More than anything high school players want to go to a place where they believe their talents can be showcased against the best. Right now the best place for that is Texas A&M.
The Aggies play in a superior conference and this year, at least, played superior ball to Texas. So it is not a huge shock that Texas A&M has 34 commitments and has steamrolled right into 2014.
That's not to say Texas is not resigned to being a wallflower within the state. The Longhorns have the power to get any recruit they need in the state. It's just that Texas needs some help flipping that switch. And that is where the running back coach comes into the picture.
Texas can go one of two routes here.
The first is with a Texas high school. DeSoto's Claude Mathis fits this bill perfectly. He is up for national coach of the year, churns out of ton of recruits, wins on a consistent basis, has the respect of other high school coaches in the state and has shown with his brief dabble at going to Houston earlier this year (and then subsequently heading back to DeSoto) he is willing to make the jump to college.
What Mathis would do for Texas is curry tremendous favor for Mack Brown among high school coaches. It will once again show that Brown feels there is coaching talent at that level and is willing to give a high school coach a shot. The benefits of that are immeasurable when it comes to being tapped into the Texas high school network.
A Mathis hire would also give Texas a bridge between the world the current Longhorns coaches are in and the high school world. Mathis is more in touch with high school kids and understands their wants and needs better because he has been around them every day. Figuring out the psyche of a 17-year-old player is not an easy thing and Mathis could help in that.
Now, Texas might opt to go a completely different route with a veteran coach like Tim Brewster. Like Mathis, Brewster makes sense on several fronts.
Brewster and Brown have a long relationship, have worked together in the past at Texas and North Carolina and understand what each expects out of the other. Brewster respects Brown's abilities so much he sent his son to play safety for the Longhorns. When Nolan was unable to play due to injury, Brown took care of him.
To continue reading this article you must be an Insider
December, 3, 2012
12/03/12
2:27
PM ET
ESPN 300 running back
Kyle Hicks
(Arlington, Texas/Martin) can't deny what his heart is feeling.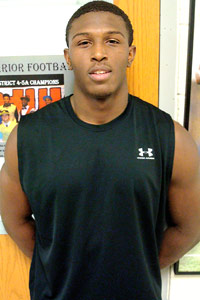 William Wilkerson/ESPN.comKyle Hicks said he has formed a bond at TCU and that's where his 'heart is at.'
For the last few months he has contemplated the idea of playing football closer to home, closer to his mother and close to his good friend and former high school teammate
Devonte Fields
.
Today, his heart couldn't take it any longer.
Hicks called Texas co-recruiting coordinator Bruce Chambers and told him he had decided to switch commitments from the Longhorns to TCU.
"One, I get to play for an outstanding football team," Hicks said. "Two, I get a good education from a private school, and three, it is 15 minutes from home."
Hicks was Texas' lone running back recruit in the Class of 2013. He had been committed to the Longhorns since Feb. 18.
"It was the hardest thing I've ever done in my life," Hicks said. "Talking to Chambers on the phone, my body was shaking. I never thought I would decommit from Texas. I created a big bond with Chambers for nine months. Just to decommit was the hardest thing ever.
"Of course he was disappointed. He wanted to know why. It was just a decision I had to make."
Martin coach Bob Wager was in his office with Hicks when Hicks made the call to Chambers.
"He's been agonizing over it for months," Wager said. "He just called Coach Chambers 15 minutes ago in my office. Torn up, distraught, very apologetic. But very sincere. It's the hardest thing he's ever had to do. I was there watching him, and pain was showing all over his face."
Hicks (5-foot-11, 190 pounds) is rated at No. 20 among running backs and No. 219 overall in the country.
He had to step in at quarterback for Martin this season and fared well. He threw for 458 yards and six touchdowns without an interception. But his bread and butter was still the run, which he did 177 times to the tune of 1,113 yards and 22 touchdowns.
Hicks tore his left ACL and meniscus Oct. 26 and is scheduled to have surgery Tuesday. It was the second serious injury for him in the last two seasons.
Last year, during the third round of the playoffs, he broke his foot on the first play of Martin's game against Euless Trinity. He continued to play and finished the game with 20 carries for 113 yards and a 19-yard, game-clinching touchdown.
Hicks is confident that he'll be fully healthy in six months and ready for fall camp with the Frogs.
"It was where my heart is at," Hicks said. "I feel at home with TCU. Whenever I got the chance to visit TCU I just knew that was where I wanted to be. Great football team and it's close to my mom. I can't pass that down."
May, 22, 2012
5/22/12
5:15
PM ET
A few months ago junior college tight end
Beau Sandland
(Woodland Hills, Calif./Pierce College) reached out to his coaches to see if they had any contacts at Texas.
They did, and on Monday, Longhorns tight ends coach Bruce Chambers' met with the 6-foot-6, 255-pound prospect.
"I was under the impression that they don't recruit outside of the state of Texas, which I know they don't very often," said Sandland, who caught 20 passes for 265 yards and two scores last season. "When they do, I knew it was kind of a double-whammy against me because I know they don't go the juco route that often. So when he stopped by I was pleasantly surprised. I'm glad I'm on their radar and I got some interest from them. They definitely have a ton of interest from me."
To continue reading this article you must be an Insider
March, 30, 2012
3/30/12
8:30
AM ET
In the hierarchy of organization you might find The Container Store and your grandmother's linen closet at the top of the list.
Not far behind, though, would have to be the 2012 version of Mack Brown's coaching staff.
This time last year, as Texas neared the kickoff of its annual Orange-White game, they were, in essence, running around like kids in an Easter egg hunt. With so many coaches still trying to adjust to their new surroundings, the Longhorns had yet to identify the state's top targets and entertained only about 25 sophomores at the game.
To continue reading this article you must be an Insider
March, 8, 2012
3/08/12
3:40
PM ET
MANSFIELD, Texas – The Longhorns might soon have their first tight end commit for the 2013 class with
Durham Smythe
(Belton, Texas/Belton) expected to decide between Texas and Stanford on Friday or Saturday.
Whether Smythe chooses Texas or not won't change the Longhorns' stance on Mansfield tight end
Trent Gow
. They want to take two tight ends in 2013 and are interested in Gow. They are simply still in an evaluation mode.
"[Tight endd coach] Bruce Chambers called [Mansfield] Coach [Jeff] Hulme last week and told me to wait until the spring."
To continue reading this article you must be an Insider
December, 12, 2011
12/12/11
7:30
PM ET
AUSTIN, Texas -- The Longhorns still don't have a tight end commitment for 2012, but they continue to show interest in one from the Dallas metroplex.
Two-star recruit
Vincent Hobbs
(Mesquite, Texas/Horn) was informed by his coach Monday that Texas tight ends coach and co-recruiting coordinator Bruce Chambers would be at his basketball game on Friday.
"Hopefully I will learn a little bit more about what is going on," said Hobbs, who has a 73 grade from Scouts Inc. and is rated as the No. 99 tight end overall. "This will be his second game."
To continue reading this article you must be an Insider
Texas Longhorns Show Out On Pro Day
BIG 12 SCOREBOARD
Thursday, 9/3
Friday, 9/4
Saturday, 9/5