Texas Longhorns:

Bruce Chambers
May, 30, 2013
May 30
1:00
PM ET
RICHMOND, Texas — The ongoing transition for ESPN 150 athlete
Nick Harvey
(Richmond, Texas/Travis) has been mostly positive.
After moving to the Houston-area with his family after a memorable run to the Class 4A Divison II state championship game last fall with Lancaster (Texas) High School, the spring semester has been about adjustments -- to new surroundings, new teammates, new friends, a new life.
To continue reading this article you must be an Insider
December, 12, 2012
12/12/12
3:47
PM ET
AUSTIN, Texas -- Texas has made it official:
The Longhorns are looking for a running backs coach
.
[+] Enlarge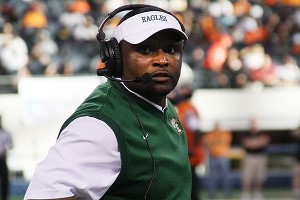 Travis L. Brown/ESPNDallas.comDeSoto head coach Claude Mathis is well respected among his peers and could be an option for the Longhorns.
Oh yeah and Bryan Harsin is gone, Major Applewhite is now calling plays as the co-offensive coordinator, Darrell Wyatt has been elevated to co-offensive coordinator, Stacy Searels is now the assistant head coach for offense, and Bruce Chambers is in the primary staffer in charge of coordinator recruiting.
But forget all the Scrabble-tile shifting of titles at Texas for a moment, the Longhorns are in the market for a new running backs coach. Now all they have to do is figure out what type of qualities that coach must possess.
Someone who can figure out the distribution of carries for the running backs should not be on top of the list. That's Applewhite's job now. And seeing as how running backs already know how to run, well a great technician is not exactly a huge necessity either. It helps but it is not crucial.
What Texas needs in a running back coach is someone who can help recruit Texas. The Longhorns, through their own failings on the field, and Texas A&M's momentum both on and off it, have become the less bright star in the state. More than anything high school players want to go to a place where they believe their talents can be showcased against the best. Right now the best place for that is Texas A&M.
The Aggies play in a superior conference and this year, at least, played superior ball to Texas. So it is not a huge shock that Texas A&M has 34 commitments and has steamrolled right into 2014.
That's not to say Texas is not resigned to being a wallflower within the state. The Longhorns have the power to get any recruit they need in the state. It's just that Texas needs some help flipping that switch. And that is where the running back coach comes into the picture.
Texas can go one of two routes here.
The first is with a Texas high school. DeSoto's Claude Mathis fits this bill perfectly. He is up for national coach of the year, churns out of ton of recruits, wins on a consistent basis, has the respect of other high school coaches in the state and has shown with his brief dabble at going to Houston earlier this year (and then subsequently heading back to DeSoto) he is willing to make the jump to college.
What Mathis would do for Texas is curry tremendous favor for Mack Brown among high school coaches. It will once again show that Brown feels there is coaching talent at that level and is willing to give a high school coach a shot. The benefits of that are immeasurable when it comes to being tapped into the Texas high school network.
A Mathis hire would also give Texas a bridge between the world the current Longhorns coaches are in and the high school world. Mathis is more in touch with high school kids and understands their wants and needs better because he has been around them every day. Figuring out the psyche of a 17-year-old player is not an easy thing and Mathis could help in that.
Now, Texas might opt to go a completely different route with a veteran coach like Tim Brewster. Like Mathis, Brewster makes sense on several fronts.
Brewster and Brown have a long relationship, have worked together in the past at Texas and North Carolina and understand what each expects out of the other. Brewster respects Brown's abilities so much he sent his son to play safety for the Longhorns. When Nolan was unable to play due to injury, Brown took care of him.
To continue reading this article you must be an Insider
December, 3, 2012
12/03/12
2:27
PM ET
ESPN 300 running back
Kyle Hicks
(Arlington, Texas/Martin) can't deny what his heart is feeling.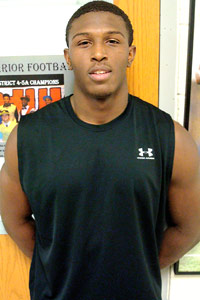 William Wilkerson/ESPN.comKyle Hicks said he has formed a bond at TCU and that's where his 'heart is at.'
For the last few months he has contemplated the idea of playing football closer to home, closer to his mother and close to his good friend and former high school teammate
Devonte Fields
.
Today, his heart couldn't take it any longer.
Hicks called Texas co-recruiting coordinator Bruce Chambers and told him he had decided to switch commitments from the Longhorns to TCU.
"One, I get to play for an outstanding football team," Hicks said. "Two, I get a good education from a private school, and three, it is 15 minutes from home."
Hicks was Texas' lone running back recruit in the Class of 2013. He had been committed to the Longhorns since Feb. 18.
"It was the hardest thing I've ever done in my life," Hicks said. "Talking to Chambers on the phone, my body was shaking. I never thought I would decommit from Texas. I created a big bond with Chambers for nine months. Just to decommit was the hardest thing ever.
"Of course he was disappointed. He wanted to know why. It was just a decision I had to make."
Martin coach Bob Wager was in his office with Hicks when Hicks made the call to Chambers.
"He's been agonizing over it for months," Wager said. "He just called Coach Chambers 15 minutes ago in my office. Torn up, distraught, very apologetic. But very sincere. It's the hardest thing he's ever had to do. I was there watching him, and pain was showing all over his face."
Hicks (5-foot-11, 190 pounds) is rated at No. 20 among running backs and No. 219 overall in the country.
He had to step in at quarterback for Martin this season and fared well. He threw for 458 yards and six touchdowns without an interception. But his bread and butter was still the run, which he did 177 times to the tune of 1,113 yards and 22 touchdowns.
Hicks tore his left ACL and meniscus Oct. 26 and is scheduled to have surgery Tuesday. It was the second serious injury for him in the last two seasons.
Last year, during the third round of the playoffs, he broke his foot on the first play of Martin's game against Euless Trinity. He continued to play and finished the game with 20 carries for 113 yards and a 19-yard, game-clinching touchdown.
Hicks is confident that he'll be fully healthy in six months and ready for fall camp with the Frogs.
"It was where my heart is at," Hicks said. "I feel at home with TCU. Whenever I got the chance to visit TCU I just knew that was where I wanted to be. Great football team and it's close to my mom. I can't pass that down."
May, 22, 2012
5/22/12
5:15
PM ET
A few months ago junior college tight end
Beau Sandland
(Woodland Hills, Calif./Pierce College) reached out to his coaches to see if they had any contacts at Texas.
They did, and on Monday, Longhorns tight ends coach Bruce Chambers' met with the 6-foot-6, 255-pound prospect.
"I was under the impression that they don't recruit outside of the state of Texas, which I know they don't very often," said Sandland, who caught 20 passes for 265 yards and two scores last season. "When they do, I knew it was kind of a double-whammy against me because I know they don't go the juco route that often. So when he stopped by I was pleasantly surprised. I'm glad I'm on their radar and I got some interest from them. They definitely have a ton of interest from me."
To continue reading this article you must be an Insider
March, 30, 2012
3/30/12
8:30
AM ET
In the hierarchy of organization you might find The Container Store and your grandmother's linen closet at the top of the list.
Not far behind, though, would have to be the 2012 version of Mack Brown's coaching staff.
This time last year, as Texas neared the kickoff of its annual Orange-White game, they were, in essence, running around like kids in an Easter egg hunt. With so many coaches still trying to adjust to their new surroundings, the Longhorns had yet to identify the state's top targets and entertained only about 25 sophomores at the game.
To continue reading this article you must be an Insider
March, 8, 2012
3/08/12
3:40
PM ET
MANSFIELD, Texas – The Longhorns might soon have their first tight end commit for the 2013 class with
Durham Smythe
(Belton, Texas/Belton) expected to decide between Texas and Stanford on Friday or Saturday.
Whether Smythe chooses Texas or not won't change the Longhorns' stance on Mansfield tight end
Trent Gow
. They want to take two tight ends in 2013 and are interested in Gow. They are simply still in an evaluation mode.
"[Tight endd coach] Bruce Chambers called [Mansfield] Coach [Jeff] Hulme last week and told me to wait until the spring."
To continue reading this article you must be an Insider
December, 12, 2011
12/12/11
7:30
PM ET
AUSTIN, Texas -- The Longhorns still don't have a tight end commitment for 2012, but they continue to show interest in one from the Dallas metroplex.
Two-star recruit
Vincent Hobbs
(Mesquite, Texas/Horn) was informed by his coach Monday that Texas tight ends coach and co-recruiting coordinator Bruce Chambers would be at his basketball game on Friday.
"Hopefully I will learn a little bit more about what is going on," said Hobbs, who has a 73 grade from Scouts Inc. and is rated as the No. 99 tight end overall. "This will be his second game."
To continue reading this article you must be an Insider
Baylor Wins Big 12