Texas Longhorns:

Brodrick Brown
September, 27, 2012
9/27/12
12:00
PM ET
Each week we take a look at three of the burning questions that face Texas as it prepares for the next opponent. This week, the No. 12 Longhorns travel to Stillwater, Okla., to face an Oklahoma State team whose recent record against Texas is 2-0:

1. Is the Texas offense for real?
Maybe. OK, yes, with a little bit of doubt sprinkled in. The running game is solid. And that running game should be able to carry this offense a long way. The offensive line looks more aggressive and physical. The running backs are running through tacklers. And the jet sweeps are putting teams on their heels.

August, 6, 2012
8/06/12
3:34
PM ET
Colleague KC Joyner
took to ranking the nation's top two secondaries

, but there's a pair of surprising teams at the top.
The SEC is the league with the defensive reputation, but the nation's top two teams, Alabama and LSU, both finished below Texas and Oklahoma State, who Joyner says are the nation's No. 1 and No. 2 secondaries.
Both of them are outstanding, but even I was surprised to see those two atop the list.
For both teams, it starts with eye-popping duos at cornerback.
For Texas, it's
Carrington Byndom
and
Quandre Diggs
. At Oklahoma State,
Justin Gilbert
and
Brodrick Brown
are the guys stopping receivers on the outside.
All four may make a case by season's end as the Big 12's best cornerback, but according to Joyner, they're the backbones of the nation's top two secondaries.
Joyner is also a believer in Texas safety
Kenny Vaccaro
, who racked up 82 tackles and keeping opposing receivers from gaining more than four yards per pass attempt.
Meanwhile, Oklahoma State's Gilbert stuck out to Joyner as the best cornerback in college football last season. His five picks and 5.2 yards per attempt suggest that's the case. He also broke up or intercepted 20 passes, second-most in college football.
Those aren't the only two Big 12 teams on Joyner's list.
What about Oklahoma? The Sooners check in at No. 8, with a nice trio of their own in
Tony Jefferson
,
Aaron Colvin
and
Demontre Hurst
.
Joyner reminds that even though the secondary faltered in high-profile losses to Baylor and Texas Tech, the same unit allowed a passer rating of under 106 in eight games.
Now, new coordinator Mike Stoops is in town to give the Sooners a boost in the secondary. The Sooners lost cornerback Jamell Fleming, but Fleming's 9.2 yards per attempt give Joyner reason to believe the loss will result in addition by subtraction.
I'm not so sure about that, but ultimately, the season will tell.
Are you a believer in the Cowboys and Longhorns as the nation's top two secondaries? What about the Sooners? Too high? Too low?
July, 23, 2012
7/23/12
3:30
PM ET
We offered a few thoughts on the All-Big 12 team earlier this morning, but here's how it shook out by team.

T-1. Oklahoma -- (5)

T-1. Oklahoma State -- (5)

3. Texas -- (4)

T-4. West Virginia -- (3)

T-4. Kansas State -- (3)

T-6. Baylor -- (2)

T-6. Iowa State -- (2)

T-8. TCU -- (1)

T-8. Texas Tech -- (1)

10. Kansas -- (0)

July, 13, 2012
7/13/12
7:59
AM ET
The Nagurski Trophy, given annually to college football's best defender, has released its 84-man, preseason watch list. From the Big 12:
That's a hefty list. My only possible additions?
Quandre Diggs
of Texas and maybe
Shaun Lewis
of Oklahoma State. Other than that, it's basically a who's who of the best defenders in the Big 12.
The league's 13 candidates are third-most among conferences, behind only the SEC (19) and the Big Ten (14).
Texas and Oklahoma are tied for the nation's most Nagurski Trophies, with two. Brian Orakpo in 2008 and Ndamukong Suh in 2009 are the last Big 12 talents to take home the hardware.
Luke Kuechly of Boston College won the award last season.
More awards watch lists:
May, 23, 2012
5/23/12
12:00
PM ET
College football guru Phil Steele is
previewing his must-read offseason magazine
, and with it, he's releasing his all-conference and All-America teams.
Here's who he slated as his first-team All-Big 12 squad:
OFFENSE
QB:
Landry Jones
, Oklahoma
RB:
Joseph Randle
, Oklahoma State
RB:
Malcolm Brown
, Texas
WR:
Tavon Austin
, West Virginia
WR:
Kenny Stills
, Oklahoma
WR:
Stedman Bailey
, West Virginia
TE:
Jordan Najvar, Baylor
C:
Ben Habern
, Oklahoma
OL:
Lane Taylor
, Oklahoma State
OL:
Gabe Ikard
, Oklahoma
OL:
LaAdrian Waddle
, Texas Tech
OL:
Cyril Richardson
, Baylor
I'd probably go with Geno Smith ahead of Jones, but it's close. You could definitely make a compelling case for both.
I'd also lean more toward Terrance Williams at Baylor for that third receiver spot ahead of Stills. Stills' upside is still really high, but again, it's close between those two.
Good grief, the tight end spot in the Big 12 is a rough. Navjar is a good selection. Travis Tannahill at Kansas State could grab that spot, too. You're almost better off picking a sixth offensive lineman or a fullback like Trey Millard at Oklahoma, who's more valuable than any of the league's tight ends.
DEFENSE
DL:
Alex Okafor
, Texas
DL:
Stansly Maponga
, TCU
DL:
Jackson Jeffcoat
, Texas
DL:
Jamarkus McFarland
, Oklahoma
LB:
Jake Knott
, Iowa State
LB:
Tom Wort
, Oklahoma
LB:
A.J. Klein
, Iowa State
LB:
Arthur Brown
, Kansas State
CB:
Nigel Malone
, Kansas State
CB:
Brodrick Brown
, Oklahoma State
S:
Kenny Vaccaro
, Texas
S:
Tony Jefferson
, Oklahoma
SPECIALISTS
P:
Quinn Sharp
, Oklahoma State
K:
Quinn Sharp, Oklahoma State
PR
: Tavon Austin, West Virginia
KR:
Tyler Lockett
, Kansas State
No complaints among the specialists, but I'd definitely have kept a more traditional three linebackers. You could afford to leave Tom Wort off that list. Not so with the other three.
After a sad group of cornerbacks in 2011, the position looks pretty loaded this year. There's no fewer than five guys in my book who deserve strong consideration and probably a spot on the first team. It's too bad there are only two spots. Clearly, Malone and Brown are deserving, but so are Justin Gilbert, Carrington Byndom and Quandre Diggs.
Safeties are both loaded. Maybe two of the best defenders in the league.
Here's who Steele tabbed as All-Americans, too.
FIRST TEAM
SECOND TEAM
Landry Jones, QB, Oklahoma
Tavon Austin, WR, West Virginia
Arthur Brown, LB, Kansas State
Quinn Sharp, K, Oklahoma State
THIRD TEAM
Kenny Stills, WR, Oklahoma
Stedman Bailey, WR, West Virginia
Lane Taylor, OL, Oklahoma State
Quinn Sharp, P, Oklahoma State
Tyler Lockett, KR, Kansas State
FOURTH TEAM
Geno Smith, QB, West Virginia
Joseph Randle, RB, Oklahoma State
Terrance Williams, WR, Baylor
Gabe Ikard, OL, Oklahoma
Jackson Jeffcoat, DE, Texas
A.J. Klein, LB, Iowa State
Tony Jefferson, S, Oklahoma
Tavon Austin, KR, West Virginia
May, 18, 2012
5/18/12
2:00
PM ET
If you've missed our look back at the projections from 2011, here's what you've missed.
Predicting interceptions is near impossible, so we don't even try. Don't believe me?
Of the Big 12's
seven leading returning ball hawks in 2011,
only Iowa State LB
Jake Knott
(No. 1) and Kansas State safety
Ty Zimmerman
(No. 7) had more than one interception that season.
Sometimes players disappoint or suffer injuries. Sometimes quarterbacks refuse to throw their way.
Want a fun stat from 2011 that'll give you hope for Big 12 defenses? Of the league's top 10 interception leaders, nine return. We'll break down the top six right here. Each of the players have at least four interceptions. Newcomers TCU and West Virginia don't have a single player with more than two picks.
So what do we know from this list? We'll find out soon. Either way, here are the Big 12's best returning ball hawks in 2012.
[+] Enlarge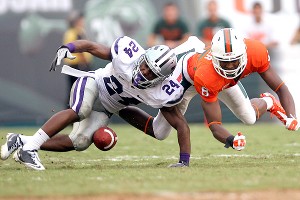 AP Photo/J Pat CarterNigel Malone has been a defensive force since coming to Kansas State.
1. Nigel Malone, CB, Kansas State:
Don't act like you're not impressed. Malone walked in last spring as a junior college transfer and earned a starting spot. Try to restrain your shock, but he had a huge year under Bill Snyder, who's got as good of a nose for jucos as anyone in college football. Malone's seven interceptions were two more than any other player in the Big 12 and ranked third nationally.
2. Justin Gilbert, CB, Oklahoma State:
Gilbert was already a physical freak, one of the fastest players in the league and a lethal kick returner. Like Malone, Gilbert was a first-year starter and finished his first year in huge fashion. Gilbert picked off five passes and returns as a junior with sky-high expectations and NFL scouts peering in his direction.
3. Brodrick Brown, CB, Oklahoma State:
They call him the Bulldog around Stillwater, and for good reason. While the speedy, 6-foot, 194-pound Gilbert has all the measurables, Brown is all heart at 5-foot-8, 183 pounds. Every week, he goes up against bigger, physical receivers and he still ended the season with five picks, just like Gilbert. OSU and Texas both have arguments as the league's best set of corners, and Brown, who will be a senior, is half the reason why.
4. K.J. Morton, CB, Baylor:
Morton is one of four Big 12 talents with four picks in 2011. The juco transfer came on late in 2011, picking off all four of his passes in Baylor's final three regular-season games. There's plenty of excitement for what he could do in 2012, too.
5. Tony Jefferson, S, Oklahoma:
Jefferson's four picks feel a bit unfair, considering that he picked off three of them in three consecutive possessions in a 62-6 shellacking of Ball State. His fourth came a week later. Jefferson was quiet late in the season on the interception front, but made plenty of plays elsewhere for the defense. Look for him to pick off passes with more consistency as a traditional safety in 2012 in Mike Stoops' defense, as opposed to playing linebacker last season in Brent Venables' defense.
6. Quandre Diggs, CB, Texas:
Diggs is the only freshman on this list, and that says a whole lot. Diggs showed big promise as an early enrollee this time last spring and validated it in the fall, earning a starting job and leading the team in interceptions. Diggs picked off passes in comeback wins over BYU and Texas A&M, and grabbed his fourth in the bowl win over Cal. I'd venture to say Diggs has more upside than any player on this list. His sophomore season should be really fun to watch.
March, 7, 2012
3/07/12
1:00
PM ET
We're moving on with our 2011 postseason position rankings. Today, it's time for cornerbacks. If you missed it,
here's how I ranked them in the preseason
.
Here are the other position rankings we've done so far:
Depth is somewhat of a factor here, but I weighted it heavily toward the top two starters at the position.
[+] Enlarge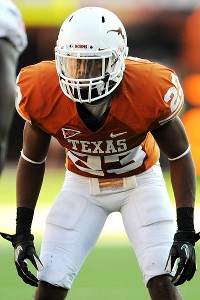 John Albright/Icon SMICarrington Byndom went up against some of the Big 12's top receivers and held his own.
1. Texas
— The Longhorns duo of
Carrington Byndom
and
Quandre Diggs
were by far the league's best at limiting the big play. Both are physical. Both return. Beware, Big 12 offenses. In just their first year as starters, they helped the Longhorns lead the league in pass defense. Diggs, a true freshman, led the team with four interceptions. Until the regular-season finale against Baylor, Texas and Alabama were the only teams that hadn't given up a touchdown pass longer than 20 yards. Obviously, that's way, way more impressive in the Big 12.
2. Kansas State
— K-State overachieved in a lot of ways this year, and perhaps nowhere more than at cornerback. Juco transfer
Nigel Malone
led the league with seven interceptions. Known entity
David Garrett
was even more solid, making 88 tackles and 6.5 tackles for loss. I ranked this unit 10th in the Big 12 before the season. They finished second. I was wrong.
3. Oklahoma
— The Sooners' corners were good, but not great, and underachieved slightly.
Jamell Fleming
and
Demontre Hurst
are supremely talented, but were susceptible to big plays this year. Granted, everybody in the Big 12 was, but the Sooners ranked fourth in pass defense. Fleming broke up 10 passes and intercepted two more. Hurst broke up 11 and had an interception.
4. Oklahoma State
— At times, Oklahoma State's
Brodrick Brown
was a legitimate shutdown corner.
Justin Gilbert
turned in a solid effort in his first year as a starter, which was much more important after a season-ending injury to
Devin Hedgepeth
in September. Gilbert picked off five passes, second-most in the Big 12.
5. Iowa State
—
Leonard Johnson
was quietly an NFL prospect that put together a huge year. He was a big reason for ISU's upset of No. 2 Oklahoma State, and helped shut down
Justin Blackmon
. He finished with 71 tackles, eight pass breakups and a pick.
Jeremy Reeves
added two picks and seven pass breakups.
6. Missouri
—
E.J. Gaines
led the Big 12 with 16 pass breakups, and the Tigers ranked fifth in the Big 12 in pass defense. Fellow first-year starter
Kip Edwards
added a pick and three pass breakups.
7. Texas A&M
— The team's top corner,
Coryell Judie
, was hampered by a hamstring injury all season, but production is production. It wasn't there for Judie, one of the league's top corners in 2010.
Terrence Frederick
had a good year with 13 pass breakups and a pick, but the Aggies were susceptible through the air all year.
Lionel Smith
and
Dustin Harris
filled in well in Judie's absence, but not well enough. A&M finished eighth in pass defense and helped five QBs set career highs for passing yardage in 2011.
8. Baylor
—
K.J. Morton
played well down the stretch for Baylor, but the Bears defense left a lot to be desired almost everywhere. They finished last in the Big 12 in pass defense, giving up over 290 yards a game. Morton picked off four passes and broke up six more. All four of his picks came in the final three games of 2011.
Chance Casey
broke up six passes and made 48 stops.
9. Texas Tech
— How's this for irony? The Red Raiders actually finished second in the Big 12 in pass defense. It doesn't matter much.
Tre' Porter
had the only interception for a cornerback all season, and broke up two passes. Injuries were a problem all season.
Cornelius Douglas
,
Derrick Mays
,
Jarvis Phillips
and
Sawyer Vest
filled the unit, but Tech faced 61 fewer pass attempts than Kansas and 111 fewer than the next team in the Big 12. That's what happens when you can't stop the run. Doesn't mean the corners played well.
10. Kansas
—
Greg Brown
picked off two passes and broke up three more.
Isiah Barfield
made 35 tackles and broke up five passes. The Jayhawks ranked ninth in the Big 12 in pass defense. They didn't get much of a pass rush to help the corners, but the corners were very poor in 2011.
December, 9, 2011
12/09/11
10:01
AM ET
Editor's Note: Tune into the "AT&T ESPN All America Team Show" on Saturday (ABC, 1:30 p.m. ET) to see who ESPN's writers and experts selected.
It's been a fun season across the Big 12, with a few big names who didn't play as well as we thought, and lots of unknowns who became household names by the end of the season.
I'll offer my comments below, but here's our All-Big 12 team for 2011.
OFFENSE
[+] Enlarge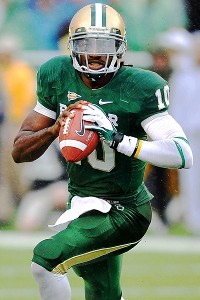 Jerome Miron/US PresswireThe heroics of Robert Griffin III got Baylor to 9-3 and made him a Heisman Trophy finalist.
QB:
Robert Griffin III
, Baylor
All-purpose:
Collin Klein
, QB, Kansas State
RB:
Terrance Ganaway
, Baylor
RB:
Henry Josey
, Missouri
FB:
Trey Millard
, Oklahoma
WR:
Kendall Wright
, Baylor
WR:
Justin Blackmon
, Oklahoma State
WR:
Ryan Broyles
, Oklahoma
TE:
Michael Egnew
, Missouri
C:
Grant Garner, Oklahoma State
OL:
Kelechi Osemele, Iowa State
OL:
Levy Adcock, Oklahoma State
OL:
Gabe Ikard, Oklahoma
OL:
Luke Joeckel, Texas A&M
DEFENSE
DE:
Frank Alexander, Oklahoma
DT:
Dominique Hamilton, Missouri
DE:
Alex Okafor, Texas
DE:
Jamie Blatnick, Oklahoma State
LB:
Sean Porter, Texas A&M
LB:
Jake Knott, Iowa State
LB:
Emmanuel Acho, Texas
NB:
Tony Jefferson, Oklahoma
CB:
Nigel Malone, Kansas State
CB:
Carrington Byndom, Texas
S:
Kenny Vaccaro, Texas
S:
Markelle Martin, Oklahoma State
SPECIALISTS
P:
Quinn Sharp, Oklahoma State
PK:
Randy Bullock, Texas A&M
PR:
Dustin Harris, Texas A&M
KR:
Tyler Lockett, Kansas State
Finally, a few notes and explanations:
I loved the media's idea to craft an all-purpose spot to accomodate Collin Klein. The Big Ten did the same for Michigan's Denard Robinson last season. I followed suit, and did so on the defensive side of the ball with a nickel-back spot for Oklahoma's Tony Jefferson. Two players that missed first-team designation by the coaches, but clearly deserve to be recognized.

Additionally, I prefer the teams to reflect the Big 12 style of play, so the nickel back fits. Each team doesn't have 11 players, but there were deserving linebackers. The same with Egnew and Millard. Does every team use a fullback or a tight end? No, but both are standout performers. They'd rotate in anyway, just as Jefferson would in a theoretical package.

Tough call to leave Philip Blake from Baylor off my team, but Garner's been better. Blake is very, very close, though.

Hated to leave off Brodrick Brown and E.J. Gaines, but I went with a more traditional two corners and two safeties, rather than four corners like the media's team.

Steven Johnson and Arthur Brown would have been right behind my three linebackers. That race was probably closer than at any other position, except maybe cornerback. Difficult to leave either of those guys off my first team, but the three on the team were better. I gave Brown my Newcomer of the Year nod, though.

I don't like going with three defensive ends and one defensive tackle, but there wasn't a defensive tackle who deserved the honor more than Okafor, my third defensive end. Okafor was a defensive tackle last year anyway, so that's close enough, right? He moved from tackle to end before spring practice earlier this year. In the Big 12, an additional pass rusher is necessary, too, right?

I made a similar move with my offensive line. Went tackle-heavy, but the guards didn't have quite as many standouts.
College Teams Most Needing A Big Spring
BIG 12 SCOREBOARD
Thursday, 9/3
Friday, 9/4
Saturday, 9/5