Texas Longhorns:

Bob Bowlsby
February, 2, 2013
2/02/13
10:30
AM ET
Bob Bowlsby was in Stillwater on Wednesday for Oklahoma State's game against Iowa State, but turned a whole lot of heads when he told the Associated Press of the Big 12's plans to
continue to move toward re-instituting the Big 12 Championship game.
The Big 12 will seek a waiver from the NCAA to hold a title game with just 10 teams in the league.
"At a time when lots of deregulation is taking place, it seems a little bit odd that the NCAA would be describing how we determine our champions," Bowlsby said Wednesday night, when he watched the Iowa State-Oklahoma State men's basketball game.

"I think it's reasonable to say if you're going to have a champion that you're going to have to designate it in one fashion or another. But to say it has to be between 12 schools or that there has to be divisional play or there has to be a round-robin, we're deregulating lots of things and that certainly is a candidate."
Bowlsby's news is surprising considering it never came up in his meetings with the media during this week's Big 12 athletic directors' meetings.
Reports leaked out this month that Bowlsby had planned to explore the waiver, but this latest news makes it clear that he's serious about bringing back the Big 12 title game, which hasn't been played since Oklahoma beat Nebraska in 2010. Oklahoma State won the outright title in Stillwater in 2011, and Kansas State shared the 2012 title with Oklahoma after both teams went 8-1 in Big 12 play this season.
More on this later today.
January, 15, 2013
1/15/13
1:00
PM ET
As we continue our season wrap, we'll be looking to 2013 today. Let's take a look with some bold predictions in 2013.
1. The Big 12 will not expand or institute a championship game.
I get the questions every day, but I simply don't believe the Big 12 will seriously consider expansion before the new college football playoff is in place, and the Big 12 gets an idea for where it stands in the college football landscape. Bob Bowlsby turned heads when a report surfaced that he'd inquired to the NCAA about bringing back the championship game, but that's a long way from actually doing so. Bringing back a No. 1 versus No. 2 league title game unless the Big 12 is a 12-team league with divisions is the surest way for the Big 12 to find it difficult to crack the four-team playoff.
[+] Enlarge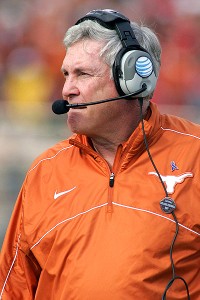 Michael C. Johnson/US PresswireTexas could face a difficult decision should coach Mack Brown and the Longhorns fall short of expectations in 2013.
2. Neither Texas nor Oklahoma will win the Big 12's automatic BCS bid.
Simply put, TCU and Oklahoma State are likely better teams. One of those two will win the league and represent the Big 12 in the Fiesta Bowl as its BCS representative. Texas is good, but not quite good enough and will have a difficult decision to make about Mack Brown's future after falling short. Oklahoma is just losing too much on defense and trying to live without
Landry Jones
, which fans will find more difficult than they imagined.
3. The Big 12 will have a Davey O'Brien Trophy finalist.
The Big 12 is reloading at quarterback, and will likely have only one starting quarterback in 2013 (barring what happens at TCU) who started at least half of his team's games in 2012: Texas'
David Ash
. It won't necessarily be him at the awards ceremony, but I believe in the Big 12's quarterback development, and we'll see a breakout star next year. Will it be
Michael Brewer
at Tech?
Bryce Petty
at Baylor?
Ford Childress
/
Paul Millard
in Morgantown or
Blake Bell
in Norman? What about
Daniel Sams
or Jake Waters at K-State?
4. Three Big 12 teams will finish in the national top 35 in total defense.
This year, the Big 12 had only one team (TCU) crack the top 35. There will be great defenses coming back. Look for Texas, TCU and Oklahoma State to grab this accomplishment, and Texas Tech might not be far off, too. Offenses as a whole will be down from their crazy pace next year, and that's an opportunity for some experienced defenses.
5. The Big 12 will not play for a national title ... again.
It's getting old for the league these days. Texas and Oklahoma both played a part in the SEC capturing seven consecutive national titles, but the Big 12's sat on the sidelines on that Monday night in January for each of the past three seasons. Make it four next year.
6. Texas Tech will be the Big 12's biggest overachiever.
They'll do it on the back of Brewer, who I buy as the most likely breakout star for the Big 12 next year. He's got great running backs, a great system and great, experienced receivers. Having
Eric Ward
back will be huge, and
Jace Amaro
and
Jakeem Grant
will continue to grow. I'm a little cautious on picking them in the top half of the league in the preseason, but I wouldn't be surprised at all to see the Red Raiders finish in the top three or four next year.
7. Baylor will win at least eight games again.
The Bears' offense will be back, and the defense will be a little bit improved. It'll be enough to win eight games in three consecutive seasons with three different quarterbacks. That's crazy, and yet another testament to what Art Briles has done in Waco.
8. Kansas will win a Big 12 game.
It has to happen eventually, doesn't it? The Big 12 losing streak now stands at 21 games. It won't reach 30 this time next year.
August, 28, 2012
8/28/12
10:30
PM ET
AUSTIN, Texas -- After two football seasons marred by the storm clouds of conference realignment, the Big 12 is back on solid ground.

That's the message Big 12 commissioner Bob Bowlsby and University of Texas president Bill Powers tried to send on Tuesday, when they met with local reporters during Bowlsby's tour of his new conference.

"We have been through some changes in the conference, but I can say unequivocally I have never, in my six and a half years here, seen the conference in as strong a position as it is now," Powers said.

Bowlsby's stop in Austin was his sixth on this tour. The response he's received from presidents, athletic directors and coaches around the league has been one of common optimism.

"It's been really kind of striking," Bowlsby said. "I know that there's got to be some scar tissue, but it's not palpable on the campuses. Maybe it's the time of year, to be honest. This tends to be a very hopeful period of time."

Of course, Bowlsby had to chuckle when a reporter congratulated him for not losing any Big 12 members in the first three months of his tenure. His job has only just begun.

The topic of conference realignment did arise on Tuesday, as did a handful of other pressing issues. A recap of what we learned:


June, 14, 2012
6/14/12
8:00
AM ET
Today, we're ranking college football's facilities across each conference, and that means it's time to take stock of the Big 12.
Here's how I'd rank the Big 12's facilities, which include a whole lot more than the stadium. Stadium size is a factor, but it goes much, much deeper. What is your locker room, weight room and practice facility like?

Let me also begin with this: No Big 12 team is painfully lacking behind the others. Every school in the league has what's needed, and nobody in the league has any truly pressing needs, save a practice facility or two. There's no huge shame in being in the league's bottom half. The difference from teams 4-10 isn't all that great. You may infer that it is, but that's not my intention. Finally, this is football facilities only.
1. Texas:
The Longhorns are the Joneses. Not just in the Big 12, but in all of college football. That's life when your budget dwarfs all others across the college football landscape. New Big 12 commish Bob Bowlsby called UT the "800-pound gorilla" in college athletics, but gorillas don't reach 800 pounds without state-of-the-art facilities at every corner.
2. Oklahoma State:
The difference between Nos. 2 and 3 on this list is miniscule, but I see it this way: Just about everything Oklahoma has is bigger, but everything OSU has is newer and nicer. Advantage Cowboys, who are in the process of building an indoor practice facility, leaving Texas Tech as the only Big 12 team without one.
3. Oklahoma:
Oklahoma doesn't have a sugar daddy like T. Boone Pickens, but when you've won as much through history as the Sooners have, you don't need one. The Sooners are in the top tier of Big 12 facilities, and like I said, you could make a case for Oklahoma at No. 2 on this list, if only for its stadium.
4. Texas Tech:
Don't focus so much on the lack of an indoor practice facility. What Texas Tech does have is extremely modern but also purposely fits the rustic feel of Lubbock on the outside. Tommy Tuberville is campaigning a bit to have that indoor facility eventually built.
5. West Virginia:
West Virginia's facilities for football aren't flashy, but they're solid, even if they're due for an upgrade once the Big 12 checks start rolling in. Coach Dana Holgorsen knows what Texas Tech and Oklahoma State look like, and wants WVU on that level.
6. TCU
: TCU will shoot up this list by this time next year for sure. The Horned Frogs are unveiling a new $164 million upgrade to Amon G. Carter Stadium, along with a brand-new locker room that will both be ready by season's end. For now, though, the Frogs' facilities are in the middle of the Big 12 road.
7. Kansas State:
Kansas State is upgrading the concourse and press box of Bill Snyder Family Stadium, but its biggest need is a place to hold visiting media postgame conferences.
8. Baylor:
The biggest thing holding Baylor back is its stadium, which is old and off campus with an outdated concourse. The Bears' on-campus practice facilities, weight rooms and offices are nice, but
the new on-campus, riverside stadium
that's scheduled to open before the 2014 or 2015 season is a palace and would shoot Baylor up this list.
9. Iowa State:
Iowa State just debuted a new JumboTron before last season, which was a great upgrade. The team is getting a new football facility as well, replacing the Jacobson Building.
10. Kansas:
Want a good way to say -- intended or not -- that "We don't care enough about football?" Put a track around your football field. Kansas' facilities are nice, and like I said above, it's not all that far behind No. 4 Texas Tech, but the stadium is holding KU back.
June, 1, 2012
6/01/12
11:30
AM ET
The Big 12's second day of spring meetings came and went on Thursday in Kansas City, Mo., with no real news after the conference reaffirmed its commitment to 10 members on Wednesday.
Until the new configuration of the BCS is settled (i.e., what form will a four-team playoff take?), the Big 12 won't be taking much action, if any. Outgoing commissioner Chuck Neinas confirmed at least that much. Neinas also said he might stay on through July to relieve new commissioner Bob Bowlsby, who has other obligations on the United States Olympics Committee's board of directors. Bowlsby would still come aboard June 15, but there would be a period of overlapping commissioners.
"It was great to see Bob and Chuck together today at the head table, talking about things," Oklahoma State president Burns Hargis
told reporters Thursday
. "I think the transition will be smooth."
The league's presidents were in attendance Thursday and reaffirmed the athletic directors' stance on expansion.
[+] Enlarge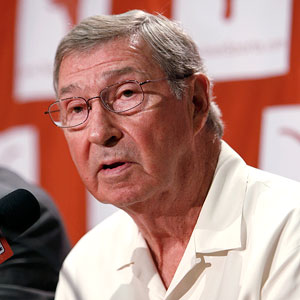 Erich Schlegel/Getty ImagesTexas athletic director DeLoss Dodds lit into the SEC and Big East during the Big 12 meetings.
"We're all very satisfied with 10 teams," Hargis said. "We're not shutting the door to any opportunity that might arrive. We're not in the market, we're not receiving applications. Our expansion committee is inactive."
To my knowledge, that's the first public confirmation that the expansion committee is indeed inactive. Interesting stuff. If Notre Dame becomes a possibility, it's clear the Big 12 would listen, and I'd assume that Florida State would engender a similar reaction, to a lesser extent. For now, though, the Big 12 maintains it's sitting at 10, even if no one (yours truly included) really believes it.
With Florida State officials expressing conflicting messages about the school's future conference affiliation, and the future of the Big East very much in flux, how could you?
A few other quick notes:
Texas AD DeLoss Dodds came out firing on Thursday, tossing barbs just about everyone's way. The SEC has Texas in its footprint? "They have a sliver of the east side," he told reporters. On the Big East? "I don't know if they qualify as a BCS [conference]. They've lost a lot of strength."

Neinas, on the league extending its six-year grant of media rights agreement, which is in progress, but not a done deal? "I don't believe the membership feels it's a gun-at-the-head arrangement. It's just a step forward moving together."

The league membership also didn't sound very fired up about re-instituting a championship game in the new iteration of the BCS. Reports John Hoover of the Tulsa World: "We have come to really appreciate the position we're in right now by not having a championship game," said Iowa State's Jamie Pollard, chairman of the Big 12 athletic directors. Said Dodds: "If this all happens the way we're visualizing today, I think there are some football coaches out there that will say, 'Well, what are we doing? We're 12-0, we've got to go into play a team that's 9-3, we've got a shot at getting beat.' Or, 'We win the game, it's a struggle, we get two kids hurt' -- I mean, those kinds of things are gonna be the reality of it."
Dodds might not have been making many friends Thursday, but he did make some among the league's coaches with that comment for sure.
Friday is the final day of meetings, but it's been a quiet week compared to the past two years at Big 12 spring meetings. For now, it's mostly just been the league's members drawing battle lines on where they stand in relation to the playoff and expansion.
May, 31, 2012
5/31/12
9:00
AM ET
The Big 12's spring meetings kicked off with the league's athletic directors meeting in Kansas City on Wednesday, and made it clear beforehand that expansion would be only informally discussed.
Still, the questions had to be asked, and they were answered. For now, the league is happy with 10 members, echoing its stance for the past few weeks.
Will anyone believe them? (Does it matter?)
"We could expand to some number. You name the number -- 12, 14, 16," Texas AD DeLoss Dodds
told CBSSports.com
. "We could expand, but the question is, do we need to expand?"
Big 12 commissioner Chuck Neinas, in fact, made it simple.
"The Big 12
,
athletic directors reaffirmed their commitment to 10 members," he said.
For now, anyway. Florida State is still only flirting, but if the Seminoles make up their mind, the safe bet is that stance will change very quickly.
Until then ... here we are.
Playoffs were a hot topic, but the league's athletic directors reiterated what we essentially already knew: The Big 12
is in favor of a four-team playoff
.
"We're in favor of taking the four highest-ranked teams," said Neinas, who has begun to transfer power to new Big 12 commissioner Bob Bowlsby. "We think it should be some type of selection committee operation, and how you rate a conference champion, strength of schedule must be included."
I love the selection committee idea personally, an idea reiterated by chairman of the league's athletic directors, Iowa State's Jamie Pollard.
The BCS has its flaws. That's obvious. The biggest flaw in piecing together a selection committee? How do you do it? How do you find panel members without bias? Is that possible? Do you copycat the NCAA's formula for the basketball tournament?
All difficult questions with answers to come.
"There needs to be a human element to kind of handle the unknowns. You can't always say computers get it right or opinion polls will get it perfect," Oklahoma athletic director Joe Castiglione said. "You still need someone with good, rational thinking to deal with unforeseen circumstances that may come up.
"Who knows what form that takes, but some form of human element that gets college football to the point of determining the best teams."
Chalk me up on board with that.
May, 29, 2012
5/29/12
11:00
AM ET
The rumors are swirling again, but the Big 12 isn't in danger. The Big 12 is putting other leagues in serious danger. Namely, the ACC.

Florida State and Clemson have had administrators openly question those schools' future ACC membership, with the Seminoles openly wondering if the Big 12 might be the best new home for the war chant.
Big 12 commissioner Chuck Neinas will only hold that title for a little more than two weeks before Stanford AD Bob Bowlsby takes over on June 15, but on the way out, Neinas is not exactly waving the flag for making a bigger Big 12.
"People have to understand that bigger is not necessarily better," Neinas
told the Dallas Morning News
. "What we are trying to do, in view of what has transpired in the past, is to build unity. We have two new members. Let the membership be comfortable with each other before they ever consider going forward."
Neinas served as commissioner of the old Big Eight, and saw how the merger with the Southwest Conference splintered the new Big 12. Those old wounds were a major factor in Nebraska's exit to the Big Ten from the Big 12 in 2010.
The new configuration that allows for round-robin play in football and double round-robin in basketball has only been played for one season, and two of those members -- Texas A&M and Missouri -- are gone.
Neinas doesn't sound fired up to raid the ACC after playing the new format just once with new members West Virginia and TCU.
"We've taken care of the contentious issues. We have a very workable solution. Let's build on that, then down the road maybe think of expansion. But to automatically run off and say, they're going to go to 12 or 14 or whatever -- that does not take into account where this conference was, where we've come from, and where we need to go," Neinas said.
Fascinating stuff, and probably the strongest anti-expansion comments we've heard from anyone in the Big 12 other than Texas' DeLoss Dodds, a strong proponent of keeping the Big 12 at 10 teams.
For now, I generally believe the Big 12 will expand at some point. Florida State is a slam dunk in every possible measurement save geography, and with the Big East crumbling, giving Notre Dame a home for everything but football would be lucrative, too.
When, and how many -- 11, 12 or 14? -- is a big question, but Neinas is certainly bringing the "Will the Big 12 expand?" question a lot of attention.
Will that change when Bowlsby takes the reins?
May, 24, 2012
5/24/12
2:00
PM ET
Earlier today, we looked at the pay for athletic directors around the league, but what about the men up top?
USA Today
researched and released the pay for each conference commissioner
, and former Big 12 commissioner Dan Beebe earned $1.7 million in 2010 after receiving a 70 percent raise.
He was relieved of his duties in fall 2011.
Here's how he ranked among his peers:
Larry Scott, Pac-12: $1.9 million
Jim Delany, Big Ten: $1.8 million
Beebe: $1.7 million
John Swofford, ACC: $1.5 million
Mike Slive, SEC: $1 million
John Marinatto, Big East: $600,000
The Big 12 has since moved on from Beebe, and no salary information was available for interim commissioner Chuck Neinas.
In USA Today's survey of athletic director salaries, new commissioner Bob Bowlsby's salary was unavailable, because Stanford is a private institution.
Either way, I'd expect the first-time commissioner to easily clear a seven-digit salary in his new gig.
For reference, Texas AD DeLoss Dodds made just under 1.1 million last year. Not exactly helping that whole "Texas runs the Big 12" perception if he makes more than the Big 12 commish, no?
May, 17, 2012
5/17/12
4:30
PM ET
Big 12 commissioner Bob Bowlsby refused to address Florida State by name this week when asked about expansion, but made it clear the issue would remain on the Big 12's agenda, like every conference.
ACC commissioner John Swofford took a similar approach when asked about the possibility of Florida State leaving for the Big 12.
"I don't deal in hypotheticals, I deal with what's tangible. It's what we're doing as a league with the current 12-, soon to be 14-membership league, and we're moving ahead on the basis of that full membership."
Florida State coach Jimbo Fisher said over the weekend that Florida State should do what's best for Florida State, but at the ACC spring meetings this week, altered his stance.
"We're in the ACC and that's where we're at. I'm not a decision-maker," he said.
Where does it stand for now?
"Florida State's been an excellent member of the ACC," Swofford said during a media briefing Wednesday. "We're looking now at a league that is currently 12, soon to be 14 in nine contiguous states that covers the entire Eastern seaboard that has just extraordinary potential. We've got 14 valuable members and Florida State is certainly one of them.
"It has been, and I would anticipate that it will continue to be, a very beneficial relationship to both parties, which is what it should be."
For more on this story,
go here.
May, 16, 2012
5/16/12
10:30
AM ET
New Big 12 commissioner Bob Bowlsby doesn't want to see any future expansion in college athletics, but recent events have given him no choice but to put the issue on the Big 12's agenda, as it is on other conferences'.

My opinion," he
told USA Today on Tuesday
, "is college athletics would be well served by some period of smooth water and not all of the angst and disorganization that goes with moves from one league to another."
We've heard that from the Big 12. Florida State is forcing Bowlsby's hand, though he wouldn't mention the school by name.
"I think the topic of expansion will be on every agenda going forward. But it's on every other conference's agenda going forward, too," Bowlsby told the paper.
Over the weekend, Florida State's chairman of its board of trustees opened up a big ol' can of realignment worms, however, when he offered credence to a long-held rumor rumbling around college sports. Could Florida State leave for the Big 12?
"On behalf of the Board of Trustees I can say that unanimously we would be in favor of seeing what the Big 12 might have to offer. We have to do what is in Florida State's best interest," Andy Haggard told Warchant.com.
So, here we are. After two years of attrition and a role as the hunted, the Big 12 is doing some hunting of its own? Or is it? The league just added TCU and West Virginia for 2012 after Texas A&M and Missouri bolted for the SEC, leaving the Big 12 with eight members. That move was a year after Nebraska and Colorado left the Big 12 for the Big Ten and Pac-12, respectively, costing the conference its namesake. Could Florida State move the Big 12 one step closer to a return to 12 members?
Texas athletic director DeLoss Dodds tamped down some of the discussion, telling the Austin American-Statesman that there was "no traction" to the reports.
He did not add a "yet" on the end of that sentence, but more than a few assumed that was the case. How could the Big 12 and Florida State at least not sit down at a table for an exchange of ideas?
Where does the Big 12 stand right now? Bowlsby's not showing his hand.
"It's all about driving value for the member institutions," Bowlsby said. "There is a case to be made for optimal value being driven by the status quo, and there is a case to be made for some form of expansion. And I'm not prejudging or adopting either side of that right now."
He is, however, discussing it. And while that happens, there won't be many calm waters in college football.
May, 9, 2012
5/09/12
2:00
PM ET
Another spring has come and gone in the Big 12. In this league, it's a long one. Texas Tech kicked things off on February 17, just two weeks after signing day.

Kansas and Kansas State didn't wrap it up until spring games on April 28.
Through it all, we learned a lot. Here's a taste.
Texas is inching much closer to contention:
The offense? Well, it's still a work in progress, though
David Ash
showed some solid progression during the spring. But the defense? It's leading the way for the Longhorns' road back from the 5-7 implosion in 2010.
Quandre Diggs
and
Carrington Byndom
might just be the two best cornerbacks in the Big 12, and
Alex Okafor
and
Jackson Jeffcoat
are probably the two best defensive ends. Great coverage and a great pass-rush? Sounds like a good start to slowing down Big 12 offenses. Add in junior college man-child Brandon Moore, and solid linebacker play with
Jordan Hicks
,
Demarco Cobbs
and
Steve Edmond
, and the Longhorns have a unit that can help them get back into title contention.
Only one team doesn't know who its quarterback will be:
Baylor hardly had a competition to replace RG3. Kansas replaced
Jordan Webb
with transfer
Dayne Crist
. Oklahoma State pulled the trigger on a youngster. Texas hasn't officially named him, but Ash has all but sewn up the job in Austin. That leaves Iowa State, which has sophomore
Jared Barnett
and senior
Steele Jantz
competing for the job for a second consecutive fall. Anything could happen there.
Mike Gundy has guts:
Oklahoma State said goodbye to a mature, big-armed passer in Brandon Weeden, who won 23 games in two seasons. However, the reigning Big 12 champion again will have a big arm at quarterback. Gundy made the league's gutsiest move this spring, handing the reins to 18-year-old Wes Lunt from Illinois. He's one of just six players in the Big 12 from Illinois, and he's a decade younger than Weeden. Robert Griffin III was the league's last true freshman to start a majority of games, but Lunt might be the first to win the job in the spring.
There's a new sherriff in town:
The Big 12 knew Chuck Neinas was a quick fix at the commissioner spot, but the league made a quick move in pegging Stanford AD Bob Bowlsby as the new commissioner to replace Dan Beebe, who was fired in September. The Big 12 is likely to cash in on a nice TV deal shortly after Bowlsby takes over, but he'll have to help reconnect a league that must work through some possibly divisive issues like expansion in the near future. He'll also need to manage the relationship between Texas, who he referred to as an "800-pound gorilla," and the rest of its Big 12 brethren. The relationship sounds good now, but over time, issues could arise.
Charlie Weis is making sure KU looks nothing like its 2011 team:
Kansas has undergone the biggest change of any team in the Big 12 this offseason. New coach Weis saw a lot of problems at KU, and went about fixing them quickly. He welcomed six Division I transfers, including three from Notre Dame, which included his new quarterback, Crist. He also saw gaping holes along the defensive line and tried to fill them with junior college players and high schoolers who will be challenging for playing time in the fall. Kansas will look a lot different, but will it be better?
May, 5, 2012
5/05/12
10:00
AM ET
Bob Bowlsby read the same news that everyone else read. He heard the same gossip in collegiate athletic circles that everyone else heard. The Big 12 is a dysfunctional family. The rest of the league serves at the pleasure of Texas and Oklahoma. Bowlsby knew that Texas A&M and Missouri fled to the Southeastern Conference for, what was the word? Security.
"I, like many people, had a vision of this conference as unstable," Bowlsby said Friday in Irving, Texas, where the Big 12 introduced the Stanford athletic director as its new commissioner. "... I was very quickly put at ease relative to the stability of the group and the ongoing commitment to one another."
The presidents of the Big 12 schools made a believer out of Bowlsby. So now we see if he can make a league out of the Big 12.
Click here
for the rest of Ivan Maisel's story.
May, 4, 2012
5/04/12
2:32
PM ET
IRVING, Texas -- The Big 12 introduced Bob Bowlsby as its commissioner on Friday. You can expect plenty more coverage from ESPN.com, including a column from Ivan Maisel on what convinced Bowlsby to leave a comfortable job at Stanford to take over a league that many believe is in turmoil.
"I wouldn't have been interested in (the Big 12 commissioner job) if I had arrived at the interview and found that there was fragmentation. I'm not much interested in having my horse shot out from under me," Bowlsby said. "I came in with some reservations, and those reservations were quickly put to rest. We had some very frank conversations about what the challenges were with the league, and what the opportunities are with the league. I came away feeling very good about it. Not knowing whether or not I was going to get an offer, but feeling very good about it."
As the new face of the Big 12, though, where does he stand on the issues facing the league? Here's a quick rundown.
[+] Enlarge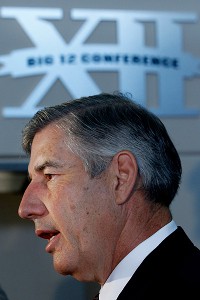 AP Photo/LM OteroNew commissioner Bob Bowlsby said Friday that he won't be a puppet for the University of Texas.
On possible future Big 12 expansion:
"Expansion will be an ongoing consideration for us. I haven't had the opportunity to talk with all of the presidents about this issue, and I haven't had the opportunity to talk to all but a couple of the athletic directors. I certainly am not going to presume a direction that we will go. I think, though, as you consider expansion, it has to be expansion that has, as its roots, the enhancement of the league. There's nothing magic about 11, 12 or 10."
Later, he added that there is no consensus among the members about a number, but there are a lot of variables to consider.
On a playoff in college football:
I think we're going to end up with some form of playoff. Whether it's inside the bowls or outside is yet to be determined. There's certainly arguments to be made for both. If I would have had to bet on it or guess at it a year ago, I'd have said the plus-one model had the best chance, but I think the commissioners group and the BCS leadership has really gravitated toward a position that has four or five legitimate options, and I think time will tell which will be selected, but I think one of them will be.
On the idea that the Big 12 commissioner is a puppet for the University of Texas:
"I guess I would just suggest that you do a little homework on me. I haven't been very good at being a puppet over the years."
On issues revolving around Texas that affected conference unity:
"I think it's in the past. ... I have found them to be very thoughtful and very team-oriented in terms of how they view the issues. I asked some probing questions along those lines, because the University of Texas is always going to be an 800-pound gorilla in college athletics, and that isn't going to change. But I have been very impressed at the extent of which the folks at the University of Texas are committed to the conference, and committed to the best outcomes -- not only for them, but for the other nine members.
On extending the league's grant of rights:
"The longer we go, presumably the more stable we are."
On equal revenue sharing:
I think the Big 12 can do anything the Big 12 wants to do. I think they're terrific universities and great sports programs, and I think the world is our oyster. The landscape is changing quickly, and we're going to need to change with it, but I'm very excited about the group that we're going to go to battle with. I think we can compete with any conference out there. I think we can compete on the playing surfaces, and we can compete in the marketplace as well.
He later added: "Great competition every Saturday is the best thing you can have. One of the ways you do that is by making sure the rich don't get richer and the poor don't get poorer. I think it's really important to have something resembling equal revenue sharing. It isn't just about the money that makes you competitive, but it is in part about available resources that institutions can use. The best situation you can have is an all-out war on the football field every Saturday or every Saturday on the basketball floor."
On the Longhorn Network:
"I think everybody wishes that they had the Longhorn Network available to them, and not everybody can do that, although there are several in the league that have their own models of third-tier rights utilization. It's a challenge going forward, but I think the presidents have given a lot of thought to how it fits together, and I was satisfied with what I heard from them along those lines.
On having a geographical outlier in West Virginia:
Because of that, we do need to think about how to (make them welcome). It isn't a situation where they're going to have a natural rival in the state next door. their Backyard Brawl with Pittsburgh is natural geographically, but it isn't evident that there's the same geographic vicinity with the Big 12 teams. Having said that, I think it's all about high-quality competition. Football and basketball teams are playing all over the country, so it isn't a particular logistical challenge there, but for some of the non-revenue Olympic sports, it's going to be a challenge. We're going to have to think innovatively about how we don't disadvantage a team that's from some distance away.
May, 3, 2012
5/03/12
6:47
AM ET
The Big 12 is closing in on its permanent replacement for former commissioner Dan Beebe.
The conference has offered its commissioner's job to Stanford athletic director Bob Bowlsby,
multiple conference and industry sources told ESPN.com
Wednesday night. Bowlsby is expected to accept the offer, sources said.
Bowlsby was in Phoenix the past few days as the Big 12 and Pac 12 meetings overlapped. Bowlsby has a strong relationship with Pac 12 commissioner Larry Scott. Bowlsby was on the search committee that discovered Scott, with the aid of search firm executive Jed Hughes who has handled both searches for the Big 12 and Pac 12 commissioner's jobs. Hughes was at a different firm for the Pac 12 search firm than he is for the Big 12 search.

Bowlsby has been highly respected by his Pac 12 colleagues, and sources said he had a strong endorsement from Scott.
The Big 12 fired Dan Beebe as its commissioner last fall and replaced him with temporary replacement Chuck Neinas. He helped guide the Big 12 through the loss of Missouri and Texas A&M, as well as inviting TCU and West Virginia to join and give the league 10 members.
Bowlsby was Iowa's athletic director from 1991-2006 before taking over at Stanford.
For more on the story from Andy Katz,
go here
.
Texas' Strong Discusses Aggressive Offense, Defense
BIG 12 SCOREBOARD
Saturday, 8/30
Sunday, 8/31