Texas Longhorns:

Bill Powers
October, 1, 2013
Oct 1
8:15
PM ET
AUSTIN, Texas -- In the half hour that DeLoss Dodds and Texas president Bill Powers spent talking about the Longhorns athletic director's achievements and impending departure, one substantial chunk of his legacy was hardly mentioned.
[+] Enlarge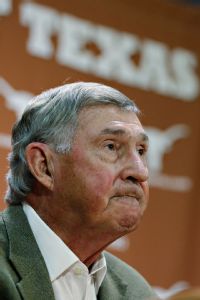 AP Photo/Eric GayIn 32 years of service, outgoing Texas athletic director DeLoss Dodds has turned the Longhorns brand into a money maker.
They talked about the championships, the student-athletes, the staffers, the ambitions and plenty about the future during today's press conference.
What they did not talk much about was all the money.
Sure, it's understandable. Dodds and Powers didn't need to spend any time bragging, not when this day was meant to celebrate all that Dodds has meant to the Texas athletic department.
You can't say, though, that a price can't be put on his legacy. The man built a financial empire at Texas, one that will support athletics at Texas long after he's gone.
Dodds has been on the job 32 years. When he took over in the fall of 1981, he said Texas' athletics budget was $4 million. Today, he says, it's closer to $170 million.
The 76-year-old will help advise Texas during the nationwide search for his successor. It's a safe bet that he'll be looking for someone with the kind of business savvy he's brought to the position when eyeing the candidates to inherit his throne.
"There are a lot of people that can do the job," Dodds said. "President Powers will find the right person to do the job. I'll be on that person's team."
Dodds spurred more than $400 million in facility upgrades and has made Darrell K Royal-Texas Memorial Stadium the nation's sixth-largest at a capacity of more than 100,000. He took over at a time when each UT program fundraised itself and created The Longhorn Foundation, which has 13,000 donors and has raised more than $400 million for athletic programs.
The brand he's helped build keeps growing. Dodds struck the $300 million deal to create the Longhorn Network. For eight straight years, Texas has been the nation's No. 1 college merchandising brand according to the Collegiate Licensing Company.
That's just scratching the surface of what he's built in three decades. Dodds was honored to learn that his friend
Donnie Duncan
was in attendance on Tuesday. The ex-Oklahoma athletic director regaled reporters with stories of all the work and meetings he and Dodds put in to create the Big 12 Conference.
"There is not another DeLoss Dodds out there who will fit Texas the way DeLoss does, but he's been here 32 years," Duncan said. "You can't expect that. But someone will bring certain strengths. Someone will hit the right chord and someone will come here and do a great job."
Few will be able to match his wit when it comes to negotiations, Duncan said. Dodds would sit quietly and fill legal pads with notes at times, but when it came time for business he was an astute fighter for the University of Texas. He wasn't afraid to speak unpleasant truths and get exactly what he desired.
"The amazing thing to me is I would sit there and listen to him negotiate some of these contracts," said David McWilliams, Texas' former football coach. "And I would think, 'Oh, he's smarter than they are. They're going to get their britches took off by him.' He always had his information."
But this wasn't about selfish victories. Dodds and those who worked with him say his end goal in all matters was putting money back into the Longhorns programs and benefitting his student-athletes.
"When he speaks, everybody listens," former Texas women's basketball coach and women's AD Jody Conradt said. "I think that's definitely true of DeLoss. It's his calmness, his ability to think through issues and, when he speaks, you know you're going to get wise counsel. He brought that same quality to intercollegiate athletics."
There's no replacing a power broker like Dodds, but the fact he'll have a strong say in his successor suggests the next Texas athletic director will be someone who commands his respect.
And that's a powerful thing. Powers lauded the fact that Dodds has built trust with so many commissioners, athletic directors and coaches. He dedicated more than 30 years to building that cachet.
Good luck finding an athletic director who can match it. That's the task Texas now faces, and its leaders are confident that even though there's no replacing Dodds, the next AD is stepping into a remarkably fortunate situation.
"What you do is build on the foundation that they've made. You extend things. You don't replace them," Powers said. "The good news for the person coming in is they are inheriting a wonderful edifice that DeLoss has built over the last three decades. That actually will be a blessing for the new person coming in.
"I have no doubt that this will be a very highly sought-after job, and that we will get a great men's athletic director."
September, 30, 2013
Sep 30
10:04
PM ET
DeLoss Dodds is stepping down as athletic director of Texas
. The effects of that decision on the future of the Longhorns athletic department will be far-reaching.
Dodds will formally announce Tuesday his plan to leave the job he has held for 32 years and step down as AD at the end of August, 2014. The search for his replacement is already underway and could end as early as Dec. 1.
[+] Enlarge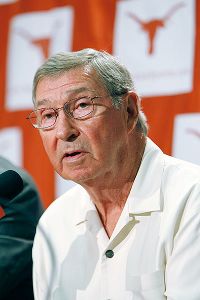 Erich Schlegel/Getty ImagesDeLoss Dodds will step down as Texas AD in 2014, sources confirmed.
Whoever is tapped to replace the Texas legend inherits one of the most powerful thrones in college athletics, and could face one of the most important transition periods in school history. We'll get into that in a moment, though it's a topic we'll be talking about throughout the next year.
Dodds is a powerful man with a legacy to match. He made the Longhorns the financial behemoth it has become today and oversaw one of the greatest periods of athletic success in school history. Whoever is deemed fit to take his place has Texas-sized shoes to fill.
By setting these plans in motion nearly a year in advance, he's providing UT more than enough time to make a smooth transition. That Dodds will stick around as a consultant should help, too. This is a major move and one that must be handled carefully.
Just imagine the résumés that will wind up on UT President Bill Powers' desk during the search process. He'll eventually pick from an elite group of candidates, and there's no doubt he'll be seeking a leader with the kind of big-picture thinking, sharp judgment and business savvy that Dodds displayed during his long tenure.
In its report breaking Monday's news, the Austin American-Statesman said West Virginia athletic director Oliver Luck is one candidate to keep an eye on. Notre Dame AD Jack Swarbrick's name has come up plenty in recent weeks, and more major players will in the next few weeks.
The successor could face a critical dilemma whenever he or she is finally chosen. What will be done about the coaches of three of Texas' most important programs?
Mack Brown knows he has to win and win big this year, and a 2-2 start didn't make life any easier. The Texas football coach has long said he has a tremendous relationship with Dodds and Powers, who have backed him throughout a trying month for Longhorn football.
"I've got the two best bosses in the world," Brown said days after Texas' loss to BYU. "They get it. They understand. I have great conversations with them. They put me in a position to run it, they want me to do it, and I'm responsible for it. That's what I've got to do. DeLoss has been around a long time. I don't have knee-jerk bosses. They get it."
Well, one of those bosses is now leaving. Who knows how much success in 2013 will be enough to impress the next boss, or whether Brown's sub-.600 record since 2009 will simply be too much to overcome.
Will the next AD be prepared to clean house? He or she could face similar big-picture decisions with Longhorns men's basketball and baseball.
The legendary Augie Garrido hasn't taken UT to a College World Series in two years and didn't make the Big 12 tournament in 2013. Rick Barnes hasn't advanced past the second round of the NCAA tournament since 2008 and didn't make the field last season.
These are worst-case scenarios, to be sure, but not unrealistic ones. The candidates for Texas' athletic director job will be well aware of these potential first-year decisions.
There are many other reasons why Texas must find the right person for the job. The truth is, there's really no replacing Dodds. This day had to come eventually, though, and evidently the countdown to that day begins Tuesday.
August, 28, 2012
8/28/12
10:30
PM ET
AUSTIN, Texas -- After two football seasons marred by the storm clouds of conference realignment, the Big 12 is back on solid ground.

That's the message Big 12 commissioner Bob Bowlsby and University of Texas president Bill Powers tried to send on Tuesday, when they met with local reporters during Bowlsby's tour of his new conference.

"We have been through some changes in the conference, but I can say unequivocally I have never, in my six and a half years here, seen the conference in as strong a position as it is now," Powers said.

Bowlsby's stop in Austin was his sixth on this tour. The response he's received from presidents, athletic directors and coaches around the league has been one of common optimism.

"It's been really kind of striking," Bowlsby said. "I know that there's got to be some scar tissue, but it's not palpable on the campuses. Maybe it's the time of year, to be honest. This tends to be a very hopeful period of time."

Of course, Bowlsby had to chuckle when a reporter congratulated him for not losing any Big 12 members in the first three months of his tenure. His job has only just begun.

The topic of conference realignment did arise on Tuesday, as did a handful of other pressing issues. A recap of what we learned:


Myriad of Things to be Resolved Before Any Announcement