Texas Longhorns:

Bill Powers
December, 18, 2013
12/18/13
7:21
PM ET
AUSTIN, Texas -- For new athletic director Steve Patterson, the first step in starting Texas' head coaching search was seeking the help of the people who were smart enough to hire him.
Texas announced Tuesday that Patterson is bringing an eight-person advisory committee and the Korn/Ferry executive recruiting firm into the mix to find the Longhorns' successor to Mack Brown.
[+] Enlarge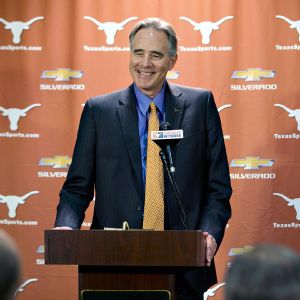 AP Photo/Deborah CannonNew Texas athletic director Steve Patterson will have an eight-person panel helping him search for the Longhorns' next football coach.
That advisory committee is made up of the eight people who helped convince UT president Bill Powers to hire Patterson in November. Included in the group are the following:
Michael Clements, an accounting professor at the McCombs School of Business at UT Austin

Steve Hicks, vice chair of the UT System Board of Regents and owner and executive chairman of the private investment firm Capstar Partners LLC.

Ricardo Hinojosa, a U.S. federal judge for the Southern District of Texas

Charles Matthews, the former VP and general counsel of Exxon Mobil as well as the president of the Texas Exes

Robert Rowling, a former member of the Board of Regents and chairman of TRT Holdings Inc.

Robert Stillwell, a member of the Board of Regents, retired partner at Baker Botts LLP and original director of Mesa Petroleum Co.

Charles Tate, the chairman of Capital Royalty

Pamela Willeford, the former chair of the Texas Higher Education Coordinating Board and a former U.S. ambassador to Switzerland and Liechtenstein
These eight advisors were brought on Oct. 14 as Powers' committee to hire a new athletic director. The presumed longtime frontrunner, West Virginia's Oliver Luck, got an interview. So did Patterson, who blew the committee away and was the surprise hire.
Why does this matter? Patterson knew what he was signing up for when he accepted the job. He and all other candidates had to realize making a decision on Mack Brown and finding his replacement might be required this winter.
The eight-member committee trusted Patterson was the right guy to make the call and handle that situation, and he'll have to do so early in his tenure. Patterson's first day at Texas was Nov. 25, but he's no stranger to hiring coaches as a longtime sports executive.
Now he and Powers will have eight people they trust in their corner as they work to find Texas' first new head coach in more than 16 years.
Don't expect Patterson go public with much during this process from here on out, though. He acknowledged Sunday that deals like this one require a high priority on privacy and a bunker mentality.
"
I think that's the only successful way to have a search process," Patterson said. "I'm not going to be sitting in front of you guys everyday talking about who I had a phone call with.
"At the end of the day, there's been a lot of malarkey in the press over the last couple of weeks. I think Bill and I have had lunch with about a dozen coaches or something, it's been reported one time or another. We haven't talked to anybody or had anything go on. I think you have to have the ability to have a private conversation and come out of it with the best coach you can get. That's the only way you're going to get there."
Powers will give his input throughout, but he made it clear this is going to be Patterson's hire. He know now he'll have plenty of help, but now the pressure is on him.
December, 17, 2013
12/17/13
1:00
PM ET
AUSTIN, Texas -- Your average resignation news conference involving a legendary coach is typically filled with thank-yous, fond recollections and excessive sentimentality. Mack Brown's had that.
Your average resignation news conference doesn't include a school president having to answer whether regents forced out the head coach. The average ones don't involve asking who's actually hiring the next coach and whether that coach can reunify the fan base.
[+] Enlarge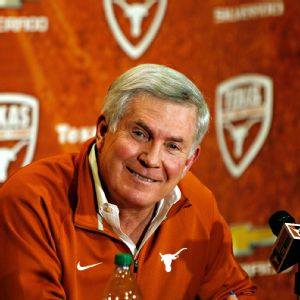 Erich Schlegel/Getty ImagesMack Brown spoke of the many great things about being the Texas coach, but also hinted at some of the problems the next coach will face.
Mack Brown's had that, too. Makes you wonder if that next coach was watching on TV. If so, he should have a better sense of the potential dysfunction that awaits whoever takes over Texas' football program.
Texas is arguably the No. 1 college football job in the country. National brand, unparalleled resources, talent-rich recruiting base, gorgeous campus and city, and oh, by the way, a generous paycheck. It's all there, a dream job in so many ways.
President Bill Powers and athletic director Steve Patterson won't need to accept applications and résumés for this opening. They'll go after the very best of the best in the coaching profession. They won't have a hard time getting someone to take the gig.
But whoever does should know what he's walking into. Brown hinted at this throughout the weekend.
When he put out a statement Saturday night declaring that his run was over, Brown alluded to the Texas program being "pulled in different directions" and that change was necessary.
A day later, he opened his news conference by referring back to a conversation he had with the late Darrell Royal when Brown took the job in the winter of 1997.
"There is such a diverse group that follows this football team that you have to pull them all together, and that is very difficult to do," Brown said. "He said when you get them all together, it's wonderful and it's a powerful place. But when it is not, it is very divided and it is a very difficult place to manage.
"So he said it's like a box of BBs and the BBs are dropped all over the room. What you got to do is get all the BBs back in the box. And we were able to do that. We were able to do that for a long time, until 2010. And then, as of late, the BBs have gotten back out of the box."
The BBs aren't just the fans and season ticket-holders. They're also the big-money donors and boosters, members of the UT System Board of Regents, the people who make up Texas' athletic department and anyone else supporting the cause of Longhorn football.
And they all have a say. They have immense influence. That's why Powers was asked whether the regents drove Brown out, which he denies. That's why he had to declare Patterson is in charge of this hire.
Think Nick Saban faces "special pressures" as the owner and operator of the Alabama dynasty? They're probably nothing like this. Did I mention that the regents could've voted Powers out last week, or that a current and former regent tried to make a run at landing Saban in January?
In Brown's final four years at Texas, he lost 20 games and the faith and support of a strong faction of the fan base. The swirling negativity and vitriol wore on him, his coaches and his players, and was exacerbated with each loss, especially in 2013.
The atmosphere of home games noticeably worsened, to the point that the Longhorns typically played better on the road in recent years.
That's why "energy" and "culture change" are two of the biggest buzzwords associated with what's setting up to be a monumental hire for Texas. The new guy needs serious savvy, enthusiasm and a willingness to play politician when necessary.
And let's not forget, that's on top of the inherent pressure of replacing a coach who won 158 games in 16 seasons, of living and playing up to the standard Brown set during his tenure.
Texas is one of just eight programs in the country with a winning percentage above .750 in the past decade. Its next coach must lead the Longhorns back into the hunt for playoff berths and national championships as soon as possible.
If Royal were still around today, he'd likely offer the new guy the same advice he once gave Brown, after a long spiel about all the folks he'd need to impress at UT: "Oh, yeah: You need to win all the games."
First, Brown's successor will have to mend some fences. He'll need to unify a fractured base. Winning is usually the most effective antidote, but it'll take more than that.
The BBs don't get back in the box all by themselves.
October, 1, 2013
10/01/13
8:15
PM ET
AUSTIN, Texas -- In the half hour that DeLoss Dodds and Texas president Bill Powers spent talking about the Longhorns athletic director's achievements and impending departure, one substantial chunk of his legacy was hardly mentioned.
[+] Enlarge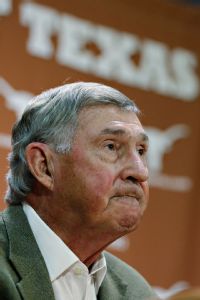 AP Photo/Eric GayIn 32 years of service, outgoing Texas athletic director DeLoss Dodds has turned the Longhorns brand into a money maker.
They talked about the championships, the student-athletes, the staffers, the ambitions and plenty about the future during today's press conference.
What they did not talk much about was all the money.
Sure, it's understandable. Dodds and Powers didn't need to spend any time bragging, not when this day was meant to celebrate all that Dodds has meant to the Texas athletic department.
You can't say, though, that a price can't be put on his legacy. The man built a financial empire at Texas, one that will support athletics at Texas long after he's gone.
Dodds has been on the job 32 years. When he took over in the fall of 1981, he said Texas' athletics budget was $4 million. Today, he says, it's closer to $170 million.
The 76-year-old will help advise Texas during the nationwide search for his successor. It's a safe bet that he'll be looking for someone with the kind of business savvy he's brought to the position when eyeing the candidates to inherit his throne.
"There are a lot of people that can do the job," Dodds said. "President Powers will find the right person to do the job. I'll be on that person's team."
Dodds spurred more than $400 million in facility upgrades and has made Darrell K Royal-Texas Memorial Stadium the nation's sixth-largest at a capacity of more than 100,000. He took over at a time when each UT program fundraised itself and created The Longhorn Foundation, which has 13,000 donors and has raised more than $400 million for athletic programs.
The brand he's helped build keeps growing. Dodds struck the $300 million deal to create the Longhorn Network. For eight straight years, Texas has been the nation's No. 1 college merchandising brand according to the Collegiate Licensing Company.
That's just scratching the surface of what he's built in three decades. Dodds was honored to learn that his friend
Donnie Duncan
was in attendance on Tuesday. The ex-Oklahoma athletic director regaled reporters with stories of all the work and meetings he and Dodds put in to create the Big 12 Conference.
"There is not another DeLoss Dodds out there who will fit Texas the way DeLoss does, but he's been here 32 years," Duncan said. "You can't expect that. But someone will bring certain strengths. Someone will hit the right chord and someone will come here and do a great job."
Few will be able to match his wit when it comes to negotiations, Duncan said. Dodds would sit quietly and fill legal pads with notes at times, but when it came time for business he was an astute fighter for the University of Texas. He wasn't afraid to speak unpleasant truths and get exactly what he desired.
"The amazing thing to me is I would sit there and listen to him negotiate some of these contracts," said David McWilliams, Texas' former football coach. "And I would think, 'Oh, he's smarter than they are. They're going to get their britches took off by him.' He always had his information."
But this wasn't about selfish victories. Dodds and those who worked with him say his end goal in all matters was putting money back into the Longhorns programs and benefitting his student-athletes.
"When he speaks, everybody listens," former Texas women's basketball coach and women's AD Jody Conradt said. "I think that's definitely true of DeLoss. It's his calmness, his ability to think through issues and, when he speaks, you know you're going to get wise counsel. He brought that same quality to intercollegiate athletics."
There's no replacing a power broker like Dodds, but the fact he'll have a strong say in his successor suggests the next Texas athletic director will be someone who commands his respect.
And that's a powerful thing. Powers lauded the fact that Dodds has built trust with so many commissioners, athletic directors and coaches. He dedicated more than 30 years to building that cachet.
Good luck finding an athletic director who can match it. That's the task Texas now faces, and its leaders are confident that even though there's no replacing Dodds, the next AD is stepping into a remarkably fortunate situation.
"What you do is build on the foundation that they've made. You extend things. You don't replace them," Powers said. "The good news for the person coming in is they are inheriting a wonderful edifice that DeLoss has built over the last three decades. That actually will be a blessing for the new person coming in.
"I have no doubt that this will be a very highly sought-after job, and that we will get a great men's athletic director."
September, 30, 2013
9/30/13
10:04
PM ET
DeLoss Dodds is stepping down as athletic director of Texas
. The effects of that decision on the future of the Longhorns athletic department will be far-reaching.
Dodds will formally announce Tuesday his plan to leave the job he has held for 32 years and step down as AD at the end of August, 2014. The search for his replacement is already underway and could end as early as Dec. 1.
[+] Enlarge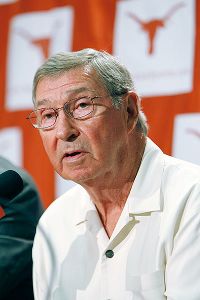 Erich Schlegel/Getty ImagesDeLoss Dodds will step down as Texas AD in 2014, sources confirmed.
Whoever is tapped to replace the Texas legend inherits one of the most powerful thrones in college athletics, and could face one of the most important transition periods in school history. We'll get into that in a moment, though it's a topic we'll be talking about throughout the next year.
Dodds is a powerful man with a legacy to match. He made the Longhorns the financial behemoth it has become today and oversaw one of the greatest periods of athletic success in school history. Whoever is deemed fit to take his place has Texas-sized shoes to fill.
By setting these plans in motion nearly a year in advance, he's providing UT more than enough time to make a smooth transition. That Dodds will stick around as a consultant should help, too. This is a major move and one that must be handled carefully.
Just imagine the résumés that will wind up on UT President Bill Powers' desk during the search process. He'll eventually pick from an elite group of candidates, and there's no doubt he'll be seeking a leader with the kind of big-picture thinking, sharp judgment and business savvy that Dodds displayed during his long tenure.
In its report breaking Monday's news, the Austin American-Statesman said West Virginia athletic director Oliver Luck is one candidate to keep an eye on. Notre Dame AD Jack Swarbrick's name has come up plenty in recent weeks, and more major players will in the next few weeks.
The successor could face a critical dilemma whenever he or she is finally chosen. What will be done about the coaches of three of Texas' most important programs?
Mack Brown knows he has to win and win big this year, and a 2-2 start didn't make life any easier. The Texas football coach has long said he has a tremendous relationship with Dodds and Powers, who have backed him throughout a trying month for Longhorn football.
"I've got the two best bosses in the world," Brown said days after Texas' loss to BYU. "They get it. They understand. I have great conversations with them. They put me in a position to run it, they want me to do it, and I'm responsible for it. That's what I've got to do. DeLoss has been around a long time. I don't have knee-jerk bosses. They get it."
Well, one of those bosses is now leaving. Who knows how much success in 2013 will be enough to impress the next boss, or whether Brown's sub-.600 record since 2009 will simply be too much to overcome.
Will the next AD be prepared to clean house? He or she could face similar big-picture decisions with Longhorns men's basketball and baseball.
The legendary Augie Garrido hasn't taken UT to a College World Series in two years and didn't make the Big 12 tournament in 2013. Rick Barnes hasn't advanced past the second round of the NCAA tournament since 2008 and didn't make the field last season.
These are worst-case scenarios, to be sure, but not unrealistic ones. The candidates for Texas' athletic director job will be well aware of these potential first-year decisions.
There are many other reasons why Texas must find the right person for the job. The truth is, there's really no replacing Dodds. This day had to come eventually, though, and evidently the countdown to that day begins Tuesday.
August, 28, 2012
8/28/12
10:30
PM ET
AUSTIN, Texas -- After two football seasons marred by the storm clouds of conference realignment, the Big 12 is back on solid ground.

That's the message Big 12 commissioner Bob Bowlsby and University of Texas president Bill Powers tried to send on Tuesday, when they met with local reporters during Bowlsby's tour of his new conference.

"We have been through some changes in the conference, but I can say unequivocally I have never, in my six and a half years here, seen the conference in as strong a position as it is now," Powers said.

Bowlsby's stop in Austin was his sixth on this tour. The response he's received from presidents, athletic directors and coaches around the league has been one of common optimism.

"It's been really kind of striking," Bowlsby said. "I know that there's got to be some scar tissue, but it's not palpable on the campuses. Maybe it's the time of year, to be honest. This tends to be a very hopeful period of time."

Of course, Bowlsby had to chuckle when a reporter congratulated him for not losing any Big 12 members in the first three months of his tenure. His job has only just begun.

The topic of conference realignment did arise on Tuesday, as did a handful of other pressing issues. A recap of what we learned:


Celebrating Black History Month With Texas HC Charlie Strong
BIG 12 SCOREBOARD
Thursday, 9/3
Friday, 9/4
Saturday, 9/5