Texas Longhorns:

Bennie Wylie
June, 24, 2013
6/24/13
8:00
AM ET
AUSTIN, Texas -- Two hours a day, four days a week, eight weeks. That's the Bennie Wylie summer conditioning program.
And that's all the Texas strength and conditioning head coach is permitted by NCAA rules to oversee, though the Longhorns are voluntarily putting in a lot more than 64 hours during this period.
He'll find players in the weight room putting in individual work on their Wednesday off day. He'll typically see 60 to 80 show up on Saturday for more.
"It's cool to know they have that much commitment to this place, the state, the university," Wylie said. "Our players are ready to get back to those winning years of 10-plus games. That's the standard."
HornsNation recently sat down with Wylie to discuss his summer expectations, the progress he's made entering his third year at Texas and much more.
[+] Enlarge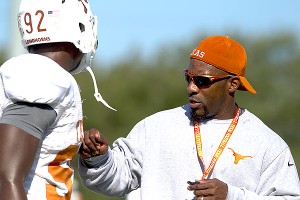 Courtesy University of Texas AthleticsBennie Wylie is entering his third year as Texas' strength and conditioning head coach.
HornsNation:
Coaches have to be hands-off during this summer period. Do you enjoy that a lot of responsibility falls on your staff to oversee the players and bond with them?
Bennie Wylie:
Oh yeah, that's the joy of this job. You really get to be the head coach for two months. Coach Mack Brown trusts us to take care of guys the best way we know how. We're the only coaches on the staff who understand the head coach's stresses and woes sometimes, because you do have all of them and feel an ultimate responsibility for them every minute of the summer. When things go good or bad, we feel responsible.
HN:
You're really close with the players, and you know exactly what the coaches want. You have to keep a foot in both camps, don't you?
Wylie:
You're kind of the uncle; that's what I call it. You're not the dad, you're the uncle. You have to tell them the right things, but it's a different relationship. They're cool with you, but they understand you will get them in line when need be.
HN:
You consider Jeff Madden a mentor. What have you learned from the assistant AD for strength and conditioning over these past few years? What has he taught you?
September, 11, 2012
9/11/12
12:00
PM ET
It was fitting that Bennie Wylie and Caeser Martinez were at Earl Campbell's side as he walked out to midfield for the coin flip Saturday. That's because the two Texas strength coaches have been there every step of the way for Campbell as he has learned to walk again.

"I really worked at it and Bennie even said, 'Man, you want that bad, don't you?' Because I was coming over here so much," said Campbell of his rehab.

There is still work to be done. Campbell, who started working out with Wylie in March, still cannot walk without the aid of a cane or a walker. He said somewhere between his brain and his legs the signal is being lost to put one foot in front of the other. He will soon be evaluated at Methodist Hospital in Houston to see what can be one to correct the problem.

For now, the 1977 Heisman Trophy winner is satisfied with the progress he has made.

"It is one step closer to living normal," he said. "What I want to do is be able to get around like you all do, stand without a walker and move around. So I am looking forward to it."
August, 13, 2012
8/13/12
8:00
AM ET
AUSTIN, Texas -- Bryan Harsin knows what he faces now -- a tougher schedule, bigger stadiums, louder crowds, better athletes, more expectations and plenty of pressure.
Maybe more importantly he knows with whom he faces it -- a coach that understands the pressures of being a quarterback at Texas (Major Applewhite), a coach that delegates and does not dictate (Mack Brown), a head coach who thinks wide receivers should block first, second and third, then think about pass patterns (Darrell Wyatt), and a throwback with more grunts than glad handing (Stacy Searels). And that is just on the offensive side of the ball.
In all, six members of Texas' staff are sophomores now. They have lived the life for a year. And, after being 8-5 together, they have lived to see another.
"Now we understand what we're doing," said Harsin, the co-offensive coordinator along with Applewhite. "We understand the details. We understand how each of us operates. And what the expectations of each positions are."
"Even at our coaches' retreat a couple of weeks ago, the guys were all on the same page and it went so much smoother," Brown said. "Last year they were talking about what are you doing in pregame warmups. They were talking about where we stay the night before the game.
"Now all of those things they know. We are so much further along than we were, and that leads to more excitement as we start the season as well."
That progress is not just owed to those position coaches. Included among those six is strength and conditioning coach Bennie Wylie. The backbone of the program, Wylie is the one who has pushed the players to stand tall, and at the same time, turned the head of Brown as to what expectations a cohesive staff can put on these players.
It's that work that has Brown talking about Texas being a tougher football team. And everybody knows a fist is much tougher to defend against than a slap. A fist is what Texas considers itself now that it has come together.
"Now we all know what is expected of everyone else," junior offensive guard
Mason Walters
said.
Texas Longhorns Show Out On Pro Day
BIG 12 SCOREBOARD
Thursday, 9/3
Friday, 9/4
Saturday, 9/5