Texas fan Randy Jackson talks about the breakup with Texas A&M.
HornsNation's Carter Strickland interviews longtime Longhorns fan Justin Murphy about the end of the Texas A&M rivalry
AUSTIN, Texas -- In a series where Texas is supposed to care the most, the Longhorns appear to be doing anything but.For the second straight game, No.
COLLEGE STATION, Texas -- Texas couldn't touch Texas A&M pitcher Michael Wacha.Then something happened."They changed pitchers," Longhorns coach Augie Garrido said.
Texas catcher Jacob Felts talks about playing the final series with Texas A&M.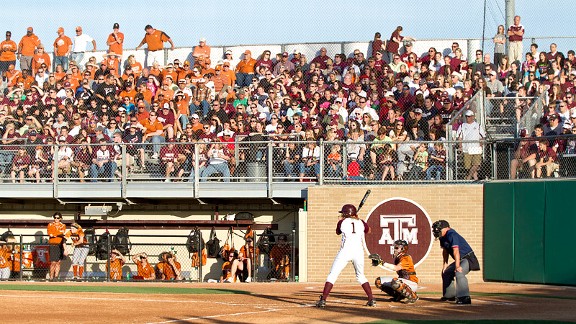 Graham Hays writes:The social institution that is the Texas-Texas A&M rivalry in the Lone Star State took longer to hit its stride in softball than it did in most sports, but it doesn't take Aggies and Longhorns much time to make any competition meaningful.