Texas Longhorns:

Alex King
February, 19, 2013
2/19/13
8:00
AM ET
AUSTIN, Texas -- Texas heavily invested itself in special teams in 2012.
The Longhorns, however, saw few returns.
It was 81st in kickoff return defense. It was 37th in kickoff return yards, despite having an Olympian and another player,
D.J. Monroe
, with top-end speed.
December, 31, 2012
12/31/12
12:00
PM ET
HornsNation wraps up its rankings of Texas' players for the season:
1. Alex Okafor:
The soft-spoken defensive end raised his voice and his game this season. Okafor nearly won the West Virginia game for Texas, and he was the most dominant player on the field in the bowl game. He carried the respect of his teammates because of his talent and work ethic.
[+] Enlarge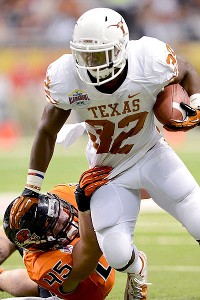 John Albright / Icon SMIJohnathan Gray finished his freshman season with 701 yards rushing and four total touchdowns.
2. Kenny Vaccaro:
The linebackers and other safety spot were a mess this season, forcing Vaccaro not only to carry younger players but to play in different spots. He became a stop-gap player in the back seven and was able to shut down just about every receiver he manned up against.
To continue reading this article you must be an Insider
December, 13, 2012
12/13/12
8:00
AM ET
Texas continues to produce seasons that warrant backward glances, if only to make sure the past stays put. No one wants to relive that again. But the time has come to look over the shoulder and the damage that 2012 hath wrought, where it all went wrong and why it might get better in 2013.

This week, HornsNation takes a look at the 2012 program. Up today is the defense and how it will leave its mark as the worst in Texas history.

On Thursday, room will be saved for punter Alex King, arguably the most consistent and reliable of the 2012 Longhorns, and the special teams unit.
AUSTIN, Texas -- Goal setting can often be a slightly trick proposition around Texas, with the road maps previously used from 2000-09 apparently gone missing.
But, nonetheless, Longhorns coach Mack Brown, in a bold proclamation, had one goal seemingly above all others -- yes, that included picking a quarterback -- as he entered the 2012 season.
"What we do is No. 1 would be to try to have the best kicking game in America," he said on Aug. 4.
Oh boy. Where to begin?
To start let's give some credit where it is due.
Alex King
was the most consistent performer on the Texas football team this year. Sure he is a punter. But he was one of the best in America. So, in that sliver of special teams play, Brown got the best in America.
Texas also blocked seven kick attempts, a mean feat by any measure. And the Longhorns finished a successful 25th in the nation in kick return yards (They were 68th in punt returns).
Everywhere else -- meaning those spots where Texas has some of the best athletes and top speed in the country -- well, in a style that pretty much sums up the 2012 program, in as nice as terms as possible, they underperformed. And just like everywhere else in the Texas program, it is hard to fathom why.
November, 22, 2012
11/22/12
9:30
AM ET
Texas signed 39 recruits in 2008 and 2009. Only 19 of those players made it through four years of football.
"Lot of guys didn't last in our class," senior safety
Kenny Vaccaro
said. "We're the proud few."
Those few -- there are 10 scholarship seniors on the roster with one,
Alex King
, being a transfer from Duke -- will take place in senior night tonight.
"The thing we've always said is, 'There's so much emotion. Try to keep your emotion intact and enjoy the game and play well in the ballgame. And then if you're going to cry, cry afterwards because you won. Cry because you're happy and it's your last home game,' " said Texas coach Mack Brown.
There might be a few tears shed for those players signed in 2008 or '09 that didn't pan out at Texas. That list includes ESPN 150 players
Garrett Gilbert
, Marcus Davis, Tariq Allen, Paden Kelly,
Dan Buckner
, Jarvis Humphrey and DeSean Hales. That's seven ESPN 150 players Texas lost from those two signing classes for one reason or another. To put that in perspective TCU, Texas' opponent, has only signed three ESPN 150 players since 2008.
October, 29, 2012
10/29/12
11:00
AM ET
Each week, HornsNation will rank Texas' top 10 performers of the season up to this point:
1. DE Alex Okafor
: Kansas ran right at him all day long and Okafor racked up 13 tackles -- including 11 solo stops -- and forced a fumble. Not hard to see how important he is to this defense with
Jackson Jeffcoat
out, and nobody was louder than Okafor on the sidelines when UT came out flat once again.
[+] Enlarge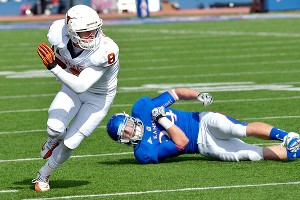 AP Photo/Reed HoffmannReceiver Jaxon Shipley had six catches for 66 yards in Texas' win over Kansas.
2. RB Johnathan Gray
: Undisputably the best player on the field for Texas' offense against Kansas. Gray recorded his first career 100-yard game with 108 yards on 18 carries. His 31-yard run set up UT's opening score. Since
Malcolm Brown
went down, Gray has averaged a steady 5.5 yards per carry.
To continue reading this article you must be an Insider
September, 7, 2012
9/07/12
1:00
PM ET
Manny Diaz compares developing a football program to running a company.
Last year, Texas started true freshmen at quarterback (
David Ash
), running back (Malcolm Brown), receiver (
Jaxon Shipley
), left tackle (
Josh Cochran
) and cornerback (
Quandre Diggs
).
That over-reliance on rookies was far from ideal.
"We'd really still rather somebody show off in the mailroom before we promote him to the next job," Diaz said on the Longhorn Network last week. "Texas, in the last few years, has not had that luxury. We had to start a true freshman at corner last year. We had to promote him already to executive vice president."
[+] Enlarge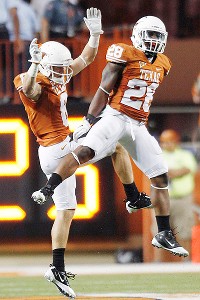 AP Photo/Eric GayReceiver Jaxon Shipley (left) and cornerback Quandre Diggs started as freshmen for Texas last season.
The boardroom shouldn't be filled with fresh faces. This season, that isn't an issue. The critical roles are filled this fall, mostly by sophomores and juniors.
Texas played a combined 30 true freshman to start off the 2010 and 2011 seasons. Against Wyoming, 15 newcomers saw the field. Two were junior college transfers who started. Another was senior punter
Alex King
, a Duke transfer.
That leaves 12 freshmen. Of that dozen, only kickers
Nick Jordan
and
Nick Rose
played prominent roles in the 37-17 victory. The rest saw limited snaps or late mop-up time.
If nothing else, that seems like a sign Texas is finally getting away from the depth issues that plagued its previous two seasons.
"I think you're right," Texas coach Mack Brown said. "We're not desperate like we were last year to have to have a freshman win for us."
Expect to see more freshmen hit the field against New Mexico on Saturday. Brown said Texas will need to get
Kennedy Estelle
snaps to build up depth at the tackle position, and receiver/back
Daje Johnson
will make his debut after serving a one-game suspension.
Top recruit Johnathan Gray is also expected to earn a bigger workload. Co-offensive coordinator Major Applewhite said Texas continues to develop packages that highlight the five-star freshman.
After being relied on so heavily last year, Malcolm Brown is glad to see the Longhorns' depth is expanding. And he knows from experience that the more Gray can be eased into the offense, the better he'll develop.
"We all have to be patient in some way with playing this game," Brown said. "Johnathan is doing a great job in practice, and I know once he gets thrown in there he's going to do great."
Same goes for wide receiver, where Texas has three new potential difference-makers who saw limited time against Wyoming. At nearly every spot in Diaz's defense, he has at least one freshman who could contribute.
Right now, Diaz isn't singling any of them out as future stars. He doesn't have to.
They're showing flashes in practice. They're getting second-string reps in games. Over time, they'll earn their role on the field. That's the natural progression of a football player who isn't thrust into the fire from day one.
Diaz thinks highly of his newcomers. This season, though, he doesn't need them on first and 10. He just needs a few good interns.
"If they can get the coffee the right way we want it," Diaz said, "then we can get them on a bigger job.
"That seems like a small thing. That's a big thing for the development of our football team."
August, 10, 2012
8/10/12
8:00
AM ET
AUSTIN, Texas -- At the tail end of Texas' season, with the kicking game about to be shambles, Mack Brown put in a call for help.
"We actually called the soccer club … and said, 'Got anybody that can kick and has a great leg?'" Brown said.
That's how
Michael Davidson
, who had never kicked a field goal in a game, but spent the entire Christmas break at Houston's Strake Jesuit High School teaching himself the few things he had watched on YouTube, tried out and was put on the roster after spring practice.
[+] Enlarge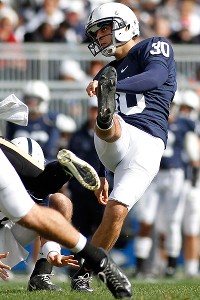 Justin K. Aller/Getty ImagesPenn State transfer Anthony Fera brings the most experience to the Longhorns' roster of kickers.
"He's a guy that's got a great leg and we'll watch him," Brown said.
Davidson is not the only guy Texas will watch this fall. There are eight kickers and punters in Texas' fall camp. Three of those are scholarship players -- Anthony Fera, the transfer from Penn State, incoming freshman
Nick Jordan
and sophomore Will Russ.
Clearly, Justin Tucker's value just went through the roof. The last time one player had to be replaced by so many others Herschel Walker and the Minnesota Vikings were involved.
But Tucker was a guy who did it all for Texas. And he handled it well. Just ask Texas A&M.
In fact, Texas has always had a guy who could handle the kicking duties. In Brown's 14 years the Longhorns are eight for eight on game-winning field goals. Net punting has been more hit or miss with a high of No. 3 in 2007 and a low of No. 93 in 2009. Most of Brown's years Texas have been middling at best.
With the 2012 season at least appearing to be one where Texas could be a lower-scoring, grind-it-out, field-position offense, kicking and punting could play a large role. Larger than most even expect.
"We set a lot of goals for preseason camp," Brown said. "What we do is, number one, would be to try to have the best kicking game in America."
OK, maybe there could be more pressing concerns, but at least according to Brown, the team's first goal is the kicking game.
Guess he saw the red zone stats last year too. (Worst ever touchdown percentage by any team in Big 12 history.)
Since that emergency call was placed to the Texas club soccer team, a few other calls have come into Texas. The first was from
Alex King
, a punter previously at Duke. He needed a place to go to graduate school and a team on which to punt. Texas took a look at his 42-yard average and said there was a walk-on post waiting for him.
The next call came from Fera. The Penn State transfer wanted to be back in Texas, and closer to his mom who has MS. Texas needed a veteran kicker -- Fera was 14-of-17 for the Nittany Lions last year -- and welcomed yet another kicker.
King and Fera, like the other specialists, were only guaranteed a roster spot, not a starting one.
"We told Anthony that when he came to visit and we told Alex that," Brown said.
What Brown told himself was it might be nice to have a veteran at least competing for the kicking and punting spots. Texas had used a true freshman before -- Dusty Mangum was 16-of-23 on field goals in 2001 -- but typically a team does not relish placing a young player in such pressure situations.
"I like the fact that we are not putting so much pressure on young, talented kickers and punters and we will at least have experience as an option," Brown said. "I think that those two older guys can really help our young ones, that are talented, come on, too. So we are really excited about both those additions, and both of them just kind of fell in our lap and we didn't expect or pursue either one of them."
But now, with all the players in Texas' lap, the Longhorns can set about pursuing Brown's goal of being the top kicking team in the country.
August, 5, 2012
8/05/12
5:40
PM ET
AUSTIN, Texas -- Texas players signed their scholarship papers and moved into their dorm rooms on Sunday, but there are still a few Longhorns who have some catching up to do.
The most obvious absentee is receiver
Marquise Goodwin
, whose run at the 2012 London Olympics ended on Saturday with a 10th-place finish in the long jump.
Texas coach
Mack Brown
said Goodwin and UT track coach Bubba Thornton are working with Olympic officials to arrange his flight back to the U.S. so he can rejoin the program.
"They're trying to get him on the next flight home, which will probably be on the 9th or 10th," Brown said. "We will get him back for practice hopefully at the end of this week or next week for sure."
From there, Goodwin will go through an orientation period to readjust to football and will have nearly three weeks to prep for the Wyoming opener.
Texas' two summer transfers are also on a delayed schedule to kick off fall camp.
Brown said ex-Duke punter
Alex King
still has some paperwork to finalize before he can begin practicing, and that process will take new kicker/punter
Anthony Fera
a bit longer.
The Penn State transfer made the 25-hour drive from State College, Pa., to Houston this weekend and is expected to arrive in Austin on Sunday.
"He'll have to have some paperwork done, will have to get in school and will have to pass a physical," Brown said. "It will probably be a couple days before he joins us at practice."
August, 2, 2012
8/02/12
9:15
AM ET
Texas might have answered one of its largest questions before camp has even started.
Anthony Fera
will transfer to the Longhorns, giving Texas an experienced kicker in a spot where it had none.
[+] Enlarge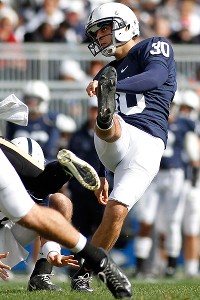 Justin K. Aller/Getty ImagesAnthony Fera, who hit 14 of his 17 field goals, should step in and make an immediate impact for Texas.
Fera has two years of eligibility left after transferring from Penn State and will be eligible for the 2012 season. Fera's scholarship counts against Texas' 85 as per the NCAA's ruling on the PSU scandal.
Fera, a Houston St. Pius X prospect who hit 14-of-17 field goals last season, gives the Longhorns a legitimate threat on field goals. Jordan Tucker graduated after a season in which he hit 17-of-21 field goals, and his departure left the Longhorns with a huge void.
William Russ
and
Ben Pruitt
battled for the job in the spring but the results were less than impressive.
Texas does have incoming freshman
Nick Jordan
. It also brought on walk-ons
Nick Rose
(Dallas/Highland Park) and
Michael Davidson
(Houston/Strake Jesuit).
Grant Sirgo
redshirted as a walk-on in 2011.
Alex King
, who is exclusively a punter, transferred from Duke at the start of the summer.
With the addition of Fera, Texas now has seven potential place-kickers. Three of those players, Fera, Jordan and Russ, are on scholarship.
While Texas has had success with true freshman kickers before -- Dusty Mangum was 18-of-26 in 2001 -- the Longhorns, due to a lackluster passing game, figure to be a team in need on a strong and reliable leg.
Jordan has the strength, and the range from 60 yards and in. But the reliability part is what worried Texas. Fera, due to his experience, might be slightly more reliable in pressure situations. Fera was perfect from inside 40 yards. That bodes well for Texas, which had the worst red-zone touchdown efficiency in the history of the Big 12 in 2011.
July, 26, 2012
7/26/12
12:37
PM ET
Penn State junior kicker
Anthony Fera
has contacted the Longhorns about joining their program, his father told ESPN.com, and he's returning home this weekend to consider a visit to Texas.
Tony Fera confirmed that his son is planning to visit his family in Cypress, Texas, on Saturday to discuss his potential transfer options.
"There's a lot of rumors flying around about if he's going to Texas or all these schools," Tony Fera said. "I can say he's coming home to his parents this weekend and that he's going to consider a visit while he's down here."
Fera, a Houston St. Piux X product, has heard from more than a dozen schools this week. He's still contemplating staying at Penn State, where he's on track to graduate in December. If he does leave the Nittany Lions in the wake of the program's severe NCAA sanctions, it will most likely be for a chance to play closer to home.
"We're certainly considering that, and UT is one of the schools that we'd consider hearing what they have to say," Tony Fera said.
As a redshirt sophomore, Fera became the first Nittany Lion since Chirs Bahr in 1975 to be the starter for field goals, kickoffs and punts a season ago.
June, 25, 2012
6/25/12
9:00
AM ET
Each day, as a countdown to fall camp opening Aug. 2, we are going to provide you with a number that was important in 2011 and let you know why it will be important in 2012.
Here is a quick rundown of Texas A&M's starting field position on the first few drives of the 2011 game:The Aggies 43. The Aggies 44. The Texas 46. The Aggies 37.
You get the idea, field position was an issue. And it wasn't just an issue because of the Texas offense or the wind or because of incredible run backs by the Aggies. Nope, it was Justin Tucker's tired leg.
To continue reading this article you must be an Insider
May, 30, 2012
5/30/12
5:00
PM ET
AUSTIN, Texas -- Texas took its first step toward addressing part of its kicking issues Wednesday.

Alex King, a former punter from Duke, has enrolled in graduate school at Texas and will finish his final year of eligibility with the Longhorns. He will compete with William Russ, who struggled in the spring, for the starting job.

At Duke, King averaged 41.38 yards per punt. Last season, Texas kicker/punter Justin Tucker averaged just 38.6 yards per punt and clearly struggled with his distance down the stretch.

Texas coach Mack Brown believed Tucker's leg was worn out by the end of the season. That's one reason Brown has made the move to get more depth in the kicking game.

The other reason was because Texas was not enamored with what it saw in the kicking game during the spring. Russ struggled more with field goals than he did punts. Still if Russ were to falter, the Longhorns have options.

King's big leg also should play into Texas 2012 philosophy of winning with defense. The Longhorns are going to be interested in winning the field position battles and wearing teams down. To do that it is imperative they get better in the kicking game. The Longhorns were ninth in the Big 12 in punting last year with a net average of 34.9.

That King has had success at a school not usually blessed with speedy gunners --Duke was No. 2 in the ACC in net average last season at 37.1. That bodes well for Texas.

King had 50 punts last season and downed 17 of those inside the opponent's 20-yard line. He also had seven kicks of 50-plus yards. The prior season, King punted 55 times and had an average of 41.13

"The coaches, facilities, fans, and strong football tradition first attracted me, but in such a short time period the relationships between myself and the coaches and staff at UT are what made me feel most comfortable with changing schools for my final year," King said in a release. "There is so much talent at UT, and I was also impressed with the humility of many of this year's incoming freshmen when I met them. I am excited to be a part of this team."

Texas Longhorns Show Out On Pro Day
BIG 12 SCOREBOARD
Thursday, 9/3
Friday, 9/4
Saturday, 9/5