Texas Longhorns:

alamo bowl 2013
December, 31, 2013
12/31/13
9:00
AM ET
The Mack Brown era ended with a thud on Monday, as Texas fell to Oregon 30-7 in the Valero Alamo Bowl. Here are three initial thoughts from the game:

1. This is why Brown had to leave:
It was a bummer that Brown's last game had to go this way. But the truth is, too many games like this the past four years are why Brown had to resign in the first place. The Longhorns played hard and played tough. But Oregon's elite talent simply outclassed Texas' elite emotion. There was nothing stunning about Monday's result. Frankly, Oregon could have won this game by a larger margin had it not continually self-destructed in the red zone. This is who Texas has been since the 2009 national championship game. And it's why the time for a change had come.
2. Texas' QB woes have got to be solved:
The first order of business for Brown's replacement will be finding an answer at quarterback. That won't be easy. The Longhorns are in woeful shape in the position, underscored by Monday's showing. Senior
Case McCoy
threw for more interception yards to the other team for the second straight game than he did yards to Texas receivers. McCoy was pulled for true freshman
Tyrone Swoopes
, who didn't fare any better with one completion in six attempts. Poor quarterback play is the biggest factor in Texas' demise the past four years. And the cupboard isn't exactly full in 2014, either.
David Ash
's football future remains in question after all his concussion issues. Swoopes is athletic with a big arm, but he has to show a lot more to prove he's the long-term answer. Who knows, maybe the answer is
Jerrod Heard
, the No. 6 dual-threat QB recruit in the country, who will be in Austin next fall. Either way, that will be something Texas' new coach will have to address. And until it is addressed, the Longhorns will have a difficult time returning to the lofty perches of the Vince Young and Colt McCoy days.
3. The eyes of Texas now all turn to the coaching search:
Now that Brown's final game has come and gone, the attention on Texas' coaching search will ramp up another notch. Texas athletic director Steve Patterson said Monday he wants to have a coach in place within two weeks. Which direction will Patterson go? The Longhorns have reportedly vetted Louisville's Charlie Strong, Baylor's Art Briles, Vanderbilt's James Franklin and Florida State's Jimbo Fisher. Any one of those four coaches would be capable of success in Austin. But this is an important hire for the Longhorns. And one that not only will define Patterson's tenure, but chart the course of Texas football for the next decade.
December, 31, 2013
12/31/13
1:35
AM ET
SAN ANTONIO -- The final moments of Mack Brown's career at Texas were neither triumphant nor tearful. Just quiet.
He walked off the Alamodome field surrounded by noise but not saying a word. He gathered his team for his final locker room speech. And one hour later, he was gone.
He left the building as Texas' former head coach, his hellish 16th season finally complete with a 30-7 loss to No. 10 Oregon in the Valero Alamo Bowl. And there was unmistakable finality to this.
[+] Enlarge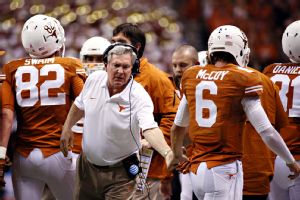 Soobum Im/USA TODAY SportsMack Brown congratulates QB Case McCoy after a first-half TD, but little else went right for Brown and the Horns in his final game as Texas coach.
He lost his last game in burnt orange in many of the same ways Texas lost four other games in 2013. His quarterbacks struggled, a slim margin of error killed by two interceptions for Oregon touchdowns. The run game couldn't win all by itself. The defense fared admirably but couldn't shut down
Marcus Mariota
.
"I thought they tried as hard as they could tonight," Brown said. "We played a really good football team. I thought that quarterback looked like one I saw play for us a while back."
A once-great program that now has no on-field identity and few discernable advantages lost to a powerhouse. This, quite simply, was why Brown's time is finished.
Much of the fan base bolted to the exits in the middle of the fourth quarter. Those who stayed did so to chant and clap for their coach.
When it was over, Brown did what he always did: He walked to the sideline and threw up the horns as "The Eyes of Texas" blared. As the cameras and reporters engulfed him, he could barely see the band.
A few players lingered to hug Brown and the woman they called Miss Sally. A sea of cameras clicked and flashed. Brown and his wife were surrounded. Slowly they made their way, arm in arm, to the exit, throwing up the horns again to an admiring orange crowd above.
While balloons dropped and the Ducks reveled, Mack and Sally Brown began their long, slow march to the end. Their coaches, players and reporters followed, through a concrete hallway and uncomfortable silence.
They found the home locker room, the crowd so large it spilled into the halls, leaving some Longhorn players stuck on the outside. They seemed too despondent to care.
Brown's final speech began, his words soft enough to not reach the hall.
At 9:09 p.m. CT, he was done. The clapping inside the locker room lasted no more than 15 seconds. Secondary coach Duane Akina frowned as he trudged in late.
The locker room doors closed a minute later. Retired athletic director DeLoss Dodds was the first out, with a sigh and a brisk walk toward the exit. Then
David Ash
left.
Case McCoy
and
Malcolm Brown
headed off to interviews. Sally led Mack off to join them five minutes later. The staffers they passed along the way offered meek thank-yous.
Brown said he was disappointed. Defense played great. Offense couldn't move the ball. Kids fought hard. He had few regrets.
"I told them tonight, the only regret I had is we didn't win enough games this year," Brown said. "We didn't win as many games as we had good players. A lot of great players are coming back. New energy, new staff, new ideas will really, really help these kids."
The reality that he's no longer the coach hasn't sunk in yet. He joked that he might wake up at 6 a.m. Tuesday and review film. Finding his new normal will take time.
[+] Enlarge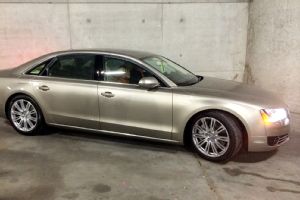 Max Olson/ESPNAs Mack Brown and his wife, Sally, drove off after Texas' loss in the Alamo Bowl, what's next for both Brown and the future of the program he guided for 16 seasons remains uncertain.
No more questions. He stood, said thanks and walked back to the locker room. Players began filing out, grabbing sandwiches before hitting the buses. Assistant coaches came out and hugged their families.
As her husband packed up, Sally perused the halls greeting and hugging anyone she recognized. Brown eventually emerged, a young grandson named Mack in his arms, flanked by more family. His face was red, his smile forced.
His final hour was up. Time to go. Where they're headed, they don't know.
"We'll take a nice trip somewhere warm," Sally told a reporter, "and figure out what's next."
She was ushered off and rejoined her husband on the way out. He was finally outside, but stopped one more time to pose for pictures with fans. He threw up the horns. He'll have to do these the rest of his life, no matter where he goes.
A few more hugs, a few more handshakes. Brown always had time for those. Then, just after 10 p.m., he slipped into the front seat of a taupe Audi A8 parked near the exit.
Sally, his passenger, offered one more wave before rolling up her window.
And then they drove away, just the coach and his wife, off into the dark.
December, 30, 2013
12/30/13
10:05
PM ET
SAN ANTONIO -- No. 10
Oregon beats Texas 30-7
in the Valero Alamo Bowl. A few thoughts on the game:


It was over when:
Oregon safety
Derrick Malone
picked off a
Case McCoy
pass over the middle midway through the fourth quarter, then went 39 yards for the score. The Ducks went up 30-7 on McCoy's second pick-six of the night.
Game ball goes to:
Oregon quarterback
Marcus Mariota
, who was masterful both on the ground and through the air, throwing for 253 yards and a touchdown and rushing for 133. A month off to heal a nagging knee injury did him plenty of good.
Stat of the game:
McCoy finished with 48 passing yards and no touchdowns. The two passes he completed to Oregon defenders were returned for a total of 75 yards and two touchdowns.
Unsung hero:
Oregon safety
Avery Patterson
, who gave the Ducks a 7-0 lead just 68 seconds into the game when he picked off a McCoy pass and scored on a 37-yard return. The senior added nine tackles in his final game.
Best call:
The Ducks' first score on offense came when Mariota, with
Jackson Jeffcoat
fast approaching, flipped to
Josh Huff
on a shovel pass and he found the end zone from 16 yards out. Huff finished with 104 receiving yards and a school-record 1,140 in 2013.
What Oregon learned:
If Mariota makes good on his promise to return in 2014, Oregon should once again have a preseason top-10 team and plenty of firepower to make a run at a college football playoff bid.
What Texas learned:
Nothing it didn't already know, really. Its Case McCoy-led offense can pound the rock but couldn't keep up with elite teams and capitalize on opportunities. The Longhorns couldn't give Mack Brown a satisfying sendoff. Now it's time to find his successor.
To watch the trophy presentation of the Valero Alamo Bowl,
click here
.
December, 30, 2013
12/30/13
4:00
PM ET
The Mack Brown era at Texas comes to a close Monday night during the Valero Alamo Bowl (5:45 p.m. CT, ESPN). Pac-12 power Oregon provides a stern test for the Longhorns as UT tries to send Brown out with a win.
Here are three keys for Texas:


Success on the ground.
In Oregon's two losses, to Arizona and Stanford, the Ducks allowed 289 rushing yards per game. In the Ducks' 10 wins, they allowed 139.4 rushing yards per contest. The Longhorns have a talented backfield with
Malcolm Brown
and
Joe Bergeron
, so Texas could try to take the Ducks' explosive offense out of the game by ramming the ball down the throat of their West Coast opponent, much like Stanford did. UT's chances of success can't rest solely on the shoulders of
Case McCoy
.
Slow the Ducks' tempo.
Few offenses can operate as quickly and efficiently as the Ducks. Oregon finished among the top five nationally in points per game, yards per game and yards per play. Texas must figure out a way to slow their offense. The best way would be getting consistent pressure on Ducks quarterback
Marcus Mariota
, so Big 12 co-defensive player of the year
Jackson Jeffcoat
will need to show why he earned that honor.
Big plays.
UT's destiny in this game depends on big plays, both creating them and preventing them. Texas must limit an Oregon offense which had 27.7 percent of its plays go for 10 yards or more, second in the FBS. Ducks running back
De'Anthony Thomas
is a big-play machine and the rest of the attack is full of speed and athletes. Fortunately for UT, the Longhorns match better than most teams with their athletes on both sides of the ball. Only 16.9 of UT's plays went for 10 yards or more so if the Longhorns find a way to have more explosive plays than Oregon their chances of winning will skyrocket.
December, 30, 2013
12/30/13
1:30
PM ET
Pac-12 reporter Kevin Gemmell and Texas reporter Max Olson break down the biggest storylines in Monday's Valero Alamo Bowl matchup featuring
Texas
and
No. 10 Oregon
:


How do you think Mack Brown's resignation affects this game?
Max Olson:
Throughout the past few weeks, Brown has stuck to the same message publicly: Texas players should win this game for themselves, not for their coach. They've had a brutal season, overcome plenty and have a chance to cap it with a ninth win and a few good memories. Brown keeps saying he wants this to be about the kids, not him.
What we'll get out of kids, though, I just don't know. They've been big underdogs before. They came out firing against Oklahoma and built real momentum. They held Baylor to 3 points in the first half but ran out of gas. Which Texas team shows up Monday? They'll need plenty of motivation and good fortune.
Kevin Gemmell:
My first thought was that this was going to be a huge motivation advantage for Texas -- and I'm a big believer that the bowl season is all about which team is motivated to be there. But I think the recent news that Oregon defensive coordinator Nick Aliotti is also retiring balances things out in the Oregon locker room. While he's not as big of a name nationally as Brown, he's as much an Oregon institution as Brown is to Texas.
Both pregame speeches will be rousing. Heartstrings will be tugged. But ultimately it comes down to what happens on the field. If Oregon is able to set aside its disappointment of not being in a BCS game, then who is coaching on which sideline shouldn't matter because on paper Oregon is the stronger team.
What should be expected of a 100-percent healthy Marcus Mariota?
Gemmell:
For starters, an extra element to the Oregon offense that makes them that much tougher to stop. Consider Mariota in the first seven games of the season before his knee injury. He averaged 70.4 rushing yards per game and scored nine touchdowns -- including at least one rushing touchdown in all seven games. Since hurting the knee against UCLA, he's averaged just 17.8 rushing yards with zero rushing touchdowns.
He also threw four interceptions in the final two games after going pick-free for the first 10, so aside from his rushing abilities -- which are substantial -- his throwing mechanics should be much stronger. I'm of the belief that when he's 100 percent healthy, Mariota is the best football player in the country. And if Texas gets a 100 percent Mariota, he's going to be very, very difficult to stop.
Olson:
Mariota is one of the many reasons why this is just not a good matchup for Texas, especially considering its defense has had legitimate issues defending the option against mobile quarterbacks. Of quarterbacks who started the last two seasons, nobody in the country has a better Total QBR than Mariota at 89.0. He's the real deal. I fully expect him to put up big numbers in the Alamodome, and it'll be interesting to see how Texas defends him, probably with
Jackson Jeffcoat
reprising his freestyle "spinner" role.
Who will be the key player in this game?
Olson:
If you've been following this Texas team, you know the key isn't getting a huge performance from
Case McCoy
. Yes, he needs to play relatively mistake-free and hit on the big passes when they're there. But Texas doesn't stand a chance in this one without a big night from
Malcolm Brown
.
The San Antonio native had rushed for 421 yards in the four games since Texas lost
Johnathan Gray
, including 118 in the first half against Baylor. He did a terrific job of hitting cutback lanes against the Bears, and run defense hasn't been a strength for Oregon. Brown needs to get rolling or Texas could fall behind quickly.
Gemmell:
Take your pick from any number of superstars on both sides of the ball for Oregon. Be it Mariota,
Josh Huff
or
Byron Marshall
. Defensively, cornerback
Ifo Ekpre-Olomu
is as lockdown as they come. But the guy who always seems to show up in the postseason is
De'Anthony Thomas
.
Last season against Kansas State in the Tostitos Fiesta Bowl, he returned the opening kickoff 94 yards for a touchdown, caught four balls for 60 yards and a score and rushed twice for 15 yards. In the 2011 Rose Bowl Game presented by Vizio, he carried twice for 155 yards and two touchdowns in the win over Wisconsin. He also caught four balls for 34 yards and returned five kicks for 125 yards.
Thomas is a big-game player with blazing speed and scary elusiveness. When he's hitting on all cylinders, he's a difference maker.
December, 30, 2013
12/30/13
11:00
AM ET
No. 10 Oregon and Texas face off Monday (6:45 p.m. ET, ESPN) in the Valero Alamo Bowl in San Antonio. A few key players and matchups to watch:


Who to watch:
Oregon quarterback
Marcus Mariota
says he's 100 percent healthy, and that's very good news for the Ducks. A knee injury suffered against UCLA in October limited his ability to run in Oregon's final five games, two of which were losses. Now that he has had time off to recover, expect the Ducks' high-tempo option attack to be back to full speed. Mariota is coming back for 2014 and has a chance to end his sophomore campaign with a big game against a Texas defense that has proven vulnerable to running quarterbacks.
What to watch:
What can Texas do up front to grab control of this game from the Ducks? These Longhorns are capable of big upsets when their offensive line owns the line of scrimmage, and they're reshuffling to put All-Big 12 left guard
Trey Hopkins
at right tackle. On defense, defensive ends
Jackson Jeffcoat
and
Cedric Reed
must be disruptive, and you could see Jeffcoat play all over the field in a hybrid role. Texas can't win this game without being the more physical team.
Why to watch:
Mack Brown's last hurrah after 16 seasons as head coach of the Longhorns. Texas has won seven of its past eight bowl games dating back to 2004, and its players want to send Brown off with one final victory, the 245th of his career. When everybody counted them out, Brown's players rallied and knocked off No. 12 Oklahoma 38-20 in the Red River Rivalry this season. Can the Longhorns pull off another stunner?
Prediction:
Oregon 38, Texas 17. Oregon simply has too much firepower for Texas, whose four losses have come by an average margin of 21 points. Retiring Oregon defensive coordinator Nick Aliotti gets the celebratory final Gatorade bath.
December, 30, 2013
12/30/13
10:00
AM ET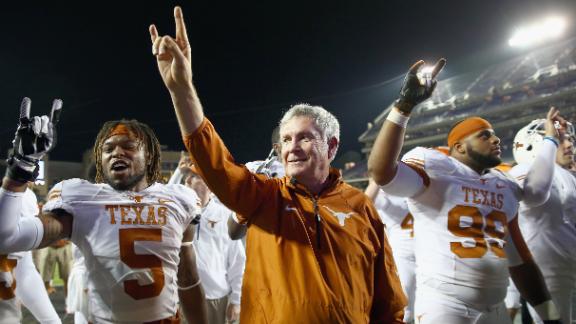 SAN ANTONIO -- When Mack Brown gathered his team Christmas night upon arriving in San Antonio for the start of Texas' bowl week leading up to the Valero Alamo Bowl, he says he issued a directive.
"This is not about farewells," Brown said Sunday. "This is not about where I am in life. It's not about where the coaches are in life."
He would prefer to shift the attention to his players, to their reward for a trying, tumultuous season. Brown says this should be about his seniors' finale and the challenge of facing No. 10 Oregon.
[+] Enlarge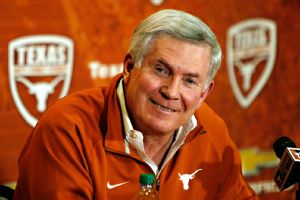 Erich Schlegel/Getty ImagesA loose Mack Brown is concentrating on his players and Monday's Alamo Bowl matchup with Oregon, not the circumstances surrounding his resignation at Texas.
But all eyes and cameras will be on him Monday, whether he likes it or not. This is Mack Brown's last stand, his 16-year career as the coach at Texas down to its final 24 hours.
He goes into his final game as the leader of the Longhorns just as he has nearly all of Texas' 2013 games, trying to put blinders on and focus solely on one day and one game. That day has arrived.
"We have been totally focused on Oregon," Brown said, "and nothing else."
The Ducks are 14.5-point favorites and, at 10-2, probably belong in a BCS bowl game, not matched up with the Big 12's fourth-best team. On paper, this game shouldn't be close.
But this Texas team is used to being underestimated and has already been a two-touchdown underdog twice in 2013. The first time came in the Cotton Bowl, in a game against No. 12 Oklahoma that was sure to doom Brown's chances had Texas taken another blowout rivalry loss. The Longhorns took care of business.
The stakes were far greater against No. 9 Baylor in Waco, with a Big 12 championship on the line. Win that game and, well, wouldn't Brown be back in 2014? Baylor pulled away in the second half for a 30-10 win and a Tostitos Fiesta Bowl trip.
The pressure in those two games couldn't have been any higher. This time is different. This time, the Longhorns have practically nothing to lose.
In his final bowl news conference Sunday, Brown seemed the opposite of tense. He joked around with Oregon coach Mark Helfrich, offered up a few facetious answers to serious questions and had little interest in discussing what Monday really means for him.
His most telling answer was a sardonic one, when Brown was asked to reflect on what he would've changed about the 2013 season in hindsight.
"I would have won all the games," Brown said. "That would have been the better thought for me if we could have done that. By a lot. Played a lot of guys, had happy moms and dads and happy media and happy fans. That would have been fun. We've done that, and it's a lot more fun."
The questions about his buyout negotiation and reports that his resignation was forced were, predictably, shot down.
"We are excited about Oregon and Monday night," Brown said, when his buyout was broached. "So I can't wait. Great week. I said at the first of the week we would focus on these kids and this game, and that's absolutely what I'm going to do. Every ounce of my energy will be doing the best I can do to coach this game on Monday night."
Texas has won seven of its eight bowl games since 2004 and four in a row against Pac-12 teams, including in each of the past two seasons. Brown has a chance to nab the 11th bowl win of an era that began with a school-record 12 straight bowl appearances.
"We understand what's at stake," quarterback
Case McCoy
said. "We'll play hard. Coach Brown will coach hard. If we play that way, we take care of the ball, I think it will be a good night for us."
Brown says he won't be any more emotional than usual, but the opportunity is unmistakable. After a rough month and a rocky season, Brown gets one more chance to shut up his critics before walking away. He can have the last laugh.
Reality will set in Tuesday. Texas' assistant coaches will go back to hunting down their next jobs. Even though the next coach hasn't been selected, the transition will begin.
How Brown will spend the first day of his future is anyone's guess. How he'll spend the final night of his Texas tenure is up to his team.
December, 24, 2013
12/24/13
1:00
PM ET
Each week, we team up with the ESPN Stats & Info crew to dig into the numbers that matter most and find three statistics that could make a big difference. Here are the numbers to remember going into Texas' season finale against No. 10 Oregon in the Valero Alamo Bowl on Jan. 30 (5:45 p.m. CT, ESPN).


1. 75.4
There's no better way to prepare for Oregon than playing Texas Tech and Baylor, right?
Texas Tech (88.4) and Baylor (82.4) actually ran more plays per game this season than Oregon, whose average of 75.4 is about on par with what the Ducks did during Chip Kelly's tenure.
They'd prefer to run more, of course, but when you're No. 2 in the nation in yards per play at 7.6, you tend to move down the field too quickly to need 80 or more. Still, the Ducks' famed tempo makes it difficult for defensive substitutions and its wide assortment of option looks should challenge Texas greatly.
The Longhorns can take comfort in knowing they held Baylor's No. 1 scoring offense to 30 points and just 3 in the first half. Oregon, by the way, is outscoring foes by a margin of plus-147 points in the first half this season. If the Ducks get this high-speed offense rolling from the start and avoid turnovers, they can be awfully hard to stop.
2. 62-10
Oregon quarterback
Marcus Mariota
has been masterful in his first two seasons as the Ducks' starter. His Total QBR since the start of the 2012 season is 89.0, second-best in FBS behind only
Jameis Winston
(who didn't play last season), and his career TD-to-INT ratio is a whopping 62-10.
Of course, what makes him especially dangerous against Texas is his rushing ability. Mariota has averaged more than 53 rushing yards per game in his career and has gained 10-plus yards on 53 of his runs. A knee injury slowed him to 71 total rushing yards in Oregon's final four games, but he's expected to be 100 percent healthy for the Alamo Bowl.
Two things worth noting there: Mariota has fumbled on nearly 10 percent of his rushing attempts in his career, and Texas' defense is currently in the top 12 nationally in sacks with 37 on the year. With how Oregon runs the zone read,
Jackson Jeffcoat
and
Cedric Reed
have to play smart while also applying plenty of pressure.
[+] Enlarge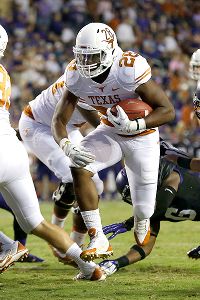 AP Photo/LM OteroTexas tailback Malcolm Brown, who has rushed for 774 yards this season, will see the bulk of the carries vs. Oregon.
3. 675
Texas can't win this game without an overpowering rushing attack and an ability to down the Ducks at the point of attack. A few running backs have had serious success against Oregon in 2013.
Arizona's Ka'Deem Carey rushed for 206 yards and four touchdowns in a blowout win over Oregon. Washington back
Bishop Sankey
, a fellow Doak Walker Award finalist, ran for 167 and UW trailed by just one score entering the fourth in a 45-24 loss.
In Oregon's other loss, Stanford's
Tyler Gaffney
pounded out 157 yards on 45 attempts. And Oregon State running back
Terron Ward
gained 145 in a one-point loss in the Civil War Game.
Add it all up and that's 675 yards by four backs.
Malcolm Brown
punished Baylor early, to the tune of 118 first-half yards, but Texas doesn't have any other backs besides Brown and
Joe Bergeron
available for this one. If they can't get going against a fairly porous Duck run D, that's just more pressure on
Case McCoy
.
Three more to remember
244:
Career wins for
Mack Brown
. With one more, he'll move into the top 25 all-time among all college football coaches.
71:
The number of missed tackles Texas' defense accounted for in the regular season. The Longhorns missed 112 last season.
Seven:
Texas has won seven bowl games since the 2004 season, tied for most in FBS in that span.
December, 9, 2013
12/09/13
11:00
AM ET
AUSTIN, Texas -- The great unknown of Texas' future remains unsolved two days after Texas' loss to Baylor. But the imminent future was at least settled Sunday: Texas is returning to the Valero Alamo Bowl, this time to take on No. 10 Oregon.
And that proposition looks about as scary as anything
Mack Brown
and his loyalists might see in the next few weeks.
We don't know what's next for Brown. He traveled to New York on Sunday with UT president Bill Powers and athletic director Steve Patterson for the College Football Hall of Fame induction ceremonies. He's supposed to hit the road this week for in-home visits with recruits.
[+] Enlarge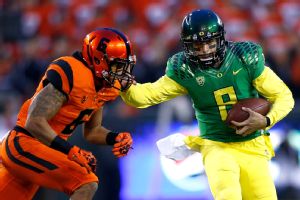 Jonathan Ferrey/Getty ImagesTexas has troubles defending the option. Marcus Mariota and Oregon run it perhaps better than anybody.
Whatever is in the works in the meantime remains unknown. Texas' grand plan is far from clear. But this much is certain: When the dust settles, the Longhorns have plenty of work to do and 15 practices to do so. At some point, preparations to face Oregon will begin.
The response from fans and pundits on Sunday night was relatively consistent: Texas (8-4) is going to get smoked by Oregon (10-2). It won't be pretty.
Oddsmakers have made the Ducks a two-touchdown favorite, which is familiar territory for the Longhorns by now. This team liked playing the underdog role in 2013, so perhaps there's no better way to end the year than with Texas' most difficult matchup yet.
Oregon has a two-time All-Pac-12 quarterback in
Marcus Mariota
. He ranked
No. 2 in the nation in QBR
this season behind Florida State's
Jameis Winston
. If not for an MCL sprain that limited his game late in the season, Mariota would likely be New York-bound as well this week. The way this Heisman field fell apart, he still might.
The Ducks' famously fast tempo won't be what causes this Texas defense trouble. The Longhorns have seen faster this season, and Oregon's plays-per-game-average of 75 is down from a year ago.
The problem will be the option. Among spread offenses, nobody does that better in college football than the Ducks. It's a big reason they're 56-9 since 2009, the year former coach Chip Kelly took over.
Mariota rushed for 695 yards excluding sacks this season, his second as the starter. He says the knee injury that prevented him from running effectively should be 100 percent healed by the Dec. 30 bowl game.
And he's surrounded by options: Three running backs surpassed 500 yards this season, led by second-year back Byron Marshall's 995 yards. He has an ankle injury, but also plenty of time to recover.
And don't forget
De'Anthony Thomas
, as explosive a player as there is in college football. He's healthy again after missing four games with an ankle injury. Miss him once in space and he'll hit the home run. And when you sell out to stop the run,
Josh Huff
(1,036 receiving yards, 11 TDs) can sneak behind the defense and make you pay.
"These guys are like Baylor," Brown said. "They can score fast and they do a tremendous job."
Read option, speed option, triple option, veer, packaged plays – the Ducks do it all. No other bowl team has more 20-yard runs this season than Oregon.
And few bowl teams struggled more to stop the option and the quarterback run than Texas. For all the progress Greg Robinson and the defensive staff made in the past 10 games, this remains the team's Achilles' heel.
The Longhorns gave up the ninth-most rushing yards to quarterbacks in the bowl subdivision. As Brown joked midway through the season: If Texas' opponents don't run the option, they'll put it in the playbook.
It was just too easy, even against a defense with a pair of All-Big 12-caliber ends. Injuries have rendered this unit thin at linebacker and defensive tackle. Robinson, his coaches and his defenders will need these 15 bowl practices to find answers.
Oregon's defense is far from flawless, but it did hold foes to 19 points per game in its wins. It's a top-three scoring defense in the Pac-12 and No. 4 in total defense. At the moment, though, the attention of Texas' offense will be on fixing itself.
Case McCoy
is coming off the worst start of his career. The Longhorns gained 59 yards in the second half Saturday at Baylor. Their only touchdown drive began at Baylor's 11-yard line, and they still needed seven plays to score.
They'll need every practice and film session afforded to them this month. Stanford beat Oregon with pure power. Arizona blew out the Ducks with an elite running back. What's it going to take for Texas to pull this one off?
The Longhorns have their own problems to solve first, and plenty of preparation ahead. If you think the next three weeks will be rough and messy off the field, it can get a lot worse if Texas doesn't stay focused on its toughest test yet.
December, 8, 2013
12/08/13
10:00
PM ET
Dec. 30, 6:45 p.m. ET, San Antonio (ESPN)
OREGON DUCKS BREAKDOWN
During an 8-0 start, Oregon fans had only one thought in coach Mark Helfrich's first season: We want Bama. During a 2-2 finish, they started missing Chip Kelly.
[+] Enlarge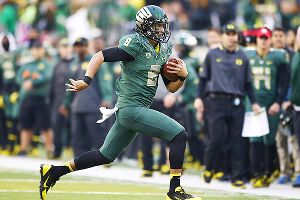 Jonathan Ferrey/Getty ImagesMarcus Mariota should be at full strength and ready to run in the postseason.
That 8-0 start was a thing of beauty, as the Ducks climbed to No. 2 in the nation, dominating on both sides of the ball. They hung 59 points on both Virginia and Tennessee. They turned a precarious seven-point fourth-quarter lead into a 45-24 stomping of hated rival Washington, a 10th consecutive victory in the series by at least 17 points. They showed some grit in the second half against UCLA, swamping the Bruins 42-14.
Not only were the Ducks again in the thick of the national title hunt, but QB
Marcus Mariota
was also the nation's leading Heisman Trophy candidate.
But in that win over the Bruins, Mariota sprained his knee. While the injury didn't force him to miss a game, it severely limited his ability to run either on designed plays or scrambles. That put a major part of the Ducks' offense on ice.
Stanford dominated the Ducks on both sides of the ball in a 26-20 win on Nov. 7, the Pac-12's marquee date of the year. Mariota struggled mightily, but the real issue was the line of scrimmage. The Cardinal owned it.
The low point, however, was a 42-16 defeat at Arizona that proved the death knell of the Ducks' BCS bowl hopes. It was Oregon's first loss to an unranked team since 2009. The 26-point margin of defeat was their biggest since losing 44-10 to USC in 2008.
The Ducks bounced back with a victory in the Civil War, but that 36-35 nail-biter at home over a reeling Beavers team was hardly suggestive of the team that dominated foes through the first eight games. It will be interesting to see how the Ducks respond in the postseason. It should help that Mariota should be close to full health.
-- Ted Miller

vs.

TEXAS LONGHORNS BREAKDOWN
The Longhorns had everything on the line against Baylor, including a Big 12 title and a trip to the Tostitos Fiesta Bowl. They couldn't get the job done. The bowl matchup that the 30-10 loss leads to is immaterial to Texas fans now. All they want to know is whether the Mack Brown era is over.
[+] Enlarge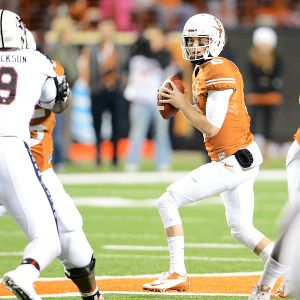 John Albright/Icon SMITexas will lean on its run game but will need Case McCoy to make a few plays to close out the season with a win.
If that ends up being the case, we'll know before Texas takes the field for its bowl game later this month. These Longhorns could have plenty to play for in their finale, even if at 8-4 they've ended up in the same Valero Alamo Bowl they played in last year.
Despite losing five starters to season-ending injuries, the Longhorns turned around a rough start with a 7-2 record in Big 12 play. They made that run with a potent power run game, now led by
Malcolm Brown
(774 yards, nine touchdowns). Whether or not Mack Brown is done, this is the final game for nine senior starters and an opportunity for
Case McCoy
to end his up-and-down career on a high note.
Texas' defense underwent a revival in 10 games under Greg Robinson and did hold Baylor's top-ranked scoring offense to three points in the first half.
Jackson Jeffcoat
finished with a Big 12-leading 12 sacks in his senior season and anchors a unit that has plenty of experience defending high-tempo spread offenses.
-- Max Olson
Celebrating Black History Month With Texas HC Charlie Strong
BIG 12 SCOREBOARD
Thursday, 9/3
Friday, 9/4
Saturday, 9/5