Texas Longhorns:

Aaron Wimberly
November, 7, 2013
Nov 7
9:00
AM ET
Welp, it finally happened. I finally lost to a guest picker. And to a 14-year-old, no less. Thanks, Caymen. I thought you weren't going to embarrass me?
Anyway, this reporter's pride is on the line again. This week's guest picker submission:
My name is Claire Stallings and I would love to one day be a guest picker for you. It's about time a lady shows these men how to pick a perfect week! I love the Big 12 and of course Baylor. I worked for the team all through college and I am that girl who knows more about Baylor football than most of the men on campus. I think it would be interesting to throw a girl into the "man's world." Don't worry, I can hold my own. #GirlPower
The last time a girl challenged me to something, I was destroyed by my wife in a 5K. So this is my shot at redemption. #BringTheNoiseClaire.
Tonight, Max and national writer Mark Schlabach will be in Waco for Oklahoma-Baylor. Saturday, Brandon will drive to Stillwater to check out Kansas-Oklahoma State. Due to my horrific picking, I've been benched for the weekend.
To the Week 11 picks:
SEASON RECORD
Trotter last week:
2-2 (.500)
Guest picker (14-year-old Caymen) last week:
3-1 (.750)
Trotter overall:
43-14 (.754)
Guest picker overall:
29-11 (.725)
THURSDAY


Baylor 52, Oklahoma 34:
The Sooners' best chance in this game is to pound the ball, wear out the clock and keep Baylor's high-powered offense on the sidelines. But without star fullback
Trey Millard
, I'm skeptical OU can pull off such a game plan. The Sooners have no viable tight end, and none of their other fullbacks are capable receiving threats off play-action. OU's remaining firepower keeps the game interesting into the second half. But a Sooners defense playing two freshman linebackers finally capitulates to the overwhelming speed of the Baylor offense, as the Bears make a statement they belong in the national title picture.
Claire's pick:
The media (including you, Jake) keeps saying K-State laid out the blueprint on how to beat Baylor, but then again, Mack Brown made it clear that OU is far from invincible. Between Baylor's dynamic receiving duo,
Antwan Goodley
and
Tevin Reese
, along with
Lache Seastrunk
and
Bryce Petty
's Heisman-worthy performances, this pick was easy. #GoingTarpless.
Baylor 56-35
SATURDAY


West Virginia 26, Texas 23:
I find it strange the voters still haven't put Texas back in the Top 25 polls. I actually had the Longhorns ranked 14
th
in the ESPN power ranking, the highest of the 19 voters in the ESPN poll. But this is a tough spot for Texas. West Virginia has been a far better team in Morgantown than away from it. The Mountaineers also have a ton of momentum from last week's comeback overtime win over TCU, with a bowl appearance in their sights. Texas QB
Case McCoy
comes back to earth a bit and the Longhorns get caught peeking ahead to next week's clash with Oklahoma State, as
Charles Sims
runs wild again to hand Texas its first Big 12 loss.
Claire's pick:
The Horns will win if they keep the ball with
Malcolm Brown
and
Johnathan Gray
. But they have to make sure Case doesn't make too many mistakes on the road. If they are not careful, West Virginia will upset Texas, just like they did to OSU. #TexasStayawayfromBriles.
Texas 31-28


Kansas State 37, Texas Tech 34:
With receivers
Tyler Lockett
and
Tramaine Thompson
back in the fold, the Wildcats are finally firing on all cylinders offensively. QBs
Daniel Sams
and
Jake Waters
have been terrific lately, and, much to Bill Snyder's satisfaction, have been taking care of the ball, too. Tech has had a great run. But turnover-prone teams usually don't fare well against Snyder-coached teams, and only six offenses in college football have turned the ball over more times than the Red Raiders. As a result, K-State continues its late-season push and hands Tech a third straight defeat.
Claire's pick:
I grew up in a Tech-loving family from Midland, Texas. I have lost sleep over this pick, and I may lose friends and a chunk of my inheritance after this is published. Unfortunately, the clock has struck midnight for Cinderella, and they are beginning to look reminiscent of last year's West Virginia squad. #SorryDad.
K-State 38-35


TCU 19, Iowa State 13:
Will either side have enough players left to actually stage the game? Iowa State figures to be without running back
Aaron Wimberly
, who's been its best offensive player, and could be without QB
Sam B. Richardson
, too. TCU cornerback
Jason Verrett
and running back
B.J. Catalon
are questionable on a team that also will be missing running back
Waymon James
and receiver
Brandon Carter
. The difference in this game proves to be TCU QB
Casey Pachall
, who finally showed signs of returning to his old self last week.
Claire's pick:
This is the "Battle of Who Could Care Less" between two struggling teams. TCU's players are dropping like flies. TCU barely wins, but for sure is not making a bowl. #NotYallsYear #ByeFelicia.
TCU 14-10


Oklahoma State 55, Kansas 9:
Kansas has been hanging tough in Big 12 play. That ends here. The Cowboys have finally found their identity offensively with
Clint Chelf
at QB and the tough-running
Desmond Roland
at tailback. Oklahoma State keeps rolling in its return to the thick of the Big 12 title race.
Claire's pick:
I have always liked Kansas -- they have great school colors for game-day outfits. But that is all they have. Chelf is a real threat and the Cowboys' backfield has exploded these past few games -- they might actually steal the Big 12 title right out of Baylor's little paws. #ButPleaseDont.
Oklahoma State 56-14
November, 4, 2013
Nov 4
9:00
AM ET
And then there were four in the conference race:
1. Baylor (7-0, 4-0 Big 12, last week: 1):
The Bears have been complaining about a lack of national respect. Thursday night against Oklahoma, they have their chance to gain that respect. It should be noted, though, that Baylor has never played in a game with major conference and national title implications on the line -- and the whole country watching. The Sooners have played in dozens of these games. Are the Bears ready to shine in the spotlight? We're about to find out.

2. Oklahoma State (7-1, 4-1 Big 12, last week: 5):
Look who's back in the thick of the Big 12 title conversation. On Saturday, the Cowboys delivered the most impressive Big 12 win of any team this season, dominating Texas Tech before a record crowd in Lubbock. Behind linebackers
Caleb Lavey
and
Shaun Lewis
, the OSU defense continues to perform at a high level, as they limited Tech to just three touchdowns in 17 possessions. The OSU offense is now beginning to click, too, with QB
Clint Chelf
making the big plays he did down the stretch like last season and backs
Desmond Roland
and
Rennie Childs
reviving the running game. The Cowboys are the only contender that get Baylor at home, and they have dominated the Bears in Stillwater. OSU still has to go to Austin on Nov. 16. But the Cowboys just proved they can win big games on the road.
3. Texas (6-2, 5-0 Big 12, last week: 2):
It wasn't a work of art, but Texas took care of business against Kansas. Next up is a sneaky-tough road game in Morgantown. West Virginia has been a much tougher team at home. The Mountaineers knocked off Oklahoma State and led Texas Tech by double digits in the second half before succumbing in the fourth quarter. West Virginia will also be playing with plenty of momentum after its overtime win at TCU. A showdown with Oklahoma State in Austin looms the following weekend. But Texas needs to escape Morgantown first.
4. Oklahoma (7-1, 4-1 Big 12, last week: 3):
After struggling in conference play,
Blake Bell
seemed to turn a corner with a determined performance in last week's win over the Red Raiders. To have any chance of scoring with Baylor, the Sooners are going to need a similar effort from their quarterback. The running game should be able to pile up yards. And the OU secondary will give Baylor's speedy receivers their biggest challenge yet. But to pull off the upset as double-digit underdogs in Waco, Bell will have to make the same kind of throws downfield he delivered against Tech.
5. Texas Tech (7-2, 4-2 Big 12, last week: 4):
Considering the Red Raiders were picked to finish seventh in the Big 12 in the preseason, this has already been a banner first season for coach Kliff Kingsbury. But the past two weeks, Tech's flaws have been exposed. The defense hasn't been able to stop the run without overloading the box. True freshman QB
Davis Webb
is making true freshman mistakes. And the depth doesn't seem to be there for Tech to be sound covering punts and kicks. This is still a good team. But as it turned out, just not yet good enough to contend for the conference title.
6. Kansas State (4-4, 2-3 Big 12, last week: 6):
Since the return of receivers
Tyler Lockett
and
Tramaine Thompson
, the Wildcats have featured an efficiently balanced offensive attack. K-State threw for 221 yards and ran for 227 while picking apart Iowa State's defense. The K-State run defense has been excellent the past month, too. This is not a team anyone will want to face this last month of the season.
7. West Virginia (4-5, 2-4 Big 12, last week: 7):
What a win for Dana Holgorsen's bunch. The Mountaineers seemed to be dead in the water after falling behind 17-3 in Fort Worth. But behind running back
Charles Sims
and an eight-minute stretch where the Mountaineers forced TCU into three turnovers in five plays, West Virginia emerged with a crucial overtime victory. Had the Mountaineers lost, more questions would have surfaced about Holgorsen's status in Morgantown. Instead, West Virginia is in great shape to make a bowl game, which would be a solid season for a team that had to replace Geno Smith, Tavon Austin and Stedman Bailey.
8. TCU (3-6, 1-5 Big 12, last week: 8):
When does basketball season start? Wait, nevermind.
9. Iowa State (1-7, 0-5 Big 12, last week: 9):
The Cyclones have not posed much of a threat offensively when running back
Aaron Wimberly
has not been in the lineup. If they can get him back from a hamstring injury, they could still pick up a couple of Big 12 wins down the stretch, which would give this program some momentum heading into next season.
10. Kansas (2-6, 0-5 Big 12, last week: 10):
The Jayhawks have not rolled over in Big 12 play, which has to be an encouraging sign for coach Charlie Weis. It would be huge for the program for that effort to manifest tangibly in the form of an actual win. If Kansas keeps playing hard, it just might get it.
October, 10, 2013
Oct 10
9:00
AM ET
It was mass panic this week on the Big 12 blog.
I had a guest picker lined up: Tyler, a K-State fan in California who is getting married. He pulled at my heartstrings with this submission:
Jake, I'm getting married on the 19th. How about an early wedding present for a Big 12 fan raised in Manhattan, Kan., now living in Pac-12 country?
Well, Tyler flaked out. Either the fiancée was getting on him about focusing more on the wedding and less about Big 12 football, or he got too depressed to send his picks in after his 'Cats fell to 0-2 in Big 12 play.
I was, however, able to secure another guest picker at the final hour in Curtis, an OU fan in Washington, D.C., who submitted the following:
I'm in Washington, D.C., in the middle of a year-long military deployment, and while I can't say exactly what it is I do, suffice it to say the schedule is not conducive to going to a lot of live games. In fact, every other weekend I'm stuck in a room that we can't even take a phone into. That said, through lurking on various Big 12 message boards when I'm not on duty, I am eminently qualified to pick games.
Last week, Big 12 officials helped derail my upset special, as Texas escaped Ames with a controversial victory. West Ham not only scored its first road goal, but stunned Tottenham 3-to-nil to hand me yet another defeat. Bollocks!!
I'm feeling a bounce-back week, though.
To the Week 7 picks:
SEASON RECORD
Trotter last week:
4-2 (.667)
Guest picker (David in England) last week:
5-1 (.833)
Trotter overall:
30-10 (.750)
Guest picker overall:
17-6 (.739)
SATURDAY


TCU 44, Kansas 3:
Led by All-American cornerback
Jason Verrett
, TCU is playing championship-level defense, even without a healthy Devonte Fields, who will
undergo season-ending surgery
. If only the Horned Frogs could find a way to muster just a little more offense, this could be a dangerous team the second half of the season. Kansas could barely move the ball with playmaking running back
Tony Pierson
. Without him, it becomes a long day for the Jayhawks in Fort Worth against this TCU defense.
Curtis' pick:
While Kansas has shown some signs of life, they will face a TCU defense far better than any they've seen.
TCU, 45-13


Texas Tech 31, Iowa State 23:
Iowa State has somewhat had Tech's number recently, winning two of the last three, including the 41-7 stunner in Lubbock the week after the Red Raiders had upset Oklahoma in 2011. Coach Kliff Kingsbury, however, seems to have the Red Raiders on more solid ground than Tommy Tuberville did. The quarterback position continues to be a moving part due to injuries, but thanks to the defense, that hasn't cost the Red Raiders yet. The Cyclones, meanwhile, should arrive in Lubbock angry after the way they lost to Texas last week. They also bring an offense that is rapidly improving, thanks to the healthy return of center
Tom Farniok
and emergence of speed-demon running back
Aaron Wimberly
. As a result, Iowa State hangs around. But the Cyclones come up short in the fourth quarter again against a Tech defense that continues to buck up in the red zone. By the way, this pick should please Iowa State fans, and concern Red Raiders. I'm 0-4 picking Iowa State games this year.
Curtis' pick:
A little tough to pick this game as there's still no word on who Texas Tech will have under center. Iowa State suffered a controversial loss last week after getting jobbed by the refs, so Paul Rhodes will have his team fired up for this one. The Cyclones are usually good for one upset a year, and this will be their week.
Iowa State, 31-28


Oklahoma 34, Texas 16:
There's not much to like about the Longhorns in this game. Texas enters without starting quarterback
David Ash
or much momentum after a lackluster victory at Iowa State last Thursday. The Longhorns are lacking identity, and have shown little heart recently against the Sooners, as Oklahoma has completely run Texas out of the Cotton Bowl before halftime the last two years. Usually, the pressure is on the favorite in this game. But because of the way Texas has lost to OU the last two games, and because of Mack Brown's tenuous standing in Austin, all the pressure is on the Horns. The Sooners have their vulnerabilities. The offense has sputtered at times. The defense will be without linebacker
Corey Nelson
, who is out for the year with a torn pectoral muscle. But the Cotton Bowl seems to bring out the best in the Sooners and the worst in the Longhorns. This game is no different.
Curtis' pick:
They should just rename this game the "Texas Turkey Shoot." While most OU fans would love to see Mack Brown finish out the final seven years of his contract, this game will be his last in the series. (Oh, and in front of a home "sellout" crowd, Oklahoma State drops a heartbreaker to "Bye", 10-3). Boomer Sooner!
OU, 50-13


Baylor 55, Kansas State 19:
The Bears have looked virtually unbeatable through four games. The offense has been unstoppable and the defense quietly has been sound since November of last year. But this will be Baylor's first game away from Floyd Casey Stadium. And it's worth nothing that the Bears have won just one Big 12 road game in their last nine tries -- the lone victory being at Kansas. This Baylor team, however, is at another level. This is the best defense Art Briles has had, and the offense has no weaknesses. And even though Bill Snyder has a solid defensive game plan in place, the Bears still drop off 50-plus to secure their first Big 12 road win in two years.
Curtis' pick:
It's tough to find a superlative to apply to Baylor's offensive output this year, but their defense has also played pretty darn well. KSU isn't playing the mistake-free football characteristic of a Bill Snyder coached team, and their offense isn't built to get into a shootout. The only upset here is if Baylor doesn't drop another 60-point performance.
Baylor, 63-27
October, 4, 2013
Oct 4
10:00
AM ET
Thanks to the fine work of the folks of ESPN Stats & Info and a sports information department near you, we're excited to continue the tradition of ending the week with a large heaping of knowledge in the form of numbers.
Chew on these nuggets of fun info and random trivia, and you're sure to be the smartest guy or gal at your tailgate.
Did you know …
No team in FBS has given up more quarterback rushing yards (525) than Texas. That's 100 more yards than any other school.
Case McCoy attempted a career-high 45 passes against Iowa State. He's only the second FBS QB this season to attempt at least 45 passes, throw for fewer than 250 yards and still win.
McCoy has led three game-winning drives on his career, and each came on the road: at Texas A&M in 2011, Kansas in 2012 and Iowa State in 2013.
In a battle of two of the Big 12's best punters, Texas' Anthony Fera averaged 43.9 yards on eight punts and Iowa State's Kirby Van Der Kamp averaged 39.7 on six. They combined for eight kicks downed inside the 20.
Quenton Bundrage's 97-yard catch and score against Texas set an Iowa State record and tied for the second-longest reception in FBS this season. Georgia's Aaron Murray completed a 98-yard touchdown pass to Reggie Davis against North Texas last month.
Aaron Wimberly could be on his way to 1,000 yards. Iowa State's new starting back has rushed for 254 in his past two games.
ISU QB Sam B. Richardson has rushed for 427 yards in his eight career games, at an average of 53.3 per contest.
Three of the top four single-game yardage totals in Baylor school history have occurred this season.
The Bears' starting offense has scored touchdowns on 21 of its 26 offensive drives this season.
Baylor's defense has forced three-and-outs on 54.3 percent of opposing teams' drives this season.
Last time they met (which was the first time ever), West Virginia and Baylor combined for a Big 12-record 133 points and 1,507 yards of offense.
West Virginia has won 16 games against ranked opponents since 2001.
The Mountaineers offense is No. 2 in the Big 12 in first downs produced with 100, five fewer than Texas Tech.
West Virginia opponents are converting 31 percent of their third-down attempts in the second half this season. WVU has made 26 stops and given up 12 conversions.
Texas Tech is 13-1 all-time against Kansas and has won six in a row in this series. Since joining the Big 12, though, Tech is only 7-6 in games following a bye week.
Of the 35 Big 12 players with more than 100 receiving yards, only two play tight end: Tech's Jace Amaro and Iowa State's E.J. Bibbs. Amaro is the No. 3 receiver in the conference.
Texas Tech's defense has pitched shutouts in each of its past two games. The last time this unit did that in back-to-back games was 2005.
Kansas defensive back Dexter McDonald leads the Big 12 and the nation in passes defended per game at 2.7. He has seven pass breakups on the season.
Matthew Wyman's 52-yard game-winning field goal for Kansas against Louisiana Tech is tied for the seventh-longest made kick in the nation this year.
A total of 13 junior college transfers are listed on Kansas' current depth chart. Speaking of newcomers, only one true freshman is on KU's depth chart: Backup snapper John Wirtel.
Under Bob Stoops, Oklahoma is 12-2 in games immediately preceding the Red River Rivalry. That includes a 9-1 record against Big 12 schools, with the lone loss coming in 2007 to Colorado.
Blake Bell is No. 2 in the Big 12 in total QBR at 88.4. The best QBR season his predecessor, Landry Jones, ever produced in his career was 75.0 in 2012.
Only three teams ranked in the top 25 got to 4-0 by beating four FBS teams: Oklahoma, Stanford and Michigan.
TCU has forced a conference-leading 12 turnovers on defense this season but has scored just 37 points off those takeaways.
This weekend, the Horned Frogs begin a stretch of seven consecutive weeks with Big 12 games. Oklahoma will be TCU's third top 25 opponent of the season.
Since beating a No. 5 Oklahoma team in 2005, the Frogs are 0-2 against OU.
TCU has allowed a total of 59 rushing yards in its past two games. Oklahoma is averaging 256 rushing yards per game this season.
Oklahoma State has won three consecutive games against Kansas State when they play in Stillwater, but all three were decided by 7 points or fewer.
The Cowboys have won 13 of their past 14 games at Boone Pickens Stadium. They've played at home only once in their past seven games.
Oklahoma State's offense has accounted for 400 or more total yards in 29 of its past 30 games, including 12 in a row.
How's this for spreading the love: Nine different wide receivers have caught touchdown passes for Oklahoma State this season.
Kansas State started the season 2-2 for the first time since 2009 and hasn't gone 2-3 to begin a season since 2004, a season in which KSU went 4-7.
K-State quarterback Jake Waters has completed 16 passes of more than 20 yards this season. That ties him for best in the Big 12 with Baylor's Bryce Petty.
In its past 26 games, KSU is 21-5 when its defense intercepts at least two passes.
October, 3, 2013
Oct 3
10:15
AM ET
A full slate of Big 12 Conference games is finally here. TCU at Oklahoma highlights the weekend schedule, with Texas at Iowa State kicking things off Thursday night in Ames, Iowa.
Here's what to watch in the Big 12 for Week 6:
Is Texas ripe for an upset?
On Wednesday afternoon, the Longhorns announced that quarterback
David Ash
would not play against Iowa State on Thursday.
Case McCoy
will get the start for UT, which could be heading into the lion's den in Ames. Knocking off a big-name team is nothing new for the Cyclones, who will be looking to add UT to the list. This could be the game to watch in the Big 12 this week.
[+] Enlarge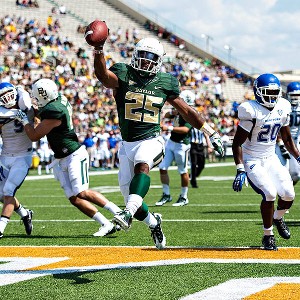 Jerome Miron/USA TODAY SportsRB Lache Seastrunk and Baylor have been nearly unstoppable this season, but some still have doubts.
Will Baylor continue to impress?
The Bears have scored 209 points in three games. And there have been roughly 209 questions about the Bears' legitimacy as people continue to wonder just how good BU could be this season. West Virginia provides the Bears' first Big 12 test one week after the Mountaineers held normally high-scoring Oklahoma State to 21 points in an upset victory at home. If Baylor drops another 70-point performance, can people still question its offensive explosiveness and role as legit Big 12 contender?
Oklahoma State's response.
The Cowboys had a mistake-filled loss to WVU last weekend, so OSU will be looking to prove that was a one-game aberration, not a sign that the Cowboys aren't a real Big 12 title contender. Quarterback
J.W. Walsh
will need to play well after going 4-of-13 for 54 yards and one interception in the fourth quarter of the loss in Morgantown. If he doesn't, will the Pokes turn to
Clint Chelf
off the bench?
Texas Tech's first road test.
True, the Red Raiders opened the season at SMU, but they will venture out of the state of Texas for the first time this weekend when they visit Kansas. The Jayhawks have had their struggles this season, yet have already surpassed their win total from 2012, and gave the Red Raiders all they wanted in a 41-34 Tech overtime victory in Lubbock a year ago. If Texas Tech wants to prove it is a sleeper in the Big 12 title race, it will leave Lawrence, Kan., with a dominating win.
Oklahoma's sandwich game.
It's hard to imagine the Sooners -- between meetings with Notre Dame and Texas -- overlooking TCU, but crazier things have happened. Even if they don't, the Horned Frogs boast the talent and the defense to knock off OU in Norman. TCU leads the league in sacks and forced turnovers, so if it's able to take Sooners quarterback
Blake Bell
out of his comfort zone, this game could get interesting in a hurry.
Defense at West Virginia?
Gasp! It can't be true, can it? Don't look now, but WVU ranks among the top half of the Big 12 in forced turnovers, red-zone efficiency defense, first downs allowed, sack percentage, passing yards allowed and total yards allowed this season. The Mountaineers aren't at the level of TCU, but they're better than people realize, so if they want to remove all doubt that they have improved since last season, they'll have their chance against the explosive Baylor offense on Saturday.
TCU's chance to send a message.
The Horned Frogs would put themselves right back in the Big 12 title conversation with a victory in Norman. After a rough early stretch saw people begin to brush it off as an afterthought, TCU can put the entire conference on notice and make everyone forget losses to LSU and Texas Tech.
Is Aaron Wimberly a difference-maker?
After 13 combined touches from scrimmage in Iowa State's first two games, the running back got the ball 20 total times against Tulsa last Thursday, averaging 8.4 yards per touch. Get No. 2 the ball, Cyclones. It was clear Wimberly is one of the most explosive playmakers on the squad against the Golden Hurricane, so he needs to be a huge part of ISU's offense against the Longhorns on Thursday night.
Kansas State's two-quarterback system continues.
"We have substituted tight ends in the same way and nobody could care less," KSU coach Bill Snyder said of using
Jake Waters
and
Daniel Sams
this week. No holes in that argument. Nonetheless, it will be interesting to see if either quarterback can separate himself with a strong showing against the Cowboys on Saturday.
Can KU win a conference game?
Say what you want about Charlie Weis, but he doesn't run away from things. "As of this Saturday it will be 1,063 days since Kansas football won a game against a Big 12 opponent," the Jayhawks head coach said off the top of his weekly press conference this week. "And if we exclude Colorado, who is no longer in the Big 12, it will actually be 1,455 days. I have those numbers down." The Jayhawks believe that streak will end this season. But, unless their offense kicks things up a notch, they could be hard-pressed to end it this week.
October, 3, 2013
Oct 3
9:00
AM ET
Like the Steelers and Vikings, I crossed the pond to find this week's guest picker, David in England.
David's submission:
Hi there guys! I'm an avid follower of college football, which is rather rare in this country! I'd love to be your guest picker and give you some good ol' English dry wit to add to your insight!
David, after last week's disaster picking games, we could use some insight. And since you'll be picking games from our version of football, I'll be picking one from yours. David is a Tottenham bloke, so we're going to pick Sunday's West Ham at Tottenham match.
If you want to be next week's guest picker, contact me here, and tell me why. And, as always, creativity counts.
By the way, the Big 12 blog team will be out and about this weekend. Max Olson will be in Waco for West Virginia-Baylor, Brandon Chatmon will be in Stillwater for Kansas State-Oklahoma State, and yours truly will be in Norman for TCU-Oklahoma.
To the Week 6 picks:
SEASON RECORD
Trotter last week:
1-3 (.250)
Guest picker last week:
2-2 (.500)
Trotter overall:
26-8 (.765)
Guest picker overall:
12-5 (.706)
THURSDAY


Iowa State 27, Texas 25:
The Longhorns revealed Wednesday that QB
David Ash
would not travel to Ames due to lingering issues from a head injury. Backup
Case McCoy
has actually filled in well for Ash this season. However, the offense is limited with McCoy, and I'm not sure that changes if the redshirt is pulled off freshman
Tyrone Swoopes
, either. The Cyclones, meanwhile, found their offensive footing last week with the healthy return of center
Tom Farniok
and emergence of speedy running back
Aaron Wimberly
. Ames will be rocking. Iowa State is tenacious on weekday games. I smell upset here.
David's pick:
Texas is coming off a bye week and a standout game against K-State. Iowa State is coming off losses to two other Iowa teams (neither of them particularly impressive games anyway) and could barely handle Tulsa. Watch for
Johnathan Gray
to have a standout game against a particularly poor rush defense.
Texas 35-14
SATURDAY


No. 20 Texas Tech 28, Kansas 7:
Long known for its high-powered offense, Tech has actually jumped to 4-0 with defense this season. Despite having talent on offense, the Jayhawks have struggled to score points. That continues, as the Red Raiders win another ugly game to remain undefeated.
David's pick:
Kansas welcomes a Texas Tech team that is achieving over 400 yards passing per game. The Jayhawks capitulate, as the combination of
Baker Mayfield
and
Jace Amaro
tears through them.
Texas Tech 42-7


No. 21 Oklahoma State 29, Kansas State 17:
For the first time in seemingly forever, Oklahoma State is without much of an offensive identity. The offense's best asset is receiver, but
J.W. Walsh
is a running quarterback without the arm strength to get the ball downfield. So far,
Jeremy Smith
has also proven to be a major downgrade from Joseph Randle at running back, which has limited the effectiveness of the running game. Bill Snyder is one of the best, and off an open week, he'll have a strong defensive gameplan that attacks Walsh's weaknesses. OSU wins, but Walsh continues to sputter passing, raising questions about whether the Cowboys should turn back to
Clint Chelf
at QB.
David's pick:
OSU's BCS title dreams are in tatters thanks to a woeful showing against at West Virginia. Kansas State faces an angry team and one that's ready to let it rip.
OSU 32-17


No. 11 Oklahoma 28, TCU 16:
This is the ultimate trap game for the Sooners, who get TCU sandwiched between the big win at Notre Dame and the Texas game next weekend. The Sooners, however, know better than to overlook TCU, which has played OU tough over the years, winning in Norman in 2005. These Horned Frogs don't have enough offense to pull off the upset, but the TCU defense keeps the Horned Frogs in the game until the fourth quarter.
David's pick:
A once-ranked TCU finally found some offense against SMU. If Oklahoma had lost to Notre Dame, this would have been a blowout. Instead, it's a nail-biter.
OU 28-27


No. 17 Baylor 49, West Virginia 21:
Neither of these teams played defense last season. This season, both units have made major improvements. The difference is that Baylor's offense is better than last year. West Virginia's is much worse. Even though the Mountaineers toppled then-No. 11 Oklahoma State last weekend, they are four-touchdown underdogs in Waco. Vegas is giving Baylor major respect for a reason. This offense appears to have no weakness. The Bears continue to roll.
David's pick:
Being an Oregon fan at heart, Baylor's impression of the Ducks' high-speed offense has paid off. But I must give credit to that Baylor defense. West Virginia's shocking win against OSU will give it the confidence, but only scoring just over 20 points per game is not going to give you a win against Baylor.
Baylor, 52-10
Tottenham Hotspur 5, West Ham United 0:
I wanted to pick West Ham to troll David. But then I found out Tottenham is third in the Premier League standings; West Ham is 17
th
out of 20 and has failed to score away from home. This is like when Louisiana-Monroe traveled to Baylor, and we all know how that turned out.
David's pick:
Tottenham is flying high to start this season. Only one loss (to top of the table Arsenal) is the blip in an otherwise comfortable start to life without
Gareth Bale
. Gylfi Siggurdson has had a tremendous start to the campaign, bank on him to get one or two against a frail West Ham side. West Ham, typically, doesn't travel well in the BPL. Their key to victory will be to play Tottenham at its game: slick passing counter attack. Fail to do so, and we could be looking at a blowout in the first half.
Tottenham 3-0
October, 3, 2013
Oct 3
8:00
AM ET
AUSTIN, Texas -- When the news came out Monday that all three linebackers of Texas' 2012 recruiting class are now starting, the collective response from
Dalton Santos
,
Peter Jinkens
and
Timothy Cole
was universal: This is going to be fun.
If the celebrating the trio has done on their Twitter accounts is any indication, it's safe to say the second-year linebackers are more than up to the challenge Thursday night at Iowa State (6:30 p.m. CT, ESPN). This week, their contributions should be critical.
[+] Enlarge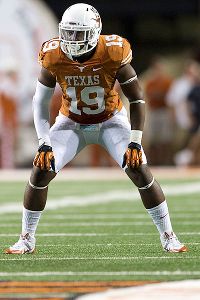 Cooper Neill/Getty ImagesPeter Jinkens is part of an all-Class-of-2012 starting linebacking corps that Texas will unleash against Iowa State.
Texas defensive coordinator Greg Robinson was looking for a spark in the wake of losing the Longhorns' most talented linebacker, junior
Jordan Hicks
. His season-ending torn Achilles was the last thing Robinson needed in his quest to repair the run defense.
The Longhorns defense fell apart without Hicks last season during its toughest five-game stretch. His absence opened the door for others, and a total of seven linebackers earned starts in 2012.
Yet Robinson didn't chose any of the remaining six to take over for Hicks. He picked Cole, a redshirt freshman from Brenham, Texas, who's spent nearly all of his debut season on special teams.
"Tim did a tremendous job against Kansas State on special teams, and because of that and practice the last four days, Greg Robinson is convinced he wants Tim out there as a starter," Texas coach Mack Brown said.
There's the benefit of getting a fresh set of eyes on Texas' linebackers. Cole wasn't in line to contribute much to that unit before Robinson took over for Manny Diaz last month.
A four-star prospect who came to Texas last year with best friend
Malcom Brown
, Cole makes up for non-prototypical size (he's listed at 6-foot-2, but that's generous) with a strong football IQ and a knack for leadership.
When Texas was recruiting him, Brenham coach Glen West vowed that Cole would end up being a team captain for Texas. His new coaches don't doubt that, and teammates recognized what made Cole unique early on.
"Since he got here, he was different than a lot of other guys," defensive end
Jackson Jeffcoat
said. "I knew he was a little more mature than other guys. His football game has come a long way since he first got here, but he looks good. He knows he has to step up and play well, and I think he will."
He'll team up tonight with Jinkens and Santos, two high-energy sophomores coming off strong finishes in Texas' win over Kansas State.
Steve Edmond
will likely have some role in the game, but he can't play in the first half after receiving a targeting ejection in the second half against KSU.
Juniors
Tevin Jackson
and
Kendall Thompson
were the presumptive favorites to step into the lineup in Hicks' place, but the Longhorns' young trio won over their new position coach.
They'll have to reward his faith with a stout showing against the Cyclones, who got a 137-yard rushing performance out of newcomer
Aaron Wimberly
last week vs. Tulsa.
In their first three game without Hicks last fall, Texas' defense let opposing running backs produce games of 199, 207 and 167 yards, respectively. That can't happen again, not if the Longhorns are hoping to turn the season around after a 2-2 start.
What matters more to Brown, though, is the leadership void that Texas must fill now that Hicks won't be on the field. Jeffcoat said he'll take on the responsibility along with defensive tackle
Chris Whaley
and defensive backs
Carrington Byndom
and
Adrian Phillips
.
Simply having more seniors to rely on this time around means more accountability across the board.
"That's a lot of guys who can keep their positions up and make sure guys don't start slacking off and guys pick up the slack from what was lost with Jordan," Jeffcoat said.
The sophomores are doing their part, too. Of the 25 members of Texas' 2012 class still on campus, Cole is about to become the 13th to earn a start.
While others broke into the starting lineup in year one, Cole was patient. He kept working and kept waiting for an opportunity. Here it is.
"He's upbeat and positive and smart and never makes a mistake," Brown said. "Greg Robinson said the other day, 'Don't tell him something that's wrong, because he's going to remember it and he's going to do it.' He just plays so hard. It'll be fun to watch him on Thursday night."
October, 1, 2013
Oct 1
3:00
PM ET
Thanks for all your questions in today's chat. Here's
where you can find the full transcript
. If you didn't get your question posted, send it
to the mailbag
and you could see it on the Big 12 blog on Friday:
Michael (Flower Mound, TX):
Could Baylor really be the best in the Big 12?
Jake Trotter:
Sure, why not? They've looked like the best team so far along with Oklahoma. And they get the Sooners in Waco on Nov. 7.
Robert (El Paso):
I think Kliff Kingsbury has done a pretty good job so far, but he went for a fourth down against TCU that was ill-advised. What are your thoughts on Kliff so far?
Jake Trotter:
Kliff has been the Big 12 coach of the year so far, in my humble opinion.
ouwooferman (Houston):
Bigger environment: Playing at ND or BU?
Jake Trotter:
Notre Dame. Better team? Baylor.
Kyle (Iowa):
What do you think is key for Iowa State to upset Texas? Establishing a running game or will it be more on the defensive side of the ball?
Jake Trotter:
Getting
Aaron Wimberly
going. He's the sparkplug in that offense. If they can get him in space, they have a chance to move the ball.
Kevin (Reno, NV):
What took Dana Holgorsen so long to place
Clint Trickett
in the starting lineup? I thought he was penciled in when he arrived to Morgantown?
Jake Trotter:
Strange, right? I thought for sure Holgorsen would give Trickett a shot during the OU game when it had become evident WV was not scoring with [Paul] Millard at QB.
Jeff (Dallas):
Better Defense - OU or TCU?
Jake Trotter:
Slight edge to TCU when all its guys are healthy.
JakeJones (OKC):
Which Big 12 team should be on upset alert this weekend?
Jake Trotter:
Texas. Iowa State found its offensive footing in Tulsa, and Ames on a Thursday night -- that's a setting nobody wants to deal with.
Larry (TX):
Which would you consider the better coaching job, USC or Texas (assuming Mack Brown gets smoked by OU)?
Jake Trotter:
Texas. More money. More support.
Ryan (Tyler, TX):
Jake, who will the Longhorns look to replace DeLoss Dodds?
Jake Trotter:
First name I thought of was Oliver Luck. Luck has a law degree from Texas.
Allen (Houston):
Still not buying Baylor. When they play these teams with athletes on D, they wont be putting up all those points. Same old Baylor, with a ceiling of 9 wins. Won't be shocked to see WVU beat them handily.
Jake Trotter:
There's always the possibility they become this year's 2012 West Virginia. I don't see it. This Baylor defense is better than last year's West Virginia defense. And this Baylor offense is more complete than last year's West Virginia offense, which really had just 3-4 players.
Jesse (SC):
Should a conference expansion occur, what teams would be the prime candidates for the Big 12?
Jake Trotter:
The only schools worth adding at this point would be in the ACC. But that would require the ACC crumbling before the Big 12.
Josh (Dallas):
Still taking a wait-and-see approach with the entire top 3. None are yet to have a performance against a quality team that makes you think they are playing on the level of a clear favorite. Thoughts?
Jake Trotter:
I think that's somewhat fair, but winning in Notre Dame is no small feat, even if the Irish are not as good as last season.
Drew (Houston):
Love the work Jake, definitely helps me get through the week until Saturday's games. Is it just me or do fans of other teams seem really upset that Baylor isn't an automatic "W" for their team anymore? Seems like any praise Baylor gets, they try to point out "they haven't played anyone" argument or bring up Baylor's past history claiming they've never finished close to the top of the B12 so they can't this year. While I agree they haven't been tested yet, they sure have obliterated the teams they've face, which is what great teams should do. I've got news for them, this Baylor squad is good and worth all of the attention it is getting.
Jake Trotter:
Some outside fans don't believe yet, which is somewhat understandable... what has Baylor ever done other than win 10 games in 2011? But per the eye test, this team is legit, and I think they will begin to prove that as the competition level rises.
Big Ferm (San Diego):
As a Baylor fan, it's time to quit talking about it and be about it. Will a convincing victory over WVU on Saturday legitimize the Bears as a real threat to win the Big 12?
Jake Trotter:
Baylor won't be legitimate in the eyes of many unless they beat OU Nov. 7. That will be their chance to win the doubters over, too.
Tony (Richmond, CA):
Has
Sterling Shepherd
now officially arrived?
Jake Trotter:
Thought he arrived last season?
Jon (Atlanta):
Considering Maryland blanked WVU, how much does that say about OK State?
Jake Trotter:
Maryland didn't face Trickett. He would have made a difference in that game, though not the ultimate outcome. But it doesn't bode well for OSU. The defense played OK, but didn't dominate an offense that had been completely inept previously.
Dillon (Bedford, PA):
Do you think Keith Patterson is due for a raise? It's early but the improvement in WV's defense is pretty amazing so far.
Jake Trotter:
It's amazing. The Mountaineers have been stout. Big test coming this weekend.
CJ (Norman):
What's your favorite NCAA football food?
Jake Trotter:
Ballgame food? Corndogs. Usually walk down from the press box during halftime of games I'm covering to get one.
September, 30, 2013
Sep 30
1:00
PM ET
A look at Iowa State, Texas' first Big 12 road opponent of the season. The Longhorns play ISU on Thursday (6:30 p.m. CT, ESPN).
Campus location:
Ames, Iowa
All-time record vs. Texas:
2-10

Last game:
ISU notched its first win of 2013 with a 38-21 victory on the road against Tulsa on Thursday. Sam Richardson threw for 255 yards and two scores, and
Jeff Woody
rushed for three short touchdowns. The Cyclones forced four turnovers and pulled away in a 14-14 game at the half with 17 consecutive points.
Last meeting with Texas:
Three days after the death of Darrell K Royal, the Longhorns honored him with a Wishbone pass on their first play from scrimmage and went on to win 33-7.
David Ash
threw for 364 yards and two scores, and
Mike Davis
and
Jaxon Shipley
each had 100-yard days while the Texas defense shut out ISU in the second half.
Key player:
How will Texas respond to the loss of
Jordan Hicks
? His season-ending injury once again creates problems for the Longhorn linebackers and their new position coach Greg Robinson. That means the ISU player to keep an eye on is running back
Aaron Wimberly
, a juco transfer from Iowa Western who broke out with 137 yards on 19 carries against Tulsa.
Why Iowa State might win:
This is a classic trap game, and Paul Rhoads' Cyclones always win one of these games every season. Nobody has forgotten ISU's win at Texas in 2010, right? The Longhorns have enough issues of their own – namely the loss of Hicks and the questionable status of Ash – that they can get into trouble against ISU if they show up rusty off the bye and make early mistakes.
Why Iowa State might lose:
Even if the Longhorns don't show up like they should early on, this team should still has a serious advantage in the talent department. You saw that last year, when Texas sat comfortably on a two-score lead for much of the game and held off ISU with ease. This time around, Texas should go right after a below-average Cyclones run defense and just grind this one out. But don't be surprised if the score ends up being a little closer than expected.
September, 30, 2013
Sep 30
11:00
AM ET
Taking stock of Week 5 in the Big 12:

Team of the week:
Oklahoma. With their victory over Oklahoma State, the Mountaineers deserved strong consideration here. But by winning in South Bend, the Sooners delivered the Big 12 its best win of the year while vanquishing past demons. OU, which fell to 1-9 all-time against Notre Dame last season, controlled this game wire-to-wire in a 35-21 win. QB
Blake Bell
operated the Sooners' offense like a veteran in just his second career start. And the OU defense took it to QB
Tommy Rees
to force three first-half interceptions that allowed the Sooners to pad their lead. OU might have been one of the most overlooked teams during the preseason. After Saturday, the Sooners won't be overlooked anymore.
Disappointment of the week:
Oklahoma State. The Cowboys fell in Morgantown 31-21, despite being 18-point favorites. OSU sputtered all day offensively across the board.
J.W. Walsh
had a QBR of just 38.1 (scale of 0 to 100) and the Cowboys averaged just 2.8 yards per carry. The defense didn't fare much better, allowing a West Virginia offense that had been completely inept to rack up 21 first downs. Dating to last year, the Cowboys have now lost three consecutive Big 12 games.
Big (offensive) men on campus:
Sterling Shepard
and
Aaron Wimberly
. Both the Oklahoma receiver and Iowa State running back sparked their offenses to big wins on the road. Shepard had five catches for 83 yards, and delivered the nail in the coffin to Notre Dame with a 54-yard touchdown reception to put OU back up by two scores in the fourth quarter.
In a 38-21 win at Tulsa, Wimberly produced Iowa State's first 100-yard rushing game in more than a year with 137 yards on 19 carries. He added a 31-yard reception as the Cyclones came alive in their first win of the season.
Big (defensive) men on campus:
The Oklahoma linebackers, and
Sam Carter
.
Corey Nelson
,
Frank Shannon
and
Eric Striker
came up with huge plays in the first quarter to set the tone for the OU defense the rest of the way against the Irish. On Notre Dame's first series, Striker blindsided Rees from behind, popping the ball loose into the arms of Nelson, who returned it 24 yards for a TD. On Notre Dame's next play from scrimmage, Shannon caught a tipped pass and returned the interception 17 yards to the Notre Dame 32. The Sooners scored again four plays later on an 11-yard run by
Damien Williams
. OU rode the defensive flurry all the way to the win.
Carter, TCU's junior safety, had a huge day against SMU. Carter had two interceptions, forced a fumble and recorded a sack in the Horned Frogs' 48-17 victory over the Mustangs. For his efforts, Carter was named the Walter Camp national defensive player of the week. With cornerback
Jason Verrett
ailing with a shoulder injury, Carter might have to take an even bigger leadership role in the TCU secondary moving forward.
Special-teams player of the week:
Jaden Oberkrom
. In a complete downpour, TCU's place-kicker nailed two field goals to help the Horned Frogs pull away from SMU in the second half. As the rain began to fall in droves early in the third quarter, TCU had the ball on the SMU 5-yard line trailing 10-7. Because of the rain, a botched shotgun snap resulted in a loss of 20. But Oberkrom made sure the Frogs came away with points with the 35-yard field goal conversion. Had Oberkrom missed, who knows how the game would have gone for TCU? Instead, buoyed in part by getting points off the drive, the Frogs dominated the rest of the way.
[+] Enlarge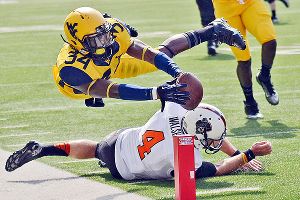 AP Photo/Tyler EvertIshmael Banks' interception return for a TD turned the game for West Virginia against Oklahoma State.
Play of the week:
After
Josh Stewart
took a screen pass 73 yards for the touchdown and
Justin Gilbert
intercepted
Clint Trickett
three plays later at midfield, the Cowboys seemed to be on the verge of blowing the game away in the first quarter. Instead, West Virginia cornerback
Ishmael Banks
read Walsh's eyes off a rollout, stepped in front of the pass for the pick, then returned it 58 yards for a touchdown. The Cowboys never found their footing again offensively, as West Virginia held them to just two scores the rest of the game.
Stat of the week:
Oklahoma State running back
Jeremy Smith
rushed for just 1 yard on 15 carries at West Virginia. According to ESPN Stats & Info, Smith's rushing total was the second worst by an FBS running back with that many carries in any game in the past 10 years.
Quote of the week:
"No doubt in my mind that we're a national championship-type of team." – OU running back
Brennan Clay
, after the Notre Dame win
September, 30, 2013
Sep 30
9:00
AM ET
This week's Power Rankings feature a new No. 1, as last week's No. 1 takes a tumble:
1. Oklahoma (4-0, 1-0 Big 12, last week 3):
The Sooners take over the top spot after delivering the most impressive Big 12 win of the season. Notre Dame is not the same team as last season, but the Irish hadn't lost in South Bend since October of 2011. OU has been a different team since
Blake Bell
took over at quarterback, and Bell was fabulous Saturday, throwing for two touchdowns without a turnover while churning out first downs with his arm and his legs. The OU defense is clearly better, too, picking off QB
Tommy Rees
on Notre Dame's first two possessions, with linebacker
Corey Nelson
returning one for a touchdown. The Sooners were clearly a team overlooked in the preseason, and, after five weeks, are looking like a clear Big 12 favorite along with Baylor.
2. Baylor (3-0, 0-0 Big 12, last week 2):
After the off week, the Bears' offense will get its first real challenge this weekend from West Virginia's defense that appears to be the most improved unit in the league. Baylor has been unstoppable so far, but the level of competition is about to undergo an uptick. Can the Bears keep it up? They've shown no signs they can't.
3. Texas Tech (4-0, 1-0 Big 12, last week 4):
Despite having the week off, the Red Raiders move up a spot with Oklahoma State's loss. The big question in Lubbock is who will be starting at quarterback for Tech come Saturday against Kansas.
Baker Mayfield
?
Davis Webb
?
Michael Brewer
, who has been progressing well from the back injury? The Red Raiders have been solid defensively, and the skill talent is legit. If Tech can get better play from its quarterback, this team could be a handful -- even for OU and Baylor.
4. West Virginia (3-2, 1-1 Big 12, last week 8):
What a difference a week makes. The Mountaineers produced the most impressive in-conference win of the season with a 30-21 victory over preseason favorite Oklahoma State. West Virginia's defense continues to play at a high level (Maryland's 37 points were somewhat of an anomaly because of West Virginia turnovers) and
Clint Trickett
sparked the offense with his energy and leadership. West Virginia's offense is still pretty limited, but at least it no longer looks completely inept with Trickett at quarterback. The Mountaineers can't score with Baylor this weekend, but maybe they can slow the Bears down? Nobody thought West Virginia could slow Oklahoma or Oklahoma State, either, though Baylor's offense is at another level. We'll see.
5. Texas (2-2, 1-0 Big 12, last week 5):
The Longhorns have a couple of interesting games looming. Thursday, Texas travels to Iowa State, which looked much better offensively in a 38-21 win at Tulsa this past Thursday. Then, Texas gets surging Oklahoma in Dallas. This figures to be the defining two-game stretch of the season for the Longhorns. Win the next two, and the season -- as well as Mack Brown's status in Austin -- looks totally different than it did two weeks ago. The off week could not have come at a better time for the Longhorns, giving acting defensive coordinator Greg Robinson another week to acclimate to his defense and quarterback
David Ash
another week to recover from the head injury that knocked him out of the Ole Miss and Kansas State games.
6. TCU (2-2, 0-1 Big 12, last week 6):
Did TCU's offense finally uncover an identity during a rainy fourth quarter against SMU? The Horned Frogs poured on 31 points in the final quarter and did it with some new faces, as
Ty Slanina
,
Ja'Juan Story
and
Cameron Echols-Luper
all factored into the scoring onslaught in the first real action of their TCU careers. The Horned Frogs can really turn their season around with a win in Norman this weekend. That won't be easy, though, if All-American cornerback
Jason Verrett
(shoulder) and defensive end
Devonte Fields
(foot) can't play.
7. Oklahoma State (3-1, 0-1 Big 12, last week 1):
The Cowboys plummet six spots after an uninspiring performance in Morgantown. It was just one loss, but it was a loss that exposed weaknesses across the board. For the first time in seemingly forever, Oklahoma State's kicking game is awful. The Cowboys' secondary gave up 320 yards to a West Virginia passing attack that previously had been completely futile. And on the other side of the ball, when the Mountaineers dared QB
J.W. Walsh
to beat them deep, he couldn't do it. That allowed West Virginia to stuff the Cowboys' running game, which also doesn't appear to have that bell-cow running back Oklahoma State has been accustomed to featuring. The Cowboys are better than they looked at West Virginia -- but how much better?
8. Kansas State (2-2, 0-1 Big 12, last week 7):
Bill Snyder maintains the Wildcats will stick with the two-quarterback system, which has yielded mixed results. K-State has moved the ball better when
Daniel Sams
has been in at quarterback. But when he's in, the Wildcats are virtually no threat to pass. Sams has 29 rushes and only four passing attempts. Is Sams really that poor of a passer? Maybe it's time for K-State to find out.
9. Iowa State (1-2, 0-0 Big 12, last week 10):
It's hard to believe a center could make that much of a difference. But the return of
Tom Farniok
sure seemed to do wonders for Iowa State's offense, which finally got going in a 38-21 win at Tulsa. The Cyclones also finally involved running back
Aaron Wimberly
, who ignited the running game with Iowa State's first 100-yard performance in more than a year. With former blue-chip junior-college transfer
E.J. Bibbs
emerging now at tight end, QB
Sam Richardson
no longer appears to be on his own. Jack Trice will be rocking Thursday night for the Longhorns, as Iowa State has a chance to land a signature win to build off of for the rest of the season.
10. Kansas (2-1, 0-0 Big 12, last week 9):
The Jayhawks have a winning record but have been mostly unimpressive. Can they turn around the offense against Texas Tech? That will hinge almost entirely on quarterback
Jake Heaps
, who has talent but has been unable to find any rhythm so far with a collection of unproven wideouts. If the Jayhawks can be competitive this weekend, it will be a good sign they are moving in the right direction. If they get blasted, it could be a long season, especially with Iowa State and West Virginia seemingly having found their stride.
August, 29, 2013
Aug 29
9:04
AM ET
An intriguing opening week in the Big 12, including a pair of neutral-site showdowns with the SEC.
My picks for Week 1 -- and I wouldn't go to Vegas with them:
FRIDAY
Texas Tech 35, SMU 27:
All eyes will be on Texas Tech's quarterback, whether that's
Davis Webb
or fellow true freshman
Baker Mayfield
. Whoever it is,
Eric Ward
and
Jace Amaro
will provide enough support to give Kliff Kingsbury the win in his Tech debut.
[+] Enlarge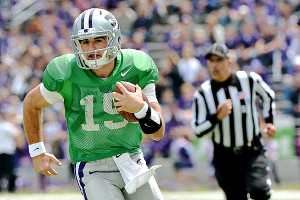 Peter G. Aiken/Getty ImagesJake Waters' debut at Kansas State comes against a North Dakota State team capable of pulling a surprise.
Kansas State 31, North Dakota State 22:
The last time the Bison visited the Sunflower State, they came away with a victory. Even though this game won't be in Lawrence, the two-time defending FCS champs won't go out easy. K-State and its veteran offensive line, however, eventually wear down the Bison in the second half as the Wildcats pull away in QB
Jake Waters
' first start.
SATURDAY
West Virginia 48, William & Mary 14:
Running back
Charles Sims
begins his West Virginia career with a monster debut, prompting the MountaineerS faithful to forget about Tavon Austin. Well, for a night anyway.
No. 13 Oklahoma State 38, Mississippi State 24:
Mike Gundy makes good on his word of playing both
Clint Chelf
and
J.W. Walsh
. And both quarterbacks shine in a two-quarterback system as the Cowboys defeat an SEC opponent in their opener for the second time in five years.
No. 16 Oklahoma 31, Louisiana-Monroe 14:
The Sooners have been dreadful in openers under Bob Stoops, and playing a freshman quarterback doesn't help things early, either. But
Trevor Knight
finally finds his groove in the second half and shows everyone why he ultimately beat out
Blake Bell
for the job.
Baylor 49, Wofford 21:
Lache Seastrunk
launches his Heisman campaign with a big season debut, but freshman receiver
Robbie Rhodes
steals the spotlight with a pair of touchdown receptions, showing why he's been generating so much buzz this preseason.
No. 15 Texas 56, New Mexico State 6:
The Longhorns waste no time attacking with their new up-tempo offense and bury the Aggies in the first quarter. The three-headed monster of Jonathan Gray,
Malcolm Brown
and
Joe Bergeron
looks crisp, too, racking up 250 yards rushing against a hapless New Mexico State defense.
Iowa State 24, Northern Iowa 21:
Sam Richardson
carries Iowa State to victory over the always-pesky Panthers with some clutch fourth-quarter passing. In the second half, junior college transfer
Aaron Wimberly
delivers a run and later a catch both for more than 40 yards, showing signs he might be the game-breaker the Cyclones have been coveting offensively.
No. 12 LSU 26, No. 20 TCU 21:
TCU has the front-line talent that LSU does on both sides of the ball. But the Tigers have two advantages: superior depth and the experience of playing in these kinds of games. That proves to be the difference, as LSU strips the Big 12 of a potential weekend sweep.
June, 3, 2013
Jun 3
9:00
AM ET
HornsNation is breaking down Texas' 2013 football schedule every Monday this summer. This week: The Longhorns' fifth game of the season vs. the Iowa State Cyclones on Oct. 3.
To continue reading this article you must be an Insider
Sources: Mack Brown Set To Resign