Four downs: Bye week brings rest
November, 14, 2012
11/14/12
2:00
PM ET
Each week Sean Adams takes a look at some topics around the
Texas Longhorns
and college football.
[+] Enlarge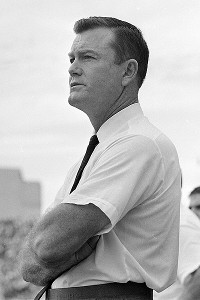 AP PhotoDarrell Royal on the Texas sidelines in 1962.
First down: The mold has been broken
Talking to all of the people I spoke to over the last week about Darrell K Royal -- from former Texas Tech head coach Spike Dykes to actor Matthew McConaughey to former Texas letter winner and billionaire Jim Bob Moffett -- two things became very clear to me: 1) DKR was so much more than just football and 2) The will never be another DKR.
I make that statement with the understanding that there are plenty of good and great men coaching football. The game is simply too complex, too broad and coaches have too much responsibility to be as diverse as DKR was.
The best part about DKR is that everyone can learn something from his life and his death. Coaches, parents, teachers and just human beings can learn from a life well lived.
There is a reason why many folks talk about the difference in death between being recalled and remembered. DKR is in the remembered category and all of us common folk in the recalled category have to learn what we can from the DKR's of the world to get to the other side.
Second down: The off week
While Texas does not have a lot of huge issues to manage during the off week, it could surely use the down time. At this time of year, most players are trying to play through dings and irritating injuries. An easy week of hard work without taxing the body will be good for everyone. Then there are the real injuries --
Malcolm Brown
, for instance -- and he could use another week to heal before two tough games against TCU and Kansas State.
Couple the rest and recovery issues with the emotional week surrounding the loss of such a legendary and impactful life like Royal's and this is a team, a program, a university and a fan base that needed time to exhale.
Third down: The clarity coming from hard times
We have all experienced hard times; dealing with those times allows us to find clarity on what we need to focus on. Dealing with the passing of a legend that touched so many parts of the Texas football program might allow this team to focus on the task in front of them.
I have been worried about the leadership, especially on the defensive side of the ball, for the last few weeks. Maybe this shock to their psyche will allow those that have disengaged to reengage to the leadership role they once took serious.
The old saying goes, "It is always darkest before the dawn." While I do not believe that the passing of DKR means as much to the players specifically as it does to the University, alumni and Mack Brown, it does signify everyone's mortality and more so the finite amount of time that we have to make an impact in what we dedicate ourselves to.
Any port in a storm, right?
Fourth down: Adams' Big 12 Power Poll
Kansas State (No. 1 last week): How will it handle the pressure of being the top-ranked team in the country?
Texas Longhorns Show Out On Pro Day
BIG 12 SCOREBOARD
Thursday, 9/3
Friday, 9/4
Saturday, 9/5