Q&A: Texas LB commit Deoundrei Davis
October, 3, 2012
10/03/12
10:00
AM ET
Texas linebacker commit
Deoundrei Davis
has never been lacking for motivation.
Since giving the Longhorns his pledge in February, the Cypress (Texas) Woods four-star outside linebacker has set his sights on joining the program as soon as possible. That meant devoting his summer to extra classes so he could get on track to graduate in December.
The No. 151-ranked prospect certainly wasn't short on motivation two weeks ago against Cypress Ridge, when Texas defensive coordinator Manny Diaz was standing on the sidelines and watching his future Longhorn.
[+] Enlarge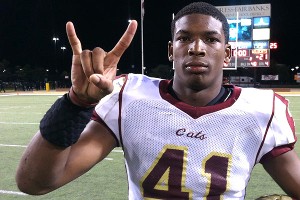 Max Olson/ESPN.comFour-star linebacker Deoundrei Davis is still being recruited by Texas A&M and Oklahoma State, but he said he's 100 percent committed to Texas.
For Davis, it was another chance to prove himself. Now he's looking forward to the big opportunity that arrives in three months when he enrolls at UT.
HornsNation:
Manny Diaz came to watch you play last month against Cypress Ridge. What did you think of spotting him at that game?
Deoundrei Davis:
Yeah, that was pretty cool having Manny there to watch me play. That he actually cared enough to come watch me play an actual game instead of just hearing about it, that was cool.
HN:
Did you try to show out for him a little more in that game?
Davis:
Yeah, but I'll show out in any game. That's my job on the football field, to always play my best and play hardest. I'm always going to give it my all. With him being there, it's just an extra boost.
HN:
Tell me about process of trying to enroll early. How tough was this summer for you?
Davis:
It wasn't really tough, it was just a lot of time spent in summer school. But it was definitely worth it with the benefits of graduating early and getting up to Texas early to get a jump-start.
HN:
How many classes did you have to take this summer to get on track for that?
Davis:
I took four with stuff like English and algebra. It's a good feeling. It takes a lot of dedication to do that and I'm very proud of myself and proud of everyone for supporting me through this whole process.
HN:
What can you bring to this Texas program in the spring?
Davis:
Exposure and excitement. I feel like I can bring a lot to that defense one I get it down. I'll bring excitement and a lot of plays.
HN:
Have you had a chance to watch Texas play this year?
Davis:
I have, I've watched every game. I feel like it's an outstanding defense. It really impressed me and I can't wait to be a part of that. I want to be part of that tradition and make Texas proud.
HN:
What is it about how Manny coaches and the way he uses his linebackers that appeals to you?
Davis:
The direction he gives them and the ability for free roaming. He gives them a chance to make plays, and that's what I like about that a lot. It's somewhat of the same defense we run at my high school, so I feel like I can come in there and know a lot. He can still teach me a lot to improve my game a lot more.
HN:
Have you met fellow linebacker commit
Naashon Hughes
yet? What do you think of him?
Davis:
I've met him a few times, yeah. We're pretty cool. I think he's an outstanding linebacker, too. Just to be on the same team with him, we can bring a lot to the table playing on the field together at one time.
Texas Longhorns Show Out On Pro Day
BIG 12 SCOREBOARD
Thursday, 9/3
Friday, 9/4
Saturday, 9/5