DE Thomas 'fell in love with football'
September, 19, 2012
9/19/12
8:00
AM ET
COPPELL, Texas -- Unlike many players in this state who grew up rooting for one of its traditional programs,
Solomon Thomas
was a transplant from various locations around the world who didn't have a clue who to root for.
"I didn't grow up rooting for one school, because I moved all around the country," said Thomas, who moved because of his father's job. "I was born in Chicago, moved to Australia, moved to Connecticut and then here [to Coppell, Texas]. So when I moved here, people told me I had to root for Texas."
So root for Texas he did, which helps in explaining why one of the state's top junior defensive ends holds such a deep admiration for the Longhorns.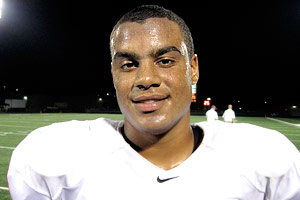 Bob Przybylo/ESPN.comClass of 2014 defensive end Solomon Thomas hasn't hid his admiration for the Longhorns.
Thomas got to see Texas' gameday operation unfold first-hand on Sept. 8 when he took an unofficial visit to watch the Longhorns host New Mexico. Not surprisingly, he enjoyed every bit of it.
"I went down there to try to have a good time, watch the game and try to get a better connection with the team," he said. "It worked out that way. I had a heck of a time."
So much so that Thomas intends on making the rest of Texas' home games this season, as well as its annual grudge match against Oklahoma.
That's all music to the ears for a Longhorns program that would like him to be playing against the Sooners, and not with them, in future Red River Rivalry games. Both schools have offered, but it's clear, from his future plans, what school is currently out in front.
"I will definitely try to get up to [an] Oklahoma home game," he said. "Right now I don't know if I can but I will definitely try."
There are various reasons why Thomas holds Texas in such high regard, and it starts with the relationships he has with its coaching staff.
"I just loved how comfortable I was with the coaches," Thomas said of his game visit. "I just had a great time down there, and it was a lot of fun. I spoke to Coach [Oscar] Giles, Coach [Darrell] Wyatt and Coach [Mack] Brown. We just talked about keep working hard, keep playing and that they wanted me here. But right now is just not the right time to do anything. It was a lot of fun, though."
He also likes the guaranteed scholarship that Texas gives those that commit to them.
"What I like about Texas is if they offer you a scholarship, even if you get hurt they will still honor your scholarship so you can get an education," Thomas said. "I want to do business, and they have an exceptional business school. I like that a lot."
The three-hour commute south to Austin doesn't hurt either.
"One thing that always stood out to me is everywhere I go I always try to measure how comfortable I am there and if I can be myself and get along with the other players," Thomas said. "I have some friends down there, a lot of Coppell people go there for school, so I feel at home there. I don't feel like I am too far away from Coppell. I feel like I can be there without having to worry about anything."
Home has meant many different places to the 6-foot-3, 265-pound prospects. He moved from Chicago to Australia when he was 1 and stayed there for roughly six years. From Australia he moved to Connecticut for four years before finally settling in the Dallas Metroplex.
Because of those moves, football didn't really become a major part of Thomas' life until his freshman season. He was an avid swimmer growing up in Australia and would have probably taken up one of the country's biggest sports had he stayed there longer.
Texas Longhorns Show Out On Pro Day
BIG 12 SCOREBOARD
Thursday, 9/3
Friday, 9/4
Saturday, 9/5