Healthy CB Davis making most of season
September, 12, 2012
9/12/12
8:00
AM ET
BASTROP, Texas -- Opponents want nothing to do with
Antwuan Davis
these days.
When Bastrop's ESPN 150 cornerback is covering a receiver this season, that receiver almost always runs a fly route. Often times, he doesn't even look for the ball.
Why would he? The quarterback's not throwing his way.
That's all part of the plan. Take the Texas commit deep and eliminate him from the play. Don't let him be the reason you lose.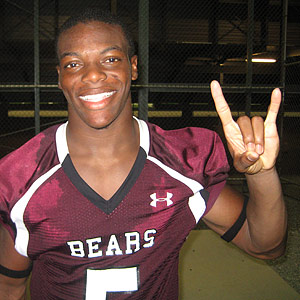 Max Olson/ESPN.comTeams aren't testing Texas cornerback commit Antwuan Davis this season.
"I'm not going to lie, it gets tiring," Davis said. "I mean, they just run me off the field. So I'm asking coach if he can just put me at safety so I can read stuff. When they try to run me off, I'm like, 'OK, so that's how it's going to be.'"
That's simply not acceptable to Davis. The 6-foot, 180-pound cornerback knows the target on his back came with the territory of being a future Longhorn. But he's got big plans for this year.
After a misdiagnosed back injury unnecessarily cost him about half of his junior season, Davis is taking the field with a clean bill of health, a clear head and a drive to make the most of his senior year.
Getting the back injury out of his mind took some work. Davis had regrets. Had he spoken with a back specialist earlier, he would've learned he was OK to play.
"It's definitely meant something and been something I had to overcome," he said. "You get your back hurt and miss the rest of the season, that's not a good feeling at all. Just getting back here, I was careful to the point."
When his track season started this spring, Davis made a resolution: The back is fine. In fact, it was never hurt to begin with.
That's the mindset he felt he needed to adopt. Otherwise, the doubt would continue to creep in. He knew it could consume him – both on the track and the football field -- if he let it.
"You can't play half speed just because you got hurt before," he said. "If you're fully healthy and 100 percent ready to go, you play fully healthy and 100 percent ready to go.
"That's what I had to do. I had to get it all the way out my mind. Right now, to me, I never had anything wrong with my back. That's just what I have to put in my head."
The mind games are working. Bastrop coach
Gerald Perry
hasn't heard Davis mention his back once this season. They don't talk about it. They don't need to.
"I've known him for these past five years and he's in the best shape of his life," Perry said. "He's playing a lot of offense, too, and he's never tapped out to come out. He's a great competitor and he never asks to come out, and that's a good thing."
Davis isn't out to get that half-season back. Nothing he can do about that now. But he is trying to take more joy in playing. You never know when it'll be taken away, he says.
That's why he happily agreed to take on the role of playing one of the running back positions in Perry's Georgia Tech-style flexbone offense.
"I love it. I enjoy every bit of the offense," Davis said. "It's a fun offense. It's not one of those boring ones. When I'm running in motion, it feels like Little League again. That was always the best days."
Davis rushed for a touchdown in Bastrop's 28-27 win over Gonzales on Friday, but that wasn't the highlight of his night.
No, the highlight came midway through the fourth quarter. That's when Gonzales decided to finally test Davis.
Texas Longhorns Show Out On Pro Day
BIG 12 SCOREBOARD
Thursday, 9/3
Friday, 9/4
Saturday, 9/5