Texas gets big pledge from OT Weathersby
March, 22, 2014
Mar 22
4:05
PM ET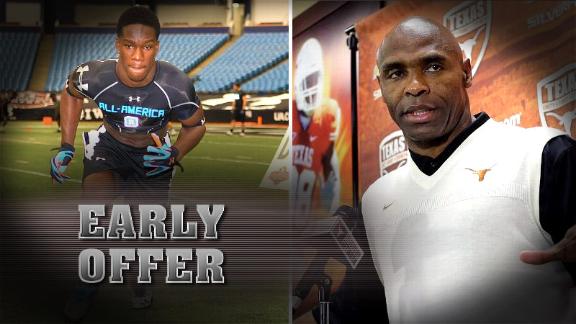 Texas
got stronger on Saturday with a commitment from an Under Armour All-American offensive lineman.
Houston Westfield offensive tackle
Toby Weathersby
became commit No. 9 for the Longhorns in the
2015 class
when he gave his pledge after attending a spring practice.
To continue reading this article you must be an Insider
Insider
Gray on the Longhorn Offense
Junior Running back Johnathan Gray discusses being back on the field and the strengths of the Longhorn offense during the North Texas game.
Gray on the Longhorn Offense
VIDEO PLAYLIST
HORNSNATION RECRUITING NEWS
TEXAS FB RECRUITING SCORECARD
max_olson

Max Olson


Excluding sacks: Texas gave up 914 rush yards to QBs last year, Louisville allowed 924 total in 2011-13.
14 minutes ago

max_olson

Max Olson


Taysom Hill ran for 259 yds vs. Texas in '13. In last 3 years at Louisville, Strong's D gave up 209 total rush yds to QBs.
19 minutes ago

Trey_Scott3

Trey Scott


Excited to begin today at @Horns247, as site manager. I'll also be covering UT football, basketball, baseball w/ @JeffHowe247, and 'crootin
28 minutes ago

Big12Conference

Big 12 Conference


#Big12FB: #Big12Insider Wendell Barnhouse reports from Waco on @BUFootball's stadium-opening shutout win over SMU - http://t.co/UiWGNtgD7s
34 minutes ago

LonghornDigest

Kevin Flaherty


Seems high. RT @AutulloAAS Texas opens as a 4-point favorite in Saturday's home game against BYU.
35 minutes ago

ESPN_CoachMack

Mack Brown


"When you stop chasing the wrong things, you give the right things a chance to catch you." Lolly Daskal
39 minutes ago

Big12Conference

Big 12 Conference


#Big12FB: Tune in to the weekly #Big12 football coaches teleconference (9:50 a.m. CT start) - http://t.co/E1qZ1aUP8S
42 minutes ago

thatsean

Sean Adams


TFTD - The discipline you learn and character you build from setting and achieving a goal can be more valuable than the goal itself.
about an hour ago

thatsean

Sean Adams


#RealTalk http://t.co/Sn1inJCwqO
about an hour ago

jimmyconwayjr

Jimmy Conway


@thatsean @frogfanatic0529 Baylor is being mentioned with the best and they are stuck competing for 6th-7th spot in B12 with Tech.
about 2 hours ago

thatsean

Sean Adams


They're in the Big 12 and it was the only game on RT @jimmyconwayjr: @frogfanatic0529 @thatsean Why do y'all talk about Baylor so much? Smh.
about 2 hours ago

SBN_Wescott

Wescott Eberts


So are Baylor fans going to appropriate the #WRTS hashtag now? http://t.co/0Hb6qjAigd
about 7 hours ago

JaxonShipley

Jaxon Shipley


So proud of my brother @JohnHarris00!! He's been through a lot over the years but has had the best attitude. You deserve success.
about 9 hours ago

JaxonShipley

Jaxon Shipley


So proud of my brother @JohnHarris00!! He's been through a lot over the years but has had the best attitude. You deserve success.
about 10 hours ago

TXStampede

Doug Farrell


RT @smartfootball: UNT passing game statline against Strong's Texas D: 3 of 17 for 15 yds, 4 INTs and a negative (!) 22 passer rating. #DBU
about 10 hours ago

Big12Conference

Big 12 Conference


#Big12FB Week One @Storify full of tweets, photos & highlights from opening weekend - http://t.co/03L0lcg9rz
about 10 hours ago

Big12Conference

Big 12 Conference


#Big12Insider Baylor quarterback Bryce Petty post-game interview with FS1's Kris Budden. http://t.co/SCJAOiwtKY
about 10 hours ago

Big12Conference

Big 12 Conference


#Big12FB Final: @BUFootball 45, SMU 0. It's BU's first shutout over an FBS opponent since 1995.
about 10 hours ago

max_olson

Max Olson


SMU plays North Texas on Saturday. NCAA record for total punts in a game is 77.
about 10 hours ago

Big12Conference

Big 12 Conference


RT @BUFootball: Bears open @McLaneStadium in style. 45-0. #McLaneKickoff #SicSMU http://t.co/mZ4C2ucfTH
about 10 hours ago

max_olson

Max Olson


NCAA record for total punts in a game is 77. Also, SMU plays North Texas on Saturday.
about 10 hours ago

thatsean

Sean Adams


Nobody… RT @TheBrandonLamar: @thatsean @DanWetzel @Matt_HayesSN What's a&m won Sean? Does Texas run the state?
about 11 hours ago

Ced_Reed88

Cedric Reed


All business this week! #beatBYU #letsride http://t.co/QBAfxMxDq5
about 11 hours ago

kstate_pres

Kirk H. Schulz


I must say - the @BaylorAthletics stadium looks spectacular on TV - we have great FB facilities in @Big12Conference! Well done Bears!
about 11 hours ago

thatsean

Sean Adams


Baylor is doing well but they've won one Big 12 Championship. Do they really run the state? @DanWetzel @Matt_HayesSN
about 11 hours ago

thatsean

Sean Adams


I'm a Pac 12 homer for sure and I even think Joey Harrington needs to chill on the Pac 12 love. #KeithJacksonII
about 11 hours ago

BON_SBNation

Burnt Orange Nation


#Horns RB Johnathan Gray on last season: "It wasn't so much that we didn't care, it was just that got guys got complacent." #hookem
about 11 hours ago

CollegeGameDay

College GameDay


College football on a Sunday night…yes please.
about 11 hours ago

thatsean

Sean Adams


Yes… RT @jdubs88: @thatsean Shouldn't they be in better shape?
about 12 hours ago

thatsean

Sean Adams


New rich. They have one conference championship. RT @dennisdoddcbs: RGIII: "Baylor has owned Texas for a while now." http://t.co/9DaHbpGzHU
about 12 hours ago

thatsean

Sean Adams


Yes, I laughed out loud. RT @jdubs88: Justin, Kate: Cross Fit.
about 12 hours ago

Big12Conference

Big 12 Conference


#Big12Insider Baylor first possession of 2nd half and sophomore Seth Russell takes over at QB.
about 12 hours ago

thatsean

Sean Adams


No need to insult @ErinAndrews or @LonghornNetwork RT @bobcat_180: @thatsean Sean are you the Erin Andrews of the LHN sideline reporting
about 12 hours ago

Big12Conference

Big 12 Conference


#Big12Insider Baylor leads 31-0 with All-American WR Goodley (muscle tightness) on sideline most of 1st half and Petty (back) limited.
about 12 hours ago

Big12Conference

Big 12 Conference


#Big12Insider Halftime stats: Baylor 244 yards total offense on 40 plays. SMU 39 yards offense on 40 plays. SMU has 4 1st downs, BU 6 sacks.
about 12 hours ago

Big12Conference

Big 12 Conference


#Big12Insider Halftime score: Baylor 31, SMU 0.
about 12 hours ago

thatsean

Sean Adams


Of him grabbing has back and overthrowing open receivers? RT @AdamLoewy: @thatsean National audience = Heisman buzz.
about 13 hours ago

thatsean

Sean Adams


Seriously why is Petty still in the game? Someone explain that to me. #Baylor
about 13 hours ago

Big12Conference

Big 12 Conference


#Big12Insider Bryce Petty is playing but he's limping. Clutched his lower back after roll out pass play.
about 13 hours ago

thatsean

Sean Adams


That SMU vs. North Texas game next week is going to be a real barnburner.
about 13 hours ago

Big12Conference

Big 12 Conference


#Big12Insider Penalty short circuits Baylor drive. Petty leaves field limping (slightly) after 3rd down incompletion.
about 13 hours ago

Big12Conference

Big 12 Conference


RT @joelklatt: I think it's fair to say that the @Big12Conference is underrated after this first week.
about 13 hours ago

Big12Conference

Big 12 Conference


#Big12Insider SMU fails on 4ht down try on Baylor 47. Seth Russell with headset, not helmet. Petty back in at QB.
about 13 hours ago

MarkEnnis

Mark Ennis


June Jones coaches like he was just tenured.
about 13 hours ago

thatsean

Sean Adams


This game is so bad that we won't learn anything about the Baylor defense. We already knew Oakman was a beast. This does not help #Baylor.
about 13 hours ago

max_olson

Max Olson


Bryce Petty, already playing with some back pain, took this hit on TD run. Not good. https://t.co/EpsDePvXTp
about 13 hours ago

Big12Conference

Big 12 Conference


#Big12Insider Bryce Petty has taken some big hits while matriculating the football. #HideHisHelmet Seth Russell warming up.
about 13 hours ago

breakground

Don Muret


New piece of customer service at McLane Stadium http://t.co/YCscwzvVYR
about 13 hours ago

thatsean

Sean Adams


The only thing that will keep me watching this Baylor vs. SMU game is if Baylor goes for 100.
about 13 hours ago

Big12Conference

Big 12 Conference


#Big12Insider Spectacular pick by BU's Xavien Howard sets up Bryce Petty's 5yd TD run and a 31-0 lead for Baylor.
about 13 hours ago

thatsean

Sean Adams


My goodness SMU is bad! But all around from NFL to college, there's some bad football on TV right now.
about 13 hours ago

Big12Conference

Big 12 Conference


#Big12Insider Official 1st Q stats: SMU 22 plays, 10 yards. Baylor 21 plays, 148 yards.
about 13 hours ago

Big12Conference

Big 12 Conference


#Big12Insider BREAKING: Baylor's first possession of 2nd Q results in a (gasp) 3-and-out.
about 13 hours ago

thatsean

Sean Adams


True… RT @SmackieTweets: @thatsean they miss an offensive line that can block!
about 13 hours ago

max_olson

Max Olson


Bryce Petty seems to playing with some pain. TV replay made it look like lower back is the issue.
about 13 hours ago

Big12Conference

Big 12 Conference


#Big12Insider SMU switched QBs twice in 1st half. Mustangs have 15 yds in total offense. Biggest gain is a 58yd kickoff return.
about 13 hours ago

Big12Conference

Big 12 Conference


#Big12Insider Petty to freshman K.D. Cannon for a 46yd TD pass. Straight streak pattern. #Big12Speed Baylor 24, SMU 0. 0:28 left 1st Q
about 13 hours ago

max_olson

Max Olson


K.D. Cannon catching a bomb is gonna happen a lot over the next 3 years. 46-yard TD on first career catch.
about 13 hours ago

thatsean

Sean Adams


I'll say it, SMU misses Garrett Gilbert. And misses him bad.
about 13 hours ago

max_olson

Max Olson


SMU trying its hardest to prove that old "if you have 2 quarterbacks, you don't have one" axiom tonight.
about 13 hours ago

Big12Conference

Big 12 Conference


#Big12Insider Baylor gets 45yd punt return from Levi Norwood to SMU 4, converts on 3rd down for TD and 17-0 lead.
about 13 hours ago

Big12Conference

Big 12 Conference


#Big12Insider SMU's first 4 possessions: 1 first down, 1 turnover, 3 3 and outs, 4 punts.
about 14 hours ago

Big12Conference

Big 12 Conference


#Big12Insider After Hager forces fumble, Shock Linwood with the walk in TD. Baylor 10, SMU 0 with 6:23 left in 1st Q.
about 14 hours ago

Longhorn_FB

Longhorn_FB


Video: All of the excitement and passion from Charlie Strong's first victory as the new HC of the Texas Longhorns. http://t.co/0sZK00HB3K
about 14 hours ago

Big12Conference

Big 12 Conference


#Big12Insider Baylor defense forces 3 and out, offense drives for a field goal and a 3-0 lead over SMU.
about 14 hours ago

max_olson

Max Olson


Phil Bennett surprised me when he said Fiesta Bowl was legitimately toughest loss of his career. This D is motivated.
about 14 hours ago

Big12Conference

Big 12 Conference


#Big12Insider President Bush and wife Laura on the field for the coin toss for SMU-Baylor.
about 14 hours ago

SportsCenter

SportsCenter


Robert Griffin III gets a bronze statue in Waco. It's been 3 years since @RGIII won the Heisman at Baylor. http://t.co/mz205ocGUb
about 14 hours ago

stevehabel

Steve Habel


Texas center Dominic Espinosa has a broken right ankle and will miss the rest of the season. Huge blow to already inexperienced OL. #horns
about 15 hours ago

ladycathydee

Catherine Campbell


It's a beautiful stadium, no doubt, but I will always root for my @SMUMustangs #PonyUp #BUvsSMU @ChipBrownHD http://t.co/oLJJzmLIVp
about 15 hours ago

ChipBrownOB

Chip Brown


"@Bama_man_Judd: @ChipBrownHD @RachelBaribeau can he ask for a medical exemption, and 6th year?" ... Yes he'd likely qualify.
about 15 hours ago

Big12Conference

Big 12 Conference


Tweet us your top play nominations from Saturday's game using #TotPlays. Voting for week one will start Tuesday. http://t.co/xmkw3Q6HMC
about 15 hours ago

HeathNielsen

Heath Nielsen


I'd say the Baylor folks showed up for the debut of @McLaneStadium. #sicem MT @wacotrib: @WacoTrib /Jose Yao. http://t.co/pBALBHw6HC
about 15 hours ago

max_olson

Max Olson


ICYMI: The winding, heartbreaking journey that brought DC Phil Bennett to #Baylor http://t.co/TAkxg7Xg6d
about 15 hours ago

BChatmon

Brandon Chatmon


Field level look at McLane http://t.co/600eHjCsAv
about 15 hours ago

ChipBrownOB

Chip Brown


The RG3 statue, just south of McLane Stadium, was unveiled today and hasn't been popular at all. At all. http://t.co/d7aCayJPuh
about 15 hours ago

thatsean

Sean Adams


Top priority is figuring out center now! RT @jaldridge116: @thatsean What is your opinion on Joe Wicklines offensive line?
about 15 hours ago

Big12Conference

Big 12 Conference


Baylor's McLane Stadium ready for its debut vs. SMU. Follow #Big12Insider for game updates. http://t.co/5a3jxqihMA
about 15 hours ago

ChipBrownOB

Chip Brown


Baylor getting ready to christen McLane Stadium, aka The House Art Briles Built, vs - you guessed it -… http://t.co/2ctDb384Nw
about 15 hours ago

Big12Conference

Big 12 Conference


Another win for #Big12SOC over ranked foe-Congrats! MT @KUWSoccer: Jayhawks WIN! KU takes down No. 24 Wake Forest 4-1 http://t.co/AAwJ2WVaHZ
about 15 hours ago

Big12Conference

Big 12 Conference


#Big12Insider rode the elevator with the real live model of this statue. #RGIII #NameDropper http://t.co/2G2UAcGHJI
about 15 hours ago

Big12Conference

Big 12 Conference


http://t.co/imRnUNZElI
about 15 hours ago

ChipBrownOB

Chip Brown


Crushing news for #Texas fifth-year center Dom Espinosa - a broken right ankle and will likely miss the rest of UT's regular season.
about 16 hours ago

Big12Conference

Big 12 Conference


Tweet in your top plays from Saturday's #Big12FB games using #TotPlays. Voting for week one will start on Tuesday! http://t.co/mFvib8iL41
about 17 hours ago

SBN_Wescott

Wescott Eberts


Wide-ranging notes and observations on the Texas O, D, and special teams from Saturday night. #hookem http://t.co/fqjWDSfk1z
about 17 hours ago

SBN_Wescott

Wescott Eberts


Great scene MT @BDavisAAS: The CFB fan in me is pumped for McLane Stadium debut. Boats, fans everywhere here in Waco. http://t.co/VUMMdZdYxq
about 17 hours ago

BON_SBNation

Burnt Orange Nation


LB Jordan Hicks made plays in the passing game in HS, but his INT on Saturday night was the first of his college career. #hookem
about 17 hours ago

SBN_Wescott

Wescott Eberts


South Carolina didn't look at all like a Top 25 team on Thursday night, but UNT isn't near as good as last year, either. Know that.
about 17 hours ago

SBN_Wescott

Wescott Eberts


Hey Texas fans, here's an example of how not to arguehttps://t.co/7mi7g1LtVL
about 17 hours ago

SBN_Wescott

Wescott Eberts


Twas needed, for sure RT @char610: Oh, finally an official @BON_SBNation account! Way to up your social media game guys! #NewEra
about 17 hours ago

SBN_Wescott

Wescott Eberts


You know you're a recruiting analyst when you see the statue of RGIII and your first thought is "Nice wrist load!" http://t.co/6EkyCvROWN
about 17 hours ago

Big12Conference

Big 12 Conference


#Big12FB: Reigning #Big12 champion @BUFootball opens @McLaneStadium against SMU at 6:30 p.m. CT on @FOXSports1. http://t.co/1MpluUBguW
about 17 hours ago

BON_SBNation

Burnt Orange Nation


Charlie Strong on J-Gray's return: "If I was to pick an MVP from camp, it would be Johnathan Gray because of his total work ethic." #hookem
about 18 hours ago

SBN_Wescott

Wescott Eberts


Texas had four sacks against UNT on Saturday night. The Mean Green had allowed only 17 sacks in the last two seasons. #hookem
about 18 hours ago

SBN_Wescott

Wescott Eberts


Hey, y'all, we just started a new Twitter feed for Burnt Orange Nation -- @BON_SBNation. Give it a follow, #Horns fans. #hookem
about 18 hours ago

SBN_Wescott

Wescott Eberts


.@curryshoff has a message in Sunday Morning Optimist for those making fun of Charlie Strong's Gatorade bath http://t.co/8RT9lRKzQB #hookem
about 19 hours ago

SBN_Wescott

Wescott Eberts


Check out the new @SBNationCFB show "Wake Up, College Football!" featuring @DanRubenstein and @celebrityhottub http://t.co/tJCfoX7Wmf
about 19 hours ago

TexasSports

Texas Longhorns


Watch @TexasSoccer vs. Nevada at 2 p.m. CT on @LonghornNetwork or http://t.co/csZppMg7R9 at http://t.co/Hkqf3ralHv. #longhorns
about 19 hours ago

Big12Conference

Big 12 Conference


#Big12FB fans! Tweet in your week one top plays from Saturday's games using #TotPlays. Voting will start Tuesday. http://t.co/1jHrKZbpiQ
about 19 hours ago

Longhorn_FB

Longhorn_FB


Video: LHN Texas vs North Texas highlights. The Texas Longhorns defeated North Texas 38-7 on Saturday night at DKR. http://t.co/zSe19gJ97h
about 20 hours ago
BIG 12 SCOREBOARD
Saturday, 8/30
Sunday, 8/31
BLOG ARCHIVE:
CATEGORIES: