Ultimate 300: Big 12's top recruits
January, 29, 2014
Jan 29
10:30
AM ET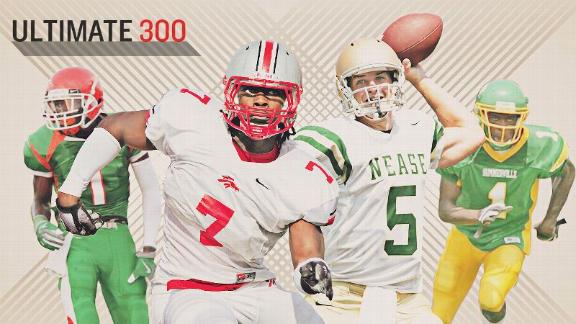 It's always fun to think back to the former stars of college football recruiting. The Big 12 had a few players who made an impact during their respective recruiting processes.
Here are five players from the Big 12 who made the top 50 of the
ESPN Ultimate 300
.
To continue reading this article you must be an Insider
Welcome
!
We see that you are not an ESPN Insider. Upgrade today and gain access to our exclusive coverage.
ESPN The Magazine subscribers

Need more information?
D-Line Success the Focus for Chris Rumph
A defensive line coach at Clemson and Alabama with National Championship experience, Chris Rumph is in his first season as assistant head coach for defense and defensive line coach at The University of Texas.
Tags:
Chris Rumph
,
Texas Longhorns
,
NCAA Football
D-Line Success the Focus for Chris Rumph
VIDEO PLAYLIST
D-Line Success the Focus for Chris Rumph

D-Line Success the Focus for Chris Rumph

A defensive line coach at Clemson and Alabama with National Championship experience, Chris Rumph is in his first season as assistant head coach for defense and defensive line coach at The University of Texas.

Tags: Chris Rumph

,

Texas Longhorns

,

NCAA Football

Longtime Strong Associate Sits Down With LHN

Longtime Strong Associate Sits Down With LHN

Coaches Spotlight: Offensive Coordinator Joe Wickline

Coaches Spotlight: Offensive Coordinator Joe Wickline
TEXAS FB RECRUITING SCORECARD
Nike Texas Longhorns Mini Rubber Football Shop »
UT_MackBrown

Mack Brown


"@nickprice_24: @UT_MackBrown @thegreatchapsby favorite win you ever had against A&M?"Last one
about 4 hours ago

UT_MackBrown

Mack Brown


"@mminshew: @UT_MackBrown what did you think of McConaughey in True Detective?"Loved it
about 4 hours ago

UT_MackBrown

Mack Brown


"@Austin_Labbe: @UT_MackBrown my dad, a UT grad, fan and the best man i know is having spine Good luck
about 4 hours ago

UT_MackBrown

Mack Brown


"@TGolfer83: @UT_MackBrown I'm a golf coach in San Angelo and a huge fan coach. Any advice for a new coach?"Follow your dream
about 4 hours ago

UT_MackBrown

Mack Brown


"@randypandyy69: @UT_MackBrown who was a better quarterback Young or McCoy?"Yes. Both!
about 4 hours ago

UT_MackBrown

Mack Brown


"@TrevorSloan93: @UT_MackBrown How many times have you won a debate/argument with Joe Jamail? #greatlawyer"Never! Ha
about 4 hours ago

UT_MackBrown

Mack Brown


"@Lauren123789: @UT_MackBrown who is your favorite big 12 coach?"Bill Snyder
about 4 hours ago

UT_MackBrown

Mack Brown


"@CardoSally: @UT_MackBrown tips for a player who doesn't get invites to combines just trying to get noticed?"Just do your best
about 4 hours ago

UT_MackBrown

Mack Brown


"@memotheocho: @UT_MackBrown do you still keep up with Ricky coaching at UIW?"Ricky is great. I'm really proud of him
about 4 hours ago

UT_MackBrown

Mack Brown


"@WittWortham2: @UT_MackBrown if you didn't coach what would've done ?"Lawyer
about 4 hours ago

UT_MackBrown

Mack Brown


"@LcSwish15: @UT_MackBrown If Colt didn't get injured, would you guys have beaten Alabama?"Interesting thought?
about 4 hours ago

UT_MackBrown

Mack Brown


"@ReedRobertson: @UT_MackBrown @Haseeb007 Barnes coach of the year. Great turnaround."I love Rick
about 4 hours ago

UT_MackBrown

Mack Brown


"@eabarrett6: @UT_MackBrown gonna miss ya coach. What was your highlight of this past season?"Beating OU
about 4 hours ago

UT_MackBrown

Mack Brown


"@WittWortham2: @UT_MackBrown do you like rap music"I like all kinds of music
about 4 hours ago

UT_MackBrown

Mack Brown


"@Riveracp3: What advice do have for a normal kid trying to achieve his dreams? @UT_MackBrown"Go for it
about 4 hours ago

UT_MackBrown

Mack Brown


"@TkacRyan: @UT_MackBrown Loudest road venue in your tenure at Texas?"Aggies are very loud
about 4 hours ago

UT_MackBrown

Mack Brown


"@jwdavis13: @UT_MackBrown Monroe not in the conversation for the fastest you have coached?"He is very fast
about 4 hours ago

UT_MackBrown

Mack Brown


"@JeffDLowe: @UT_MackBrown what clubs are you swinging Make any trade ins at @Golfsmith lately?"I love golf but it is a tough deal
about 4 hours ago

UT_MackBrown

Mack Brown


"@nick_lozanovski: @UT_MackBrown did the fans at boone Pickens really effect things by being so close?"I loved playing @ OSU
about 4 hours ago

UT_MackBrown

Mack Brown


"@emma_p_25: @UT_MackBrown have you ever fired the cannon at the stadium?"Nope
about 4 hours ago

UT_MackBrown

Mack Brown


"@TkacTkac: @UT_MackBrown do you drink coffee black?"no coffee
about 4 hours ago

UT_MackBrown

Mack Brown


"@Haseeb007: @UT_MackBrown coach, any thoughts about Texas Basketball team will go in the NCAA tourney this year?"I like this team
about 4 hours ago

UT_MackBrown

Mack Brown


"@emma_p_25: @UT_MackBrown would you say texas or tennessee is more beautiful"Yes.Two great state. I call both home
about 4 hours ago

UT_MackBrown

Mack Brown


"@TheTylerSchmitt: @UT_MackBrown @jonarens by 'Pres Bush' I assume you mean Jeb? I love GW. He was Gov when I got here
about 4 hours ago

UT_MackBrown

Mack Brown


"@rtfedell: @UT_MackBrown what is your most memorable season coaching at UT?"05
about 4 hours ago

UT_MackBrown

Mack Brown


"@randypandyy69: @UT_MackBrown are you going to coach again?"Not sure
about 4 hours ago

UT_MackBrown

Mack Brown


"@n_Weltner2: @UT_MackBrown how is playing in Ames? Only chance I ever get to watch the Horns play"I love Ames. Great fans
about 4 hours ago

UT_MackBrown

Mack Brown


"@TkacTkac: @UT_MackBrown Favorite part of Austin?"I just love Austin but the allergies
about 4 hours ago

UT_MackBrown

Mack Brown


"@skippyboy5555: @UT_MackBrown @bartonsimmons @JNipster I said stay with Tex. It's great
about 4 hours ago

UT_MackBrown

Mack Brown


"@7teej: @UT_MackBrown how much do you love kansas state?"I love Bill Snyder
about 4 hours ago

UT_MackBrown

Mack Brown


"@jtb2105: @UT_MackBrown what's the one thing you're going to miss about coaching the most?"Relationship with players & fans
about 4 hours ago

UT_MackBrown

Mack Brown


"@JonMontoya_: @UT_MackBrown What advice would you give to a 20 year old varsity high school coach?"Follow your passion
about 4 hours ago

UT_MackBrown

Mack Brown


"@Hatchet_33: @UT_MackBrown most memorable moment besides the national championship?"Beating Mich & Ohio St
about 4 hours ago

UT_MackBrown

Mack Brown


"@jonarens: @UT_MackBrown stuck on an island and can only bring non human 3 things?"J Jamail, Re McCombs & Pres Bush
about 5 hours ago

UT_MackBrown

Mack Brown


"@chewy_MB: @UT_MackBrown who is the fastest player who played for you at Tex?"Marquis?Jamaal? Ramance?
about 5 hours ago

UT_MackBrown

Mack Brown


"@txmudnhunt: @UT_MackBrown mr brown are you doing any hunting Burnt Orange doesn't feel the same without you"Nope. I don't hunt
about 5 hours ago

UT_MackBrown

Mack Brown


"@Swindle_46: @UT_MackBrown I'm helping @Jake_Vella coach that third grade team, and I'm an SAE! Any assistant coaching tips?"be passionate
about 5 hours ago

UT_MackBrown

Mack Brown


"@MichaelJTang: @UT_MackBrown surprised you didn't go with the 2005 Rose Bowl vs Michigan. My first Texas game!"Great game as well
about 5 hours ago

UT_MackBrown

Mack Brown


"@JWCortinas: @UT_MackBrown Do you know what 36-20 is off the top of your head?"yes. Good day!
about 5 hours ago

UT_MackBrown

Mack Brown


"@caroline_m11: @UT_MackBrown What's your favorite sport at Texas, besides football Basketball & baseball. VB & soccer are special
about 5 hours ago

UT_MackBrown

Mack Brown


"@mr_domino_: What a stand up guy you are @UT_MackBrown"Thx
about 5 hours ago

UT_MackBrown

Mack Brown


"@ikeepsit_1hunid: @UT_MackBrown VY steakhouse or Rivals?"VY Steakhouse is the best
about 5 hours ago

UT_MackBrown

Mack Brown


"@Coach_Miller13: @UT_MackBrown any advise you can give me for me as I become a coach. Follow your dream & passion
about 5 hours ago

UT_MackBrown

Mack Brown


"@Jordann_R35: @UT_MackBrown best advice for a kid going to college soon on starting a career in coaching"Follow your dream
about 5 hours ago

UT_MackBrown

Mack Brown


"@Dorkenstein22: @UT_MackBrown Mad appreciation for all done. Sally & I love our volleyball team & will come to games
about 5 hours ago

UT_MackBrown

Mack Brown


"@BA_Smith1: @UT_MackBrown I have six pairs too! What size do you wear?"10& 1/2
about 5 hours ago

UT_MackBrown

Mack Brown


"@Tblanco14: @UT_MackBrown how do you like your steaks done?"Medium plus
about 5 hours ago

UT_MackBrown

Mack Brown


"@Johnathonlee: @UT_MackBrown favorite longhorn game other than win over usc?"Beating OSU @ the Horseshoe
about 5 hours ago

UT_MackBrown

Mack Brown


"@CoreyElliot: @UT_MackBrown do you still love Texas?"Love Tex
about 5 hours ago

UT_MackBrown

Mack Brown


"@pskinner11: @UT_MackBrown Outside of the NC in 05... what was your most memorable Longhorn moment?"beating OSU @ the Horseshoe
about 5 hours ago

UT_MackBrown

Mack Brown


"@Jake_Vella: @UT_MackBrown coaching a 3rd grade basketball team this summer...any advice?"Stay positive
about 5 hours ago

UT_MackBrown

Mack Brown


"@MoMolina14: @UT_MackBrown comments on Coach Akina to Stanford?"Stanford is lucky. Duane is a great coach.
about 5 hours ago

UT_MackBrown

Mack Brown


"@AustinLynch88: @UT_MackBrown how many pairs of boots do you own?"Six!
about 5 hours ago

UT_MackBrown

Mack Brown


"@keithkauffman: @UT_MackBrown do you & sally plan to stay in Austin long term?"Yes! We love Austin
about 5 hours ago

UT_MackBrown

Mack Brown


"@S_Ruzic: @UT_MackBrown any words of wisdom to a coach starting out at a young age? #studentassistant"Follow your passion
about 5 hours ago

UT_MackBrown

Mack Brown


"@Csayers35: @UT_MackBrown when I get my Texas football can I send it to you for a auto graph?"Yes. Send it to the FB office
about 5 hours ago

UT_MackBrown

Mack Brown


"@apdogtown: @UT_MackBrown what was the moment you knew the '05 team was going to win the championship? #HookEm"When VY scored
about 5 hours ago

UT_MackBrown

Mack Brown


"@zim65: @UT_MackBrown: Who's your favorite member of The Beatles?"Paul!
about 5 hours ago

UT_MackBrown

Mack Brown


"@G_Rod12: @UT_MackBrown whats ur favorite band?"Longhorn Band! Not close
about 5 hours ago

UT_MackBrown

Mack Brown


"@AdrianNeenan: @UT_MackBrown what comes to mind when I say 4th & 5?"NC!
about 5 hours ago

UT_MackBrown

Mack Brown


"@JNipster: @UT_MackBrown are you ever writing a book about recruiting at The University of Texas?"I may
about 5 hours ago

UT_MackBrown

Mack Brown


"@Gregarro: I thought you said #KevinDurant is the best? #confusedmoth @UT_MackBrown @zBaRR_"He is the best. May be the best ever
about 5 hours ago

UT_MackBrown

Mack Brown


"@zBaRR_: @UT_MackBrown think the boys can make it to Omaha this year?"Yes. Augie is the best
about 5 hours ago

UT_MackBrown

Mack Brown


"@GregRice22368: @SportsCenter #KevinDurant is a BEAST!!! What do you think, @UT_MackBrown ? #HookEm"Yes he is. He is the best
about 5 hours ago

UT_MackBrown

Mack Brown


RT @Texas_Baseball: Final: Texas 6, Texas State 3. Longhorns improve to 14-4 on the year. Culbreth gets the win, Curtiss the save.
about 5 hours ago

max_olson

Max Olson


Jimmy Kimmel's tour of Austin BBQ just aired. Thinking I need to finally get out to @CraftMeats soon.
about 5 hours ago

Big12Conference

Big 12 Conference


VIDEO: The #Big12 Digital Network previews the #Big12MBB Championship with insights from @franfraschilla included - http://t.co/PjwUJPZbPL
about 6 hours ago

max_olson

Max Olson


San Jose Valley Christian RB Kirk Johnson (@KirkoGrinds) added an offer from #Utah tonight
about 6 hours ago

max_olson

Max Olson


RT @OU_CoachGundy: Looks like someone came up short again. You better take that SEC country somewhere else. Let's Play Faster. #Boomer http…
about 6 hours ago

Big12Conference

Big 12 Conference


#Big12MBB Championship @KCPLDistrict spirit rallies schedule will continue to be updated here - http://t.co/bCjZ4HO6hM , thanks to @VisitKC
about 6 hours ago

Big12Conference

Big 12 Conference


#Big12MBB Championship @KUHoops spirit rally on Thursday, March 13, set for 10:55-11:15 a.m. in @KCPLDistrict. @kualumni
about 7 hours ago

Big12Conference

Big 12 Conference


#Big12MBB Championship @TCUBasketball spirit rally in @KCPLDistrict on Wednesday is from 5:25-5:45. @TCUAlumni
about 7 hours ago

Big12Conference

Big 12 Conference


#Big12MBB Championship @OSUMBB spirit rally in @KCPLDistrict on Wednesday is set for 4:10-4:30. @OKStateAlumni
about 7 hours ago

UT_Bianco

John Bianco


"@ESPNStatsInfo: Kevin Durant: 29th straight 25-point game. Only player w/longer streak in last 30 yrs-Michael Jordan (40/'86-87)" Hook 'Em!
about 7 hours ago

LonghornNetwork

Longhorn Network


Kevin Durant has 40 tonight against the Rockets. KD has 11 40-point games - no other NBA player has more than 5 this season.
about 7 hours ago

LonghornNetwork

Longhorn Network


Terrific Texas Tuesday. @TexasSoftball sweeps doubleheader at North Texas, @Texas_Baseball beats Texas St, has now won 9 of 10.
about 7 hours ago

texasbuzztap

Texas Longhorns Buzz


Texas Longhorns (Official Site) >> Tina Bonci - with thanks http://t.co/dPmWwhfpRL
about 7 hours ago

texasbuzztap

Texas Longhorns Buzz


Texas Longhorns (Official Site) >> Video: English credits coaching for Hall of Fame induction [March 11, 2014] http://t.co/VLMkB6i1lI
about 7 hours ago

texasbuzztap

Texas Longhorns Buzz


Longhorn Digest (Scout) >> Report: Finley Visiting Seahawks http://t.co/n9wOlFvYDk
about 7 hours ago

texasbuzztap

Texas Longhorns Buzz


Longhorn Digest (Scout) >> Dawson Says He's Returning to 49ers http://t.co/G4fQ7d2tFM
about 7 hours ago

texasbuzztap

Texas Longhorns Buzz


Longhorn Digest (Scout) >> Coaching Staff Countdown http://t.co/bwnoH44vLJ
about 7 hours ago

texasbuzztap

Texas Longhorns Buzz


Burnt Orange Nation >> Texas Longhorns offensive spring position battles http://t.co/Pcprrlmovv
about 7 hours ago

max_olson

Max Olson


RT @AdamSchefter: Filed to ESPN: San Francisco is trading a conditional draft pick to Miami for OT Jonathan Martin, per league sources.
about 7 hours ago

texasbuzztap

Texas Longhorns Buzz


Texas Longhorns (Official Site) >> Bowersox qualifies for NCAA Championships http://t.co/VjsN7R8Rif
about 7 hours ago

texasbuzztap

Texas Longhorns Buzz


Burnt Orange Nation >> Texas Baseball Heads To San Marcos For Midweek Affair http://t.co/v8fZEkONby
about 8 hours ago

texasbuzztap

Texas Longhorns Buzz


Burnt Orange Nation >> Daily Round Up: Charlie Is An Ambassador http://t.co/Q87LfkQ3BA
about 8 hours ago

texasbuzztap

Texas Longhorns Buzz


Texas Longhorns (Official Site) >> Video: Meet Vance Bedford [March 11, 2014] http://t.co/eYYN5annbs
about 8 hours ago

texasbuzztap

Texas Longhorns Buzz


Texas Longhorns (Official Site) >> Holmes, Ridley Named to USBWA All-District VII Team http://t.co/XJuyz5wQtC
about 8 hours ago

texasbuzztap

Texas Longhorns Buzz


Longhorn Digest (Scout) >> Jordan Davis a Wanted Man http://t.co/vAfAqqTjpR
about 8 hours ago

texasbuzztap

Texas Longhorns Buzz


Orange Bloods (Rivals) >> Mission accomplished for Jefferson http://t.co/kXh5BAbBhx
about 8 hours ago

texasbuzztap

Texas Longhorns Buzz


Barking Carnival >> Verne Lundquist: Broadcast Legend From Austin to Tuscaloosa http://t.co/x2x54sOcHv
about 8 hours ago

texasbuzztap

Texas Longhorns Buzz


Texas Longhorns (Official Site) >> No. 10/14 Baseball Gameday: at Texas State [March 11, 2014] http://t.co/yaRNB9UO3H
about 8 hours ago

texasbuzztap

Texas Longhorns Buzz


Longhorn Digest (Scout) >> Jalen Campbell Glad to be a Longhorn http://t.co/ndlFfX6CjU
about 8 hours ago

texasbuzztap

Texas Longhorns Buzz


Barking Carnival >> Vance Bedford and Kevin Dunn talk about coaching at The University of Texas http://t.co/UG1jAEj2ai
about 8 hours ago

texasbuzztap

Texas Longhorns Buzz


Texas Longhorns (Official Site) >> Less than 200 tickets remain for 2014 NCAA Division I Men's Swimming and http://t.co/VfiNSa6kiO
about 8 hours ago

texasbuzztap

Texas Longhorns Buzz


Texas Longhorns (Official Site) >> Fan Activities highlight Softball's nonconference series versus Iowa http://t.co/NQYTUHV7T3
about 8 hours ago

Big12Conference

Big 12 Conference


#Big12SB Kansas, Oklahoma Earn Softball Weekly Awards: http://t.co/PLKpzk5gaL
about 8 hours ago

UT_MackBrown

Mack Brown


"@TroyAikman: Good piece! Kick ***** Stu!my story about Stuart Scott's approach to fighting cancer Stuart is a great man. UNC Grad. Proud of U
about 9 hours ago

max_olson

Max Olson


The offer list for OT Keaton Sutherland (@keatonsuds) keeps getting better. #Miami has offered http://t.co/jdoVmk7Rd2
about 9 hours ago

texasbuzztap

Texas Longhorns Buzz


Longhorn Digest (Scout) >> Grandstaff talks Florida visit, recruitment http://t.co/uqBCvgXPE6
about 9 hours ago
BIG 12 SCOREBOARD
Saturday, 12/21
Monday, 12/23
Tuesday, 12/24
Thursday, 12/26
Friday, 12/27
Saturday, 12/28
Monday, 12/30
Tuesday, 12/31
Wednesday, 1/1
Thursday, 1/2
Friday, 1/3
Saturday, 1/4
Sunday, 1/5
Monday, 1/6
BLOG ARCHIVE:
CATEGORIES: