Big 12 recruiting storylines: Nov. 14
November, 14, 2013
11/14/13
2:00
PM ET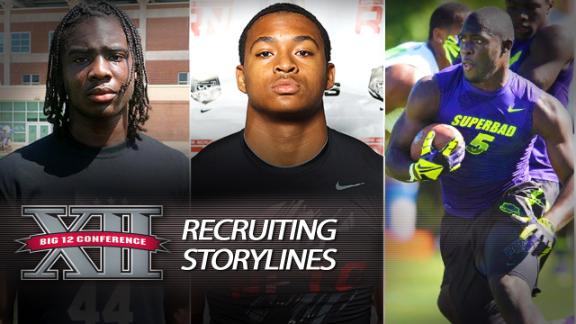 Can Texas pull one of the biggest trifectas in college football this weekend? Will Baylor land a 2014 quarterback? Kansas got out of a recruiting slump, but can it add more players? And what's the word on one of the nation's fastest-rising wide receivers?
Here's a look at this week's Big 12 storylines:
To continue reading this article you must be an Insider
Insider
More Dismissals At Texas
"College Football Live" discusses the decision by Texas coach Charlie Strong to kick at least six players off the team since becoming coach.
More Dismissals At Texas
VIDEO PLAYLIST
TEXAS FB RECRUITING SCORECARD
Nike Texas Longhorns Mini Rubber Football Shop »
WVWilkerson

William Wilkerson


The HD community is blowing up! Thanks to all that have given us a try. For those wanting to join: ONLY $4:17/month: https://t.co/yXoMcSQDnC
7 minutes ago

Jason_Higdon

Jason Higdon


The top linebacker in America, Malik Jefferson tells me he should be in Austin around 1pm. His mom, dad and brothers are with him. ☆☆☆☆☆
8 minutes ago

UT_Bianco

John Bianco


VIDEO: Get to know Charlie Strong, courtesy of Matt Riley and the http://t.co/XIkNuVOpuI video team ... http://t.co/tFyCI01jAK
about an hour ago

HazardCobb

Kevin Hines


@thatsean my man Sean up tweeting at 5:00 am on a Sat?!! You are ready for some football aren't you. #hookem
about 2 hours ago

thatsean

Sean Adams


LOL, still a worthy question. RT @darrylj68: @thatsean everything people do and say isn't about Texas! #nobodycares
about 2 hours ago

thatsean

Sean Adams


Is Kevin Sumlin taking a shot at Charlie Strong and Texas? #HookEm #Aggies http://t.co/EZb5rekbtK
about 6 hours ago

thatsean

Sean Adams


We need College Football to start real bad. 8 of the top 9 headlines are bad news. #IdleMinds http://t.co/IOSh5zIRdL
about 12 hours ago

BDavisAAS

Brian Davis


Texas regent on Strong's disciplinary purge: "He is the boss, and we all need to recognize, support that." @statesman http://t.co/zURqCNkWh2
about 13 hours ago

LonghornDigest

Kevin Flaherty


Yes. Seemed obvious she did, IMO. RT @JPosnanski Today's Indiana Jones question: Did Elsa purposely give the Nazi the wrong cup?
about 13 hours ago

SIPeteThamel

Pete Thamel


My profile of Charlie Strong, who grew up with nothing and worked his way to the job that has everything. http://t.co/iGg0q5rQfr
about 13 hours ago

spadilly

Brandon H.


Sumlin: "Stoops has the right to say what he wants. But if he wants to play again, we'll take him up on that. Yall can't wait to tweet that"
about 13 hours ago

thatsean

Sean Adams


Oh yeah, I actually went inside years ago. RT @TJSutton04: @thatsean ever seen the Koffee Kup Kafe in hico tx? Not very subtle
about 13 hours ago

Stephania_ESPN

Stephania Bell


I present to you, the new home of the @49ers, Levi's Stadium: http://t.co/n0WbRdccQP
about 15 hours ago

MBTexasFootball

MBTexasFootball


Videos: @LonghornNetwork interviews from #BigFB Media Days with Diggs (http://t.co/G0ZMYGr5dN) & Espinosa (http://t.co/Uf0Ivtj8p1)
about 16 hours ago

SBN_Wescott

Wescott Eberts


Why Monday meetings could have a huge impact on the number of players who end up dismissed from Texas. #hookem http://t.co/sAQuHT4hVn
about 16 hours ago

ChipBrownOB

Chip Brown


Per #Texas, 2 football players who were reported to NCAA for receiving a meal from an agent have been ruled eligible for competition.
about 16 hours ago

LonghornNetwork

Longhorn Network


Call in sick Mon & Tues. Join us instead (& some bigtime Longhorn Legends) for a new tv ad campaign shoot. Email rsvp@preacher.co for deets
about 16 hours ago

SBN_Wescott

Wescott Eberts


Apparently RT @shanew21: is it really so hard not to get into trouble?
about 17 hours ago

SBN_Wescott

Wescott Eberts


Sad to see RT @LyndsayALee: Former 5-star RB & #OU FR Joe Mixon involved in serious altercation early this AM http://t.co/JaRdMmudgb
about 17 hours ago

RJ_Young

RJ Young


BREAKING: We can confirm 5-star RB Joe Mixon involved in serious altercation early Friday morning on OU campus: https://t.co/VNNLvWOsVf
about 17 hours ago

SBN_Wescott

Wescott Eberts


Two #Horns players who accepted meal from agent have been cleared without suspensions. #hookem http://t.co/5ov7Qez1bz
about 18 hours ago

thatsean

Sean Adams


Per Texas on agent meals - Situation resolved with NCAA staff and the involved student-athletes are immediately eligible for competition.
about 18 hours ago

CycloneEQUIP

Cyclone Equipment


Finished adding the new @Big12Conference logo to the @CycloneFB jerseys and coaches sideline apparel. http://t.co/r6qCYzeGLj
about 18 hours ago

max_olson

Max Olson


Texas announces 2 football players investigated for receiving meal from agent have been cleared by NCAA
about 18 hours ago

SBN_Wescott

Wescott Eberts


The players who accepted a meal from an agent who have now been cleared were reportedly LBs Steve Edmond, Jordan Hicks. #hookem
about 18 hours ago

LonghornNetwork

Longhorn Network


Two Texas football players who were reported to NCAA for receiving a meal from an agent ruled to be immediately eligible for competition.
about 18 hours ago

LonghornNetwork

Longhorn Network


Two Texas football players who were reported to NCAA for receiving a meal from an agent ruled to be immediately eligible for competition.
about 18 hours ago

GuntherandBen

Gunther Afternoon


Also on the show today we have @SBN_Wescott (4:05) to discuss what the dismissals from Texas mean when they play BYU
about 18 hours ago

SBN_Wescott

Wescott Eberts


Is there hope for S Josh Turner staying on the Texas team? http://t.co/932Vs25eqD
about 18 hours ago

OB_JasonS

Jason Suchomel


Source: #Longhorns DB Josh Turner has been in class all day and has not yet met with coaches. Meeting will happen Monday. Turner hopeful
about 18 hours ago

SBN_Wescott

Wescott Eberts


Ha, nice. RT @PushaMD: *****'s getting real huh @SBN_Wescott? Who will survive #ThePurge? http://t.co/O1Z3bANlkK
about 19 hours ago

SBN_Wescott

Wescott Eberts


Just now getting to read it, but @edsbs was in rare form this morning channeling his inner Charlie Strong http://t.co/x6i9Er0KmC
about 19 hours ago

SBN_Wescott

Wescott Eberts


Insanely talented 2015 #Aggie recruiting class got better Friday with addition of top TX DE James Lockhart. http://t.co/u4nVXqe2iY
about 19 hours ago

ChipBrownOB

Chip Brown


Source tells @HornsDigest after 5 player dismissals at #Texas, 2 more football players under review. ... http://t.co/9HhUc4vKWl
about 19 hours ago

Ennis_Football

EnnisFootball.com


Ennis Sr DE #9 James Lockhart declared today that he intends to sign a letter of intent to Texas A&M Univ. http://t.co/zVbWkXB02v
about 19 hours ago

SBN_Wescott

Wescott Eberts


Predictions for #TAMU for Ennis DE James Lockhart in from Charles Omenihu and Malik Jefferson. #Aggies overwhelming favorite.
about 19 hours ago

SBN_Wescott

Wescott Eberts


Top Texas DE RT @TaylorHamm247: The man of the hour James Lockhart has arrived. Two hats on the table. #Aggies #Tide http://t.co/UdgbE2Tub4
about 19 hours ago

HookEm

Hook 'Em


What's the best thing about Fridays in the fall? @TexasSoccer home matches! Mini plans & tickets are on sale now! http://t.co/YVPndWIQyd
about 19 hours ago

LonghornDigest

Kevin Flaherty


And then there's this for football this year: https://t.co/tmh8f5fSUO Just amazing. Also, football can't get here fast enough.
about 20 hours ago

LonghornDigest

Kevin Flaherty


I've said it before, and I'll say it again: KU video department is way above Big 12 curve. Far and away best bball intro video in the league
about 20 hours ago

SBN_Wescott

Wescott Eberts


RE: Daje. Not good RT @alecpuente: Had class with the guy this summer. He showed up maybe 30% of the time.
about 20 hours ago

SBN_Wescott

Wescott Eberts


/fin
about 20 hours ago

SBN_Wescott

Wescott Eberts


RT @GeoffEneman: Anyone who wanted Mack back and has a problem with today needs to get a clue. Development was non-existent under him.
about 20 hours ago

Big12Conference

Big 12 Conference


ICYMI - A recap of the recent #Big12FB Media Days in Dallas - http://t.co/9Oar4Ha4pq http://t.co/LUyIFsHDjp
about 20 hours ago

SBN_Wescott

Wescott Eberts


Yeah, that's all pretty personal to me. It's my life. Should have been Mack Brown's life, wasn't. If you don't like that, too bad #notsorry
about 20 hours ago

SBN_Wescott

Wescott Eberts


I hated getting blown out by OU and hearing "it is what is is." I hated the failures in recruiting, not properly leveraging resources.
about 20 hours ago

SBN_Wescott

Wescott Eberts


Yeah, my feelings towards the previous staff are personal. Hate losing. Hate complacency. Hated sitting through the NFL Draft being trolled.
about 20 hours ago

SBN_Wescott

Wescott Eberts


RT @BaldElves: Don't understand why @SBN_Wescott continues to take pot shots at the former staff. Starting to get the feeling it's personal.
about 20 hours ago

Big12Conference

Big 12 Conference


A look at the progress of @BaylorAthletics' McLane Stadium, set to open next month in time for the #Big12FB season. http://t.co/3g44MX3stI
about 20 hours ago

max_olson

Max Olson


Charlie Strong held first team meeting on Jan. 12. Texas players had 194 days to get their act together. Simple as that.
about 20 hours ago

thatsean

Sean Adams


I'm sure hunting guns will be fine RT @JordanCHubbard: @thatsean Does Strong's "no guns" ban players from hunting? What does "no guns" mean?
about 20 hours ago

AtxTrafficMan

Joe Taylor


Oh & on the Texas Football subject, it's simple. Breach of Contract. #DoneSon Tune into @rodb314 @thatsean & @Zone_Madani
about 20 hours ago

TTech247

Wreckem247


Make sure you follow new #WreckEm editor @DanielPaulling for the latest #TexasTech recruiting news.
about 20 hours ago

TheDannyParker

Danny Parker


#Texas #Longhorns fans follow @ChipBrownHD & @HornsDigest for more on first-year coach Charlie Strong cleaning house in Austin. #HookEm
about 21 hours ago

Big12Conference

Big 12 Conference


ICYMI - Check out #Big12FB Media Days storify for a quick recap of the event - http://t.co/9Oar4Ha4pq
about 21 hours ago

ChipBrownOB

Chip Brown


Source tells @HornsDigest a random drug test was recently administered to #Texas football players. ... http://t.co/9HhUc4vKWl
about 21 hours ago

HookEm

Hook 'Em


Happy Friday Longhorn Nation! Hope you have a great weekend. Hook 'em!
about 21 hours ago

SBN_Wescott

Wescott Eberts


MT @MaryKayCabot: Browns 'alarmed' by Manziel's behavior, concerned it's set him back in QB competition, sources say http://t.co/p4Q9keb2fr
about 21 hours ago

SBN_Wescott

Wescott Eberts


With at least two and maybe five players under review, #Horns could dismiss more players before dust settles. http://t.co/4Z1BFWm9hS
about 21 hours ago

LonghornDigest

Kevin Flaherty


#NOSIR #pulloverletsstop @MarkRosner3: What's the proper hashtag for these #Longhorn dismissals, #YESSIR or #letsride
about 22 hours ago

SBN_Wescott

Wescott Eberts


Word RT @SBNationCFB: Blue-chip OL commits to Florida BY HOLDING UP A LIVE BABY GATOR http://t.co/QRevLQBmfo https://t.co/OB5UInQLsC
about 22 hours ago

SBN_Wescott

Wescott Eberts


Charlie Strong said at Media Days that Daje Johson had "done everything asked of him," but said same about Joe Bergeron.
about 22 hours ago

SBN_Wescott

Wescott Eberts


With indefinite suspensions at WR, two RBs gone, Texas fans hoping versatile offensive weapon Daje Johnson is with the team when camp starts
about 22 hours ago

max_olson

Max Olson


Four #Texas players have been dismissed, per sources, and there could be more to come. Our updated story: http://t.co/n4RpdN5l6S
about 22 hours ago

SBN_Wescott

Wescott Eberts


Names available @HornsDigest RT @1049TheHorn: @ChipBrownHD has confirmed that 2 other #Longhorns football players are under review.
about 22 hours ago

thatsean

Sean Adams


I swear if I get 1 more message saying that weed should be legal. Hell, I should be cuter but I have a face for radio. #DontLiveInTheShould
about 22 hours ago

thatsean

Sean Adams


Charlie Strong is showing that he's thinking about the whole man. Are you truly on your #grind as tweets say if you can't pass the test?
about 22 hours ago

SBN_Wescott

Wescott Eberts


Helps explain things. RT @1049TheHorn: @ChipBrownHD said a random drug test was recently done amongst the #Longhorns football players.
about 22 hours ago

max_olson

Max Olson


RT @DomEspinosa As a 5th year senior, I can promise a team with similar goals and attitudes. 8.30.14
about 22 hours ago

WVWilkerson

William Wilkerson


Strong's tough-love approach might, indeed, rub some people the wrong way. But spoke with one BIG-TIME recruit 2day that felt exact opposite
about 22 hours ago

JaxonShipley

Jaxon Shipley


Happy bday to that man @MJayy85! One of the hardest working dudes I've ever been around. Primed for a huge season!
about 22 hours ago

SBN_Wescott

Wescott Eberts


2015 class will apparently include every player Strong can get to commit. 75ish? RT @MarkRosner3: So.. how many can he sign? @SBN_Wescott
about 23 hours ago

SBN_Wescott

Wescott Eberts


RT @WinklerKEYE: Still no press release from #UT on player dismissals. I'm told that "dust hasn't settled" on attrition. More names to come.
about 23 hours ago

SBN_Wescott

Wescott Eberts


Charlie Strong has been extremely complimentary about roster he received from Mack Brown in public. Dismissals clearly tell another story.
about 23 hours ago

thatsean

Sean Adams


What was that Nancy Reagan used to say? "Just say no!"
about 23 hours ago

SBN_Wescott

Wescott Eberts


Quite the incredible reversal for Texas RB Joe Bergeron. Strong said Tues he was "back in the mix." Less than three days later he's gone.
about 23 hours ago

SBN_Wescott

Wescott Eberts


Three more #Horns gone from team. RB Joe Bergeron, S Josh Turner dismissed, LB Kendall Thompson w medical. http://t.co/M0pHzbahC7
about 23 hours ago

LonghornNetwork

Longhorn Network


Man, that Friday traffic is really picking up out there y'all.
about 23 hours ago

ChipBrownOB

Chip Brown


Sources tell @HornsDigest senior S Josh Turner, senior LB Kendall Thompson also have been dismissed at #Texas.($) http://t.co/U6iaMW2KOU
1 day ago

LonghornNetwork

Longhorn Network


Should get 25-30 carries. RT @LarryHolder: Breaking news: Kenny Vaccaro is the running back in the victory formation.
1 day ago

thatsean

Sean Adams


This >>> RT @AllmericanMayes: @thatsean with @am1300thezone joins us in 10 to talk Longhorn football!
1 day ago

UT_MackBrown

Mack Brown


I love the Longhorn Band! Best ever!
1 day ago

LonghornBand

Longhorn Band


@UTAustin @UT_MackBrown -- help us win! Most retweets on @CollegeMarching for best state formation wins! TEXAS FIGHT!
1 day ago

mommacares

Sunset


@thatsean @SmackieTweets Fans & media will need to give him time to rebuild & not expect miracles the 1st year or two.
1 day ago

AustinTx_wood

Austin Wood


@gkketch @thatsean I would love to hear someone try and say this is fake. Recruits and parents have to love this.
1 day ago

thatsean

Sean Adams


They tried that! RT @SmackieTweets: @thatsean NCAA should allow coaches to be more involved with players during summer months.
1 day ago

Big12Conference

Big 12 Conference


#Big12FB coaches spent the past 2 days in Bristol touring @espn. Photo gallery (@ESPNImages) - http://t.co/cbc8ePYHEz http://t.co/fKAsrTlYr0
1 day ago

ChipBrownOB

Chip Brown


Confirming OB report, two sources tell http://t.co/XBNn1evG3K RB Joe Bergeron has been dismissed from #Longhorns team for rules violations.
1 day ago

thatsean

Sean Adams


Right! RT @ChelsIsRight: Oh man...LMAOOO Charlie Strong down't there with the bat like Joe Clark
1 day ago

thatsean

Sean Adams


That made me laugh… RT @AlexandraInTX: I just got dismissed from the UT football program.
1 day ago

JaxonShipley

Jaxon Shipley


Happy birthday @EHorton5! Hope it's a good one bro
1 day ago

WVU_Baseball

WVU Baseball


Check out this new rendering of the new ballpark! | http://t.co/uZMqdwPx7h http://t.co/M9djMXOK7w
1 day ago

ChipBrownOB

Chip Brown


MY TAKE on the ***** charges facing two #Longhorns WRs (FREE): http://t.co/0R8B67aArz http://t.co/Z8IxjboWb7
1 day ago

ChipBrownOB

Chip Brown


RT @McClain_on_NFL: Sources say last Friday Andre Johnson met with Bob McNair, Bill O'Brien and Rick Smith.
1 day ago

BenKercheval

Ben Kercheval


Another note, great job by @Taylor_Gaspar on the latest Texas news. Got to meet her at B12 media days. One of the hardest workers out there.
1 day ago
BIG 12 SCOREBOARD
Saturday, 8/30
Sunday, 8/31
BLOG ARCHIVE:
CATEGORIES: