Most important targets: Big 12
October, 22, 2013
10/22/13
8:00
AM ET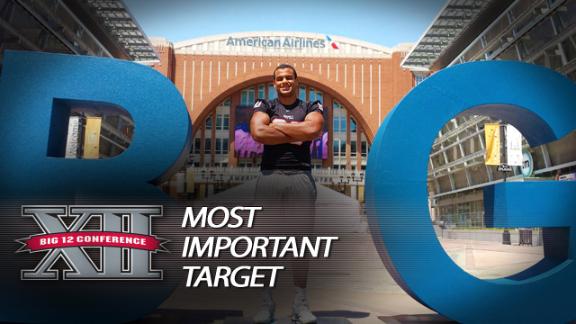 Not surprisingly, Big 12 programs have filled their rosters with ESPN 300 recruits. But, as we've come to learn, success on the field doesn't always come down to how many stars you acquire each recruiting cycle. It's about filling needs with the types of players coveted by that particular program.
Here is a look at the most important target for each Big 12 school, which features some highly ranked recruits and other recruits with no ranking at all.
To continue reading this article you must be an Insider
Insider
ESPN Films Presents: Nixon's National Champs - Nixon vs. Paterno
In 1969, Joe Paterno thought a National Championship was on the horizon, but President Richard Nixon was standing in his way. Nixon's National Champs premieres Sunday December 28th at 10:30pm ET on ESPN.
ESPN Films Presents: Nixon's National Champs - Nixon vs. Paterno
VIDEO PLAYLIST
TEXAS FB RECRUITING SCORECARD
TexasSports

Texas Longhorns


RT @bevo_xiv: See you on Christmas morning! I'm gonna eat more than all of y'all. @LonghornNetwork 7am-noon CT http://t.co/ehfIs5baEA
about an hour ago

LonghornDigest

Kevin Flaherty


Merry Christmas, everyone. Hope you have a wonderful holiday season!
about an hour ago

thatsean

Sean Adams


TFTD - As you get older your Christmas list gets smaller and the things you truly want can't be purchased with cash.
about 2 hours ago

ChristianC0rona

Christian Corona


Woke up early today, saw @ESPN_CoachMack and the Horns win the 05 nat'l title. Reminded me of best Xmas gift I ever got: ticket to that game
about 2 hours ago

ESPN_CoachMack

Mack Brown


Here's wishing you and all your loved one's a very Happy and Merry Christmas! Have a fun day!
about 2 hours ago

Coach_MannyDiaz

Manny Diaz


Merry Christmas!!! http://t.co/IBecJD48Vk
about 2 hours ago

TexasSports

Texas Longhorns


Make it a BEVO Christmas. 5 hours of uninterrupted BEVO on his ranch TODAY from 7am-noon CT. (H/T @LonghornNetwork) http://t.co/z9X6RBsPUf
about 3 hours ago

LonghornNetwork

Longhorn Network


Grab egg nog and join BEVO this morning!Watch BEVO Home for the Holidays 7am - Noon CT --> http://t.co/oLpEDwk1ci http://t.co/RT0lzM42fN
about 3 hours ago

TXStampede

Doug Farrell


It's early but my guess about right now is thousands of father's waking muttering to themselves, "I FORGOT AA BATTERIES!" #MerryChristmas
about 5 hours ago

TXStampede

Doug Farrell


Please pray for all Peshmerga fighters and Yazidi citizens today. @starsandstripes 1http://1.usa.gov/13Gk4xk
about 5 hours ago

thatsean

Sean Adams


Merry Christmas! Enjoy the food the family and the hugs! H/T to Florida Evans! #AdamsTheory #GoodTimes… http://t.co/w4BmP5znqp
about 10 hours ago

BubbaUNC

Bubba Cunningham


Merry Christmas from the Cunninghams in Detroit! @quicklanebowl 🎅🎄🎁⛄️ http://t.co/xQYmW72D9D
about 11 hours ago

TommyBahammy

Thomas Anderson


Watching the Texas Longhorns 2005 Season!!! Such a damn good year! That whole team was so loaded! Thank you @ESPN_CoachMack
about 11 hours ago

CUSAFB

C-USA Football


.@HerdZone's Cato, @WKUFootball's Doughty & @RiceFootball1's Jackson a combined 71-of-103 for 1,085 yds, 11 TD, 0 INT in bowls. #CUSAFB QBs
about 11 hours ago

LonghornDigest

Kevin Flaherty


Highly successful Christmas at the in-laws. Going to be a great holiday!
about 11 hours ago

Jordan_Shipley

Jordan Shipley


Best birthday ever!!! My wife @SunnyShipley and 83 yr. old grandmother Addie took two monster 8's for @TecomateWS. http://t.co/q9A3UxdTPg
about 12 hours ago

SBN_Wescott

Wescott Eberts


In fact, if Chad President commits to Tulsa tomorrow, he would be the first 4* prospect to do so since QB Shavodrick Beaver in 2009.
about 13 hours ago

SBN_Wescott

Wescott Eberts


Suffice it to say that landing a prospect of Chad President's quality would be a major coup for Tulsa/Montgomery.
about 13 hours ago

SBN_Wescott

Wescott Eberts


Tulsa has been trending heavily for Temple QB Chad President since Baylor decommitment. Just hired former Baylor OC Phillip Montgomery as HC
about 13 hours ago

ChadPres10

Mr.NVO


Tomorrow will be a special day. It'll be Christmas and I'll make a commitment! Thank you for everyone for the love and support. Love you all
about 13 hours ago

ChipBrownOB

Chip Brown


Mucho, mucho thanks!! Merry Christmas!! ... RT @KamikazeUT_HORN: @HornsDigest @ChipBrownHD Best Texas pay site around.
about 15 hours ago

thatsean

Sean Adams


Me either. Beautiful play but low completion rate. RT @Keith23Tx: @thatsean I don't understand the infatuation with the fade
about 16 hours ago

LonghornNetwork

Longhorn Network


Make it a BEVO Christmas. 5 hours of uninterrupted BEVO on his ranch. That's right Longhorn fans. You're welcome. \m/ http://t.co/r61TfeLObU
about 17 hours ago

TXStampede

Doug Farrell


...And God bless all those who are on duty tonight protecting us: Doctors, Nurses, EMT, Police officers, Fire fighters, and US Military.
about 17 hours ago

TXStampede

Doug Farrell


Nursing a scotch whiskey thinking of all the poor souls nursing IV's in hospitals. God bless them and their families this Christmas eve.
about 17 hours ago

SBN_Wescott

Wescott Eberts


Key Texas CB target Kris Boyd has pushed back his announcement date. #hookem http://t.co/FGFYoEOYs2 http://t.co/4CMOWNpK1i
about 18 hours ago

SBN_Wescott

Wescott Eberts


Gilmer star Kris Boyd RT @kris23db: I apologize to everyone who's waiting but I've pushed my commitment to the end of January.
about 19 hours ago

Big12Conference

Big 12 Conference


Happy Holidays to you and yours! Share the spirit with a customized greeting of your favorite #Big12 school - http://t.co/5ufglCk5cd
about 19 hours ago

LonghornDigest

Kevin Flaherty


People who follow me know it's a pet peeve of mine. BUT NEVER, EVER THROW A FADE IN A ONE-OFF SITUATION. EVER.
about 19 hours ago

thatsean

Sean Adams


That's awesome going for it but THAT play call. WKU played small the whole second half and almost lost.
about 19 hours ago

LATechSports

LA Tech Sports


A little fun after @LATechFB practice today. The offensive vs defensive coaching staff! http://t.co/GYUGKQVDma
about 19 hours ago

thatsean

Sean Adams


You have got to be kidding me! Central Michigan and Western Kentucky. #MacAction
about 19 hours ago

LonghornDigest

Kevin Flaherty


lkasjdflk;ajsl;djfl;ajsdljfal;jsdfl;jalsjdfl;ajsl;djfls OMGOMGOMG
about 19 hours ago

thatsean

Sean Adams


Should have never hit 'send' to start! RT @BSO: Brennan Clay Takes Wife Back After She Cheated With DeMarco Murray http://t.co/fBcSoFw03r
about 19 hours ago

thatsean

Sean Adams


Wow, I thought there was no way Central Michigan could come back in this game. They are putting on a show for the 10's of fans that went!
about 19 hours ago

LonghornDigest

Kevin Flaherty


Oh hai, Central Michigan.
about 19 hours ago

BaylorVBall

Baylor Volleyball


Baylor Nation, please welcome @RyanMcGuyre as the 9th BU Volleyball Coach in School History #SicEm http://t.co/ilcCdncRkl
about 20 hours ago

ChipBrownOB

Chip Brown


HD ONLY will be hung by your chimney w/ care TONIGHT! #Texas Bowl practice report & recruiting updates via @Jason_Higdon and @WVWilkerson!
about 20 hours ago

HornsDigest

HornsDigest


Looking for the perfect #StockingStuffers? Get your loved one a @HornsDigest membership for only $4.17 per month! http://t.co/unVQT2yXyS
about 20 hours ago

ChipBrownOB

Chip Brown


WIN a $50 gift card to http://t.co/dLOtvizkRV! Put a slogan on Charlie Strong's burnt orange mock turtleneck at HD!http://t.co/iAWRS5FTtI
about 20 hours ago

UTexasEquipment

UTexas Equipment


Player bags are loaded. Headed to Houston @TexasBowl http://t.co/Fb0VBYIdeC
about 20 hours ago

HornsDigest

HornsDigest


HD Roundtable: @HornsDigest crew discusses who the #Longhorns top uncommitted prospect is - http://t.co/tU3EWb0gOr http://t.co/p2JE9vp3oa
about 20 hours ago

HornsDigest

HornsDigest


The #Scout70: Biggest Stories of the Year - http://t.co/Higk3KcvzJ http://t.co/OK7ThxwtE0
about 20 hours ago

SlaterESPN

Jane Slater


"@jimi_jimijones: Next ESPN superstar @SlaterESPN http://t.co/TpJLBJOB5v" so sweet :) nice meeting u
about 20 hours ago

Horns247

Horns247


Marcus Hutchins was a defensive afterthought. Now he's UT's starting LT. A 2nd chance tale... http://t.co/tjjouUObkr http://t.co/ifffghpNGk
about 21 hours ago

LonghornDigest

Kevin Flaherty


Kansas beat Central Michigan by 14. With Weis. RT @LandThieves The MAC is godawful and pimp slapped multiple teams in the Big Ten
about 21 hours ago

FansOfKU

Kansas Jayhawk Fans


Out of the 56 colleges of which players were selected from to play in this year's NFL Pro Bowl, only 6 had more players picked than KU
about 21 hours ago

LonghornDigest

Kevin Flaherty


Interesting stuff. RT @TTech247 Chad President discusses his announcement date and what went wrong at Baylor (VIP): http://t.co/uaSlNVNW4Q
about 22 hours ago

SBN_Wescott

Wescott Eberts


Texas CB target Davante Davis sets announcement date, reveals his finalists. #hookem http://t.co/BYKIipQ7k7 http://t.co/0Jc82oES2F
about 22 hours ago

ChipBrownOB

Chip Brown


RT @Jason_Higdon: #Texas fans! Check out HD's new message board, front page! Great time to join HD 3 months for 1!http://t.co/djlltQULY6
about 22 hours ago

bartonsimmons

Barton Simmons


Here are the five #ArmyBowl practice matchups I'm most excited to see in San Antonio on the East squad: http://t.co/yCzW7Rikjd
about 22 hours ago

ChipBrownOB

Chip Brown


Why http://t.co/XBNn1f4kdO rocks: @Jason_Higdon delivering a Xmas Day recruiting chat. Join HD 3 (mos) for 1 today! https://t.co/3me5mWiqTv
about 22 hours ago

LonghornDigest

Kevin Flaherty


There's a major difference there, particularly since Wiggins's skill set isn't really that similar to LeBron's.
about 22 hours ago

LonghornDigest

Kevin Flaherty


Keep seeing ppl say everyone said Wiggins would be "next LeBron." What I always saw was ppl saying he was best HS prospect "since LeBron."
about 22 hours ago

espn_macmahon

Tim MacMahon


GM Jerry's Cowboys are only team in NFL to draft Pro Bowlers in 1st round 4 times in last 5 drafts.
about 22 hours ago

justinwells2424

Justin Wells


"If you take off the facemasks, you'll no longer have the facemask penalty." - Lou Holtz #Analysis
about 22 hours ago

ESPN_CoachMack

Mack Brown


"@CollegeGameDay: Gary Patterson is the AP coach of year (joining Nick Saban as the only two-time winner) Congrats to Gary. Gr8 turn around
about 23 hours ago

Big12Conference

Big 12 Conference


Congrats to @TCUFootball coach Gary Patterson as @AP_Sports Coach of the Year.
about 23 hours ago

Big12Conference

Big 12 Conference


#Big12FB: Vote WVU's 68-yd catch by Kevin White in week 4 as the #TotPlays winner for 2014 - http://t.co/TJWISiAgC5https://t.co/iDYkU7IsAV
about 23 hours ago

thatsean

Sean Adams


TFTD - It's the fool that don't invest in himself.
about 23 hours ago

KUTheShiver

Matt Scott


Andrew Wiggins made a nice poster with Kevin Love last night #KUBBALL #8THWONDER #NorthernLight http://t.co/XhEtDTzqRC
1 day ago

TexasSports

Texas Longhorns


LAST MINUTE GIFTS? Still time to buy @TexasMBB and @TexasWBB 3-game holiday plans. http://t.co/YKobMhufGJ
1 day ago

KUTheShiver

Matt Scott


#kubball RT @HomeTeamHoops: Ben Simmons Vs. Jaylen Brown!! #1 vs #2 Ranked High School Prospects http://t.co/NaZ3Qcwtrl
1 day ago

TexasSports

Texas Longhorns


RT @TexasMBB: Longhorns drop OT seesaw battle to Stanford, 74-71. (recap/stats/more) http://t.co/VeUVGYnk0z #HookEm http://t.co/unyVjzkFmB
1 day ago

BrandonTierney

Brandon Tierney


Not sure why wives complain about our last minute shopping. They make out BETTER due to sheer hustle and guilt. Please learn that already.
1 day ago

LonghornNetwork

Longhorn Network


On the sixth day of Texas, the Longhorns gave to me...6 times best in the country. \m/http://t.co/txUwO4udDn http://t.co/J8jFbpTVkC
1 day ago

ESPN_CoachMack

Mack Brown


"Nothing great was ever achieved without enthusiasm." Ralph Waldo Emerson
1 day ago

TexasSports

Texas Longhorns


Spread the word! DIRECTV to add @LonghornNetwork to lineup in January 2015. http://t.co/a5pMhb8slk
1 day ago

LonghornDigest

Kevin Flaherty


Fantastic. RT @lukezim: Ken Niumatalolo: "This is for the seniors. This is for the kids. I just go to banquets and eat food."
1 day ago

LonghornDigest

Kevin Flaherty


With Darrell Stuckey also making it as an alternate, that makes 3/4 of the Kansas Orange Bowl secondary for @KeepSawinWood in the Pro Bowl.
1 day ago

ESPN_CoachMack

Mack Brown


Congrats to Navy. Love the Service Academy Kids. After CFB they go protect our country and keep us free. Thx to our Troops! Appreciate you!
1 day ago

stevehabel

Steve Habel


Barnes: That's a Sweet 16-type game with a high level of intensity. They out-executed us. They flat out beat us. #horns
1 day ago

stevehabel

Steve Habel


More Barnes: This game) was a tough one. They played the way Stanford plays; we didn't play the way we play.#horns
1 day ago

stevehabel

Steve Habel


Barnes: They were able to get the ball where they wanted it.In the heat of the moment, we have to execute and we didn't. #horns
1 day ago

stevehabel

Steve Habel


Barnes: You can say toughness or execution but (Stanford) did it and we didn't. Stanford did what they do – they made some big shots. #horns
1 day ago

stevehabel

Steve Habel


Barnes: I can't tell you why guys are not where they are supposed to be. #horns
1 day ago

stevehabel

Steve Habel


Barnes: We had some post guys that didn't execute at the end with screens and just being where we are supposed to be.#horns
1 day ago

stevehabel

Steve Habel


More Barnes: We wanted (Holmes) to take the shot at the end and couldn't get it to him.#horns
1 day ago

stevehabel

Steve Habel


More Barnes: I was bothered by the way the tone was set early on in this game, but you have to give Stanford credit for that. #horns
1 day ago

LonghornDigest

Kevin Flaherty


Amazing. Congrats! RT @ellynkamke Secrets of Prize-Winning Journalism by Ellyn Angelotti @amazon http://t.co/KztFRnKAgd…
1 day ago

stevehabel

Steve Habel


Barnes: We allow people to play too close to the 3-pt line; we need to push them further out. Perimeter defense needs to get better. #horns
1 day ago

ChipBrownOB

Chip Brown


5 Thoughts on #Stanford's 74-71 OT win at No. 9 #Texas - 1st being, the better team Tuesday night won.http://t.co/DWAayeBWXy
1 day ago

stevehabel

Steve Habel


More Barnes: Stanford was tougher that we were tonight. They hit some big shots, but we had so many opportunities. #horns
1 day ago

stevehabel

Steve Habel


Texas coach Barnes: We were concerned that they could foul and keep us from taking the 3. There were times we didn't execute tonight. #horns
1 day ago

stevehabel

Steve Habel


More Felix: We are a very confident team but Stanford played tougher than us tonight and that's something that can't happen.#horns
1 day ago

Big12Conference

Big 12 Conference


Even with the @TexasMBB loss tonight, #Big12MBB teams are 23-14 (.622) this year vs. the ACC, B1G, Pac-12 and SEC. #Big12Strong
1 day ago

stevehabel

Steve Habel


More Felix: When I get an open shot I'm supposed to take it. I got a good look at the final shot, I just didn't make it. #horns
1 day ago

stevehabel

Steve Habel


Texas guard Felix: We didn't come out and do the things we needed to do to win. We didn't rebound the ball well. #horns
1 day ago

stevehabel

Steve Habel


Texas guard Yancy: We played well. We could have played better, Stanford was just making shots. We are learning to be tough. #horns
1 day ago

stevehabel

Steve Habel


Stanford's Anthony Brown, who had a game-high 25 pts: The biggest thing for me was to be aggressive and let whatever happens, happen. #horns
1 day ago

stevehabel

Steve Habel


More Dawkins: This was great for us. As far a signature wins, I don't think about that -- I just want to win. #horns
1 day ago

stevehabel

Steve Habel


More Dawkins: Texas is very good defensively. They are long and tall. We wanted to take shots in our offense, wanted to be balanced.#horns
1 day ago

stevehabel

Steve Habel


Stanford coach Dawkins: Our guys showed a lot of heart to beat Texas in this environment. We stayed focused, made the winning plays. #horns
1 day ago

stevehabel

Steve Habel


According to UT SID, Holmes had a tooth knocked out sometime during the loss to Stanford. #horns
1 day ago

stevehabel

Steve Habel


Texas had won its past four OT games until the loss Wednesday to Stanford. #horns
1 day ago

stevehabel

Steve Habel


Horns' loss was their first at home vs unranked non-conference opponent since Dec. 14, 2007 (Wisconsin). What a mouthful! #horns
1 day ago

LonghornDigest

Kevin Flaherty


And Brick killed a guy. RT @JeffHowe247 Cam Ridley got three stitches above the left eye. Jonathan Holmes lost a tooth at some point as well
1 day ago

stevehabel

Steve Habel


Ridley could have come back into the game if it was extended further then the single OT, said UT SID. #horns
1 day ago

stevehabel

Steve Habel


Horns' Ridley clashed heads with teammate Holland on the baseline late in the 2nd half and opened a cut that took 3 stitches to close.#horns
1 day ago

stevehabel

Steve Habel


Horns have no answer for Stanford's Brown and Randle as the Cardinal win 74-71. UT falls to 10-2 and heads to Big 12 play on a downer #horns
1 day ago
BIG 12 SCOREBOARD
Saturday, 12/20
Monday, 12/22
Tuesday, 12/23
Wednesday, 12/24
Friday, 12/26
Saturday, 12/27
Monday, 12/29
Tuesday, 12/30
Wednesday, 12/31
Thursday, 1/1
Friday, 1/2
Saturday, 1/3
Sunday, 1/4
Monday, 1/12
BLOG ARCHIVE:
CATEGORIES: