Horns Snapshot: WR Jacorey Warrick
February, 3, 2013
2/03/13
10:30
AM ET
To gear up for 2013 national signing day, HornsNation's William Wilkerson is breaking down every commitment in the Longhorns' 2013 recruiting class.
Vitals:
Wide receiver
Jacorey Warrick
, Houston/Cypress Falls | 5-foot-10, 168 pounds
[+] Enlarge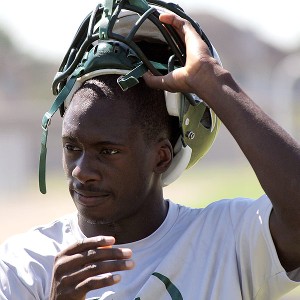 Max Olson/ESPN.comFour-star wideout Jacorey Warrick is coming off a knee injury but should be ready for summer workouts.
Committed:
Feb. 26, 2012
To continue reading this article you must be an Insider
Insider
Texas RB Foreman Cleared To Play
D'Onta Formean has been cleared academically to join the Longhorns football squad.
Texas RB Foreman Cleared To Play
VIDEO PLAYLIST
TEXAS FB RECRUITING SCORECARD
thatsean

Sean Adams


TFTD - Worry is a down payment on a problem you may never have. Just work the issues.
11 minutes ago

ShaunKing

Shaun King


Not only did Officer Darren Wilson NOT complete an incident report on the murder of Mike Brown, NO OFFICER completed a report. ZERO.
about 6 hours ago

ESPN_CoachMack

Mack Brown


"@treadaway97: @ESPN_CoachMack which a&m game was the most memorable game" The last one
about 7 hours ago

ESPN_CoachMack

Mack Brown


"@MichaelWitham9: @ESPN_CoachMack Coaching again still a possibility?" Yes
about 7 hours ago

ESPN_CoachMack

Mack Brown


"@Vic373: @ESPN_CoachMack thoughts on the Vince Young Pitch in the NC game? Lol"Great play
about 7 hours ago

ESPN_CoachMack

Mack Brown


"@jchesmore: @ESPN_CoachMack Do you tweet your own tweets or is it a PR guy?" I tweet my own
about 8 hours ago

ESPN_CoachMack

Mack Brown


"@rvela86: @ESPN_CoachMack going to any UT games this season? #hookem" No. I will be doing ESPN/ABC
about 8 hours ago

ESPN_CoachMack

Mack Brown


"@steakNstiffarms: .@ESPN_CoachMack who can't you stand? It's ok, I won't tell anyone. Please tell me." Losing! I hate it
about 8 hours ago

ESPN_CoachMack

Mack Brown


"@LcSwish15: @ESPN_CoachMack first word that comes to your mind when you see this picture? http://t.co/NpdWjUfv81" Super!
about 8 hours ago

ESPN_CoachMack

Mack Brown


"@SASmith_91: Is everyone you know a better person? I NEED TO KNOW. https://t.co/bDF6XPAENI" Ha! I have some great friends
about 8 hours ago

ESPN_CoachMack

Mack Brown


"@Mr_Nehring: Do you ever wish you could play the 2010 national championship game over again? @ESPN_CoachMack"no doubt, with a healthy Colt
about 8 hours ago

ESPN_CoachMack

Mack Brown


"@jhildebrand44: @ESPN_CoachMack Toughest player you ever coached?" Adrian Peterson
about 8 hours ago

ESPN_CoachMack

Mack Brown


"@Massad14: @ESPN_CoachMack What about Oklahoma state in 04′ down 35-7…. VY and CB32 turned it to another level… 56-35." Best come back ever
about 8 hours ago

ESPN_CoachMack

Mack Brown


"@LonghornHelmet: @ESPN_CoachMack was fortunate to get to see you speak at the govt commencement this past May. Awesome!" That was fun
about 8 hours ago

ESPN_CoachMack

Mack Brown


"@Hornson6th: .@ESPN_CoachMack who is your best friend at ESPN?" I love Chris Fowler & Herbie
about 8 hours ago

ESPN_CoachMack

Mack Brown


"@peck_cory: @ESPN_CoachMack wat do u predict for neb this year?" They will have a good year
about 8 hours ago

ESPN_CoachMack

Mack Brown


"@Jtaples: @ESPN_CoachMack which player that you coached do you feel was most deserving of a Heisman?" I thought Colt & VY deserved it
about 8 hours ago

ESPN_CoachMack

Mack Brown


"@steveburtoncpa: @ESPN_CoachMack Thanks for the response, Coach! PA ...ps: Quiz answer: Troy Aikman ..."Troy is one of my favorite people
about 8 hours ago

ESPN_CoachMack

Mack Brown


"@danield_rock: @ESPN_CoachMack did you ever think about coming back to coach UNC again after you left?" UNC is one of the greatest places
about 8 hours ago

ESPN_CoachMack

Mack Brown


"@Hornson6th: . @ESPN_CoachMack Does the Shipley family breed the best slot WRs?" Yes. I told Bob they needed to have more kids
about 8 hours ago

ESPN_CoachMack

Mack Brown


"@Hornson6th: . @ESPN_CoachMack Do you keep up with Rickie?" Yes. So proud of Ricky
about 8 hours ago

ESPN_CoachMack

Mack Brown


"@nmchugh85: @ESPN_CoachMack Ever think about coaching again?" Yes. If the situation is right
about 8 hours ago

ESPN_CoachMack

Mack Brown


"@InsideUTSAWesC: Hey @ESPN_CoachMack, thoughts on job @LarryCoker has done with #UTSA?" Larry is a great coach and better person
about 8 hours ago

ESPN_CoachMack

Mack Brown


"@pgermain1991: @ESPN_CoachMack who was the best player you coached at Tulane?" Terrence Jones
about 8 hours ago

ESPN_CoachMack

Mack Brown


"@WC_craigmione: @ESPN_CoachMack fastest player you had at UT?" J Charles & M Goodwin. 10.2 HM
about 8 hours ago

ESPN_CoachMack

Mack Brown


"@AdrianPalomo_: @ESPN_CoachMack Whats your favorite win besides the NC game in '05?" Ohio St @ their place. Fun night
about 8 hours ago

ESPN_CoachMack

Mack Brown


"@TylerJudd1: @ESPN_CoachMack Do you and Will Muschamp still keep in touch?" Yes
about 8 hours ago

ESPN_CoachMack

Mack Brown


"@tristanprice12: @ESPN_CoachMack what R U looking forward to most about not coaching?" Being an advocate for the fans behind the scenes
about 8 hours ago

ESPN_CoachMack

Mack Brown


"@JLindgrenCBS11: @ESPN_CoachMack @ScottieWall I was there 4 04 OSU. One of the best, most memorable experiences from college!" That was fun
about 8 hours ago

ESPN_CoachMack

Mack Brown


"@maximilian0o_: @ESPN_CoachMack @MadmanSA210 SA loves you too, Mack!" Looking forward to being there Thursday for Alamo Bowl Luncheon
about 8 hours ago

ESPN_CoachMack

Mack Brown


"@MichiganBo1997: @ESPN_CoachMack How often do U think about what a wonderful job I did N C Hill U put a scare N the ACC!" Loved C Hill
about 8 hours ago

ESPN_CoachMack

Mack Brown


"@33ernestramos: @ESPN_CoachMack you, Barnes & augie = greatest trio of coaches in major sports at one school!"I love Augie and Rick
about 8 hours ago

ESPN_CoachMack

Mack Brown


"@deckerdoo: @LandryLocker @ESPN_CoachMack all respect. No answer needed. NCAA champs. Enough said."FSU has the best schedule and team
about 8 hours ago

ESPN_CoachMack

Mack Brown


"@steveburtoncpa: @ESPN_CoachMack Who was the best QB and toughest that u had to defend against?"Matt Lienhart
about 8 hours ago

max_olson

Max Olson


Good news: Herb Powell and the dream car are currently on FXX #EverySimpsonsEver http://t.co/Vaoc8vBq5Y
about 8 hours ago

TkacTkac

Cody


@ESPN_CoachMack what did you usually have for breakfast when you were the head coach of Texas?
about 8 hours ago

ESPN_CoachMack

Mack Brown


"@zkmavz: @ESPN_CoachMack great sleeper pick... Isn't he the favorite?" FSU guy is the favorite
about 8 hours ago

ESPN_CoachMack

Mack Brown


"@QuealBq: @ESPN_CoachMack Coach, who's the better golfer...U, Jack, or McConaughey? I'm thinking Jack. He can play!"Those 2 are good
about 8 hours ago

ESPN_CoachMack

Mack Brown


"@MadmanSA210: @ESPN_CoachMack coach what did you enjoy the most about playing in the Alamobowls?" Alamo Bowl hospitality & SA are great
about 8 hours ago

ESPN_CoachMack

Mack Brown


"@KingBobito: @ESPN_CoachMack where would U rank that win over Oklahoma and bob stoops last year in your top games ?" Gr8 win vs Gr8 rival
about 8 hours ago

ESPN_CoachMack

Mack Brown


"@natelok94: @ESPN_CoachMack player that made the biggest improvement during his time at Texas" VY
about 8 hours ago

ESPN_CoachMack

Mack Brown


"@Hornson6th: @ESPN_CoachMack who could run a better fade, Limas or Roy?"Roy is one of the all-time greats. I loves Limas fade @ Ohio St
about 8 hours ago

ESPN_CoachMack

Mack Brown


"@gobucks1226: @ESPN_CoachMack do you and @McConaughey still hang out?" Yes. Great friend and person
about 8 hours ago

ESPN_CoachMack

Mack Brown


"@char610: @espn_coachmack Fave off-field Vince memory?" Last drive in NC Game. What a player and leader
about 8 hours ago

ESPN_CoachMack

Mack Brown


"@ScottieWall: @ESPN_CoachMack best home atmosphere in your tenure? 04 Ok St? 08 Mizzou? 99 Neb?"Neb. I love that place and their fans
about 8 hours ago

ESPN_CoachMack

Mack Brown


"@natelok94: @ESPN_CoachMack favorite opponents stadium to play in?"Ohio St @ night
about 8 hours ago

ESPN_CoachMack

Mack Brown


"@chrisgb00: @ESPN_CoachMack @Hornson6th coach if @jcharles25 & @JermichaelF88 were on 08 team would win NC? No doubt. Hurt us they left
about 8 hours ago

ESPN_CoachMack

Mack Brown


"@TheBonkowski: @ESPN_CoachMack You got a favorite memory from your time at UNC? Think you could've won a NC if not for FSU."Agree on FSU
about 8 hours ago

ESPN_CoachMack

Mack Brown


"@ecure17: @ESPN_CoachMack our defense was great that game"That was a great team period
about 8 hours ago

ESPN_CoachMack

Mack Brown


"@Waldoand15Waldo: @ESPN_CoachMack What was you're most memorable win in your coaching career at UT?"NC Game vs USC
about 8 hours ago

ESPN_CoachMack

Mack Brown


"@Hornson6th: .@ESPN_CoachMack who is UR fav longhorn to watch in the NFL?" We still have so many guys in the NFL. Watch our guys, not teams
about 8 hours ago

ESPN_CoachMack

Mack Brown


"@jmnpb996: @ESPN_CoachMack how do U think you would have done at UNC if FSU hadn't joined the ACC" We were 2nd behind them. They were best
about 8 hours ago

ESPN_CoachMack

Mack Brown


"@johnp523: @ESPN_CoachMack What was the biggest reason 4 Garrett Gilbert's struggles?"Gr8 kid. Probably tried to hard. Wish him well N NFL
about 8 hours ago

ESPN_CoachMack

Mack Brown


"@j_wlch: @ESPN_CoachMack coach it aint TX/Tamu really Tx/ou the state wants the real rival"Both were gr8 rivalries. Border and in-state
about 8 hours ago

ESPN_CoachMack

Mack Brown


"@Hornson6th: .@ESPN_CoachMack Do you play Fantasy?"Nope!
about 8 hours ago

ESPN_CoachMack

Mack Brown


"@Hornson6th: .@ESPN_CoachMack Was west Texas the best place to recruit from?" Only a few players, but they were great players
about 8 hours ago

ESPN_CoachMack

Mack Brown


"@Hornson6th: @ESPN_CoachMack how good of a WR was Patrick McNamara?"Good wr but had a bad back. If not, would have played
about 8 hours ago

ESPN_CoachMack

Mack Brown


"@Hornson6th: @ESPN_CoachMack would you ever invite Coach Stoops over for dinner?"Bob and I ended up @ a good place. Gr8 coach
about 8 hours ago

ESPN_CoachMack

Mack Brown


"@SamerismyNamer: @ESPN_CoachMack Besides DKR, what was your favorite venue to coach at?" LSU. Tiger Stadium
about 8 hours ago

ESPN_CoachMack

Mack Brown


"@EthanMccully: @ESPN_CoachMack who is your sleeper pick for the heisman trophy this year?"QB @ Oregon. Gr8 player and person
about 9 hours ago

ESPN_CoachMack

Mack Brown


"@CameronBarnes89: @ESPN_CoachMack What was the hardest stadium to play in over your years in the Big 12?"Ohio St
about 9 hours ago

ESPN_CoachMack

Mack Brown


"@Hornson6th: @ESPN_CoachMack what UT recruit did you know was going to be special the day they walked on campus?"Lots. But Derrick Johnson
about 9 hours ago

ESPN_CoachMack

Mack Brown


"@Hornson6th: .@ESPN_CoachMack What was your favorite game ever?" NC Game vs USC
about 9 hours ago

ESPN_CoachMack

Mack Brown


"@cameroon1739: @ESPN_CoachMack did U keep the muzzle on bevo from your last game that said Mack? That was so cool 2 C Yes Special moment
about 9 hours ago

ESPN_CoachMack

Mack Brown


"@Ronniebedros: @ESPN_CoachMack are you still living in Austin? Favorite restaurant in the city?"We still live in Atx and work for Tex
about 9 hours ago

ESPN_CoachMack

Mack Brown


"@Jestes311: @ESPN_CoachMack did Steve Estes ever make any big plays at Cookeville High School?"Steve was a very good DE
about 9 hours ago

ESPN_CoachMack

Mack Brown


"@Hornson6th: @ESPN_CoachMack did U know J Charles would tear it up in the NFL when he was at UT?"Yes. Might have won Heisman if returned
about 9 hours ago

ESPN_CoachMack

Mack Brown


"@brandonmclaws: @FGrimesN7 @TannerL1994 @ESPN_CoachMack I was talking about the Oregon one not Oregon state"Oreg was better than us.
about 9 hours ago

ESPN_CoachMack

Mack Brown


"@_JustinHarding: Hey @ESPN_CoachMack ..I grew up with U as the coach of my favorite college/team. U will always B coach in my eyes."Thx
about 9 hours ago

ESPN_CoachMack

Mack Brown


"@kunalpatel104: @ESPN_CoachMack Coach Brown, any chance U'll be on campus for Gone to Texas next week?"Nope. My fall will be with ESPN/ABC
about 9 hours ago

ESPN_CoachMack

Mack Brown


"@Hornson6th: . @ESPN_CoachMack What was your favorite city to recruit from?"East Tex. Dallas down 45 to Houston
about 9 hours ago

ESPN_CoachMack

Mack Brown


"@Hornson6th: @ESPN_CoachMack did you recruit Coach Kingsbury to UT?"My 1st year. We got in too late. Gr8 player. Dad was a HS Coach
about 9 hours ago

ESPN_CoachMack

Mack Brown


"@zselan: @ESPN_CoachMack @GameBeforeMoney @Irishfreak8 how does Winston compare to Vick n young"Very similar
about 9 hours ago

ESPN_CoachMack

Mack Brown


"@BenKercheval: After a while, they all start to run together https://t.co/nA8GLeeJlc"Oreg was just better than we were
about 9 hours ago

ESPN_CoachMack

Mack Brown


"@hookem920: @ESPN_CoachMack @BleacherReport that was so sad.. I still have flashes of Crabtree escaping that tackle"Me too
about 9 hours ago

ESPN_CoachMack

Mack Brown


"@Chrisrobin315: @ESPN_CoachMack What is your favorite college football rivalry?"Texas/OU
about 9 hours ago

ESPN_CoachMack

Mack Brown


"@alecpuente: @ESPN_CoachMack @utdoyle I didn't even know Little Bill was still on TV"Bill Little has been gr8 for Texas
about 9 hours ago

ESPN_CoachMack

Mack Brown


"@Hornson6th: .@ESPN_CoachMack what's your best memory of Derrick Johnson? #Beast"Knocking the ball lose @ OU
about 9 hours ago

ESPN_CoachMack

Mack Brown


"@Hornson6th: @ESPN_CoachMack can Ms Sally make us cookies for our tailgate? She makes gr8 cookies. Ha! Best coaches wife ever. Lv the kids
about 9 hours ago

ESPN_CoachMack

Mack Brown


"@Hornson6th: .@ESPN_CoachMack what do U remember about romance Taylor?"He could really run. He is back in school @ Tex. I am proud of him
about 9 hours ago

ESPN_CoachMack

Mack Brown


"@Hornson6th: .@ESPN_CoachMack best memory I have was N college station 2011 win 27-25. What do you remember?"Me too. That was special 4 Tex
about 9 hours ago

ESPN_CoachMack

Mack Brown


"@Hornson6th: @ESPN_CoachMack were you ever concerned with Justin Tucker's rap?"Very talented, and a gr8 kicker as well
about 9 hours ago

ESPN_CoachMack

Mack Brown


"@Hornson6th: @ESPN_CoachMack did you like Colt or Vince more?"They are two of the best QB's in CFB History. Tex was lucky to have them
about 9 hours ago

ESPN_CoachMack

Mack Brown


"@brandonmclaws: @ESPN_CoachMack Alamo bowl 2013....thoughts? http://t.co/C45vBf6EmZ"Gr8 win over a very good Oreg St team. I love M Riley
about 9 hours ago

ESPN_CoachMack

Mack Brown


"@utdoyle: @ESPN_CoachMack Do U think UT will do anything 2 honor Bill Little? 48 years They will next Thurs night. He deserves it
about 9 hours ago

ESPN_CoachMack

Mack Brown


"@JBrycePerry: @ESPN_CoachMack @coachbaize @BleacherReport Lv U Mack, but what lost the game was clock management on last drive."Not true
about 9 hours ago

dbizzle69

d R E \/\/


@ESPN_CoachMack @BleacherReport Texas still got an awesome bowl game, against a great Ohio State team. TTU loss aside, great year for Texas.
about 9 hours ago

LonghornNetwork

Longhorn Network


"The 41st Acre" comes to life tomorrow with a little help from our legendary Longhorn friends http://t.co/MS1yJkcpSo #ALLTHELIVELONGDAY
about 9 hours ago

ESPN_CoachMack

Mack Brown


"@coachbaize: @ESPN_CoachMack @BleacherReport way to go Blake Gideon"We had lots of chances that night. One play didn't lose the game
about 9 hours ago

AaronWayne

Aaron Smith


@ESPN_CoachMack @BleacherReport That was a very tough lost, but the team still had a great year!
about 9 hours ago

ESPN_CoachMack

Mack Brown


"@janeivey18: @ESPN_CoachMack @bleacherreport horrible night. My heart stopped."Mine Too
about 10 hours ago

ESPN_CoachMack

Mack Brown


"@zachrab88: @ESPN_CoachMack @BleacherReport what a fun season though. Had no idea we'd be THAT good"I agree. Those guys had a gr8 year
about 10 hours ago

ESPN_CoachMack

Mack Brown


"@BleacherReport: We Remember Video: Michael Crabtree's last sec TD upsets No. 1 Texas Bad night. Cost us another NC & Colt the Heisman
about 10 hours ago

zjzjuarez

Zach Juarez


@ESPN_CoachMack @Irishfreak8 3 words- Run Ricky Run
about 10 hours ago

ESPN_CoachMack

Mack Brown


"@GameBeforeMoney: @ESPN_CoachMack @Irishfreak8 V Young, Tommie Frazier, Desmond Howard & R Bush best NCAA players I've seen"All gr8 ones
about 10 hours ago

ESPN_CoachMack

Mack Brown


"@nolanw: @ESPN_CoachMack still remember this day like it was yesterday. Missouri game 2005!! http://t.co/zYxtnnDrir"That was a gr8 win
about 10 hours ago

ESPN_CoachMack

Mack Brown


"@TexasNextUp: watching @jcharles25 go for 290something yds vs NEB & @ESPN_CoachMack got his 100th win j25 had 250+ in the 4th Another gr8 1
about 10 hours ago

ESPN_CoachMack

Mack Brown


"@Irishfreak8: @ESPN_CoachMack Vince Young is the best college football player I've ever seen. Would you agree?"He was a gr8 1
about 10 hours ago

ESPN_CoachMack

Mack Brown


"@AdrianNeenan: #tbt TXvsOU @Jordan_Shipley @QCosby17 #RRR #hookem 🐂 http://t.co/GOrZgZmWOa"What a game that was!
about 10 hours ago

ESPN_CoachMack

Mack Brown


"@MsPotts_ESPN: ESPN Prez John Skipper & SEC Commissioner Mike Slive commemorating the success of #SECNetwork launch. J. Skipper a gr8 boss
about 10 hours ago
BIG 12 SCOREBOARD
Saturday, 8/30
Sunday, 8/31
BLOG ARCHIVE:
CATEGORIES: