Raulerson will start out at DE for Texas
December, 9, 2012
12/09/12
3:19
PM ET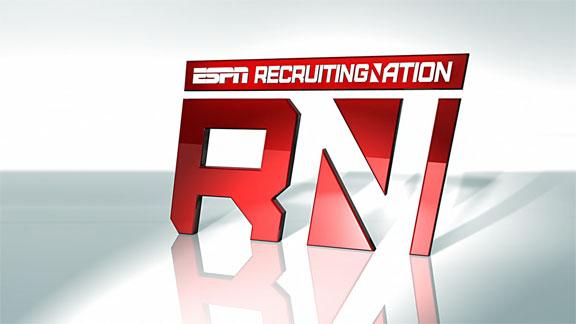 The question of which position ESPN 150 prospect
Jake Raulerson
(Celina, Texas/Celina) is going to play once he gets to Texas was finally answered this weekend.
Raulerson, in speaking with Longhorns coaches on his official visit, said he will start out at defensive end.
To continue reading this article you must be an Insider
Welcome
!
We see that you are not an ESPN Insider. Upgrade today and gain access to our exclusive coverage.
ESPN The Magazine subscribers

Need more information?
Mack Brown A Victim Of His Success
Mack Brown A Victim Of His Success
VIDEO PLAYLIST
Mack Brown A Victim Of His Success

Mack Brown A Victim Of His Success

Nothing Has Changed For Mack Brown

Nothing Has Changed For Mack Brown

Mixed Emotions for Brooks on Mack Reports

Mixed Emotions for Brooks on Mack Reports
TEXAS FB RECRUITING SCORECARD
texasbuzztap

Texas Longhorns Buzz


Orange Bloods (Rivals) >> Midlands Mailbag: Longhorns get boost http://t.co/Mx0p2MaAWL
2 minutes ago

texasbuzztap

Texas Longhorns Buzz


Orange Bloods (Rivals) >> Numbers Crunch: Hail to the SEC http://t.co/gHozMrURQ8
2 minutes ago

texasbuzztap

Texas Longhorns Buzz


Orange Bloods (Rivals) >> Commits React to Reagan Departure http://t.co/dPUcyZLOzT
2 minutes ago

texasbuzztap

Texas Longhorns Buzz


Orange Bloods (Rivals) >> Around the West: Changes shaking things up http://t.co/vivtMYGUMV
2 minutes ago

texasbuzztap

Texas Longhorns Buzz


Orange Bloods (Rivals) >> MSU visit makes Evans' decision difficult http://t.co/91OA0kUhVT
2 minutes ago

texasbuzztap

Texas Longhorns Buzz


Orange Bloods (Rivals) >> Heavy hitters lining up for West Coast point guard http://t.co/bF3uUawjPb
2 minutes ago

texasbuzztap

Texas Longhorns Buzz


Longhorn Digest (Scout) >> LBs Still On Radar http://t.co/oR9nGplMIo
3 minutes ago

Big12Conference

Big 12 Conference


#Big12 Athletic Director #FF! @bu_ad1, @IASTATEAD, @John_Currie, @soonerad, @_delconte, @swpatterson and @kirbyhocutt.
5 minutes ago

texasbuzztap

Texas Longhorns Buzz


Burnt Orange Nation >> Daily Round Up: Puck you, Rick Ferry http://t.co/Yp0laDrqti
22 minutes ago

SBN_Wescott

Wescott Eberts


Tyreek Hill has absolutely game-breaking speed and make-you-miss ability. The definition of a home-run threat.
23 minutes ago

SBN_Wescott

Wescott Eberts


Multiple reports just now that OK State commit Tyreek Hill is on campus visiting Texas. Garden City RB/WR with 10.2 100m speed. #hookem
24 minutes ago

SBN_Wescott

Wescott Eberts


Multiple reports just now that OK State commit Tyreek Hill is on campus right at visiting Texas. Garden City RB/WR with 10.2 100m speed.
24 minutes ago

HookEm

Hook 'Em


It's @TexasVolleyball GAMEDAY! Horns up as the Longhorns take on American TONIGHT at the NCAA Lincoln Regional. #PointTexas
49 minutes ago

Big12Conference

Big 12 Conference


#Big12 much better than people anticipated...RT @JonRothstein Big 12 depth among 5 observations this week @CBSSports http://t.co/fmZEauS7nV
52 minutes ago

ChipBrownOB

Chip Brown


If not banquet, hearing Monday... RT @injuredinmelee: @ChipBrownOB what time is meeting? Should we expect any news today or after banquet?
about an hour ago

texasbuzztap

Texas Longhorns Buzz


Orange Bloods (Rivals) >> What we learned: Shrine Bowl of the Carolinas http://t.co/HhFVsWWIvM
about an hour ago

texasbuzztap

Texas Longhorns Buzz


Orange Bloods (Rivals) >> Mims receiving BCS interest http://t.co/IKKG0QoCoa
about an hour ago

texasbuzztap

Texas Longhorns Buzz


Orange Bloods (Rivals) >> These 10 are generating heat http://t.co/9R8q6TUqtA
about an hour ago

texasbuzztap

Texas Longhorns Buzz


Orange Bloods (Rivals) >> Villa Classic: Philly vs. New York http://t.co/ItVYzBckLU
about an hour ago

texasbuzztap

Texas Longhorns Buzz


Orange Bloods (Rivals) >> Oliver still excited about his decision http://t.co/hSTlfyQyET
about an hour ago

texasbuzztap

Texas Longhorns Buzz


Orange Bloods (Rivals) >> Shrine Bowl: Who shined and declined? http://t.co/byzkK01WzB
about an hour ago

SBN_Wescott

Wescott Eberts


RT @Ian_A_Boyd: After watching more Kenny Iloka tape I'm more impressed. They put a lot on him in their defense and he showed a lot of rang…
about an hour ago

texasbuzztap

Texas Longhorns Buzz


Texas Longhorns (Official Site) >> Jeffcoat named 2013 Hendricks Award winner http://t.co/ghYJdn47YK
about an hour ago

UT_MackBrown

Mack Brown


...assured that the right performance of this hour's duties will be the best prep for the hours or ages that follow it."-Ralph Waldo Emerson
about an hour ago

UT_MackBrown

Mack Brown


"Don't waste your life in doubts and fears: spend yourself on the work before you ...
about an hour ago

Big12Conference

Big 12 Conference


#Big12VB: Complete schedule info on @KUVolleyball & @TexasVolleyball #NCAAVB Regionals. Sweet 16 matches are today! http://t.co/sWDiCFj0Er
about an hour ago

thatsean

Sean Adams


RT @DWFreer: Someone got a bit 2 excited w UCF BCS Bowl Game tees http://t.co/nHPHqYUHuT
about an hour ago

thatsean

Sean Adams


RT @1jaydub: @thatsean I think Mack can get it done! We had a shot to win conference after he said we would! As a football fan. Players has…
about an hour ago

thatsean

Sean Adams


It's actually simple. The administration thinks Mack Brown is the best man to coach the FB program going forward (not just 1 year) or not.
about 2 hours ago

ChipBrownOB

Chip Brown


RT @FOXSportsLive: The latest information on the Texas coaching situation from @ChipBrownOB @writerkev @ClayTravisBGID and Chris Simms - ht…
about 2 hours ago

texasbuzztap

Texas Longhorns Buzz


Orange Bloods (Rivals) >> UT LB commit Beck meets with Mack Brown http://t.co/QvVtJieASk
about 2 hours ago

texasbuzztap

Texas Longhorns Buzz


Orange Bloods (Rivals) >> Wideout on top of JUCO rankings once again http://t.co/UMZBi7b40m
about 2 hours ago

ChipBrownOB

Chip Brown


I'm hearing meeting between Mack Brown, Texas president Bill Powers and AD Steve Patterson will happen late afternoon today.
about 2 hours ago

thatsean

Sean Adams


Am I the only one that gets that the "One More Year" theory for Mack Brown coaching would KILL recruiting? It's long term or no term. #Texas
about 2 hours ago

thatsean

Sean Adams


RT @VonWolford: @thatsean @ChipBrownOB do yall get paid to talk on other shows? Just curious, i think yall are the bees knees
about 2 hours ago

thatsean

Sean Adams


RT @Rand_Getlin: .@HouseofCards season 2 trailer. "The butchery begins." http://t.co/xezAx9skxt
about 2 hours ago

ChipBrownOB

Chip Brown


RT @McClain_on_NFL: I remember when Saban left Oilers for U of Toledo, I told a friend, "He'll never make it as a college coach. He never t…
about 2 hours ago

ChipBrownOB

Chip Brown


You know it! ... RT @McClain_on_NFL: I'm sure Chip and Chad will like to hear my Saban stories if the Longhorns succeed in getting him.
about 2 hours ago

thatsean

Sean Adams


Another Mack Brown, UT and the Boosters need to put their pride/ego down email. Like people get to those positions without pride and ego.
about 3 hours ago

ChipBrownOB

Chip Brown


RT @McClain_on_NFL: By the way, Nick Saban is not on the Texans' list. Texas? Yes! Texans? No!
about 3 hours ago

ChipBrownOB

Chip Brown


Talking to our SEC insider @TheLanceTaylor now @1049TheHorn about - what else? Listen http://t.co/dG1CZMyqsf, Tune In Radio app
about 3 hours ago

thatsean

Sean Adams


TFTD - The things you take for granted, someone else is praying for - be thankful.
about 3 hours ago

thatsean

Sean Adams


RT @WSMS620AM: Coming up next, @thatsean of ESPN Radio in Austin gives us the latest on the Mack Brown situation.
about 3 hours ago

texasbuzztap

Texas Longhorns Buzz


Orange Bloods (Rivals) >> Around the West: Changes shaking things up http://t.co/DD54YRLXy0
about 4 hours ago

texasbuzztap

Texas Longhorns Buzz


Orange Bloods (Rivals) >> MSU visit makes Evans' decision difficult http://t.co/8whxgxbMdD
about 4 hours ago

texasbuzztap

Texas Longhorns Buzz


Orange Bloods (Rivals) >> Heavy hitters lining up for West Coast point guard http://t.co/BujEOA64ua
about 4 hours ago

texasbuzztap

Texas Longhorns Buzz


Longhorn Digest (Scout) >> Texas WR high on Clemson http://t.co/0MurVbtEBQ
about 4 hours ago

ChipBrownOB

Chip Brown


Mack Brown, school president Bill Powers and athletic director Steve Patterson expected to meet today about Mack's future.
about 4 hours ago

texasbuzztap

Texas Longhorns Buzz


Texas Longhorns (Official Site) >> Volleyball Match day: American [Dec. 13, 2013] http://t.co/a525aJnXx7
about 4 hours ago

texasbuzztap

Texas Longhorns Buzz


Orange Bloods (Rivals) >> The War Room - Where things stand http://t.co/A7Avflipl9
about 5 hours ago

texasbuzztap

Texas Longhorns Buzz


Orange Bloods (Rivals) >> UT LB commit Beck meets with Mack Brown http://t.co/ONwsv431Xz
about 5 hours ago

texasbuzztap

Texas Longhorns Buzz


Orange Bloods (Rivals) >> Wideout on top of JUCO rankings once again http://t.co/EW6nznRP8c
about 5 hours ago

texasbuzztap

Texas Longhorns Buzz


Orange Bloods (Rivals) >> Midlands Mailbag: Longhorns get boost http://t.co/uAo8BRH4wG
about 6 hours ago

texasbuzztap

Texas Longhorns Buzz


Orange Bloods (Rivals) >> Around the Midlands: LSU's big weekend http://t.co/73wiZB9euS
about 6 hours ago

texasbuzztap

Texas Longhorns Buzz


Orange Bloods (Rivals) >> Numbers Crunch: Hail to the SEC http://t.co/atZwd8tVAw
about 6 hours ago

texasbuzztap

Texas Longhorns Buzz


Orange Bloods (Rivals) >> Commits React to Reagan Departure http://t.co/LU6ActW127
about 6 hours ago

texasbuzztap

Texas Longhorns Buzz


Orange Bloods (Rivals) >> Around the West: Changes shaking things up http://t.co/0H0EXpppxM
about 6 hours ago

texasbuzztap

Texas Longhorns Buzz


Orange Bloods (Rivals) >> MSU visit makes Evans' decision difficult http://t.co/wsxnOighDS
about 6 hours ago

texasbuzztap

Texas Longhorns Buzz


Orange Bloods (Rivals) >> Heavy hitters lining up for West Coast point guard http://t.co/VhuswskweJ
about 6 hours ago

texasbuzztap

Texas Longhorns Buzz


Orange Bloods (Rivals) >> Ja'Quan Newton Narrows List http://t.co/wvkOzGIcHq
about 7 hours ago

texasbuzztap

Texas Longhorns Buzz


Orange Bloods (Rivals) >> Luatua setting official trips http://t.co/2wxU6qAxC4
about 7 hours ago

texasbuzztap

Texas Longhorns Buzz


Orange Bloods (Rivals) >> Shorter's close to announcing http://t.co/LbV3SJcUGA
about 7 hours ago

texasbuzztap

Texas Longhorns Buzz


Orange Bloods (Rivals) >> Top uncommitted prospects: Midlands Region http://t.co/cHNGvULAMm
about 7 hours ago

texasbuzztap

Texas Longhorns Buzz


Orange Bloods (Rivals) >> McDowell eyes SEC http://t.co/XLLEOAIhcT
about 7 hours ago

texasbuzztap

Texas Longhorns Buzz


Orange Bloods (Rivals) >> Top uncommitted prospects: West Region http://t.co/VXVysMphWT
about 7 hours ago

texasbuzztap

Texas Longhorns Buzz


Orange Bloods (Rivals) >> Midlands Mailbag: Longhorns get boost http://t.co/NJYpF73RSi
about 8 hours ago

texasbuzztap

Texas Longhorns Buzz


Orange Bloods (Rivals) >> Numbers Crunch: Hail to the SEC http://t.co/Wqzs1PeP9i
about 8 hours ago

texasbuzztap

Texas Longhorns Buzz


Orange Bloods (Rivals) >> Commits React to Reagan Departure http://t.co/5nD6mAMjYi
about 8 hours ago

texasbuzztap

Texas Longhorns Buzz


Orange Bloods (Rivals) >> MSU visit makes Evans' decision difficult http://t.co/W7PI7dIbfA
about 8 hours ago

texasbuzztap

Texas Longhorns Buzz


Orange Bloods (Rivals) >> Heavy hitters lining up for West Coast point guard http://t.co/kELtmzjYxL
about 8 hours ago

texasbuzztap

Texas Longhorns Buzz


Orange Bloods (Rivals) >> Ja'Quan Newton Narrows List http://t.co/y5Issm2maT
about 9 hours ago

texasbuzztap

Texas Longhorns Buzz


Orange Bloods (Rivals) >> Luatua setting official trips http://t.co/sKPy73RfkT
about 9 hours ago

texasbuzztap

Texas Longhorns Buzz


Orange Bloods (Rivals) >> Shorter's close to announcing http://t.co/YotDyu90qM
about 9 hours ago

texasbuzztap

Texas Longhorns Buzz


Orange Bloods (Rivals) >> Top uncommitted prospects: Midlands Region http://t.co/oLIp4SHYi1
about 9 hours ago

texasbuzztap

Texas Longhorns Buzz


Orange Bloods (Rivals) >> McDowell eyes SEC http://t.co/6CO3iGJvE2
about 9 hours ago

texasbuzztap

Texas Longhorns Buzz


Orange Bloods (Rivals) >> Top uncommitted prospects: West Region http://t.co/3S5rEJzTWw
about 9 hours ago

ESPNwilkerson

William Wilkerson


LaMarcus Aldridge is going absolutely bizerk. 30 points and 25 rebounds vs. Houston.
about 11 hours ago

ESPNwilkerson

William Wilkerson


RT @BlkSportsOnline: Photo from the scene of the Stabbing after Broncos Game. Looks really bad http://t.co/LizuljbGXj
about 11 hours ago

thatsean

Sean Adams


I'm in!!! RT @MichaelSDoss: @thatsean you can join ours and I'll gladly accept your donation:)
about 11 hours ago

ESPNwilkerson

William Wilkerson


I don't think I've seen LaMarcus Aldridge miss that 18-foot jumper since his freshman season at #UT. #PerennialAllStar
about 12 hours ago

ESPNwilkerson

William Wilkerson


In other news, bro sneaks his way into ring after Pacquiao vs. Rios fight like its nothing: http://t.co/032wtcBRr9
about 12 hours ago

texasbuzztap

Texas Longhorns Buzz


Orange Bloods (Rivals) >> Midlands Mailbag: Longhorns get boost http://t.co/2eNYmXQJjI
about 12 hours ago

texasbuzztap

Texas Longhorns Buzz


Orange Bloods (Rivals) >> Around the Midlands: LSU's big weekend http://t.co/sUUkO0NcOO
about 12 hours ago

texasbuzztap

Texas Longhorns Buzz


Orange Bloods (Rivals) >> Numbers Crunch: Hail to the SEC http://t.co/mEOwGNwvQb
about 12 hours ago

texasbuzztap

Texas Longhorns Buzz


Orange Bloods (Rivals) >> Commits React to Reagan Departure http://t.co/nSNXUPTDT5
about 12 hours ago

texasbuzztap

Texas Longhorns Buzz


Orange Bloods (Rivals) >> Around the West: Changes shaking things up http://t.co/xO90K52zLa
about 12 hours ago

texasbuzztap

Texas Longhorns Buzz


Orange Bloods (Rivals) >> MSU visit makes Evans' decision difficult http://t.co/4yFmhHJ3KR
about 12 hours ago

texasbuzztap

Texas Longhorns Buzz


Orange Bloods (Rivals) >> Heavy hitters lining up for West Coast point guard http://t.co/tbw82ik3B5
about 12 hours ago

ChipBrownOB

Chip Brown


RT @FOXSportsLive: Will Mack Brown return? Is Nick Saban heading to #Texas? @ChipBrownOB, Chris Simms, @writerkev and @ClayTravisBGID updat…
about 13 hours ago

texasbuzztap

Texas Longhorns Buzz


Orange Bloods (Rivals) >> Summer Jam, GASO: What We Learned http://t.co/yJI23mKS0q
about 13 hours ago

texasbuzztap

Texas Longhorns Buzz


Orange Bloods (Rivals) >> Around the Midlands: Bauer still in demand http://t.co/P367Sb7UHB
about 13 hours ago

texasbuzztap

Texas Longhorns Buzz


Orange Bloods (Rivals) >> Monday Recruiting Blitz: 7/22 http://t.co/GUqKsDt6Kd
about 13 hours ago

texasbuzztap

Texas Longhorns Buzz


Orange Bloods (Rivals) >> RB London talks summer offers http://t.co/z0dLfYKcGZ
about 13 hours ago

texasbuzztap

Texas Longhorns Buzz


Orange Bloods (Rivals) >> Two trips for Mixon http://t.co/9EQFdGtWis
about 13 hours ago

texasbuzztap

Texas Longhorns Buzz


Orange Bloods (Rivals) >> Around the Midwest: Traveling to SEC country http://t.co/wH9XnUILPE
about 13 hours ago

texasbuzztap

Texas Longhorns Buzz


Orange Bloods (Rivals) >> Flowers has five standing out http://t.co/tTaICVdFVt
about 13 hours ago

texasbuzztap

Texas Longhorns Buzz


Texas Longhorns (Official Site) >> Video: Texas Volleyball readies for NCAA Regional at Nebraska [Dec. 12, 2013] http://t.co/il6WpkUfVC
about 13 hours ago

ESPNwilkerson

William Wilkerson


@ESPNwilkerson I believe it. He isn't healthy either
about 14 hours ago

ESPNwilkerson

William Wilkerson


Andre Blatche is Workin Kevin Garnett. Workin.
about 14 hours ago

thatsean

Sean Adams


I'll be there. RT @RhoKnight: @thatsean are you making a trip to the countdown city to watch the bowl game?
about 14 hours ago
BLOG ARCHIVE:
CATEGORIES: