Five biggest visitors at RRR game
October, 12, 2012
10/12/12
10:00
AM ET
AUSTIN, Texas -- For the second week in a row the Longhorns will play in front of a hefty dose of recruits that they one day hope will join them on the field.
Last week, despite losing to West Virginia, Texas came away winners in the eyes of those recruits in attendance, given the atmosphere created by the largest crowd to witness a Texas home game, and also the minimal deficit by which it lost to West Virginia.
This week, with Oklahoma the designated home team, the Longhorns are going to have to rely on their play to impress the recruits since they won't be the ones in charge of handing out tickets.
Here are a look at the top five recruits who will be in attendance that Texas needs to impress:
William Wilkerson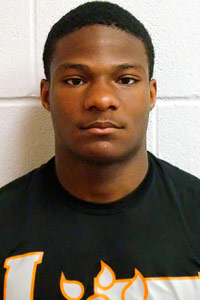 William Wilkerson/ESPN.comClass of 2014 defensive back Nick Harvey is a versatile player on the field.
1. DB Nick Harvey (Lancaster, Texas/Lancaster):
Harvey can do it all. He's a dynamic return man, lockdown corner, with the physicality to play safety, and the hands to be a slot receiver if need be.
For as active as he is, and as high-profile as his recruitment already is, he doesn't have much to say and is pretty low-key about the process. He just wants to help Lancaster win, which you have to admire.
That said, this gives two teams going after him the perfect opportunity to make an impression. Oklahoma can do so as the home team, which means it'll be in charge of the recruits on Saturday. Texas will have to rely on its play to do the talking.
Harvey's recruitment is also key because it could have an effect on where teammate
Nick Alexander
, a 2014 wideout, will go. He'll be at the game too.
2. WR K.D. Cannon (Mount Pleasant, Texas/Mount Pleasant):
When you list the top junior receivers in the state, at or near the top is going to be the guy they call "Juice."
At the top of Juice's list of favorites are Texas and Oklahoma. So what better way to separate one from the other than this week, right?
3. LB Cameron Hampton (Dallas/Carter):
The Longhorns have some catching up to do with this one.
Hampton told me on Tuesday that he hopes Oklahoma wins
and that the Sooners are on the top of his lists.
Now, Texas does sit second. So all is not lost. But a win in that kind of environment could go a long way in closing the gap between the two rivals. Hampton said it's not that big a gap. It could also give him more incentive to get to Austin for a game this season.
4. DB Nick Watkins (Dallas/Bishop Dunne):
On the plus side for the Longhorns, they were the only school that Watkins visited over the summer. They've let it be known that he is a top priority in this class. But Texas is far from the only school in hot pursuit.
Watkins has told me that Texas, Alabama and Michigan are the three schools that are recruiting him the hardest. He already has seen the other two schools in action this season when they played at Cowboys Stadium. He has ties to Michigan because his father played for the Detroit Lions and he still has family in the area.
Texas has to hope that this game will serve as a reminder that there is no reason to leave the state, or go across the Red River.
5. DE Solomon Thomas (Coppell, Texas/Coppell):
The Longhorns sit in a very good position with the talented junior from the Dallas suburb. The last thing they want is for that to change and Thomas to look at Oklahoma in a more positive light.
Thomas already holds the Sooners in high regard. I'd venture to guess that they are in the mix with Stanford behind Texas at this point. Oklahoma has a chance to make up some ground since it'll be in charge of the recruits on Saturday.
Max Olson
1. WR K.D. Cannon (Mount Pleasant, Texas/Mount Pleasant):
I wouldn't be one bit surprised if the premier junior receiver in the state of Texas ends up choosing between UT and Oklahoma when it's all said and done. They're the top two schools that jumped on him early in his recruitment, and they haven't budged from the top of his list since.
Cannon already has been to two Texas games this season and is about to attend his third. As much as this is a big opportunity for Oklahoma to make an impression on him, it's also a chance for Texas to continue to impress him with its much-improved passing attack.
2. ATH Nick Harvey (Lancaster, Texas/Lancaster):
Loyal Texas Fans To Get Ticket Priority
BIG 12 SCOREBOARD
Thursday, 9/3
Friday, 9/4
Saturday, 9/5