WVU finds recruiting niche in Texas
October, 5, 2012
10/05/12
10:00
AM ET
When
Dustin Garrison
guided the little guy from his home state around campus in December, he could sense some apprehension. It's only natural.
The West Virginia running back knew asking
Jordan Thompson
to consider moving more than 1,300 miles from Katy, Texas, to Morgantown, W.Va., wasn't an easy sell. Garrison had his doubts, too.
Once he got past the initial homesickness, he knew he'd made the right choice. He knew Thompson would, too, if he chose the Mountaineers.
[+] Enlarge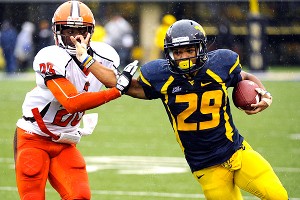 AP Photo/Tyler EvertRunning back Dustin Garrison is one of 11 Texas natives on West Virginia's roster.
"I told him, you'll get through it, and once you get used to it, you'll love it," Garrison said. "The fan support is very similar to what it's like back in Texas."
Now Garrison and Thompson, two key Texas-bred cogs in West Virginia's prolific offense, are coming home. They might not receive much fan support from the 100,000-plus in attendance when the Mountaineers take on Texas on Saturday night, but Garrison did manage to round up around 20 tickets for friends and family.
"I've been looking forward to this day ever since we found out we were going to the Big 12," he said.
This game means more to Garrison than most, and he doesn't hesitate to admit that. The sophomore from Pearland, Texas, hasn't forgotten his recruiting process. He slipped through the cracks.
The in-state schools weren't interested. At 5-foot-8 and 160 pounds, he was just too small. By the time he blew up in his senior year, with 2,842 rushing yards and 46 touchdowns, the Longhorns already had pledges from
Malcolm Brown
and
Joe Bergeron
. Everybody else passed on the two-star prospect with 62 career touchdowns.
But not Dana Holgorsen. He already has made inroads in Texas since taking over as West Virginia's head coach. He and five of his assistants have coached in the state and haven't been afraid to pluck those who go under-recruited.
"They have raised some eyebrows around here," Katy coach Gary Joseph said. "Dana's smart enough to get kids who are good football players, and he understands that to play at the level they have to around here they've got to get pretty good football players."
Before Holgorsen took over the program, Joseph can't remember ever seeing a West Virginia coach stop by his high school. Now that the Mountaineers have joined the Big 12, he already has had a few assistants stop by to evaluate players and watch tape.
Most of Joseph's top recruits already have made pledges. West Virginia doesn't stop by to see the kids going to Oklahoma, LSU or Baylor. They're looking for the sleepers.
Last fall, the West Virginia staff found another one. Holgorsen personally visited Katy to get a good look at Jordan Thompson.
He caught 65 passes for 1,200 yards and 16 touchdowns as a senior. But he's 5-7 and 164 pounds. He held no scholarship offers.
"He don't fit the mold," Joseph said. "He's not a 6-foot-4, 210-pound receiver. He's always been a really good competitor. I'm thankful they recruited him because he's a good football player, not because he's a prototype."
When West Virginia offered, Thompson committed despite having never seen the campus. He took a leap of faith because Holgorsen had taken a chance on him.
Two weeks later, he made his first visit. Garrison was his player host, just as he is for most visitors from Texas. He convinced Thompson this place would feel like home eventually.
"I don't think he was near as apprehensive about it as his momma was," Joseph said. "But once momma figured out it was going to be a good thing for him, she was all for it too."
Thompson enrolled early and was the star of West Virginia's spring practices. Now he's a starting inside receiver. Garrison, WVU's leading rusher last year as a freshman, has recovered from a knee injury and is back to splitting carries.
"I'm a firm believer that everything happens for a reason," Garrison said, "and right now we're both making plays here at West Virginia where we're supposed to be."
Texas Longhorns Show Out On Pro Day
BIG 12 SCOREBOARD
Thursday, 9/3
Friday, 9/4
Saturday, 9/5