Video: Is Texas the Big 12 favorite?
September, 28, 2012
9/28/12
2:00
PM ET
By
HornsNation staff
| ESPN.com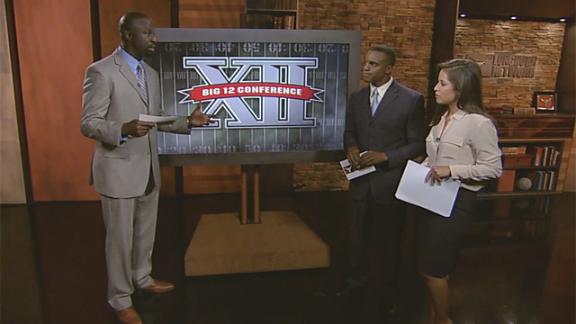 HornsNation reporter Sean Adams and Longhorn Network analyst Ahmad Brooks debate who is the best team in the Big 12.
College Football Top Plays: Week 8
Check out the top plays from Week 8 of college football.
College Football Top Plays: Week 8
VIDEO PLAYLIST
TEXAS FB RECRUITING SCORECARD
SBN_Wescott

Wescott Eberts


Mmmhmmm RT @SlaterESPN: #SOA time #LastRide
about 4 hours ago

SBN_Wescott

Wescott Eberts


"Turn Down For Wat" is Texas play caller Shawn Watson's outburst set to Lil Jon's "Turn Down For What." #yup http://t.co/o5M9rtEHwj
about 5 hours ago

SBN_Wescott

Wescott Eberts


Check out the fun police over here. Come off it. RT @ben_woods15: @me wow, what a mature guy he seems to be!
about 5 hours ago

SBN_Wescott

Wescott Eberts


So, I set Shawn Watson's awesome outburst to "Turn Down for What" because it seemed like a good thing to do. https://t.co/pUg2j0OPGw
about 5 hours ago

ESPN_CoachMack

Mack Brown


Brian Orakpo was 1 of the best pass rushers in the history of CFB. Thx for all you did for Texas FB. Loved watching you play. Get well soon
about 5 hours ago

SBN_Wescott

Wescott Eberts


Kudos to the BON commenter who came up with this awesome/inevitable Shawn Watson punhttp://t.co/GoF7HShdHJhttps://t.co/LmKtsqcSsv
about 5 hours ago

SBN_Wescott

Wescott Eberts


Keep it #turnt, Shawn Watson, never tone it down. Texas coach explains late-game outburst. http://t.co/W0RN5K3ngv http://t.co/bimgAjocVj
about 5 hours ago

LonghornDigest

Kevin Flaherty


I see what you did there. RT @jonfmorse: Pretty clever of Ned to put his least effective starter up against the Giants' ace, IMO
about 5 hours ago

ESPN_CoachMack

Mack Brown


"@rak98: @ESPN_CoachMack @attportables thanks Coach B 4 all the support!!!" Love you. Thx for all you did @ Texas. We enjoy watching U play
about 5 hours ago

LonghornDigest

Kevin Flaherty


If I were an opposing pitching coach, I would fine any pitcher that put a pitch in the strike zone to Perez or Escobar. But nice job, Salvy!
about 5 hours ago

max_olson

Max Olson


Arkansas State, king of the unsuccessful fake punt, delivered a new classic tonight: http://t.co/niTrkQEym8
about 6 hours ago

LonghornDigest

Kevin Flaherty


Thank God for this. http://t.co/tIybs51dZR
about 6 hours ago

ChipBrownOB

Chip Brown


Practice updates on #Texas #Longhorns WR/RB Daje Johnson and OT Desmond Harrison @HornsDigest ($). http://t.co/XeHMFza8WF
about 6 hours ago

LonghornDigest

Kevin Flaherty


Damn. Dude can sing. Belt it
about 6 hours ago

ESPNCFB

ESPN CollegeFootball


Gabe White, an 8-year-old boy with down syndrome from Wisconsin, scores a TD during a Rhinelander HS football game » http://t.co/FQkcSni7tJ
about 6 hours ago

LonghornDigest

Kevin Flaherty


Rest of the playoffs, the Royals have looked like Rocky vs. Drago. In this game, it's looking more like Creed vs. Drago. #ifhedieshedies
about 6 hours ago

LonghornDigest

Kevin Flaherty


Aoki finally did it.
about 6 hours ago

ESPN_CoachMack

Mack Brown


"@lil_nicky92: @ESPN_CoachMack you're the man! http://t.co/kfwKMAEsb7"Thx. I had a lot of fun
about 6 hours ago

LonghornDigest

Kevin Flaherty


Stud. RT @Zacklopedia: I've been told that @TVCCFOOTBALL S @Lb_Bates24 has been offered by Iowa State. #Cyclones. He is committed to KU.
about 6 hours ago

LonghornDigest

Kevin Flaherty


Goll darn the heck
about 6 hours ago

LonghornDigest

Kevin Flaherty


This series is really going to turn when the Royals throw Saberhagen in Game 2.
about 6 hours ago

Longhorn_FB

Longhorn_FB


Tracking the Longhorns: quotes from Tuesday's media availability. http://t.co/dni4ABoM6S
about 6 hours ago

LonghornDigest

Kevin Flaherty


The Ickey Shuffle. RT @jaime_blum: That @GEICO commercial made me lol a little too hard. #ThatsMyNumber #GonnaGetSomeColdCuts
about 6 hours ago

SBN_Wescott

Wescott Eberts


Another day, another Texas offer out to a Florida DB. Find out which prospect is now on the recruiting board. http://t.co/8OtYAjmAyK
about 6 hours ago

LonghornDigest

Kevin Flaherty


100 percent yes. RT @DSzymborski: You know who is a good pitcher and should not have been a postseason afterthought? Danny Duffy.
about 6 hours ago

ESPN_CoachMack

Mack Brown


"@rak98: Sorry Fans I Won't Be @ATTPortables Today Due To Having Surgery ... But I Will Be There Next Tuesday Good luck Brian. We love U
about 6 hours ago

ESPN_CoachMack

Mack Brown


Two gr8 Americans and Longhorns. Matthew and Nate, we appreciate you both! http://t.co/322oUBsIC1
about 6 hours ago

LonghornDigest

Kevin Flaherty


I think Duffy just set a new record for most arm angles used in 20 pitches.
about 7 hours ago

LonghornDigest

Kevin Flaherty


GO ROYALS
about 7 hours ago

Longhorn_FB

Longhorn_FB


.@ColtMcCoy led a comeback win, @jcharles25 became the Chiefs all-time leading rusher. Longhorns in the NFL: http://t.co/KriwAB4KzI
about 7 hours ago

ESPN_CoachMack

Mack Brown


I really enjoyed speaking to the Honors Accounting Students from the McCombs Sch of Business today. What an impressive group. We had fun!
about 7 hours ago

max_olson

Max Olson


Geoff Swaim was just being honest. And, you know, that is one of Strong's five core values...
about 7 hours ago

BON_SBNation

Burnt Orange Nation


<3 Geoff Swaim even more now. Dropping the #realtalk in addition to his crunching blocks. He will be missed. #hookem
about 7 hours ago

SBN_Wescott

Wescott Eberts


Texas TE Geoff Swaim spoke to the media Tuesday, proved his language is as blue-collar as his blocking. #horns http://t.co/u09df0drhX
about 7 hours ago

SBN_Wescott

Wescott Eberts


Wonder if lack of OL depth for Texas has contributed to cautious use of tempo. Basically sticking with starting five every play, every game.
about 7 hours ago

NCAA

NCAA


7 players in this year's #WorldSeries are #CWS alums, but only @bfinny29 has ever been in both in the SAME YEAR. http://t.co/9wwVep4Tbt
about 7 hours ago

Longhorn_FB

Longhorn_FB


Video: Shawn Watson meets with the media after Tuesday's practice to discuss this weekend's game versus Kansas State. http://t.co/f98e4wTyRN
about 8 hours ago

max_olson

Max Olson


Shawn Watson on WR John Harris: "He's become the poster child for what we want in our program."
about 9 hours ago

Big12Conference

Big 12 Conference


#Big12BSB and @MLB #WorldSeries notables - http://t.co/cS4DGKd3gd http://t.co/DjH2qjzLLw
about 9 hours ago

max_olson

Max Olson


If Shawn Watson calls this excitement, @rileydodge11 clearly has a great poker face. http://t.co/1MBhSvdkoH
about 9 hours ago

max_olson

Max Olson


Shawn Watson on the end-of-game freakout: He was excited because they nailed the call and execution. "I get a little revved up."
about 9 hours ago

Big12Conference

Big 12 Conference


#Big12BSB alums in the #WorldSeries, plus #Big12SOC news are in today's #Big12Minute - https://t.co/ZCxgXJmgKN
about 9 hours ago

Big12Conference

Big 12 Conference


#Big12 Conference announces reprimand of Baylor administrator - http://t.co/H4Iu8bfcVR
about 9 hours ago

Big12Conference

Big 12 Conference


ICYMI: @wvuwomenssoccer Kate Schwindel was named one of 10 finalists for the 2014 Senior CLASS Award. http://t.co/WXD3h8BVoO
about 10 hours ago

Big12Conference

Big 12 Conference


Where does baylorwbb Chardonae Fuqua' serve as an intern. #Big12WBBTour http://t.co/ij33yZlfZC
about 10 hours ago

chriscavazos21

Chris Cavazos


Great upset picks @ChipBrownHD WVU over BU and KSU over OU
about 10 hours ago

WVWilkerson

William Wilkerson


Is #Aggies commitment Kinglsey Keke interested in the #Longhorns? Is #UT even interested in him anymore? Answers --> http://t.co/4qhHLk97dB
about 10 hours ago

HornsDigest

HornsDigest


#Longhorns offer Jeffrey McCulloch talks with @ahmardvital about his recruiting/season: http://t.co/jabM5KCiN5 http://t.co/A8rV1YUPV1
about 10 hours ago

ChipBrownOB

Chip Brown


"@WVWilkerson: After a rough start, #Longhorns K @NickRozay23 is finding his groove (FREE): http://t.co/PdYswN8I2w http://t.co/xxbta5Lvz9&#8221;
about 10 hours ago

WVWilkerson

William Wilkerson


2016 OLB/RB Demarco Boyd talks #Longhorns offer - brother of 2015 DB Kris Boyd: http://t.co/E8KqYrAKWg http://t.co/86bHysHPp7
about 10 hours ago

WVWilkerson

William Wilkerson


Desmond Harrison's six-game suspension is over. Now what? @ChipBrownHD with latest: http://t.co/1QHcu5bXFD@HornsDigest #Hookem #UT
about 10 hours ago

startelegram

Star-Telegram


.@FSSouthwest host/reporter @ImErinHartigan lives her dreamhttp://t.co/NaBSNRnGg0 http://t.co/duAPSCPQeo
about 10 hours ago

WVWilkerson

William Wilkerson


Sack master TJ Fehoko - a #Colorado commit - could visit #UT. @DougKimmelScout with more: http://t.co/TnatoLUTxw http://t.co/HJqlgDAa9L
about 10 hours ago

HornsDigest

HornsDigest


Here's another 2015 QB to keep an eye on for the #Longhorns. @Jason_Higdon with more: http://t.co/maFfLT3Mcm@HornsDigest #Hookem #UT
about 10 hours ago

WVWilkerson

William Wilkerson


. @Jason_Higdon dropping plenty of #Longhorns recruiting knowledge n this chat, including breaking news on new offer: http://t.co/UcNL0ZMYmN
about 10 hours ago

Big12Conference

Big 12 Conference


.@BaylorWBB PG Niya Johnson said the Big 12 race is open this year. You have to come to play every night. #Big12WBBTour
about 10 hours ago

Big12Conference

Big 12 Conference


.@BaylorWBB Kristina Higgins said leadership will come from everyone this season with a young team. #Big12WBBTour
about 11 hours ago

Big12Conference

Big 12 Conference


.@BaylorWBB Sune Agbuke said team has a solid 10 players that will contribute. Opponents won't be able to key on one player.#Big12WBBTour
about 11 hours ago

Big12Conference

Big 12 Conference


What is baylorwbb Sune Agbuke studying academically? #Big12WBBTour http://t.co/t8vYsNgHee
about 11 hours ago

SBN_Wescott

Wescott Eberts


With game-changing efforts at PK, P, and on KR, the #Horns ST were finally special vs ISU. #hookem http://t.co/bWf6bfjMD3
about 11 hours ago

TexasSports

Texas Longhorns


Pack the Horns' House tomorrow at 7pm when @TexasVolleyball goes for a school-record 34th consecutive home win. http://t.co/Y5U9cFWqlP
about 11 hours ago

Longhorn_FB

Longhorn_FB


Swoopes earns honorable mention for the Earl Campbell Tyler Rose Award National Player of the Week: http://t.co/yqWmyR3l1R
about 11 hours ago

Big12Conference

Big 12 Conference


#Big12Forum: @TexasSports' Chris Plonsky - As an athletic department, we want to be an asset and self-sustain.
about 11 hours ago

cspan

CSPAN


Should student athletes be paid? Watch discussion LIVE on C-SPAN http://t.co/m7VK1Pb5pF #cspanCHAT #Big12Forum http://t.co/0tlhqTud2z
about 12 hours ago

Big12Conference

Big 12 Conference


#Big12Forum: @LenElmore - What we love about college athletics is "under assault" with debate on paying student-athletes.
about 12 hours ago

Big12Conference

Big 12 Conference


#Big12Forum: @LenElmore -Depends on what you mean by paying. There should be some balance. Not necessarily employer-employee relationship.
about 12 hours ago

Big12Conference

Big 12 Conference


#Big12Forum: @LenElmore -Depends on what you mean by paying. There should be some balance. Not necessarily employer-empoyee relationship.
about 12 hours ago

Big12Conference

Big 12 Conference


#Big12Forum: @cbrennansports - Student-athletes should "absolutely not" be paid. Not sure we would like what we create if we start paying.
about 12 hours ago

thatsean

Sean Adams


I'm not dogging #Baylor, I'm saying that playing non-can sched of UTSA, Rice, SMU, Duke and Lamar in any order leaves no margin for error.
about 12 hours ago

Big12Conference

Big 12 Conference


(2/2) #Big12Forum panelists for 3:45 p.m. CT panel. Watch at http://t.co/kLrsTE2GZ4 http://t.co/NwdqatnelT
about 12 hours ago

Big12Conference

Big 12 Conference


(1/2) #Big12Forum panelists for 3:45 panel. Watch at http://t.co/kLrsTE2GZ4 http://t.co/eVYkaBly3P
about 12 hours ago

TexasSports

Texas Longhorns


Final #Big12Forum panel "Are Student-Athletes Employees?" starts at 4:45p ET/3:45p CT on http://t.co/jVz6vPjnhN (free stream) or C-SPAN.
about 12 hours ago

Big12Conference

Big 12 Conference


#Big12Forum: The second panel - "Are student-athletes employees?" - up next in about 15 min. Watch on @cspan and http://t.co/kLrsTE2GZ4.
about 12 hours ago

CFBHeather

Heather Dinich


Good discussion about $ here by first panel, haves vs. have-nots, and where college athletics are heading financially. #Big12Forum
about 12 hours ago

Big12Conference

Big 12 Conference


#Big12Forum: @_delconte - Voice is being lost by legal and media noise. Hope to regain sanity in amateurism model.
about 12 hours ago

Big12Conference

Big 12 Conference


#Big12Forum: @SWPatterson - Paying football players could also potentially eliminate non-revenue sports in "Big 5."
about 12 hours ago

Big12Conference

Big 12 Conference


#Big12Forum: @SIPeteThamel - Lower tier schools not in the "Big 5" - fear of purge in non-revenue sports.
about 12 hours ago

HornsDigest

HornsDigest


HD Roundtable - Are #Aggies losses #Longhorns gain? We discuss (FREE): http://t.co/BBqxJkVVon@HornsDigest #Hookem http://t.co/hR2opcYE1N
about 12 hours ago

HornsDigest

HornsDigest


Kiss of Death: Swoopes' legs, #KSU's baby Gronk, #OU script flip via @ChipBrownHD: http://t.co/YSPATlarWp http://t.co/oFZ5lI7xzW
about 12 hours ago

ChipBrownOB

Chip Brown


The 6-game suspension for #Texas OT Desmond Harrison - as first reported by @HornsDigest - is now over. The latest... http://t.co/XtEkFxTjH7
about 12 hours ago

SBN_Wescott

Wescott Eberts


Excited about Texas basketball season yet? Read this excellent mailbag preview and you will behttp://t.co/8qw6PYXCig http://t.co/Lqqc7ypiJL
about 12 hours ago

TexasSports

Texas Longhorns


TRIVIA TUESDAY: Thanks for the replies! Tyrone Swoopes' 384yds total offense were the most ever in Red River Showdown history. #HornsTrivia
about 13 hours ago

thatsean

Sean Adams


Black QB's RT @HtownHorn: @thatsean What was her topic? #CallScreenerGottaScreenBetter
about 13 hours ago

thatsean

Sean Adams


Up next my man @BrentZwerneman will join the #AdamsTheory to talk Texas A&M, 59 - 0, positions open and the 2014 season cc: @am1300thezone
about 13 hours ago

thatsean

Sean Adams


Her new name is #RacistMary RT @HtownHorn: @thatsean Should've asked her which Michael Jackson that she liked.
about 13 hours ago

chrisgb00

Chris Bennett


@justinwells2424 on the #AdamsTheory with @thatsean 👍
about 13 hours ago

thatsean

Sean Adams


A lady just called the #AdamsTheory and said, "I'm not racist, I like you, Charlie Strong and Denzel Washington."
about 13 hours ago

Big12Conference

Big 12 Conference


#Big12Forum: @_delconte - The institutions make up the NCAA. They are a necessity.
about 13 hours ago

Big12Conference

Big 12 Conference


#Big12Forum: @ByBerkowitz re: do we need the NCAA? "We need something." Underlying governance needed.
about 13 hours ago

Big12Conference

Big 12 Conference


#Big12XC @CycloneTrackXC's Crystal Nelson and @OU_Track's Abbabiya Simbassa win Big 12 Runner of the Week honors: http://t.co/s0KZN5DAjG
about 13 hours ago

Big12Conference

Big 12 Conference


RT @CFBHeather: Great points from @_delconte about how important athletics are to the kids who get a degree and don't go pro. #Big12Forum
about 13 hours ago

Big12Conference

Big 12 Conference


#Big12Forum: Of 85 student-athletes that graduated from TCU last year, only one went pro. @_delconte - importance of education
about 13 hours ago

kylefredrickson

Kyle Fredrickson


.@BerryTramel says "The sensationalism of the SI cover "DIRTY GAME" didn't match the evidence" http://t.co/RGLIJMm7IB http://t.co/4R2hQgI57c
about 13 hours ago

SBN_Wescott

Wescott Eberts


Could Texas surge with 2015 DB Kris Boyd after offering his younger brother, 2016 ATH Demarco Boyd? #hookem http://t.co/pRnAPQSBxW
about 13 hours ago

thatsean

Sean Adams


The fact that Texas A&M is throwing 'open' most starting jobs should scare #Aggies to death. Means things get worse before they get better.
about 13 hours ago

Big12Conference

Big 12 Conference


#Big12Forum: @SWPatterson- "Labor is free" isn't accurate in college athletics. Consider the tax-free component of student-athlete benefits.
about 13 hours ago

Jimmy_Burch

Jimmy Burch


Sounds like #TAMU coach Kevin Sumlin is throwing most starting jobs, including QB, wide open during Ags' bye week. A&M has lost 3 in row.
about 13 hours ago

Big12Conference

Big 12 Conference


#Big12Forum: @SIPeteThamel Using likeness to make money can = concern over unintended consequences of paying players.
about 13 hours ago

Big12Conference

Big 12 Conference


#Big12SOC has seven teams ranked in the top 49 of the latest NCAA RPI. Check out more conference notes here, http://t.co/sy7JQSybE7
about 13 hours ago

Big12Conference

Big 12 Conference


#Big12Forum: We are running a business based on people's passions. Commerce has changed drastically & how we fund athletics. @_delconte
about 13 hours ago
BLOG ARCHIVE:
CATEGORIES: