CB Tony Brown dares you to throw at him
September, 21, 2012
9/21/12
8:00
AM ET
DALLAS --
Tony Brown
had this game marked on his calendar.
Beaumont (Texas) Ozen vs. Stephenville. Saturday afternoon. Dallas. Big receiver to cover. Big opportunity.
When on a quest to prove you're the nation's No. 1 recruit for the 2014 class, it's games like these you savor.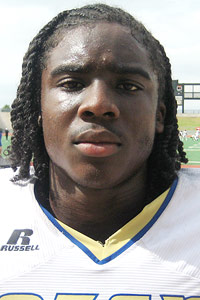 Max Olson/ESPN.comClass of 2014 defensive back Tony Brown says he's out to prove himself against the best of the best.
This summer, Brown established himself as one of the state's best junior corners. He went to camp after camp, combine after combine -- all just to get his name out there.
Now he's out to show he's the real deal with pads on. Only problem is, nobody is throwing at him.
"I thought they'd think I was just good at combines and good at camps and they were going to test me," he said. "But nobody is testing me yet. When they do, I'll pass with flying colors."
He figured there might be no better chance to shine than what he faced last weekend, as his Ozen squad took on a Stephenville team featuring ESPN 300 receiver
Brice Gunter
. Brown set out to send a message to the 6-foot-3, 190-pound Texas State commit and anyone watching: Tony Brown is not to be messed with.
The 6-foot, 179-pound corner could tell Gunter was getting frustrated early, when he kept getting pressed in man coverage. If Brown didn't make his presence felt then, he did a little later by drilling Gunter in the flat on a third down to force a field goal.
"I was pretty hyped up," Brown said.
Gunter finished the day with three catches for 49 yards and no touchdowns. Brown is proud to say none of those catches came when he was assigned to the receiver.
"This was one of my only chances this season to go against a receiver that had over 1,000 receiving yards," Brown said. "I feel like I showed up and they couldn't get the ball to him. He'd try to double move me and stuff, but I was on him."
Gunter isn't so quick to declare Brown the victor of their matchup, but he did come away impressed with the junior.
"We prepared all week for him to man up on me," Gunter said. "He was the best I've played this year, but I wasn't overwhelmed or intimidated by him covering me."
Stephenville won the game, 31-6. Brown isn't overlooking that. The loss bothers him. But he's glad he at least got a personal victory out of it.
After a summer full of going one-on-one with the best 2013 and 2014 pass-catchers in the state and even at elite camps outside Texas, Brown was ready for the test. He's not one to back down from those battles.
"It's always good for me to go mano a mano and play press man and off man," Brown said. "I've got to do what I've got to do. I can't wait for the next matchup like that."
The best ones, he concedes, likely won't come until he plays in an all-star game after his senior season. Brown looks forward to that day. That's what he's working for -- to find himself among the best of the best.
Right now, though, it's a struggle to get opposing offenses to bite. Brown rotates between corner and safety in an attempt to give opponents different looks. Ozen tries weakside blitzes to force quarterbacks to throw his way.
He's quickly learning that making a difference might just mean doing his job.
"I just make the play if it comes to me," he said. "Nobody has caught on me when I'm at safety. Nobody has caught on me when I'm at corner. Whatever position I'm at, I feel like that side of the field is my side of the field, and nothing is going to happen over there."
Celebrating Black History Month With Texas HC Charlie Strong
BIG 12 SCOREBOARD
Thursday, 9/3
Friday, 9/4
Saturday, 9/5