Bryan Harsin gets his man in Jerrod Heard
August, 14, 2012
8/14/12
10:17
PM ET
Denton (Texas) Guyer quarterback
Jerrod Heard
had more than 540 days to decide where he'd play quarterback in college.
Bryan Harsin sure made that easy on him.
[+] Enlarge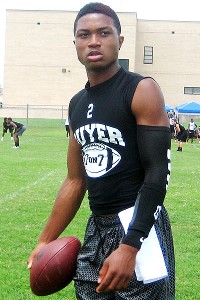 Max Olson/ESPN.comJerrod Heard made an impression on Texas offensive coordinator at one of Texas' summer camps.
When Heard became the Longhorns' fifth pledge for its 2014 recruiting class on Tuesday, the commitment signaled a swift and impressive victory for Texas' second-year offensive coordinator.
To continue reading this article you must be an Insider
Insider
4Q KSU C. Jones run for 1 yd for a TD, (M. McCrane KICK)
Charles Jones run for 1 yd for a TD
4Q KSU C. Jones run for 1 yd for a TD, (M. McCrane KICK)
VIDEO PLAYLIST
TEXAS FB RECRUITING SCORECARD
thatsean

Sean Adams


Kansas State is up 23 - 0 right now and are going to win. Are they THAT good? I have a ton of respect for the program but NC caliber?
about a minute ago

stevehabel

Steve Habel


But let's not give the UT D too much credit. K-State did what it wanted to do, which was win and get Waters through the game healthy. #horns
about a minute ago

stevehabel

Steve Habel


Horns' defense played well today but gave up big conversions on 3rd down and missed too many tackles. The offense took a step back #horns
3 minutes ago

Big12Conference

Big 12 Conference


#Big12FB: No. 25/22 @WVUfootball visits @CowboyFB at 3:30 p.m. ET/2:30 p.m. CT on ESPN. #WVUvsOKST http://t.co/8LLJdHnrzI
6 minutes ago

max_olson

Max Olson


TCU going gray and chrome today. Texas Tech brought their gray lids. Kickoff in 30. http://t.co/oYT1or2lli
6 minutes ago

AutulloAAS

Ryan Autullo


It felt like Texas should have beaten UCLA, Baylor, and OU. Doesn't feel that way today. Difference between Horns and KSU reflected in score
6 minutes ago

ESPNCFB

ESPN CollegeFootball


No. 11 Kansas State is closing the door on Texas. 23-0 Wildcats with 9 min left in 4Q » http://t.co/W6PFRfc1AQ #TEXvsKSU
11 minutes ago

thatsean

Sean Adams


The Texas offense is up and down depending on the week. This is a beat down to watch. The defense will get blamed on Monday. #TEXvsKST
14 minutes ago

jcshurburtt

JC Shurburtt


#Sparty wants Brady to stay http://t.co/o2jWV0iwc2 #MICHvsMSU @SWiltfong247
15 minutes ago

Big12Conference

Big 12 Conference


#Big12Insider After 4th down stop, @kstatesports drives for TD to take a 23-0 lead on @Longhorn_FB with 9:31 to play.
16 minutes ago

HookEmFans

Hook'em Fans


Horns down 23-0. Time to go looking for a pretzel from one of those Manhattan street vendors. #hookem
16 minutes ago

HookEmFans

Hook'em Fans


Joe Wickline: "I'm not the defensive coordinator either." #HookEm
16 minutes ago

MarkEnnis

Mark Ennis


Kansas State receiver was just a little bit open. http://t.co/vYes8MRtPi
19 minutes ago

SBN_Wescott

Wescott Eberts


KSU doesn't commit penalties RT @InTheBleachers: Should have been offensive PI as Thomas was catching ball & WR was all over him.
21 minutes ago

max_olson

Max Olson


If that's the call on 4th and 1, safe to say Texas' 2-point conversion wouldn't have been pretty.
22 minutes ago

stevehabel

Steve Habel


Call stands. UT is in real jeopardy now of getting shut out for the first time since 2004 against OU, even with 12-plus minutes left #horns
23 minutes ago

ChipBrownOB

Chip Brown


Yep. RT @ChuckCarltonDMN: Really didn't like the fourth down call with a foot to go. But it did look like Gray got the ball there on replay.
23 minutes ago

SBN_Wescott

Wescott Eberts


Unbelievable RT @Jenpitts10: Tell me that's not a 1st down!!! #hookem http://t.co/ZlYaw6TQqf
24 minutes ago

Longhorn_FB

Longhorn_FB


Ruling on the field was upheld.
25 minutes ago

SBN_Wescott

Wescott Eberts


Unbelievable.
25 minutes ago

stevehabel

Steve Habel


This should be a first down for UT. Horrible spot and it should be overturned. But the call by Watson was unimpressive, wasn't it? #horns
25 minutes ago

LonghornNetwork

Longhorn Network


So how about that spot.
26 minutes ago

thatsean

Sean Adams


Looks like he got the first down but I don't like the personnel on that play or the play call. #TEXvsKST
26 minutes ago

SBN_Wescott

Wescott Eberts


Johnathan Gray is the last of the three Texas RBs I would want in the game right there.
27 minutes ago

max_olson

Max Olson


Agreed RT @davidubben Think Gray kept his knee and elbow off the turf long enough to get the first down.
27 minutes ago

Longhorn_FB

Longhorn_FB


Ruling on the field was that Gray was stopped on fourth-and-1. Play being reviewed.
27 minutes ago

Longhorn_FB

Longhorn_FB


Fourth-and-1 coming up at KSU 13. Horns call timeout. 13:17 left in the game.
30 minutes ago

HookEmFans

Hook'em Fans


Joe Wickline to his lawyer: "I'll pay the half-million to avoid associating myself with this offense." #hookem
32 minutes ago

Longhorn_FB

Longhorn_FB


Injury update: WR/KOR Roderick Bernard (knee) out for the game #TEXvsKST
33 minutes ago

Longhorn_FB

Longhorn_FB


Injury update: WR/KOR Roderick Bernard (knee) out for the game #TEXvsKST
34 minutes ago

HookEmFans

Hook'em Fans


Escaped third quarter only 3-point differential. Progress! #hookem
34 minutes ago

Longhorn_FB

Longhorn_FB


End of 3rd quarter: K-State leads 16-0, but offense at KSU 23, deepest in opposing territory today. #TEXvsKST
35 minutes ago

LonghornDigest

Kevin Flaherty


Announcers played up K-State JUCO angle, except K-State hasn't hit JUCOs as hard of late. 11 commits for 2015, none from JUCO.
35 minutes ago

Big12Conference

Big 12 Conference


#Big12Insider End of 3rd Q @kstatesports leads @Longhorn_FB 16-0. UT driving at K-State 23 when play resumes.
35 minutes ago

SBN_Wescott

Wescott Eberts


Meanwhile, Texas actually picking up yards in chunks with two good throws from Swoopes and a nice pull on the ZR with block from 9 downfield
36 minutes ago

SBN_Wescott

Wescott Eberts


Fun fact: Texas has two kickoff returns of more than 30 yards this season. And I was surprised it was that many.
37 minutes ago

HookEmFans

Hook'em Fans


Horns down 16-0. Two possession game. For some offenses.
39 minutes ago

SBN_Wescott

Wescott Eberts


That was one of the few times this season that Texas almost got the ball out to the 30 on the kickoff return. Think about that for a min.
41 minutes ago

ChipBrownOB

Chip Brown


#Texas D has held #KSU to just 68 yds rushing (2.2 ypc). But #Longhorns have given up pass plays of 24, 29 and 18 yards - all on 3rd down.
42 minutes ago

stevehabel

Steve Habel


K-State hits third FG of the game and now leads 16-0 late in the 3rd qtr. UT has to get something going on offense; the time is now. #horns
43 minutes ago

SBN_Wescott

Wescott Eberts


#smdh RT @Deadspin: Texas Longhorns football, in one GIF http://t.co/dHIsgdDx0x
43 minutes ago

Longhorn_FB

Longhorn_FB


K-State gets another FG, a 38-yarder from McCrane, to extend the lead to 16-0 with 2:49 left in the 3rd quarter. #TEXvsKST
44 minutes ago

SBN_Wescott

Wescott Eberts


How does a ball get completed in front of you on 3rd and 20 for 18 yards?
45 minutes ago

SBN_Wescott

Wescott Eberts


Mykkele Thompson really struggling to redirect when opposing WRs come back for ball. On hold, Curry Sexton just wanted it more.
45 minutes ago

max_olson

Max Olson


Not a big T.O.P. fan, but it's not insignificant that Texas D has been on field for 2/3 of this game.
48 minutes ago

thatsean

Sean Adams


I laughed! RT @Soonermagic16: @Jake_Trotter @thatsean Watson said Wickline called that reverse #osu
about an hour ago

LonghornDigest

Kevin Flaherty


Dominant in NCAA '13. RT @BryanDFischer More teams should use this formation. RT @marcushartman: Maryland I touchdown for Illinois!
about an hour ago

stevehabel

Steve Habel


That play looked like it was going to work, too. Texas has to pick itself up and get a stop here or it's curtains. #horns
about an hour ago

LonghornDigest

Kevin Flaherty


So, because that playcall didn't work, can Watson blame it on Wickline, and also help Wickline's OSU lawsuit?
about an hour ago

thatsean

Sean Adams


Wow. This is how Bill Snyder, okay no anybody, beats you. Texas was down 13 - 0, don't get cute! #TEXvsKST
about an hour ago

stevehabel

Steve Habel


Foreman never really had that ball himself then tried to pitch it to Shipley for a reverse that was fumbled away, ending Texas march #horns
about an hour ago

Longhorn_FB

Longhorn_FB


First turnover of the game ends offensive drive. Foreman misses exchange with Shipley on reverse. K-State recovers fumble at own 48.
about an hour ago

HookEmFans

Hook'em Fans


Turnover. Offense not used to the mirrors yet. #hookem
about an hour ago

max_olson

Max Olson


Tyrone Swoopes really does think John Harris can catch everything. My goodness. #TEXvsKSU
about an hour ago

HookEmFans

Hook'em Fans


Announcer says Horns offense needs to use "smoke and mirrors." Pretty sure that violates #NCAA rules. At least the smoke part. #hookem
about an hour ago

Jake_Trotter

Jake Trotter


That 16-yard run by D'onta Foreman was Texas' longest play of the game. #TEXvsKSU
about an hour ago

max_olson

Max Olson


A D'Onta Foreman cameo, eh? Interesting. #TEXvsKSU
about an hour ago

TexasSports

Texas Longhorns


Donate canned goods at today's @TexasVolleyball vs. OU match and receive a coupon for a FREE Whataburger! #PointTexas
about an hour ago

BDavisAAS

Brian Davis


K-State's offense chews up 4 minutes, 50 seconds, wearing down that that UT defense just a tad more. Horns take over at their own 13.
about an hour ago

stevehabel

Steve Habel


Alert the press! K-State makes two mistakes on that offensive possession -- a penalty and an overthrow -- and UT gets off the field. #horns
about an hour ago

thatsean

Sean Adams


Well the Texs defense did what they had to do. Texas offense, your turn. #TEXvsKST
about an hour ago

Longhorn_FB

Longhorn_FB


After an interesting opening drive in 2nd half for K-State, offense gets the ball back at own 13. #TEXvsKST
about an hour ago

SBN_Wescott

Wescott Eberts


As much as Jason Hall was excelled as a tackler, he hasn't shown much in the way of ball skills on his two big opportunities.
about an hour ago

LonghornDigest

Kevin Flaherty


Ha. Jake Waters considered blocking Malcom Brown there, but was like, "Nope."
about an hour ago

SBN_Wescott

Wescott Eberts


Naashon Hughes is having himself a day he would rather forget. The film room is not going to be kind to him tomorrow.
about an hour ago

SBN_Wescott

Wescott Eberts


If Texas can't get off the field on 3rd down here, this game could get out of hand quickly.
about an hour ago

SBN_Wescott

Wescott Eberts


Finally got a hold called.
about an hour ago

InTheBleachers

Michael Felder


Diggs out there walking after that missed tackle. That won't be fun when they watch tape.
about an hour ago

SBN_Wescott

Wescott Eberts


Texas zone defense has been really bad for two straight games. If Jake Waters isn't running, what's the point of playing it?
about an hour ago

JonSolomonCBS

Jon Solomon


Butch Davis goes in circles on ESPN2 trying to explain PowerPoint slide at UNC in 2009 about fraud classes. No idea what he just said.
about an hour ago

ChipBrownOB

Chip Brown


#Texas not happy about being called for 6 penalties, while #KSU has not been flagged once.
about an hour ago

thatsean

Sean Adams


My goodness, 13 points seems like a mountain to climb. Can Texas reverse the trend of bad 3rd quarters? They better! #TEXvsKST
about an hour ago

Big12Conference

Big 12 Conference


#Big12Insider Keep an eye on this: @Longhorn_FB trails 13-0 at half at @kstatesports. UT outscored 52-17 in 3rd quarters this year.
about an hour ago

Longhorn_FB

Longhorn_FB


Just a couple minutes from the start of the second half. K-State leads 13-0 and will receive the ball on the kickoff. #TEXvsKST
about an hour ago

max_olson

Max Olson


I love this deer video way too much. We've all had these days in Mario Kart. http://t.co/oJWaEU5Oo1
about an hour ago

ChipBrownOB

Chip Brown


#Texas D held #KSU to 73 yds midway thru 2Q, then gave up 3rd-and-14 and 3rd-and-13 on a 12-play, 85-yd KSU TD drive. KSU up 13-0 at half.
about an hour ago

Big12Conference

Big 12 Conference


#Big12VB: Catch @TechAthletics at @KUVolleyball on @ESPN3 / WatchESPN at 1 p.m. CT - http://t.co/9cTfetihjW
about an hour ago

SlaterESPN

Jane Slater


Texas shut out in the 1st half. 3rd time this season. Horns shut out a total of 3x in the 1st half in the last eight seasons combined.
about an hour ago

thatsean

Sean Adams


Kansas State gets the ball to start the 2nd half. The Texas defense better get a stop or this think will seem out of reach. #JustLikeBaylor
about an hour ago

thatsean

Sean Adams


What if he's right on this one though? RT @philler1: @thatsean Brian Griese is now and always has been an idiot
about an hour ago

stevehabel

Steve Habel


Six first-half penalties for UT for 51 yards; zero penalties for K-State. It's Snyder ball,folks. Not flashy. Just produces wins #horns
about an hour ago

stevehabel

Steve Habel


Defensive game so far with just 238 yards of total offense between the 2 teams (146 for K-State, 92 for the Horns). #horns
about an hour ago

SBN_Wescott

Wescott Eberts


No, Elmer Fudd, CB doesn't have to bite on the slant no matter how well WR runs it. Not on 3rd and 14. Is that what Lou told his players?
about an hour ago

HookEmFans

Hook'em Fans


Halftime, Horns down 13-0. Sending recruiters to #MNF to chat with that McCoy kid. #hookem
about an hour ago

stevehabel

Steve Habel


K-State has won 43 straight games that it's led at halftime. That leads the nation and does not bode well for the Horns. #horns
about an hour ago

Longhorn_FB

Longhorn_FB


Promising offensive drive with less than 2 min left in half ends at midfield. K-State takes a knee to end half and leads 13-0. #TEXvsKST
about an hour ago

stevehabel

Steve Habel


Horns make a couple of plays to give us some hope but then K-State defense gets the job done. UT down to K-State 13-0 at halftime #horns
about an hour ago

thatsean

Sean Adams


That has to sting to hear Brian Griese say Mueller could beat any of the five offensive linemen for Texas. #OLStruggle #TEXvsKST
about an hour ago

Big12Conference

Big 12 Conference


#Big12Insider Number worth noting: @kstatesports has won 43 straight games when leading at halftime.13-0 lead on @Longhorn_FB at half.
about an hour ago

LonghornDigest

Kevin Flaherty


These announcers keep suggesting that Hughes came in when Perkins got hurt. Hughes started, guys. And Perkins is back in.
about an hour ago

SBN_Wescott

Wescott Eberts


Will Russ actually puts a punt near the goal line and punt coverage completely falls for Tyler Lockett's fake catch.
about an hour ago

thatsean

Sean Adams


My goodness. How deep is the well at Texas? They are not going to fool Kansas State too many times with the same play. #TEXvsKST
about an hour ago

HookEmFans

Hook'em Fans


Update: 13-0. Texas yardage still less than Bill Snyder's age. #hookem
about an hour ago

SBN_Wescott

Wescott Eberts


John Harris was having himself thoughts about dropping that pass. Swoopes finally got some help from his WRs.
about an hour ago

thatsean

Sean Adams


I know and that's not good. RT @justinwells2424: Swoopes keepers are really the only positive yards for UT. So there's that. #HookEm
about an hour ago

thatsean

Sean Adams


I wouldn't go that far. 't @Leblancjean80: @thatsean this teams improving....at a snails pace
about an hour ago

stevehabel

Steve Habel


K-State finally gets into the end zone with a 3-yard bounce-out run by Robinson. Now 13-0 Wildcats with 2:18 to play in 1st half. #horns
about an hour ago

Big12Conference

Big 12 Conference


#Big12Insider Another @kstatesports 3rd down completion, this one to Lockett, sets up Robinson TD run. Wildcats lead @Longhorn_FB, 13-0.
about an hour ago

stevehabel

Steve Habel


UT's Thomas gets pass interference penalty, then gets burned on the double move. A long day trying to cover Lockett for No. 21. #horns
about an hour ago

max_olson

Max Olson


Yeah that was easy RT @Jake_Trotter Tyler Lockett just abused Duke Thomas on that double move. #TEXvsKSU
about an hour ago
BLOG ARCHIVE:
CATEGORIES: