Burnt Orange Breakdown: 7 Connor Brewer
June, 12, 2012
6/12/12
5:00
PM ET
Over the next two months, HornsNation, will analyze each of the scholarship layers currently on the Texas roster. (The bulk of the 2012 class is not currently on the roster.) We will look at the player's past contributions, what he might do for Texas this year and the future impact he could have on the program. Starting with No. 1
Mike Davis
we will go through the roster numerically before ending with No. 99
Desmond Jackson
.
No. 7 Connor Brewer
Quarterback, 6-2, 200, quarterback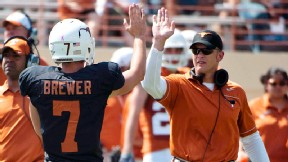 Brendan Maloney/US PresswireConnor Brewer's impact in 2012 will largely depend on how Bryan Harsin uses his QBs and the performance of David Ash.
Impact so far
To continue reading this article you must be an Insider
Welcome
!
We see that you are not an ESPN Insider. Upgrade today and gain access to our exclusive coverage.
ESPN The Magazine subscribers

Need more information?
Texas Preparing for Baylor
Texas Preparing for Baylor
VIDEO PLAYLIST
Texas Preparing for Baylor

Texas Preparing for Baylor

Weekend Recruiting Wrap: Big 12 - Dec. 2

Weekend Recruiting Wrap: Big 12 - Dec. 2

Texas Keeps Big 12 Title Hopes Alive

Texas Keeps Big 12 Title Hopes Alive
TEXAS FB RECRUITING SCORECARD
TXStampede

Doug Farrell


Hell, even OU won their game on the road against a top 10 team. #Longhorns throttled those boys. smh
about a minute ago

MBTexasFootball

MBTexasFootball


Defense forces a three-and-out. Horns will get the ball on their own 46.
2 minutes ago

HookEmFans

Hook'em Fans


No worries, Horns. I've always found it hard to land on a Baylor *****, too. #hookem
3 minutes ago

LonghornDigest

Kevin Flaherty


In 2009, when this group of non-redshirt seniors were recruited, #Texas played in the NC game. Baylor was last in the Big 12 South.
4 minutes ago

ChipBrownOB

Chip Brown


#Baylor's Levi Norwood nearly gave #Longhorns new life. But #Texas players couldn't recover his ***** at #BU 3 before ball went OB.
6 minutes ago

MBTexasFootball

MBTexasFootball


Horns needs a stop. Baylor backed up to its 3 after miscue on punt return. Baylor leads 23-10 with 7:21 left in the game.
6 minutes ago

stevehabel

Steve Habel


RT @JimVertuno: Um, did Texas special teams just blunder away a Big 12 title chance?
7 minutes ago

SBN_Wescott

Wescott Eberts


Texas with another wasted opportunity to recover a loose football by failing to just fall on it.
7 minutes ago

max_olson

Max Olson


RT @Jimmy_Burch Key stat of game: #Texas now 1-for-15 on third down vs #Baylor D
7 minutes ago

LonghornDigest

Kevin Flaherty


Refs said that the ball touched the Baylor player, but that #Texas recovered out-of-bounds.
8 minutes ago

max_olson

Max Olson


Do or die time for Texas. Nine minutes left.
11 minutes ago

max_olson

Max Olson


RT @mattmosley: In a crowded elevator, a Baylor fan asks DeLoss Dodds "Mack's safe win or lose, right?" DeLoss deadpans "I'm not the AD any…
11 minutes ago

ChipBrownOB

Chip Brown


After 25yd wheel route to RB Glasco Martin (his 1st catch of year) on third-and-11 to Texas 10 - #BU settles for FG and 23-10 lead - 9:18 4Q
13 minutes ago

stevehabel

Steve Habel


Baylor looked like it was happy to settle for a FG there and it gets it to move its lead to 23-10. Still a 2-score game for UT. #horns
15 minutes ago

LonghornDigest

Kevin Flaherty


In reality, both those things have happened and #Texas trails by two touchdowns.
15 minutes ago

LonghornDigest

Kevin Flaherty


If before the game, I told you that Baylor would have 23 points in the fourth, and Brown would have 131 rushing, you'd like UT's chances.
15 minutes ago

MBTexasFootball

MBTexasFootball


Jones hits a 28-yard field goal to extend the lead to 23-10 with 9:18 left in the game.
16 minutes ago

MBTexasFootball

MBTexasFootball


Defense stiffens in the red zone. Baylor will attempt a field goal.
17 minutes ago

LonghornDigest

Kevin Flaherty


Good time for it. RT @davidubben Wow, that's Glasco Martin's first catch of the season. Not sure he's even been targeted this year.
17 minutes ago

TXStampede

Doug Farrell


RT @kennylrobertson: Any time you have Dalton Santos in 1 on 1, you got fooled.
17 minutes ago

max_olson

Max Olson


Baylor got Dalton Santos covering Glasco Martin 1-on-1 down the sideline. Usually gonna win that battle.
18 minutes ago

SBN_Wescott

Wescott Eberts


RT @SBNationCFB: Case McCoy did some whimsical nonsense to keep Texas in the game against Baylor: http://t.co/nppHlOxxQt
18 minutes ago

LonghornDigest

Kevin Flaherty


As an aside, Cyril Richardson has been the best offensive lineman we've seen this year. Not sure it's that close.
21 minutes ago

ChipBrownOB

Chip Brown


Mack will have to settle for Case McCoy. ... RT @texancampbell: @ChipBrownOB If God can save a hooker, then can God save @UT_MackBrown job?
21 minutes ago

SBN_Wescott

Wescott Eberts


RT @Lana: "Case McCoy just did something weird and I don't understand it but it worked so just go with it" has been Texas' offensive plan a…
21 minutes ago

SBN_Wescott

Wescott Eberts


RT @bomani_jones: and why? because case mccoy is at his best when he's squandered all your trust. that is NOT a compliment.
23 minutes ago

TXStampede

Doug Farrell


Moxiously delicious de #Longhorns TD by the magician Case McCoy. #HookEm Back of napkin play.
23 minutes ago

stevehabel

Steve Habel


If that was the play called in that situation, McCoy deserves an Oscar for selling it as broken play. Horns crawl to within 20-10. #horns
24 minutes ago

max_olson

Max Olson


If Texas wins, that TD from Case is basically symbolic of everything Longhorn football in 2013.
24 minutes ago

ChipBrownOB

Chip Brown


Case McCoy does his best impression of Johnny ... oh nevermind. McCoy-to-Malcolm Brown 2yd TD pass cuts #Baylor lead to 20-10 12:38 4Q
24 minutes ago

LonghornDigest

Kevin Flaherty


Case went all Tecmo Super Bowl QB Eagles on that play.
24 minutes ago

MBTexasFootball

MBTexasFootball


Some improvisation from Case McCoy. Scrambles around and completes a 2-yard TD pass to Malcolm Brown. Cuts deficit to 20-10 with 12:38 left
24 minutes ago

HookEmFans

Hook'em Fans


And there it is. Casey Football with the touchdown pass! #hookem
25 minutes ago

LonghornNetwork

Longhorn Network


Are you kidding me? Ok! We'll take it! Crazy Legs Case finds a way, Texas scores. 20-10 Baylor.
25 minutes ago

max_olson

Max Olson


Case McCoy with a spinning, no-look TD pass that would've made Johnny Football proud.
25 minutes ago

SBN_Wescott

Wescott Eberts


#moxie RT @bomani_jones: and that's that case mccoy sh t that keeps him out there longer than he should be.
25 minutes ago

LonghornDigest

Kevin Flaherty


Case McCoy had nowhere to go there, but moxied his way out of trouble and found Malcolm Brown for a touchdown pass.
26 minutes ago

LonghornDigest

Kevin Flaherty


#Texas runs it three times, and gets the ball to the two. #Longhorns going for it here.
26 minutes ago

MBTexasFootball

MBTexasFootball


Fera hits a field goal, but personal foul gives Horns a first down at the 7.
28 minutes ago

ChipBrownOB

Chip Brown


I'm getting a lot of these tweets. ... RT @jtdoherty: @ChipBrownOB Jaxon Shipley at QB. Why not?
28 minutes ago

LonghornDigest

Kevin Flaherty


Personal foul on Baylor gives Texas a first down and another chance to try and get a TD here.
28 minutes ago

ChipBrownOB

Chip Brown


At start of 4Q - #Baylor's Bryce Petty QB rating 143. Case McCoy's QB rating 43 ... and dropping after 2 more incompletions.
30 minutes ago

texasbuzztap

Texas Longhorns Buzz


The Daily Texan >> Texas, Baylor tied 3-3 at halftime http://t.co/M93IWsSSid
31 minutes ago

MBTexasFootball

MBTexasFootball


End of the third quarter, Baylor leads 20-3 with the Horns threatening inside the red zone.
32 minutes ago

LonghornDigest

Kevin Flaherty


Malcolm Brown got stacked up on the final play of the third quarter. No gain. #Texas trails 20-3 heading into the fourth.
32 minutes ago

ChipBrownOB

Chip Brown


#Longhorns get the wind in 4Q and take possession at #Baylor 11 after 50-yd punt return by Jaxon Shipley. #BU 20, UT 3 - 15:00 4Q
33 minutes ago

MBTexasFootball

MBTexasFootball


Shipley's return was a career-long 50 yards.
34 minutes ago

LonghornDigest

Kevin Flaherty


And now they're saying #Texas has an untimed down to end the third quarter.
34 minutes ago

MBTexasFootball

MBTexasFootball


A big punt return by Shipley and a personal foul has Horns set up with a first down on the BU 10.
35 minutes ago

LonghornDigest

Kevin Flaherty


Add a facemask penalty to Jaxon Shipley's big return there.
36 minutes ago

LonghornDigest

Kevin Flaherty


Well, that was interesting.
38 minutes ago

SBN_Wescott

Wescott Eberts


Another drop by a Texas WR. Not exactly helping out Case McCoy right now.
38 minutes ago

ChipBrownOB

Chip Brown


#Baylor getting great field position after #Texas punts into wind. #BU 7-play, 29yd drive to 42yd FG. #Bears 20, #Longhorns 3 - 2:47 3Q
41 minutes ago

HookEmFans

Hook'em Fans


I'm not tweeting again till Case completes a pass for a first down. Might be silent for a while, folks. #hookem
43 minutes ago

SBN_Wescott

Wescott Eberts


Yeah, people still spout this garbage. RT @TStutterstep: @bomani_jones there really isn't much difference between Ash and McCoy.
43 minutes ago

stevehabel

Steve Habel


Baylor extends its lead to 20-3 on an Aaron Jones 42-yrd field goal with 2:47 left in Q3. Horns must survive this quarter.
43 minutes ago

MBTexasFootball

MBTexasFootball


Baylor extends lead to 20-3 on 42-yard FG by Jones. 2:47 left in the third quarter. Horns will get the wind in the 4th.
43 minutes ago

LonghornDigest

Kevin Flaherty


Aaron Jones hit that one. 42-yard field goal puts Baylor up 20-3.
45 minutes ago

ChipBrownOB

Chip Brown


#Baylor QB Bryce Petty 18-of-31 passing 233 yds, 2 TDs with QB rating of 142.5. #Texas QB Case McCoy QB rating 47.6. BU 17, UT 3 - 4:40 3Q
47 minutes ago

stevehabel

Steve Habel


All-record crowd of 51,728 today for UT-Baylor in the last game at Floyd Casey Stadium. Props to Baylor Nation for showing up. #horns
48 minutes ago

SBN_Wescott

Wescott Eberts


RT @bomani_jones: give this to mack: the greg robinson thing went okay. that major applewhite thing? so many parallels between major and he…
48 minutes ago

stevehabel

Steve Habel


RT @oliviaa_habel: C'mon texas don't let me down
50 minutes ago

TXStampede

Doug Farrell


What is really going to be painful if Bears prevail is watching all those freshmen good 'ol Baylor Linemen tear down their goal posts.
51 minutes ago

LonghornDigest

Kevin Flaherty


#Texas goes three-and-out when it could least afford to. Desperate for defense to make a play.
51 minutes ago

ChipBrownOB

Chip Brown


#Baylor sold "Case Closed" T-shirts for today's game for Floyd Casey Stadium. Might also apply to Texas' QB who is 7-19 pass 38 yds, INT.
53 minutes ago

LonghornDigest

Kevin Flaherty


That was Andrew Billings blowing that whole thing up.
53 minutes ago

stevehabel

Steve Habel


Baylor is 5-for 5 on 3rd down conversions this half after being 1-for-8 at the half. UT made stops early; not making them now. #horns
53 minutes ago

TXStampede

Doug Farrell


Difference between Mack and Bob? Bob went for the TD on fake FG try deep in OSU red zone. Mack went for the Groza.
53 minutes ago

MBTexasFootball

MBTexasFootball


With good field position, BU tacks on another TD, scores on a Petty to Norwood 6-yard pass. Baylor leads 17-3 with 6:54 left in 3rd.
54 minutes ago

ChipBrownOB

Chip Brown


#Baylor runs 5 times for 6, 10, 12, 10, 5 yds - then, finishes 7-play drive w Petty-to-Norwood 6yd TD pass. #BU 17, #UT 3 - 6:54 3Q
54 minutes ago

stevehabel

Steve Habel


A dinged-up Petty throws second TD pass in 4 1/2 minutes as UT's Turner busts coverage. Texas must respond here or things are dire. #horns
about an hour ago

HookEmFans

Hook'em Fans


Baylor scores again, leads by 14, and this thing is getting less fun than an evening with Kenneth Starr. #hookem
about an hour ago

LonghornDigest

Kevin Flaherty


Bryce Petty hits Levi Norwood for a touchdown. #Bears go up 17-3 and #Texas is in serious trouble.
about an hour ago

TXStampede

Doug Farrell


Just wondering when @UT_MackBrown is going to put Duke Carlisle in the game.
about an hour ago

max_olson

Max Olson


Baylor is back to doing Baylor things. Bears go up 17-3.
about an hour ago

thatsean

Sean Adams


How many of my friends would do this? I'm guessing none! Fan is short for what? #bayvstex http://t.co/bhod317o2q
about an hour ago

TXStampede

Doug Farrell


Baylor starting to feel their oats. #Longhorns defense has been on the field too long in this game. Gas tank emptying fast.
about an hour ago

LonghornDigest

Kevin Flaherty


Baylor's really going up-tempo now and gashing the Longhorns with speed.
about an hour ago

ChipBrownOB

Chip Brown


#Baylor announces all-time attendance record of 51,728 for the final game in Floyd Casey Stadium.
about an hour ago

stevehabel

Steve Habel


Texas has to find a way to survive this quarter and keep this game within reach. Already down and giving up field position here. #horns
about an hour ago

MBTexasFootball

MBTexasFootball


Today's attendance of 51,728 is a Floyd Casey Stadium record.
about an hour ago

SBN_Wescott

Wescott Eberts


Probably not. RT @mikefinger: Danger zone for the Longhorns. Not sure they can come back from a 14-point hole.
about an hour ago

max_olson

Max Olson


Well, Texas is down to its No. 2 and No. 4 RB. And the No. 4 RB is a QB. McCoy has to do something.
about an hour ago

LonghornDigest

Kevin Flaherty


Baylor's attendance of 51,728 is a new stadium record, set in the last ever game at Floyd Casey Stadium.
about an hour ago

LonghornDigest

Kevin Flaherty


Baylor forces a Texas three-and-out.
about an hour ago

SBN_Wescott

Wescott Eberts


Jalen Overstreet receiving carries instead of Daje Johnson would seem to say a lot about Johnson's status with the Texas coaches right now.
about an hour ago

TXStampede

Doug Farrell


I keep waiting for the 86 yard Baylor Bear penalty @BarkingCarnival prophesied.
about an hour ago

HookEmFans

Hook'em Fans


Baylor is up 10-3. No sweat, Horns. I mean, really, I don't think anyone is sweating out there. #hookem
about an hour ago

ChipBrownOB

Chip Brown


#Baylor S Ahmad "Can God Save a Hooker?" Dixon back on field, waving at crowd to get louder (after 1st half suspension).
about an hour ago

max_olson

Max Olson


Ahmad Dixon is back on the field after first-half suspension, looks fired up.
about an hour ago

stevehabel

Steve Habel


Baylor's two 3rd down conversions (both on 3rd and 11) already more than it had in entire first half. This stat will decide the game #horns
about an hour ago

TXStampede

Doug Farrell


MOAR DANCING BEARS! IT'S A CIRCUS AT FLOYD CASEY.
about an hour ago

ChipBrownOB

Chip Brown


With wind in 3Q, #Baylor goes 14 plays, 77 yds in 3:46, capped by 11yd TD pass from Petty to Goodley. #Bears 10, #Longhorns 3 - 11:14 3Q
about an hour ago

stevehabel

Steve Habel


It was only a matter of time. Baylor scores TD on 11-yard pass at end of 14-play drive using precision passing. Too much for UT then #horns
about an hour ago

SBN_Wescott

Wescott Eberts


Yeah, that can't happen. RT @plethora_pinata: 3 times BU had 3rd and 9 or longer and converted on that drive
about an hour ago

MBTexasFootball

MBTexasFootball


Baylor comes out of the locker room and puts the first TD of the game on the board. Caps 77-yard drive with Petty to Goodley 11-yard TD
about an hour ago

texasbuzztap

Texas Longhorns Buzz


Orange Bloods (Rivals) >> Texas leaves Temple with dramatic OT win http://t.co/04gBxqP4ez
about an hour ago

SBN_Wescott

Wescott Eberts


What a great grab by Antwan Goodley right there. Strong hands on a cold day.
about an hour ago

LonghornDigest

Kevin Flaherty


Can't let Goodley get inside leverage like that. Safety needed to jump that, hard.
about an hour ago

SBN_Wescott

Wescott Eberts


Of course Joey Harrington has been there overthrowing a wide open WR. Of course.
about an hour ago
BLOG ARCHIVE:
CATEGORIES: