Video: Durant Talks No. 35
May, 31, 2012
5/31/12
1:30
PM ET
By
HornsNation staff
| ESPN.com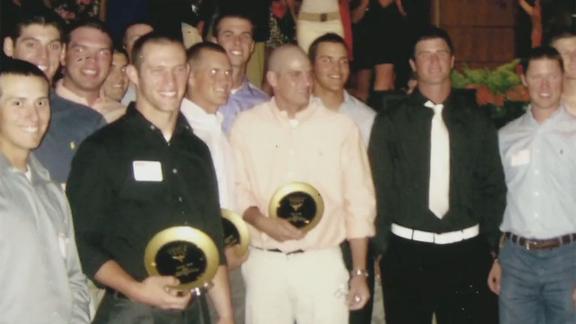 Kevin Durant wears the number 35 in honor of his childhood coach, Charles "Chucky" Craig. Craig was murdered at the age of 35 and Durant has worn that number ever since.
Texas All Access: Best of Coaches Wired
During Spring practice the Texas coaching staff prepared the Longhorns for the 2014 season.
Texas All Access: Best of Coaches Wired
VIDEO PLAYLIST
HORNSNATION RECRUITING NEWS
TEXAS FB RECRUITING SCORECARD
ESPN_CoachMack

Mack Brown


San Antonio has the best hospitality. They take gr8 pride in making sure you enjoy your visit
42 minutes ago

ESPN_CoachMack

Mack Brown


Headed to SA to see my gr8 friends @ the Alamo Bowl Luncheon. The Bowl just keeps getting better. We should have fun. See you there
47 minutes ago

thatsean

Sean Adams


TFTD - I don't have time to weed your garden. Weeding my own garden is a full time job. I'll take care of me. You take care if you.
51 minutes ago

thatsean

Sean Adams


Oh wow #Georgia in fall camp with no helmet stickers. The world's falling apart! #MountainFromAMoleHill http://t.co/kNZN0V6erJ
about an hour ago

Big12Conference

Big 12 Conference


#Big12FB notes, quotes & anecdotes worthy of reading in anticipation of Saturday's openers - http://t.co/FwMCS3iarl
about an hour ago

TexasSports

Texas Longhorns


COUNTDOWN TO KICKOFF: 2 days until the first game of the 2014 @Longhorn_FB season. Do you have tickets yet? http://t.co/fg3buR3W9r
about an hour ago

ESPN_CoachMack

Mack Brown


"@knotts_jeff: @ESPN_CoachMack This is my UNCTBT on my FaceBook Coach! We brought down Dooks goalpost in 90. UR1st win over Dook! That's Fun
about an hour ago

UT_Bianco

John Bianco


Longhorn letterman @CoachBedfordUT looking forward to packed house in his return to UT sidelines Sat. 2 days to kick! http://t.co/KHdQRSrkax
about an hour ago

ChipBrownOB

Chip Brown


An interesting note about why some of the 9K tickets to #Texas' game are still available courtesy @Nick_Castillo74: http://t.co/KhJDrI33z6
about 2 hours ago

ESPN_CoachMack

Mack Brown


"Size of UR success is measured by the strength of UR desire; the size of UR dream; & how U handle disappointment along the way." Kiyosaki
about 2 hours ago

TexasSports

Texas Longhorns


Watch a time-lapse video of the making of the #UT18 class photo from #HornsUpNight #LonghornWelcome. http://t.co/0K2sYv0b7P
about 2 hours ago

SBN_Wescott

Wescott Eberts


Anthony Wallace beaten out by former low 3* Kennedale 247Sports FB prospect Fred Scott, who is now at LB. Other offer from Texas State.
about 9 hours ago

SBN_Wescott

Wescott Eberts


Former star Skyline LB Anthony Wallace starting to look like a real bust after flaming out at Oregon and failing to win starting job at UNT.
about 9 hours ago

UTAustin2018

Texas '18


Check out the Texas '18 Class Photo time-lapse video from @TexasSports tonight! #HornsUpNight #UT18 #LonghornWelcomehttps://t.co/ACFOcJj9qP
about 10 hours ago

ESPN_CoachMack

Mack Brown


"@cptnmarv: Looking forward to hearing @ESPN_CoachMack at the @valeroalamobowl luncheon tomorrow. @ticket760 #SanAntonio"Look 4-Ward to it
about 10 hours ago

SBN_Wescott

Wescott Eberts


There are less than three days until #Horns football. #TurnUp with the official hype video. #hookem http://t.co/xHc22y0DX4
about 10 hours ago

thatsean

Sean Adams


RT @Longhorn_FB: Video: Defensive coordinator @CoachBedfordUT is a proud alum. #hookem http://t.co/4PeIXMJklC
about 10 hours ago

SBN_Wescott

Wescott Eberts


Vance Bedford is right to call out Texas fans, too. Pathetic to have a new coach and so many tickets remaining.
about 10 hours ago

SBN_Wescott

Wescott Eberts


Texas DC Vance Bedford had a message for Texas fans with tickets remaining for UNT http://t.co/bCn4ZSCjw5 http://t.co/mYSCG8A7vf
about 11 hours ago

ESPNTexas

ESPN Texas


Texas DC Vance Bedford makes plea for sellout: "Get off your duff and go buy these tickets!" http://t.co/pssLWeS64H
about 11 hours ago

SBN_Wescott

Wescott Eberts


Vance Bedford to Texas fans: "Get off your duff and go buy those tickets!" https://t.co/Xc9QsCh1Yr
about 11 hours ago

thatsean

Sean Adams


Is it wrong if I say this Abilene Christian game is making me curse? Driving me to drink? Having to repent on Sunday? #SorryLord #MyBad
about 11 hours ago

SBN_Wescott

Wescott Eberts


Continued talk about the light turning on for Texas DT Hassan Ridgeway. Hope it happens soon because he has All-Conference talent. #hookem
about 11 hours ago

SBN_Wescott

Wescott Eberts


Hey, if y'all are into this type of thing, I'm doing an AMA tomorrow at 1 pm CT for http://t.co/Z8Mbdm26Yp. #hookem
about 11 hours ago

thatsean

Sean Adams


My goodness @ACUsports has been money on 3rd down tonight. Wish I could hear @grantboone.
about 12 hours ago

max_olson

Max Olson


Texas posted the video of Vance Bedford's plea to fans. The guy just wants a sellout. http://t.co/9QjvC3MIsU
about 12 hours ago

Longhorn_FB

Longhorn_FB


Video: Defensive coordinator @CoachBedfordUT is a proud alum. Hopes to see DKR filled up Saturday. #hookem http://t.co/UhGT6AA5DB
about 12 hours ago

SBN_Wescott

Wescott Eberts


Vance Bedford called Texas CB Quandre Diggs one of best nickel backs he's been around because of his awareness. Struggled there last year.
about 12 hours ago

Longhorn_FB

Longhorn_FB


DC Vance Bedford, Desmond Jackson and Steve Edmond met with the media following practice. See what they said here: http://t.co/WRu8LHwZN6
about 12 hours ago

Longhorn_FB

Longhorn_FB


Video: DC Vance Bedford meets with the media to discuss preparations for the season opener against North Texas. http://t.co/xoWsvdNmra
about 12 hours ago

LonghornNetwork

Longhorn Network


Your wait is almost over. Texas All Access is back. First episode of the Charlie Strong era debuts at 8CT.
about 13 hours ago

Longhorn_FB

Longhorn_FB


Video: Texas vs North Texas Trailer. Get your horns up! http://t.co/KWUoZstaD4
about 13 hours ago

LonghornNetwork

Longhorn Network


Your wait is almost over. Texas All Access is back. First episode of the Charlie Strong era debuts at 8CT.
about 13 hours ago

Big12Conference

Big 12 Conference


#VIDEO: The #Big12 Digital Network previews the upcoming season for @WVUfootball - https://t.co/45CRfMktzk
about 13 hours ago

max_olson

Max Olson


Texas LB Steve Edmond asked today if he wanted to say anything about Baylor "trash" talk from April: "No." Good call.
about 13 hours ago

mikefinger

Mike Finger


Steve Edmond just did his first interview since "Baylor is trash." I asked if we got him in trouble. He dropped his head, and said, "Ugh."
about 13 hours ago

SBN_Wescott

Wescott Eberts


Which #Horns freshmen will play in 2014? Breaking down the entire class, which may include a starter. #hookem http://t.co/LrDTDvKULt
about 13 hours ago

SBN_Wescott

Wescott Eberts


Take note, y'all RT @max_olson: Vance Bedford's (@CoachBedfordUT) full message to Texas fans about showing up Sat. http://t.co/bCn4ZSCjw5
about 13 hours ago

max_olson

Max Olson


Vance Bedford's (@CoachBedfordUT) full message to Texas fans about showing up Saturday http://t.co/L6LbeaVPge
about 13 hours ago

Longhorn_FB

Longhorn_FB


Kickoff Rally underway at DKR. @Strong_TexasFB speaking to crowd (a lively one) and introducing freshmen. #UT18 http://t.co/CCiewU6VRB
about 14 hours ago

max_olson

Max Olson


Vance Bedford said he bought a newspaper Sunday and "two of our local columnists had us 7-5. So I've got noticing to worry about."
about 14 hours ago

max_olson

Max Olson


Vance Bedford says Dylan Haines, Jason Hall, Adrian Colbert will all play Saturday. No decision on safety position battle.
about 14 hours ago

thatsean

Sean Adams


Watching my alma mater @acusports kick off the season at Georgia State. I remember a dude from CA that… http://t.co/HADosZxzRh
about 15 hours ago

LonghornNetwork

Longhorn Network


TKR at DKR time. The 2014 Texas Kickoff Rally is live on LHN at 6P. http://t.co/xpFzgz03bK #HookEm
about 15 hours ago

LonghornDigest

Kevin Flaherty


Or vice versa. There are coaches out there who can win just about every recruit they want. But they might not evaluate talent correctly.
about 15 hours ago

LonghornDigest

Kevin Flaherty


Too many confuse recruiting with evaluation. Two different parts of same process. Being bad at evaluation doesn't equal bad at recruiting.
about 15 hours ago

TexasSports

Texas Longhorns


.@UTAustin students, head to DKR now for Texas Kickoff Rally and #UT18 class photo on the field! The fun starts at 5:45 p.m.! #HornsUpNight
about 16 hours ago

UTAustin2018

Texas '18


1. Wear Orange2. Get to DKR @ 5:453. Meet Coach strong, LHN, Cheer & Pom & the band.4. Get your picture taken.5. Eat BBQ!#HornsUpNight
about 16 hours ago

LonghornDigest

Kevin Flaherty


Oklahoma Joe's, excuse me, soon-to-be Joe's Kansas City should worry more about LC's than making a name change.
about 16 hours ago

Longhorn_FB

Longhorn_FB


For @UTAustin students heading to Kickoff Rally, utilize Gates 14, 16 (north end) in DKR which opens at 5 pm. #UT18 http://t.co/Y1lQtWDpCR
about 16 hours ago

Longhorn_FB

Longhorn_FB


New era. Same goal. The @usnikefootball Lunar TR1 'Texas Longhorns' is now available: http://t.co/H3U9ap9jDR. http://t.co/9b5DLOaNkT
about 16 hours ago

LonghornDigest

Kevin Flaherty


ICYMI: #Kansas has found some defensive linemen for the future. http://t.co/fBbvWluVqp
about 16 hours ago

TexasSports

Texas Longhorns


New era. Same goal. The @usnikefootball Lunar TR1 'Texas Longhorns' is now available: http://t.co/1v58ZGsY83. http://t.co/SMkOLS7eTm
about 16 hours ago

Big12Conference

Big 12 Conference


ICYMI - A look at the ALS #IceBucketChallenge moments from around the #Big12 - https://t.co/TiDlEbligm
about 16 hours ago

ChipBrownOB

Chip Brown


#Texas officials just told me 9,000 tickets still remain for the #Longhorns' opener vs #UNT Saturday night.
about 17 hours ago

Longhorn_FB

Longhorn_FB


#Longhorn Weekly with @Strong_TexasFB debuts at 7 pm Thursday from @Pluckers. http://t.co/uBkhIdlQFl
about 17 hours ago

UTBaseballEQ

UTBaseballEquipment


New @RawlingsSports flat seamed baseballs with new @Big12Conference logo hitting the field today! #HookEm http://t.co/zklXmtnTXs
about 17 hours ago

UTAustin

UT Austin


#Longhorns: Tonight (5:45pm) is #HornsUpNight, Texas Kickoff Rally & #UT18 class photo at DKR. http://t.co/5R2Is2oghY http://t.co/3U8bYQAMgn
about 17 hours ago

thatsean

Sean Adams


Come on @USATODAYsports, are you serious. Abilene State? I'm a proud @ACUsports alum. Fix that! http://t.co/rVVozoA9Ha
about 17 hours ago

grantboone

Grant Boone


#ACU at Georgia St here at 7pm tonight on @ESPNU. http://t.co/MKMq3bHFTG
about 18 hours ago

thatsean

Sean Adams


.@clarencehilljr joins the show right now to talk Dez Bryant and the Cowboys. cc: @am1300thezone
about 18 hours ago

ESPNCFB

ESPN CollegeFootball


25 most interesting people in college football 2014 - Photo gallery: http://t.co/BxyC4rZH5F http://t.co/7s0qQG4V3L
about 18 hours ago

exavierpope

Exavier Pope


As expected, Kevin Durant signs 10 year, $325 million endorsement deal with Baltimore based Under Armour. Durant is from D.C. #sportsbiz
about 18 hours ago

UT_vs_Aggie

Facts & Opinions


@thatsean - It would have been Colt/GD that exposed Saban's weakness against the Spread O. Instead, JFF/Sumlin did it 2 years later
about 18 hours ago

thatsean

Sean Adams


My man @BChatmon joins the #AdamsTheory to talk @Big12Conference heading into the 2014 season. cc: @am1300thezone
about 18 hours ago

dallasnews

Dallas Morning News


Ex-Ranger John Rocker, who had chaotic, controversial history in Dallas, is on new 'Survivor' http://t.co/TEC1JTxHMe http://t.co/y0MeD0HZFR
about 18 hours ago

MikeHumesESPN

Mike Humes


@davidubben not accurate David -He'll talk Texas on ESPN - this was in reference to being an interview subject for media on Texas & Strong
about 18 hours ago

SBN_Wescott

Wescott Eberts


I bought some white Air Max 1s in 2010 for my gameday shoes. Didn't work out so well. Hopefully the Lunar TR1s bring a little better luck.
about 18 hours ago

thatsean

Sean Adams


After almost 5 yrs I was asked whether I think Texas would have beaten Bama if Colt was healthy. My opinions like a nose, everyone has one!
about 18 hours ago

SBN_Wescott

Wescott Eberts


Copped \m/ http://t.co/1IAfeqrbEj
about 18 hours ago

MENTORnational

MENTOR


@Big12Conference coaches talk about why #mentoring is important in their lives & for teams http://t.co/7yhWRi6JS2 #CoachesMentoringChallenge
about 19 hours ago

Big12Conference

Big 12 Conference


#BIG12FB is only three days away! http://t.co/dWe21z2Z2X
about 19 hours ago

SBN_Wescott

Wescott Eberts


Positive buzz around Texas TE Andrew Beck continues. Shawn Watson said he's a natural pass catcher with functional speed who learns quickly.
about 19 hours ago

Longhorn_FB

Longhorn_FB


Hey @UTAustin students 5:45 pm today in DKR, Texas Kickoff Rally- http://t.co/gLiM1LEUJS @UTOrientation @UTDoS #UT18 http://t.co/phIHw1DYE0
about 20 hours ago

Longhorn_FB

Longhorn_FB


Hey @UTAustin students 5:45 pm today in DKR, Texas Kickoff Rally- http://t.co/gLiM1LEUJS @UTOrientation @UTDoS #UT18 http://t.co/phIHw1DYE0
about 20 hours ago

TexasSports

Texas Longhorns


VIDEO: 3 days until the 2014 @Longhorn_FB season opener! http://t.co/Kn5ovd9qMj
about 21 hours ago

max_olson

Max Olson


Boooo RT @AdamSchefter Browns WR Josh Gordon has been suspended one year, per league source.
about 21 hours ago

UTAustin2018

Texas '18


HORNS UP NIGHT IS TONIGHT! Starts at DKR at 5:45! Be sure to wear orange for the class photo! @TexasSports @TexasExes @Strong_TexasFB
about 21 hours ago

Big12Conference

Big 12 Conference


#Big12FB: In each season since round robin play began, the #Big12 champion was determined the last weekend of the season. #OneTrueChampion
about 21 hours ago

UT_Bianco

John Bianco


Down to 3 days to kick. LB Jordan Hicks ready to help lead the Horns after season-ending Achilles injury in 2013. http://t.co/3YjyelgSSa
about 22 hours ago

HookEm

Hook 'Em


ICYMI: Had so much fun at #GoneToTexas. Check out the highlight of the night! http://t.co/X4aloydkHw #UT18
about 22 hours ago

Big12Conference

Big 12 Conference


VIDEO: The #Big12FB Skywrtiers Tour @WVUfootball season preview - https://t.co/45CRfMktzk
about 22 hours ago

HookEm

Hook 'Em


Happy First Day @UTAustin students! See you TONIGHT at Horns Up Night at DKR. Hook 'em! #UT18
about 22 hours ago

max_olson

Max Olson


Stats that matter: North Texas vs. Texas. Strong aiming to close a 100-yard rushing gap http://t.co/tWwBmzQJt1
about 22 hours ago

Big12Conference

Big 12 Conference


#Big12FB: With WVU vs. ALA & OSU vs. FSU, this is the first week the #Big12 has faced the nation's top-two ranked teams in the same week.
about 22 hours ago

DanielPaulling

Daniel Paulling


Interested in WreckEm247? Try it free for 30 days. DETAILS: http://t.co/KQkbNosvnB
about 23 hours ago

ChipBrownOB

Chip Brown


It's HD Only tonight @HornsDigest, so get exclusive #Longhorns insider information for only $4.17/month! ... https://t.co/eEjMDAvAGF
about 23 hours ago

Longhorn_FB

Longhorn_FB


It's 3 days and counting until season opener vs. UNT. Today's video highlights (Jordan Hicks)- http://t.co/HsrpV8PM6Y http://t.co/ZrYNHi280Q
about 23 hours ago

TexasSports

Texas Longhorns


Last chance to reserve your Longhorn Seats before kickoff! Visit http://t.co/nNHn8TyU2y or call 866-514-0627. #longhorns
1 day ago

ChipBrownOB

Chip Brown


Here's a look at the most in-demand #Texas #Longhorns' games, according to @TicketCity: http://t.co/WMNrgzMTve
1 day ago

justinwells2424

Justin Wells


Honesty comes in with the new, says @thatsean. Texas seniors eager to prove: http://t.co/qZlfwVL1yZ (FREE) #HookEm
1 day ago

kstatesports

K-State Athletics


Bramlage Coliseum court has been refurbished and now includes the new #Big12 logo. Ready for #KStateVB Sept. 4-6! http://t.co/O1sSUKUqY8
1 day ago

TexasSports

Texas Longhorns


COUNTDOWN TO KICKOFF: 3 days until 100,000+ Longhorn fans pack DKR-Texas Memorial Stadium! http://t.co/fg3buR3W9r
1 day ago

ESPN_CoachMack

Mack Brown


Thx for all the Happy Birthday wishes. I'm thinking 63 is the new 43. Have a gr8 day!
1 day ago

ESPNCFB

ESPN CollegeFootball


Notable 2014 rule changesInstant replay: Recovery of loose balls in field of play is now reviewable http://t.co/J0WwdxMhvw
1 day ago

TexasSports

Texas Longhorns


Welcome back, @UTAustin students! Do you have The Big Ticket yet? One ticket. One price. Every game. http://t.co/brGHZD2KED
1 day ago

thatsean

Sean Adams


RT @BleacherReport: A day in the life of Kliff Kingsbury, the hottest young coach in CFB http://t.co/ksd2FA59wN http://t.co/wPrXaG6uMu
1 day ago

thatsean

Sean Adams


They play my alma mater @ACUsports RT @BarrettSallee: There is FBS CFB (Georgia St) today. We made it. Enjoy the best 3 months in sports.
1 day ago

ESPN_CoachMack

Mack Brown


"@HornsTXSports: @ESPN_CoachMack 🙌🐂 http://t.co/G53n8FyJlx"Good stuff. Gr8 night for Texas
1 day ago
BIG 12 SCOREBOARD
Saturday, 8/30
Sunday, 8/31
BLOG ARCHIVE:
CATEGORIES: