Texas stays grounded as Big 12 airs it out
November, 2, 2011
11/02/11
10:29
AM ET
Oklahoma's
Landry Jones
threw for 500-plus yards Saturday.
Oklahoma State's
Brandon Weeden
seemingly could throw for 500-plus yards any Saturday.
[+] Enlarge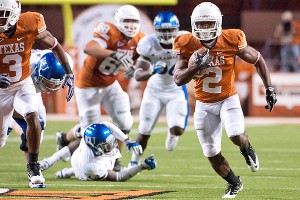 Brendan Maloney/US PresswireThe Texas offense is one of the few in the Big 12 that relies more on the run.
Texas rushed for 441 yards against Kansas.
To continue reading this article you must be an Insider
Welcome
!
We see that you are not an ESPN Insider. Upgrade today and gain access to our exclusive coverage.
ESPN The Magazine subscribers

Need more information?
Baylor Sends Out Floyd Casey Vs. Texas
Baylor Sends Out Floyd Casey Vs. Texas
VIDEO PLAYLIST
Baylor Sends Out Floyd Casey Vs. Texas

Baylor Sends Out Floyd Casey Vs. Texas

CFL Extra: Under-the-Radar Game To Watch

CFL Extra: Under-the-Radar Game To Watch

Magic Mike Davis Impressing Coach Wyatt

Magic Mike Davis Impressing Coach Wyatt
TEXAS FB RECRUITING SCORECARD
Big12Conference

Big 12 Conference


#Big12MBB is 13-4 (.765) against @SEC teams the last two years.
22 minutes ago

Big12Conference

Big 12 Conference


Agree! Looking forward to it. MT @TravisHines21 That's a big win for Baylor. Could be quite the battle between top 4 #Big12 tms. Can't wait
27 minutes ago

texasbuzztap

Texas Longhorns Buzz


Orange Bloods (Rivals) >> Around the Southeast: UT's enviable problem http://t.co/T53XqIcebm
27 minutes ago

texasbuzztap

Texas Longhorns Buzz


Orange Bloods (Rivals) >> Southeast Mailbag: Courting Bo http://t.co/qXGhheY2Pv
27 minutes ago

texasbuzztap

Texas Longhorns Buzz


Orange Bloods (Rivals) >> Class of 2014 Breakdown: Pac-12 http://t.co/ESyf67kvzx
27 minutes ago

texasbuzztap

Texas Longhorns Buzz


Orange Bloods (Rivals) >> Cook inks aid deals with UM, FSU http://t.co/HkGAPNOtDC
27 minutes ago

texasbuzztap

Texas Longhorns Buzz


Orange Bloods (Rivals) >> Mind of Mike: The Sark effect http://t.co/yyd1nbAsPJ
27 minutes ago

texasbuzztap

Texas Longhorns Buzz


Orange Bloods (Rivals) >> Four on top for 5-star Mixon http://t.co/saZCRkaQWr
27 minutes ago

texasbuzztap

Texas Longhorns Buzz


Orange Bloods (Rivals) >> Around the Midlands: Alabama does it again http://t.co/ZObzNjwjsi
27 minutes ago

texasbuzztap

Texas Longhorns Buzz


Orange Bloods (Rivals) >> Midlands Mailbag: What's next for LSU? http://t.co/WkQesmqYKN
27 minutes ago

texasbuzztap

Texas Longhorns Buzz


Orange Bloods (Rivals) >> Avery eyes options http://t.co/dzo0yp3UA9
27 minutes ago

Big12Conference

Big 12 Conference


#Big12Insider Baylor's four overtime loss to Kentucky in women's hoops produced a lengthy list of notable notes. http://t.co/jou6NpzlWt
28 minutes ago

Big12Conference

Big 12 Conference


#Big12Insider reports on Baylor's BCS hopes boosted by upset in MAC title game, plus big hoops DH. http://t.co/SiNDwRZEBO
29 minutes ago

Big12Conference

Big 12 Conference


Win by @BaylorMBB over Kentucky is 4th victory by #Big12MBB teams over a top 11 nationally-ranked non-conf. opp. this year.
33 minutes ago

Big12Conference

Big 12 Conference


RT @ESPNStatsInfo: Baylor: 2nd straight win vs an AP Top-5 opponent (beat 4 Kansas last season)
34 minutes ago

Big12Conference

Big 12 Conference


With the @BaylorMBB win, #Big12/SECChallenge is clinched by #Big12MBB, 6-2. Two games remaining.
39 minutes ago

Big12Conference

Big 12 Conference


RT @jeffborzello: Really impressive win by Baylor. Second-half defense was excellent, kept Ky off glass. Kenny Chery more than held his own.
40 minutes ago

Big12Conference

Big 12 Conference


#Big12MBB - @BaylorMBB takes down No. 3 Kentucky, 67-62. Kenny Chery leads the Bears with 18 points.
40 minutes ago

LonghornDigest

Kevin Flaherty


So, you can still go 40-0 with two losses, right?
41 minutes ago

Big12Conference

Big 12 Conference


RT @MattNorlander: Scott Drew defeats John Calipari for the second straight season.
41 minutes ago

Big12Conference

Big 12 Conference


RT @BSGoodman: The #Big12 is still clearly behind the Big 10, but the difference isn't very big at all.
42 minutes ago

LonghornDigest

Kevin Flaherty


Missed free throws really haven't helped, either.
44 minutes ago

LonghornDigest

Kevin Flaherty


Kentucky has had some huge brain farts tonight that are going to cost them this game. Not blocking out is definitely one of 'em.
45 minutes ago

LonghornDigest

Kevin Flaherty


So impressed with Cherry's mid-range game tonight.
48 minutes ago

LonghornDigest

Kevin Flaherty


Young can get buckets.
54 minutes ago

LonghornDigest

Kevin Flaherty


Isaiah Austin dunked on somebody. Finish your drink.
about an hour ago

LonghornDigest

Kevin Flaherty


Totally getting a kick out of watching Scott Drew on the sideline. Looks totally confused half the time.
about an hour ago

LonghornDigest

Kevin Flaherty


Kentucky is going to drive Calipari nuts. Moments of brilliance, followed immediately by the definition of freshman plays.
about an hour ago

LonghornDigest

Kevin Flaherty


Well, that was an interesting travel ...
about an hour ago

thatsean

Sean Adams


RT @ScoJacks13: @thatsean @CoreyElliot @fahimizzle Indiana the 10th best team in the Big Ten beat the MAC champ this year. Yet NIU deserves…
about an hour ago

texasbuzztap

Texas Longhorns Buzz


Texas Longhorns (Official Site) >> No. 1 Volleyball defeats Texas A&M 3-1 in second round of the NCAA http://t.co/XSiSoZC7fT
about an hour ago

thatsean

Sean Adams


RT @MrBLusby: @thatsean The weather is a HUGE help for OU tomorrow!!
about 2 hours ago

texasbuzztap

Texas Longhorns Buzz


The Daily Texan >> Texas volleyball advances to Sweet 16 after knocking off A&M http://t.co/uGqwCzvaPt
about 2 hours ago

thatsean

Sean Adams


RT @steakNstiffarms: Ouch. http://t.co/ulYTPXP4jZ
about 2 hours ago

thatsean

Sean Adams


Around 27 - 30. RT @The_Chauncey: @thatsean what'd u have them ranked
about 2 hours ago

thatsean

Sean Adams


I actually like UCF but agree on Baylor and Duke. RT @AJIsTheReal: @thatsean Feel the same about 9-Baylor, 16-UCF and 20-Duke.
about 2 hours ago

thatsean

Sean Adams


.@fahimizzle - Yes I would. Alabama is still better than both. They lost on the road on the last play. Louisville shouldn't be that high.
about 2 hours ago

thatsean

Sean Adams


If Oklahoma runs into Oregon in the Alamo Bowl, they better hang on to their boot straps.
about 2 hours ago

thatsean

Sean Adams


When I see a ranking of 14 it should mean that there are only 13 better tems in the country. Not the 30 I would put in front of NIU.
about 2 hours ago

Big12Conference

Big 12 Conference


#Big12VB: @OU_Volleyball is swept by third-ranked Stanford in the second round of #NCAAVB play. Sooners finish 2013 with 24-8 record.
about 2 hours ago

Big12Conference

Big 12 Conference


All five @OSUMBB starters in double figures in the win over S. Carolina as #Big12MBB improves to 5-2 in Challenge games vs. @SEC
about 2 hours ago

Big12Conference

Big 12 Conference


#Big12MBB assures no worse than a tie in the #Big12/SEC Challenge with @OSUMBB 79-52 win over South Carolina.
about 2 hours ago

thatsean

Sean Adams


No doubt they can use a rabbit. RT @CraytonD: @thatsean it is UT that needs the rabbit outta hat thing.
about 2 hours ago

thatsean

Sean Adams


What does that mean, how'd they do? RT @fahimizzle: @thatsean They were in the BCS last year. It's not like NIU was a "surprise" at 14.
about 2 hours ago

thatsean

Sean Adams


RT @MrCFB: Expensive night for the MAC. Good night for Big 12. Almost guarantees Clemson gets at-large BCS bid.
about 2 hours ago

thatsean

Sean Adams


True but 14? RT @fahimizzle: @thatsean Relax. They were undefeated. Teams have bad games. Doesnt discount their 12-0 record prior to tonight
about 2 hours ago

thatsean

Sean Adams


Now if Oklahoma can pull a rabbit out of their hat and beat Ok. State and Texas can beat Baylor, the Longhorns would play UCF in the Fiesta.
about 2 hours ago

thatsean

Sean Adams


LOL, Voters should be ashamed of themselves that they really thought NIU was 14. Seriously the 14th best team in America? #StopVotingStupid
about 2 hours ago

thatsean

Sean Adams


Reverse that. RT @RD3txex: @thatsean OU to Cotton, Texas to Alamo???
about 2 hours ago

thatsean

Sean Adams


Agree! RT @BlatantHomerism: @thatsean @SterlingFCooper yeah, my impression is OU is pretty much locked into the alamo
about 2 hours ago

thatsean

Sean Adams


.@davidsaltzman @jhouserACU - UCF is going to the BCS. Probably to the Fiesta to play the Big 12 champion.
about 2 hours ago

thatsean

Sean Adams


Not even to mention that the MAC Conference loses about $8 mil if NIU losses this game because the conference won't have a BCS payout.
about 2 hours ago

thatsean

Sean Adams


Sooners got blasted there last year. RT @SterlingFCooper: @thatsean would they get the Cotton Bowl nod over a higher ranked OU?
about 2 hours ago

thatsean

Sean Adams


NIU losing takes away my grandios thoughts of kicking it on Scottsdale Rd., golf at Talking Stick, eating at Wildfish. #BuffaloWildWingsBowl
about 2 hours ago

texasbuzztap

Texas Longhorns Buzz


Orange Bloods (Rivals) >> What we learned: Shrine Bowl of the Carolinas http://t.co/tO1H5BAfxN
about 2 hours ago

texasbuzztap

Texas Longhorns Buzz


Orange Bloods (Rivals) >> Mims receiving BCS interest http://t.co/4LmoPIDvRv
about 2 hours ago

texasbuzztap

Texas Longhorns Buzz


Orange Bloods (Rivals) >> These 10 are generating heat http://t.co/9nrYs981IH
about 2 hours ago

texasbuzztap

Texas Longhorns Buzz


Orange Bloods (Rivals) >> Villa Classic: Philly vs. New York http://t.co/hQngVdmHUo
about 2 hours ago

texasbuzztap

Texas Longhorns Buzz


Orange Bloods (Rivals) >> Oliver still excited about his decision http://t.co/RkpCtaD6WP
about 2 hours ago

texasbuzztap

Texas Longhorns Buzz


Orange Bloods (Rivals) >> Shrine Bowl: Who shined and declined? http://t.co/GjWxbT4Alb
about 2 hours ago

thatsean

Sean Adams


Could be LSU, South Carolina, even the Aggies. RT @IHuerta7: @thatsean who would they face?
about 2 hours ago

UT_MackBrown

Mack Brown


Congrats to Jerritt Elliott and the volleyball team on their 3-1 win over the Aggie and advancing in the NCAA Tourney. Keep on Rollin'
about 3 hours ago

thatsean

Sean Adams


Texas fans might want to prepare for the Cotton Bowl if they don't win the Big 12 conference outright. #JerryWorld #NIULosingBig
about 3 hours ago

texasbuzztap

Texas Longhorns Buzz


Texas Longhorns (Official Site) >> Men's Swimming qualifies two relays for NCAA Championships at Texas http://t.co/H2P25zdugm
about 3 hours ago

TXStampede

Doug Farrell


Shovel pass FTW! Bowling Green running it down NIU's throat. #BCSBuster
about 3 hours ago

TXStampede

Doug Farrell


Dave Clawson has got his BG boyz dialed up for this MAC'ship tonight. Very impressed with their physicality.
about 3 hours ago

Big12Conference

Big 12 Conference


#Big12WBB game between Kentucky (133) and Baylor (130) in 4 OT was the highest scoring wbb game all time in Division I.
about 3 hours ago

Big12Conference

Big 12 Conference


#Big12/SECChallenge - RT @BaylorMBB: Official tip time is now 10:15. An hour and 8 minutes later than scheduled. #SicUK
about 3 hours ago

Big12Conference

Big 12 Conference


RT @BaylorWBB: Alexis Prince 3 at the buzzer gooes halfway in and back out as Lady Bears fall in 4 OTs. #SicEm http://t.co/O18ncxECIM
about 3 hours ago

texasbuzztap

Texas Longhorns Buzz


Burnt Orange Nation >> Texas hoops preview: Temple Owls http://t.co/NRUYEqka2s
about 3 hours ago

thatsean

Sean Adams


Agree. RT @jhouserACU: @thatsean The MAC is as good as the American conference. The joke is the American still having an auto bid to the BCS
about 3 hours ago

thatsean

Sean Adams


RT @JamesLamarJ: @thatsean one of the worst jokes of the year, grouping him with them.
about 3 hours ago

thatsean

Sean Adams


RT @thelonghorns12: @thatsean Manziel could be hungover from his 21st bday from last night and outplay him.
about 3 hours ago

thatsean

Sean Adams


The way the rankings are put together is a joke or them being 14 wouldn't happen. RT @joequintiliani: @thatsean Them being #14 is laughable.
about 3 hours ago

thatsean

Sean Adams


At best. RT @DaDude303: @thatsean its like jv vs varsity!
about 3 hours ago

thatsean

Sean Adams


Exactly. RT @GundersonNathan: @thatsean different levels of football
about 3 hours ago

thatsean

Sean Adams


RT @MrBLusby: @thatsean Didn't they get exposed last year?! Why is it even up for discussion again?!
about 3 hours ago

thatsean

Sean Adams


RT @MichaelTovar1: @thatsean: Calling it 38-35 Horns over Baylor with field goal to win it late. But Horns still need to make coaching ch…
about 3 hours ago

UT_Bianco

John Bianco


Congrats Defending National Champ @TexasVolleyball on victory over Texas A&M and another berth in Final 16 of NCAA Tourney
about 3 hours ago

thatsean

Sean Adams


I can't stop laughing that people want Jordan Lynch in the same sentence as Winston, Manziel, McCarron etc. Stop it!
about 3 hours ago

thatsean

Sean Adams


Would Texas be Cotton? RT @McMurphyESPN: Baylor to Sugar if Ok St/BU wins RT @Nibbs_1: @McMurphyESPN If NIU loses, who gets that BCS bid?
about 3 hours ago

thatsean

Sean Adams


Even with Baylor's schedule, they'd be way more deserving. RT @thelonghorns12: @thatsean Baylor going to get a BCS bid if they beat us now.
about 3 hours ago

thatsean

Sean Adams


LOL, Northern Illinois is not a good football team. If you want to give Lynch love, do so but them in a BCS game playing in the MAC? #JOKE
about 3 hours ago

LonghornNetwork

Longhorn Network


And it's goodbye to A&M (again). Texas wins 3-1, advances to 8th straight NCAA Regional. Horns get Duke-American winner next Friday.
about 3 hours ago

Big12Conference

Big 12 Conference


#Big12VB: @KUVolleyball defeats Wichita State, 3-1, to advance to the second round of #NCAAVB play. KU will face Creighton on Sat. at 6:30.
about 3 hours ago

texasbuzztap

Texas Longhorns Buzz


Texas Longhorns (Official Site) >> Women's Swimming concludes day two at Texas Invitational http://t.co/EvwgNZnEea
about 3 hours ago

Big12Conference

Big 12 Conference


#Big12MBB:The @OSUMBB-South Carolina game is currently on ESPNEWS. Will move to ESPNU after soccer match is over.
about 3 hours ago

thatsean

Sean Adams


You just can't help yourself can you? RT @DMcComasOB: Did the Yankees find another way to get older today?
about 4 hours ago

Big12Conference

Big 12 Conference


#Big12VB: This is the eighth straight #NCAAVB Regional appearance for @TexasVolleyball.
about 4 hours ago

TexasSports

Texas Longhorns


RT @TexasVolleyball: Texas Volleyball is going to the Sweet 16! Texas will play Dec. 13, in Lincoln, Nebraska. Opponent TBD.
about 4 hours ago

Big12Conference

Big 12 Conference


#Big12VB: @OU_Volleyball at Stanford in the #NCAAVB second round starts now. Live stream link - http://t.co/1w9bWdyZKY
about 4 hours ago

Big12Conference

Big 12 Conference


#Big12VB: @TexasVolleyball defeats Texas A&M, 3-1. It's the 21st straight win for the Longhorns who advance to the Lincoln Regional.
about 4 hours ago

HookEm

Hook 'Em


And it's goodbye to A&M! Horns up as @TexasVolleyball defeats the Aggies and advances to the NCAA Regional Seminals! #PointTexas
about 4 hours ago

thatsean

Sean Adams


Debate is how he got there in the 1st place. RT @Rivals: #RivalsDebate is #NIU QB Jordan Lynch still in contention for the Heisman Trophy?
about 4 hours ago

thatsean

Sean Adams


Slipping away and we won't have to hear about BCS worthiness anymore. RT @BlatantHomerism: Heisman moment
about 4 hours ago

Big12Conference

Big 12 Conference


#Big12VB: @KUVolleyball defeats Wichita State, 3-1, to advance to the second round of #NCAAVB play. KU will face Creighton on Sat. at 7:30.
about 4 hours ago

thatsean

Sean Adams


RT @CecilHurt: Jordan Lynch would be a lock for the Heisman if he could play against Northern Illinois.
about 4 hours ago

thatsean

Sean Adams


RT @bmarcello: Gus Malzahn's $3.85 million salary will rank 6th in SEC and just above one of his favorite coaches, Steve Spurrier, at $3.3 …
about 4 hours ago

ChipBrownOB

Chip Brown


Can Mack Brown really save his 16-yr tenure as coach of the #Longhorns with a win at #Baylor? My answer posted at http://t.co/TuILYGfSJV.
about 5 hours ago

UT_Bianco

John Bianco


Congrats to @Haley_Bianco & @AngeloSports Volleyball, 5-set win sends ASU to "Sweet 16" regional finals of NCAA Tourney!
about 5 hours ago
BLOG ARCHIVE:
CATEGORIES: