Sean Adams on Texas' QB depth
May, 7, 2012
5/07/12
4:15
PM ET
By
HornsNation staff
| ESPN.com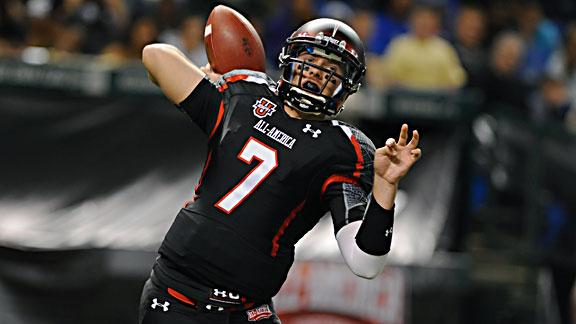 Sean Adams from HornsNation takes a look at the state of the Texas Football program. In this video, Sean looks at what it takes to develop a successful line of succession at the quarterback position.
ESPN Films Presents: Nixon's National Champs - Nixon vs. Paterno
In 1969, Joe Paterno thought a National Championship was on the horizon, but President Richard Nixon was standing in his way. Nixon's National Champs premieres Sunday December 28th at 10:30pm ET on ESPN.
ESPN Films Presents: Nixon's National Champs - Nixon vs. Paterno
VIDEO PLAYLIST
TEXAS FB RECRUITING SCORECARD
Longhorn_FB

Longhorn_FB


Video: Texas Bowl-Day 3. Longhorns brighten the day for some young fans & then compete for a unique fashion accessory.http://t.co/IwqfXEecYd
about 2 hours ago

98Nightmare

Franklin Okam


Great dinner tonight with the crew. @CoachRodWright and @Roy_Miller_III and I were definitely part of the #WorldClassWC lol
about 2 hours ago

max_olson

Max Olson


The wonderful college career of @Ameerguapo comes to an end. Tip of the cap to one of Nebraska's all-time greats.
about 3 hours ago

CathyCEO77

CathyCEO


@ATXANT10 @Foss_Sports Aww,thanks. We did have a nice Christmas. Btw u two boys are my favorite sports guys in ATX..and @ChipBrownHD too. ;)
about 3 hours ago

ESPN_CoachMack

Mack Brown


I love Nebraska. Great effort tonight. Always loved going to Lincoln. Can't wait to watch my friend Mike Riley coach there. Bo left it good
about 3 hours ago

max_olson

Max Olson


😵 RT @ESPN_CoachMack Nebraska and one second left. Seen this story before!
about 3 hours ago

max_olson

Max Olson


"BCS! That's why they make that call!"
about 3 hours ago

ESPN_CoachMack

Mack Brown


Nebraska and one second left. Seen this story before!
about 3 hours ago

CaseMcCoy6

Case McCoy


Nebraska and that 1 second...
about 3 hours ago

Longhorn_FB

Longhorn_FB


And here's a #Longhorns notebook with some details on today's activities, Been a busy but enjoyable day. http://t.co/BpLpTAA2Sp #HookEm
about 4 hours ago

Longhorn_FB

Longhorn_FB


Photo galleries: Team luncheon (http://t.co/03PqtYqAtu), @depelchin (http://t.co/aZjPCJ1HJd) & Legend's Game Night (http://t.co/mD6sdO6ryw)
about 4 hours ago

Longhorn_FB

Longhorn_FB


Tracking the #Longhorns - @Strong_TexasFB, Jordan Hicks, Quandre Diggs & John Harris visited with the media today - http://t.co/6xb9EMkkJ5
about 5 hours ago

LonghornDigest

Kevin Flaherty


Their take on the sweet #Texas stormtrooper aways. RT @gabrieldbrooks Nebraska's uniforms tonight may be my favorite in the country.
about 6 hours ago

LonghornDigest

Kevin Flaherty


Herc is horrible. RT @bomani_jones hey, the idiots fighting over fries and missing the guy they're waiting on. god, i hate herc. #thewirehd
about 6 hours ago

Longhorn_FB

Longhorn_FB


The #Longhorns defense takes home the title at Gridiron Legends Game Night. Thanks to @TexasBowl for the event. http://t.co/v16kt0UaAm
about 6 hours ago

Big12Conference

Big 12 Conference


VIDEO: @trackris24 & #Big12Insider Wendell Barnhouse preview the @TexasBowl - http://t.co/F3LvYpZKtw
about 6 hours ago

Big12Conference

Big 12 Conference


#Big12FB: @TexasBowl preview | @TexasFB vs. Arkansas | Monday, 8 p.m. CT - http://t.co/qfMX8aySIK http://t.co/quSDzwRNdp
about 6 hours ago

Longhorn_FB

Longhorn_FB


It's offense vs defense in tonight's Legends Game Night. We've got Foosball and pop-a-shot on tap among other games http://t.co/kQgy9mAr5O
about 7 hours ago

Longhorn_FB

Longhorn_FB


We are just about to get started with Legends Game Night at hotel. Clayborn, Sisemore, Akers among #Longhorns here http://t.co/qEj1xj3i3X
about 7 hours ago

max_olson

Max Olson


So Bielema threw down 2 fingers and a guy took a photo and was accused of using photoshop but he didn't. Am I all caught up?
about 7 hours ago

ChipBrownOB

Chip Brown


"@NWADerek: @DanWolken https://t.co/taD1uh2RZk" ... All the talk at the Texas Bowl ... And I'm not exactly sure it was intentional.
about 8 hours ago

SBN_Wescott

Wescott Eberts


Every pass play should be a wheel route or four verts RT @JeremyAnthony: @ me Slant could've been money there out of empty.
about 9 hours ago

SBN_Wescott

Wescott Eberts


Are you trying to make me cry? RT @stringsays: We need footage of unsuccessful fade routes set to a sarah mclachlan song
about 9 hours ago

SBN_Wescott

Wescott Eberts


The ASU CB on that play is 6'0. Had a major height advantage.
about 9 hours ago

SBN_Wescott

Wescott Eberts


I'm not sure that a fade route to the 5'9 WR, even if he is really good, is the right play there.
about 9 hours ago

Big12Conference

Big 12 Conference


VIDEO: @trackris24 & #Big12Insider Wendell Barnhouse preview @OU_Football in the @RussellAthBowl - http://t.co/1WhBKNhRo8
about 10 hours ago

SBN_Wescott

Wescott Eberts


Malik Jefferson responds to the lofty comparisons of head coach Charlie Strong: http://t.co/eoAZ0pKzCR#Malikmentum
about 10 hours ago

Longhorn_FB

Longhorn_FB


Great time today visiting with the kids at @depelchin Children's Center. Thanks for having us. @TexasBowl #Longhorns http://t.co/QfyCiCUzYr
about 10 hours ago

thatsean

Sean Adams


Media Hotel has Texas and Arkansas logos everywhere. This is NOT photoshopped! #TexasBowl #GladItsIndoors http://t.co/Ld96g1vsdb
about 10 hours ago

SBN_Wescott

Wescott Eberts


#Malikmentum will have to pick up for Malik Jefferson to live up to Strong's Tebow comp. http://t.co/D8ZnxeJFnS http://t.co/bNdk1KHruw
about 10 hours ago

SBNationCFB

SB?Nation CFB


Bielema Horns Down photo now getting Zapruder treatment: http://t.co/Ws666oF1KN (via @CorkGaines) http://t.co/RmuDgMeyO2
about 10 hours ago

Big12Conference

Big 12 Conference


#Big12FB: @RussellAthBowl preview | @OU_Football vs. Clemson | Monday, 4:30 p.m. CT - http://t.co/Y8UMlxUxGI http://t.co/KRBrWcqmUa
about 10 hours ago

SBN_Wescott

Wescott Eberts


On #HornsDownGate MT @eightfootrobot: @ me I use Photoshop every day. Doesn't look edited.
about 10 hours ago

JasonKirkSBN

Jason Kirk


If you're an Arkansas fan on Twitter who's unfamiliar with "#BERT," how are you an Arkansas fan on Twitter
about 10 hours ago

SBN_Wescott

Wescott Eberts


Multi-hour @LonghornNetwork wrestling special? #qualitytelevision RT @jimmygards: I hope Bert bites off a live Bevo's horns.
about 10 hours ago

SBN_Wescott

Wescott Eberts


Would be much more willing to believe BERT pic was photoshopped if it wasn't precisely in character for him throw horns down like that.
about 10 hours ago

cuppycup

cuppycup


Also, I'm pretty sure the RN guy was right next to me so I don't think he had time to photoshop the pic.
about 10 hours ago

cuppycup

cuppycup


The Bielema/Strong handshake lasted about 20 seconds for photos so I may have just missed the horns down. http://t.co/W5nlq68EG4
about 10 hours ago

SBN_Wescott

Wescott Eberts


Are there any iPhone apps powerful enough to photoshop a picture that quickly and post it?
about 10 hours ago

SBN_Wescott

Wescott Eberts


The @AaronPetersRN horns down photo was posted from his iPhone. Would have had to photoshop it on there or have transferred it from comp.
about 10 hours ago

Big12Conference

Big 12 Conference


#Big12FB: @WVUfootball's INT TD by Dravon Henry in week 8 is a #TotPlays finalist. Vote - http://t.co/TJWISiAgC5https://t.co/Dt9eqyUN3b
about 10 hours ago

ChipBrownOB

Chip Brown


Kiss of Death: Strong compares Malik Jefferson to Tim Tebow ... Bret Bielema says wife proof he's a good recruiter. http://t.co/1oWDiB0g20
about 10 hours ago

SBN_Wescott

Wescott Eberts


So, some people are saying the horns down pic of Bret Beliema was photo shopped, but @AaronPetersRN, who took it, is denying those claims.
about 10 hours ago

SBN_Wescott

Wescott Eberts


Yeah, not really buying Bret Beliema's explanation about doing the horns down. https://t.co/OWLsU9mZpQ
about 11 hours ago

Longhorn_FB

Longhorn_FB


ICYMI Video: On Friday, #Longhorns held their 2nd practice in Houston & spent the evening in a friendly competition. http://t.co/9Oq6AqYSeh
about 11 hours ago

SBN_Wescott

Wescott Eberts


Metallic helmet decals returning for #Horns vs. #WPS in #TexasBowl? http://t.co/z9ESwUolnH http://t.co/IDffwkKRA8
about 11 hours ago

LonghornDigest

Kevin Flaherty


At some point, Kentucky may have a question at PG to answer. I'm not entirely sure Tyler Ulis isn't the better player.
about 11 hours ago

SBN_Wescott

Wescott Eberts


More perspective on Blake Lynch's decision RT @OurDailyBears: @ me Tweaked his ankle in the state championship game.
about 11 hours ago

SBN_Wescott

Wescott Eberts


Little disappointed not to be able to watch Baylor ATH pledge Blake Lynch at the #ArmyBowl. Wanted to see him work at WR.
about 11 hours ago

BDavisAAS

Brian Davis


Texas coach Charlie Strong compares landing Poteet LB Malik Jefferson to the importance of Florida landing Tim Tebow.
about 11 hours ago

SBN_Wescott

Wescott Eberts


Baylor commit Blake Lynch won't be at #ArmyBowl RT @BlakeLynch7: http://t.co/BRWG04Ul2U
about 11 hours ago

SBN_Wescott

Wescott Eberts


Texas Tech should be okay at QB with Pat Mahomes moving forward, but the amount of attrition there at position is unusual even for QB.
about 11 hours ago

SBN_Wescott

Wescott Eberts


What's going on there? MT @DanielPaulling: Vincent Testaverde to transfer, leaving Tech with even less depth at QB: http://t.co/BKdJZwtmLd
about 11 hours ago

SBN_Wescott

Wescott Eberts


Hmm, maybe Bret Beliema should have been a little more careful about throwing those horns down: http://t.co/GB1MMg0xOj
about 12 hours ago

AaronPetersRN

Aaron Peters


LOOK AT COACH B's left hand in this pic!!! #HornsDown @RazNation @KARK4News @KNWAnews http://t.co/TAvbOB3Uik
about 12 hours ago

SBN_Wescott

Wescott Eberts


Sneaky Bret Beliema throws horns down while shaking hands with Charlie Strong. http://t.co/s27k0exrCi http://t.co/FHRSo9jE9F
about 12 hours ago

LonghornNetwork

Longhorn Network


Horns go the other way, silly. (H/t @AaronPetersRN) http://t.co/d0kr7csknm
about 12 hours ago

SBN_Wescott

Wescott Eberts


Charlie Strong's academic emphasis results in all football players eligible for #TexasBowl http://t.co/k7z5dfywo9 http://t.co/YzAZgR8gcc
about 12 hours ago

ChipBrownOB

Chip Brown


#Texas and #Arkansas getting ready for the AdvoCare V100 Texas Bowl Dec 29 at NRG Stadium. http://t.co/JjtiNz30Oi
about 13 hours ago

Big12Conference

Big 12 Conference


VIDEO: @trackris24 & #Big12Insider Wendell Barnhouse preview @WVUfootball's appearance in the @AZOLibertyBowl - http://t.co/gj759Y7XBZ
about 13 hours ago

SBN_Wescott

Wescott Eberts


Final update on status of Texas WR Jaxon Shipley's hamstring before Monday's #TexasBowl. http://t.co/37hkk4sxsj http://t.co/POpc14maso
about 13 hours ago

ChipBrownOB

Chip Brown


Charlie Strong compared the commitment of OLB Malik Jefferson to the signing of Tim Tebow when Strong was an assistant at #Florida.
about 13 hours ago

ChipBrownOB

Chip Brown


#Texas coach Charlie Strong said all his players are eligible for the Texas Bowl vs Ark and Strong expects WR Jaxon Shipley (hammy) to play.
about 13 hours ago

Longhorn_FB

Longhorn_FB


We have the q&a portion of luncheon now. Hicks, Diggs & Harris on stage. http://t.co/kkn6kB2QXV
about 13 hours ago

TexasSports

Texas Longhorns


.@Longhorn_FB vs. Arkansas (AdvoCare V100 #TexasBowl) digital guide available now at http://t.co/vVPWh09Mzh. #longhorns
about 13 hours ago

Big12Conference

Big 12 Conference


#Big12FB: @AZOLibertyBowl preview | @WVUfootball vs. Texas A&M | Monday, 2 p.m. ET - http://t.co/NxX7lP3lXy http://t.co/1bCRzWPgUS
about 13 hours ago

Coach_MannyDiaz

Manny Diaz


You win with tough people. #JYD http://t.co/RB2XaGYlJz
about 13 hours ago

espnbob

Bob Wischusen


Heading to the Bronx for the #PinstripeBowl w/ Matt Millen and @QKessenich..@BCFootballNews v @PennStateFball 4:30 @ESPNCFB @PinstripeBowl
about 14 hours ago

Longhorn_FB

Longhorn_FB


#Longhorns in the house for @TDECU Team Luncheon. http://t.co/ALexhaELZI
about 14 hours ago

TexasSports

Texas Longhorns


Visit http://t.co/jKxEccoomI for #TexasBowl info about #parking, concessions, tailgating, and the pregame party! http://t.co/If6kpiLYA6
about 14 hours ago

Longhorn_FB

Longhorn_FB


ICYMI Video: On Friday, #Longhorns held their 2nd practice in Houston & spent the evening in a friendly competition. http://t.co/9Oq6AqYSeh
about 16 hours ago

TexasBowl

AdvoCare Texas Bowl


Busy Day 2 of Bowl Week coming up! Players are headed to the @TDECU Team Luncheon, then to @depelchin to hang out with the kiddos
about 16 hours ago

BCunningham36

Benny Cunningham


Congrats to my guy @Coach_MannyDiaz on the bowl win!!
about 16 hours ago

Big12Conference

Big 12 Conference


#Big12FB: Glenn Gronkowski's 62-yard TD in week 8 is a #TotPlays finalist. Vote here - http://t.co/TJWISiAgC5https://t.co/FYh9Ih4JK6
about 16 hours ago

LonghornNetwork

Longhorn Network


On the third day of Texas, the Longhorns gave to me... 3 who know how to volley.http://t.co/ql6PUhU4JD http://t.co/GHHGMqAo0y
about 17 hours ago

jtuck9

Justin Tucker


#ChapPride - http://t.co/nWA1k2MpuF http://t.co/m3A7xIrL5L
about 17 hours ago

TTuberville

Tommy Tuberville


Pleased to have Hoss with us for the @MilitaryBowl in DC. He had a great message for the #Bearcats last night. http://t.co/ZzMLBI0WpO
about 18 hours ago

TXStampede

Doug Farrell


Sad to hear about @WVUSports star QB Clint Trickett shutting it down due to concussion history. Helluva competitor and talent. #HornsUp
about 18 hours ago

TXStampede

Doug Farrell


@LonghornNetwork 2008 RRS right now. BOOMER SOONER. SHIPLEY ROOMMATES. TEXAS FIGHT. #HookEm
about 20 hours ago

Longhorn_FB

Longhorn_FB


Photo Gallery: The #Longhorns participated in the #RodeoBowl in tonight's @TexasBowl event. Here's a look - http://t.co/xCduMrR0lP
1 day ago

Longhorn_FB

Longhorn_FB


Photo Gallery: The #Longhorns held their 2nd practice in Houston on Friday afternoon. Here's a look - http://t.co/ssgb7i3gpS
1 day ago

Longhorn_FB

Longhorn_FB


Video: Texas Bowl-Day 2. Longhorns hold their 2nd practice in Houston & spend the evening in a friendly competition. http://t.co/9Oq6AqYSeh
1 day ago

thatsean

Sean Adams


I have to go with Dave Chapelle and Bernie Mack as my partners. Creativity and spontaneous! http://t.co/zRZ9O6FgsF
1 day ago

Big12Conference

Big 12 Conference


Vote for @WVUfootball's game-winning FG by Lambert for the #Big12FB #TotPlays winner - http://t.co/TJWISiAgC5https://t.co/EbAK6qkU5b
1 day ago

UT_Bianco

John Bianco


Charlie Strong heads into @TexasBowl Rodeo Bowl event earlier today. http://t.co/S3Te4cPvJc
1 day ago

Longhorn_FB

Longhorn_FB


It's a come-from-behind 4-3 #Longhorns victory in the #rodeobowl #HookEm http://t.co/diiV6YKXSq
1 day ago

Longhorn_FB

Longhorn_FB


#Longhorns tie up competition at 2-all with win in the calf chalk branding. #rodeobowl
1 day ago

Longhorn_FB

Longhorn_FB


Swoopes, Rose, Gray & Edmond win the Rope the Mascot event at #rodeobowl. #Longhorns http://t.co/wIfSmTAhYn
1 day ago

Longhorn_FB

Longhorn_FB


We just had Touchdown dance off with the o-line. Orren, Cuney, Perkins, Doyle, Riser & Raulerson showing moves. http://t.co/T5qwIttoB3
1 day ago

SBN_Wescott

Wescott Eberts


Good sign for Texas vs. Arkansas in #TexasBowl is performance vs. OU run game this season. OU No. 2 in rush S&P+, gained 103 yds vs. Texas.
1 day ago

LonghornNetwork

Longhorn Network


#FBF to #ARKvsTEX, Sept 27, 2008. No.7 Horns beat Razorbacks 52-10. Watch it tonight 8CT LHN. http://t.co/Vqse8zhbMF http://t.co/HcNVcJ0nhd
1 day ago

Longhorn_FB

Longhorn_FB


We are underway with the Rodeo Bowl. Looks like plenty of fun activities at tonight's @TexasBowl event. #Longhorns http://t.co/wLoA2HOh7h
1 day ago

BON_SBNation

Burnt Orange Nation


Longtime BON reader @liches_ and buds are launching a Spanish Horns site, @CuarentaAcres. Y'all check it out.
1 day ago

Longhorn_FB

Longhorn_FB


Today's practice complete. Now it's on to the Rodeo for some fun and dinner with @RazorbackFB #Longhorns http://t.co/Tr3wJGwIbu
1 day ago

thatsean

Sean Adams


My goodness the @B1Gfootball is bad. Let's hope the league doesn't lose 9 more bowl games. The are underdogs in every single bowl game.
1 day ago

max_olson

Max Olson


Easy choice. Congrats to KB. RT @CraigSmoak Art Briles says Kendal Briles is officially Baylor's OC moving forward
1 day ago

thatsean

Sean Adams


I agree. I see him as a HC 10years from now. RT @ZaneMoneyEllis: @thatsean I think he needs to prove he can be DC at Big time place 1st.
1 day ago
BIG 12 SCOREBOARD
Saturday, 12/27
Saturday, 12/20
Monday, 12/22
Tuesday, 12/23
Wednesday, 12/24
Friday, 12/26
Monday, 12/29
Tuesday, 12/30
Wednesday, 12/31
Thursday, 1/1
Friday, 1/2
Saturday, 1/3
Sunday, 1/4
Monday, 1/12
BLOG ARCHIVE:
CATEGORIES: