Weekend highlights: Baseball & softball
April, 30, 2012
4/30/12
2:37
PM ET
By
HornsNation staff
| ESPN.com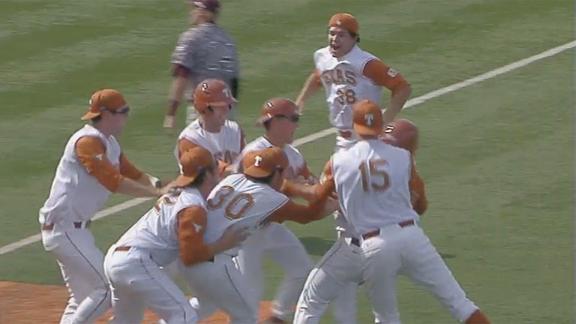 Texas wins Sunday's game against Texas A&M on Jordan Etier's walk-off hit.
Taylor Hoagland pounds to homers in softball's win over the Aggies.
Watch the highlights

.
The Experts: Horns Eye Recruiting Rebound
ESPN's Kevin Carter, Matt Millen and Brett McMurphy join national recruiting director Tom Luginbill to discuss the importance of the upcoming seasons for Texas' recruiting efforts, especially with in-state recruits.
The Experts: Horns Eye Recruiting Rebound
VIDEO PLAYLIST
TEXAS FB RECRUITING SCORECARD
Cardschatter

Darren Urban


Amazing. On Tommy Kelly's blocked FG, #AzCardinals only had nine men on the field. Got to Phil Dawson's attempt anyway. #SFvsAZ
8 minutes ago

ChipBrownOB

Chip Brown


Nasty ... RT @derekdoesdallas: "@iAmTCWill215: "@ChickenColeman2: https://t.co/YpGfz4MGUa" the move of the century. 😂😂" @Skriptzophrenic
10 minutes ago

JaxonShipley

Jaxon Shipley


http://t.co/1QXPO599tr thatta boy @_bradymcbride_ !!! Lookin like a beast out there!
about an hour ago

LifeLimits

Think Different


Let it strengthen you. http://t.co/DsokV27C1f
about 2 hours ago

thatsean

Sean Adams


Well I guess Dr. Narcisse is going to be in a bad mood when he hears he might NEED "protection". #BoardwalkEmpire
about 3 hours ago

ESPN_CoachMack

Mack Brown


Congrats to Justin Tucker for just another Game Winning FG. He "Takes Dead Aim"
about 3 hours ago

thatsean

Sean Adams


Come on now, I better see some Chalky White tonight. #BoardwalkEmpire
about 4 hours ago

Big12Conference

Big 12 Conference


#Big12FB: Just four teams in action last week. Check out the week four rewind - http://t.co/9a4FZzOaf5 http://t.co/6QuNXMd3ew
about 4 hours ago

LonghornDigest

Kevin Flaherty


I look forward to the day when people stop using yards per game and points per game as THE metrics to judge offense/defense. Outdated.
about 5 hours ago

LonghornDigest

Kevin Flaherty


Pretty sure @L_Giudice schemed up that drive for the Broncos.
about 5 hours ago

LonghornDigest

Kevin Flaherty


Peyton Manning is really good. But man, there were some blown coverages on that drive.
about 5 hours ago

Big12Conference

Big 12 Conference


#Big12FB: Be sure to nominate your week four top plays, using #TotPlays! http://t.co/6x4neGZUam
about 5 hours ago

LonghornDigest

Kevin Flaherty


Travis Kelce is looking more and more like a pretty special talent at tight end.
about 6 hours ago

Big12Conference

Big 12 Conference


UPDATED #Big12FB: @AP_Top25 poll - 4. @OU_Football, 7. @BUFootball, 24. @CowboyFB, 25. @kstatesports.
about 10 hours ago

Big12Conference

Big 12 Conference


#Big12FB: Tweet in your week four top play nominations using #TotPlays! http://t.co/sZcRbYQdUm
about 10 hours ago

Big12Conference

Big 12 Conference


#Big12FB: Updated @AP_Top25 poll - 4. @OU_Football, 7. @BUFootball, 25. @kstatesports.
about 10 hours ago

jwelter47

Dr. Jen Welter


@dallascowboys Why not activate @MichaelSamNFL against @STLouisRams?Knows the offense inside & out & is the biggest name left on defense
about 10 hours ago

thatsean

Sean Adams


Good smell wasn't 'it! @tommyharris22: @thatsean Dallas down 14... I smell a Romo pick coming
about 11 hours ago

thatsean

Sean Adams


That is so funny. Beasley was wide open, going across the middle. #Cowboys
about 11 hours ago

Big12Conference

Big 12 Conference


#Big12FB: This week's @USATODAYsports Amway coaches poll - 3. @OU_Football, 6. @BUFootball, 25. @kstatesports. RV - OSU, TCU, WVU.
about 12 hours ago

LonghornDigest

Kevin Flaherty


Florida State defensive tackle Eddie Goldman is the @247Sports Defensive Player of the Week http://t.co/fHIlMWQpDP @jcshurburtt
about 12 hours ago

ESPN_CoachMack

Mack Brown


"@Ruthspol: @ESPN_CoachMack love your work in the studio. You are doing great! You did a terrific job coaching our Horns! Thank you."Thx
about 12 hours ago

ESPN_CoachMack

Mack Brown


"@ToddWMarshall: @ESPN_CoachMack enjoyed hearing ur thoughts on @CollegeGameDay of all of the news right now in CFB." Thx. It's Fun
about 12 hours ago

ESPN_CoachMack

Mack Brown


"@lorrainelindau: @ESPN_CoachMack @nfl @TennesseeTitans thoughts and prayers are with you and the Bradshaw families"Amen. Tragic
about 13 hours ago

nfl

NFL


Former @tennesseetitans kicker Rob Bironas dies in car accident: http://t.co/aINcMZhpFQ http://t.co/x1b6EConJx
about 13 hours ago

ESPN_CoachMack

Mack Brown


FSU-Clem, Oreg-Wash St and then Ariz-Cal. Unbelievable Finishes to a Great Day of CFB!
about 18 hours ago

ESPN_CoachMack

Mack Brown


Another "Crazy" but Fun Day of CFB. Nothing Better. Can't wait until next week
about 18 hours ago

joelklatt

Joel Klatt


Regardless of how this #Oregon game ends up, it's safe to say that the most impressive team in country in 2014 has been @OU_Football
about 23 hours ago

Big12Conference

Big 12 Conference


#Big12FB HIGHLIGHTS: @OU_Football 45-33 win over @WVUfootball backed by 4 Samaje Perine TDs - http://t.co/0dnc24QEdJ http://t.co/iEmipmB6e9
1 day ago

thatsean

Sean Adams


.@jeremysports @DMcComasOB - It was true though.
1 day ago

thatsean

Sean Adams


Truth baby! RT @WestAustinAg: @CaseyBilly @thatsean @LiesOfTexas @tweetmotherogod Agree...it's a Better conference since we arrived.
1 day ago

LonghornDigest

Kevin Flaherty


Clemsoning so hard.
1 day ago

thatJohnBarbs

John Barbontin


@thatsean @RoFloESPN - Does #Clemson want to win this game? I've never seen 1 team in 1 game "Cheddar Bob" themselves so much #CLEMvsFSU
1 day ago

LonghornDigest

Kevin Flaherty


People blasting Texas for not recruiting Perine are silly. Nice player, but Texas is fine at RB. Real gap is OU vs. UT on the O - line
1 day ago

LonghornDigest

Kevin Flaherty


That was an awfully impressive performance by Oklahoma in a tough road game. Samaje Perine 242 rushing yards and four TDs.
1 day ago

Big12Conference

Big 12 Conference


#Big12FB: No. 4 @OU_Football 45, @WVUfootball 33. Stoops becomes first league coach to record 100 #Big12 regular season victories.
1 day ago

thatsean

Sean Adams


Big 12 South in 2008? RT @LiesOfTexas: @tweetmotherogod @thatsean @WestAustinAg SEC West is strongest division in history of CFB.
1 day ago

bwdsports

Brownwood Sports


Highlights of Brownwood's 29-15 win over Alvarado, including Connor Howard's one-handed 38-yard touchdown reception http://t.co/HHUfeNWGQ7
1 day ago

thatsean

Sean Adams


That's true. RT @LiesOfTexas: @WestAustinAg @thatsean SEC West has dominated non-conference opponents. Dominated.
1 day ago

thatsean

Sean Adams


.@WestAustinAg - What, you don't think the Aggies have as good of chance as any to win the conference. FSU loses and SEC gets two teams.
1 day ago

SBN_Wescott

Wescott Eberts


Kid is going to make a career of that RT @CCMachine: 50 of Samaje Perine's 134 yards have come after contact. #Sooners #OUvsWVU
1 day ago

SBN_Wescott

Wescott Eberts


That vine I just tweeted of Kahlil McKenzie has been blowing up on Vine again four months later. Amazing moments to see.
1 day ago

SBN_Wescott

Wescott Eberts


Kahlil McKenzie going to #GetOpen dominating like this. #woah https://t.co/WKU63uHiCt
1 day ago

SBN_Wescott

Wescott Eberts


As a scout, there's nothing better than those brilliant unexpected incandescent moments of athletic greatness.
1 day ago

SBN_Wescott

Wescott Eberts


Remember a blind viewing of Samaje Perine in HS and being really impressed with his strength and balance. On display at Oklahoma now.
1 day ago

chadsapenter

Chadwick Sapenter


I don't think understand how TX schools allowed Semaje to leave the state. I wouldn't be shocked if he was a Heisman finalist in 2016.
1 day ago

Big12Conference

Big 12 Conference


VIDEO: @KU_Football's defense forced 3 TOs, allowed just 279 yds. Here's the best def. plays - http://t.co/DipHuo848H http://t.co/1kesVdUX8a
1 day ago

WVUfootball

WVU Football


A look a tonight's sold out Milan Puskar Stadium. #HailWV #StripeTheStadium http://t.co/cci4XB53Vp
1 day ago

ESPNCFB

ESPN CollegeFootball


#Mountaineers playing loud at #OU.Clint Trickett's 68yd bomb puts #WVU up 7-3 on Sooners, 2ndQ. http://t.co/yz8L5BpRB2
1 day ago

Aaron_M_Thomas

Aaron Thomas


Yesterday in Kansas @TecomateWS took down one of the largest typical whitetails ever caught on camera! Unbelievable! @Jordan_Shipley
1 day ago

bigtexan_34

Mike McLaughlin


@thatsean #ACU is on tv right now. On #kbvo 0-0 1st Q.
1 day ago

Big12Conference

Big 12 Conference


#Big12FB: @KU_Football 24, Central Michigan 10. The Jayhawks open conference play against Texas next Saturday.
1 day ago

LonghornDigest

Kevin Flaherty


Kansas beats Central Michigan 24-10, and the Jayhawks closed out the game well.
1 day ago

LonghornDigest

Kevin Flaherty


WHOA. What a jump and what an interception by JaCorey Shepherd. That's a big-time play.
1 day ago

LonghornDigest

Kevin Flaherty


Central Michigan beat Purdue by 21 earlier this year. So Kansas appears to be better than Purdue.
1 day ago

LonghornDigest

Kevin Flaherty


Great job by Lewandowski to make a block in space, springing Corey Avery for a 30-yard touchdown. Kansas about to go up 24-10 with 1:58 left
1 day ago

LonghornDigest

Kevin Flaherty


Charlie Ward's statue even looks dangerous. RT @RulingSports FSU's locker rm surrounded by statues of Nole greats. http://t.co/lmptY7WLiS …
1 day ago

Big12Conference

Big 12 Conference


#Big12FB: @OU_Football visits @WVUfootball on FOX at 7:30 p.m. ET/6:30 p.m. CT. @CFBONFOX #OUvsWVU http://t.co/jwzV38gjU9
1 day ago

LonghornDigest

Kevin Flaherty


Jake Love just blew up back-to-back screen passes to force a fourth-and-18. Jayhawk D has been stingy tonight.
1 day ago

LonghornDigest

Kevin Flaherty


Kansas runs two run plays with Cummings, makes three yards, then subs Montell Cozart in on third and seven.
1 day ago

LonghornDigest

Kevin Flaherty


Michael Cummings in at quarterback for the Jayhawks on first down.
1 day ago

LonghornDigest

Kevin Flaherty


Nick Harwell is a pretty legit talent. Great return there.
1 day ago

LonghornDigest

Kevin Flaherty


RT @MattRHinton Indiana bringing its trademark CHAOS to the SEC by going ahead of Missouri ... http://t.co/zxOMxJlwJe
1 day ago

LonghornDigest

Kevin Flaherty


Courtney Arnick with a tackle on second down and a sack on third. Central Michigan must punt.
1 day ago

LonghornDigest

Kevin Flaherty


But that was also an excellent throw by Cozart. Put it right where it needed to be.
1 day ago

LonghornDigest

Kevin Flaherty


The dirty little secret is that while the Jayhawks struggle to throw the ball, they've got some dudes in the receiving corps.
1 day ago

LonghornDigest

Kevin Flaherty


There's the deep speed we saw from Justin McCay at Bishop Miege. 60-yard catch-and-run TD.
1 day ago

LonghornDigest

Kevin Flaherty


That time, Montell Cozart was decisive with his legs and ran for a first down.
1 day ago

LonghornDigest

Kevin Flaherty


End of the third quarter, Kansas and Central Michigan tied at 10-all.
1 day ago

LonghornDigest

Kevin Flaherty


Nice job by JaCorey Shepherd on that drive. Made two key defensive plays and Kansas gets ball back.
1 day ago

LonghornDigest

Kevin Flaherty


Wyman misses the field goal wide right. Still 10-all with 1:32 left in the third quarter.
1 day ago

LonghornDigest

Kevin Flaherty


Michael Cummings in on third-and-one, but mesh with Avery doesn't work and ball goes on turf. Fourth and one.
1 day ago

LonghornDigest

Kevin Flaherty


Nice call on the stick route there. Gave Cozart an easy, completable throw to keep the drive going on third down.
1 day ago

JaxonShipley

Jaxon Shipley


The setup. #waitinonawoman http://t.co/eg55yAYKwW
1 day ago

LonghornDigest

Kevin Flaherty


Martez Walker is listed at 5-8 198. Mini tank.
1 day ago

LonghornDigest

Kevin Flaherty


Central Michigan has tied it up at 10. After a physical touchdown run from Martez Walker from 18 yards out.
1 day ago

LonghornDigest

Kevin Flaherty


Kansas missing two starting offensive linemen doesn't seem to be helping so far. Jayhawks struggling to open holes for Mann, Avery.
1 day ago

LonghornDigest

Kevin Flaherty


Matthew Wyman boots it through. #Kansas leads Central Michigan 10-3.
1 day ago

LonghornDigest

Kevin Flaherty


Speed option to the boundary was a great call there. But poor pitch and execution forces a field goal attempt.
1 day ago

LonghornDigest

Kevin Flaherty


Now that was a great throw by Montell Cozart. Pumped, then put the ball in a small window for Jimmay Mundine.
1 day ago

LonghornDigest

Kevin Flaherty


Ben Heeney stuck the running back and forced a fumble, and tough guy T.J. Semke came out of the pile with the ball. First and 10 at the 39.
1 day ago

LonghornDigest

Kevin Flaherty


Dexter McDonald picks off a deep throw by Cooper Rush and returns it to the 30, but Isaiah Johnson gets hit with holding.
1 day ago

TexasSports

Texas Longhorns


MT @texasvolleyball: No. 2 Texas defeats No. 9 Nebraska, 3-2, in front of a crowd of 8,312 in Lincoln. #hookem #PointTexas
1 day ago

Big12Conference

Big 12 Conference


#Big12VB: No. 2 @TexasVolleyball stays undefeated (8-0) with a five-set win at No. 9 Nebraska today.
1 day ago

HookEm

Hook 'Em


Thriller in Lincoln! Horns up as No. 2 @TexasVolleyball knocks off No. 9 Nebraska 3-2 to remain undefeated. Hook 'em! #PointTexas
1 day ago

rustindodd

Rustin Dodd


KU and Central Michigan will be returning momentarily, and then we'll have 10 minutes until the start of the second half. #delay
1 day ago

LonghornDigest

Kevin Flaherty


That was way harsh, Tai. RT @BigJKU316 God angered by KU's offensive game plan brings game to a merciful halt.#kufball
1 day ago

LonghornDigest

Kevin Flaherty


I remember sharing a long, long lightning delay with people like @ImErinHartigan @JeffHowe247 and @JClarkHFB last year.
1 day ago

LonghornDigest

Kevin Flaherty


Start of the second half will be delayed by five minutes. Scarier delays could be coming as storm allegedly on its way.
1 day ago

LonghornDigest

Kevin Flaherty


Kansas attendance is 34,822 today.
1 day ago

JaxonShipley

Jaxon Shipley


Engaged to my best friend!!! Love you so much @BlazerDoss #shipleysbestcatch http://t.co/oqvVXKMk6z
1 day ago

LonghornDigest

Kevin Flaherty


Central Michigan gained 37 yards on two plays where Kansas defenders had the quarterback in their arms. Two longest plays for Chips at half.
1 day ago

LonghornDigest

Kevin Flaherty


With two tackles for loss today, Ben Heeney has 26.5 tackles for loss in his career. Just 3.5 from taking over eighth-place in KU history.
1 day ago

LonghornDigest

Kevin Flaherty


Kansas scored on the first play from scrimmage and leads Central Michigan 7-3 at halftime.
1 day ago

LonghornDigest

Kevin Flaherty


Good news: Montell Cozart has completed 15 passes. Bad news, it's for 95 yards.
1 day ago
BIG 12 SCOREBOARD
Thursday, 9/18
Saturday, 9/20
BLOG ARCHIVE:
CATEGORIES: