Weekend highlights: Baseball & softball
April, 30, 2012
4/30/12
2:37
PM ET
By
HornsNation staff
| ESPN.com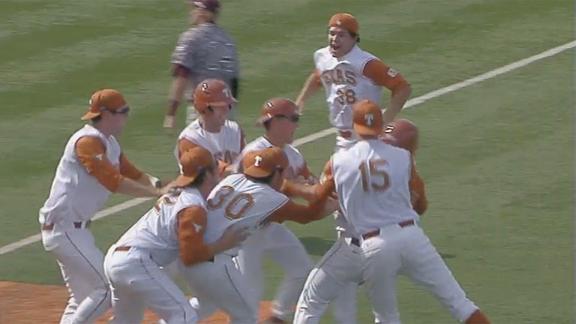 Texas wins Sunday's game against Texas A&M on Jordan Etier's walk-off hit.
Taylor Hoagland pounds to homers in softball's win over the Aggies.
Watch the highlights

.
#AskLoogs: March 7
With 2014 recruiting in the rearview mirror and 2015 evaluations ongoing, national recruiting director Tom Luginbill fields pressing Twitter questions from college football fans.
Tags:
Florida State Seminoles
,
Texas Longhorns
,
Poona Ford
,
Derik Roberson
,
Jerrod Heard
,
Tyrek Cole
,
Tarvarus McFadden
,
Minkah Fitzpatrick
,
Derrick Dillon
,
Brett Rypien
,
Jake Browning
,
ESPN Junior 300
,
RecruitingNation
,
high school football recruiting
#AskLoogs: March 7
VIDEO PLAYLIST
#AskLoogs: March 7

#AskLoogs: March 7

With 2014 recruiting in the rearview mirror and 2015 evaluations ongoing, national recruiting director Tom Luginbill fields pressing Twitter questions from college football fans.

Tags: Florida State Seminoles

,

Texas Longhorns

,

Poona Ford

,

Derik Roberson

,

Jerrod Heard

,

Tyrek Cole

,

Tarvarus McFadden

,

Minkah Fitzpatrick

,

Derrick Dillon

,

Brett Rypien

,

Jake Browning

,

ESPN Junior 300

,

RecruitingNation

,

high school football recruiting

Texas Offseason Conditioning 2014

Texas Offseason Conditioning 2014

Five Programs Needing 2015 Recruits

Five Programs Needing 2015 Recruits
TEXAS FB RECRUITING SCORECARD
Nike Men's Texas Longhorns Burnt Orange Red River Rivalry T-Shirt Shop »
Big12Conference

Big 12 Conference


"Teams rarely shoot as well against #TCU as #TexasTech did in the first round game..." Full game recap http://t.co/YXIpHh273X
about an hour ago

texasbuzztap

Texas Longhorns Buzz


Texas Longhorns (Official Site) >> No. 7 Men's Tennis outlasts Florida State, 5-2 http://t.co/WvqJgqJCdQ
about an hour ago

Big12Conference

Big 12 Conference


Video highlights of Game 2 #TCU v #TexasTech of #Big12WBB Championship now up! http://t.co/hJwSdoByce
about 2 hours ago

Big12Conference

Big 12 Conference


Here's a recap of day 1 at the #Big12WBB Championship! Tomorrow's action begins at 11 a.m. CT! http://t.co/mvdiGrgJFn
about 3 hours ago

Big12Conference

Big 12 Conference


#Big12WBB: #TCU Zahna Medley had 18 pts, led #TCU in scoring for 8th time this season. #TexasTech Amber Battle was top scorer w/ 23 points.
about 3 hours ago

texasbuzztap

Texas Longhorns Buzz


Texas Longhorns (Official Site) >> No. 10/17 baseball comes back for 3-2 win over Hawai'i http://t.co/TSPENZPKWO
about 3 hours ago

Big12Conference

Big 12 Conference


#Big12WBB postgame show with #Big12Insider & Lyndsey Fennelly happening now http://t.co/mVlGyGE5YR
about 3 hours ago

Big12Conference

Big 12 Conference


#Big12WBB Games 5 & 6 on Saturday will also be streamed LIVE on http://t.co/4shfPCYEzU to supplement coverage on the #FOX networks.
about 3 hours ago

texasbuzztap

Texas Longhorns Buzz


Orange Bloods (Rivals) >> Lealaimatafao decommits http://t.co/PcIOnRRFrf
about 3 hours ago

Big12Conference

Big 12 Conference


No. 7 seed @TCUWbasketball will take on No. 2 seed @WVUWBB at 6 p.m. on Saturday at the Chesapeake Energy Arena LIVE on FSN.
about 4 hours ago

Big12Conference

Big 12 Conference


#Big12WBB Final: @TCUWbasketball wins 75-59 over @LadyRaiderWBB, & advances to its 1st quarterfinal game in a #Big12WBB Championship.
about 4 hours ago

Big12Conference

Big 12 Conference


#Big12WBB: 67-51, 4:03. #TCU has four in double-digits in Prince, Medley, Lovings & Ventress; #TexasTech CookTaylor & Battle are also.
about 4 hours ago

Big12Conference

Big 12 Conference


#Big12WBB: #TCU advances lead to 13, 61-48 ahead of #TexasTech with 7:46 left in the game.
about 4 hours ago

Big12Conference

Big 12 Conference


RT @TCUWbasketball: TCU on 8-0 run to push lead to 57-48 (9:30, 2nd). LT now with 12 points, matching her season best. #GoFrogs
about 4 hours ago

Big12Conference

Big 12 Conference


#Big12WBB Game 1 notes, quotes, stats & recap b/t @KUWBball & @kstatewbb is now posted http://t.co/lQbBdoXARG.
about 4 hours ago

Big12Conference

Big 12 Conference


"Coaches like to say that 'defense travels'." #Big12Insider recap of Game 1 now online http://t.co/iEnTSBihPm
about 4 hours ago

Big12Conference

Big 12 Conference


#Big12WBB: at 14:13 mark, @TCUWbasketball takes the lead 44-41 over @LadyRaiderWBB.
about 4 hours ago

Big12Conference

Big 12 Conference


RT @OU_MTennis: It's a good day to be a Sooner. RECAP: No. 4 @OU_MTennis topples No. 1 Ohio State: http://t.co/AdAA7h8tvf http://t.co/7pynv…
about 4 hours ago

Big12Conference

Big 12 Conference


RT @CowgirlSB: COWGIRLS WIN! OSU defeats No. 17 Minnesota 5-4! #OKState
about 4 hours ago

Big12Conference

Big 12 Conference


#Big12WBB: Second half under way. Will Texas Tech pull off an upset and advance to tomorrow's quarterfinals?
about 4 hours ago

Big12Conference

Big 12 Conference


#Big12WBB Game 2 Halftime: 34-33, @LadyRaiderWBB lead @TCUWbasketball. Tech's Amber Battle is in double-digits with 15.
about 5 hours ago

Big12Conference

Big 12 Conference


#Big12WBB: Score still tied, 28-28, with two minutes left in the first half.
about 5 hours ago

Big12Conference

Big 12 Conference


#Big12WBB photos from Game 1 between @KUWBball & @kstate_gameday now available on Facebook: http://t.co/uOzddioovd.
about 5 hours ago

Big12Conference

Big 12 Conference


#Big12WBB: Score tied at 12 all with 11:35 to go in the first half. Fans, sound off, who's going to win Game 2?
about 5 hours ago

Big12Conference

Big 12 Conference


#Big12WBB: TTU 7, TCU 6 in first media time out of the game. Looking for stats/highlights? Download #Big12 app on your mobile device now!
about 5 hours ago

Big12Conference

Big 12 Conference


#Big12WBB Game 2 now under way. Fans use #Big12WBB hashtag on Twitter/Instagram this week in Oklahoma City to be on our videoboard!
about 5 hours ago

texasbuzztap

Texas Longhorns Buzz


Texas Longhorns (Official Site) >> Remembering Tina Bonci http://t.co/aR6ZfS3IiO
about 5 hours ago

texasbuzztap

Texas Longhorns Buzz


Texas Longhorns (Official Site) >> Hakula leads No. 17 Men's Golf on day one at SH Collegiate Masters http://t.co/GVHaUbPFHK
about 5 hours ago

Big12Conference

Big 12 Conference


#Big12WBB Game 2 tips off in less than 5 minutes from @ChesapeakeArena . Who's ready for another exciting first round match-up?
about 5 hours ago

Big12Conference

Big 12 Conference


#Big12WBB post-game show with #Big12Insider Wendell Barnhouse is going live: http://t.co/mVlGyGE5YR.
about 6 hours ago

Big12Conference

Big 12 Conference


Game 2 at #Big12WBB Championship between @LadyRaiderWBB & @TCUWbasketball will begin at 8:50 p.m. LIVE on @FoxCollegeSports.
about 6 hours ago

Big12Conference

Big 12 Conference


#Big12WBB: KU's Gardner was game's top scorer w/ 29 points. K-State's Breanna Lewis had a career-high 20 points & first double-double.
about 6 hours ago

Big12Conference

Big 12 Conference


#Big12WBB Final: KU 87, K-State 84. @KUWBball advances to the quarterfinals to face #1 seed Baylor at 1:30 p.m. Saturday.
about 6 hours ago

Big12Conference

Big 12 Conference


#Big12WBB: KU Gardner advances lead to three, @KUWBball ahead 87-84 with 10.3 seconds in OT.
about 6 hours ago

Big12Conference

Big 12 Conference


#Big12WBB: K-State's Lewis fouls out, Gardner at the line puts KU up 85-84 with 26 seconds to go.
about 6 hours ago

Big12Conference

Big 12 Conference


#Big12WBB Championship fans catch the post-game w/ #Big12Insider & LIVE press conference here http://t.co/mVlGyGE5YR.
about 6 hours ago

Big12Conference

Big 12 Conference


#Big12WBB: Asia Boyd attacks the bucket for an AND-1 for @KUWBball. K-State leads 84-83 with 1:16 left.
about 6 hours ago

Big12Conference

Big 12 Conference


#Big12WBB: K-State jumps to an 6-point lead, 82-76, with 2:36 in overtime in Game 1.
about 6 hours ago

thatsean

Sean Adams


Wow, I just heard a J.D. Reininger reference on the @LonghornNetwork baseball game by @KevinDunnLHN.
about 6 hours ago

thatsean

Sean Adams


If you like college baseball you need to hear @KevinDunnLHN and @GregSwindell doing their bidding on Texas and Hawai'i on @LonghornNetwork
about 6 hours ago

Big12Conference

Big 12 Conference


#Big12WBB: This is the 6th overtime game in Championship history, & K-State has been a part of 4 of those 6.
about 6 hours ago

Big12Conference

Big 12 Conference


#Big12WBB: @kstate_gameday Breanna Lewis keeps things interesting, hits a last second bucket to tie the game, 73-73, OVERTIME!
about 6 hours ago

Big12Conference

Big 12 Conference


#Big12WBB: @KUWBball Harper with a steal, Chelsea Gardner hits the jumper to lead, 73-71, with seconds left.
about 6 hours ago

Big12Conference

Big 12 Conference


#Big12WBB: @KUWBball CeCe Harper ties it up with an AND-1 opportunity, 69-69, 1:20 on the clock.
about 6 hours ago

Big12Conference

Big 12 Conference


RT @KUWBball: Kansas calls a timeout as K-State pushes the lead back to 5 with 2:29 to play #kuwbb
about 6 hours ago

Big12Conference

Big 12 Conference


#Big12WBB: K-State regains lead, 65-64, at 3:09 left in the game. Fans, chime in, who's going to take this one to the next round?
about 6 hours ago

texasbuzztap

Texas Longhorns Buzz


Texas Longhorns (Official Site) >> Richards-Ross finds a home in Texas, inducted into Hall of Fame http://t.co/XyN4b0DoDE
about 7 hours ago

Big12Conference

Big 12 Conference


#Big12WBB: KU takes its 1st lead of the game with a bucket by Dakota Gonzalez at 7:19 mark, 57-56.
about 7 hours ago

Big12Conference

Big 12 Conference


#Big12WBB: Both teams going shot-for-shot. K-State holds lead over KU, 56-53, at 7:42.
about 7 hours ago

Big12Conference

Big 12 Conference


RT @KUWBball: Gonzalez answers the KSU three with a classic 3-point play, keeping the 'Hawks within 1 with 8:47 to play #kuwbb
about 7 hours ago

texasbuzztap

Texas Longhorns Buzz


Orange Bloods (Rivals) >> Oliver still excited about his decision http://t.co/6pRMgyN59a
about 7 hours ago

texasbuzztap

Texas Longhorns Buzz


Orange Bloods (Rivals) >> James: I'm a Longhorn http://t.co/g4SLNuw1cb
about 7 hours ago

Big12Conference

Big 12 Conference


#Big12WBB: KU keeping it close, K-State ahead by two, 48-46, with 11:04 in the game.
about 7 hours ago

Big12Conference

Big 12 Conference


#Big12WBB: Game 2 Starters (cont.) - @LadyRaiderWBB go with Lizarazu, Battle, Spears, Nobles & Schneider.
about 7 hours ago

Big12Conference

Big 12 Conference


#Big12WBB: Game 2 starters set. @TCUWbasketball go with Medley, Ventress, Breauz, Prince & Lovings. (1 of 2)
about 7 hours ago

Big12Conference

Big 12 Conference


#Big12WBB: K-State holds on to lead over KU, 42-37, at media time out. Fans stream the game stats LIVE here http://t.co/J7yfbKUHb8.
about 7 hours ago

max_olson

Max Olson


Texas Tech lands ESPN's No. 1 dual-threat QB @Jarrett_Stidham. Impressive athlete, huge get http://t.co/nFCWmh3fRH
about 7 hours ago

LonghornDigest

Kevin Flaherty


RT @WVWilkerson: #Longhorns threatening in 4th. Still down 2-0: http://t.co/1AsPxTii9X
about 7 hours ago

Big12Conference

Big 12 Conference


Seeds are now determined for the 2014 #Big12WR Championship! Action begins at 3 p.m. CT tomorrow! http://t.co/209oQymzN1
about 7 hours ago

Big12Conference

Big 12 Conference


#Big12WBB: 34-31, K-State leads at the half. KU closes the gap to 3 pts after a 13-2 run, K-State outrebounding 21-11.
about 7 hours ago

Big12Conference

Big 12 Conference


The #Big12WBB games tonight are LIVE @harbir123b on @FoxCollegeSports.
about 7 hours ago

Big12Conference

Big 12 Conference


#Big12WBB: 32-19, K-State leads KU at 3:53 in the 1st. Freshmen Wesemann & Lewis in double digits & combine for 23 of K-State's 32 points.
about 7 hours ago

max_olson

Max Olson


Big congrats to Texas recruiting assistant Stefan Schmidt, who's leaving to become assistant director of football ops at Wisconsin
about 8 hours ago

Big12Conference

Big 12 Conference


#Big12WBB: Score 23-10, K-State increases lead with 7:50 to go in the 1st half.
about 8 hours ago

Big12Conference

Big 12 Conference


#Big12WBB: K-State 14, KU 6, 11:59 in 1st half. Fans use #Big12WBB in tweets/Instagram posts to be on the @ChesapeakeArena videoboard!
about 8 hours ago

Big12Conference

Big 12 Conference


#Big12 Schools Have 9 Nominees for College Football Hall of Fame http://t.co/vF1EVEqAnZ
about 8 hours ago

Big12Conference

Big 12 Conference


#Big12WBB: K-State takes the early lead over KU, 6-2, at first media time out.
about 8 hours ago

Big12Conference

Big 12 Conference


RT @ChesapeakeArena: Doors are open for day one of the #Big12WBB Championship. Welcome to #OKC, basketball fans! http://t.co/BYG1153eVt
about 8 hours ago

Big12Conference

Big 12 Conference


Fans, download the #Big12 app on your mobile device for live stats from the #Big12WBB Championship in OKC.
about 8 hours ago

Big12Conference

Big 12 Conference


We're underway @ChesapeakeArena! This is 4th time KU & KSU have played each other in the #Big12WBB Championship. Last time in 2006.
about 8 hours ago

Big12Conference

Big 12 Conference


#Big12BSB: Catch @TTU_Baseball vs. New Mexico State on @FSSouthwest Plus at 6:30 p.m. CT
about 8 hours ago

LonghornDigest

Kevin Flaherty


RT @YogiRoth: for those talking about the #Texas QB position...remember the name #JerrodHeard - dude is a baller. #Blueprint3NewAgeQB cc: @…
about 9 hours ago

Big12Conference

Big 12 Conference


Fans, use the #Big12WBB hashtag when tweeting about the Phillips 66 #Big12 Championship this week in Oklahoma City!
about 9 hours ago

Big12Conference

Big 12 Conference


#Big12WBB Game 1 Starters: @KUWBball Gonzalez, Knight, Harper, Gardner, Boyd; @kstate_gameday Wesemann, Romero, Woods, Lewis, Leick.
about 9 hours ago

Big12Conference

Big 12 Conference


RT @okcAllSports: #Big12WBB Fan Fest now open!!! @Big12Conference http://t.co/7nm1pd1AcG
about 9 hours ago

texasbuzztap

Texas Longhorns Buzz


Texas Longhorns (Official Site) >> Softball takes 8-3 loss from No. 10/7 Arizona State at Judi Garman Classic http://t.co/Vnz3yZyqcF
about 9 hours ago

texasbuzztap

Texas Longhorns Buzz


Longhorn Digest (Scout) >> Dozens of Out-of-State Offers in East Texas http://t.co/Q7DlixyLXP
about 9 hours ago

Big12Conference

Big 12 Conference


#Big12Insider shares stories on a variety of sports around the @Big12Conference, check out the latest scoop http://t.co/blObcrUC2L
about 10 hours ago

Big12Conference

Big 12 Conference


McCasland Field House, home of @OU_Wrestling, is ready for tomorrow's #Big12WR Championship! http://t.co/mzpNW4Wr7Y
about 10 hours ago

Big12Conference

Big 12 Conference


#Big12Insider Baylor coach Kim Mulkey and daughter Makenzie Robertson interviewed for a FOX Sports1 feature. http://t.co/YdPzNBNOtq
about 10 hours ago

Big12Conference

Big 12 Conference


In today's #Big12MBB Covering the Baseline, @Stephen_Speaks previews the final week of the regular season: http://t.co/qntUAnPgJY
about 10 hours ago

texasbuzztap

Texas Longhorns Buzz


Texas Longhorns (Official Site) >> Saturday's doubleheader moved to noon http://t.co/MCbHpul13v
about 10 hours ago

CaseMcCoy6

Case McCoy


Mission accomplished! Finished my first Chapstick at 22 yrs old
about 10 hours ago

Big12Conference

Big 12 Conference


#Big12WBB: Here's a look at the first round matchups as the 2014 Championship begins tonight. http://t.co/cmZzxnNiG2
about 10 hours ago

texasbuzztap

Texas Longhorns Buzz


Longhorn Digest (Scout) >> '16 Midlands Focus: Greg Little http://t.co/CrekEDdEK0
about 10 hours ago

Big12Conference

Big 12 Conference


#Big12WBB Game 2 features @TCUWbasketball vs. @LadyRaiderWBB at 8:32 p.m. live on @FoxCollegeSport. Fans, what are your predictions?
about 10 hours ago

Big12Conference

Big 12 Conference


The 2014 #Phillips66 #Big12WBB Championship is here! Game 1 tips off at 6:02 p.m. w/ K-State v. Kansas live on Fox College Sports.
about 10 hours ago

Big12Conference

Big 12 Conference


RT @SummitAthletics: The #Big12WBB Championship starts this evening!Good luck to each of the @Big12Conference teams in the tournament! ht…
about 11 hours ago

Big12Conference

Big 12 Conference


RT @BrendaVanLengen: Who's coming to OKC for #Big12WBB Championship? When do you arrive? Who are you cheering for? Who's watching on FOX?
about 11 hours ago

Big12Conference

Big 12 Conference


Check out @Big12Conference links To #Big12WBB Hoops Stories & Videos here http://t.co/iHXsg5jeGg
about 11 hours ago

LonghornNetwork

Longhorn Network


RT @Gracie_ESPN: Exclusively female hosts, guests & staff, @LonghornNetwork produces an all-women sports show. Video http://t.co/zRDWks8F9C
about 11 hours ago

TexasSports

Texas Longhorns


Saturday's start time for @Texas_Baseball vs. Hawaii DH has been changed to noon due to impending bad weather.
about 11 hours ago

Big12Conference

Big 12 Conference


We want to see your gameday pics! Use #Big12WBB throughout the championship. http://t.co/EG5yNmI1bv
about 11 hours ago

Coach_MannyDiaz

Manny Diaz


One week from today. #letthemout http://t.co/mcDtQbfBQg
about 11 hours ago

texasbuzztap

Texas Longhorns Buzz


Orange Bloods (Rivals) >> Lealaimatafao decommits http://t.co/ws0fnjZ2t8
about 12 hours ago

max_olson

Max Olson


Talking roller coasters, cakes, barbecue and defense with new Texas DC Vance Bedford: http://t.co/1wCgpwZlB8
about 12 hours ago

Big12Conference

Big 12 Conference


#Big12BSB: Eldredge (@KUBaseball) & DeBord (#KStateBSB) named to Johnny Bench Award Watch List - http://t.co/GSY89va3lm
about 12 hours ago

texasbuzztap

Texas Longhorns Buzz


Longhorn Digest (Scout) >> Midlands Notebook: CenTex (3/7/14) http://t.co/GoUlD55VvX
about 13 hours ago

texasbuzztap

Texas Longhorns Buzz


Burnt Orange Nation >> Texas Hosts Hawaii For Four Games http://t.co/IrziUbFrqK
about 13 hours ago

Big12Conference

Big 12 Conference


RT @WVUWBB: #WVU cheerleaders among the schools visiting OU Children's Hospital today #Big12WBB http://t.co/p7YnUYoKZR
about 13 hours ago
BIG 12 SCOREBOARD
Saturday, 12/21
Monday, 12/23
Tuesday, 12/24
Thursday, 12/26
Friday, 12/27
Saturday, 12/28
Monday, 12/30
Tuesday, 12/31
Wednesday, 1/1
Thursday, 1/2
Friday, 1/3
Saturday, 1/4
Sunday, 1/5
Monday, 1/6
BLOG ARCHIVE:
CATEGORIES: