Ash, Edmond stand out in open practice
March, 2, 2012
3/02/12
7:11
PM CT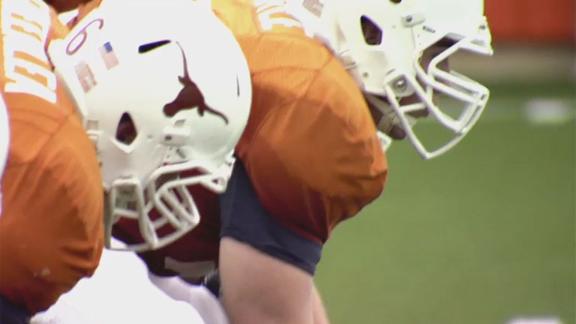 AUSTIN, Texas -- With the curtain finally pulled back on Texas' practice it became evident rather quickly who the main players were at this stage of spring.
There was quarterback
David Ash
taking the majority of the snaps with the first team, standing more upright than usual, connecting on more passes than usual as well.
There was linebacker
Steve Edmond
hurling his 263 pounds -- clearly only one leg was on the scale -- at defenseless offensive linemen, running backs and fullbacks.
There was wide receiver
Mike Davis
actually snagging passes, shaking defensive backs and playing 100 percent.
And there was defensive lineman
Brandon Moore
, who for either comical purposes or as some sort of punishment to
Sedrick Flowers
, was playing against the second team offensive line, um, make that toying with it.
In a practice that stood out for its complete ordinariness, these four proved to be anything but that. But, again, it's practice. The season is seven months away.
So it might not be a bad idea to temper that enthusiasm and quit checking out hotels in Miami. Dallas is allowable. San Diego too.
As for the other type of reservation most have had about Texas' passing game, they are still somewhat warranted. True, Ash looked better. He showed some zip, fit the ball into some windows and even, wait for it, connected on a deep pass or two.
AP Photo/Eric Gay
Receiver Mike Davis performed well in the Longhorns' open practice.

But there was no live pass rush, the cornerbacks, other than
Quandre Diggs
and
Carrington Byndom
, looked pedestrian and Davis, as well as
DeSean Hales
, was catching everything.
Behind Ash the picture, even on the sunny day in DKR, looked pretty cloudy.
Case McCoy
, the No. 2 quarterback headed into this offseason, showed once again that he is much better when the lights are on than in practice.
McCoy primarily worked with the second team. While that left him with few options, McCoy didn't exactly make things happen with his arm. Typically he was forced to dump the ball or tuck and run.
Connor Brewer, the freshman, watched most of the 11-on-11 drills. He did work on the individual drills with the wide receivers and showed a few flashes of what made him a three-time state champ. But six months may not be enough time to get him ready. Not at the current pace anyway.
The pace set by Hales and Davis was the most head-turning thing about the offense. Hales, who caught all of two passes in 2011, snagged the two best catches of the day on deep passes.
Texas, which is extremely thin with experienced wide receivers, could greatly benefit from Hales stepping up. But this emergence of talent has become a right of spring for the rising senior. He is always head turning when it doesn't matter and leaves people shaking their heads when it does.
Similarly Davis' production in one practice has to be taken with guarded enthusiasm. There was never a question as to whether Davis could get open or make moves. Catching the ball in traffic and yards after contact are his demons. This was a light thud -- minimal contact -- practice.
On the defensive side, it is clear Edmond's play was startling if only for his size and his agility at that size. Playing alongside
Jordan Hicks
and
Tevin Jackson
, Edmond proved more than capable of filling the gaps and blowing through any would-be blockers.
Moore's true ability was not fully on display because he was going against second-team players. But if his dominance against those players is any indication, the junior college transfer should be taking over the spot next to
Ashton Dorsey
soon enough.
As for Texas, it will soon close the curtain again on spring practice. Saturday's session, which starts at 2 p.m., is open to the public. The spring game is April 1.
After those two dates it will be five months before Texas pulls back the curtain again on the season opener against Wyoming.