Longhorns show off on signing day
February, 1, 2012
2/01/12
12:12
PM ET
By
HornsNation staff
| ESPN.com
Here are a few shots of some of the newest Longhorns enjoying national signing day at the International Bowl.
Caleb Bluiett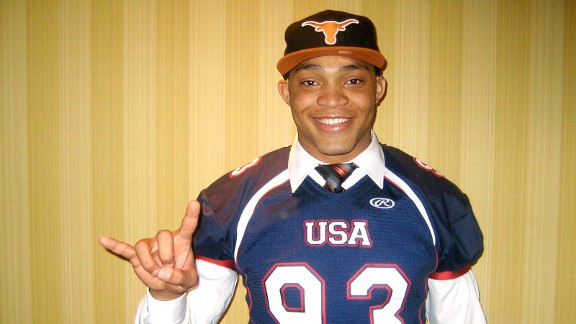 Max Olson/ESPN.comDepth on the defensive line could and his athleticism could see Caleb Bluiett moving to a new position with Texas.
Tim Cole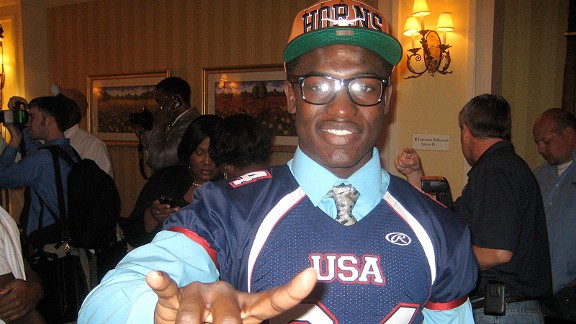 Max Olson/ESPN.com
Daje Johnson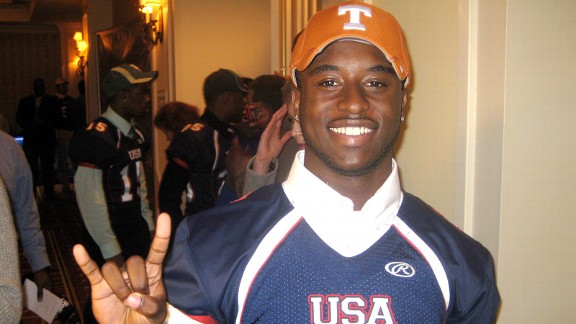 Max Olson/ESPN.comTexas coaches have high hopes that Daje Johnson can make a variety of contributions as a freshman.
Big 12 Weekend Wrap: Dec. 9
National recruiting reporter Jeremy Crabtree breaks down the top weekend storylines from the Big 12.
Big 12 Weekend Wrap: Dec. 9
VIDEO PLAYLIST
TEXAS FB RECRUITING SCORECARD
SBN_Wescott

Wescott Eberts


For the morning crowd, here are some final thoughts on Malik Jefferson, DeAndre McNeal before they announce decisions http://t.co/yRIQCdjCR4
5 minutes ago

max_olson

Max Olson


In 1 hour, @Official_MalikJ and @tbhmcNEal decide. A behind-the-scenes look at Malik's process: http://t.co/FK4feDStE1
28 minutes ago

ChipBrownOB

Chip Brown


Echoing @WVWilkerson, if you aren't part of the @HornsDigest family, I recommend you join before the sun rises: http://t.co/ONSRpVuSjg
about 5 hours ago

ChipBrownOB

Chip Brown


RT @WVWilkerson: If you aren't part of the @HornsDigest family, I highly recommend you join before the sun rises: http://t.co/ONSRpVuSjg
about 6 hours ago

ChipBrownOB

Chip Brown


Friday morning could be full of all kinds of surprises.
about 6 hours ago

Big12Conference

Big 12 Conference


VIDEO: @trackris24 reports from Oklahoma City as @TexasVolleyball falls to BYU in the #ncaavb national semifinals - https://t.co/U9DmMZqWSQ
about 8 hours ago

HamiltonESPN

Gerry Hamilton


#ESPN300 No. 39 Jarrett Stidham announcing at 9am Friday morning. #Baylor had last visit Dec. 14 with #Sicem OC/QB coach Kendal Briles
about 8 hours ago

OSUWBB

Cowgirl Basketball


FINAL: Cowgirls win! No. 19 #OKState 55, Weber State 49. http://t.co/BLu2DdGqbV
about 9 hours ago

LonghornNetwork

Longhorn Network


Keep Austin Weird. RT @DOUGWATERS1993 LHN is airing 5 hours of Bevo roaming a ranch on Christmas morning #StrangeButTrue
about 10 hours ago

ChipBrownOB

Chip Brown


"@tbhmcNEal: I'm ready to say my commitment and get started with my College career. #Finessin" ... #Texas 4-star WR target DeAndre McNeal
about 10 hours ago

max_olson

Max Olson


@skhanjr @NatKingJoe @GBHunting There's plenty more that we couldn't fit in but, yes, Sumlin did a hell of a job during the OV.
about 10 hours ago

ChipBrownOB

Chip Brown


"@TexasVolleyball: BYU wins it in the fourth, 26-24." ... No 2 #Longhorns totally uptight losing to unseeded BYU - just like last yr vs Wis.
about 11 hours ago

TexasSports

Texas Longhorns


Final from OKC: BYU wins the match over @TexasVolleyball, 3-1.
about 11 hours ago

Big12Conference

Big 12 Conference


#Big12VB: @TexasVolleyball falls in the #ncaavb national semifinals, 3-1, to BYU. Texas finishes season at 27-3.
about 11 hours ago

stevehabel

Steve Habel


FINAL: BYU 3, Texas 1 - Cougars end the Longhorns' season in the national semifinal. Texas finishes with 27-3 record. #horns
about 11 hours ago

stevehabel

Steve Habel


Replays showed the ball was not touched, but there are none in college volleyball. BYU wins next point and the match 3 sets to 1. #horns
about 11 hours ago

LonghornNetwork

Longhorn Network


BYU insists on breaking Horns hearts, downing @TexasVolleyball in NCAA Semis. It's like they don't even care about us.
about 11 hours ago

stevehabel

Steve Habel


Did she or didn't she? Texas has point reversed when ref said a BYU kill, firstcalled out, was ruled to be tipped. WOW! #horns
about 11 hours ago

stevehabel

Steve Habel


Texas fires back on a 3-0 run to tie it at 19. Ogbogu has a career-high 13 kills. UT has to keep this momentum. #horns
about 11 hours ago

fishsports

mike fisher


.@dallasmavs one-stop info. #Rondo2Dallas & a million other #Mavs things. http://t.co/kG8REngq1y http://t.co/0rIxMpRCKk
about 11 hours ago

stevehabel

Steve Habel


BYU gettin back in its blocking groove in the 4th set, up 18-16 and serving. The Cougars have their top rotation working right now. #horns
about 11 hours ago

stevehabel

Steve Habel


Texas had 5 1.2 blocks in the 3rd set win. BYU had none. Were the Horns playing a little rope-a-dope on the Cougars? We'll see. #horns
about 11 hours ago

TexasSports

Texas Longhorns


Update from OKC: @TexasVolleyball wins the third set, 25-17. Still trails BYU 2-1. Ogbogu has 10 kills, 6 blocks. Bell leads with 7 blocks.
about 11 hours ago

stevehabel

Steve Habel


Horns win 3rd set 25-17 by giving BYU some of its own medicine, block after block by Ogbogu and Bell. Has the tide turned? #horns
about 11 hours ago

NCAAVolleyball

NCAA Volleyball


Uh oh, ya done made the Longhorns angry.No. 2 @TexasVolleyball takes 3rd 25-17 to pull within 2-1 of BYU. #NCAAVB http://t.co/v5e4SR7rdt
about 11 hours ago

LonghornNetwork

Longhorn Network


One down, two to go. Horns rallying in OKC. ESPN2 now.
about 11 hours ago

stevehabel

Steve Habel


What do you do when an opponent is virtually mistake-free? You try too hard. That's the scenario right now the Texas against BYU. #horns
about 11 hours ago

NCAAVolleyball

NCAA Volleyball


.@TexasVolleyball will not go quietly! No. 2 Horns up 7-5 on BYU in 3rd set. #NCAAVB
about 11 hours ago

SBN_Wescott

Wescott Eberts


Final thoughts on Malik Jefferson, DeAndre McNeal before they make their Fri. decisions. http://t.co/RWP84uy6iG http://t.co/XsTpbYZYbT
about 12 hours ago

SBN_Wescott

Wescott Eberts


Tipa Galeai is a high-upside pass rusher. Good get. RT @FrogsOWar: TCU Bolsters Defensive Line with Commitment No. 22 http://t.co/SjeH6KhUeM
about 12 hours ago

stevehabel

Steve Habel


BYU has 11 blocks to the Horns' 6 through the 1st 2 sets. Cougars' front line of 6-ft-7 Hanson & 6-ft-4 Boswell are like a tall wall. #horns
about 12 hours ago

ChipBrownOB

Chip Brown


Wow. #Texas #Longhorns women's volleyball team down 2-sets-to-none to #BYU in 1st semifinal of the #FinalFour on ESPN2.
about 12 hours ago

LonghornNetwork

Longhorn Network


Horns in trouble in national volleyball semis. Down 2-sets-to-none against BYU. On ESPN2.
about 12 hours ago

stevehabel

Steve Habel


BYU has outhit Texas .312-.121 through the first 2 sets. Eckerman is hitting .000 on 14 swings, as the BYU front line is too tough. #horns
about 12 hours ago

SBN_Wescott

Wescott Eberts


The three changes that Texas is considering the improve the football game-day experience. #hookem http://t.co/f48snfyaup
about 12 hours ago

stevehabel

Steve Habel


BYU gets another emphatic kill by Gray (she's got 12 in the 1st two sets) to finish off UT in the 2nd set 25-16. Never expected this.#horns
about 12 hours ago

TexasSports

Texas Longhorns


Update from OKC: Headed into the break, BYU leads @TexasVolleyball 2-0.
about 12 hours ago

NCAAVolleyball

NCAA Volleyball


Small run for No. 2 @TexasVolleyball forces BYU to call time. Cougars still up 19-14 in 2nd set on ESPN2. #NCAAVB
about 12 hours ago

stevehabel

Steve Habel


Texas has to find someway to break the BYU front line and establish some momentum. It would help if Eckerman gets in a groove, too. #horns
about 12 hours ago

stevehabel

Steve Habel


BYU's Gray, a 6-foot-2 Canadian import, is the best player on the floor through the first set and a half. Horns are in big trouble. #horns
about 12 hours ago

TexasSports

Texas Longhorns


Watch Longhorn Weekly with Rick Barnes at 7 p.m. CT on @LonghornNetwork or WatchESPN at http://t.co/MvRURiQM4j. #longhorns
about 12 hours ago

stevehabel

Steve Habel


BYU has a little bit of everything and is showing it all tonight vs. Texas in the NCAA semifinals. Cougs up 12-9 in 2nd set. #horns
about 12 hours ago

TexasSports

Texas Longhorns


Update from OKC: BYU takes the first set, 25-23, over @TexasVolleyball.
about 12 hours ago

stevehabel

Steve Habel


BYU wins first set over Horns 25-23 on a definitive combo block on a swing by Eckerman. BYU outhit UT .333-.194.Trouble brewing here #horns
about 12 hours ago

stevehabel

Steve Habel


Horns have 15-12 lead over BYU in the first set of at the first media break on the strength of 3 kills by Prieto Cerame #horns
about 12 hours ago

BruceFeldmanCFB

Bruce Feldman


As I said on @FoxSports1 today, I was told by sources the reports on the $8M per offer by #Michigan to Jim Harbaugh are not accurate.
about 12 hours ago

ChipBrownOB

Chip Brown


RT @darrenrovell: The Texas Bowl has sold out. One of the hottest smaller bowl tickets I've ever seen. ... #Longhorns #Razorbacks #oldschool
about 12 hours ago

TXStampede

Doug Farrell


Point @TexasVolleyball. #HookEm
about 12 hours ago

ChipBrownOB

Chip Brown


RT @WVWilkerson: Update w/ @Official_MalikJ, @tbhmcNEal w/ news that could be telling (or not) http://t.co/MI213MyA96 http://t.co/AenKAuBGUo
about 12 hours ago

stevehabel

Steve Habel


Texas starters: McCage, Neal, Eckerman, Ogbogu, Prieto Cerame, Collins; McCoy. #horns
about 13 hours ago

MichaelThomas82

Michael Thomas


I loved seeing @ajwilliams23 celebrate with @Fred22Jackson's son and thought this was a great pic. #BillsMafia http://t.co/ndMq3Ppc8d
about 13 hours ago

stevehabel

Steve Habel


Here we go in OKC -- BYU to serve first in NCAA semifinal vs. Texas. #horns
about 13 hours ago

NCAAVolleyball

NCAA Volleyball


RETWEET if you're rooting for @TexasVolleyball! #NCAAVB http://t.co/NDF8OrLEIQ
about 13 hours ago

NCAAVolleyball

NCAA Volleyball


BYU has already beaten three seeds. Will No. 2 Texas be next? The National Semifinals start NOW on ESPN2! #NCAAVB http://t.co/03VC9x8doC
about 13 hours ago

Big12Conference

Big 12 Conference


#Big12VB: @TexasVolleyball vs. BYU in the #NCAAVB national semifinals starting now on ESPN2! http://t.co/kRjEbh8p8f
about 13 hours ago

stevehabel

Steve Habel


And it's crucial for the Horns to get some balance and scoring from someone other than Eckerman. #horns
about 13 hours ago

stevehabel

Steve Habel


The key to Texas beating BYU in the NCAA v-ball semifinals is to attack the Cougars' huge front line, 2 of which are All-Americans. #horns
about 13 hours ago

stevehabel

Steve Habel


About 10 minutes until March time in OKC between Texas and BYU. http://t.co/pBhsT3UUlO
about 13 hours ago

Big12Conference

Big 12 Conference


Fans at @ChesapeakeArena for #ncaavb can check out the #Big12 booth outside section 102 on the concourse. http://t.co/BPMrzm7DK2
about 13 hours ago

TexasSports

Texas Longhorns


Free audio stream for @TexasVolleyball vs. BYU (NCAA semifinals) at 6 p.m. CT available at http://t.co/aMRnnRAgSS. #longhorns
about 13 hours ago

TexasSports

Texas Longhorns


Watch @TexasVolleyball vs. BYU (NCAA semifinals) at 6 p.m. CT on ESPN2 or WatchESPN at http://t.co/3kgFeBj9mQ. #longhorns
about 13 hours ago

stevehabel

Steve Habel


On hand here courtside at the Chesapeake Energy Arena for the the NCAA volleyball championship semifinals between Texas and BYU. #horns
about 13 hours ago

Big12Conference

Big 12 Conference


The #Big12 is this year's host of the #ncaavb championship. Good luck to @TexasVolleyball reppin' in the semis! http://t.co/xrPZk6qcUy
about 13 hours ago

Big12Conference

Big 12 Conference


#Big12VB: @TexasVolleyball warming up for the national semifinals with first serve vs BYU set for 6 p.m. CT on ESPN2. http://t.co/aGt0t8ZBGx
about 13 hours ago

Big12Conference

Big 12 Conference


#Big12VB: @TexasVolleyball warming up in OKC with just over an hour until first serve of the #ncaavb national semis. http://t.co/VrpDqPyN2W
about 13 hours ago

WojYahooNBA

Adrian Wojnarowski


Trade call coming tonight between Dallas and Boston, Rondo has been traded to the Mavericks, league sources tell Yahoo.
about 14 hours ago

HookEm

Hook 'Em


Horns up from OKC! Let's go @TexasVolleyball! #PointTexas
about 14 hours ago

TexasSports

Texas Longhorns


This week's edition of Patterson's Posts is available at http://t.co/jKxEccoomI. http://t.co/Ef0UgW0nQu @SWPatterson
about 14 hours ago

LonghornNetwork

Longhorn Network


They didn't come this far for nothing. No. 2 @TexasVolleyball takes on BYU in the NCAA Semis. #TXGD at 5:30 on LHN. http://t.co/YUv0oPJrZG
about 14 hours ago

ECAustin1

ECAustin


@ChipBrownHD - Congratulations on making on our list of the December 2014 Top 100 Twitter Users in Austin, Texas - http://t.co/LhMW5tBR9U
about 14 hours ago

rMEDIUM

Mick Prendergast


@ChipBrownHD - in case you didn't hear - Christian Kirk committed to Texas A&M. Thought you might want to know so you can 'tweet' about it.
about 14 hours ago

ChipBrownOB

Chip Brown


"@aggkimmy: @ChipBrownHD you know your sources never amount to anything ... Come on dude" ... I knew you'd be back Aggie Kimmy. Merry Xmas!
about 14 hours ago

ChipBrownOB

Chip Brown


"@LQVasser: I got everybody in NY throwin' up #HookEm 🐂" ... #Texas early enrollee JUCO DE Quincy Vasser
about 14 hours ago

ChipBrownOB

Chip Brown


"@HornsDigest: Due to high demand we are continuing our 3 (months)-for-1 deal! http://t.co/A8tEvAziXM http://t.co/Ap34O2gQPc"
about 14 hours ago

SBN_Wescott

Wescott Eberts


Malik Jefferson handled the recruiting process with grace and maturity. His mental makeup is as beyond reproach as his physical skills.
about 14 hours ago

Big12Conference

Big 12 Conference


Today's #Big12 Minute highlights @TexasVolleyball in the NCAA semifinals plus basketball results form last night - https://t.co/G3eRYhtKgl
about 14 hours ago

SBN_Wescott

Wescott Eberts


If Malik Jefferson picks A&M tomorrow and Texas fans start impugning his character, I'm going to be steamed. Don't be stupid.
about 14 hours ago

ChipBrownOB

Chip Brown


"@WVWilkerson: HD Thread: @Official_MalikJ & @tbhmcNEal - Get your ?s answered here/discuss http://t.co/2sy1d1DS9s http://t.co/n4Y9KzCL4o"
about 14 hours ago

max_olson

Max Olson


@SBN_Wescott The counterpoint on Texas' end: Strong didn't have a guy playing Malik's role because he doesn't have Malik.
about 15 hours ago

WVWilkerson

William Wilkerson


Just caught up 5-star @Official_MalikJ for a quick update. More on @HornsDigest: http://t.co/DUuZ1sXndp http://t.co/SNdQaJzDTh
about 15 hours ago

WVWilkerson

William Wilkerson


HD ONLY - Caught up with @tbhmcNEal recently who sheds some light on his recruitment: http://t.co/fg1idO19PZ http://t.co/JIbJXe1crY
about 15 hours ago

SBN_Wescott

Wescott Eberts


Wonder if it's merely a worry for Malik Jefferson that Strong's scheme is different from Poteet's or that Strong won't feature him correctly
about 15 hours ago

SBN_Wescott

Wescott Eberts


Bit surprising to me that Malik Jefferson told @max_olson that Texas "doesn't have my scheme" on D http://t.co/ciGXeiknGV
about 15 hours ago

SBN_Wescott

Wescott Eberts


.@TexasVolleyball set to face off against BYU in Final Four. #hookem http://t.co/Dt1xFGJZbH http://t.co/bPt5Afaik6
about 15 hours ago

SBN_Wescott

Wescott Eberts


Kevin Sumlin is an absolute recruiting wizard if he can land commitment from Malik Jefferson tomorrow morning with no DC in place.
about 15 hours ago

SBN_Wescott

Wescott Eberts


My mistake, coaches have one call per week during dead period.
about 15 hours ago

SBN_Wescott

Wescott Eberts


Right, recruits can call coaches during dead period. RT @LandThieves: @ me Of course doesn't stop recruits from instigating contact either
about 15 hours ago

SBN_Wescott

Wescott Eberts


The good news for #Aggies is that timing of announcement during dead period means coaches would be committing violation to call them.
about 15 hours ago

SBN_Wescott

Wescott Eberts


Would expect other schools to start recruiting A&M OL commits like Connor Lanfear, Trevor Elbert again with news of OL coach being fired.
about 15 hours ago

skhanjr

Sam Khan Jr.


Texas A&M coach Kevin Sumlin announced offensive line coach BJ Anderson will not return next season nor will he coach in the Liberty Bowl.
about 15 hours ago

Big12Conference

Big 12 Conference


#Big12VB: Check out the #Big12 Digital Network's video on @TexasVolleyball's Haley Eckerman - https://t.co/4IKQjHwSei
about 15 hours ago

Longhorn_FB

Longhorn_FB


The 2014 @TexasBowl (Dec. 29 in Houston) is now sold out. Our allotment was exhausted earlier this week - http://t.co/2dpcJWq4B2 #HookEm
about 15 hours ago

Big12Conference

Big 12 Conference


Four #Big12MBB teams in top 14, 6 in top 31 RT @BrianHamiltonSI: Power Rankings via @lukewinn http://t.co/HCHihGUmuV http://t.co/WuId1LhOhH
about 15 hours ago

SBN_Wescott

Wescott Eberts


#Horns, #WPS fans looking for #TexasBowl tickets will now have to look on secondary market http://t.co/8oo2L0nI9t http://t.co/8kdaDp2DRb
about 16 hours ago

thatsean

Sean Adams


I won't say anything. It's the highest GPA in the history of the program. #KUDOS RT @lukezim: Almost a C+! http://t.co/M861KalLJu
about 16 hours ago

thatsean

Sean Adams


I guess it's never too early but guess who's No. 1 in a 2015 Preseason CFB ranking...http://t.co/Yz7sNqqhvc
about 16 hours ago

Big12Conference

Big 12 Conference


#Big12SOC standouts earn academic honors from @NSCAA http://t.co/3BdhAV8PCf
about 16 hours ago

thatsean

Sean Adams


I remember that picture. CFB HOF before it moved, the limo, Notre Dame, the rings, that haircut… RT @pink_funk: SWAG. http://t.co/R3xhevWm01
about 16 hours ago

thatsean

Sean Adams


I remember that pick. CFB HOF before it moved, the limo, Notre Dame, that haircut… RT @pink_funk: SWAG. http://t.co/R3xhevWm01
about 16 hours ago

thatsean

Sean Adams


Up next on the #AdamsTheory is @TravHaneyESPN talking Texas, CFB, job openings and the @CFBPlayoff. #HookEm #Texas @am1300thezone
about 16 hours ago
BIG 12 SCOREBOARD
Saturday, 12/20
Monday, 12/22
Tuesday, 12/23
Wednesday, 12/24
Friday, 12/26
Saturday, 12/27
Monday, 12/29
Tuesday, 12/30
Wednesday, 12/31
Thursday, 1/1
Friday, 1/2
Saturday, 1/3
Sunday, 1/4
Monday, 1/12
BLOG ARCHIVE:
CATEGORIES: