With father in prison, CB Roberts matures
June, 19, 2013
6/19/13
8:00
AM ET
Jermaine Roberts
didn't even have time to wipe the sleep from his eyes.
By the time he could gather his thoughts, and even process what was happening, he'd been pulled out of bed by New Orleans law enforcement officials who thought he was the person they'd come to look for: his dad.
His father, also named Jermaine Roberts, would normally wake his children -- Jermaine Roberts Jr. (17 years old), Jyron (16), and Bre (15) -- around 5:30 a.m. to get ready for school.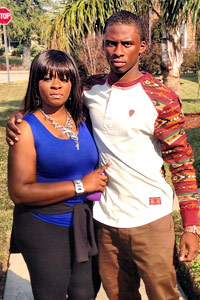 Courtesy of Jermaine RobertsESPN 300 cornerback Jermaine Roberts' mom, Ivory Robinson, works two jobs to support her family.
On this particular December morning, however, Roberts Jr. faintly heard the doorbell ring around 4 a.m.
"My brother got up and went outside to look and no one was out there," said Roberts, who was 15 at the time. "But [Jyron] saw my dad in the garage packing his lunch. So my dad opened the garage and [the cops] grabbed my dad. They saw my little brother and they thought my little brother was my dad and grabbed him. I was sleeping and they grabbed me, too. I got put on the ground and then they took us up front and found out I wasn't my dad."
Soon after, Roberts' father was whisked away on charges he has declined to share with his son. According to Roberts' mother, Ivory Robinson, who was separated from Roberts' father at the time of his arrest, they are drug-related.
With his dad in prison, Roberts, who was in ninth grade at Saint Augustine High School at the time, was left with a decision: give in to the streets of the Lower Ninth Ward, a dangerous section of New Orleans that plenty of his childhood friends had succumbed to, or become the father figure and role model his siblings needed.
It didn't take long for Roberts, now a highly recruited cornerback committed to Texas, to decide which direction he'd choose.
Turning a negative into a positive
Some of the things Roberts has seen in the Lower Ninth Ward should not be seen by anyone, much less a high school student searching for direction in life.
"I actually saw someone get shot a couple of times in the stomach, lying on the ground bleeding to death," Roberts said. "I just remember looking at all the blood on the ground."
The horror was just one of many witnessed in his young life.
"Every day someone gets killed in our neighborhood," Roberts said.
Roberts' community, which sits downriver from the French Quarter, was one of many obliterated by Hurricane Katrina. When the storm broke through the levees on Aug. 29, 2005, Roberts and his family moved to Atlanta. They stayed about 18 months before moving back to New Orleans. Roberts, meanwhile, was just getting serious about football.
Since then, he has developed into an incredible talent whom his father hasn't yet been able to watch.
"He hasn't been to one of my games. He hasn't seen me in person," said Roberts, who is ranked No. 165 in the ESPN 300. "He only saw me play [Pop Warner] ball. He hears everything in prison about how good I am doing. But he won't be able to see me play high school ball."
On a laundry list of tough circumstances that have evolved from this situation, father not being able to see son play football is near the top.
Texas Longhorns Show Out On Pro Day
BIG 12 SCOREBOARD
Thursday, 9/3
Friday, 9/4
Saturday, 9/5