Top 5 moments: Alex Okafor's strip sack
December, 10, 2012
12/10/12
12:00
PM ET
HornsNation is counting down the top five moments of Texas' 2012 season this week.
Play No. 5
[+] Enlarge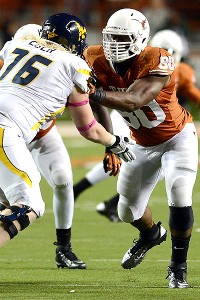 Cal Sport Media via AP ImagesSenior defensive end Alex Okafor finished the season with 8 sacks for the Longhorns.
The game:
Geno Smith
and West Virginia had been untouchable. The quarterback was a Heisman candidate who, through four games, had yet to throw an interception and had been sacked only four times. West Virginia was 4-0 coming into the game, and that put a scare into the traditional powers with the thought that the Mountaineers might be national title contenders. Texas represented their first big test of the season.
The play:
Texas was trailing 21-14 but had momentum and had stuffed WVU for minus-4 yards on its two previous plays. Smith dropped backed to pass from the his own nine but never had time to get rid of the ball. Instead, defensive end
Alex Okafor
got into the backfield, sacked and, more importantly, stripped the ball from Smith. Bookend
Jackson Jeffcoat
fell on the ball in the end zone and Texas tied the game at 21 in the second quarter. The play electrified the largest home crowd in Darrell K. Royal Memorial Stadium history and the stadium shook as the 101,851 in attendance jumped in the stands.
The play was also a portent of thing to come. Okafor sacked and stripped Smith again in the fourth quarter. This time the defense was not able to fall on the ball and score. Instead,
Chris Whaley
's fumble recovery gave Texas the ball at the WVU 12. Lamentably, Texas' offense failed to produce points in what proved to be the drive that determined Longhorns' losing fate.
Reporter, HornsNation
Reporter for HornsNation
Covers Texas Longhorns sports and recruiting
Joined ESPN in 2011
Texas HC Strong Gives Us His State Of The Football Program
In his first season as head coach at Texas, Charlie Strong and the Longhorns finished the 2014 season with a 6-7 overall record, going 5-4 in Big 12 action.
Texas HC Strong Gives Us His State Of The Football Program
VIDEO PLAYLIST
TEXAS FB RECRUITING SCORECARD
ChipBrownOB

Chip Brown


#Texas target QB Kai Locksley to announce on national signing day (Feb 4) RT @LOCKSnLOADED_3: #NSD15... Stay Tuned 😈 http://t.co/WW6mZ3WcR1
less than a minute ago

Big12Conference

Big 12 Conference


Check out today's In Focus featuring @BaylorMTennis Julian Lenz http://t.co/hjAPaY8BGQ
9 minutes ago

justinwells2424

Justin Wells


Latest recruiting updates from Austin, plus BOR movement by @JesusInsideTex; the Humidor: http://t.co/u0Ry47pKSu ($) http://t.co/bfRXG6Ivy7
16 minutes ago

thatsean

Sean Adams


TFTD - Apologizing does not always mean you are wrong. It just means that you value your relationships more than your ego.
25 minutes ago

ChipBrownOB

Chip Brown


Talking to @SeniorBowlPhil - Phil Savage, exec dir of Reese's Sr Bowl, now @1049TheHorn re @qdiggs6 and @JHicks_3, more. THE HORN AUSTIN app
34 minutes ago

ChipBrownOB

Chip Brown


HD's @Jason_Higdon makes his call on who the #Texas #Longhorns' 8 remaining commitments will be. Must-read!($) http://t.co/0UrZYuMVxJ
about an hour ago

UT_Bianco

John Bianco


MT "KayleeHartung: Good group of guys @AllStarFBall Skills Challenge again. Check it out Fri. ESPN2 5 pm CT http://t.co/63fx0llnM1" #HookEm
about an hour ago

ChipBrownOB

Chip Brown


"RT @GoodmanESPN: Where the heck is my newspaper? http://t.co/NRCUlwQ91d" .. I used to deliver newspapers in the snow in Michigan! Sucked!
about an hour ago

ChipBrownOB

Chip Brown


#Texas recommit WR John Burt ... RT @burticus21: This train is leaving the station, either your on or off
about an hour ago

Official_MalikJ

Malik Jefferson 4?6?


Everybody is coming home soon ...🐂#Back2thetop #HookEm
about an hour ago

ChipBrownOB

Chip Brown


Kiss Of Death: Charlie Strong raising stakes for #Texas #Longhorns on pot full of 5-stars (FREE).http://t.co/vEORO6yopw
about an hour ago

LonghornNetwork

Longhorn Network


Texas senior Nneka Enemkpali got emotional talking about her season-ending knee injury with @LHNLowell on Game Plan: http://t.co/Y1Mune64Hz
about 9 hours ago

ChipBrownOB

Chip Brown


HD's @Jason_Higdon has called his shot on who the #Texas #Longhorns' 8 remaining commitments will be. Must-read!($) http://t.co/0UrZYuMVxJ
about 9 hours ago

LonghornDigest

Kevin Flaherty


#Kansas has played nine games against teams in KenPom's Top 30, and the Jayhawks are 7-2 in those contests.
about 9 hours ago

Coach_MannyDiaz

Manny Diaz


"@BlakeWBaker: #ARROOOF !!! Huge get tonight for the JunkYardDawgs! #GodIsGreat http://t.co/GABIqlgZHp" Congrats to you & Roslyn! #YeahGod
about 10 hours ago

AdamUli

Adam Ulatoski


@thatsean nothing quite like potential. So much to look forward to. So much to let you down.
about 10 hours ago

LonghornNetwork

Longhorn Network


Horns with a furious rally, but come up short in Ames, falling to the Cyclones 89-86. It's Texas' 4th Big 12 loss.
about 10 hours ago

Big12Conference

Big 12 Conference


#Big12MBB - @CycloneMBB earns 4th win this year over a ranked team with 89-86 victory over @TexasMBB. Five in double-digits for Cyclones
about 10 hours ago

LonghornDigest

Kevin Flaherty


Jonathan Holmes has had a fairly clutch career.
about 10 hours ago

LonghornNetwork

Longhorn Network


Horns trailed Iowa State by as many as 21 points, but have cut it to 5 with 30 seconds left. Get to ESPN and cross those fingers.
about 10 hours ago

thatsean

Sean Adams


Sometimes it looks like the Texas offense is called, "Shoot the floater!" #HookEm
about 10 hours ago

thatsean

Sean Adams


Texas commit. RT @DeShonElliott_4: The Staff coming by To see me on Wednesday😝🐂
about 10 hours ago

LonghornDigest

Kevin Flaherty


The thing that will irk Rick Barnes about this game is how the Longhorns didn't show this level of fight throughout.
about 10 hours ago

SBN_Wescott

Wescott Eberts


Respect the #Horns for staying tough and mounting this comeback. Something to build on even if it doesn't result in a W.
about 10 hours ago

thatsean

Sean Adams


You know what would make every Texas fan feel better right now? A football commit! #HookEm #Diversion
about 10 hours ago

thatsean

Sean Adams


Do people realize what Holmes could do if he had some guys that could shoot from the outside and Texas had a true inside/outside game?
about 10 hours ago

RickyDoyle

Ricky Doyle


The latest on UT recruiting w @max_olson, Liberty Hill hoops chases perfection & PJ Tucker finally has a home in the NBA. Sports Night at 10
about 10 hours ago

kbohls

kbohls


Brent and Fran talking about the Super Bowl with 8 min left is never a good sign.
about 11 hours ago

thatsean

Sean Adams


.@KevinDunn01 @chiprives @kbohls - If you are going to run this four-out offense you better have some guys that can fill up the bucket.
about 11 hours ago

thatsean

Sean Adams


Remember that Flex offense where you pass and screen away that we all learned in high school? That would work better than this four-out!
about 11 hours ago

thatsean

Sean Adams


I love them too. RT @CarlSpakler2: @thatsean you're right. And I secretly like them anyway.
about 11 hours ago

thatsean

Sean Adams


People need to stop blaming the jerseys. Those jerseys don't call the offense and those jerseys are not tired and dragging. #TEXvsISU
about 11 hours ago

thatsean

Sean Adams


How is it that Texas looks tired and burned out on both ends? #HookEm
about 11 hours ago

LonghornDigest

Kevin Flaherty


Jayhawks visiting state champs. RT @Coach_McGuire50 Rice Pitt Texas Fresno St Navarro Kansas all on The Hill today #TTHL #IWILL
about 11 hours ago

LonghornDigest

Kevin Flaherty


Iowa State went four out there and let Hogue work one-on-one vs. Turner. One of the disadvantages to going man if you're Texas.
about 11 hours ago

SBN_Wescott

Wescott Eberts


#PRAYFORCURRYSHOFF RT @CurryShoff: @SBN_Wescott THIS WAS A MISTAKE
about 11 hours ago

thatsean

Sean Adams


Maybe the Big 12 should lose the 'One true champion' deal and that morphing Michael Jackson 'Black or White' video style commercial.
about 11 hours ago

FauxTravisFord

Faux Travis Ford


@KFlaherty247 For the record I LOVE THE ZONE. I only press at the beginning and then work back to the 2-3.
about 11 hours ago

ChipBrownOB

Chip Brown


CBs H Hill, K Boyd #Texas absolutely covets! .. RT @Hollywood__5: Committing This Friday Jan 30th with @kris23db EVERYBODY STAY TUNED 👀🏈😏
about 11 hours ago

SBN_Wescott

Wescott Eberts


Can someone make sure that @CurryShoff is surviving this drinking game that he devised?
about 11 hours ago

LonghornDigest

Kevin Flaherty


Georges Niang is a 25th-year junior.
about 11 hours ago

SBN_Wescott

Wescott Eberts


Texas now officially out of it for CA DL Kevin Scott. Not surprising RT @55_kev: My Top 5 schools 😈 http://t.co/onPANp02p3
about 11 hours ago

LonghornDigest

Kevin Flaherty


He would press a team of five Ty Lawsons. RT @DMcComasOB I'm convinced Travis Ford would have pressed Ty Lawson.
about 11 hours ago

LonghornDigest

Kevin Flaherty


An offense that thrives on everyone being able to handle the ball and shoot? RT @DMcComasOB speeding up off. w/fastest tempo is a bad idea?
about 11 hours ago

LonghornDigest

Kevin Flaherty


To be fair to Barnes sticking in zone, at least he didn't PRESS Iowa State in recent years (ahem: Travis Ford).
about 11 hours ago

LonghornDigest

Kevin Flaherty


Texas's baseline D has flat-lined.
about 11 hours ago

SBN_Wescott

Wescott Eberts


I haven't seen Texas give up this many lobs at the rim in the 2-3 zone since LSU's Tyrus Thomas dunked all over them years ago.
about 11 hours ago

LonghornDigest

Kevin Flaherty


Iowa State heartily boos refs. Brent Musburger: Refs have been consistent. Really good crew.
about 11 hours ago

ChipBrownOB

Chip Brown


Thanks for all of that! ... RT @TXMeans: @ChipBrownHD I listen to you in the mornings and I'm a new HD member. You're a good writer!
about 11 hours ago

SBN_Wescott

Wescott Eberts


Iowa State had a quick turnaround to prepare for Texas, but have been excellent early at creating good looks vs. #Horns zone.
about 12 hours ago

SBN_Wescott

Wescott Eberts


Indeed. Not much else to do in the winter. RT @TreyScott247: @SBN_Wescott but, they do show up
about 12 hours ago

SBN_Wescott

Wescott Eberts


Midwestern basketball fans are the worst about booing constantly for little to no reason.
about 12 hours ago

SBN_Wescott

Wescott Eberts


Something to watch with Houston Lamar CB Holton Hill -- he didn't list Texas A&M among his top five in late November.
about 12 hours ago

SBN_Wescott

Wescott Eberts


Myles Turner showing some impressive awareness beating double teams by working baseline. Just make great spin to get to rim.
about 12 hours ago

SBN_Wescott

Wescott Eberts


Key #Texas DB targets Kris Boyd, Holton Hill set announcement date. #LetsRide #hookem http://t.co/2z044x30Ge http://t.co/De1YQ9Y8cj
about 12 hours ago

SBN_Wescott

Wescott Eberts


Kris Boyd and Holton Hill RT @kris23db: Me and @Hollywood__5 will be committing Friday January 30th. No specific time yet!🏈🏈🏈
about 12 hours ago

TexasSports

Texas Longhorns


Listen to @TexasMBB at Iowa State at 8 p.m. CT on XM Ch. 202. #longhorns
about 12 hours ago

TexasSports

Texas Longhorns


Free audio stream for @TexasMBB at Iowa State at 8 p.m. CT available at http://t.co/aMRnnRAgSS. #longhorns
about 12 hours ago

max_olson

Max Olson


That is big. RT @kris23db Me and @Hollywood__5 will be committing Friday January 30th. No specific time yet!🏈🏈🏈
about 12 hours ago

TexasSports

Texas Longhorns


Watch @TexasMBB at Iowa State at 8 p.m. CT on ESPN or WatchESPN at http://t.co/UpD7IeCM3x. #longhorns
about 12 hours ago

LonghornNetwork

Longhorn Network


Top 20 matchup in Ames tonight. Texas GameDay live now on LHN, game on ESPN at 8 CT.
about 13 hours ago

ESPN_CoachMack

Mack Brown


"@TexasMBB: Coach Barnes visits with @sportsiren for @LonghornNetwork pregame interview. http://t.co/UOBwdtvmCE" Two great people & Friends
about 13 hours ago

jcharles25

Jamaal Charles


Need your votes! I have one skill point to assign in #NFLShowdown...where do I put it? http://t.co/nG2VYH1yqX http://t.co/Cfrr1h7Sgr
about 13 hours ago

Big12Conference

Big 12 Conference


#Big12MBB: Hoiberg & Huggins advance in ESPN Infiniti Coaches Challenge. Vote daily, #VoteBig12 - http://t.co/YgSMOWYyQw
about 13 hours ago

SynergySST

Synergy Sports Tech


Andrew Wiggins is shooting 69% at the rim and ranks among the highest volume post up wings in the NBA this month.
about 13 hours ago

Official_MalikJ

Malik Jefferson 4?6?


Everybody is coming home soon ...🐂#Back2thetop #HookEm
about 14 hours ago

thatsean

Sean Adams


That's awesome! RT @thEMANacho: TEXAS FANS, Is that Garrett Gilbert??? If he gets a super bowl before me I swear http://t.co/94WZTgxQGq
about 14 hours ago

thatsean

Sean Adams


The recruits are excited! #HookEm RT @charless_94: This will go down in history #NSD2K15...
about 15 hours ago

SBN_Wescott

Wescott Eberts


4-star QB Kai Locksley has set his decision date for choice between #Noles, #Horns. http://t.co/vE18f0MeYK http://t.co/qsHoSCZuCn
about 15 hours ago

TXStampede

Doug Farrell


Courtroom? We got this dude: JOE F'ING JAMAIL! "@BarkingCarnival: Oh God. RT @edsbs: THE GREAT TEXAS FOOTBALL WEBSITE SHOWDOWN OF 2015"
about 15 hours ago

SBN_Wescott

Wescott Eberts


I'm in just because being Johnny's wingman seems like a pretty easy gig. I've seen the pictures.
about 16 hours ago

Big12Conference

Big 12 Conference


Another game between 2 ranked teams in #Big12MBB tonight - the SEVENTH time in the last 10 days 2 ranked league teams have faced each other.
about 16 hours ago

SBN_Wescott

Wescott Eberts


Let he who would not party with Johnny Football cast the first stone.
about 16 hours ago

LonghornDigest

Kevin Flaherty


I'm not above bribes. RT @WVWilkerson: @JeffHowe247 If we get @KFlaherty247 to officiate, we're golden.
about 16 hours ago

nfl

NFL


.@Earl_Thomas vows to play "fearless" in #SB49 despite shoulder injury: http://t.co/EBlMGPNSgt http://t.co/oUHbjQPIWd
about 16 hours ago

Big12Conference

Big 12 Conference


VIDEO: @OU_WGymnastics' Haley Scaman vaults a perfect 10.0 on Friday night for the top-ranked Sooners - http://t.co/Rc3Oq09eks
about 16 hours ago

SBNationCFB

SB?Nation CFB


Texas and A&M, please play again soon. Your media outlets are getting into Twitter brawls. http://t.co/Xw12t1BSAd http://t.co/eT7gVp9ayH
about 16 hours ago

max_olson

Max Olson


@skhanjr @jondeats And quoting Chappelle's Show. Man, do people really think we aren't 💯?
about 16 hours ago

TexasSports

Texas Longhorns


306 @UTAustin student-athletes on Fall 2014 Big 12 Commissioner's Honor Roll. http://t.co/DdExYsKIdf #hookem #longhorns
about 16 hours ago

Longhorn_FB

Longhorn_FB


Congrats to our 45 players (nearly 40% of roster) who earned spots on @Big12Conference Commissioner's Honor Roll - http://t.co/3Tgleow1w7
about 16 hours ago

SBN_Wescott

Wescott Eberts


lol RT @Soso_Jamabo1: I just wanna thank God.. http://t.co/iMO6dkZDe6
about 16 hours ago

SBN_Wescott

Wescott Eberts


Decision date set for QB Kai Locksley? RT @LOCKSnLOADED_3: #NSD15... Stay Tuned 😈 http://t.co/nWYdXHnTPO
about 16 hours ago

davidofthelion

David Deleon


@thatsean you're making a great point about Murray. As an Aggie I'm a big Kyle Allen fan. If I'm Murray, I'm choosing Texas for said reasons
about 16 hours ago

Big12Conference

Big 12 Conference


Two #Big12SB games will be televised by Fox Sports Regional Networks during the 2015 season. http://t.co/xO3xuu6Ffw
about 16 hours ago

Longhorn_FB

Longhorn_FB


Another #Longhorns success story: Former RB @selvinyoung had @NFL career cut short, but has started own business - http://t.co/e4mUBbELYA
about 17 hours ago

BruceFeldmanCFB

Bruce Feldman


#Arkansas AD Jeff Long has been re-elected to serve as Chairman of the College Football Playoff Selection Committee
about 17 hours ago

LonghornNetwork

Longhorn Network


LHN will air 28 @Texas_Baseball games & every home @TexasSoftball game this season, starting w/ Alumni Game on 1.31. http://t.co/SM4ngjPt9g
about 17 hours ago

Big12Conference

Big 12 Conference


VIDEO: @OU_WGymnastics' Brenna Dowell posted a perfect 10.0 on the uneven bars on Friday - http://t.co/seEns1VQDo
about 17 hours ago

SBN_Wescott

Wescott Eberts


Texas to have final shot at convincing 5-star QB Kyler Murray to flip to #Horns? #LetsRide http://t.co/ak9Qa3r33a http://t.co/OEvupCChmU
about 17 hours ago

thatsean

Sean Adams


Fantastic hire. He can recruit too! RT @BarrettSallee: Alabama announces Tosh Lupoi will serve as the school's outside linebackers coach.
about 18 hours ago

thatsean

Sean Adams


We finally have the fall guy for the #Patriots. @Rachel__Nichols @JayGlazer http://t.co/oRjlVWeH8O
about 18 hours ago

SportsBizMiss

Kristi Dosh


Atlantic 10 will only offer COA stipends to men's and women's basketball student athletes: http://t.co/ieuV6HTTPW.
about 18 hours ago

am1300thezone

AM 1300 THE ZONE


@thatsean is covering recruiting this year & Texas has a ton riding on the last 9 days. Listen --> http://t.co/sQ9g9qTaEO
about 18 hours ago

jwells2001

Jesse Wells


@thatsean tuning in from H-town cause this recruiting drama is off the chain! #LetsRide
about 18 hours ago

SBN_Wescott

Wescott Eberts


#Horns get good news on 5-star DT Daylon Mack ahead of crucial week of in-home visits. http://t.co/ZJxK9ySdY7 http://t.co/V4I1EMBLfF
about 18 hours ago

TexasSports

Texas Longhorns


306 @UTAustin student-athletes on Fall 2014 Big 12 Commissioner's Honor Roll. http://t.co/DdExYsKIdf #hookem #longhorns
about 18 hours ago

ChipBrownOB

Chip Brown


Hold on tight. RT @Jason_Higdon: Texas is now down to the elite 8 on the recruiting trail....more on that tonight @HornsDigest @ChipBrownHD
about 18 hours ago

Big12Conference

Big 12 Conference


#Big12WR @CowboyWrestling's Alex Dieringer earns #Big12 Wrestler of the Week honors: http://t.co/PnG8BV561N http://t.co/SoT4mxvgSr
about 18 hours ago

thatsean

Sean Adams


#AdamsTheory today - Recruiting coming down to the wire in a big way for Texas. I'm giving love to Texas AD Steve Patterson today too.
about 18 hours ago

dev_go_deep

Devonaire Clarington


@burticus21 Ijus notice I wasn't following U but welcome to the 40 #HookEm
about 18 hours ago
BLOG ARCHIVE:
CATEGORIES: