December, 8, 2013
Dec 8
10:00
AM ET
WACO, Texas -- Texas got exactly what it wanted on Saturday: A chance to play for an outright Big 12 title and a BCS bowl. The Longhorns came up short again, dropping to 8-4 with a 30-10 loss to No. 9 Baylor. Three lessons learned:

1. Not ready for a championships:
Texas really did do everything it wanted to in the first half, at least when it comes to stopping Baylor, and yet this was a 3-3 score at halftime. The game was there for the taking, and the Longhorns missed their shot. They couldn't sustain drives,
Case McCoy
couldn't pass (12-34, 54 yards, 1 TD, 2 INTs), and they paid for it once the Baylor offense got going. Their only touchdown drive began at Baylor's 11-yard line, and they still needed seven plays and a miraculous throw from McCoy to get the score. You can't go 2-for-17 on third downs and expect to beat anybody, especially a top-10 team on the road.
2. Defining success:
Some Texas players admitted on Monday that they wouldn't consider the 2013 season a success until Texas won at least a share of the Big 12 title. They got their chance and couldn't get the job done, but most players who met with reporters after the loss -- all of them juniors and seniors -- believed this was still a successful season regardless. Or at least that's what they said, citing adversity and injuries and rallying from a 1-2 start. Still, it's a tough ending for a senior class that, for the first time in Mack Brown's tenure, never won a division or conference title in their four years on campus.
3. Buckle up:
All four of Texas' losses this season have come by 20-plus points. They weren't close. While this blowout doesn't officially doom Brown's hopes of returning for 2014, it's not going to help. These next few weeks in Austin could get messy depending on what direction this program is going when it moves forward. UT president Bill Powers and new AD Steve Patterson -- who's only been on the job for two weeks -- face an uncomfortable decision, but it's one they'll have to make soon. The Texas standard is not eight wins, but for the second season in a row that's the result in the regular season.
December, 8, 2013
Dec 8
9:00
AM ET
WACO, Texas -- Three Longhorns stood out in Texas' 30-10 loss to Baylor on Saturday night:

RB Malcolm Brown:
He's rushed for more yards before -- against Oklahoma State in 2011 -- but against Baylor, especially in the first half, might've been the best Brown has run in his whole career. The junior rushed for 131 yards on 25 carries and also caught
Case McCoy
's lone touchdown pass in the loss. He was an absolute workhorse in the first two quarters, racking up 118 yards and repeatedly finding cutbacks up the middle for big gains. One of the unsung heroes of this offense, Brown finishes the regular season with 774 yards and nine touchdowns.
LB Peter Jinkens:
Where'd this performance come from? Texas was essentially down to two linebackers this week and that meant lots of snaps for Jinkens, the athletic sophomore whose season has been a bit disappointing. But on this night, he was all over the place. Jinkens finished with 12 tackles and was spotted throwing guys around a few times. He's coming on strong late, just as he did in 2012.
DE Jackson Jeffcoat:
The stat book says Jeffcoat had a solid night on Saturday, with 11 tackles and two sacks. As a senior, though, all he cared about was the win. Jeffcoat did surpass Kansas State's
Ryan Mueller
to finish with a Big 12-leading 12 sacks in 2013. He was the only Texas player to sack
Bryce Petty
, though, and Texas logged just three QB pressures. Jeffcoat was good; he just needed more help.
December, 8, 2013
Dec 8
1:34
AM ET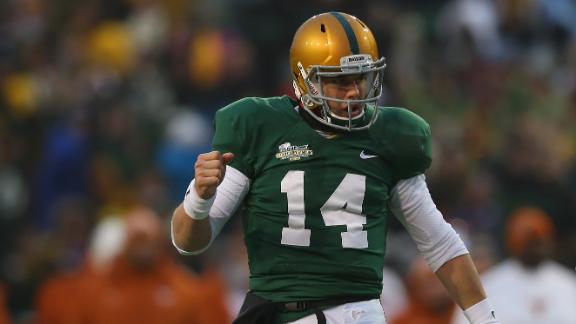 WACO, Texas -- For the second year in a row, Texas players watched and walked away. Another team celebrated a Big 12 championship after beating the Longhorns. Another team got to party at home.
Last year, Kansas State. This time, Baylor. Both headed off to the Fiesta Bowl while Texas is left to wonder where this is all going.
This time, coach Mack Brown had to address and assess the future. He didn't convey much worry about where he fit into the Longhorns' future.
"Just got to keep playing, keep winning," Brown said. "We had our chance to get in the Big 12 championship this year. Guys will go out recruiting tomorrow. Go back to work, try to win the bowl game, get your ninth win and go back to spring practice. We've got spring practice in February, so it happens fast."
[+] Enlarge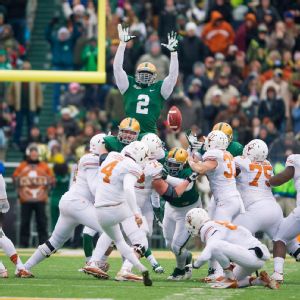 Jerome Miron/USA TODAY SportsTexas couldn't capitalize on first-half opportunities Saturday, such as this blocked field goal attempt.
Back to business as usual. He'll try not to dwell too much on what slipped out of Texas' grasp in this game, but it's hard to ignore. Oklahoma gave Texas a chance to win the Big 12 on Saturday. Baylor gave Texas a first half to win the Big 12. The Longhorns didn't take it.
The game, the day, the season -- all opportunities missed. And Brown acknowledged that, to some extent. He opened his postgame press conference by running through the laundry list of costly mistakes.
What he didn't want to speak to, though, was whether he has decided if he wants to come back and give it another go in 2014.
"I'm not talking about any of that tonight," Brown said. "I'm in the same position I was when I've been asked the other 15 times. We'll talk about the team tonight."
The hard, complicated question isn't whether Mack Brown should come back. It's this: Why would he want to?
That Texas got this far was admirable, considering all the injuries and hurdles. It was truly a crazy, unpredictable season, all the way down to the final quarter of this game.
But does Brown want to do this all over again? Why would he sign up for another season of this?
If Texas president Bill Powers and athletic director Steve Patterson give Brown another season, it's hard to envision a 2014 campaign that won't be just as rough and challenging as this one, if not more so.
The schedule next season is awfully similar, with the marquee non-conference game a showdown with UCLA at AT&T Stadium next September. Lose that game -- to a Bruins program that went 9-3 this season, has serious momentum and began Mack's misery in 2010 -- or stumble against BYU, and we'll go right back down this road again.
Week after week of scrutiny and distractions and fires to put out. A fan base growing more discontent and apathetic each Saturday. Who wants to coach in that culture?
Brown already will be tagged and tarred as the coach on the hottest hot seat this offseason if he returns. The national chatter that he's running out of time will undermine his efforts in recruiting. The doubters can cause the same kind of prove-yourself mentality that doomed former defensive coordinator Manny Diaz.
That's not to say he can't win next year. That's not to say that, if Texas struggles early, Brown can't unleash another masterful performance of crisis management and coax his players to go on another run.
But he has coached 50 games since the BCS championship game against Alabama. Texas is now 30-20 in the last four years and one game above .500 (18-17) in Big 12 games. Brown restructured after 2010 around two coordinators who now are gone. If things go downhill from here, is he really interested in rebuilding his rebuild?
Texas lineman
Trey Hopkins
said Brown still has the full support of the locker room. His players aren't bailing on him. But 10 senior starters will graduate.
David Ash
will have to lead the offense after missing 10½ games this season with a concussion.
And if you want to go deeper, recognize the hole Texas could be in if Ash has issues.
Case McCoy
is gone.
Tyrone Swoopes
wasn't entrusted to contribute much as a freshman. ESPN 300 commit
Jerrod Heard
can't enroll early for spring ball.
Jalen Overstreet
moved to running back. Bringing in an experienced transfer quarterback seems like a must now.
Brown will do this kind of math, calculating whether Texas can win with what returns. He wants to win and win big.
He thought the Longhorns could do that this year, and in all fairness, it has been a hell of a season. If Brown had been on this job only a few years, he'd get the injury mulligan that Will Muschamp received at Florida. Heck, he still might. Brown's team fought and overcame and came up short.
Just as important, though, the guy wants some respect. Brown put up with an awful lot this season. He put his pride on the line and tried to shoot down all the speculation as best he could. But at a certain point, when is it no longer worthwhile?
Forget legacy and statues and ego for a moment. Signing up for another year of this carnival would make any coach miserable over time.
Brown will travel to New York this week with Powers and Patterson for the College Football Hall of Fame inductions. At some point, there will be a discussion about the future.
But Brown has a decision of his own to make. He has to search his feelings. Even if he's given the choice, does he really want to do this again?
December, 7, 2013
Dec 7
7:00
AM ET
Big 12 schedule makers couldn't have set things up any better. The conference title will be decided on the final Saturday of the season and three teams enter the day with legitimate hopes to earn the Big 12's BCS berth. Oklahoma State grabs the berth and a share of the Big 12 title with a victory, while Baylor or Texas could grab an outright Big 12 title with a victory and OSU loss.
Here are a few storylines in the Big 12 in Week 15:


No. 17 Oklahoma (9-2, 6-2 Big 12) at No. 6 Oklahoma State (10-1, 7-1), noon ET (ABC)
: Bedlam has become much more than an in-state battle. It's had major Big 12 title ramifications in recent years as the Cowboys have risen to the top half of the conference. And the Sooners always have to be dealt with if any team hopes to secure a Big 12 title ring. This year, OSU features the Big 12's best defense, an underrated offense and is coming off the Big 12's most impressive win. But OU quarterback
Trevor Knight
could be the unknown factor on a chilly day in Stillwater. If Knight plays well, the Cowboys' road to a Fiesta Bowl berth gets tougher.


No. 25 Texas (8-3, 7-1) at No. 9 Baylor (10-1, 7-1), 3:30 p.m. ET (Fox):
Baylor hopes to close Floyd Casey Stadium with a bang and Texas wants to prove it's not how you start, but how you finish. A share of the Big 12 title also is on the line for both teams. The Bears offense hasn't looked as explosive in the past two games, but it still looks like it could explode at any time. But if Texas defensive ends
Cedric Reed
and
Jackson Jeffcoat
, who combined for five sacks against Texas Tech on Thanksgiving, continue to be a quarterback's nightmare off the edge, it could become a long afternoon for
Bryce Petty
.
December, 6, 2013
Dec 6
4:00
PM ET
In today's mailbag, Ahmad Dixon's hit is rehashed and bowl scenarios are discussed.
To the 'bag:
Ross in Dallas writes:
Ahmad Dixon
showed no remorse after a targeting hit that could have greatly injured a player, and he went online after the game to reiterate his lack of contrition. Do you think this increases the risk that he will do something like that again against UT or in a bowl?
Trotter:
Not really, though Gary Patterson would probably tell you different. Dixon is going to sit out the first half on Saturday, which will give him plenty of time to think about the targeting hit.
[+] Enlarge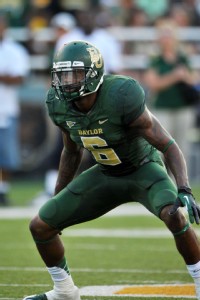 John Rivera/Icon SMIAhmad Dixon's hit against TCU's Trevone Boykin has touched off a firestorm.
Dennis in Arlington, Texas, writes:
TCU coach Gary Patterson being angry at the hit wasn't wrong. It was a bad hit and Dixon deserved the targeting penalty. But calling Art Briles "not classy" went way over the line. Considering Patterson's team has had some major drug issues recently, I don't think TCU has any room to be insulting Baylor.
Trotter:
I actually understand what Patterson was trying to do. He was sticking up for his player, and he wanted to show his fan base that TCU would not be backing down from Baylor on the field or the recruiting trail. But the timing of it was not good, considering the tragedy in the Briles family.
---
Doug Kearns in Sugar Land, Texas, writes
: I would like to see Gary Patterson held accountable for
his
lack of class. Briles' brother just died and he was just going to bat for one of his players. He is giving TCU a reputation for being sore losers.
Trotter:
Maybe the silver lining out of this will be a revived TCU-Baylor rivalry. After two rounds of conference realignment, the Big 12 needs more rivalries.
---
Andrew in Duncan, Okla., writes:
If Mike Gundy gives
Clint Chelf
a real chance and doesn't pull him after two series against Mississippi State, this team is undefeated and most likely playing OU to go to the national championship. What do you think?
Trotter:
I can't disagree. I believe Oklahoma State beats West Virginia with Chelf at quarterback. The Cowboys had no passing attack that game. Now, whether they would be ahead of Ohio State or the SEC champ in the BCS is another discussion.
---
Kyle in Enid, Okla., writes:
Hey Jake, love the blog. K-State alum and big fan. I have always wondered what has kept Bill Snyder in Manhattan? I understand why he stays now with his name on the stadium and close to retirement. But when he had success earlier in his career, why didn't a big-time program try to pick him up?
Trotter:
That's an interesting question. I don't know the answer. But it will be something I will broach with coach Snyder down the line.
---
Christmas in Longhornville writes:
What is the best scenario involving a Texas win vs. Baylor that gets two teams in the BCS? Is it even possible?
Trotter:
It's unlikely, but possible. The scenario would be if Northern Illinois lost to Bowling Green -- sending UCF to the Fiesta -- and Oklahoma routed Oklahoma State to become the Sugar Bowl's at-large selection.
---
Jerry in Virginia writes:
Jake, the blog is great, and I'm surprised I've kept reading it in the midst of one of WVU's worst seasons in decades. I do, however, have to ask why are you all the only people in the media that seem to give
Charles Sims
much love?
Trotter:
It's always difficult to get noticed when playing on a bad team, which West Virginia was this year. Don't worry. I have a feeling Sims will be getting plenty of love on our end-of-season teams.
---

Chris in Cedar Falls, Iowa, writes:
Excitement has returned to Ames. We have the $25 million donation for the stadium expansion, and how about the two wins to close out the season? So, who do you think Iowa State should hire as its new offensive coordinator to keep the excitement going?
Trotter:
I have no idea what direction Paul Rhoads is leaning. But here are a couple of interesting names Rhoads might consider: Dave Christensen and Mark Mangino. Christensen was just fired as the head coach at Wyoming but had success calling offense during the Chase Daniel years at Missouri. Mangino won a national title at Oklahoma as the Sooners' offensive coordinator. He also took Kansas to the Orange Bowl, a feat that looks all the more insurmountable today. Mangino has a checkered past. But there's no doubt he can coach.
---
Jack in Atlanta writes:
Why is Texas predicted to go to the Buffalo Wild Wings Bowl and Oklahoma, the Alamo Bowl? Texas has the better conference record and they have the head-to-head.
Trotter:
Texas went to the Alamo last year, and OU has never been.
---
J.L. in New Orleans writes:
Who has been more of a disappointment, TCU – which has fallen short due to drug problems and poor offensive calling -- or West Virginia – which had three of the best players in Big 12 history and only went 7-6?
Trotter:
I'd give the disappointment edge to West Virginia. TCU, no doubt, has been a bust so far. But losing QB
Casey Pachall
for the better part of two seasons really hurt that team. West Virginia was ranked in the top five last year, then inexplicably fell apart the second half of the season. This year, the Mountaineers lost to Iowa State
and
Kansas -- two teams TCU at least beat.
December, 6, 2013
Dec 6
12:00
PM ET
December, 6, 2013
Dec 6
11:00
AM ET
Breaking down five things Texas and Baylor must do to emerge victorious in Waco, Texas, on Saturday. Here are the keys to the game:
Five things: No. 25 Texas Longhorns


1. Be the more physical team
: This was the most important reason why Texas upset Oklahoma. It wasn't scheme, it was attitude. That's applicable to both sides of the ball, but it's especially important up front with an offensive line that must get rolling to power Texas' essential run game. As Major Applewhite put it after OU, the key was "playing you're a** off." The Longhorns did that against Texas Tech and need more of the same on Saturday.
2. Limit big plays
: In the blowout loss at Oklahoma State, Baylor put up 453 yards on 83 plays. Half of those yards came on seven plays. The Bears gained 30-plus on just two. That's about as good as you could've asked for, defensively, if you're the Pokes. A strong defensive showing can fall apart with just a few busts, like permitting an easy 50-yarder for
Antwan Goodley
or joining the many who have let
Lache Seastrunk
dash 80 yards. Weather permitting, Texas must get a few big plays of its own from speedsters
Mike Davis
,
Marcus Johnson
and/or
Daje Johnson
.
3. Turnover battle:
Texas is 96-6 in the Mack Brown era when it wins the turnover battle, including 5-1 this season. TCU could've pulled off a huge upset in Fort Worth last week if not for the fact that Baylor's defense created three touchdowns, two on pick-sixes. The Bears were minus-3 against Oklahoma State. Considering the weather expected for this game, there's a good chance turnovers decide this game.
4. Challenge Petty
: Baylor QB
Bryce Petty
has been sacked 10 times in his last four games. Texas notched nine sacks in its last game. But it's not just about takedowns. When a defense gets physical with Baylor's receivers, Petty's timing in the pocket can get thrown off and he starts overthrowing. If
Jackson Jeffcoat
plays his "spinner" role again, can he and the Texas defensive line cause problems for the All-Big 12 quarterback?
[+] Enlarge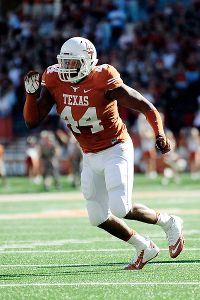 Stacy Revere/Getty ImagesJackson Jeffcoat and Texas' defensive front must hold up and get pressure on Baylor's Bryce Petty.
5. Hang in there
: Could Texas have taken Oklahoma State four quarters if not for a pick-six in the final minute of the first half? We'll never know. Unsatisfied with taking a 21-10 deficit into halftime, the Longhorns got greedy and it cost them. A game this big requires taking shots, but they have to be smart. Baylor can fire off a few scores quickly; it's what this team does. How will Texas make adjustments and answer?
Five things: No. 9 Baylor Bears
1. Establish run game
: Baylor leaned heavily on a now-healthy Seastrunk early last week, giving him 19 first-half carries and a career-high 24. Seastrunk,
Glasco Martin
and
Shock Linwood
need to pound the middle of a Texas front that, from an experience standpoint, is basically down to two linebackers and two defensive tackles. Keep an eye on the QB run game, too. It remains Texas' greatest weakness as a defense, and Petty has rushed for 161 yards (excluding sacks) in his last four games.
2. Scoring explosion
:
In six games this season, the Bears scored at least 21 points in the first quarter. This Texas offense needs to control the tempo and would have a hard time keeping up if Baylor comes out firing and lights up the scoreboard early. But remember: Against Kansas State, Oklahoma, Oklahoma State and TCU, Baylor scored a combined 20 first-quarter points. The good defenses haven't made it easy.
3. Make McCoy beat you
: It's a phrase that has probably been uttered by every Big 12 defensive coordinator Texas has faced. And yet, the Longhorns are 7-1 in the league. McCoy has a 10-9 TD-INT ratio, which hasn't burned him much, with the exception of a three-interception day against OSU. McCoy has had some big moments in 2013 and vows he's a different quarterback than the gunslinger that threw four picks in Waco two years ago. Still, if Baylor can stop the run consistently and force McCoy to win the game with his arm, the Bears will like their chances.
4. Second-and-long, 3-and-out:
No Big 12 team has forced more 3-and-outs than Baylor this season. Texas' offense has the second-fewest in Big 12 play. Something's got to give. With how heavily Texas relies on the run, getting into second-and-long and third-and-long will mean lots of advantageous situations for a banged-up Bear defense.
5. Depth needed
: We talked the depth up plenty when Baylor was rolling. The injuries that have piled up and finally took a toll against Oklahoma State. The Bears gritted out a close one with TCU despite missing several starters, but once again, the second-stringers will need to step up big when called upon.
December, 6, 2013
Dec 6
10:00
AM ET
It's the final regular season edition of stats and tidbits courtesy of ESPN Stats and Information and various SIDs around the conference. Did you know …
Oklahoma State quarterback Clint Chelf has sparked the Cowboys offense. In Chelf's last five starts, the Cowboys have averaged 47.8 points per game and have outscored opponents by 28.4 points per game.
Chelf completed 9-of-13 passes thrown 15 yards or longer against Baylor. His nine completions and 278 yards on such passes were the most by a Big 12 player this season.
Chelf has had an FBS-high 94.4 opponent-adjusted QBR since Nov. 1. During that time, Oklahoma State defeated three opponents ranked in the top 25 of the BCS standings and Chelf has been responsible for 15 touchdowns and 305.8 total yards per game.
Oklahoma State has scored a touchdown on 92 percent of its red-zone drives in the last five games, third best in the FBS since the start of Week 9. From Weeks 1-8, the Cowboys scored a touchdown on 64.5 percent of their red-zone opportunities, 51st among FBS teams.
Oklahoma State has nine interceptions on passes thrown 15 yards or longer, tied with Kansas State for most in the Big 12.
On Saturday, Oklahoma State is looking to win its 51st game in five years.
OSU can finish undefeated at home for just the 12th time in school history and improve to 18-1 in its last 19 games at Boone Pickens Stadium.
OSU has scored 20 or more points in 50 straight games, a streak that started at the beginning of the 2010 season. It's the longest active streak in the country.
OSU has won or tied the turnover battle in 19 of its last 22 games and has forced at least one turnover in its last 19 contests.
OSU's undefeated November was its first since 1945 when the Cowboys went 9-0 and won the Sugar Bowl.
OSU outscored opponents 181-70 in November, earning wins over three ranked teams in the process (Texas Tech, Texas, Baylor).
Oklahoma has a Big 12-low 60 missed tackles this season, 11 fewer than any other Big 12 team.
Oklahoma coach Bob Stoops is 7-1 in head-to-head meetings with Oklahoma State coach Mike Gundy.
OU is looking to score 40 points for three straight games for the first time this season. The Sooners averaging 31.7 points per game after averaging 38.2 points per game in 2012.
OU's defense has allowed 10 points and 33 rushing yards in its last two games combined (wins over Iowa State and Kansas State).
OU is 4-0 when senior running back Brennan Clay rushes for 100 yards or more.
With a win the Sooners would join Alabama, Oregon and Stanford as teams from BCS conferences with four straight seasons with at least 10 wins.
OU is 11-3 in December under Stoops.
The Sooners are 12-8 on the road against ranked opponents under Stoops.
OU is 38-7-5 all-time against OSU in Stillwater.
OU and OSU are the Big 12's winningest teams in conference play since 2008. OU is 38-12 while OSU is 37-13.
The Texas-Baylor series dates back to 1901 and Saturday's meeting will be the 103rd battle between the two teams.
Texas coach Mack Brown is 13-2 against Baylor.
UT has allowed 3.4 yards per carry in its last eight games after allowing seven yards per carry to BYU and Ole Miss earlier this season.
UT has 14 seasons of eight or more wins during 15 seasons under Brown. The Longhorns had six seasons of eight or more wins in the previous 15 years.
UT has scored 30 or more points in seven of its last eight games.
This year's UT-BU matchup is the first time both teams are ranked since 1990.
UT has held Baylor to 14 points or fewer in 9 of 15 meetings under Brown.
Baylor has 26 touchdowns on drives that lasted 1 minute or less, six more than any other team. However, the Bears only have one such touchdown in their past two games.
Even with its recent struggles, Baylor's offense leads the nation in total offense (635.1 yards per game), scoring (55.4 points per game) and passing yards per completion (17.81).
Baylor will wear Nike retro uniforms to honor the first team to play in Floyd Casey Stadium against Texas. It is the final game at Floyd Casey, where the Bears are 190-146-5 all-time.
Baylor leads the FBS in plays (53) and touchdowns (28) of 30 yards or longer.
BU running back Lache Seastrunk has made it at least 5 yards past the line of scrimmage before first contact on 36 percent of his rushes, the highest percentage among AQ running backs with at least 75 carries.
Bryce Petty has 25 completions on passes thrown 25 yards or longer, five more than any other AQ quarterback. He also leads all AQ quarterbacks with 13 touchdowns on such passes.
In conference play, Texas' opponents have had a 35.9 Total QBR, tied for second best in the Big 12. In nonconference games, Texas' opponents have had a 78.0 Total QBR, worst in the Big 12.
BU is looking to close Floyd Casey with a 10th straight win at home, a school record.
BU is 14-2 in November and December since 2011.
The Bears are looking to win their third game in four seasons against UT for the first time since 1988-91.
Baylor's starting defense has allowed 26 touchdowns in 11 games.
Baylor is fifth in the FBS and second in the Big 12 with 8.1 tackles for loss per game.
BU has converted 79 of 165 third down conversion attempts (47.9 percent), ranking No. 16 nationally and No. 1 in the Big 12.
Petty set a program record with 229 pass attempts without an interception until throwing one against TCU. Robert Griffin III was the previous record holder with 209.
Petty needs one game of 200 passing yards or more to break Griffin's single season record of 12 set in 2011.
BU receiver Antawn Goodley needs one more touchdown catch to move into sole possession of second place on the single season list. He'll tie Kendall Wright's 14 with two more touchdown catches.
AP Top 25 teams are 0-5 at Floyd Casey Stadium during the past three seasons.
Baylor has the longest home win streak in the conference, having won nine straight in Waco.
December, 5, 2013
Dec 5
10:51
PM ET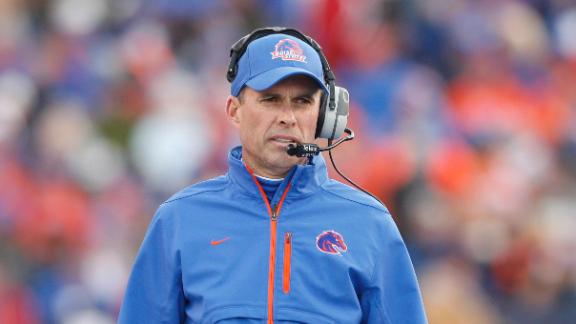 It's almost too quiet for this time of year in college football.
This is when agents make their money, when speculation and misinformation run rampant and when coaches try to discern whether the grass really is greener on the other side of the fence.
Although there hasn't been a great deal of movement, it certainly will be worth watching what happens at Texas, which obviously could trigger a serious domino effect. If Mack Brown retires, don't be surprised if Florida State's Jimbo Fisher is a name that surfaces in the Longhorns' search.
Getting Fisher out of Tallahassee could be a chore. If the Seminoles, as expected, play in the Vizio BCS National Championship, that adds another month to the timetable before Fisher would be available. He's also sitting on a gold mine in terms of talent and has an easier pathway every year to the national title game with the Seminoles playing in the ACC.
Of course, what typically drives the perennial coaching carousel is the green. That's green as in cold, hard cash.
We've already seen USC act quickly by hiring away Steve Sarkisian from Washington. The Trojans had initially targeted Texas A&M's Kevin Sumlin, who parlayed the Trojans' interest into becoming a member of the $5 million club.
We're rapidly approaching the day when a coach in the SEC making $3 million per year will fall somewhere in the bottom of the pack in terms of salary.
It's called market value, and that's what the going rate is right now to hire (and keep) good coaches.
Auburn's Gus Malzahn will be the next to cash in after the job he has done in leading the Tigers to the SEC championship game in his first season.
But the number of coaches packing up their offices this week has paled in comparison with most years. There just aren't that many jobs open right now.
Just look at the SEC. This might actually be a year when there aren't any changes at the top.
December, 5, 2013
Dec 5
9:53
PM ET
ESPN.com news services
University of Texas president Bill Powers denied Thursday that the Longhorns are looking to hire Alabama coach Nick Saban to replace Mack Brown.
"I've never met Nick Saban. I've never talked to Nick Saban. We have not hired Nick Saban," Powers told the Austin American-Statesman. "Mack's our coach, and I can say flatly that the rumors we have hired or come to an agreement with Nick Saban or even talked to him are false."
In October, The Associated Press reported that regent Wallace Hall, one of Powers' top critics, and former regent Tom Hicks spoke with Saban's agent in January about the possibility of Saban coaching at Texas. Tom Hicks is the brother of current regent Steve Hicks, one of the board's two athletic liaisons and a key Powers ally. That conversation took place just a few days after Alabama won the national championship and Texas had wrapped up a 9-4 season that included a bowl victory under Brown.
Powers on Thursday acknowledged that meeting to the American-Statesman.
"There was an outreach to his agent, and I exempt that from this discussion," he told the newspaper. "Whatever happened then happened. We don't have any plans one way or the other (to replace Brown). And we don't have an opening."
According to the newspaper, Tom Hicks spoke with Brown after that meeting about Saban potentially being his replacement, and Brown said he did not plan on resigning, so the conversation with Saban's camp ended.
Brown came under fire early this season as the Longhorns lost two of their first three games. However, they then won six straight before falling to No. 6 Oklahoma State, and they remain in contention for the Big 12 title as they prepare to face No. 9 Baylor on Saturday.
December, 5, 2013
Dec 5
5:15
PM ET
[+] Enlarge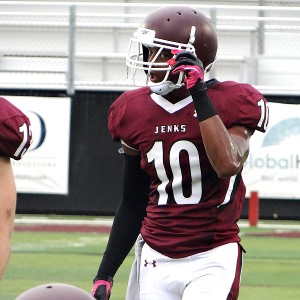 Bob Przybylo/ESPNSteven Parker II could follow in the footsteps of his father at Oklahoma State or his grandfather at Oklahoma.
December, 5, 2013
Dec 5
2:20
PM ET
The Under Armour All-Americans have been announced; now, it's a wait-and-see process for many of them. Will the committed players stay committed? Will the uncommitted make decisions soon? Can we see a major flip before national signing day?
This week's recruiting storylines focuses on some of the Under Armour All-Americans being recruited by Big 12 programs.
Big 12 representation -- or lack thereof -- at the UA game.
The Big 12 currently has four representatives who will compete in the Under Armour All-America Game -- Texas defensive end commit
Derick Roberson
(San Antonio/Brennan) and cornerback commit
Jermaine Roberts
(New Orleans/St. Augustine), Oklahoma quarterback pledge
Justice Hansen
(Edmond, Okla./Santa Fe) and Kansas offensive lineman pledge
Jacob Bragg
(Nacogdoches, Texas/Nacogdoches).
To continue reading this article you must be an Insider
December, 5, 2013
Dec 5
12:00
PM ET
December, 5, 2013
Dec 5
10:15
AM ET
Two games left. A conference title up for grabs. Here we go. The Big 12 storylines to keep an eye on this weekend:
1. Crowning a champion
: The Big 12 didn't need a big prime-time showdown at AT&T Stadium to end up with a marquee final weekend of conference play. The league's schedule makers should get holiday bonuses for their work this year, pitting the Big 12's four best teams against each other on championship weekend with a conference title on the line. Odds are Oklahoma State wraps it all up with a victory over Oklahoma, but if the Sooners pull the upset all eyes will be on Texas-Baylor to decide who gets the trophy.
[+] Enlarge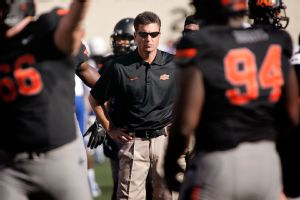 Brett Deering/Getty ImagesMike Gundy has Oklahoma State are focused on beating Oklahoma and earning their second Fiesta Bowl trip in three years.
2. Can the Pokes do it again?
Mike Gundy likened Oklahoma State's run in the month of November to playoff football. You've got to win one game to make the next one count. The Cowboys control their own destiny now thanks to the beatdowns they handed Texas and Baylor in back-to-back weeks, and they get the Sooners at home in Stillwater. Now they have to capitalize and secure their second Fiesta Bowl trip in three years.
3. Day of the underdog:
Texas fans will be unabashedly rooting for Oklahoma on Saturday. Yep, seriously. They have to. Even
Case McCoy
admitted he's pulling for a Sooners victory, even if it makes him "sick to my stomach." The Sooners have a chance to play spoiler and knock OSU from atop the Big 12 standings. If they pull that off, can Texas notch an even more surprising victory in Waco? The Longhorns have embraced the underdog role ever since starting 1-2.
4. Finishing Baylor's dream season
: The loss to OSU knocked Baylor out of the national title hunt, damaged its hopes of playing in a BCS bowl and might've killed Bryce Petty's chances of winning the Heisman. Yet the Bears still have a ton to play for this weekend. This can still go down as the best season in school history, especially if Baylor wins a share of the Big 12 title.
5. Who's the DPOY?
Good luck finding a consensus about who should win the Big 12's Defensive Player of the Year honor this season, and this weekend might not change that much. Still, several candidates have a chance to make a strong final impression, including Oklahoma State linebacker
Caleb Lavey
and cornerback
Justin Gilbert
as well as Texas defensive end
Jackson Jeffcoat
.
6. Oklahoma's next BMOC
:
Trevor Knight
is another guy who could definitely use a strong finale to help his reputation not only for 2013 but, more importantly, for the offseason and beyond. Knight is coming off nice performances against Iowa State and Kansas State. An upset win over OSU could do wonders for proving he is Oklahoma's quarterback of the future.
7. Mack Brown: What's on the line?
Who knows what this Baylor game means for Brown's future at Texas, other than this: If Texas wins, good luck firing a coach who brings a Big 12 trophy home after leading his team from 1-2 to 9-3. And if the Bears win a blowout, well, buckle up for another rumor-filled week in Austin.
8. December weather
: Introducing the X factor in both of this weekend's Big 12 games: Winter Storm Cleon. The high and low for Stillwater on Saturday are 28 and 17. Waco is expecting freezing rain and temperatures in the high 20s. We could be in for some very messy, conservative football.
9. Closing out The Case
: It's a historic weekend for Baylor, which plays its final home game at 63-year-old Floyd Casey Stadium on Saturday. The last time a current Big 12 school opened a brand-new stadium was 1980, when West Virginia built Milan Puskar Stadium. The Bears are breaking out retro uniforms and expect the largest crowd ever in stadium history.
10. The Sunday bowl shakeout
: The bowl projections for the Big 12's six bowl-eligible teams are somewhat obvious at this point but could be in for a big shakeup depending on how these final two games play out. You know the committees of the AT&T Cotton, Valero Alamo and Buffalo Wild Wings Bowls will be watching closely and could face difficult decisions if we see some upsets.
Alamo Bowl: Oregon-Texas