April, 14, 2014
Apr 14
4:15
PM ET
Charlie Strong called one in-state running back's coach with good news on Monday, so the tailback called back with better news.
To continue reading this article you must be an Insider
April, 11, 2014
Apr 11
8:29
PM ET
David Ash
's broken foot is yet another blow to the
Texas
quarterback and his chances of locking down the starting quarterback job in 2014.
Ash missed the majority of the 2013 with concussion-like symptoms but was looking to get off to a fresh, and healthy, start under new coach Charlie Strong. Instead, this injury puts Ash
back on the sideline for the remainder of the spring.
It's the worst-case scenario for Ash in a lot of ways, as it opens the door for other quarterbacks to put a stranglehold on the position or, at the very least, give themselves an edge in the race to start for UT this fall. Sophomore
Tyrone Swoopes
is one of three healthy quarterbacks expected to be available for the Longhorns' spring game on April 19 and will get the chance to impress the new coaching staff while the other main competitors in the quarterback derby watch from the sidelines. Even though Ash will miss just the final week of spring football, his injury still removes competition in the final days of spring.
More competition is on the way with class of 2014 signee
Jerrod Heard
joining the mix in the summer and USC transfer
Max Wittek
possibly joining the fray if he decides to transfer to Texas.
For Texas, Ash's injury makes the spring game a bit more difficult with just three healthy quarterbacks set to participate. But, more importantly, Ash's injury has reaffirmed the Longhorns' need for multiple options at the quarterback position. Ash has started 21 games during his UT career, giving him the experience edge over all of his competitors and the coaching staff a bit some peace of mind with a veteran option at the position. But he's been unable to shake the injury bug during the past year, essentially putting all of the quarterbacks on even ground heading into the competition. This injury won't help his case as he tries to win the job and prove himself as the best option during Strong's initial season in Austin, Texas.
Don't be surprised if UT's pursuit of Wittek becomes an even higher priority, Swoopes' development starts to accelerate and Heard's summer is spent preparing the true freshman to play immediately.
Because if UT has learned anything from the past 12 months at the quarterback position, it's that one injury can turn Plan B into Plan A in a heartbeat.
April, 11, 2014
Apr 11
6:58
PM ET
Texas quarterback David Ash has suffered another setback that will sideline him for the final week of spring practice.
Ash suffered a fracture in his left foot during spring practice and will undergo surgery next week, the school announced. He is expected to be healthy in time for fall camp, according to Texas trainer Anthony Pass.
The break is a Jones fracture, which occurs at the base of the fifth metatarsal connected to the small toe. It causes pain, swelling and difficulty walking.
Ash missed more than 10 games last season due to concussion-related issues. Texas confirmed Friday that Ash's medical hardship waiver was approved for the 2013 season. He enters this fall a junior with two seasons of eligibility.
The Longhorns' starting quarterback in 2012, Ash has thrown for 4,372 yards and 30 touchdowns in 28 career games and earned praise for his play in spring practices this month. He was fully cleared by UT trainers to participate in practice after his concussion symptoms had subsided.
With Ash sidelined, Texas is down to three quarterbacks for its spring game April 19: sophomore Tyrone Swoopes, converted tight end Miles Onyegbule and walk-on Trey Holtz.
April, 11, 2014
Apr 11
12:00
PM ET
Happy Friday, everybody. Here are the links...
April, 11, 2014
Apr 11
10:30
AM ET
We've been doing something different with Friday's Big 12 mailbag. From now on, we'll be including Twitter questions with the regular mailbag submissions. To submit a mailbag entry via Twitter, simply include the hashtag #big12mailbag. You also still can send in questions the traditional way
here
, too.
To the 'bag...
@Jake_Trotter best newcomers this spring?

— Eric Bowman (@E_ROCK12) April 10, 2014
Trotter:
So far, Oklahoma State running back/receiver
Tyreek Hill
, TCU safety
Kenny Iloka
and Kansas receiver
Nick Harwell
. With his speed, Hill could lead the league in all-purpose yards. Iloka is going to be a key piece in the best secondary in the Big 12. And Harwell should finally give the Jayhawks that go-to receiver they haven't had since Dezmon Briscoe.
---
@Jake_Trotter this far out if you had to pick this year's Paul Rhoads upset special who would it be

— Ted Flint (@TedFlintKansas) April 10, 2014
Trotter:
The Cyclones get K-State in Ames the second week of the season, which could be a dangerous game for the Wildcats, who might get caught looking ahead to that Thursday night clash with Auburn. Another team that must pay heed is Oklahoma. The Sooners go to Iowa State the week before hosting Baylor in a game that could determine the Big 12 crown. OU can't afford to be looking ahead, either.
---
@Jake_Trotter What's your over/under on Kansas conference wins this coming season? #big12mailbag

— Michael Nichols (@mdn_13) April 10, 2014
Trotter:
I'm going to set it at 1 1/2, and I think I would actually bet the over. The Jayhawks are going to be better this season, and quite possibly good enough to steal two conference wins.
---
@Jake_Trotter @ESPN_Big12 what is TTU going to do with all these young QBs? Webb, Mahomes, Stidham #big12mailbag

— Matt McNicoll (@Matt_McNicoll) April 10, 2014
Trotter:
Right now, the Red Raiders have one on campus, and that's well below the national average. I don't see an issue. The way
Davis Webb
has improved in the last five months, he's going to be the guy the next three seasons barring something unforeseen. That would still give
Jarrett Stidham
three seasons of eligibility to be the starter, if he redshirted next year.
Patrick Mahomes
will get this chances, too. Seems like what TTU is going to do is be really good at quarterback the next six years.
---
@Jake_Trotter you think OU/TX will have a 2:30 kickoff? It's hard for us college students to make the noon kickoffs, heck hard for anybody — Konnor Lohman (@konnorlohman) April 10, 2014
Trotter:
I have no inside info here, but if the game is at 11 a.m. again, hit me up in the fall and I'll share with you my shortcut to the Texas State Fair.
---
@Jake_Trotter how do you see the Daniel Sams move to WR working out for #KState? — Corbin McGuire (@CorbinMcGuire1) April 10, 2014
Trotter:
It was a move that had to be made. Sams is too talented to be standing on the sidelines. He's not going to instantly become an All-Big 12 receiver. But if they can devise ways to get Sams the ball in space, the move could work out well. I see Sams getting a lot of his touches through flares, screens, reverses and maybe a handoff or Wildcat formation here or there. If they can get Sams the ball 10 times a game, that will only help the K-State offense. Think
Trevone Boykin
in TCU's offense late last year. That's how I see Sams best fitting in.
---
@Jake_Trotter Do you see Kenny Williams starting on both sides of the ball next year?

— Michael Bates (@BatesTheDoulos) April 10, 2014
Trotter:
Playing? Yes. Starting? No. I think Williams ultimately favors one side of the ball. The most likely scenario is he still keeps a major role at running back, then gives coordinator Matt Wallerstedt 15-20 plays at outside linebacker, which is more than I would have predicted at the beginning of the spring. Williams can really help the defense, but not at the expense of playing 130 snaps.
---
@Jake_Trotter which big 12 coach's job is the most secure and who has to win right now?

— David Leake (@DavidLeake) April 10, 2014
Trotter:
Bob Stoops, Art Briles, Mike Gundy, Bill Snyder and Gary Patterson have ironclad job security. Paul Rhoads and Kliff Kingsbury have nothing to worry about, either, and Charlie Strong is too new to have to worry (though in Austin, that could change fast). That leaves Charlie Weis and Dana Holgorsen, whose seats are warmest among Big 12 coaches. I think Weis just has to show improvement this season. He can't go 0-12. Holgorsen is the most interesting to watch. Considering the brutal schedule, it's very possible West Virginia is better than last year and still goes 5-7, which might not be enough for Holgorsen to keep his job. But if the Mountaineers go, say, 7-5 against that slate, then I would think Holgorsen would be deserving of another year. West Virginia has been recruiting at an impressive clip, and the schedule will line up more favorably in 2015.
---
jrodxc07 in Dallas writes:
Jake, love the blog, nice work sir. I think you could make a case for incoming Baylor receiver
K.D. Cannon
as Offensive Newcomer of the Year. Can you explain why you left him off your list?
Trotter:
Appreciate it, sir. Cannon was actually on the poll for Offensive Freshman of the Year two weeks ago. The newcomer poll was for transfers, which is why you didn't see him there.
---
I only care about the Big 12 writes:
Please go ahead and give us your way-too early power rankings? That is, if you haven't already...
Trotter:
I actually released a power poll in January that went this way: OU, Baylor, K-State, Texas, Oklahoma State, Tech, TCU, Iowa State, West Virginia, Kansas. I'll be updating it, though, after spring ball concludes.
April, 11, 2014
Apr 11
10:00
AM ET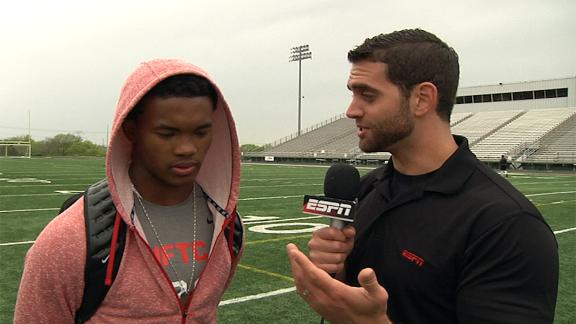 Throughout this recruiting cycle, RecruitingNation will profile a number of ESPN 300 prospects in the 2015 class, including an inside look at the prospect, his recruitment, a scouting report and what college program could benefit when he ultimately makes his decision.
DESOTO, Texas -- When describing quarterbacks, there are certain words and terms that are often used.
Those often heard are winner, clutch, leader, resilient, precise, competitive, field general, accurate, playmaker, calm, cool and collected, among others.
In the case of Under Armour All-America quarterback
Kyler Murray
, they might all apply.
To continue reading this article you must be an Insider
April, 10, 2014
Apr 10
4:00
PM ET
Athlon Sports has always been big on lists. And this week, Athlon's Steven Lassan ranked
all 128 FBS coaches
. He also pulled out the
top 10
Big 12 coaches.
As a disclaimer, this is
NOT
our list. This is Athlon's. So forward all hate tweets and emails to them. Not me. I already get enough.
[+] Enlarge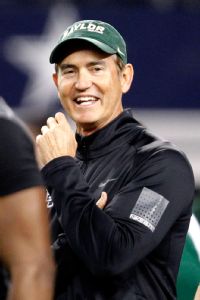 Ron Jenkins/Fort Worth Star-Telegram/MCT/Getty ImagesArt Briles' status has grown in the eyes of Athlon.
Without further ado:
1. Bob Stoops, Oklahoma
2. Art Briles, Baylor
3. Bill Snyder, Kansas State
4. Mike Gundy, Oklahoma State
5. Gary Patterson, TCU
6. Charlie Strong, Texas
7. Paul Rhoads, Iowa State
8. Kliff Kingsbury, Texas Tech
9. Dana Holgorsen, West Virginia
10. Charlie Weis, Kansas
Some observations:
Athlon prefers coaches who win conference championships. Briles, Snyder, Gundy and Stoops, the top four on this list, have won the past four Big 12 titles.

I went back and checked and noticed some interesting changes. Snyder was No. 1 in 2013, but dropped two spots this year (why, I'm not sure; K-State did win six of seven to close out the season). Mack Brown was No. 6 -- the same slot that Strong opened up here. Kingsbury moved up only one spot after going 8-5 in his first season.

In the eyes of Athlon, Patterson's stock is falling. He was the No. 2 coach going into his first year in the Big 12 and was ranked third going into last season. On the flip side, Briles has made the biggest rise in the last two years, going from sixth to second after winning the Big 12 last season.

Athlon actually had Snyder fifth in 2012, which is hard to believe. We're talking about one of the best coaches of all-time, right?

As you can see, I have a bigger beef with the 2012 and 2013 rankings than the 2014 one.

Kingsbury has the potential to ascend the most of anyone on this list. I don't know that the No. 8 spot is completely unfair, considering he's only been a head coach one season. But if he can turn Texas Tech into a Big 12 contender on a quasi-regular basis, he could jump several spots.

This is obviously not an easy list to compile. How do you weigh what Briles has done the last five years against what Snyder has the last 25? It's all a matter of subjectivity.
April, 10, 2014
Apr 10
12:37
PM ET
AUSTIN, Texas -- A historic day on the University of Texas campus got even better Thursday, thanks to Les Miles.
The LSU head coach was photographed attending a UT history class along with his wife, Kathy.
More than just Presidents on the 40 Acres today. @LSUCoachMiles is currently sitting in a UT history class. pic.twitter.com/inInjzDrHe

— Longhorn Network (@LonghornNetwork) April 10, 2014
Months ago, amid the coaching search to replace Mack Brown, a photo of Miles being spotted on Texas' campus might have burned down the Internet. But no need to panic, LSU fans, he's only in town for his family.
What's going on here? LSU wrapped up its spring practices last week, giving Miles and his wife time to get away this week and visit their daughter,
Kathryn "Smacker" Miles
, a freshman on the Longhorns women's swim team.
Miles also attended Texas' annual academic awards banquet on Wednesday night and told the
Austin American-Statesman
he was impressed by the event.
"It's an affirmation of things being done right," Miles told the newspaper. "I think the message certainly is that to compete not only in the pool but in the classroom, and I think she's enjoying that very much."
Miles is in Austin on the same day that President Barack Obama and former President George W. Bush are scheduled to speak at the LBJ Presidential Library's Civil Rights Summit, honoring the 50th anniversary of the passage of the 1964 Civil Rights Act.
April, 9, 2014
Apr 9
1:14
PM ET
HOUSTON -- Both Bob Stoops and Mike Gundy know Oklahoma does not have a deep enough talent pool for both programs to win at the highest level relying primarily on homegrown recruits. So they've made it a priority to look south of the Red River to stockpile talent. The approach has worked quite well for years, as the Sooners and Cowboys have won conference titles with rosters loaded with Lone Star State prospects.
But the recruiting climate in Texas has changed dramatically over the past three years thanks to the Johnny Football-fueled rise of Texas A&M and the turnaround job Art Briles has done at Baylor. Schools that used to only have to truly recruit against the Longhorns for the state's top prospects are now locked in three- or four-team tussles. Suddenly, the ability of OU and OSU to go deep in the heart of Texas has been met with resistance. Could the days of the Cowboys and Sooners landing players like Dez Bryant, Justin Gilbert, Tommie Harris, Russell Okung, Trent Williams and Adrian Peterson be over?
To continue reading this article you must be an Insider
April, 9, 2014
Apr 9
10:00
AM ET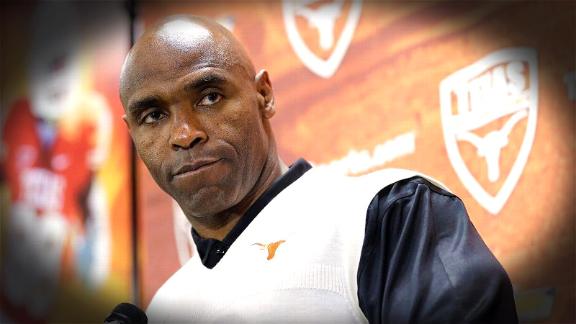 Charlie Strong asked for a couple of months to let the dust settle and establish himself. That's all the time he needed to get his point across as the new coach at Texas.
Since taking over in early January, Strong has visited multiple high school campuses throughout the state, hosted junior day events and used countless cellphone minutes to connect with players, coaches and parents. Gone, for now, is the perception that the job of replacing Mack Brown -- an iconic figure in college football -- would be too difficult for Strong.
The reality -- Strong's directness, his X's and O's knowledge and win-now attitude -- is setting in with the Class of 2015 recruits. Strong is now the face of what many believe is the new Texas. The transformation took roughly 90 days.
To continue reading this article you must be an Insider
April, 7, 2014
Apr 7
12:00
PM ET
April, 6, 2014
Apr 6
9:00
PM ET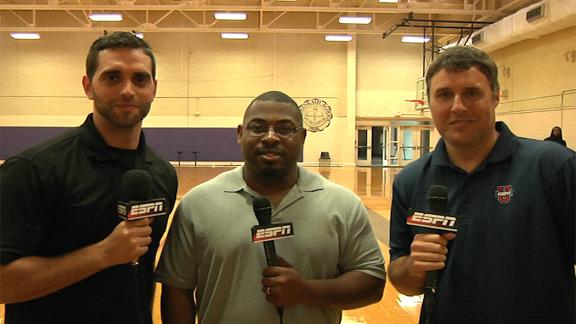 HOUSTON -- On-again, off-again rain couldn't put a damper on the Houston Nike Football Training Camp on Sunday, and three athletes -- safety
Deionte Thompson
, tight end
Jordan Davis
and offensive tackle
Jerry Tillery
-- earned golden tickets to compete at The Opening this summer in Oregon.
Seven players left The Kinkaid School practice facility with MVP honors at their respective positions: Skyler Bonneau (quarterbacks),
Remus Bulmer
(running backs),
Gary Haynes
(wide receivers),
Erik McCoy
(offensive linemen),
Nikolas Daniels
(defensive linemen),
Spencer Choka
(linebackers) and
Deontay Anderson
(defensive backs).
To continue reading this article you must be an Insider
All Access Wired: Chris Rumph
BIG 12 SCOREBOARD
Saturday, 8/30
Sunday, 8/31