July, 30, 2014
Jul 30
4:55
PM ET
For all those people fretting that a playoff in college football would somehow water down the regular season, I offer up the blockbuster weekend of Sept. 3. 2016.
Yes, it's still a couple of years away and we're supposed to be focusing on what's right in front of us. But, geez, that Saturday to open the 2016 season could very well provide the most attractive lineup of nonconference games on one day that we've ever seen.
For that, at least in large part, we all have the College Football Playoff to thank.
Some of the matchups were already set or in the process of being set. But the real impetus in beefing up all these nonconference schedules was that a playoff was coming.
And, now, with a selection committee holding the keys to those coveted four playoff spots, we're going to be in store for some terrific nonconference showdowns in the regular season for years to come. Simply, teams that don't play and win those types of games are going to be on the outside looking in, which makes the regular season as important as ever.
My only knock on that weekend to kick off the 2016 season is that there are too many good games. I want to watch them all.
We've all been clamoring for an
Alabama
-
USC
matchup. Well, we're finally going to get it in Arlington, Texas to open that season.
And if you like your football Southern style,
Clemson
at
Auburn
has a nice ring to it. Lewis Grizzard, the late Southern humorist, once said that Clemson was Auburn with a lake. In a lot of ways, they're virtual clones of each other right down to their break-neck style of offense. Even more enticing, this is a home-and-home series with Auburn traveling to Clemson the next year.
There won't be a more unique game that weekend than
LSU
facing
Wisconsin
in historic Lambeau Field. Perhaps we'll get to see Les Miles perform the "Lambeau Leap" if the Tigers win.
Have the remote control ready because we also get
UCLA
at Texas A&M,
Notre Dame
at
Texas
and BYU Cougars at
Arizona
(in Glendale, Ariz.).
That's just the first weekend, too.
A week later,
Tennessee
and
Virginia Tech
will "trade paint" at Bristol Motor Speedway. And two weeks later,
Ohio State
travels to Oklahoma and
Oregon
visits Nebraska.
So much for opening the college football season with a tune-up … or two.
July, 30, 2014
Jul 30
10:30
AM ET
DALLAS -- When
Quandre Diggs
says, "Ya'll know I'm always going to keep it 100 with you," the Texas senior cornerback is not joking. Not even a little bit.
Diggs has been known to use his
Twitter account
as a beacon for his hot sports takes, so we spent extra time with him last Tuesday at Big 12 media days and gave him a chance to sound off on whatever he wanted. He was happy to oblige.
[+] Enlarge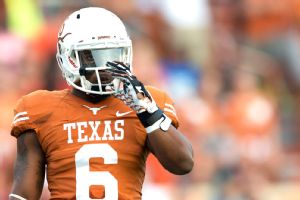 Cooper Neill/Getty ImagesTexas cornerback Quandre Diggs has no problem sharing his opinion on a variety of subjects.
On his summer:
"Summer was great. I worked out. Busted my tail. I went to Angleton (Texas) a couple times. Went to San Diego once. My brother (
Quentin Jammer
) tried to kill me out there working out with him. That was tough. I didn't know the old man still had it in him like he does."
On LeBron James returning to Cleveland:
"Ah, man. See, this is the type of question I like, something off the topic of football. I think it was best for him to leave Miami, you know? If D-Wade was going to get an extension, I'd say if D-Wade is worth $7 million, I'm worth $2.5 (million) in basketball terms. D-Wade, his knees gone. When your knees gone and you're a basketball player, it's hard to succeed in that league.
"On the real, no, I think it was a great move for LeBron. He earned a lot of people's respect by going back to Cleveland. As a man, you can tell what type of man LeBron really is. He loves the city of Cleveland, he loves being back at his home. Much respect to him. I'm glad he went back. He has a great young team down there and if those guys can pull off that
Kevin Love
trade ..."
On a Kevin Love-Andrew Wiggins trade:
"I'd give up Andrew Wiggins. He'd be gone. Kevin Love gets 26 and 12! That's way better than what Bosh was doing in Miami."
On being a Heat fan or a LeBron fan:
"I'm a LeBron guy! I wasn't really just a Miami guy. LeBron could've gone to the Charlotte Bobcats, I'm going to get me some Bobcat hats or something."
On the NFL's best cornerback:
"There's been a lot of talk about that. I love
Richard Sherman
. Best corner in the NFL is
Joe Haden
. He does it all. He lines up in the slot, lines up outside, plays man, plays zone. He does it all. If it was second, I would have to go Sherman. Just how I feel. I'd say
Darrelle Revis
is three. Revis is a beast. No matter where he plays, he's a beast."
On the record paydays NFL corners got this offseason:
"Ooh, that made my eyes get big. Five more years! Five more years and ching-ching."
On LSU and other schools claiming they're "DBU":
"Well yeah, you know, you've got the fake DBUs. There's one real DBU and this tradition is going to continue to go on as long as we're at Texas. We have (schools) that might've just started getting first-round draft picks as DBs. But we've had that since, what, the 80s? 70s? I go back in that DB room and look at the wall and I've got guys from the 70s, 80s, 90s, 2000s, they all made money."
On Texas linebacker Steve Edmond dissing Baylor in May:
"Hey man, Steve is going to say what he's going to say. It don't matter. Coach [Charlie] Strong can tell him not to say something, but Steve is country. That's just how it is. When you're raised in the country, you don't really care. You don't care about hurting people's feelings."
On whether Diggs is OK with that trash talk:
"I don't have a problem with it. I don't see what's the problem with it. I'm just going to let that one go. I don't want to get in trouble. Coach Strong wants us to speak our minds. He speaks his mind. He wants us to be real. I'm not going to elaborate on that situation. ... I'm not bowing down to any man. Any man, any team, I'm not bowing down to anybody. I'm an alpha male and I want to be in charge."
On Texas' second-best trash talker:
"Well, nobody can go blow-for-blow with me, but if I'm going to say one guy that can talk trash:
Peter Jinkens
. He's going to say what he wants when he wants. That's just Pete. He told me to say something stupid for y'all, but I'll leave that to him when he talks to the media. I hope they don't let him talk. He hit me up today on Twitter when he saw the pictures and said, 'Q would be the only one with some Jordans on.' That's just me. I'm going to be me. I like to dress up, but I'm not going to dress up in church shoes with pants."
On the cancellation of the "NCAA Football 15" video game:
"I was kind of mad. I wanted to see what my rating would be this year. I'd be about 96, something like that. I wish we would've had that game. But hey, that's above my head. I just want to be the best player I can be."
July, 30, 2014
Jul 30
9:30
AM ET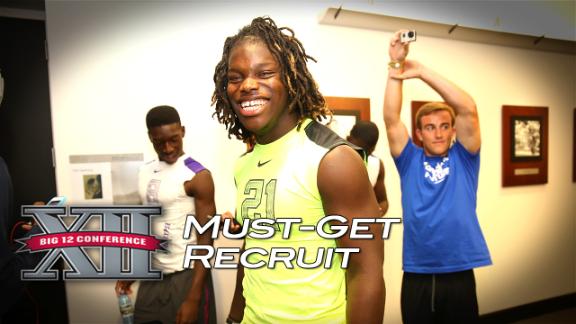 With the Big 12 football season kicking off in a few weeks, college recruits will be focused on setting up official visits and also narrowing their college lists in preparation for a commitment. As important as this time will be for recruits, it'll be equally important for schools, as they prepare for a season that, with solid performances in home-game environments, can assist in landing some of the best uncommitted prospects around.
Here are some names that the Big 12 schools will be pursuing throughout the fall.
July, 30, 2014
Jul 30
9:00
AM ET
With the season just a month away, we're taking this week
to rank the Top 25 players in the Big 12
.
This is a ranking of who we're projecting the best 25 players will be in 2014.
Today, we continue with Nos. 15-11, which include a pair of budding quarterbacks:
15. Malcom Brown, DT, Texas:
The Longhorns' 6-foot-4, 305-pound run-stuffer might have as much NFL upside as any player in the league. The former blue-chip recruit had a breakout season as a sophomore in 2013 with 68 tackles, including 12 for loss. If Brown continues to develop he could become one of the most menacing defensive players in the league.
14. Sam Carter, SS, TCU:
Jason Verrett
and
Devonte Fields
have overshadowed Carter the past two years. But with Verrett gone and Fields' TCU future in limbo, Carter will be the cornerstone of one of the best defenses in the conference. Carter has nine interceptions the past two years, the most of any returning Big 12 player.
13. B.J. Finney, C, Kansas State:
Nobody in the Big 12 has more offensive line starts than Finney, who has 39 in three years. Not only has Finney been a starter for seemingly forever, he's been a stalwart for Bill Snyder in the trenches. Finney is a two-time first-team All-Big 12 selection, and was voted on the preseason all-conference squad for 2014. With Finney manning center, the Wildcats have compiled a sparkling three-year record of 29-10.
12. Trevor Knight, QB, Oklahoma:
This might be our most controversial selection so far. But we're believers in Knight, who was nothing short of spectacular quarterbacking the Sooners to the 45-31 win over Alabama in January. Knight struggled with his passing accuracy and his health early on as a redshirt freshman. And sure, he's started and finished only three games in his career. But Knight was also terrific in a late-season win at Kansas State. We don't think the Alabama performance was a one-hit wonder. We think it was a sign of more to come.
11. Davis Webb, QB, Texas Tech:
Webb gets the slight nod over Knight, due to a more impressive spring. As good as Knight was in the Sugar Bowl, Webb was just as impressive leading Texas Tech to the upset win over Arizona State in the National University Holiday Bowl. Including that bowl game and Tech's three open spring scrimmages, the rising sophomore tossed 17 touchdowns with no interceptions. He also showed more zip on his throws in the spring after adding 15 pounds of muscle during the offseason. Tech's defense remains a question. But Kliff Kingsbury's passing offense should be prolific thanks to Webb's rapid development.
Coming Thursday:
Nos. 10-6 ...
July, 29, 2014
Jul 29
1:30
PM ET
ESPN.com has taken on the monumental task of ranking the top 100 players in college football going into the 2014 season. The rankings were done based on the expected contributions of each player for the 2014 season, regardless of position.
Monday,
the first 20 players were released
. Today, the unveiling continued with Nos. 80-61.
Here are the Big 12 players who made the second installment:
No. 68: Texas CB Quandre Diggs
No. 72: Texas DE Cedric Reed
I can't argue with either Longhorn cracking the top 100.
I'm not sure Diggs was more deserving than Kansas State defensive end
Ryan Mueller
, who narrowly missed out on the top 100. But Diggs is a three-year, 36-game starter and probably the best returning cornerback in the Big 12.
Reed definitely was deserving. He finished third in the Big 12 last year in sacks and fourth in tackles for loss. Together with defensive tackle
Malcom Brown
, who also appeared in the top 100 at No. 90, the Longhorns have one of the best one-two defensive line punches in college football.
Remember to keep in mind this national list, which was compiled by the entire ESPN.com college football team, won't necessarily line up with
our top 25 ranking of Big 12 players
, which was put together by Brandon Chatmon, Max Olson and myself.
Make sure to track the top 100 rankings all week long, as there will be Big 12 players in all five parts.
Coming Wednesday:
Nos. 60-41.
July, 29, 2014
Jul 29
12:00
PM ET
Big 12 coaches
read mean
(well, more awkward than mean) tweets.
July, 29, 2014
Jul 29
9:30
AM ET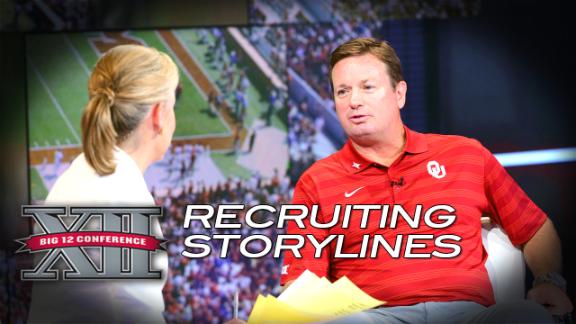 The new ESPN 300 features 22 players currently committed to Big 12 programs. Texas leads the conference race with seven commits, while Oklahoma is next with five. Texas Tech has the conference's highest-ranked ESPN 300 player in quarterback
Jarrett Stidham
, who is ranked No. 38 and is the No. 3 dual-threat quarterback in the country.
Here are five things to know in the Big 12:
To continue reading this article you must be an Insider
July, 29, 2014
Jul 29
9:00
AM ET
With the season just a month away, we're taking this week to rank the Top 25 players in the Big 12.
This is a ranking of who we think the best 25 players will be over the course of the 2014 season.
Monday,
we kicked this series off with the first five names
. Today, we continue with Nos. 20-16.
20. Johnathan Gray, RB, Texas:
Health is the only concern with Gray. Because when he's healthy, Gray is a devastating combination of speed and power. There's a reason the Longhorns have never lost when Gray has gotten 20 carries, which included victories over Oklahoma and Kansas State last year. A torn Achilles ended his 2013 season prematurely. But Gray has been cleared for fall camp, which is a good sign for the Longhorns and a bad one for the rest of the Big 12.
19. Bryce Hager, LB, Baylor:
Hager is the
Bryce Petty
of the Baylor defense, with a pair of second-team All-Big 12 seasons behind him. Hager has recorded 195 tackles over the past two seasons and is one of the most seasoned players in the league. He missed the spring rehabbing from a season-ending groin injury, but should be 100 percent when the Bears begin fall camp. If Baylor avoids a drop off from last year's breakout defensive campaign, Hager's steady play will be a major reason why.
18. Quandre Diggs, CB, Texas:
Diggs is the most outspoken player in the league, even foreshadowing during Big 12 media days that coach Charlie Strong might have to weed out certain players. Diggs will be a four-year starter and the unequivocal leader of the Texas defense. He should be more comfortable back at cornerback after a stint last season at the nickel. With cornerbacks
Jason Verrett
,
Justin Gilbert
and
Aaron Colvin
all gone, Diggs figures to be the new class of the position in the league.
17. Chucky Hunter, DT, TCU:
The Horned Frogs might not have star end
Devonte Fields
this season. But they should still be stout up front, thanks to the return of Hunter, who is coming off an All-Big 12 season. Fellow tackle
Davion Pierson
is one of the most underrated players in the league. And the two form arguably the best one-two punch at defensive tackle in the league.
16. Ben Heeney, LB, Kansas:
Don't blame Heeney for the Jayhawks' 3-9 record last year. The Big 12's top returning tackler spearheaded a defense that gave opposing offenses fits at times in 2013, despite getting virtually no assistance from the Kansas offense. With nine starters back, the Jayhawks could create even more problems for the offenses of the Big 12. Especially with Heeney manning the middle.
Coming Wednesday:
Nos. 15-11 …
July, 28, 2014
Jul 28
3:50
PM ET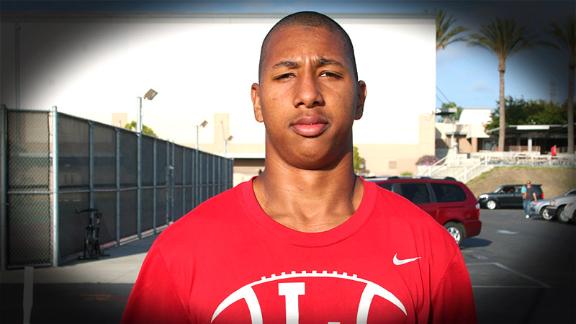 Defensive end
Keisean Lucier-South
planned to trim his considerable list of scholarship offers to a final five schools in early August, but just like he is on the field, the nation's No. 28 prospect was quick off the line, announcing his top five on Monday.
To continue reading this article you must be an Insider
July, 28, 2014
Jul 28
8:53
AM ET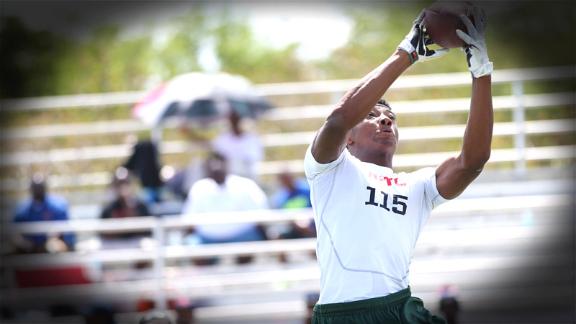 ESPN 300 WR
John Burt
is the latest rangy athlete to commit to the
Texas Longhorns
and head coach Charlie Strong.
To continue reading this article you must be an Insider
July, 26, 2014
Jul 26
4:15
PM ET
Friday, Texas A&M coach Kevin Sumlin fired back at Oklahoma coach Bob Stoops, who mocked the Aggies' nonconference schedule while at the ESPN car wash this past week.
"They have Lamar, Rice, SMU and Louisiana-Monroe," Stoops said. "Boy, those are all a bunch of toughies, right?"
According to AggieSports.com, Sumlin was asked about Stoops' comments at a fan event in Houston:
Sumlin - "Coach Stoops has the right to say whatever he wants, but if he wants to play us again we'll take him up on that."

— Aggie Sports (@Aggie_Sports) July 26, 2014
Behind Heisman winner Johnny Manziel, the Aggies hammered the Sooners in the 2012 Cotton Bowl 41-13. Sumlin actually coached under Stoops at Oklahoma until 2008.
During his Houston appearance, Sumlin also had this to say:
Sumlin said it's easy to kick a guy off the team. But in the "business of developing men."

— Aggie Sports (@Aggie_Sports) July 26, 2014
It's unclear if that was a veiled jab at the Longhorns. But this week, Texas coach Charlie Strong did dismiss six players from his team. Of course, Sumlin could have been exclusively referencing his own program. Seven Aggies players have been arrested since December.
July, 25, 2014
Jul 25
5:30
PM ET
We continue with our series looking at each Pac-12 team's nonconference opponents in 2014.
UCLA Bruins
At Virginia Cavaliers, Saturday, Aug. 30
Coach: Mike London (18-31), fifth year
2013 record: 2-10, 0-8, ACC
Returning starters: Seven offense, nine defense
Offensive headliner: Running back Kevin Parks became the first Cavalier player to rush for more than 1,000 yards in almost a decade, posting 1,031 yards and 11 touchdowns. He ranked second in the conference with 85.9 yards per game on the ground.
Defensive headliner: Middle linebacker Henry Coley led Virginia with 91 stops last year, including 8.5 tackles for a loss and a sack. He ranked eighth in the ACC with 7.6 tackles per game.
The skinny: Virginia is coming off its worst season under London, who has had a pair of 4-8 seasons with one winning season (2011, 8-5) in between. They are currently riding a nine-game losing streak and a 10-game losing streak against FBS teams (which started with a 59-10 loss last season to Oregon). After opening the year with a surprising win over BYU, it was all downhill, save for a win over VMI in between.
Memphis Tigers, Saturday, Sept. 6
Coach: Justin Fuente (7-17), third season
2013 record: 3-9, 1-7 American
Returning starters: Nine offense, eight defense
Offensive headliner: Quarterback Paxton Lynch threw for 2,056 yards and nine touchdowns last year, while adding 127 yards and two scores on the ground. It was just the 10th 2,000-yard passing season in school history and he was just the second freshman in school history to break the 2K passing mark.
Defensive headliner: Defensive lineman Martin Ifedi has been getting a lot of preseason love, landing on the Bednarik, Bronko Nagurski and Rotary Lombardi watch lists. He has 20 career sacks, one shy of matching the school record.
The skinny: Though there were a lot of losses last season, the Tigers were still pretty competitive in games against Duke, Louisville and BCS darlings UCF. But they ended the year on a low note with blowout losses to Temple and Connecticut. Lynch returns with some experience and a pretty good receiving corps, headlined by fourth-year player Keiwone Malone. The defense should be steady with a good line and a trio of returning linebackers.
Texas Longhorns (in Arlington, Texas), Saturday, Sept. 13
Coach: Charlie Strong, first year
2013 record: 8-5, 7-2 Big 12
Returning starters: Five offense, seven defense
Offensive headliner: Running back Malcom Brown rushed for 904 yards and nine touchdowns. He posted five 100-yard rushing performances last year, including 120 yards in the Red River Rivalry win over Oklahoma.
Defensive headliner: Defensive end Cedric Reed was third on the team last season with 79 tackles. He also led the team with five forced fumbles and is on the All-Big 12 preseason team and several watch lists.
The skinny: The Longhorns are starting anew with the Charlie Strong era. The last time we saw them, the Ducks were escorting Mack Brown into retirement following a 30-7 win in the Alamo Bowl. Texas has some rebuilding to do on the offensive line, with three starters departed. The quarterback spot is also, well, shaky. They also lose their top two tacklers from last season. But there is enough talent at the skill spots and across the defensive line to make this a potentially dangerous game.
Thoughts
: For the Bruins to get to where Jim Mora wants them, anything less than 3-0 won't do. Memphis and Virginia are struggling FBS teams -- but FBS teams nonetheless, which will help the Bruins resume. But the Texas game is the one that could bring some national attention to Westwood. A lot of eyes will be on Texas to see what Strong can do with the brand-name program in his first year. A lot of eyes will also be on the Bruins, who will likely be a top 10 team to start the season with Heisman hopeful
Brett Hundley
at the helm. Things only get tougher for the Bruins, as they leave their nonconference schedule and jump right into a showdown at Arizona State. Then home dates with Oregon, USC and Stanford loom. The Bruins have the DNA to be one of the top teams in the country and possibly advance to the College Football Playoff. A 3-0 nonconference mark puts them on the right path. Anything less knocks them off that path.
Scene & Heard: 2014 Season Storylines
BIG 12 SCOREBOARD
Saturday, 8/30
Sunday, 8/31