March, 26, 2015
Mar 26
10:00
AM ET
AUSTIN, Texas -- Texas Longhorns' first day back in the world of spread ball looked just like any other in Big 12 country.
Quarterbacks Tyrone Swoopes and Jerrod Heard practiced faking handoffs -- a nod to prepping for pop passes -- before firing throws. They got the Longhorns lined up in three-receiver shotgun and pistol sets. They didn't hesitate to tuck and dash for the sideline when they found space. And once one play ended, the next began seconds later.
"It's very fast," running back Johnathan Gray said. "We hit the field running and didn't stop until practice was over. Guys were pretty dog tired."
[+] Enlarge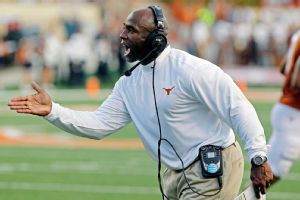 AP Photo/Michael ThomasAfter finishing last season ninth in the Big 12 at 68 plays per game, Charlie Strong's Longhorns are looking to pick up the pace on offense.
Gray and his Texas teammates are embarking on their third offensive overhaul in three years, though this round feels like more of a redesign than a full reboot.
In fact, the first comparison that crossed Gray's mind after practice Wednesday was how similar Texas' practices looked in 2013, back when Mack Brown and Major Applewhite decided to try a more up-tempo approach.
Players welcomed that blueprint two years ago. They sound happy to give it another go this spring.
"I like how it spreads out everything where you can run and pass," Gray said. "It mixes up everything. The defense doesn't know what's going to happen. It helps out the running back, quarterback, the wide receivers and the offensive line. I love this offense."
Center Taylor Doyle was reminded of his prep days, back when he grew up in an up-tempo spread at Lake Travis High under now-SMU coach Chad Morris.
"It's always fun to come back to the tempo offense," Doyle said.
Why make the move back to a spread scheme now? After a year on the job, Charlie Strong can admit he has a better understanding of his turf. Pro-style ball won him a lot of games at Louisville. The spread has already won the state of Texas.
"I would say probably 98 percent of this state is a spread offense," Strong said this week. "The key players that you need to really recruit, those guys are the ones that are in the spread offense. So that's what you're looking for."
Texas isn't going to start throwing the ball 60 times on Saturdays. Nor does Strong plan to engage in any 60-59 shootouts. As a defense-first coach, he joked, "I don't think I can live with that at all." Still, the transition made too much common sense, especially when considering Texas' peers as well as its own personnel for 2015.
"But you still have to find a way to go stay physical and go run the football," Strong said.
The hints of power football were easy to spot Wednesday, starting with Texas utilizing its tight ends as H-backs who motioned pre-snap before locking into blocks. It's clear the Longhorns intend to pick up their pace, too, after finishing ninth in the Big 12 at 68 plays per game in 2014.
"And we want an explosive team," Strong said. "We didn't create the big plays."
Only Kansas did a worse job of creating those big plays in the Big 12 last season. Texas produced explosive gains (defined as 12-plus yards on a rush and 16-plus yards for a pass) on only 10 percent of its snaps, while failing to gain yards on nearly 35 percent. Finding new ways to spark this group was an absolute must.
There's a reason, though, why this didn't work out in 2013: quarterback play. When David Ash went down against BYU, Applewhite had to scrap the blueprint. Texas had to find a different way to win with Case McCoy. Watson experienced similar back-to-the-drawing-board challenges last season with Swoopes after losing Ash and three of his best linemen.
What Texas will get from Swoopes and Heard in 2015, or how quickly either gets this spread offense rolling, seems impossible to predict. Then again, this was only Day 1 of spring ball. Pads don't even go on until Saturday.
The Longhorns don't need to know all the answers right now, but at least they're starting off with the right one.
Texas Longhorns Show Out On Pro Day
BIG 12 SCOREBOARD
Thursday, 9/3
Friday, 9/4
Saturday, 9/5