September, 17, 2014
Sep 17
2:45
PM ET
With six Big 12 teams having this weekend off, now is a good time to take stock of what's working and what isn't after Week 3. What are these six teams happy with and what still needs to get fixed? Here's a closer look:
Baylor
Next game:
Sept. 27 at Iowa State
What's working:
Pretty much everything. Baylor's offense kept rolling even when
Bryce Petty
was sidelined, the run game broke in new toys in
Johnny Jefferson
and
Silas Nacita
,
KD Cannon
became a national phenom in three weeks and the defense ranks top five nationally in scoring, total defense, yards per play and run defense to go along with an FBS-high 15 sacks.
What needs work:
This is welcomed recovery time for a team that got the injury bug in fall camp. Petty is 100 percent now and excited to get go-to target
Antwan Goodley
(quad) and receivers
Corey Coleman
(hamstring) and
Clay Fuller
(collar bone) back on the field. The Bears will likely get running back
Devin Chafin
(high ankle sprain) back in time to travel to Ames, too. With the exception of
Levi Norwood
, they'll have the full arsenal back in time for Big 12 play.
Iowa State
Next game:
Sept. 27 vs. Baylor
What's working:
The Cyclones go into the week off riding an emotional high they aim to turn into momentum. Their 20-17 upset of Iowa provided so many encouraging signs. Quarterback
Sam B. Richardson
had arguably the best game of his career, the defense came up with its first takeaway in a big moment and we saw another impressive performance from
Cory Morrissey
. Paul Rhoads is a happy camper after the rivalry win, and ISU avoided an 0-3 start in dramatic fashion.
What needs work:
A game plan for slowing down Baylor will be the main focus this week. ISU has a few injury issues of its own, but the good news is
Jarvis West
should be OK. Rhoads is focusing in on a four-week, four-game stretch in which the Clones take on Baylor, Oklahoma State, Toledo and Texas. After a win this good, there's always another upset to chase.
Oklahoma State
Next game:
Sept. 25 vs. Texas Tech
What's working:
The youth and inexperience Oklahoma State has on paper is not showing on the field. The Pokes haven't slipped since losing
J.W. Walsh
, they gave Florida State a tough four-quarter ballgame, they won with relative ease after that and they have entered the Top 25. Thsi is not a perfect team yet but is a rising one that's going to scare a lot of teams in conference play.
What needs work:
Facing Tech will give OSU a much better sense of how good its defense can be in 2014 after a nice showing in nonconference play. Gundy wants to see more depth develop in the back seven, and on offense he's expressed concerns about blocking the run game.
TCU
Next game:
Sept. 27 at SMU
What's working:
The offensive transition has been smooth and effective. TCU has averaged 39 points and 491 yards per game with its new Air Raid, and
Trevone Boykin
has been everything the coaches hoped for -- and maybe a little more. The defense hasn't taken a step back without Devonte Fields and has seen several players step up their games up front. Smooth sailing so far for a team that definitely looks bowl-bound again.
What needs work:
TCU's pass defense ranks No. 6 in FBS, but Gary Patterson has said he still wants to make some fixes in pass coverage. They'll devote the required amount of time on SMU, a struggling team led by an interim coach and a third-string quarterback, but the Frogs know they need to work ahead a little on Oklahoma and Baylor, including preparing for the 3-4 fronts of the Sooners' defense.
Texas
Next game:
Sept. 27 at Kansas
What's working:
Despite taking two losses, this defense is playing at a high level with a top-20 yards-per-play rate, a top-15 pass defense and 13 sacks. Defensive tackle
Malcom Brown
looks like a potential All-American so far.
Tyrone Swoopes
is taking steps in the right direction and shined at times against UCLA, while
John Harris
has finally emerged as a go-to receiver.
What needs work:
Where to begin? Texas' patchwork offensive line hasn't gelled and desperately needs these two weeks. The Longhorns need suspended WR/RB
Daje Johnson
back and need a healthy
Desmond Jackson
(ankle).
Cedric Reed
was better against UCLA but hasn't broken out yet. And Charlie Strong needs to start coming up with plans for stopping Baylor and Oklahoma or else this team could start 2-4.
Texas Tech
Next game:
Sept. 25 at Oklahoma State
What's working:
Tech is getting nice production in the run game from
DeAndre Washington
and
Justin Stockton
and in the pass game from
Bradley Marquez
and
Jakeem Grant
. Offensive line play has improved and Tech hasn't given up a sack. Its pass defense ranks 11th nationally, which is probably misleading.
What needs work:
Run defense, penalties, tackling,
Davis Webb
's consistency -- lots of fundamental issues here that are starting to cause concern. Webb seemed to be forcing throws against Arkansas and will need to put in some time this week to clean up concerns about his footwork and decision-making. And that porous run defense has to get cleaned up quick because opponents will keep attacking it hard over the next month.
September, 17, 2014
Sep 17
2:04
PM ET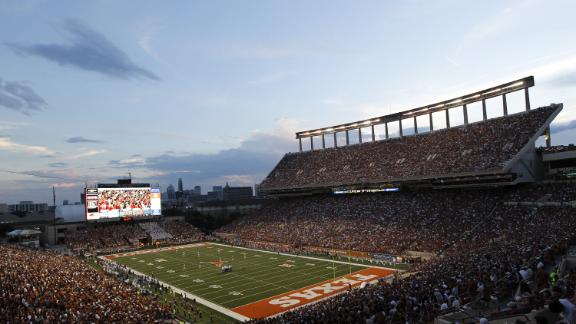 ANN ARBOR, Mich. -- With the matchup between college football's top two all-time wins leaders on hold for the foreseeable future, the Michigan Wolverines have moved on to the next-closest option.
The Wolverines and the Texas Longhorns, who are No. 3 in all-time wins, announced plans Wednesday for a future home-and-home series. The Longhorns will visit Ann Arbor in 2024, and Michigan will reciprocate with a trip to Austin in '27.
"A matchup of this magnitude doesn't come along all that often, and when it does, it's special for both programs and the great fans that support each institution," Michigan coach Brady Hoke said in a statement. "This also is a special series for all fans of college football, and I anticipate great games just like the first contest played between the two programs."
In their only previous meeting, Texas beat Michigan on a last-second field goal to win the 2005 Rose Bowl.
The scheduled matchups are for Aug. 31, 2024, and Sept. 4, 2027.
Michigan and Notre Dame, which ranks No. 2 in all-time wins, decided to end their annual rivalry after this season.
Since Michigan and Notre Dame decided to end their rivalry, the Wolverines have scheduled several home-and-home matchups, including Arkansas (2018-19), Washington (2020-21), Virginia Tech (2020-21), UCLA (2022-23) and Oklahoma (2025-26).
September, 17, 2014
Sep 17
12:30
PM ET
It's time to take a look at some of the top committed prospects being placed on "Flip Watch." To date, more than 25 prospects in the 2015 ESPN 300 have decommitted or flipped their commitments. As signing day inches closer, expect that number to increase to over 35 with more than 40 possible.
Here are a handful of more than 15 to watch in the coming weeks and months:
No. 238 Pat Allen, OT
Commitment: Georgia
The Bulldogs verbal made an official visit to Oklahoma last weekend and came away impressed as expected. The offensive tackle with a 6-foot-10 wingspan will visit Michigan Sept. 26 followed by trips to Tennessee Oct. 3 and Arkansas Oct. 10 before concluding his visits with a trip to Athens Nov. 14 when the Bulldogs play host to Auburn. While I still like Georgia's chances, I wouldn't characterize this as a solid commitment at this point.
Flip percentage: 40 percent
September, 16, 2014
Sep 16
4:00
PM ET
In Tuesday's mailbag we'll talk
Bryce Petty
's Heisman hopes, West Virginia's future and Texas' offense. As always, thank you for all of your questions. You can submit questions for next Tuesday
here.
On to the mailbag:
Greg writes:
OK, I know this is a crazy question but it crossed my mind. Say at the end of the regular season you have a one-loss West Virginia team (I know, I know, just humor me). Do you believe they would have a shot at the playoff?
Brandon Chatmon:
Why not? That would mean wins over Oklahoma and Baylor, a pair of Top 10 teams currently, along with a sole loss to Alabama. The key would be a strong season from the Crimson Tide to reaffirm the Mountaineers' effort in the season opener. If the Crimson Tide somehow tumble down the SEC standings, that would hurt a one-loss WVU's chances, no doubt about it. A solid season from Maryland would help the cause as well. After all, it's not like all of the other Power 5 conferences have been dominating the competition, so any one-loss Big 12 champion could have a strong case.
Singletary in Austin writes:
I recognize it's faced subpar competition, but how would you rate Baylor's defense and defensive depth against the last couple years? To my eyes they look bigger, faster and deeper.
Chatmon:
I'd agree. Even though the Bears haven't been tested, the talent upgrade is obvious. I really like what I've seen from
Shawn Oakman
,
Jamal Palmer
and
Xavien Howard
thus far, but those three are just a few of the athletes on Baylor's defense that I would consider an upgrade over previous years. It's becoming really clear how well Art Briles and company have done on the recruiting trail lately.
NoZe in Austin writes:
What chance do you give Bryce Petty of winning the Heisman? Do they have to run the table (which would include a first-ever win in Norman)?
Chatmon:
Petty just needs to play extremely well in big games. It wasn't numbers that kept him away from New York a year ago (4,200 passing yards and 46 total touchdowns is enough). He looked like a superhero at times but looked human against Oklahoma, Oklahoma State, TCU and Texas last season. It really doesn't matter what he does right now, he just needs to excel against the Big 12's best and have his Heisman moment with everyone watching. If that happens, even if BU is not undefeated he could cement his spot in the Heisman race.
Ben in Waco, Texas, writes:
Why isn't Oklahoma State's defense, and particularly our D-line, getting any love? Going into the Florida State game, everyone knew our D-line was the strength of our team, yet when FSU had trouble with them, national media made no mention of OSU having anything to do with FSU's struggles. They've chalked it up to a bad game, despite OSU's defense continuing to look the part of a solid D. We heard about how good Oklahoma's defense was against Tulsa, and how good Baylor's D looked against SMU, but OSU's performance against FSU no big deal???
Chatmon:
I was candid about my concerns about OSU's defense, although not necessarily the defensive line, before the season opener and they accepted the challenge against FSU. I apologized on Twitter to the Pokes defense for questioning it, so I can't really speak to what others are doing. If OSU's defensive line wants more love, it can earn it with dominant performances in Big 12 play because it looks like, for the second straight season, OSU's destiny will be decided by its defense, not its more ballyhooed offense in 2014.
Josh in Morgantown, Kentucky, writes:
How do you think WVU's offense will fare against the Oklahoma defense? Do you see the WVU defense getting enough stops for a win?
Chatmon:
I think it will be a great back-and-forth battle to watch between WVU's offense and OU's defense. The Sooners will force other playmakers to emerge, and I think WVU has some guys, like
Wendell Smallwood
and
Daikiel Shorts
, who are ready to do that. I expect both sides to win their share of battles. Ultimately I think WVU's defensive line, which impressed me against Maryland, will decide the game. If that group plays well, WVU can upset the Sooners. If not, OU's running game and deep passing will prove too much for the Mountaineers.
Kurt in Lubbock writes:
Hey guys, love the blog. I'm going to support and back my team no matter what, but do you think Texas Tech has any chance of making a bowl game this year? And do you think our defense can ever get better? Or are we doomed to a three- to four-win season this year?
Chatmon:
I'm not ready to say Tech has no chance at a bowl game, but a lot has to change if the Red Raiders even hope to go bowling. I think we will learn everything we need to know about Texas Tech when it visits Oklahoma State Sept. 25. How much pride do the Red Raiders have? Do they have the depth to make the needed changes on defense? We will find out at Boone Pickens Stadium. If those answers are negative, that's when I'd start thinking just three or four wins is a distinct possibility.
Don in Muscatine writes:
Can Iowa State win four Big 12 games (as well as Toledo) and push for a bowl game?
Chatmon
: I love the fight the Cyclones have shown early, but I just don't see where those wins would come from. The Big 12 is even deeper than I expected with West Virginia and Oklahoma State looking like they will be better than I thought. Toledo should be a win, but it's hard for me to see them reaching four conference wins unless
Sam Richardson
really takes his game to another level during the rest of the season.
Aaron in Temple, Texas, writes:
How scary would the Longhorns be if they had a better offense?
Chatmon:
I wouldn't call them scary, but I'd consider them Big 12 title contenders. But that's not the scenario for Charlie Strong's bunch. They rank eighth or lower in several major offensive categories, including points (20.7), third-down conversions (27.3 percent) and yards per play (4.6). There have been some positive signs from
Tyrone Swoopes
, and he's starting to make me rethink my belief that
Jerrod Heard
is the future under center. Nonetheless, UT's offense is not explosive, dynamic, powerful or efficient. Until that changes, nobody can consider the Longhorns a real threat in the Big 12.
September, 16, 2014
Sep 16
10:00
AM ET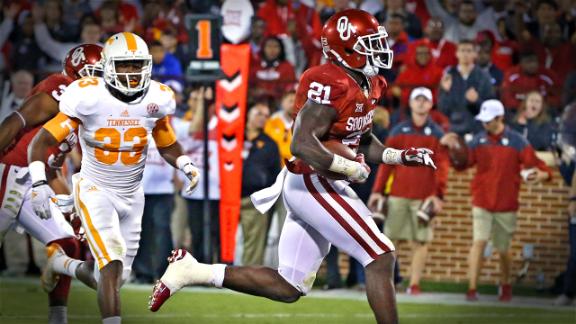 The upcoming week for the Big 12 will be quiet, as only three games featuring conference teams will take place -- one of those occurring on Thursday. Fortunately, the conference is coming off a dynamic week of football that featured big-time commitments for Oklahoma.
To continue reading this article you must be an Insider
September, 16, 2014
Sep 16
9:30
AM ET
AUSTIN, Texas -- Calling
Tyrone Swoopes
the quarterback of Texas' future still feels premature. But the quarterback of Texas' present is not what some Texas fans have cynically feared.
Back in December, when Swoopes floundered against Oregon in an Alamo Bowl cameo, it seemed his development was destined to be a long, multi-year project for whomever became his next quarterback coach. Or maybe, with his size, he'd someday make a great tight end.
He won't have to hear those backhanded comments any more. Not at the rate of growth he's displayed since being handed the keys to Texas' offense on Sept. 1. In the second start of his career, against a top-15 foe under the bright AT&T Stadium lights, Swoopes offered proof not only that he can handle pressure, but that his passing abilities are steadily improving.
Here are four throws Swoopes made Saturday, all on scoring drives, that showed what he can do when he has a little confidence.
1. Moving the feet and the defense
Situation:
Second-and-21, 2nd quarter
Play:
15-yard completion to
Jacorey Warrick
to UCLA 48
There's a fundamental misunderstanding about Swoopes when you throw around the word "dual-threat." Yes, he can run. He cannot run like Vince Young. Not when he's 245 pounds. Swoopes is still learning this today, that he can't dance around much on runs and keepers because he doesn't have big-time speed and defenders close quick.
But co-offensive coordinator Shawn Watson has done a nice job of finding ways to put Swoopes' feet to use. On this play, after a 15-yard clipping penalty put Texas off-schedule, Swoopes took the snap at the left hash and rolled out all the way to the right hash, scanning the field throughout. The rollout put UCLA's linebackers, particularly the exceptional
Myles Jack
, in conflict.
Once Jack had drifted far enough over to account for the possibility Swoopes might tuck and run, the quarterback fired a 15-yard bullet to Warrick that set Texas up for a third-down conversion and kept a TD drive alive.
2. A laser under pressure
Situation:
Third-and-6, 2nd quarter
Play:
8-yard completion to
Jaxon Shipley
to UCLA 40
On the very next play, another sharp decision. Right after the snap, UCLA's
Deon Hollins
Jr. easily got around Texas right tackle
Kent Perkins
and went right after Swoopes, forcing the quarterback to scramble back and right. Just as Hollins was 1 yard from the takedown, Swoopes chucked a pass off his back foot that was as good as it gets, a 22-yard laser that Shipley and only Shipley could catch.
Texas moved the chains, Charlie Strong fist-pumped toward his quarterback and the "Swoooopes" chants began.
3. Best play of young career
Situation:
Fourth-and-8, 2nd quarter
Play:
33-yard completion to
John Harris
to UCLA 5.
Texas elects to go for it from UCLA's 33 and the Bruins responded by dropping eight in coverage and rushing three. Unsurprisingly, that pass rush still got into the backfield when a double-blocked
Anthony Wallace
pressured Swoopes from behind. Swoopes rolled right and threw on the run into a small window to Harris for the 33-yard pickup into the red zone. Through two starts, almost one-third of Swoopes' passing yards have come on throws outside the pocket.
Harris gets a lot of credit here. He broke on his route and took off toward the sideline when he saw Swoopes on the move. Then he climbed the ladder to catch the pass in front of
Ishmael Adams
and hold on. This one had Texas in the end zone four plays later and had Strong jumping, dancing, shouting and fist-pumping on the sideline.
4. The potential game-winner
Situation:
Second-and-goal, 4th quarter
Play:
8-yard pass to Harris for touchdown
On the lone third-down situation of Texas' masterful 10-play, 80-yard touchdown drive to go ahead, Swoopes hit Harris on an out cut for a 6-yard gain. He went to him again to finish the drive in similar fashion.
This is just a textbook solid throw, a three-step drop and a fastball into one-on-one coverage just as Harris turned back to Swoopes. Another perfect out cut to beat UCLA's
Jalen Ortiz
rewarded with a precisely-located pass. With 5:13 left, the go-ahead score could've been the game-winner. But Swoopes would have to take the field again, and his misfire to
Marcus Johnson
on a slant on fourth down sealed the defeat.
But if the once-raw passer can make these throws now, the future looks brighter -- especially with two more weeks to improve before Texas takes the field again.
September, 15, 2014
Sep 15
1:00
PM ET
Not many new commitments to break down this time around in our weekly check-in on Big 12 recruiting, but that doesn't mean these coaching staffs haven't been busy. Here's the latest on who's taking visits and who's impressing so far in their senior seasons:
BAYLOR
Total commits:
12
ESPN 300 commits:
3
The latest:
Blake Lynch
is making the Bears look awfully smart for accepting his early commitment in 2013. The Gilmer, Texas, four-star athlete wowed this weekend against Tatum with 93 rushing yards, 115 receiving yards and three touchdowns, including the game-winning score. He played quarterback as a junior but has transitioned into a true offensive weapon since transferring to Gilmer.
IOWA STATE
Total commits:
10
ESPN 300 commits:
0
The latest:
No commitments came in this weekend, but it'll be interesting to see how Iowa State's last-second win over Iowa impacts their in-state recruiting battles going forward. For example, could that win and some positive momentum help ISU's chances with 2016 linemen
John Raridon
and Jake Heinrich? No doubt Paul Rhoads and his coaches will be talking about that game for the next year while recruiting.
KANSAS
Total commits:
13
ESPN 300 commits:
0
The latest:
KU has not landed a new commitment in almost a month and a half, and a blowout loss to Duke isn't going to help its efforts on the trail much either. One commit whose season is off to a nice start: three-star RB Taylor Martin has racked up 323 rushing yards and seven TDs this year at Fort Worth (Texas) Dunbar.
KANSAS STATE
Total commits:
10
ESPN 300 commits:
0
The latest:
A Thursday night game, no matter how gigantic the opponent, isn't necessarily ideal for bringing in a bunch of official visitors. K-State is reportedly expecting to have three-star RB Alex Barnes and junior college DT Deonte Reynolds in the house when Auburn comes to the The Little Apple. Both are taking midweek official visits, and they're critical targets for the Wildcats on what should be a pressure-packed week.
OKLAHOMA
Total commits:
13
ESPN 300 commits:
6
The latest:
The Sooners hosted their biggest official visit weekend of the season and secured two pledges Saturday, from ESPN 300 safety
Will Sunderland Jr
. and junior college lineman Jamal Danley. The long-awaited pregame commitment from Sunderland was huge, but so was getting ESPN 300 studs Keisean Lucier-South,
Kendall Sheffield
,
Ricky DeBerry
and
Neville Gallimore
and four-stars
Kahlil Haughton
and
Anthony McKee
on campus.
OKLAHOMA STATE
Total commits:
12
ESPN 300 commits:
3
The latest:
The Pokes added to a promising offensive line class last week with 6-foot-7 offensive tackle
Deya Mhiesen
, a junior college lineman who can enroll in January. Mhiesen took an official visit to Baylor's season opener, then attended OSU's 40-23 win over Missouri State and decided to pull the trigger. He'll have three years of eligibility at OSU.
TCU
Total commits:
16
ESPN 300 commits:
0
The latest:
The Horned Frogs had several commits in the stands Saturday for their 30-7 beatdown of Minnesota, including WR Jarrison Stewart and DT Joseph Broadnax, along with Baylor commit CB Ke'Shawn Somerville, DE Andrew Fitzgerald and several more intriguing recruits in the 2016 class.
TEXAS
Total commits: 15
ESPN 300 commits:
7
The latest:
Texas hosted some big-time recruits at AT&T Stadium for its 20-17 loss to UCLA, including top ESPN 300 targets
Malik Jefferson
and
Ryan Newsome
, ESPN Junior 300 WR
Reggie Hemphill
and commits
DeShon Elliott
,
Charles Omenihu
and Connor Williams. Two attendees who could end up in this class: three-star center
Tyler Moore
and Purdue three-star cornerback commit Isaac Warren.
TEXAS TECH
Total commits:
9
ESPN 300 commits:
3
The latest:
The Red Raiders were not able to get
Tyron Johnson
, the nation's No. 2 receiver prospect, in town this weekend for his official visit due to a scheduling conflict, but he's expected to make it out to Lubbock on Oct. 11 when Tech hosts West Virginia. Tech did have ESPN 300 QB signee
Jarrett Stidham
, four-star commit OG
Conner Dyer
and three-star DE Jalen Bates in attendance.
WEST VIRGINIA
Total commits:
17
ESPN 300 commits:
2
The latest:
With Oklahoma coming to town this weekend, expect a lot of talent on the West Virginia sideline before Saturday's big game. Among those reportedly expected to attend on official visits are ESPN 300 CB
Jordan Whitehead
and four-star ATH
Tim Irvin
.
September, 15, 2014
Sep 15
11:00
AM ET
The majority of the Big 12 enters a bye week with conference play right around the corner.
We're only three weeks into the season but plenty of things have changed. Preseason expectations are out the window and some dreams of breakout seasons have been shattered while other preconceived notions have been re-affirmed.
Here's a review of nonconference play in the Big 12:
[+] Enlarge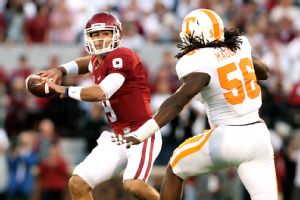 J.P. Wilson/Icon SportswireQuarterback Trevor Knight and a stubborn defense have teamed to make Oklahoma the Big 12's best.
Best team:
Oklahoma. The Sooners have done nothing to lose their status as the Big 12 preseason favorite. Bob Stoops' squad has been dominant while reeling off three wins over Louisiana Tech (2-1), Tulsa (1-2) and Tennessee (2-1). Quarterback
Trevor Knight
has taken a clear step forward from his freshman production and the defense could end up among the best of the Stoops era. Baylor has been just as impressive but against lesser competition with its three opponents holding one FBS win (1-5) combined this season.
Biggest disappointment:
Texas Tech. Wait, where are the Longhorns? Did you really expect more from Texas? More players have been kicked off the team (eight) than offensive touchdowns scored by Charlie Strong's team (seven). The Red Raiders are another story, however. Tech has never really looked outstanding at any point this season as penalties, turnovers and defensive struggles turning the Red Raiders' Big 12 title dreams into an early nightmare. Saturday's loss to Arkansas -- which included 438 rushing yards by the Razorbacks -- has Kliff Kingsbury looking for answers. Before the season Tech looked like a team that could catapult itself into the top 3 in the Big 12. Now it looks like a squad facing a fight to go bowling.
Big (offensive) man on campus:
West Virginia quarterback
Clint Trickett
. Raise your hand if you had Trickett as the first Big 12 quarterback to eclipse 1,000 yards in 2014. He's been outstanding for the Mountaineers while leading the Big 12 in passing yards (1,224) and completion percentage (75.4). He's in the top 3 among FBS quarterbacks in both categories. He's the main reason WVU is emerging as the Big 12's surprise team after three games.
[+] Enlarge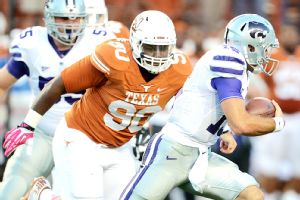 John Albright/Icon SMIYou can't pin Texas' struggles on defensive tackle Malcom Brown, the Big 12's co-leader in sacks.
Big (defensive) man on campus:
Texas defensive tackle
Malcom Brown
. The junior defensive tackle is one of the few blameless Longhorns on the roster. He's been dominant as the Big 12's leader in sacks (3.5, tied with Iowa State's
Cory Morrissey
) and tackles for loss (seven). He has added 16 tackles and has forced a fumble for Strong's defense. In a league overflowing with defensive talent -- like OU's
Eric Striker
and Baylor's
Shawn Oakman
-- Brown is second to none.
Fab freshman:
Baylor receiver
KD Cannon
. The ESPN 300 receiver has no idea what it feels like to go into the halftime locker room without a touchdown catch. Cannon has made an amazing impact with an FBS-high 471 receiving yards in his first three games as a college receiver. The true freshman has 14 receptions, an average of 33.6 yards per catch, and five touchdowns. All-Big 12 receiver
Antwan Goodley
's biggest competition for the conference's most explosive receiver could be sitting alongside him in the receivers' room.
Newcomer to know:
Oklahoma State athlete
Tyreek Hill
. The junior college transfer burst upon the scene with 278 all-purpose yards against Florida State as he buzzed around the turf in Arlington, Texas, while giving Seminoles defenders fits throughout the loss. His production has dropped significantly in OSU's last two games (24 touches for 154 yards) but it's clear the Cowboys are trying to save their top playmaker for their toughest games.
Best performance:
It was the only Big 12 Conference game in the first three weeks but Kansas State doesn't escape Iowa State's upset bid without quarterback
Jake Waters
. Trailing 28-26 with 3:01 left, the senior led the Wildcats on a seven-play, 80-yard march to win the game. Waters accounted for 74 of KSU's 80 yards on the drive including an 8-yard touchdown run. KSU won 32-28.
Worst performance:
Kansas laid an egg in its 41-3 loss to Duke last weekend. The Jayhawks opened the season with plenty of hope for a new and improved offense but, after gaining 457 yards in their season opener, KU took a clear step backward with 297 yards including 97 through the air against Duke. To make matters worse, the Jayhawks allowed Blue Devil freshman running back
Shaun Wilson
to rush for 245 yards and three touchdowns on 12 carries. Back to the drawing board.
Dream dashed:
It was disappointing to see Iowa State receiver
Quenton Bundrage
lost for the season with an ACL injury just minutes into the Cyclones' first game. The junior spent the offseason working on becoming more consistent and had the talent to be one of the Big 12's top receivers in 2014. Now he has to wait until next season with an eye on becoming the Big 12 comeback player of the year when he returns to the field in 2015.
Best stat:
TCU has held opponents without a first down or touchdown on 60 percent of its drives. In two games, the Horned Frogs have defended 30 total drives and 18 of those drives have ended without a first down including seven of Minnesota's 15 drives last weekend. Gary Patterson's defense is one reason the Horned Frogs cannot be overlooked when Big 12 play reaches high gear next month.
Best quote:
"I haven't talked to [kicker]
Josh Lambert
since he got on campus, and we are going to keep it that way. I know his name and who he is but other than that I'm doing the hands-off approach." -- West Virginia coach Dana Holgorsen after Lambert's game-winning kick to beat Maryland 40-37 last weekend.
September, 15, 2014
Sep 15
9:30
AM ET
Taking stock of Week 3 in the Big 12:
Team of the week:
West Virginia. The Mountaineers paid regional rival Maryland back for last year's 37-0 beating with a dramatic
40-37 victory
on a game-winning field goal as time expired. Truthfully, the Terrapins were fortunate just to be in the game. West Virginia jumped to a 28-6 lead and could have routed the Terrapins had it not self-destructed several times on Maryland's side of the field. Still, the Mountaineers once again moved the ball at will.
Clint Trickett
was dishing out dimes.
Mario Alford
and
Kevin White
were producing plays. And a certain field-goal kicker, who I'll get to later, came through in the clutch.
Disappointment of the week:
Texas Tech. Something I was thinking about over the weekend: Had it not been for the sparkling win over Arizona State in the National University Holiday Bowl, what would the perception of the Red Raiders be right now? Outside that Arizona State win, Tech hasn't played a clean game since losing 38-30 at Oklahoma on Oct. 26 of last year. Meanwhile,
Arkansas ran right at the Tech defense
Saturday, and there was nothing the Red Raiders could do. The offense behind
Davis Webb
hasn't been crisp enough to overcome all the deficiencies defensively. Given how difficult the back end of the schedule is again, the concern level in Lubbock should be high.
Big (offensive) men on campus:
Trickett and White. If the season ended today, the three All-Big 12 receivers would be
K.D. Cannon
,
Sterling Shepard
and White, who is now second in the country (behind Cannon) in receiving. And if the season ended today, the Big 12 Offensive Player of the Year would be Trickett, who threw for 511 yards and four touchdowns in the win over Maryland. The Trickett-to-White pass-catching combo has been nothing short of awesome so far this season.
Big (defensive) man on campus:
Paul Dawson
. TCU's senior linebacker led the purple crushing of the Minnesota offense in a
30-7 win over the Gophers
. Dawson finished with 15 tackles, including four for loss, a forced fumble, a fumble recovery and a pass breakup. Overall, the Horned Frogs forced five turnovers and limited Minnesota to just 268 yards of offense.
[+] Enlarge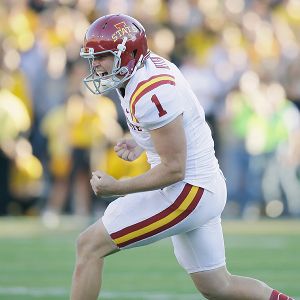 Charlie Neibergall/Associated PressCole Netten connected on a last-second field goal to give Iowa State a big win over in-state rival Iowa.
Special-teams players of the week:
Josh Lambert
(West Virginia) and
Cole Netten
(Iowa State). Field-goal kicking seems to have become a lost art in college football. But Lambert and Netten turned back the clock with their heroics in delivering game-winning field goals that beat Maryland and Iowa, respectively. Netten's was a 42-yarder, while Lambert connected from 47 yards out. Both kicks resulted in massive wins for their teams.
Play of the week (other than the Lambert and Netten field goals):
Late in the second quarter with the game knotted at 3-3, Texas elected to go for it facing fourth-and-8 at the UCLA 38-yard line. And in the biggest play of his young career, quarterback
Tyrone Swoopes
rolled out and delivered a 33-yard strike to
John Harris
. Three plays later, Swoopes hit
M.J. McFarland
for a touchdown to give Texas a 10-3 lead and all the momentum heading into halftime.
Stat of the week:
Oklahoma QB
Trevor Knight
has two 300-yard passing games in his career, and both have come against SEC opponents. Knight threw for 348 yards in last season's Sugar Bowl win over Alabama, and he passed for 308 yards in Oklahoma's
34-10 win Saturday over Tennessee
.
Quote of the week:
"I haven't talked to Josh Lambert since he got on campus, and we are going to keep it that way. I know his name and who he is, but other than that, I'm taking the hands-off approach." -- West Virginia coach Dana Holgorsen, when asked what he said to Lambert before the game-winning kick. Holgorsen added he likes only special-teams coach Joe DeForest talking to his kicker.
September, 15, 2014
Sep 15
8:36
AM ET
ESPN.com news services
DALLAS -- Authorities say a man is in critical condition after falling more than 12 feet from the stands into a field-level suite during the Texas-UCLA college football game.
A spokeswoman for John Peter Smith Hospital says the man was in the intensive care unit. No other information about him has been released.
An Arlington Fire Department spokesman previously said the man fell 12-15 feet on Saturday at AT&T Stadium. The man was wearing a Texas shirt and was conscious when he was transported. The cause of the fall is unclear.
The fire department has turned over the investigation to stadium authorities.
A stadium spokesman said in a statement Monday that "Arlington fire inspectors have checked and verified that the rail height exceeds building code requirements," however the incident is still under investigation..
The Longhorns lost the game 20-17.
Information from The Associated Press was used in this report.
September, 15, 2014
Sep 15
8:00
AM ET
Bummer again for Robert Griffin III. It hasn't been a good year for former Big 12 quarterbacks.
In this story in the Kansas City Star, Kellis Robinett detailed how Kansas State is being careful about giving Auburn too much respect. No doubt Auburn is a great team. The Tigers are explosive offensively in Gus Malzahn's offense. But K-State is to be respected, too. This is a team that has lost once in its past nine games -- and that was to an Oklahoma program currently ranked fourth in the country. The Wildcats should respect Auburn. But they should also realize they are good enough to win Thursday night, too.
West Virginia showed grit that had been missing in the recent past in a 40-37 win against Maryland, wrote the Charleston Daily Mail's Mike Casazza. The Mountaineers lost several tight games last season, which fueled their first losing season in a dozen years. And even though West Virginia played Alabama tough, mistakes in the fourth quarter ultimately prevented the Mountaineers from pulling the upset. The Maryland win wasn't without mistakes. West Virginia made six scoreless trips inside Maryland's 40. But when the Mountaineers had to make plays with the game on the line, they did. That will serve them well the rest of the season, and this weekend in a massive clash with Oklahoma.
Even though the Longhorns fell 20-17 to UCLA, sophomore quarterback Tyrone Swoopes made strides, according to the Austin American-Statesman's Brian Davis. Before the UCLA game, I had serious doubts about the potential of Swoopes as Texas' long-term answer at quarterback. I'm still to be convinced. But like Davis, I could finally see the potential that Jaxon Shipley and the Texas coaching staff had been raving about from behind the scenes. That said, the road doesn't get any easier for the Longhorns or Swoopes. After an open week and Kansas, Big 12 co-favorites Baylor and Oklahoma await.
An Iowa State program that had once forged a reputation under coach Paul Rhoads of winning big games got back to its roots in a 20-17 victory against Iowa, wrote the Ames Tribune's Bobby La Gesse. Early in the Rhoads era, the Cyclones indeed had developed a rep as a giant-killer. But that had waned a bit in the past couple of the years, because of Iowa State's inability to close the deal in close games, including the narrow loss to Kansas State the week before. The Iowa victory should give this program plenty of confidence for the rest of the season, which could be a scary thought for some of the league's top teams.
The TCU defense overwhelmed Minnesota in a 30-7 win, but the offense still needs work, according to the Fort Worth Star-Telegram's Carlos Mendez. The biggest issue seemed to be third-down offense. TCU converted only twice on 12 third-down attempts. If they want to emerge into a Big 12 title contender, the Horned Frogs will have to clean that up. But, as the Gophers found out, TCU appears to have another Big 12 championship-caliber defense. If the offense can continue to make progress, this could be a team to keep an eye on.
September, 14, 2014
Sep 14
8:00
PM ET
Overall, it was a good weekend for the Big 12.
Texas showed some fight, Oklahoma and Baylor cruised, and West Virginia continued to impress. Thursday night's matchup with Auburn looms large for Kansas State while a bye week comes at the perfect time for Texas Tech.
Allstate Sugar Bowl:
Oklahoma
Cotton Bowl:
Baylor
Valero Alamo Bowl:
Kansas State
Russell Athletic Bowl:
West Virginia
AdvoCare V100 Texas Bowl:
Oklahoma State
AutoZone Liberty Bowl:
TCU
Cactus Bowl:
Texas
September, 14, 2014
Sep 14
2:05
PM ET
Last week was an atrocious week, results wise, for the Big Ten, and college football fans were wondering if the Big 12 would be next in line to suffer a similar week from top to bottom. Turned out, the week wasn't as bad as some anticipated.
Seven of the 10 conference teams played against Power 5 opponents, and Oklahoma, TCU, West Virginia and Iowa State all walked away as winners. Additionally, Oklahoma State beat a UTSA team that is earning its stripes with each week.
Oklahoma's game against Tennessee may have been the most anticipated throughout the conference. The Sooners hosted a large group of recruits and ultimately landed two big-time commits in ESPN 300 DB
Will Sunderland Jr
. and highly touted junior college OT Jamal Danley.
Just now committed to the university of Oklahoma ! ???? #BoomerSooner #boomer pic.twitter.com/1nWHWcUOeA

— Will Sunderland (@kp_projectt) September 13, 2014
While the Sooners added to their 2015 class, their performance against Tennessee also aided in garnering added interest from the 2016 class. ESPN Junior 300 QB
Shane Buechele
was in Norman and took to Twitter to show his love for the environment.
The game was sick last night! Great atmosphere and they got the W!?? #BoomerSooner

— Shane Buechele (@BGShaneBuechele) September 14, 2014
TCU scored a win against Minnesota, and three-star DT Joseph Broadnax was one of the athletes in attendance. Broadnax also is being courted by Baylor, North Texas and several other schools, but he's been a solid Horned Frogs commit since February.
Bryan Adams Boys Today At the TCU Game #FunkyTown15 ?????? pic.twitter.com/xCXtlOR5AG

— Joe 5?5? (@Joe_2015) September 14, 2014
AT&T Stadium was the host of a competitive affair between Texas and UCLA. The event featured several visitors. One of the most popular was ESPN 300 LB
Malik Jefferson
, who not only took time to take pictures with multiple fans ...
Just met @Official_MalikJ ...! @patelparit @gujuak @Akassh25 @SunnyB0ii pic.twitter.com/SyNvz2LkrG

— Sunny Patel (@sunnyp25) September 13, 2014
... but also had one of the best seats in the house.
Front row no nosebleeds ???? ???? pic.twitter.com/Q5ltN6WrMZ

— Malik Jefferson 4?6? (@Official_MalikJ) September 14, 2014
Texas didn't get the win, but it still has the support of two important commits on the defensive side in ESPN 300 DB
DeShon Elliott
and three-star DE
Charles Omenihu
both were in attendance letting fans know their commitments are strong.
Texas commits @charless_94, @DeShonElliott_4 with front-row seats at the 50. Can't beat that. pic.twitter.com/orBNU0oAi5

— Max Olson (@max_olson) September 13, 2014
September, 14, 2014
Sep 14
2:00
PM ET
Texas QB Ash To End Football Career
BIG 12 SCOREBOARD
Thursday, 9/18
Saturday, 9/20