November, 14, 2014
Nov 14
9:15
AM ET
The committee has made it clear with its rankings: nonconference scheduling matters. With that in mind, we're breaking down the 2015 nonconference schedules of all possible contenders in college football next season, including those from the Big 12:
Baylor
2015 nonconference opponents:
at SMU, Lamar, Rice
Breakdown:
The Bears once again have a cupcake nonconference schedule, with no Power 5 conference opponents. It has hurt them in the playoff rankings this season, and it figures to hurt them again next season. Rice is not a bad Group of Five team. But SMU is 0-8 so far this season, and Lamar is a middling FCS team.
Kansas State
2015 nonconference opponents:
South Dakota, at UTSA, Louisiana Tech
Breakdown:
Bill Snyder has upped his nonconference scheduling in reason years, most recently taking on Miami and then Auburn this season. But next season will smack of Snyder's softer scheduling philosophies from the beginning of this tenure. That said, Louisiana Tech is leading Conference USA's West Division, and UTSA has shown it can hang with good teams.
Oklahoma
2015 nonconference opponents:
Akron, at Tennessee, Tulsa
Breakdown:
Tennessee has shown signs of improvement under Butch Jones, including a win against South Carolina last weekend. The Vols have a good shot of getting bowl eligible for the first time since 2010. Winning in Knoxville would give Oklahoma a quality nonconference win off the bat, and if Tennessee keeps getting better, maybe even more than that.
Oklahoma State
2015 nonconference opponents:
at Central Michigan, Central Arkansas, UTSA
Breakdown:
Mike Gundy will be getting his way in 2015. Oklahoma State should have three easy wins next season before Big 12 play, though none of the three will go far in impressing the committee. The Cowboys do have a home-and-home in 2016-17 with Pitt.
TCU
2015 nonconference opponents:
at Minnesota, Stephen F. Austin, SMU
Breakdown:
Winning at Minnesota would be a feather in TCU's cap again. The Horned Frogs won't be playing a difficult nonconference schedule again. But, certainly, a respectable one. Almost any win on the road against a Power 5 opponent in the nonconference is a quality one.
Texas
2015 nonconference opponents:
at Notre Dame, Rice, Cal
Breakdown:
The Longhorns will have the toughest nonconference slate in the league next season. The Notre Dame road trip speaks for itself, but Cal has also been much improved under Sonny Dykes. Even Rice is 6-3 so far this season. Texas once was ridiculed for having soft nonconference schedules. Those days are gone.
West Virginia
2015 nonconference opponents:
Liberty, Maryland, Georgia Southern
Breakdown:
The Mountaineers, who played a brutal nonconference schedule this year, have a much more manageable nonconference schedule next season. They'll need Maryland, however, to be decent to prop the rest of the slate up. But the Terrapins have adjusted decently to the Big Ten, compiling a 6-3 record so far despite being in the same division as Ohio State and Michigan State.
November, 13, 2014
Nov 13
2:30
PM ET
Here are six Big 12 players in the spotlight this weekend as relative unknowns who could have a big game or known playmakers who could have to step up on Saturday.
TCU RB Aaron Green:
Whether
B.J. Catalon
returns or not, Green should play a major role in TCU's offense this week. After he slashed through Kansas State defenders for 171 yards on 18 carries, Green has carved himself a role in the offense. His 8.71 yards per carry leads the Big 12 and ranks fourth among FBS running backs. The Nebraska transfer could be poised to make more big plays against Kansas.
Kansas WR Nigel King:
The Maryland transfer is becoming a bigger part of the Jayhawks' offense, evidenced by his first 100-yard receiving game against Iowa State last week. His five receptions for 101 yards on 10 targets should serve notice that King is emerging as a weapon under new offensive coordinator Eric Kiesau.
Oklahoma S Steven Parker:
The true freshman is becoming a bigger part of the Sooners' defense with his versatility and range at the safety spot. Mike Stoops trusted the youngster to play deep safety against Baylor and he responded with a season high eight tackles. Parker is showing signs he could develop into a terrific player and will be needed against Texas Tech's pass happy offense.
Texas Tech DL Branden Jackson:
The junior could be a key player against Oklahoma, as the Red Raiders' most disruptive defensive lineman. He had a season-high two tackles for loss against Texas in Tech's last game and ranks second on the squad with seven tackles for loss. The Sooners will lean on their running game with either a banged up
Trevor Knight
or inexperienced
Cody Thomas
at quarterback so Jackson needs to help Tech's run defense handle the oncoming onslaught from OU's offense.
Oklahoma State LB Ryan Simmons:
One of the most experienced and productive defenders on the roster, Simmons will have to show it against the Longhorns. He's averaging 7.33 tackles per game and may need to match or exceed that number against a UT team that saw
Malcolm Brown
and
Johnathan Gray
combine for 191 rushing yards a week ago.
Texas WR Jaxon Shipley:
It feels like time for Shipley to have a big game. He hasn't caught more than four passes in UT's last three games and OSU will look to force the Longhorns passing game to beat them while taking away the big plays of
John Harris
. That will be Shipley's opportunity to step in and make some plays against an OSU secondary that has struggled with inexperience and injuries.
November, 13, 2014
Nov 13
1:00
PM ET
TCU beating Oklahoma. West Virginia stunning Baylor. Heck, even Kansas beating up Iowa State.
Most of us didn't see those upsets coming. Three-fourths of the way through this Big 12 season, we have had a few surprise results. Why can't there be one more?

Kansas State, Texas, West Virginia and Oklahoma State all have a shot to shake up the Big 12 title race and create a little chaos in the next month if they can pull off a big-time upset.
The Wildcats can go down to Waco on Dec. 6 with a 9-2 record and a chance to earn a Big 12 title trophy. You think they want a share of the Bears' crown? Don't forget what happened last time K-State made that trip: Baylor clobbered the No. 1 team in the BCS in 2012, spoiling their national title hopes with a 52-24 upset. Time for some payback, right?
Texas gets a similar opportunity for revenge. TCU spoiled its Thanksgiving when they first met as Big 12 foes in 2012. This time, the Horned Frogs have everything at stake when they head to Austin on Nov. 27. This is Texas' season finale and perhaps its last shot to reach bowl eligibility.
Then you have West Virginia's Thursday night meeting with K-State on Nov. 20. The Wildcats aren't out of this race yet, but a mid-week visit to Morgantown won't be fun. It's going to be a cold night and a long fight.
Your last option for a Big 12 stunner: What if Oklahoma State, tired of being overlooked and refusing to end its season with six straight losses, goes to McLane Stadium and gives Baylor more heartbreak? The Pokes have lost to Baylor just once in the past eight seasons.
Which of those four has the best shot at making that happen? You tell us.
November, 13, 2014
Nov 13
11:30
AM ET
BATON ROUGE, La. --
Nick Brossette
knew being selected to play in the Under Armour All-America Game was a big deal, but it didn't truly hit him until he was presented with his honorary jersey at a ceremony on Wednesday.
Family, friends and teammates packed the gymnasium at Baton Rouge's University Laboratory School, and Brossette had to give a speech in front of the horde of media members that were just feet away from his face with flashing cameras. Following that, Brossette, the nation's No. 10 running back, spent the next 45 minutes answering questions from reporters and posing for pictures with almost everybody in attendance.
"Whew," Brossette said after he finally got a chance to sit down and catch his breath.
It's official. @NBrossette is an @AllAmericaGame All-American. Says a "dream come true." https://t.co/ZumCA58Chy

— Jeremy Crabtree (@jeremycrabtree) November 12, 2014
"I started watching the Under Armour Game when I was 8-years-old, and I knew it was a big deal, but man, this was unreal. I remember Jadeveon Clowney going up against La'El Collins. Just looking at those top athletes, showcasing their talent, I wanted to be a part of that. It's just now starting to sink in that it's a reality. This is like a dream come true."
These jersey presentations are always a big deal for the schools and communities, but Brossette's was especially unique because of his recruiting status. Brossette pledged to LSU -- the school that is literally across the street from University Lab -- last August, and he is one of the most dominating offensive players Baton Rouge has seen in years. But when Brossette announced a few months back that he was going to also visit Notre Dame, Texas and Arizona State, the spotlight focused on him even more.
"I think I'm doing a good job of keeping things in perspective and handling the whole recruiting stuff," said Brossette, who visited Notre Dame in early October and will take trips to the Longhorns, Tigers and Sun Devils after his season is over.
"It has taken up a lot of my time. I just try to stay focused with my team, and I'm just trying to get back to the state championship and win it this time. That time on the football field has kind of become my sanctuary. That's my time away where nobody is asking me where I'm going to school. Just being around my guys and having fun with them helps keep it all in perspective. It keeps me really grounded."
That is another reason he is excited to play in the Under Armour Game. Yes, he knows there will be plenty of questions about his future asked during the week, but he also knows there will be plenty of football.
"Fans are going to see that I work hard," Brossette said. "They're going to see my vision, how powerful I am, and they're also going to see my speed. Everybody questions me about my speed. I think I'm a full package at running back. This is my chance to show them.
"I've been looking at the roster and checking out all of the linebackers. I know there are some good ones in the game. I'm looking forward to going up against all of those guys. I can't wait to blow up a linebacker on the first day of practice."
They're a big fan of #LSU RB commit @NBrossette here at University Lab. https://t.co/006o7KBCOI

— Jeremy Crabtree (@jeremycrabtree) November 12, 2014
.
November, 13, 2014
Nov 13
9:00
AM ET
We're all picking Texas, TCU and Oklahoma…
Why Texas will win:
Oklahoma State and Texas are trending in opposite directions. After a rough start, the Longhorns have quietly improved, especially along an offensive line that is beginning to pave running lanes for
Johnathan Gray
and
Malcolm Brown
. The OSU Cowboys, meanwhile, have seemingly regressed offensively the past month, due largely to their inability to protect quarterback
Daxx Garman
, who himself has struggled to check down against the blitz. Bowl qualification will be on the line in this one. And the Longhorns will grab it.
Texas 29, Oklahoma State 13
– Trotter
Why TCU will win:
Gary Patterson has worked hard this season to make sure his players don't slack off, don't get too high, and don't look ahead. That won't change this week – if anything, being ranked No. 4 will only make him hammer that harder. The Frogs will be focused and motivated to score a lot of points this week for the old résumé. I have them beating KU by the same margin Baylor did.
TCU 56, Kansas 10
– Olson
Why Kansas will keep it close:
The Jayhawks have confidence, momentum and an underrated defense. KU will put up a bigger fight than most expect, especially with TCU playing its eight straight game without a bye. There are plenty of reasons to think Clint Bowen's crew can hang around.
TCU 44, Kansas 24
–
Chatmon
Why Oklahoma will win:
With
Alex Ross
,
Keith Ford
and
Samaje Perine
in the backfield, the Sooners will run, run and run some more against the Red Raiders. Tech will struggle to do anything about it. And Oklahoma should be ready to respond after being embarrassed on its home field by Baylor.
Oklahoma 42, Texas Tech 24
–
Chatmon
Why Texas Tech will keep it close:
The Red Raiders are coming off a bye week, which has given them extra time to prepare for Oklahoma while giving QB
Davis Webb
the chance to heal from an ankle injury. Oklahoma historically has struggled at Tech, and who knows what mental state the Sooners will bring to Lubbock this time after getting waxed by Baylor last weekend. If the Red Raiders don't self-destruct with turnovers and penalties -- and I realize that's a big
if
-- they'll have the chance to hang around an Oklahoma team that might be suffering a hangover.
Oklahoma 35, Texas Tech 27
– Trotter
Season records:
Trotter: 55-6
Chatmon: 53-8
Olson: 52-9
November, 12, 2014
Nov 12
1:00
PM ET
Texas and Oklahoma State have played in bigger games before.
But in the context of this season, Saturday's matchup looms large.
Bowl eligibility will be on the line when the five-win Cowboys meet the five-win Longhorns.
For Texas, getting to a bowl would give Charlie Strong momentum going into his second season as coach.
For Oklahoma State, a bowl would give the youngest team in the Big 12 valuable extra practice time in December, to better prime them for 2015.
And considering the Cowboys and Longhorns will be heavy underdogs the rest of the way, this clash in Stillwater offers both their best chances of snagging that coveted sixth win.
"There's a lot at stake," said Texas defensive end
Cedric Reed
. "Both of us [have five wins], both kind of have like must-win games to get into bowl season. It's a must-win game for both teams. Both teams are going to come out and give their best shot and best effort."
That might be easier for Texas to kindle than the Cowboys.
While the Longhorns are riding a two-game winning streak, Oklahoma State has dropped three in a row.
[+] Enlarge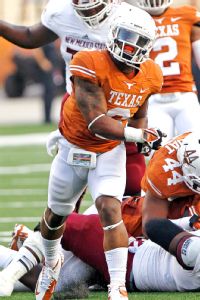 AP Photo/Michael ThomasQuandre Diggs wants more time with his Texas teammates, and bowl eligibility would provide that.
The Cowboys have been especially poor offensively, having scored only two offensive touchdowns during the their three-game skid.
To have a chance of bouncing back against Texas, Oklahoma State will have to protect quarterback
Daxx Garman
better than it has. The Cowboys rank 102nd nationally with 25 sacks allowed. This will be a tough matchup, too. Reed, who is coming off a three-sack performance against West Virginia, leads a Texas pass rush that has produced a Big 12-best 30 sacks.
Still, despite its offensive struggles, Oklahoma State remains only one victory away from extending a school-record bowl streak to nine.
"That's always the focus around here," said junior receiver
David Glidden
. "Playing in the postseason is what it's all about, to get to a bowl game and have an extra chance to go play and compete at the end of the year."
While getting to six wins would keep the bowl streak alive, it would also benefit the Cowboys for the future. Mike Gundy has been downplaying the significance of having the extra bowl practices. But with freshmen and sophomore comprising more than half his two-deep roster, having extra practice could be a boon.
"You get an extra month of practice when other teams, they're sitting around at home," said junior fullback
Jeremy Seaton
. "We get to spend more time together."
It's easy to see why the Longhorns might want more time together. After a disastrous start to the season, which included a 41-7 home loss to BYU, Texas has rebounded and improved. By defeating then No. 23 West Virginia last weekend, the Longhorns picked up their first victory over a Top 25 team at home since beating seventh-ranked Oklahoma State in 2008.
Getting to a bowl would provide even more validation that Texas is headed in the right direction under Strong.
"It's definitely motivating, just to the opportunity," said sophomore quarterback
Tyrone Swoopes
, whose development has been a big part of the resurgence. "It's a great opportunity for us. I feel like we'll make the most of it."
The opportunities get significantly more difficult for the loser Saturday. Oklahoma State closes out with road trips to No. 7 Baylor and Oklahoma, where the Cowboys haven't won since 2001. Texas has only more game left, at home on Thanksgiving night against fourth-ranked TCU.
"
I think it's really important for us to get that bowl game, not just for those practices, but it's another opportunity for us just to be around each other for a couple more weeks," said senior Texas cornerback
Quandre Diggs
. "You know, it would suck to be done on Thanksgiving. I've busted my tail with these guys for a long time, and I don't want it to end on Thanksgiving. That's what really is pushing me to get to a bowl game because I want the opportunity to spend more time with these guys."
The winner Saturday will be assured that time.
November, 11, 2014
Nov 11
6:56
PM ET
DALLAS -- The number 7 holds a lot of weight for linebackers at Dallas Skyline High School. Most recently,
Corey Nelson
and
Peter Jinkens
have gone on to do great things wearing the Skyline jersey.
It's now
Anthony Wheeler
's turn, and the ESPN 300 linebacker has yet to disappoint. He was rewarded for his efforts Tuesday, as he was the guest of honor during an Under Armour All-America Game jersey ceremony, sponsored by American Family Insurance, at his school.
Nelson was a 2009 Under Armour All-American, and Jinkens received the honor in 2012. Wheeler called following their footsteps "a blessing."
"They've always said here that No. 7 is the leader on the defense and one of the most dominant players on the defense in past years at Skyline," Wheeler said. "I look up to all those guys. Corey Nelson, Peter Jinkens ... all of them were great players, and I just try to play like them and want to exceed at the level they're on.
"I'm very thankful for everything that's come to me. It's amazing."
Anthony Wheeler putting on his #UAALLAMERICA JERSEY. https://t.co/pVagWzIBnc

— Damon Sayles (@DamonSayles) November 11, 2014
At 6-foot-3 and 220 pounds, Wheeler can play inside linebacker and outside linebacker at the next level. He is the nation's No. 3 inside linebacker and ranked No. 89 overall in the ESPN 300.
Additionally, Wheeler also is one of the most sought-after uncommitted athletes. He's been eyeing Oklahoma and Texas for months -- no surprise since Nelson played for Oklahoma before signing with the
Denver Broncos
, and Jinkens is currently at Texas. However, Wheeler stressed that LSU is just as much an option for his college plans, as he's been in frequent contact with the coaching staff.
Wheeler said he doesn't have any official visits planned and is focusing his attention on Skyline's run through the Texas Class 6A playoffs. He'll focus on his college future after.
For now, he'll do what the No. 7s of the past did -- play to win and make a statement doing so. And when January comes, look for Wheeler to do the same at the Under Armour game.
"I just want people to know I can play with anybody in the nation," he said. "They're going to see how physical I am."
Spoken like a true LB. Anthony Wheeler ready to "bust some heads." #UAALLAMERICA https://t.co/9AZvGDEcA8

— Damon Sayles (@DamonSayles) November 11, 2014
Quick hits on Anthony Wheeler
Best UA Game player ever
: "I'll go with
Jadeveon Clowney
. He goes 100 percent every play. He's very physical, he dominates the O-line and he always attacks the ball."
Best player at Skyline not named Anthony Wheeler
: Rice DT commit
Zach Abercrumbia
Favorite football memory
: "When I was in middle school, I used to play running back. Scoring touchdowns was an exciting memory for me."
Did you know ...
"I'm a shoe freak. I love shoes. Matter of fact, I'm addicted to shoes."
November, 11, 2014
Nov 11
4:00
PM ET
In Tuesday's mailbag we discuss Baylor and TCU's hopes for a playoff berth and Texas on the road to a national title? As always, thanks for your questions. To submit questions for next Tuesday's mailbag,
click here
.
Michael Darmitzel writes:
How should the committee view Baylor's loss to West Virginia in light of their trouncing of Oklahoma and subsequent losses by the Mountaineers?
Brandon Chatmon:
Well a loss is a loss, so that never looks good. You would hope the committee, which is supposed to take injuries into account, would note the Bears lost starting guard Desmine Hillard that week. But clearly the committee doesn't think of it as a quality loss since they had the Bears behind a two-loss Ole Miss a week ago. Regardless, their domination of OU should provide a much-needed boost when the rankings are released later on Tuesday.
Jared Miller from The Woodlands, Texas, writes:
It seems like Baylor is being penalized for losing later in the season than TCU. Seriously. Hear me out. If the entire season's results so far were the same, EXCEPT the TCU/Baylor game had happened this past weekend, is there ANYONE who would argue that TCU should be ranked ahead of Baylor? I doubt it, but maybe I'm a crazed Baylor fan. Thoughts?
BC:
I agree with you, but that's not the scenario, Baylor beat TCU then lost to West Virginia. And that, combined with a lack of quality wins, has resulted in them looking up at the Horned Frogs. If it comes to a debate between 11-1 TCU and 11-1 Baylor, the Bears should get the nod.
Jordan in Austin, Texas writes:
Is Waco the new Norman? Oklahoma is 17-5 at home since 2011. Baylor is 23-1 in Waco during the same timeframe including 14 straight. After the beatdown in Norman this weekend it's time to reopen the conversation on the toughest place to win in the Big 12. Which school has the best home-field advantage in the conference right now?
BC:
Oklahoma doesn't even have the best home record in the state, let alone the Big 12 since 2011. Oklahoma State is 21-3. But Waco has definitely become the toughest place to win in the Big 12 in recent years. We all know that has more to do with trying to tackle
Antwan Goodley
or slow down
Bryce Petty
than the surroundings outside the white lines.
Jason McNicol in Phoenix, Arizona writes:
Love the blog, so many thanks. For the upcoming Tech/OU game, over/under 250 yards rushing for the Sooners in Lubbock this weekend?
BC:
Over. Kliff Kingsbury and the Red Raiders should expect run left, run right, run up the middle from the Sooners offense, particularly with an ailing
Trevor Knight
or inexperienced
Cody Thomas
under center. Quite frankly I think when OU looks back at the loss to Baylor, the lack of a commitment to the running game should stand out. I have a feeling they'll more than makeup for it on Saturday and the Red Raiders have had their problems trying to stop the run this season.
Head-to-headscratcher in Champaign, Illinois writes:
Through my purple-tinted glasses, I see two things separating Baylor-TCU that I don't think are getting enough air time in the head-to-head discussion. Isn't it better that TCU lost to Baylor, a one-loss team than to WVU a four-loss team? And where does the point-differential (-14 vs. -3) of those losses factor in? Head-to-head is one thing, but the quality of the loss seems to actually favor TCU.
BC:
Those are pretty fair points. Yes, TCU's loss is better than Baylor's loss and point differential should matter. Yet all of that is trumped by this: Baylor 61, TCU 58. It amazes me that anyone would think a head-to-head win should be discounted in any way. What's next, Auburn ordering BCS championship rings? Congrats to the Miami Heat on their 2014 NBA title … I know it sounds extreme but that's what I hear when people try to tell me Baylor's win over TCU doesn't matter. It does matter. It matters a lot.
Jonathan in California writes:
Even though the win should matter the most between TCU and Baylor, if the committee is still having difficulty at the end of the season on who to select why not send them both to the playoff. What needs to happen for rematch at Jerry's World?
BC:
First off, and most importantly, TCU and Baylor each need to win out and win out impressively. From there, SEC chaos would help resulting in a debate between a two-loss SEC squad and one-loss Big 12 team. But it feels unlikely that we would see both TCU and Baylor in the College Football Playoff because nonconference schedules will definitely come into play under that scenario and the Bears fall short in that respect. A lot of things have to fall in place for two Big 12 playoff berths.
Rusty Ford in Wichita Falls, Texas writes:
Riding that wave, Charlie? So, what do the Longhorns have to do to make it into the CFB Playoff? The 2015 playoff, that is.
BC:
They'll need a quarterback operating at a championship level. Look at the Big 12's contenders this season, TCU (
Trevone Boykin
) and Baylor (Bryce Petty) both have quarterbacks with the proven ability to change games with their skills while protecting the ball at the same time. If the Longhorns can find that, in the form of an improved
Tyrone Swoopes
or someone else, there's no reason we can't be talking about UT in 2015 the way we're talking about TCU right now.
November, 11, 2014
Nov 11
3:00
PM ET
AUSTIN, Texas -- The
crowd surfing
might've been a one-time deal, but Charlie Strong will be celebrating like that again someday soon.
The Longhorns' first big win under their first-year coach will get called a signature win, maybe even a turning point. But the
33-16 victory
over No. 23 West Virginia offered something more important: a glimpse of the future and the team Strong is trying to build.
[+] Enlarge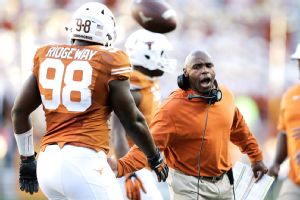 AP Photo/Eric GayCharlie Strong was excited -- for good reason -- about what the Longhorns showed on Saturday against West Virginia.
A dominant first half in which Texas took a 21-point lead over a ranked team, averaged 8 yards per carry, held the Big 12's No. 1 passer under 100 yards and was indisputably the tougher team offered the best proof yet of where Strong believes this is heading.
"Eventually, that's who we're going to become, and that's going to happen," Strong said. "I hope it happens a lot sooner than later, but that will happen within this program where we're going to be able to just physically pound the football and defensively go play physical."
After coming close against UCLA and Oklahoma, Texas finally earned its breakthrough win in a fashion that aligns perfectly with what Strong has preached. These Longhorns are starting to understand and play to their coach's vision.
"We're getting closer to the overall team win we've been looking for," running back
Malcolm Brown
said.
For Strong, it's the effort plays that stood out.
Jordan Hicks
got stops on third and fourth down in front of his goal line.
Quandre Diggs
got the chance to slow down
Kevin White
and pulled it off (nine of White's 16 catches gained less than 10 yards).
Mykkele Thompson
laid big hits in the open field and
Cedric Reed
finally broke out with three sacks, though Strong says he could've had five.
"I love putting the game on the defense's shoulders," Strong said. "The way we play this game, defense plays well. If defense doesn't play well, we have no shot at all."
On the other side, Strong saw something Texas has been searching for all season: big lanes in the run game. Like the 25-yard run from Brown with the kind of path "he probably could have driven a car through" and
Johnathan Gray
runs of 39 and 40 yards in which he actually got to make moves in space.
Texas' opening drive was another encouraging sign: A 90-yard, 11-play excursion that included a third-and-15 conversion, two long runs from Brown, an explosive pass play to
John Harris
and a third-and-goal touchdown. That start set the tone for the Horns to pound the run, control the line of scrimmage and triumph with toughness.
"The game is all about just being physical," Strong said. "We know that that's the only way we can ever be who we are because we have the players, we have the talent; it's just all about putting it together."
Texas pulled off this double-digit win over a team that beat Baylor and tested TCU and Alabama despite an up-and-down day for Longhorns quarterback
Tyrone Swoopes
, who missed on 12 of his final 15 pass attempts. When he's shaky, this offense can slow to a crawl -- 2.6 yards per play in the second half -- and struggle on third downs.
But Strong doesn't ask or need Swoopes to be great. Just good enough. His development is still being handled with care and patience, because Texas knows its identity isn't at all dependent on elite quarterback play.
The head coach has said it all season long: You win big games with great defense. The Longhorns have done so in back-to-back weeks for the first time this season. They'll need one more to reach a bowl game.
"The mark of a champion is being able to repeat last week's performance," Strong said. "Can we do that again and put it all together?"
Six wins isn't close to the bar for success at Texas, but it's the beginning this rebuild needs. A physical Texas team beating up a ranked foe at home with stingy defense and big gains on the ground? Now that's more like it.
"That's the standard," Hicks said. "Everybody knows what the Texas standard is. We've got to live up to it."
November, 11, 2014
Nov 11
10:00
AM ET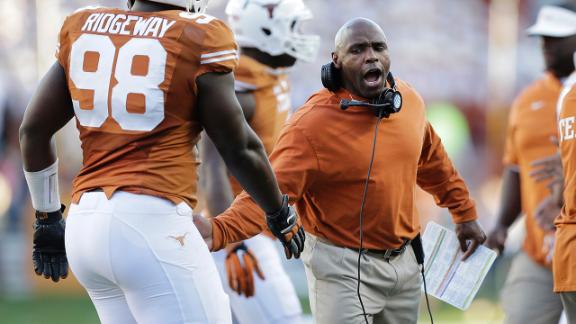 For Texas, it was lose a player, gain a player. For Texas Tech, it was all about gaining a potential sleeper -- even though it didn't have the luxury of having the game-day experience as support.
For Oklahoma, it was about impressing the future stars in attendance despite a lackluster performance on the field. For TCU, the concept was simple: Earn a quality win, impress the visitors in attendance and keep the College Football Playoff committee interested.
It was a good weekend for Big 12 recruiting. Here is an in-depth look at how the weekend concluded:
November, 10, 2014
Nov 10
11:00
AM ET
ESPN's Football Power Index is a measure of team strength that is meant to be the best predictor of performance going forward for the rest of the season. Every week, ESPN will be updating its FPI to compile a ranking based on 10,000 simulations of the rest of the season using results to date and the remaining schedule.
A critical weekend in the Big 12 has led ESPN's FPI data to a critical change in its Big 12 title prediction.
Baylor's odds of winning the second consecutive title belt jumped from 27.2 percent to 71.7 percent. TCU's odds, despite beating Kansas State, dropped from 41.6 percent to 24.2 percent. That's based on its head-to-head loss to the Bears and the slim odds of Baylor losing again.
Baylor is now seen as having a 76-percent chance of beating K-State in its finale and a 67-percent chance of winning out to finish 11-1. TCU's odds of ending up 11-1 are a near-equal 68 percent.
Kansas moved up nine spots in the
national FPI rankings
and Texas jumped five with their upset victories this weekend, while KSU and Oklahoma held onto spots in the top 20 despite their blowout losses. Here's how they and the rest of the Big 12 stack up after this weekend:
November, 10, 2014
Nov 10
8:00
AM ET
These are bizarre-yet-enlightening times in the Lone Star State. All right, so a Republican last week won the governorship and brisket is still King with a capital K, so some normalcy exists. But in the college football realm, Baylor and TCU are battling for a playoff spot while Texas A&M and Texas scramble for bowl eligibility.
The Aggies got there with a win against Louisiana-Monroe, and the Longhorns are a step closer after a surprising home win over West Virginia. Texas will make the postseason with a win against either Oklahoma State or TCU.
The tilted balance of power, though, is putting a strain on the state's football royalty. The pressure is building to perform, and the coaches of A&M and UT lead the list of those who need to win in 2015 to stave off the heat:
To continue reading this article you must be an Insider
November, 10, 2014
Nov 10
8:00
AM ET
November, 9, 2014
Nov 9
11:00
PM ET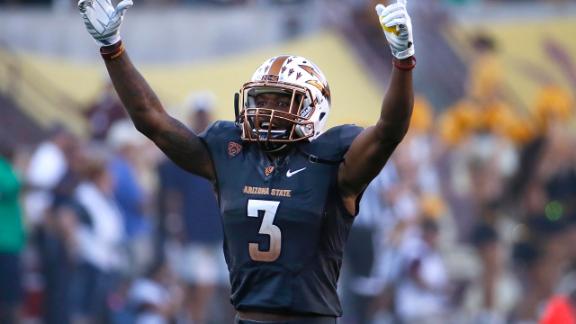 Arizona State's victory over Notre Dame Saturday gives the Sun Devils' huge momentum on the recruiting trail. Texas hasn't had to rely on junior-college players in the past, but that'll change some under Charlie Strong.
To continue reading this article you must be an Insider
Final Verdict: Eye Toward The Future
BIG 12 SCOREBOARD
Thursday, 11/20
Saturday, 11/22