September, 22, 2014
Sep 22
4:06
PM ET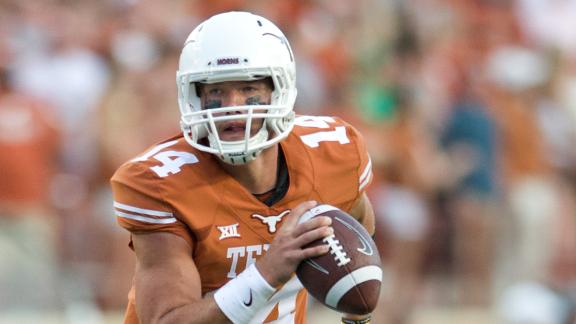 AUSTIN, Texas -- After three difficult weeks of contemplation, David Ash is ready to move on from football and begin the rest of his life.
The former Texas Longhorns quarterback held a 25-minute news conference Monday and offered his first public comments since his concussion symptoms returned after an Aug. 30 win against North Texas.
He explained why, after consulting with Texas coach Charlie Strong and team doctors, he knew he needed to stop playing in the interest of his health and future.
"I'm at peace with that. God has given me a peace," Ash said. "I have a lot of hope and a lot of belief that there's still awesome days ahead for me."
Ash said he experienced headaches for seven or eight days after the 38-7 victory over North Texas, his first game since September 2013. That painful week brought some needed closure.
"At the core of my heart of hearts," Ash said, "I knew I shouldn't be playing."
Ash reported his concussion-related symptoms to Texas trainers in the hours after beating North Texas. He watched film of that game later and could tell he wasn't playing like normal.
"The real deal about the North Texas game is, I really didn't get hit," Ash said. "I didn't get a vicious blow."
Ash still has not disclosed how many concussions he suffered in the past year beyond the first one, which occurred late in a Sept. 6, 2013, loss at BYU. He has not experienced memory loss and is hopeful he's done dealing with those symptoms.
Still, the process of accepting he must retire was difficult. Team doctors told Ash that, if he were their son, they wouldn't let him play.
"It's been hard," he said. "I've met my quota for crying for the next 10 years."
September, 21, 2014
Sep 21
2:00
PM ET
September, 19, 2014
Sep 19
5:30
PM ET
In today's Twitter mailbag, we discuss Kansas State's future after the hard-fought loss to Auburn, the big game between Oklahoma and West Virginia and Texas Tech's defensive problems.
On to the 'bag:
@Jake_Trotter what are the chances kansas state beats one of baylor or Oklahoma? Or somehow both of them?

— Seth Meadows (@meadows1115) September 19, 2014
Trotter:
The K-State game should make Oklahoma fans a little queasy. The week before meeting the Wildcats on Oct. 18, the Sooners play Texas. The same weekend, the Wildcats will be off. We saw Thursday night how good Bill Snyder is at drawing up a game plan with an extra week to prepare. And this time, his opponent won't have the extra week as well.
@Jake_Trotter If Tech doesn't get it's run defense together, how do you think they'll do against Oklahoma State?

— James Alexander (@KingJamesofMars) September 19, 2014
Trotter:
The good news for Tech is that Oklahoma State's offensive line hasn't exactly dominated, either. But the Cowboys have good backs and they create creases by spreading the field. Though
Daxx Garman
can't run like
J.W. Walsh
, he can stretch the field to open up the running game with his arm. That said, if Tech gets steamrolled up front by an Oklahoma State offensive line that even Mike Gundy has termed as "very below average," the Red Raiders might very well get steamrolled by all comers the rest of the way.
@Jake_Trotter exact same question as last week, any solution in sight for Tech's porous defense?

— Andy Dobbins (@adobbins29) September 19, 2014
Trotter:
You're not going to like this answer, but I think it comes down to recruiting better players more than anything else, especially along the defensive line. There isn't a scheme out there that can account for a team's defensive front getting blown off the ball the way Tech's did against Arkansas. The Red Raiders can be better defensively than they were against the Hogs. But ultimately, you either have the horses or you don't.
@Jake_Trotter when are you coming down to McLane to join us for some sailgating?

— Baylor Bearmada (@BaylorBearmada) September 19, 2014
Trotter:
Brandon got the plum assignment of covering the stadium unveiling against SMU. At the moment, I'm not sure yet when exactly I'll be assigned to go down to Waco. But when I do, I'm going to see if I can find a spot in the Baylor Armada.
@Jake_Trotter what's your prediction for the OU WV game? I think fans are taking this game lightly. Keith Ford bigger loss than we thought?

— Ben Luton (@Lutotime) September 19, 2014
Trotter:
It's a big loss, no doubt. Ford has been OU's best all-around back. But the Sooners are better equipped to deal with the loss of Ford than West Virginia is the loss of standout cornerback
Daryl Worley
.
@Jake_Trotter say Ou beats KSU and WVU by more than Bama and Auburn did. How much will the committee look into scoring differentials?

— Travis Guidry (@TGuidry25) September 19, 2014
Trotter:
The fact that Kansas State, Oklahoma State and West Virginia hung tough against Auburn, Florida State and Alabama will do nothing but strengthen the perception of the Big 12 in the eyes of the playoff selection committee. I don't think the committee will get overly focused on scoring differentials. But Oklahoma (or Baylor) beating the Wildcats, Cowboys and Mountaineers would be viewed as quality wins, based on how those three opponents performed in their nonconference schedules.
@Jake_Trotter what do you think are texas' chances of losing to Kansas before the red river game?

— Matt Peacock (@Mpeacock5) September 19, 2014
Trotter:
Did you not see the Duke score? I guess anything is possible. But there's reason why Kansas is 1-29 in its last 30 Big 12 games.
@Jake_Trotter if you could trade Kansas for a fellow bottom dweller in a P5 conference, who would it be and why?

— Brad Gibson (@BradWGibson) September 19, 2014
Trotter:
Why would I trade away the league's best basketball program? And why would you want to trade away an automatic win for whatever team you pull for?
---
Matt H. writes:
Is there a chance for
Clint Trickett
or
Kevin White
to be mentioned in the Heisman race if they keep performing at the high level they are playing at right now?
Trotter: White has no shot, if only because receivers don't win Heisman Trophies. But if Trickett lights up a really good Oklahoma defense Saturday, he might begin to generate a little buzz as a possible darkhorse contender.
September, 19, 2014
Sep 19
3:30
PM ET
Going into the fourth weekend of the season, we've updated our
Big 12 true freshman power rankings
again, which we'll be revising occasionally throughout the year. Again, this list combines both opportunity and impact.
The rankings:
1. K.D. Cannon, WR, Baylor
(previous rank: 2):
Cannon has been nothing short of spectacular while temporarily taking over the role as Baylor's No. 1 receiver with
Levi Norwood
,
Clay Fuller
,
Corey Coleman
and
Antwan Goodley
all out with injuries. In three games, Cannon
leads
the nation with 471 receiving yards, while averaging 33.6 yards per catch. No other Big 12 receiver is averaging more than 25 yards per catch. This is a future star in the making.
2. Samaje Perine, RB, Oklahoma (3):
Perine has been stout as Oklahoma's power back, but will only see his role expand after the leg injury to
Keith Ford
. While splitting carries with Ford and
Alex Ross
, Perine has still rushed for 177 yards while averaging 5.5 yards a carry. Ross is expected to get the start at West Virginia, but don't be surprised if Perine gets the most work.
3. Dravon Henry, FS, West Virginia
(1):
Henry has kept his starting job, though has been rather quiet since shining in West Virginia's opener against Alabama. He'll face another huge challenge this weekend against the balanced Sooners.
4. Dimitri Flowers, FB, Oklahoma
(5):
Flowers continues to be an instrumental part of Oklahoma's powerful rushing attack. He hasn't seen the ball much. But he has paved the way with his lead blocks for Ford, Perine and Ross and an Oklahoma ground game that averaging 5.6 yards per rushing attempt.
5. Allen Lazard, WR, Iowa State
(7):
Lazard led the Cyclones in receiving in their 20-17 victory over the Hawkeyes. He also hauled in a key pass on Iowa State's game-winning drive late in the fourth quarter. With
Quenton Bundrage
out for the season, Lazard has taken over as Iowa State's go-to receiver on the outside.
6. Davion Hall, WR, Baylor (4):
Like Cannon, Hall has made the most of his opportunities as the rest of the Baylor receiving corps recovers from injuries. He's currently 10th in the league with 192 receiving yards.
7. Elijah Lee, LB, Kansas State (9):
Lee didn't have much of an impact Thursday night against Auburn, but he still ranks fifth in the league with 2.5 sacks. Bill Snyder leans against playing true freshmen, but Lee has earned his trust.
8. Justin Stockton, RB, Texas Tech (10):
Along with the rest of the Red Raiders, Stockton struggled against Arkansas with only seven yards rushing on six carries. But the week before against UTEP, he was outstanding with 135 yards rushing, including a 75-yard touchdown dash.
9. Corey Avery, RB, Kansas (8):
While the rest of the Kansas offense did little, Avery was the lone bright spot in the loss at Duke. He led the Jayhawks with 87 yards rushing, after rushing for 91 the week before in his debut.
10. Jason Hall, S, Texas (NR):
Hall had a sack and a couple of big hits against UCLA after entering the game in the second quarter. His aggression figures to warrant him more playing time after Texas returns from the open weekend.
On the radar:
Tevin Madison
, CB, Texas Tech;
Colin Downing
, P, Iowa State;
Cameron Batson
, PR/WR, Texas Tech;
Matthew Boateng
, CB, Kansas;
Steven Parker
II, Oklahoma
September, 18, 2014
Sep 18
6:49
PM ET
September, 18, 2014
Sep 18
12:55
PM ET
David Ash
's decision to retire was not unexpected but the former
Texas Longhorns
quarterback has received support from around the country, including the reigning NBA MVP.
Former Texas standout and current
Oklahoma City Thunder
star
Kevin Durant
, who won the 2013-14 NBA MVP award, took to Twitter to express his appreciation for Ash's contribution to the Longhorns.
Thank you David Ash, you gave your all to the University of Texas. I respect your decision and good luck in the future my brother

— Kevin Durant (@KDTrey5) September 17, 2014
Ash responded with a thank you of his own for his fellow Longhorn.
@KDTrey5 I really appreciate it. We're all thankful for the way you've represented UT your family and your faith. Keep it up

— David Ash (@david_ash14) September 18, 2014
September, 18, 2014
Sep 18
8:30
AM ET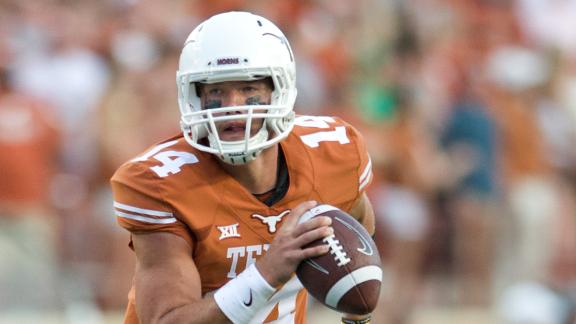 AUSTIN, Texas -- A complicated career ended with an easy decision.
David Ash
is
giving up football
, a choice far wiser than he probably appreciates, but one that is no doubt gut-wrenching. Texas' quarterback was right to hang it up after his bout with concussions over the past year. There should be no debate about that.
To let Ash, a 22-year-old with a long life ahead of him, continue to play would've been irresponsible. Texas has known that since Aug. 31, when he revealed to team doctors he was once again dealing with headaches and dizziness.
"There was no way we'd let him back out on the field," Texas coach Charlie Strong said, "because we were going to be concerned about his health."
They knew he was done, so Wednesday's announcement was not unexpected. What we don't know, unfortunately, is something Texas fans have pondered for years.
We'll never know how good Ash could've been. His career seemed forever on the cusp, a few great games away from something bigger. But he gave as much as he could.
When concussions derailed his junior season last year, he wasn't ready to walk away. Last month, Ash was asked about the people who told him to stop playing. He understood why they asked their questions.
[+] Enlarge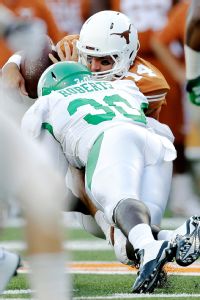 AP Photo/Eric GayDavid Ash suffered several hard hits on against North Texas in the Longhorns' first game. He revealed to team doctors he was once again dealing with headaches and dizziness the next day.
"'Why are you coming back to play? Why are you doing this? You can quit now. You did the best you could,'" Ash said. "I just can't do that."
No, he needed another chance. One more game, one more season. He'd fought hard for 12 months to get back, and even harder to become the quarterback he knew he could be.
Ash fit the prototype at 6-foot-3 and 220 pounds with a strong arm and quick feet. He threw as pretty a ball as any Texas QB since Chris Simms, especially when you watched him practice. He was a deceptive runner, with dashes of 55, 49 and 47 yards on his résumé.
There were a few nights when he put it all together. He did it in Stillwater in 2012, leading Texas on a 75-yard, game-winning drive for a 41-36 win over Oklahoma State. Looking back, that was probably the finest game of his career.
He was exceptional against Texas Tech later that season, one week after being benched at Kansas, and his second-half performance in the Alamo Bowl to beat Oregon State inspired real hope about 2013. He threw, he scrambled, he yelled, he led. He was getting closer.
But there were struggles he couldn't overcome along the way. He never beat Oklahoma in two tries, both embarrassing losses. He was pulled in that near-loss at KU in 2012. He shouldn't have tried to play with broken ribs in a Thanksgiving loss to TCU.
But if the sum total of your evaluation of Ash is, "He stunk against OU," you missed out on a lot. He went 15-7 as Texas' starter. For some reason, he was judged far more by the seven than by the 15.
But Mack Brown believed in Ash. He believed Texas could be great in 2013 if Ash was great. He thought Texas could win any game on its schedule if his quarterback played at the level he expected.
Ash's rocky career will, in some ways, be forever tied to the end of Brown's. While
Robert Griffin III
,
Johnny Manziel
and so many other fine quarterbacks from Texas thrived elsewhere, Ash was the guy Brown hitched his wagon to after the implosion of the Garrett Gilbert era. Had Ash not been lost for the season last year, perhaps Texas might not have a new head coach.
The public expectations, for that reason, were never going to be fair for Ash. Brown and Strong repeatedly asked him just to be a good quarterback, a distributor and manager, and not fret about being great.
His week-to-week demeanor as the leader of the Longhorns' offense, the focal point of this great fishbowl, rarely changed. He was quiet, unassuming country boy from Belton, Texas, early on, but always came off as calm and rather determined. He speaks frequently about his life being grounded in his faith.
"In my mind, I always knew I was going to play again," Ash said in August. "I feel like this is where God has placed me, this is the talent he has given me, and whenever I work hard and I play hard, it pleases Him and gives Him glory."
The year off from football humbled him in new ways. He came back from his concussion and foot injury with conviction. He'd never considered quitting, he said, and he wasn't going to look back.
Strong lauded his fall practices as "outstanding." Ash knew he was still getting closer. When asked about being so close to that breakthrough in 2013 and then having it taken away, having to wait patiently for another season, he offered genuine perspective.
"I think you just be thankful for what you get," Ash said, "and this goes for any person in any situation. You look at situations and say, 'I'm a victim. Why me?' Or you can look at situations and say, 'Wow, I'm so thankful that I even got to do this much.' So attitude is everything in those kinds of situations.
"So right now, wow, I get another opportunity. That's amazing. That's awesome. Thank God for that. I didn't necessarily deserve that, to get another opportunity. Just got to make the most of it."
Ash got another shot against North Texas on Aug. 30. He played as long as he could. When it was over, when the symptoms came back, he knew he could walk away without regret.
When he sat down with Strong on Wednesday to make his retirement official, he did so voluntarily. Ash is ready to move on, unburdened by expectation, off to find a new way to give glory. Soon enough, he'll realize playing quarterback has nothing to do with how good he can be.
September, 18, 2014
Sep 18
8:00
AM ET
It's a big night in the "Little Apple."
September, 17, 2014
Sep 17
10:00
PM ET
AUSTIN, Texas -- Texas quarterback
David Ash
has
elected to retire due to concussion-related symptoms
, ending a 376-day saga that began with one hit in Provo, Utah, and ultimately led to the 22-game starter's decision that his playing days are over. The following is an updated timeline of how we got here.
Sept. 7, 2013:
Ash exits a 40-21 loss to BYU late in the fourth quarter after suffering a concussion. He does not play against Ole Miss the following week.
Sept. 20:
Texas announces Ash has been cleared by UT medical staff to start against Kansas State. He'd participated in his first practice since the concussion two days earlier after being symptom-free for at least 48 hours.
Sept. 21:
Ash passes for 166 yards and guides Texas to a 17-7 halftime lead over K-State, then is held out for the second half. Team trainers evaluate him for concussion symptoms.
[+] Enlarge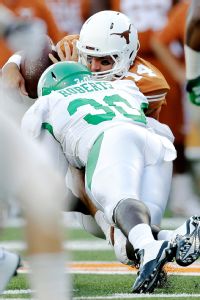 AP Photo/Eric GayDavid Ash suffered several hard hits on Saturday against North Texas.
Nov. 16:
Ash attends his first Texas football game since Kansas State, a home loss to Oklahoma State.
Nov. 25:
Texas officially announces Ash is
out for the season
and will seek a medical redshirt. "Though he's made a lot of progress, we have not been able to clear him to return to competition," Texas trainer Kenny Boyd says in a statement. "Due to the duration of symptoms, we are now at a point that we all believe the best approach for him is to not return this season."
Jan. 18, 2014:
Ash is cleared for offseason workouts and is expected to be a full participant in spring practice.
March 18:
First day of spring practice. Ash returns to the practice field for the first time since September.
April 11:
Ash is shut down for the final week of spring practice after
suffering a "Jones fracture"
in his left foot which requires surgery. Texas also announces Ash officially received a medical redshirt for missing 2013, giving him two remaining seasons of eligibility.
July 21:
Texas announces Ash is fully cleared to participate in fall practice. A day later, Strong says at Big 12 media days Ash is his starting quarterback.
Aug. 4:
First day of fall practice.
Ash speaks to media
for the first time since BYU. "A lot of people told me, 'You need to give it up, you need to quit.' Honestly, I never really thought about it," he says. "In my mind, I always knew I was going to play." He declines to discuss specifics about his concussion. When asked if he's ready to take his first hit, he declares: "Oh yeah, bring it on."
Aug. 25:
During his Monday news conference, Strong refers to Ash as an "unbelievable quarterback who's had an unbelievable preseason camp." When asked again about taking his first hit in the season opener, Ash says, "I'm going to be OK. If I get hit, I'll be fine. I will be sliding a lot more this season, so you can count on that, and I'll be trying to protect myself and doing what's best for the team and taking care of my health during games so that I can last the whole season."
Aug. 30:
Ash's first hit comes on the first play of Texas' second offensive drive. As he bends down to scoop up a fumbled snap, North Texas defensive end
Jarrian Roberts
hits Ash and his shoulder collides with the crown of Ash's helmet. Ash is slow to get up but does not report an injury to UT trainers. He takes at least five more hard hits during the 38-7 win, including three to his head or neck area.
Ash does not report any injuries or symptoms to team trainers during the game. A UT spokesperson says Ash spoke with trainers immediately after he came off the field from each drive.
After the game, Ash does not speak to reporters. OC Shawn Watson describes his performance as "sporadic" with some good moments. Strong is asked about the hits Ash took. "It's all within the flow of the game," he says. "I think the officials did a great job and the thing we have to do is just do a better job protecting. ... Sometimes we see it coming and you have to remember, you're going to get hit in this game."
Around 1:30 a.m. Sunday, after leaving the stadium, Ash informs the Texas staff he's experiencing headaches and dizziness and is brought in for further evaluation. He tells Strong he thinks the first hit, by Roberts, caused his symptoms.
Sept. 1:
Strong announces Ash will not play against BYU and offers no timetable for his return. He's concerned about Ash's concussion history but insists the coaching staff was unaware of any in-game symptoms. "I'm not ever going to jeopardize injury," he says. "You can never, ever in this program jeopardize a young man's health to compete in a football game."
Sept. 6:
Ash is able to attend Texas' home loss against BYU and watches from the sideline in a jersey and khaki shorts. He also travels for Texas' loss to UCLA at AT&T Stadium but did not suit up.
Sept. 17:
Ash meets with Strong and decides to end his playing career. Strong says there is "no way" Texas coaches or trainers would've let Ash take the field again, but the quarterback made the call on retiring and will remain involved with the team this season.
September, 17, 2014
Sep 17
8:00
PM ET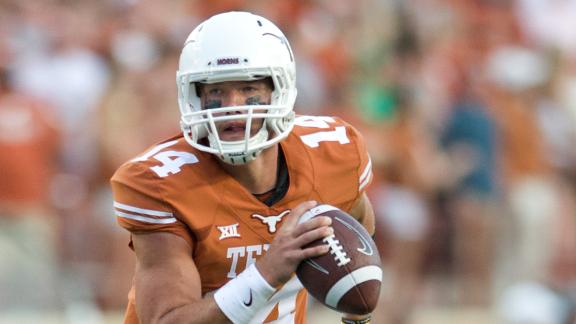 AUSTIN, Texas -- Texas Longhorns quarterback David Ash has elected to end his football career after struggling with concussion-related symptoms for the past year.
Coach Charlie Strong announced the junior quarterback's decision after practice Wednesday. Ash had started 22 games in his career with the Longhorns but was shut down on Sept. 1 after experiencing more symptoms.
"We just decided, because of his health -- that's the No. 1 concern for all of us -- that he's no longer going to play football," Strong said. "But he is going to be part of the team, because I told him I wanted him around the team, and that's what he deserves."
Ash suffered a concussion at BYU in September 2013 and played in just two games since then. He met with Strong on Wednesday and agreed it was in his best long-term interest to stop playing.
"The trainers and doctors had been working with him and, like I said, his health is our major concern," Strong said. "We sat down to talk and he said, 'Coach, this is what I'd like to do.'"
Strong said there was "no way" Texas coaches and trainers could allow Ash to continue playing considering his concussion history. But it was Ash's decision to officially end his playing career.
"It was a very tough call for him," Strong said. "He's very emotional. He's done a lot for this program, been a major part of this university."
Ash finished his career with 4,728 passing yards and 36 total touchdowns.
Sophomore Tyrone Swoopes has started Texas' past two games and will remain the starting quarterback. Strong said Ash will continue to work with Texas' quarterbacks this season.
Strong also announced Wednesday that starting defensive tackle Desmond Jackson
September, 17, 2014
Sep 17
2:45
PM ET
With six Big 12 teams having this weekend off, now is a good time to take stock of what's working and what isn't after Week 3. What are these six teams happy with and what still needs to get fixed? Here's a closer look:
Baylor
Next game:
Sept. 27 at Iowa State
What's working:
Pretty much everything. Baylor's offense kept rolling even when
Bryce Petty
was sidelined, the run game broke in new toys in
Johnny Jefferson
and
Silas Nacita
,
KD Cannon
became a national phenom in three weeks and the defense ranks top five nationally in scoring, total defense, yards per play and run defense to go along with an FBS-high 15 sacks.
What needs work:
This is welcomed recovery time for a team that got the injury bug in fall camp. Petty is 100 percent now and excited to get go-to target
Antwan Goodley
(quad) and receivers
Corey Coleman
(hamstring) and
Clay Fuller
(collar bone) back on the field. The Bears will likely get running back
Devin Chafin
(high ankle sprain) back in time to travel to Ames, too. With the exception of
Levi Norwood
, they'll have the full arsenal back in time for Big 12 play.
Iowa State
Next game:
Sept. 27 vs. Baylor
What's working:
The Cyclones go into the week off riding an emotional high they aim to turn into momentum. Their 20-17 upset of Iowa provided so many encouraging signs. Quarterback
Sam B. Richardson
had arguably the best game of his career, the defense came up with its first takeaway in a big moment and we saw another impressive performance from
Cory Morrissey
. Paul Rhoads is a happy camper after the rivalry win, and ISU avoided an 0-3 start in dramatic fashion.
What needs work:
A game plan for slowing down Baylor will be the main focus this week. ISU has a few injury issues of its own, but the good news is
Jarvis West
should be OK. Rhoads is focusing in on a four-week, four-game stretch in which the Clones take on Baylor, Oklahoma State, Toledo and Texas. After a win this good, there's always another upset to chase.
Oklahoma State
Next game:
Sept. 25 vs. Texas Tech
What's working:
The youth and inexperience Oklahoma State has on paper is not showing on the field. The Pokes haven't slipped since losing
J.W. Walsh
, they gave Florida State a tough four-quarter ballgame, they won with relative ease after that and they have entered the Top 25. Thsi is not a perfect team yet but is a rising one that's going to scare a lot of teams in conference play.
What needs work:
Facing Tech will give OSU a much better sense of how good its defense can be in 2014 after a nice showing in nonconference play. Gundy wants to see more depth develop in the back seven, and on offense he's expressed concerns about blocking the run game.
TCU
Next game:
Sept. 27 at SMU
What's working:
The offensive transition has been smooth and effective. TCU has averaged 39 points and 491 yards per game with its new Air Raid, and
Trevone Boykin
has been everything the coaches hoped for -- and maybe a little more. The defense hasn't taken a step back without Devonte Fields and has seen several players step up their games up front. Smooth sailing so far for a team that definitely looks bowl-bound again.
What needs work:
TCU's pass defense ranks No. 6 in FBS, but Gary Patterson has said he still wants to make some fixes in pass coverage. They'll devote the required amount of time on SMU, a struggling team led by an interim coach and a third-string quarterback, but the Frogs know they need to work ahead a little on Oklahoma and Baylor, including preparing for the 3-4 fronts of the Sooners' defense.
Texas
Next game:
Sept. 27 at Kansas
What's working:
Despite taking two losses, this defense is playing at a high level with a top-20 yards-per-play rate, a top-15 pass defense and 13 sacks. Defensive tackle
Malcom Brown
looks like a potential All-American so far.
Tyrone Swoopes
is taking steps in the right direction and shined at times against UCLA, while
John Harris
has finally emerged as a go-to receiver.
What needs work:
Where to begin? Texas' patchwork offensive line hasn't gelled and desperately needs these two weeks. The Longhorns need suspended WR/RB
Daje Johnson
back and need a healthy
Desmond Jackson
(ankle).
Cedric Reed
was better against UCLA but hasn't broken out yet. And Charlie Strong needs to start coming up with plans for stopping Baylor and Oklahoma or else this team could start 2-4.
Texas Tech
Next game:
Sept. 25 at Oklahoma State
What's working:
Tech is getting nice production in the run game from
DeAndre Washington
and
Justin Stockton
and in the pass game from
Bradley Marquez
and
Jakeem Grant
. Offensive line play has improved and Tech hasn't given up a sack. Its pass defense ranks 11th nationally, which is probably misleading.
What needs work:
Run defense, penalties, tackling,
Davis Webb
's consistency -- lots of fundamental issues here that are starting to cause concern. Webb seemed to be forcing throws against Arkansas and will need to put in some time this week to clean up concerns about his footwork and decision-making. And that porous run defense has to get cleaned up quick because opponents will keep attacking it hard over the next month.
September, 17, 2014
Sep 17
2:08
PM ET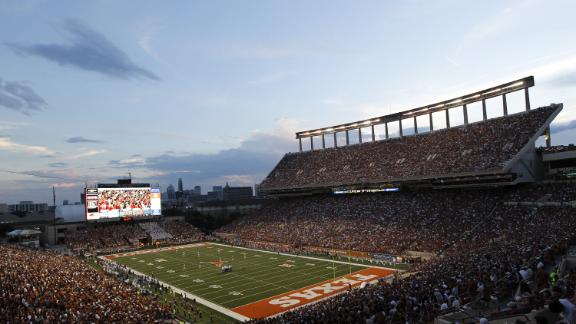 ANN ARBOR, Mich. -- With the matchup between college football's top two all-time wins leaders on hold for the foreseeable future, the Michigan Wolverines have moved on to the next-closest option.
The Wolverines and the Texas Longhorns, who are No. 3 in all-time wins, announced plans Wednesday for a future home-and-home series. The Longhorns will visit Ann Arbor in 2024, and Michigan will reciprocate with a trip to Austin in '27.
"A matchup of this magnitude doesn't come along all that often, and when it does, it's special for both programs and the great fans that support each institution," Michigan coach Brady Hoke said in a statement. "This also is a special series for all fans of college football, and I anticipate great games just like the first contest played between the two programs."
In their only previous meeting, Texas beat Michigan on a last-second field goal to win the 2005 Rose Bowl.
The scheduled matchups are for Aug. 31, 2024, and Sept. 4, 2027.
Michigan and Notre Dame, which ranks No. 2 in all-time wins, decided to end their annual rivalry after this season.
Since Michigan and Notre Dame decided to end their rivalry, the Wolverines have scheduled several home-and-home matchups, including Arkansas (2018-19), Washington (2020-21), Virginia Tech (2020-21), UCLA (2022-23) and Oklahoma (2025-26).
Goodell Meets With Charlie Strong